The Cultural Arts Alliance of Walton County (CAA) has just announced that a donated black 2010 Tesla Roadster Sport will be included in the Silent Auction portion of the 9th Annual 30A Songwriters Festival, happening January 12 – 15, 2018. The gift is from The St. Joe Community Foundation, Inc.
Included in the Tesla bid lot is a Watersound Origins discovery weekend package including a three-day/two-night stay in a one-bedroom condo in the Watersound Beach GateHouse, kayak or YOLO board on Lake Powell, breakfast or lunch for two at Watersound Café, and a two-day pass to Watersound Beach Club in the Watersound Beach community.
Janet Piepul, Executive Director of The St. Joe Community Foundation, Inc., had this to say:
The communities we live in are nurtured through artistic expression and imagination. The St. Joe Community Foundation, Inc., is honored to be able to donate a 2010 Tesla Roadster for auction at the 2018 Songwriters Festival, produced by the Cultural Arts Alliance of Walton County. Funds from the auction will provide art education for all area residents as well as the many outstanding artistic programs the Cultural Arts Alliance of Walton County produces throughout the year.
There were just under 1,500 Tesla Roadsters manufactured for North American sales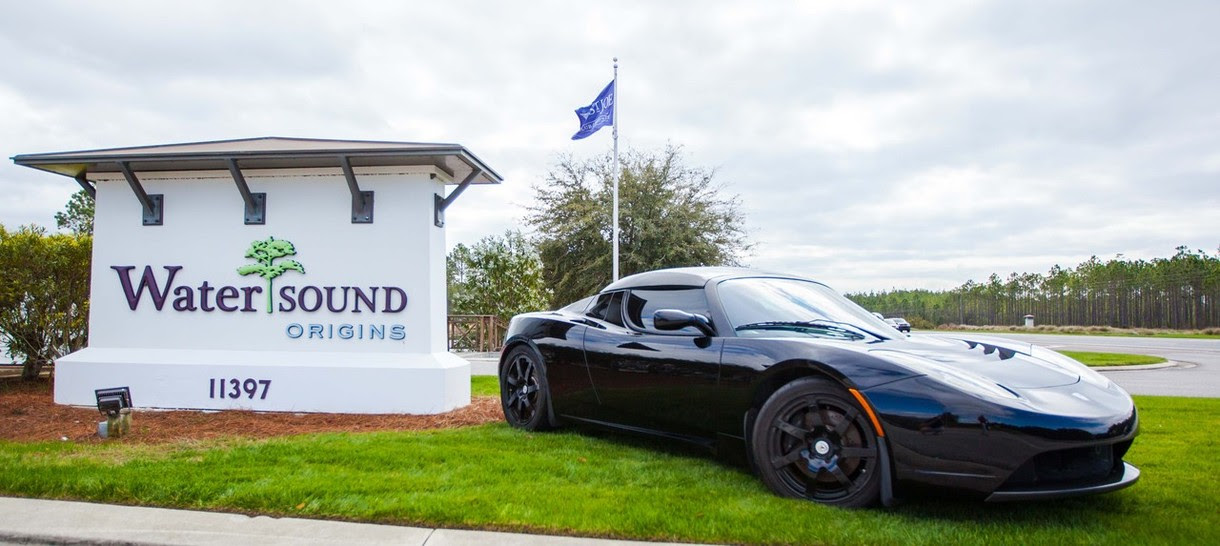 According to Tesla, between the years of 2008 and 2011, there were just under 1,500 Tesla Roadsters manufactured for North American sales. There are approximately 464 Roadster 2.0 and even fewer Roadster 2.0 Sport models.
The auction of the Tesla is an exciting way to educate the public about the CAA's mission to be a champion for the arts and vision to make Walton County a place of cultural and artistic excellence through which lives are enriched, economy is stimulated and community is strengthened. Our goals are very much aligned with the St. Joe Community Foundation's mission to make communities stronger and improve quality of life for all. The CAA is sincerely grateful to the Foundation for their generous support that will enable us to continue to make Walton County a creative place in which to live, work and vacation.

– Cultural Arts Alliance Executive Director Jennifer Steele
The Tesla + Watersound Origins Discovery package kicks off the 30A Songwriters Festival silent auction which will be done via mobile devices or online bidding through Gesture. Interested bidders can visit the auction site at Song2018. If you're a baller who plans on bidding, credit cards will need to be pre-registered, which can be done on the website.
Additional auction items
Additional auction items include a custom-made all Koa Grand Session model acoustic guitar with a cutaway and arm bevel handcrafted by local luthier and musician, Chris Alvarado of Driftwood Guitars; as well as one of the our most popular 30A Songwriters Festival backdrops, an original piece created especially for the CAA in 2012 by nationally renowned artist and local art gallery owner Andy Sacyzynski.
The CAA is currently accepting items to include in this year's auction. Interested donors can visit the auction website and apply for inclusion online by clicking, "Donate An Item Now." Item applications are being accepted through Friday, December 22, 2017. All donations are tax deductible and item donation receipts will be provided upon receipt of the item.
Bidding for all items will remain open through Sunday, January 14, 2018 at the conclusion of the 30A Songwriters Festival headliner performances at the Grand Boulevard main stage. The Tesla will be on display at the 25th Annual Flutterby Festival, November 11 and 12 in Watersound Origins, as well as at the 30A Songwriters Festival Box Office at Watercolor Inn and Resort, January 10 – 12, 2018, and finally at the 30A Songwriters Festival main stage at Grand Boulevard Town Center, January 13 – 15, 2018.
http://www.getthecoast.com/event/2018-30a-songwriters-festival/