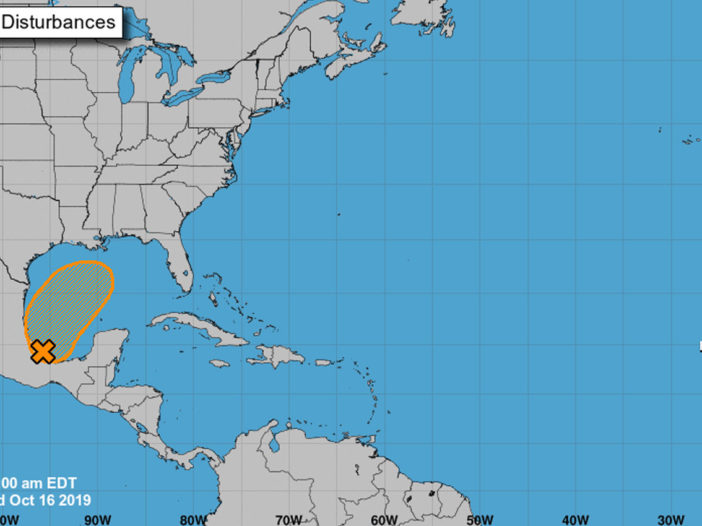 Update – Tropical Storm Warning Issued
Update – 10/17/2019
Showers and thunderstorms associated with a broad area of low pressure located over the Bay of Campeche have increased and become a little better organized during the past several hours.
Recent satellite wind data also indicate that the system is producing winds to near tropical storm force. Environmental conditions are expected to be conducive for additional development, and a tropical or subtropical storm is likely to form later today or tonight while the system moves generally northeastward over the western Gulf of Mexico.
The low is forecast to approach the northern or northeastern Gulf Coast on Friday or Saturday and regardless of development, the system is likely to produce gusty winds and rough surf over those areas. Heavy rainfall is also possible across portions of the southeast U.S. late this week and this weekend. Interests along the northern and northeastern Gulf coast should monitor the progress of this system.
Formation chance through 48 hours…high…70 percent.
Formation chance through 5 days…high…70 percent.
---
Original report – 08/16/2019
Disturbance 1 is a trough of low pressure located just offshore of the coast of Southern Mexico in the Bay of Campeche, producing disorganized showers and thunderstorms.
Gradual development is possible, and a tropical or subtropical cyclone could form late this week over the Western or central Gulf of Mexico while the system is moving generally Northeastward.
An Air Force Reserve Hurricane Hunters reconnaissance aircraft is scheduled to investigate the system this afternoon, if necessary.
Formation chance through 48 hours…low…30 percent.
Formation chance through 5 days…medium…50 percent.
According to Okaloosa County, it is quite likely that we will be impacted by this system during the Saturday afternoon/night time-frame in the form of heavy rainfall. Additionally, there is the potential for flash flooding and a strengthening on-shore flow which can cause high risk of rip currents, high surf and minor coastal flooding.
"There is still a great deal of uncertainty regarding the eventual evolution and track of this system per National Oceanic and Atmospheric Administration (NOAA), so we will monitor and provide updates as necessary."

Okaloosa County
From NOAA:

"We're continuing to monitor a trough of low pressure located over southern Mexico and the Bay of Campeche. The National Hurricane Center is giving it a 5 in 10 chance or a medium chance of cyclone formation over the next 5 days. Two of our better performing models are projecting that it will interact with a frontal system moving west to east across the Gulf of Mexico and make landfall between SE Louisiana and the Florida Big Bend area potentially as a subtropical cyclone during the Saturday afternoon/night time-frame. There remains a great deal of uncertainty regarding the eventual evolution and track of this system. However, at this time, based on current guidance and trends, there is a potential for heavy rainfall beginning Saturday which could lead to flash flooding as well as a strengthening onshore flow which would result in coastal impacts: high risk of rip currents, high surf and minor coastal flooding"
WATCH: Preparing for a hurricane from the insurance side of things