Most people have fond memories of their first bicycle. Some remember the banana seat, the purple glittered tassels hanging from the handlebars, the pegs on a trick bike, removing the training wheels or their first feeling of freedom.
Thousands of children in Okaloosa County and surrounding areas have never received a new bike for Christmas. A Fort Walton Beach radio station is determined to change Christmas memories for some of those kids.
Bikes or Bust 2017, hosted by Highway 98.1 Country, will be held in the Uptown Station parking lot in Fort Walton Beach from Nov. 30 through Dec. 4 in hopes of raising 1,000 bikes for underprivileged children in our area.
The four-day event donates all new bicycles and helmets to the Emerald Coast Toys for Tots program. Toys for Tots, Shoreline Church and several military groups divvy up the bikes and disperse them to children from Panama City Beach to Pensacola and throughout Okaloosa County.
For 98 hours, afternoon disc jockey Bo Reynolds will be thirty feet above the ground for the event this year. While hoisted by a scissor lift, Reynolds will have only a tent, a portable toilet and cold weather gear accessible to him. His meals and drinks will be roped up to him via 5-gallon bucket and he will continue broadcasting throughout the event.
Morning radio disc jockey, Scott Mallory, volunteered to be on the scissor lift for 98 hours in 2015 and 2016 and is grateful for the community support.
(it) blows us away to see how many people come out with donations.

– Scott Mallory
Bikes or Bust is looking for any sized new bike and helmets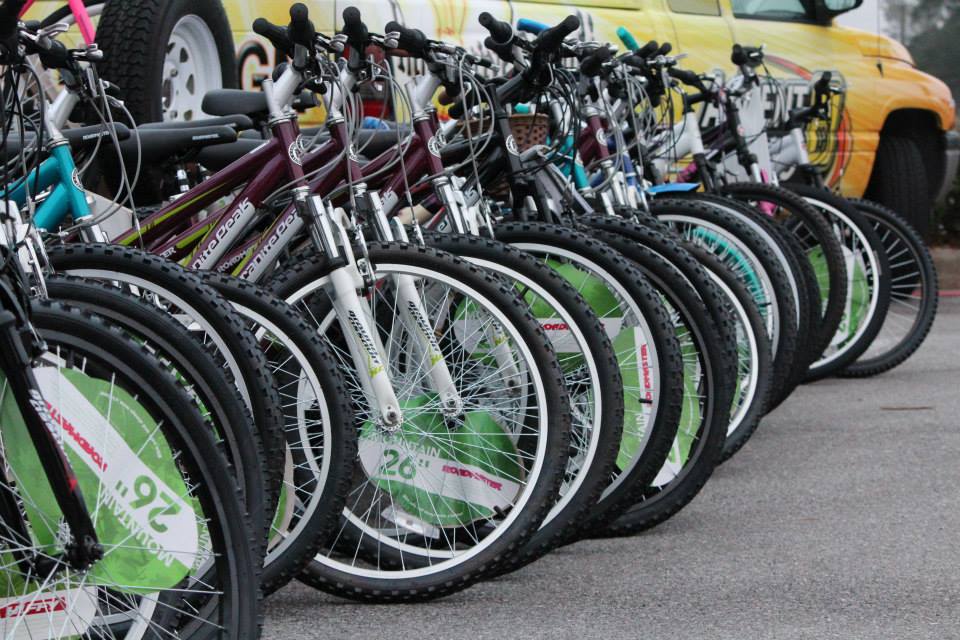 Bikes or Bust is looking for any sized new bike and helmets; however, some teenagers need adult-sized bicycles for part-time job transportation. Children who are unable to ride two-wheeled bikes need adult tricycles.
According to Mallory, most donations come from private citizens who have added Bikes or Bust to their holiday traditions. "They come out with their kids … (they) have made it their holiday experience."
In 2016, Bikes or Bust instigated competition among local fire departments, sheriff's agencies and police departments. While delivering a bike on a fire truck ladder to Mallory on the lift, The Fort Walton Fire Department challenged every local firefighter to donate one bike.
In the spirit of competition, Mallory gave kudos to local businessman, Jason Carducci. Carducci began making videos this year promoting Bikes or Bust and challenging local businesses to get involved with the event. The first Bikes or Bust video he posted on Oct. 3 has reached over 14,000 viewers.
Carducci began challenging his business associates through his business Facebook page, JP Carducci Inc Construction Services. He uses the videos to reach those who don't listen to the radio and prefer watching short videos on Facebook.
Carducci expects about 10 businesses to join his challenge this year. He's hoping those businesses will participate next year and challenge more local businesses to join.
Carducci understands that some people prefer to gift tangible items rather than money. He explained, "You can go buy it and you know some kid is getting this bike…that's a better feeling."
For those who want to drive up and donate money at the event, Carducci said they will be setting up a kiosk to swipe credit or debit cards. Bikes or Bust will then purchase the bike, "100% donation in, 100% donation out," he said. Carducci has also set up a YouCaring fundraiser that can be accessed through his business Facebook page.
Carducci has participated in Bikes or Bust for several years because, he said, "there's always a memory that pertains (to) your first bike. A new bike."
Sheryl Douglas, the Branch Manager at Interlinc Mortgage, was challenged by another lender in Carducci's video competition. Interlinc will be donating one bicycle for every loan closed in the month of November. She is projecting between 25 and 30 loans to close.
When asked how she'll transport that many bikes to the event, Douglas said, "I'd just like to take all our bikes and trailer them there the day that they're collecting them all."
"We're trying to get as many bikes for the children collected as possible … that's the goal," she said about competing with other lenders to raise the most bikes.
Highway 98.1 Country is still looking for volunteers and donations through their Bikes or Bust Facebook page. Scott Mallory summed up the event in one simple sentence…
"What more could you want than to help out a kid on Christmas?"