The Fischoff competition is the nation's largest chamber music competition, and is America's premier educational chamber music competition.
This year, a saxophone quartet from Crestview High School will head to Notre Dame to compete in this very competition.
The quartet is made up of Seniors that include:
Payton Hatfield – Drum Major
Gavin Westmoreland
Lucas Hunker
Hiro Parrett – Drum Major
The unique thing about these 4 is that they have played together as a quartet since they were in the 8th grade.
"These are guys who've had quite a storied career in their middle school and high school days," said Kim Whaley, Assistant Band Director at Crestview High School. "This is very rare that these guys have been together since eighth grade, and they played together every year leading up to their senior year."
Entering this competition isn't something that they were required to do. In fact, they decided to enter it all on their own. The Fishoff Competition is in its 49th year and features musicians from all over the United States.
The whole thing started last May, with the group strategically choosing the music that they wanted to learn. They have since spent the entire school year learning the music in preparation for the first round of the competition.
"As soon as the the results from last year's competition came out, they got online and watched the videos of the other saxophone quartet who won for music inspiration," said Whaley. "The music they chose is very difficult music that college ensembles would be playing."
A little over a week ago, Whaley Jody Dunn, Director of Bands at Crestview High School, recorded them to be submitted. Last Wednesday, during band rehearsal, they found out that they made it to the next round of the competition.
"We were in rehearsal and I looked over see my saxophones get excited about something," said Jody Dunn, Director of Bands at Crestview High School. "I was thinking, 'what did I just say that was so great?' They got an email and read it right after rehearsal and they were thrilled."
Now, the young men are preparing to head to Notre Dame on May 20th where they will perform live in front of a group of 3 professional musicians. From there, the judges will decide the finalists who will compete the following day.
"We will know by that Sunday who the winner is," said Whaley. "They have a gold, silver and bronze winner."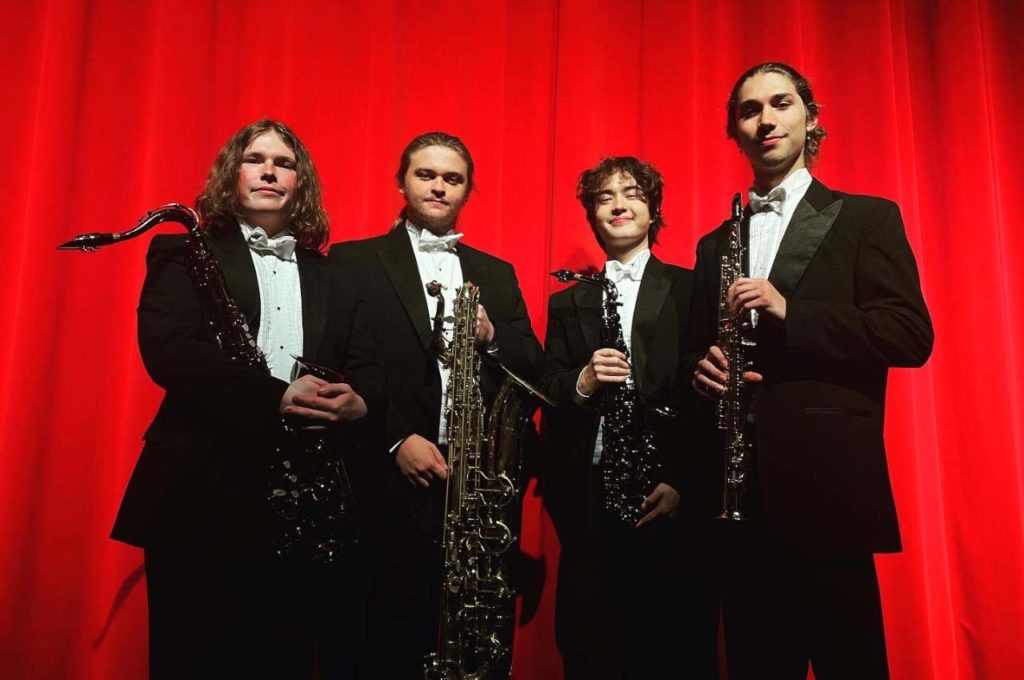 Although the Big Red Machine did have a woodwind quintet make it to this semi-final round last year, it was all virtual. This will be the first time that anyone from Okaloosa County has made it this far in the competition.
"What's so great about this group is that they did most of they work on their own," explains Whaley. "I only worked with them maybe three or four times. The rest of the time they listened to recordings and rehearsed on their own."
An educator's dream
Whaley first started working with three of the young men when they were in the 6th grade at Shoal River Middle School. Payton joined them shortly after.
"To watch them from their very first notes, to see them take it on their own, this is what you want from musicians," she said. "You want them to go past what you teach them and venture out on their own and make it their own, and that's exactly what these guys have done."
Dunn echoed her sentiments:
"As educators, we hope that when our students graduate, that they will be lifelong consumers of music, and these guys are the epitome of that," he said. "It means a great deal to any teacher to have their students really fall in love with the subject and run with it on their own. We're very proud of these guys."
The 49th Annual Fischoff Competition will be held at the University of Notre Dame in South Bend, IN on May 20-22, 2022.