On Monday night, the Destin City Council will hold a public hearing on the proposed 66 unit townhome complex along Palm Street and 98 Palms Boulevard.
Jenkins Engineering, Inc., on behalf of Oldacre McDonald LLC, is requesting a Conditional Use approval for the complex.
The existing site is 5.59 acres.
According to city documents, the proposed site is in the Town Center Mixed Use (TCMU) Zoning District. Long-term multi-family attached dwellings are listed as a Conditional Use in Town Center Mixed Use (TCMU) zoning district.
"This is a review of the conditional use ONLY, and the site will be reviewed for full compliance with the City's Codes at the time that the submitted Development Order and Subdivision has been reviewed by the Technical Review Committee (TRC)," according to documents.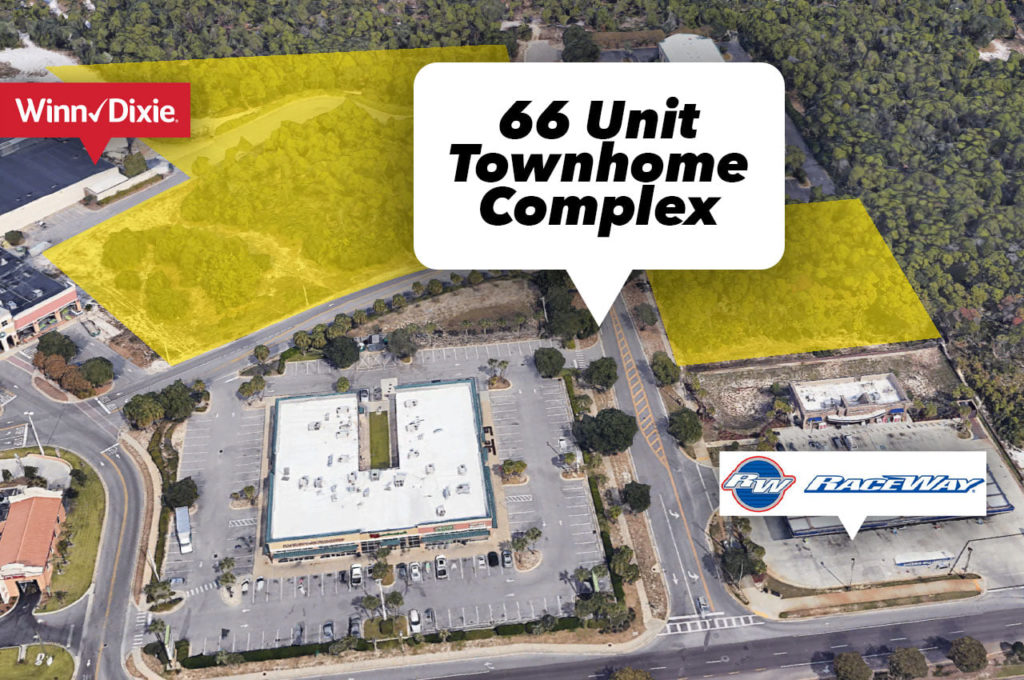 Permitted uses within the TCMU zoning district include:
Multi-family residential
High density single family (not less than 7 units per acre)
Retail
Service
Restaurant
Office
Commercial uses and civic uses
As proposed, the project would have a density of ±14 units/acre.
Local news sent to your inbox 🤝
Thousands of locals read our newsletter every morning! It's FREE and makes sure that you never miss important local updates.
Vehicular access to the property will be provided by a two-way drive from both 98 Palms Blvd and Palm St public Right-of-Ways (ROW), which link to internal streets within the development.
The City of Destin estimates that there are ±5 multifamily complexes throughout the City within the TCMU zoning district.
This public hearing was originally scheduled for January 3, 2022, but was withdrawn from the agenda at the request of the applicant. The meeting begin at 6pm on Monday night at Destin City Hall.