This local high school band coverage is made possible thanks to Realtor Lisa A. Norton! Support those who support our local news coverage!
Meet Niceville High School's Devon Shields.
The tenor sax is his primary instrument, but he also marches the tuba during football season and most recently, marched snare on the drumline.
For Devon, band started around his 5th grade year where he would participate in rehearsals once or twice a week at Ruckel middle school.
"I tried playing trombone and honestly, I kind of hated it," laughed Devon. "I really didn't like it at all but my mom's policy was that I was going to do at least one full year of band while giving it effort and then she would be happy and I would never have to do it again."
After not having much success with loving the trombone, he decided to switch instruments and pick up the saxophone.
"I really wanted to play the saxophone in fifth grade but that wasn't what was suggested for me," he explained. "But I decided to give it an actual shot in the sixth grade."
Devon's sister, Alex, is two years older and was a clarinet player in Top Band her 8th grade year. It was during the band's musical performance assessment that he realized how much he wanted to go all in on music.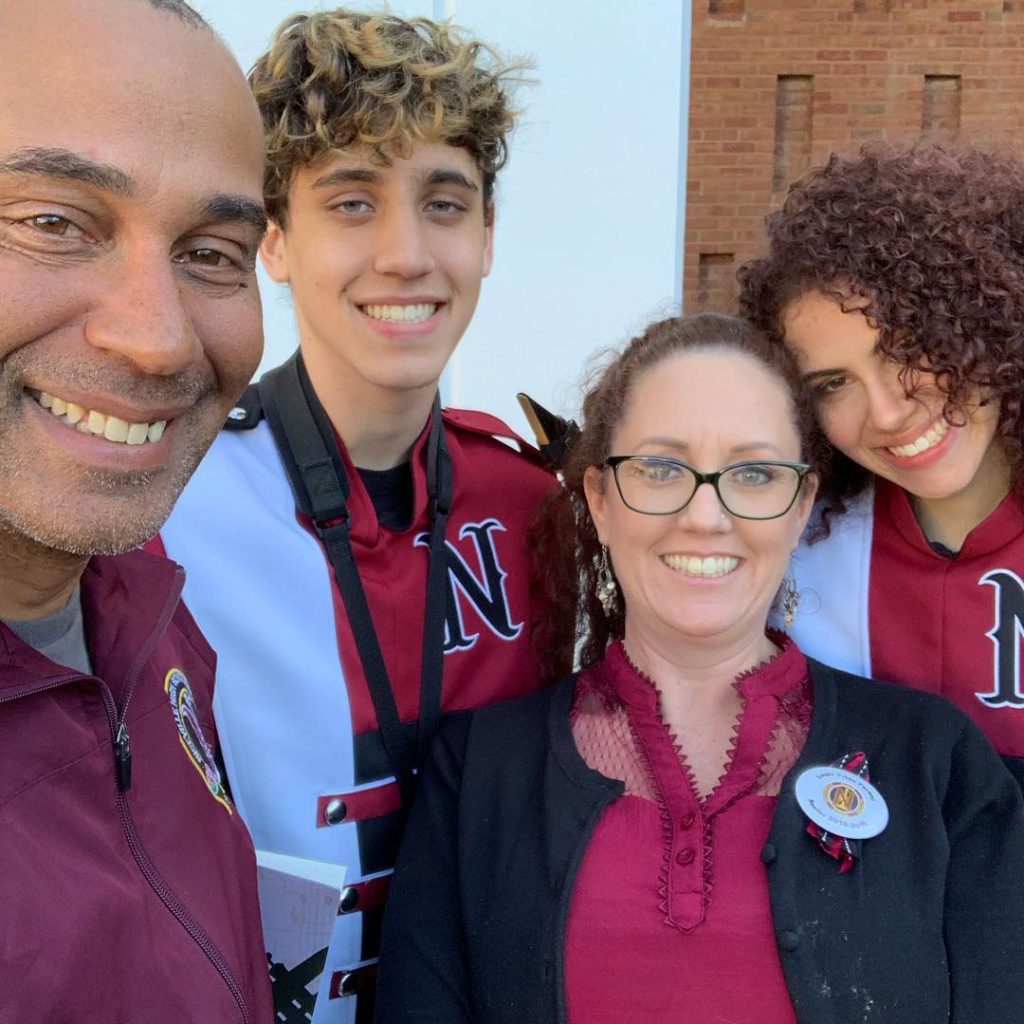 "I had to restart pretty much everything in sixth grade so I was in Beginning Band," said Devon. "I got to watch the band play 'American Rivers' and I just remember so vividly being like, wow, I really could do that. I had just the right amount of time I need to be able to do that, so I put in all the effort I could."
By the end of Devon's sixth grade year he had done all of the requirements needed in order to be placed into Top Band his second year. But Top Band was only the beginning. He was also tapped for jazz band.
"My Director, Mr. Steadman, comes up to me and he's like, 'Hey, I think you should try playing the tenor saxophone in jazz band'," recalled Devon. "I genuinely freaked out but this was also the point where I began taking private lessons from Tom Fitzpatrick."
Between Devon's seventh and eight grade year, he decided he wanted to try and play another instrument in addition to the sax. His 8th grade year he had a free elective and jumped at the opportunity to take another band class.
"I was thinking about maybe playing piano or electric bass or something like that," said Devon. "My Director said 'Oh, well the high school will worship you when you get there if you play tuba.'"
And tuba it was.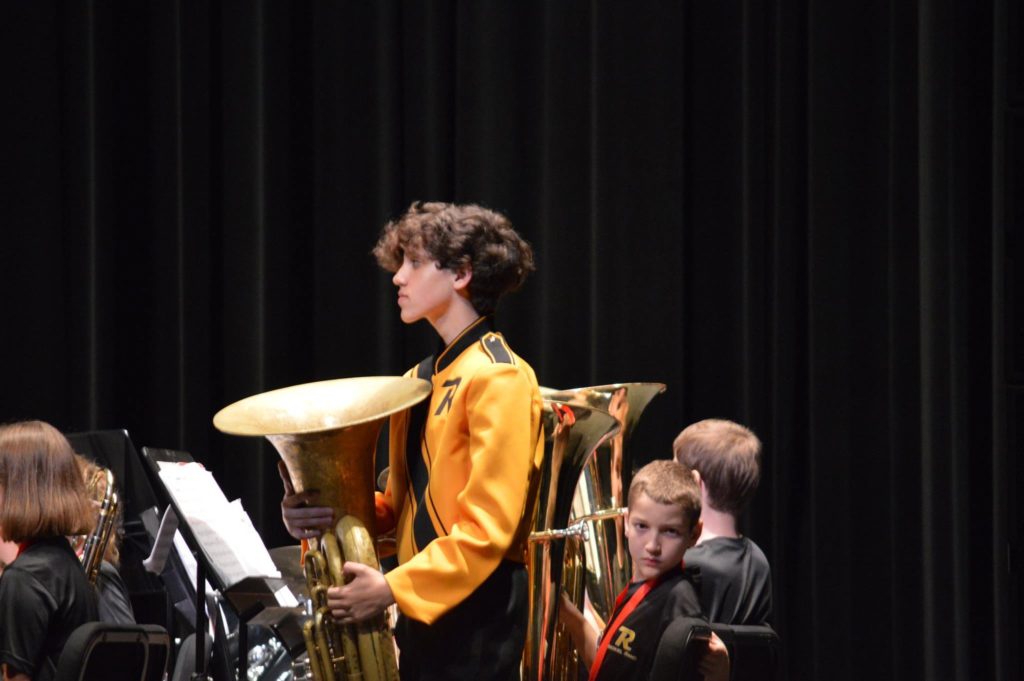 "I spent all of eighth grade getting a little bit better at the saxophone, but considerably better at the tuba." said Devon. "But I still ended up making the all-state band for saxophone."
As ninth grade rolled around, Devon, like all incoming freshmen, had to learn how to march and play for band's half-time show. And while it came easy for him, jazz band was always in the back of his mind.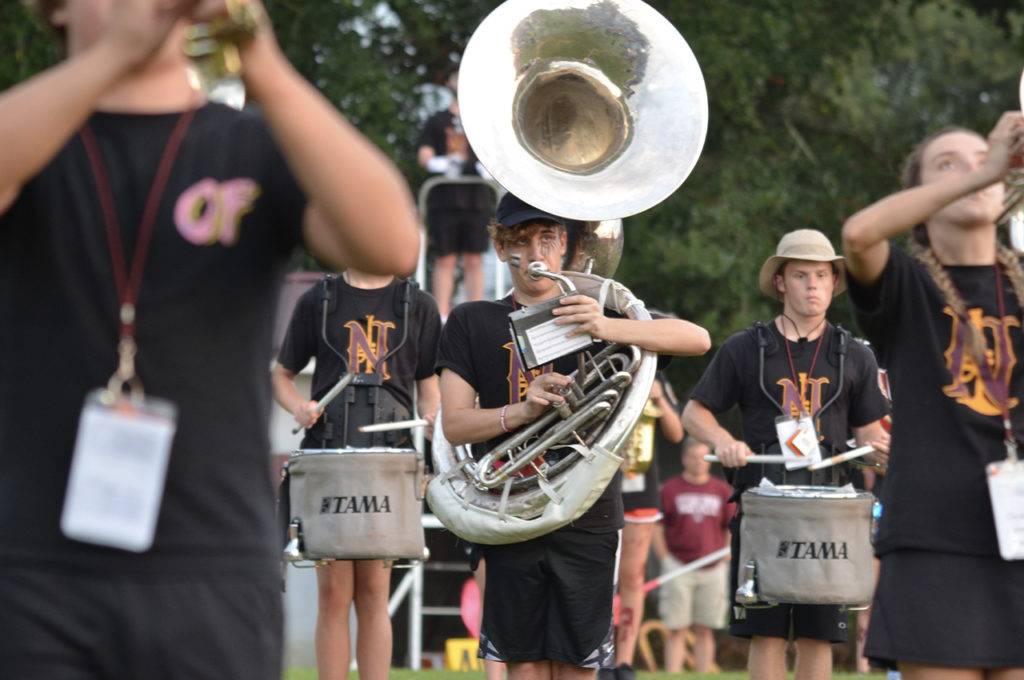 For his freshman, sophomore and junior year, Devon would march the tuba and play the sax during concert season and for jazz band. But going into his junior year he felt like he needed to be challenged again, much like his 8th grade year. He wanted to learn something new for his senior year.
"When I was marching tuba, I felt like I was over it," Devon said. "The drumline is always cool and gets everyone hype at pep-rallies and that lasts through the football game. I wanted that for my senior year."
From day one of Devon's junior year, he practiced snare.
Every. Single. Day.
"Drumline auditions rolled around and I was terrified," said Devon. "All I knew was that there were a couple of spots opening on the snare line and I envisioned myself in one of them. And I made it!"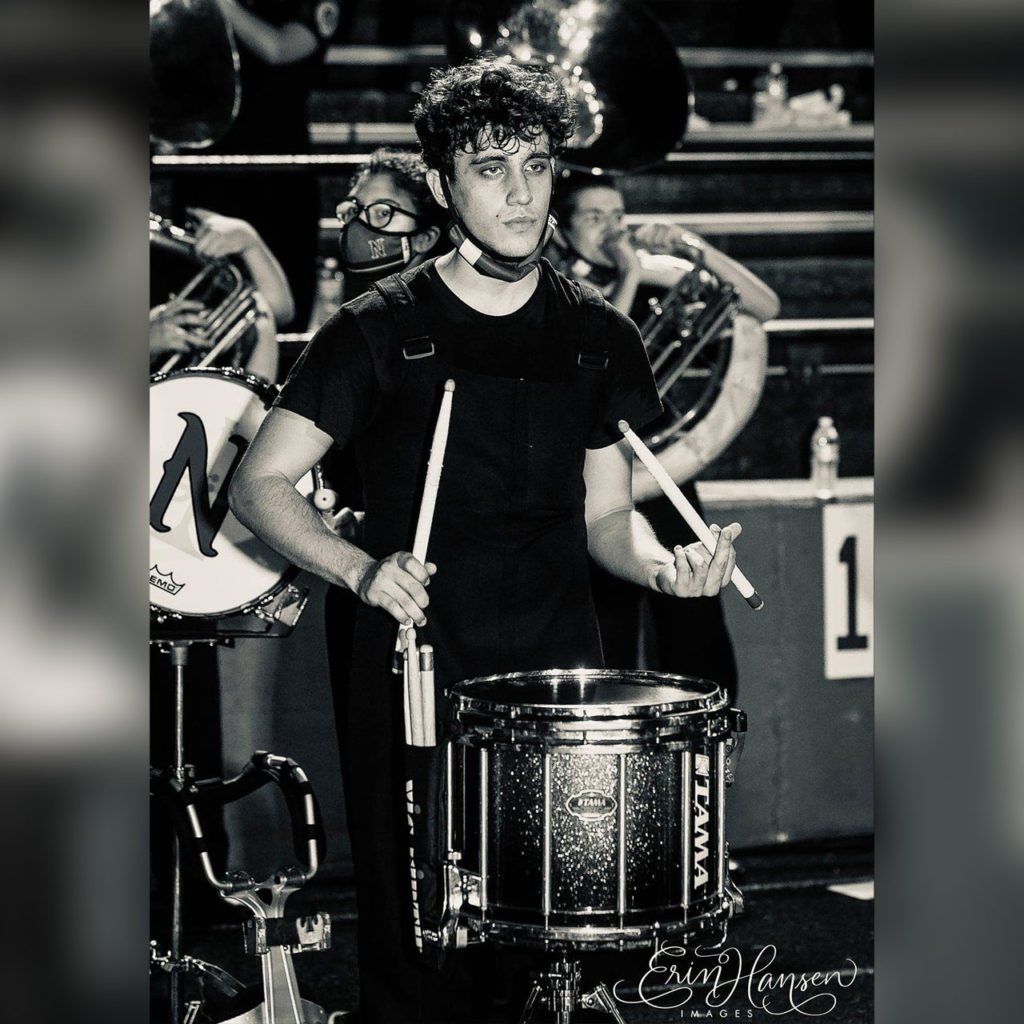 The pandemic, however, would put a damper on what Devon worked so hard to achieve. All of the high school band programs had to follow strict social distancing guidelines that ultimately put a stop to having a full half-time performance. Niceville, like the rest of the bands, did a stand-still performance on the field while spaced apart appropriately.
"I still drum every single day," said Devon. "I drum because I like it. And although the marching aspect was rather disappointing, I still got to play snare."
Devon explained how being in the band and leaning into the music has impacted him as a person. Not just because he has learned multiple instruments over the course of 5 years, but also because he has had to perform numerous solos.
"I used to be a rather timid person, but I would have to say that jazz band and soloing has made me much more confident as a person. I am definitely much more outgoing than I ever used to be. When you elicit a response from someone just by playing your instrument, that's all you. You just like made them do something and that's that's why I like soloing and being in the band."
LISTEN to this amazing performance
This local high school band coverage is made possible thanks to Realtor Lisa A. Norton! Support those who support our local news coverage!