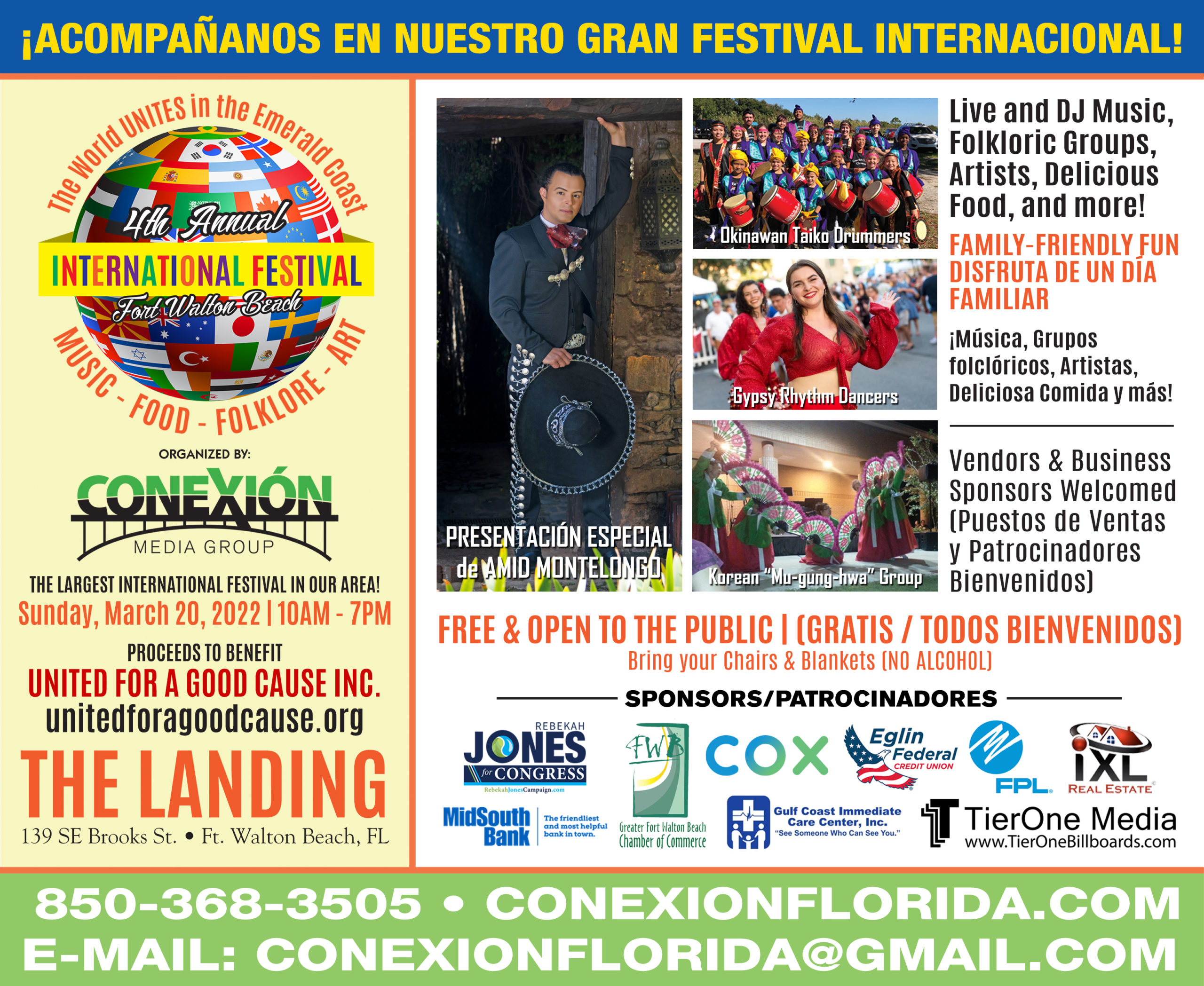 The primary purpose of our festival is to bring the entire community together in UNITY, regardless of ethnicity, race, or creed, to enjoy a high quality, family-friendly event.
The support of the business community will be key to its success. Last year, thanks to the generosity of our sponsors and vendors, we donated $5,000 to the Saving Grace Women's Home – Florida! This year, the net proceeds, but not less than $500.00, will be donated to United for a Good Cause Inc. (https://www.unitedforagoodcause.org/)
Our Emerald Coast is an international region and the response to the first three festivals was proof positive! Each festival included representation of over 60 nations via entertainment, food, product, and services vendors.
Please go here for pictures and video: https://www.facebook.com/InternationalFestivalFortWaltonBeach
Our festival was created to welcome the Spring and kick-off the season of community-wide events in our region! It will have top-quality activity with local and regional entertainment and vendors from throughout the region, with some traveling from as far as Tallahassee, Panama City, and the states of Georgia, Mississippi, and Alabama!
We thank the Greater Fort Walton Beach Chamber of Commerce for endorsing our event. Our festival will launch a series of events that comprise the "Emerald Coast International Week" celebration in our area! We are blessed to live in a proud American community composed of civilians and military individuals with backgrounds from all over the world and many born outside the United States. Many in our community have traveled or lived in other countries, for those who have not, we will "bring the world to them!"
We accept monetary sponsorships, a combination monetary & in-kind services, or solely in-kind services sponsorships. Individual donations are also accepted. For more information, contact me directly at 850.368.3505 or via conexionflorida@gmail.com. Sponsorship and vendors accepted until March 19, 2022.