Global Soundscapes Planetarium Event
March 24 @ 5:00 pm

-

8:00 pm

$8 – $12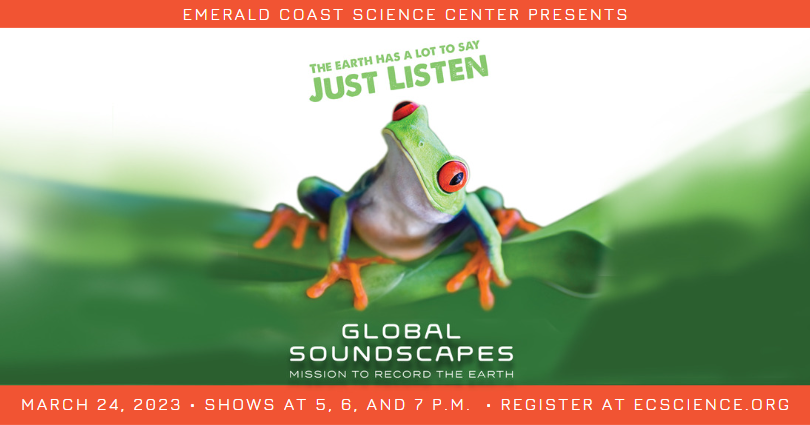 Listen…can you hear that? It's the sound of the Earth! Global Soundscapes takes you on a sound safari to explore the health of our planet…with your ears. Travel the globe with scientists to investigate the spectacular soundscapes of Costa Rica's rainforests, Hawaii's coral reefs, and Mongolia's vast grasslands. Learn how animals use sounds to survive and communicate in lush, but threatened environments. Experience basic acoustics through interactive activities and incredible slow-motion footage of pulsating musical instruments, vibrating vocal cords, and slobbering "raspberries." With Global Soundscapes' unique format—combining full-dome imagery, surround sound, and live presentation—you'll hear the Earth in a whole new way.
Global Soundscapes: Mission to Record the Earth takes viewers on an ear-opening journey into the science of sound and the emerging field of soundscape ecology. Audiences will become physically involved as they journey to faraway lands and investigate the properties of sound. They will learn all about soundscapes: what they are, how scientists record them, and why they are important in learning about the biodiversity of different ecosystems.
Our Planetarium is an inflatable dome. Guests sit on cushions on the floor of the planetarium to view the show. Due to the nature of our planetarium, the rest of the museum's exhibits will not be functional during this event so outside light and sound do not interfere inside the dome. Space is limited to 25 guests per show; reserving tickets in advance is required for this reason. On show night, please arrive at least 10 minutes before your scheduled showing. Please call 850-664-1261, stop by the Science Center, or use our online ticketing option to reserve your tickets.
Shows begin at 5, 6, and 7 p.m. and last approximately 45 minutes.
Our planetarium is sponsored by FPL
Pricing:
Nonmember $12 Adult • $10 Child • $10 Senior
Member $10 Adult • $8 Child • $8 Senior
Related Events