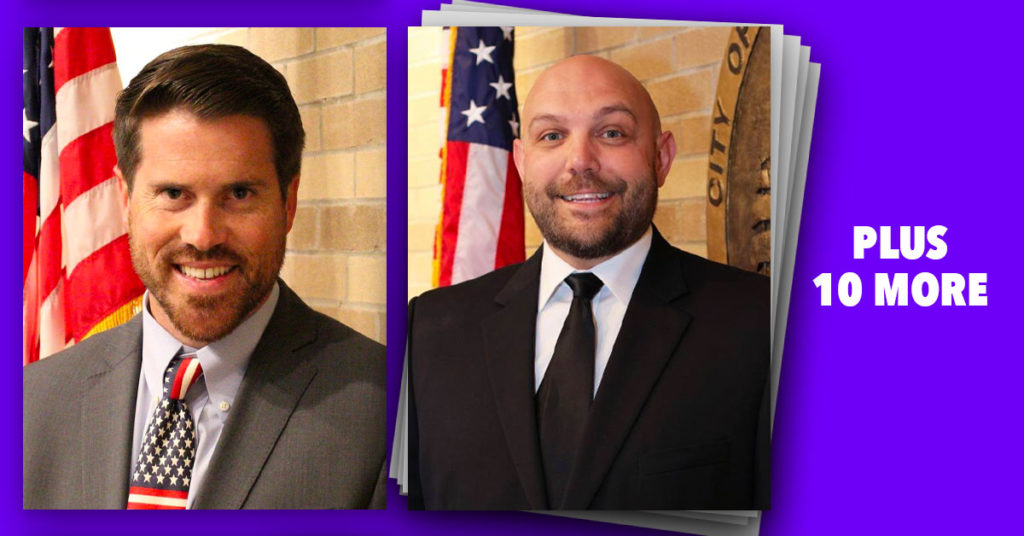 The 2021 Municipal Elections will be here before you know it (March 9th to be exact), and the City of Fort Walton Beach's city council race is packed!
There are 3 seats up for grabs with 12…TWELVE…candidates about to shoot their shot.
Here's who we have:
Nic Allegretto (running for re-election)
Gloria Jean DeBerry
Jason Floyd
Sean Murphy
Debra Riley
Brad Roehrig (just ran for County Commissioner)
Michael James Rojas
David Schmidt (running for re-election)
Travis Smith
Gareth Stearns
Sonya Vazquez
Payne Walker
No surprise here to see both Schmidt and Allegretto's names as candidates.
"I have been honored to serve the residents of the City of Fort Walton Beach as a councilman for the past 4 years," said Allegretto. "With that in mind, I have decided to run for re-election to the City of Fort Walton Beach City Council. I am grateful for the support that I received 4 years ago. And I am hopeful that I will receive that support again."
Schmidt, no stranger to public forums, has already been engaging in "Townhall Tuesdays" where he goes live on his Facebook page each week to talk about issues with the city of Fort Walton Beach and try to answer questions from those watching.
Those of you who enjoy Fort Walton Beach history may recognize Gareth Stearns' name from the 'Fort Walton Beach: What We Did' Facebook group. Gareth has grown that group to over 20,000 people and shares a ton of stories and old pictures of Fort Walton Beach.
Travis Smith, Payne Walker and Gloria DeBerry have each made names for themselves separately throughout town. All three are also part of the FWB Watch Group. That group was formed after the passing of the Fire Assessment Fee and opposes the fee.
The group has been actively seeking petition signatures for their three charter amendments and as of December 21st, they have over 1,000 of the required 1,250.
In an email, the groups states that they were on track to collect the required 1,250 before January 1st in order to have these proposed amendments added to the March ballot, but due to COVID-19 shutdowns their efforts were interrupted.
Smith asked the city council to go ahead and add these proposed amendments to the March ballot by way of an emergency ordinance, but it failed to pass. If the group does indeed meet their 1,250 signatures, this will trigger a special election, according to the group.
So what are the three charter amendments?
➡️ No special assessments shall be levied, or if existing be re-imposed, by the City against any real property unless the procedures to make such levy has been invoked by a petition submitted to the City Council bearing the bona fide signatures of the majority of the owners of record, as of the date of submission, of the property to be assessed.
➡️ The Fort Walton Beach Council shall not adopt any annual budget which would result in an increase from the Base Budget hereinafter described in any one year of more than three percent (3%) or the percentage increase, if any, in the Consumer Price Index for the previous year, whichever is less, without approval of a majority of the electors of the City voting thereon at a general or special election called for purposes of such approval. The "Base Budget" shall initially be $41,714,146, the budget adopted by the City for FY 2018-2019. Thereafter the "Base Budget" shall be the most recently adopted budget.
➡️ No elected official shall receive any compensation, including without limitation a salary or other item of financial benefit, nor for any services rendered by the member to the City. This prohibition shall not preclude reimbursement for expense actually incurred in the performance of their duties.
👋 Sign-up for our free local newsletter
The BEST way to stay updated on the headlines along the Emerald Coast every single day. Never miss important local info!
Starting this week, Get The Coast will be conducting interviews with all of the candidates so we can learn more about who they are and why they running for city council.
If you're a resident within the city of Fort Walton Beach, what questions would you like them to answer?