In early January 2021, Get The Coast first reported that the City of Fort Walton Beach would be launching a branding project to find out "exactly who we are and where we want to go."
At the time, City Manager Michael Beedie said "we are at a pivotal time in our city and are experiencing a great deal of momentum thanks to our elected leaders, businesses and residents."
The idea has been discussed for many years among city leaders and the business community to establish a baseline for marketing, messaging, visual consistency and revitalization.
"An identified city brand affects the entire community and has many benefits," said Doug Rainer, Public Information Officer for the City of Fort Walton Beach.
This includes:
Messaging and marketing among stakeholders align: all parties talk about the community in the same tone.
The ability for regional, state and national recognition is greatly enhanced: the city becomes an identifiable topic of positive conversation.
Economic and business decisions are easier to see and understand: locals share messages about the direction the city is headed.
Negative perceptions can be overcome: residents and businesses embrace the community and engage in positive discussions
The project's "discovery phase" included citywide information gathering from residents, business owners and key stakeholders. More than 180 participants shared input and valuable information with the city's consultant, no luggage Brand Strategies, through one-on-one conversations and community collaboration sessions.
The result of this phase of the project has been summed up in this report.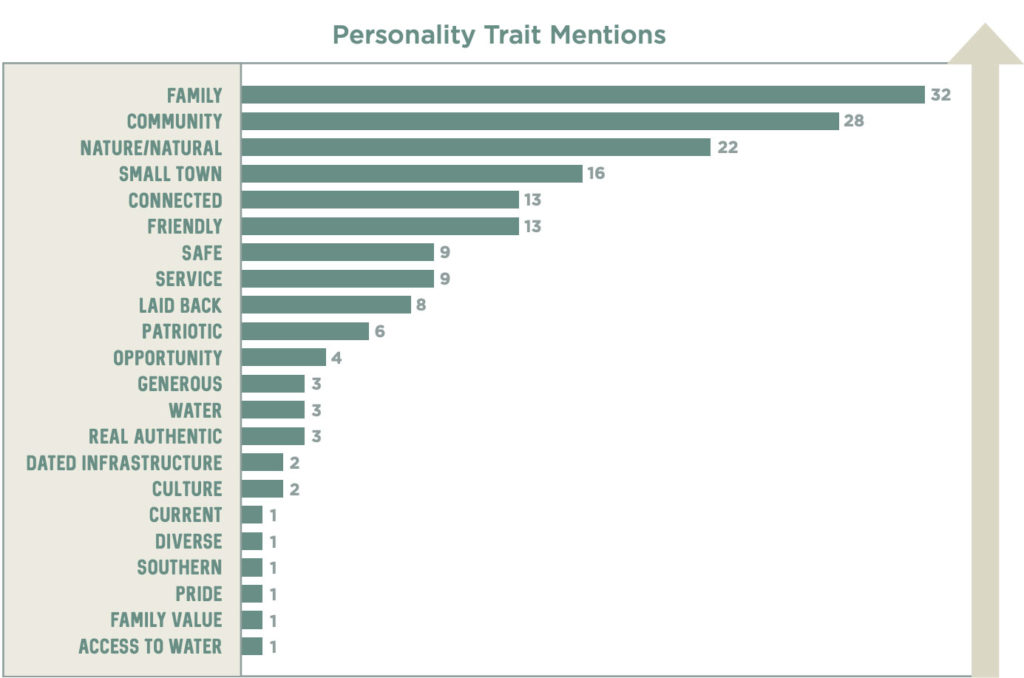 Some highlights
Family is at the center of the future.
The family is the nucleus of the City of Fort Walton Beach, according to the report. Not only was it by far the number one personality trait cited when describing the City, it was also universally agreed upon that the young family is the key to the long-term viability and vibrancy of the community.
Moving forward, the brand promise will be family-centric and new programs and opportunities should be built around them.
Given the impact of Hurlburt Field, young military (retired and active) families should be the catalyst for this development.
Move from optimistic and passive to engaged and active.
The City has an opportunity to move beyond City Hall. The report states that stakeholders want to create a stronger sense of place for families.
Use outdoor, natural assets like the Landing, Brooks Street, the new Recreation Center, the Golf Club, the Yacht Club to connect in person and tackle challenges like welcoming new families into the community or inviting military families to learn about water-based activities.
Use small, neighborhood examples like "teaching kids to sail" at the Yacht club as incubators for new, family events to try.
The next phase of the project is underway, according to the city, and will include the development of creative elements such as a brand story, promise, character, position and tone of voice.
"These foundations will become the baseline for marketing, messaging, visualization and revitalization for Fort Walton Beach, and will also inspire a sense of community pride," continued Rainer.
Once the final phase is complete, a report will be shared with the community, said Rainer.
"This information will provide the City with the direction to create a new logo, tag line, talking points, and a general look for all marketing and messaging moving forward," he said.
WATCH: Sports Tourism growing in Fort Walton Beach