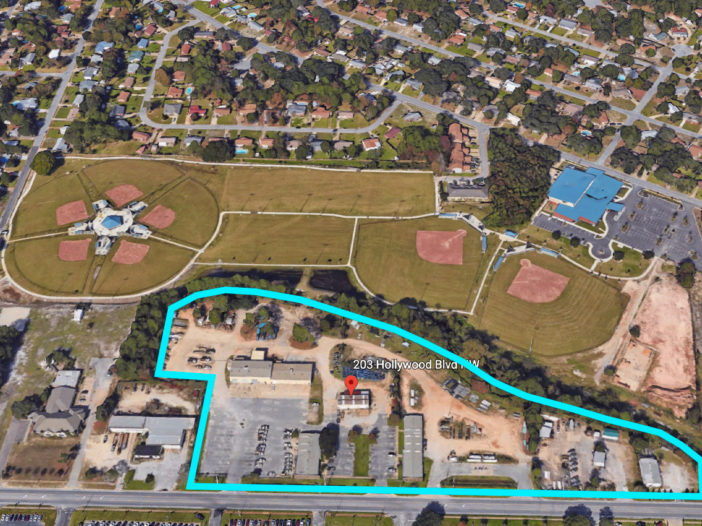 The old City of Fort Walton Beach Field Offices property located at 203 Hollywood Boulevard NW could soon become either a new car dealership or a possible RV Park.
The property was deemed surplus by the council on March 23rd after a workshop was held on March 2, 2021 to hear proposals from interested parties.
The two interested parties are Step One Automotive Group, LLC and Fort Walton Beach RV Resort, LLC.
At tonight's council meeting, we should hear the best (and final) offers being brought back to City Council for consideration.
Here's what each is proposing
Step One Automotive Group, LLC:
Purchase Price = $2,075,000 for all 12.10+ acres of property.
Buyer to pay all closing costs.
Property Use: Automobile Dealership.
Additional Terms: Step One will subdivide the property into two (2) parcels – one (1) 7.20-acre parcel for an automobile dealership & one (1) 4.90-acre parcel for the installation and construction of soccer fields and other recreational facilities.
The City will have twenty-four (24) months to complete the construction of the soccer fields and recreational facilities or the property will revert to Step One.
Step One will donate $150,000 for improvements to the Oakland Heights Soccer Fields which will be designated the "Step One Sports Complex".
Step One will provide overflow parking for tournaments and events at the athletic complex.
Fort Walton RV Resort, LLC:
Land Lease Terms = Twenty-five (25) year lease term for 8.00 acres of property.
Land lease price at fair market rent giving the City a six percent (6%) annual return on the current market value of the property based on the City's appraised value at the time of execution of the lease agreement.
Property Use: RV Resort.
Additional Terms: Advance rent payment of $150,000 for use in the Recreation & Cultural Services Department.
Contained within the proposed site plan are two (2) additional multi-use fields, additional parking and the relocation of the Parks & Recreation Maintenance facilities.
Realty House (City's real estate broker) was also contacted by Mr. Glenn Shelley via e-mail requesting to submit an offer to purchase this property. According to city documents, this would be for the development of affordable housing and/or a combination of apartments, townhomes or duplexes, with amenities such as pools, recreational areas, walkways, etc.
If City Council does not accept either of the two best and final offers, the property can be placed on the market to solicit proposals, according to the city's website.
The independent appraisal values the property at $1.5 million mainly due to the
uncertainty with the environmental status of the property.
Tonight's council meeting starts at 5:30pm at City Hall. Council-members can be reached via email at citycouncil@fwb.org