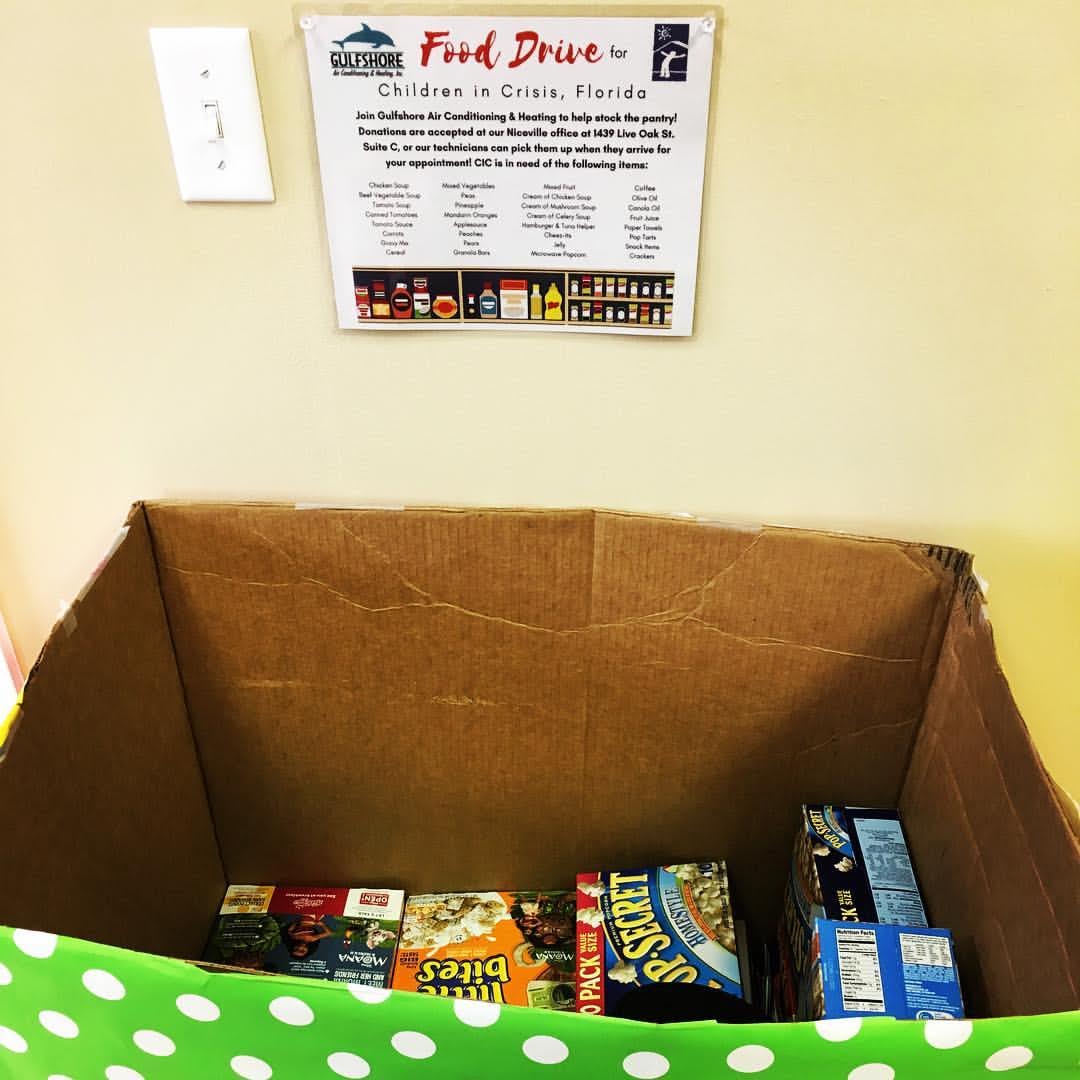 When Steve Reynolds, owner of Gulfshore Air Conditioning & Heating, heard that Children in Crisis, Florida Inc., (CIC) needed crucial pantry items to get through the busy summer months, Reynolds leapt into action, organizing a community food drive to stock the pantry at CIC.
Gulfshore launched the Food Drive on their social media accounts through Facebook, Twitter, and Instagram — giving locals specific information as to what CIC needs. Food items include:
Beef vegetable soup
Canned tomatoes
Gravy mix
Peas
Mandarin oranges
Granola bars
Applesauce
Mixed fruit
Jelly
Paper towels
And more.
The food will go a long way, especially since the kids are out of school for the summer months. Gulfshore invites all members of the community to participate in the food drive with the goal of filling CIC's pantry!
About Children In Crisis in Fort Walton Beach
CIC is a non-profit organization located in Fort Walton Beach that establishes homes and provides hope for the abused, neglected, and abandoned children of Northwest Florida. They work hard to keep siblings together, and provide them with safe, clean, and loving homes.
The Children's Neighborhood in the CIC community includes five long-term family foster homes with a married couple who lives within in each home to provide a stable domestic environment for the children.
The Susanna Wesley Emergency Shelter on the CIC campus is for children who are removed without notice from an unsafe environment. This emergency shelter is staffed 24 hours a day, and has the capacity to house up to 16 children.
Ken Hair, CEO of CIC is extremely grateful to Gulfshore for spearheading the food drive, and for the community for donating food items.
"The Gulfshore Food Drive will make a significant impact in our ability to feed our children living at the CIC Neighborhood. We are so very lucky to live in a community that cares about giving a home to children and helping charities with their important missions. However, when the homes are built, then you have the huge challenge to feed the children and sustain operations. The food drive to stock our pantry will really help with this difficult but critical challenge and I can't thank everyone enough for making a BIG difference in the lives of so many children at CIC!"
Items can be dropped off at the Gulfshore office located at 1439 Live Oak Street, Suite C in Niceville. Or, technicians can collect items from homes during a scheduled installation or maintenance appointment.
For more information, find Gulfshore Air Conditioning & Heating on Facebook, Twitter or Instagram.