If I had to rank my favorite restaurants in the Destin/Fort Walton Area, Soi Bistro is DEFINITELY in my top 5. The sushi is what I go for, but everything is good (especially the wontons). That being said, going out for sushi is typically more of an indulgence for most people, but what if you're trying to keep things healthy? Maybe you get invited to dinner at Soi, but you just don't want to go overboard on something heavy.
I've put together a list of delicious dishes at Soi Bistro that may help you with that! There's no need to turn down the invitation OR to go overboard on heavy food. There are a ton of lighter options that won't leave you feeling overstuffed when you leave.
That being said, HEALTH is relative to you. As a vegetarian who occasionally eats fish, the meat centered meals are not healthy to me. However, for someone that does eat meat, or perhaps keto, a meal with less carbs and more meat and fat may be the healthy option you choose. This guide is simply meant to serve as a suggestion for better options if you want to keep things light!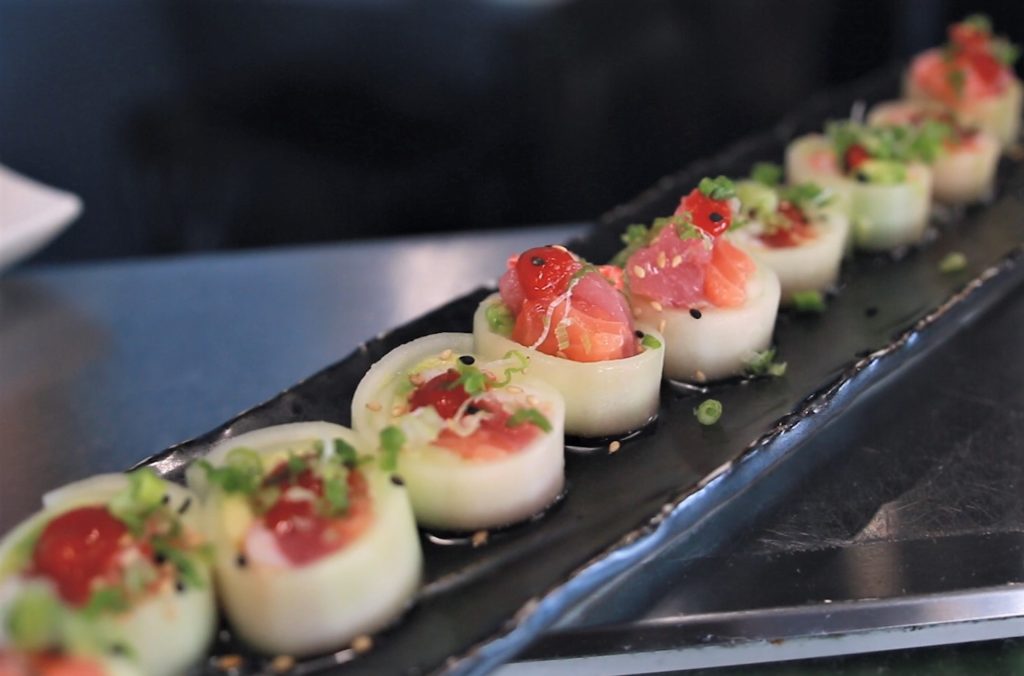 Appetizers
I don't know about you, but I'm usually starving when I sit down to eat at a restaurant. Full disclosure, when I go to Soi Bistro, we occasionally order the wontons and steamed vegetable gyoza, which are both to die for. But in the spirit of keeping things light, here are a few other options that I have also chosen and love.
Miso Soup
Ginger Salad
Cucumber Salad
Seaweed Salad
Edamame
Sushi
The Sushi is what I go to Soi Bistro for, but if a traditional rice wrapped roll is too heavy for you, try one of the ones wrapped in cucumber! Additionally, the sushi chefs have always been extremely accommodating when I've visited. If you wanted to remove something like the tempura crunch or cream cheese from your roll to make it gluten-free and dairy-free, I'm sure they could do that too. Just ask!
Here are a few options from the sushi menu that I would choose, but aside from these, Nigiri and Sashimi are both great options if you do like raw fish. The Yellowtail Jalapeno Sashimi sounds BOMB.
Traditional Roll
Rainbow Roll – shrimp, cucumber, top w. tuna, salmon, escolar, avocado
Vegetarian Roll – cucumber, carrots, avocado, kampyo, asparagus
Mr. Boombtastic – tuna, mango, crunch, cc, top w. yellowtail, lime, jalapeño & cilantro (you could ask for no cream cheese or crunch, if you please) – THIS is my absolute favorite roll!
Sexy Nurse – spicy tuna, cucumber, scallion, top w. escolar & chili dot
Wrapped in Cucumber
Kawaii – tuna, salmon, shrimp, krab & avocado, rice wine vinaigrette, chili dot & scallions
Naruto – krab, shrimp & avocado, rice wine vinaigrette, chili dot, & scallions
Sprout (Vegan Option) – asparagus, avocado, carrots, cilantro, microgreens, pickled ginger top w. rice wine vinaigrette, chili dot, & scallions
Non-Sushi Options
Ssam (Korean style lettuce wraps)
Sauteed Veggies with Steamed Rice
Teriyaki (several choices of meat) with Steamed Rice
Let's Wrap it Up
These aren't the only healthier options on Soi Bistro's amazing menu, just a few suggestions of dishes I love and believe are a bit more nutritious. As a reminder, health is a very unique and beautiful journey for each of us, so what works for me may not work for you. Do you have any special dietary restrictions? If so, what do you like to order at Soi Bistro?
Check out their dinner menu and sushi menu!