At approximately 4:45am, the center of Hurricane Sally's eye made landfall near Gulf Shores, Alabama, as a Category 2 hurricane with maximum sustained winds of 105 mph.
Winds are ramping up and multiple roadways are closed. According to WEAR Channel 3, the storm is forecast to weaken some upon landfall, but still hold together as a Category 1 until at least 1pm on Wednesday.
A sustained wind of 61 mph (98 km/h) and a gust to 86 mph (139 km/h) has been observed at the Pensacola Naval Air Station, in Pensacola, Florida.
"We are receiving reports of flooded roadways and homes and are actively engaged in water rescues and evacuations," said Patrick Maddox, Director Okaloosa Public Safety. "Fortunately we pre-planned for this contingency and our multi-agency resources are mobilized to assist our citizens and more state resources are en-route."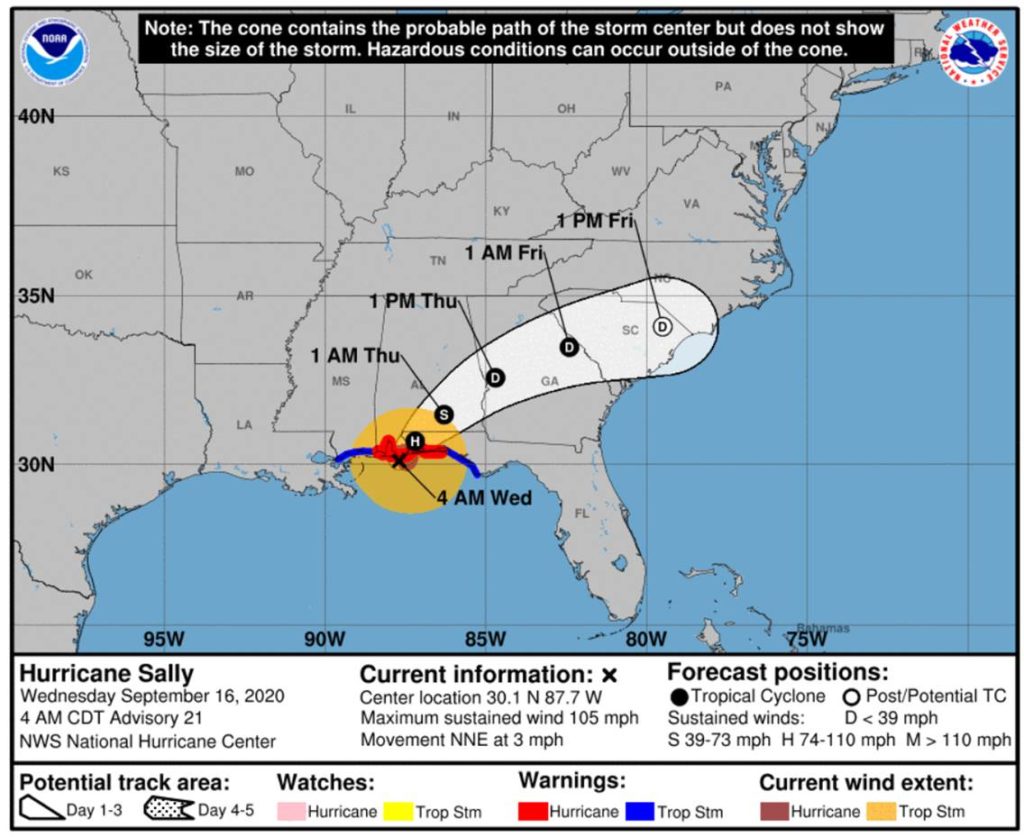 Through this afternoon, Sally will produce additional rainfall totals of 8 to 12 inches with localized higher amounts possible along and just inland of the central Gulf Coast from west of Tallahassee, Florida to Mobile Bay, Alabama.
Storm totals of 10 to 20 inches to isolated amounts of 35 inches is expected. Historic and catastrophic flooding is unfolding, according to the National Hurricane Center. In addition, this rainfall will lead to widespread moderate to major river flooding.
Sally is forecast to turn northeastward after making landfall today and move across the Southeast through Friday
"Stay the course, everyone," said Maddox. "We're in the thick of it and will be for some time."