Hurricane Sally weakened a bit overnight, going from a 100 MPH Cat 2 Hurricane to an 85 MPH Cat 1 Hurricane, according to Okaloosa Director of Public Safety Patrick Maddox.
"I suspect this was caused by some wind shear and upwelling," said Maddox on Tuesday morning. "This is good news for us wind-wise but does not affect our rainfall expectations."
The weakening has held though the 7AM update.
Updated impact graphics were not yet available this morning, but Public Safety sent the HurrEvac graphic below.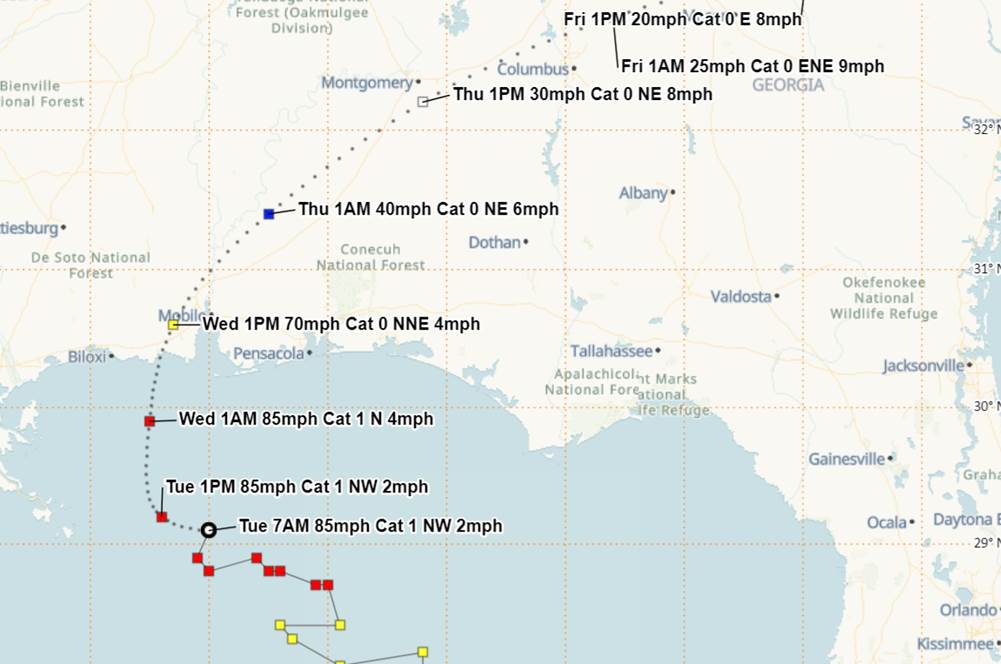 "The graphic shows Sally weakening to a strong tropical storm either at or immediately after landfall around mid-day tomorrow," continued Maddox. "The system is very slow moving, currently NW at 2 MPH, which is why the rainfall values are so high."
According to Maddox, the key takeaway from this data is that no further strengthening occurred or is predicted based on this model run, and rapid weakening is predicted after landfall.
"We'll hope this trend holds," said Maddox. "But remember that this is still a dangerous system, and gusty winds with heavy rains, ponding water, downed limbs and power lines and flooding rivers are all players at this point. The rivers are going to keep us busy Thursday into Friday for certain."