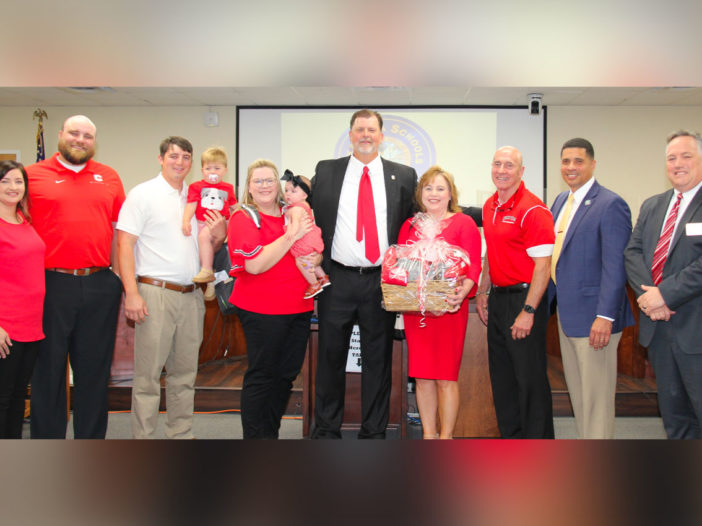 On Monday night, the Okaloosa County School Board approved the recommendation from Superintendent Marcus Chambers to appoint Jay Sanders as the new Principal at Crestview High School, as current Principal, Dexter Day, prepares for his retirement.
Mr. Sanders is a product of the Okaloosa County School District, as we was a student at Bob Sikes Elementary, Richbourg Junior High, and Crestview High School.
Sanders began his teaching career in 1993 teaching sixth grade math at Baker School. After spending three years at Baker, he moved to Richbourg Middle School and then on to Davidson Middle School in its inaugural year. Sanders transferred to Crestview High School in 1999 where he would teach Geometry, Drop Out Prevention, and Advanced Placement Economics.
Additionally, he coached boys and girls basketball, football, and cross country and served as assistant to the athletic director. He was named Crestview High School Teacher of the Year in 2011. In 2013, he was named the Dean of Students at Baker School and became an Assistant Principal there in 2014. For the last six years, Sanders has been the Principal of Davidson Middle School.
After the vote went through, Sanders thanked a host of people including the Board, Superintendent Chambers, along with his family and friends who were there in-person to support him.
"This is really a dream come true for me," said Sanders. "My predecessor, Mr. Day, always says 'Once a Bulldog, always a Bulldog.' But for me, it's a little bit different. I've always been a Bulldog. I was born a Bulldog. So this is a dream come true and I promise you, I won't let you down."
Another life-long Bulldog, Jody Dunn, Director of Bands at Crestview High School, said that the school "has once again been blessed with the best possible choice as principal."
"He is a Bulldog," said Dunn. "He will continue to uphold the tradition of excellence that has existed within these halls since before he was a student here. He is a man of great integrity and will treat all students, faculty and staff with equal respect and consideration. I look forward to a great future with Mr. Sanders as our new lead Bulldog!"
Sanders' effective date is July 1, 2021.