Whether you knew him as "Mr. Goofy" or just "Bob," Robert J. Fleskes left an enduring memory on the local community.
For 42 years he owned and operated Goofy Golf in Fort Walton Beach.
Bob Fleskes passed away, August 17, 2022, in Niceville, Florida. He was 88.
With his playful smile and teasing sense of humor he connected with thousands of visitors and residents.
Bob's life was dedicated to entertaining, said his daughter Selena Fleskes Rogers.
While stationed in England with the Air Force in 1958, he became a "bowling ambassador" and helped to introduce American-style 10-pin bowling in that country.
"His first job after being honorably discharged in 1962 was as manager of Lucky Strike bowling lanes in Fort Walton Beach, a city he grew to love while stationed at Hurlburt Field," said Rogers.
Bob's affinity for bowling prevailed for many years. Rogers says that Fleskes owned and managed Greenville Bowling Lanes in Mississippi in 1967. He then moved his family back to Fort Walton Beach in 1971 and purchased Goofy Golf from his father-in-law, James "Jimmy" Hayes.
In 1988, Bob was inducted into the American Bowling Congress Hall of Fame.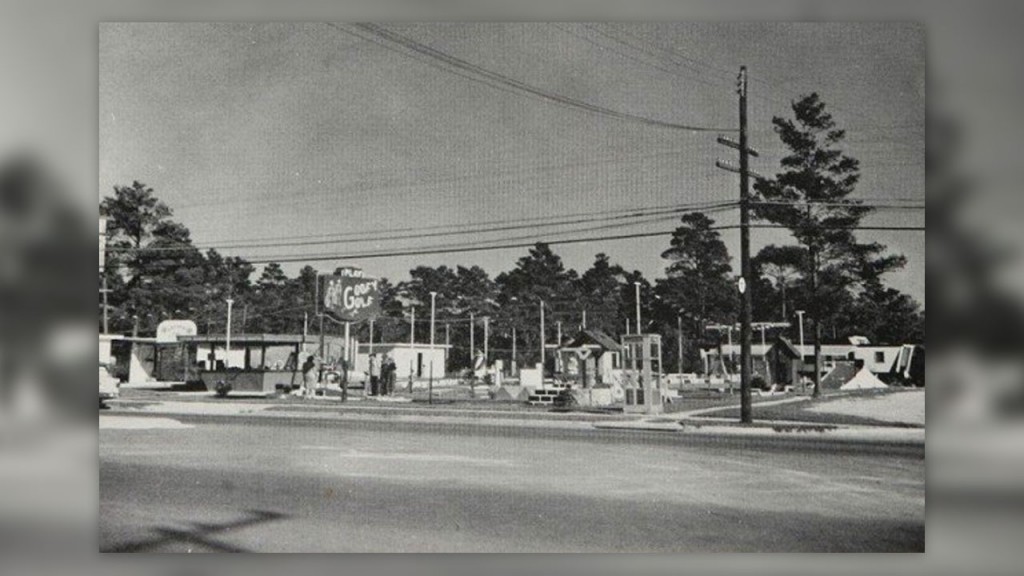 Although he sold the local-favorite Goofy Golf in 2011, Goofy Golf – and its beloved slushes – remained close in his heart.
According to his daughter, retirement allowed Bob more time for traveling, grilling steaks, for family and friends, as well as the freedom to hop on his riding lawn mower and zip across the yards of many a neighbor.
"His generosity and kindness were widely known and were always delivered with a smile and a twinkle in his eyes," said Rogers.
Keeping Bob's legacy alive today at Goofy Golf
Before he bought the business, current owner Chris Clements would mow the grass at Goofy Golf when we would go to work with his dad, who worked next door at Hodges Bros Lumber.
"I would go into work on Saturdays with my dad when I was 12-13 years old," said Clements. "I would walk next door and mow the lawn and that's how I got to know Bob."
A couple of Summers later, Bob asked Chris if he would like to actually work at Goofy Golf. Chris said yes and the rest is history.
Upon buying the business, Clements recalls the conversation that he had with Fleskes and the promise that he made him.
"I told him to not worry about anything here at Goofy Golf," said Clements. "I'm not going to tear it down. I'm not going to change anything. I want to keep it the same way as Bob would have wanted."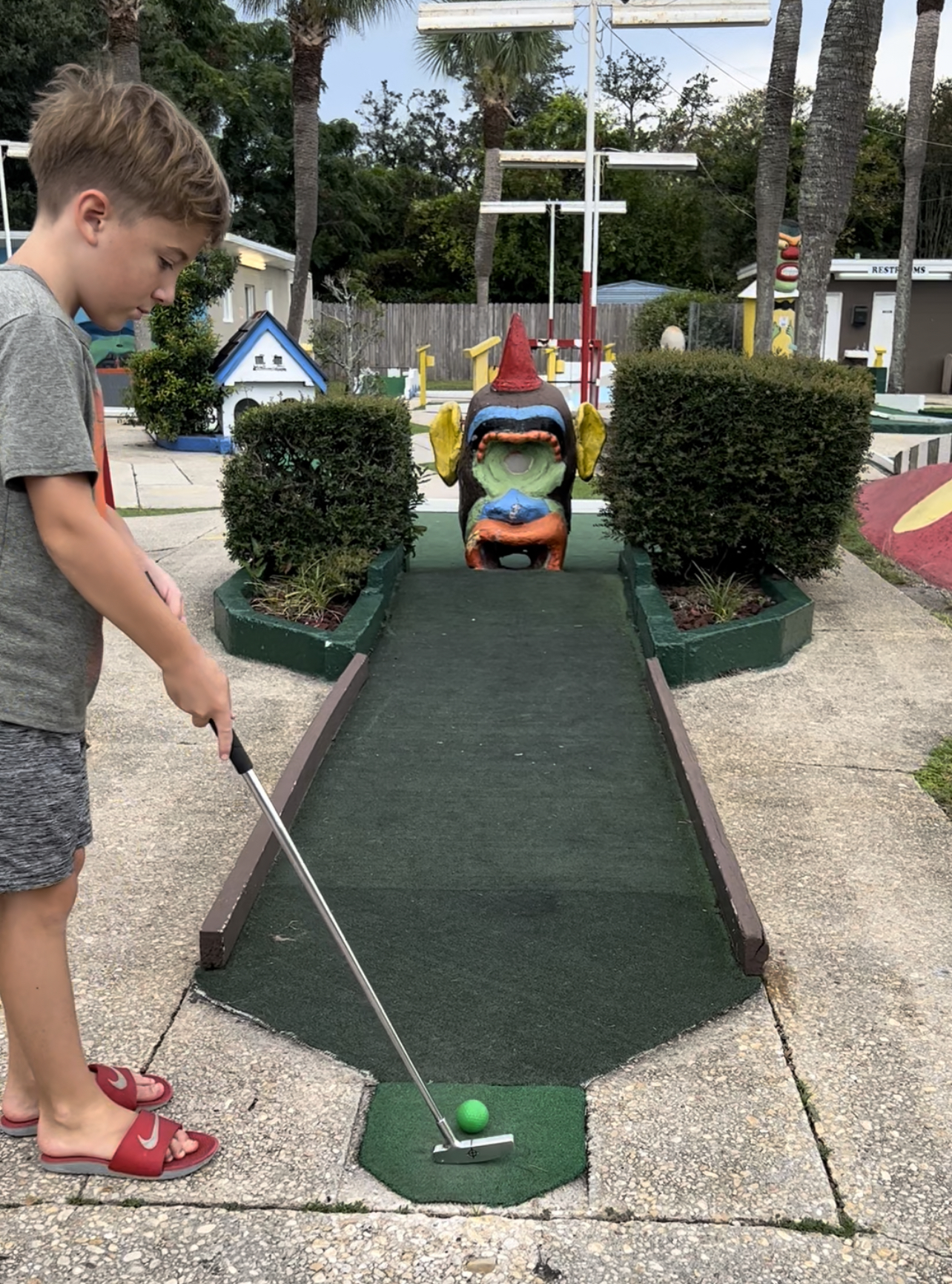 Clements says that Bob and his wife Faye became like grandparents to him because he spent so much time at Goofy Golf.
"I would work there almost every night and they would cook dinner and I would go up to the house and grab dinner and come back down and eat it," he recalled. "I guess you would say I was part of the family."
When he looks around miniature golf course on Eglin Parkway, Clements says there isn't a thing that doesn't remind him of Bob.
"He showed me a lot of things in life," said Clements. "How to fix things and how to repair stuff around Goofy Golf. He taught me things that I've used in my daily life, because I'm a contractor as well, that have helped me."
"He was always a very happy man and always in a good mood," laughed Clements. "He loved people because this is what his business is, it provides entertainment for families and he loved seeing families.
"If I was working the hut and he came down and brought me dinner, he would probably run into 20 people he knew because these families have been coming here for 30-40 years. It would take him 20 minutes to get back to the house because everybody wanted to talk to him."
Clements says that he will forever see Goofy Golf and Bob as one in the same.
"Every time I think about Goofy Golf, I can see his face," he said. "I can see him and Faye because they're the ones that brought me into all of this and where I'm at now because of them."
More about Bob Fleskes
Bob was born on July 12, 1934 in Maple River, Iowa and spent his formative years in Dixon, Illinois. He graduated from Dixon High School in 1952.
He was preceded in death by his wife, Faye Fleskes; and her daughter, Lori Garcia; his brother, Don; and sisters, Phyllis and Jeannie.
Bob is survived by Betty Ann Jones, the mother of his three children, Selena Rogers (Walt Rogers), Laurie Keninitz and Robert J. Fleskes, Jr. (Melissa Ruggieri-Fleskes); stepchildren, Vici Schwan (Tony Schwan) and Traci Wade (Brian Wade); and grandchildren, Chase Garcia, Grant Ransom, Zach Keninitz, Amy Valdez, Kati Charles and Trevor Tommy. He also leaves behind three great-grandchildren; and his brother, Ted.
The family plans to hold a private memorial this fall.
To express condolences or share memories of Bob, please visit obituaries.nationalcremation.com/obituaries/milton-fl/robert-fleskes-10893676