March 8, 2023
|
Reading time:
14 mins
TOGETHER WITH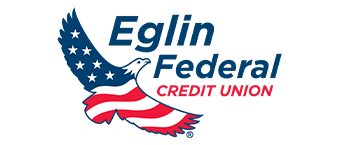 Good morning!
I'm hoping you can help me spread the word about Get The Coast…
If you enjoy my newsletter and think your friends, family, and colleagues would too, could you forward this email to them? By sharing the newsletter, you're not only helping us grow our community but also helping others stay informed and engaged.
So hit that forward button, encourage them to signup too…and let's keep the news flowing!
SPORTS
NWFSC Coach Steve DeMeo named to FCSAA Men's Basketball Hall of Fame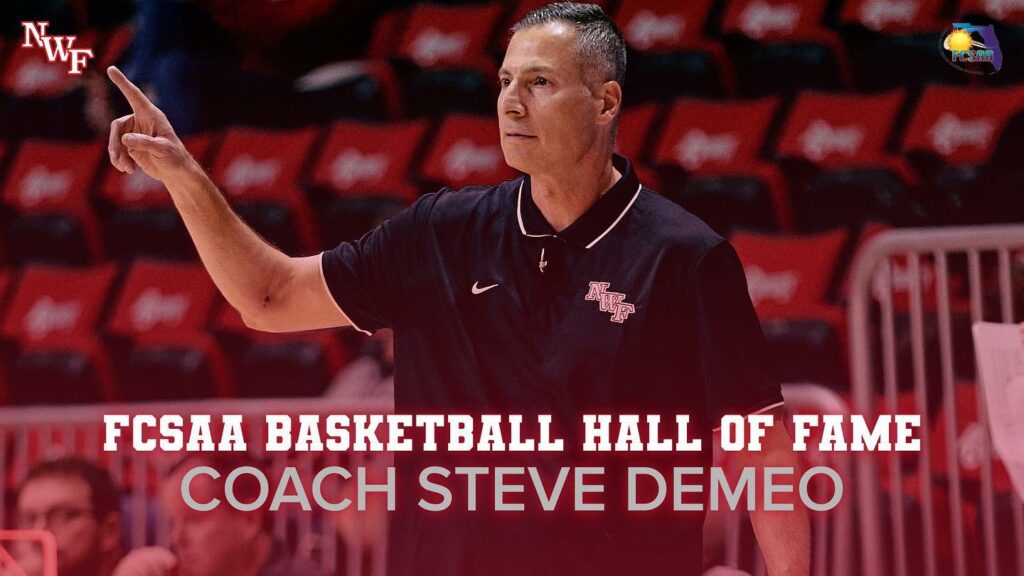 Steve DeMeo, the head coach of the Northwest Florida State College (NWFSC) Raiders men's basketball team, will be inducted into the Men's Basketball Hall of Fame as a member of the Class of 2023, according to the Florida College System Activities Association (FCSAA).
The induction will take place during this week's FCSAA/NJCAA Region VIII Men's Basketball Tournament at Raider Arena.
DeMeo's accomplishments in the basketball world span three decades and cover all levels of the college game. He led NWFSC to a national title in 2015 and was recognized as the Spalding NJCAA National Coach of the Year. The Raiders recorded an impressive six-year record of 170-27 (.863) under his direction, earning a berth in the 2017 NJCAA Final Four and advancing to the Elite Eight in 2016, 2018, and 2019.
DeMeo also guided the Raiders to five consecutive Panhandle Conference Championships from 2015 to 2019 and four FCSAA State Tournament Championships in 2015, 2016, 2018, and 2019.
Dr. Devin Stephenson, NWFSC president, expressed pride in DeMeo's achievement, saying, "His integrity, passion, and decision-making skills make him one of the best, and this recognition is well-deserved."
SPONSORED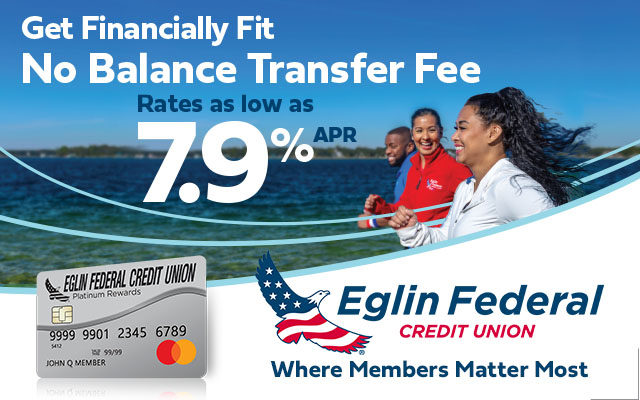 Lose the high interest credit card rate and transfer your balance to an Eglin Federal Credit Union Mastercard! There's no balance transfer fee, no annual fee, no cash advance fee, AND no international transaction fee. Interest rates are as low as 7.9% APR.
Get your finances in shape, and apply in person or online at eglinfcu.org/mastercard.
EVENTS
5th Annual Mac & Cheese Festival raises $63,000 for the Boys and Girls Clubs of the Emerald Coast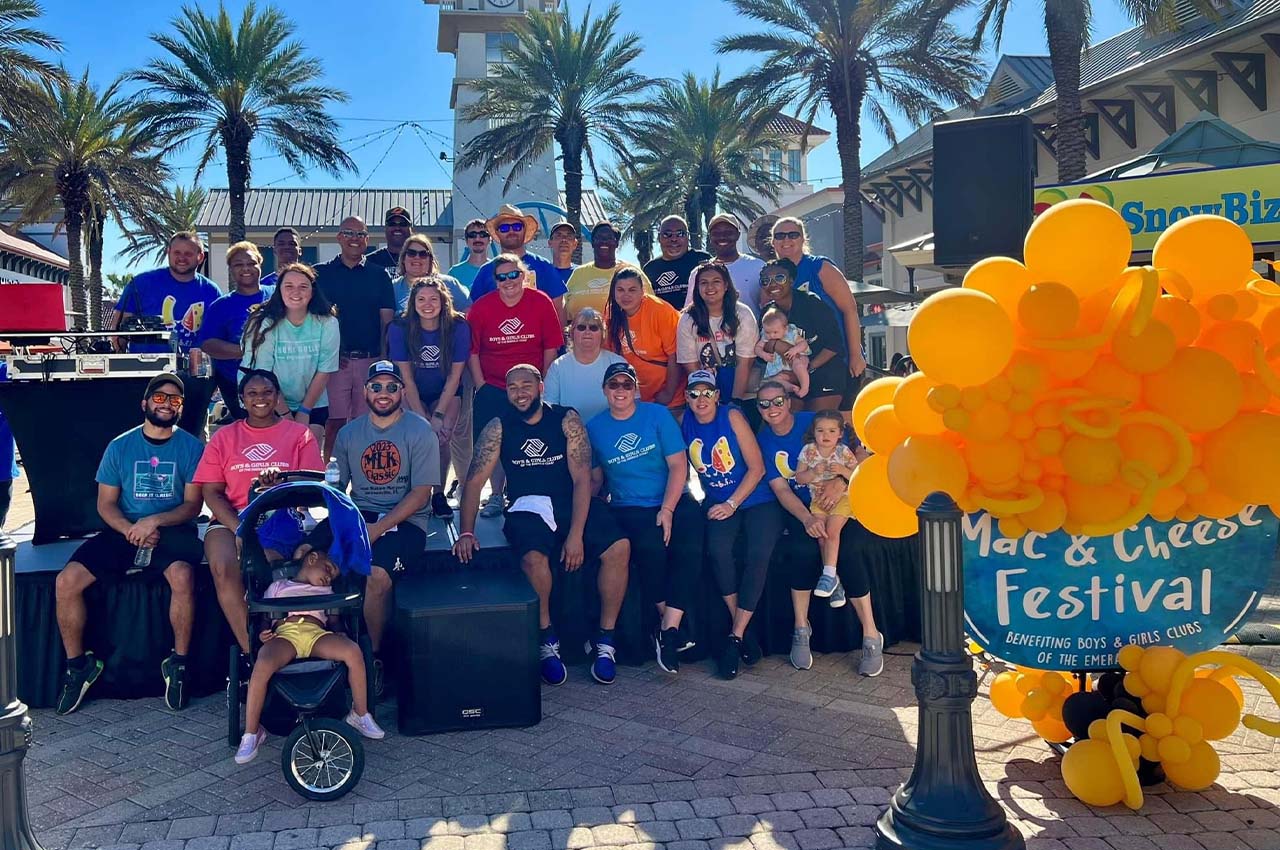 The 5th Annual Mac & Cheese Festival was a huge success at the Destin Commons on Sunday, March 5, 2023. The event raised $63,000 and welcomed roughly 1,600 attendees throughout the day.
Proceeds from the event benefit the Boys and Girls Clubs of the Emerald Coast, a local non-profit organization whose mission is to promote and enhance the development of boys and girls by instilling a sense of competence, usefulness, belonging, and influence through its programs focused on academic success, good character and citizenship, and healthy lifestyles.
"Our fifth Mac-N-Cheese Festival was a huge success and thoroughly outperformed our own expectations," said Shervin Rassa, Chief Executive Officer, The Boys & Girls Club of the Emerald Coast. "We are extremely thankful to all that attended, all of our cooking participants, Destin Commons, and all of our sponsors for making this year's event amazing. Every cent raised through this event will make an impact on the over 5,000 youth we serve on an annual basis. Our team is already working on next year's event, we look forward to an amazing sixth year."

The family-friendly event featured gourmet, chef-inspired twists on the South's favorite comfort food. Local restaurants brought their A-game to compete for the best mac and cheese in town. Visitors were able to sample each vendor and cast their votes. There were three categories in total, Judge's Choice Award, People's Choice Award, and Kid's Choice Award.
Award winners are as follows:
Judge's Choice: Boathouse Oyster Bar
People's Choice: Jackacuda's Seafood & Sushi
Kid's Choice: Sauce Boss Burger Co.
NEWS
Okaloosa to move forward with 'corrective action plan' with Helicopter tour company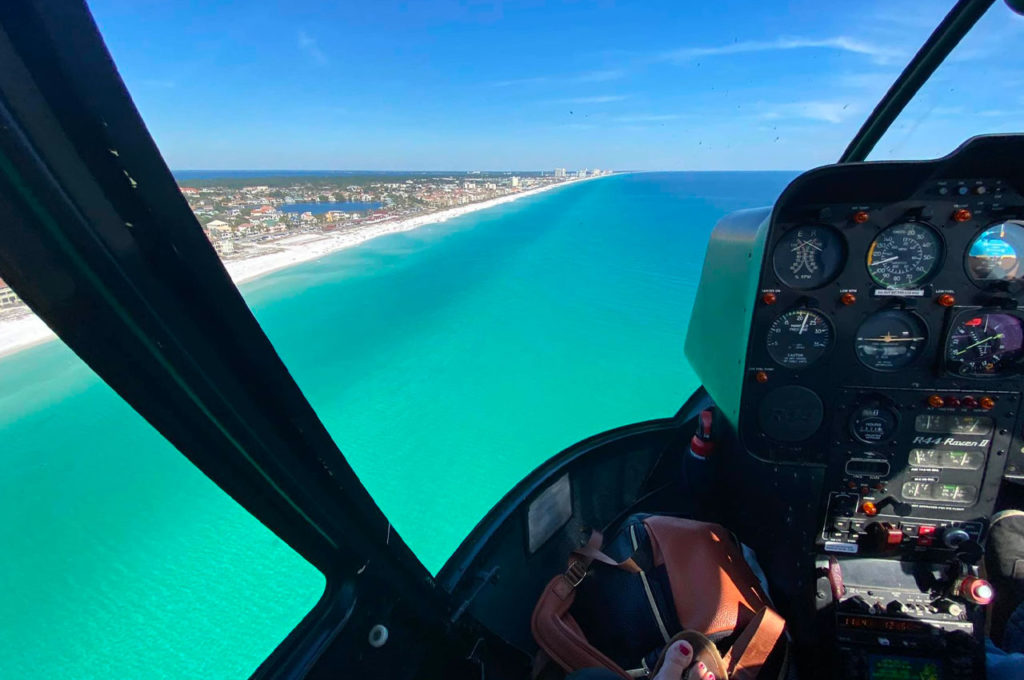 On Tuesday, March 7, 2023, the Okaloosa Board of County Commissioners voted to submit a corrective action plan to the Federal Aviation Administration (FAA) following a recent ruling in favor of Timberview Helicopters.
In August 2021, the county terminated Timberview's operating agreement at Destin Executive Airport citing concerns over the impact of helicopter operations on safety, tourism, quality of life, and military missions.
Timberview challenged the decision in a Part 16 Complaint with the FAA, and on February 21, 2023, the FAA ruled in the company's favor on one claim of economic discrimination.
According to Grant Assurance 22, the airport sponsor must make the airport available for public use without unjust discrimination to all types of aeronautical activities, including commercial activities.
As a result of the ruling, Okaloosa County had to either appeal or submit a corrective action plan within 30 days, detailing how it plans to eliminate "unfair and unjust discrimination and revoke unreasonable access and flight restrictions on Timberview and other users."
The county was also required to revoke and rescind "all unreasonable access and flight restrictions and requirements that it placed on Timberview or other users without FAA approval."
The corrective action plan was approved by the Okaloosa Board of County Commissioners during a Special Meeting on March 7, 2023, following an Executive Session. The plan must be submitted by March 23, 2023.
The county noted that the matter remains in active litigation, with further information to be released as legally permitted.
EVENTS
Seaside School Foundation raises more than $600K at 2023 Race Weekend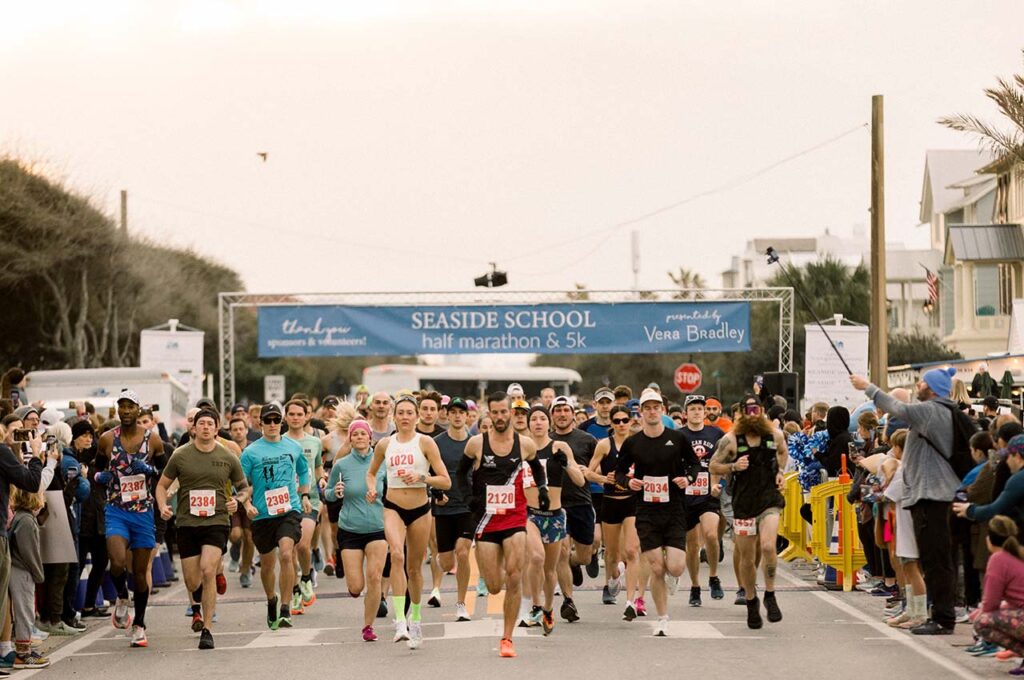 The 21st Annual Seaside School Half Marathon & 5K was a huge success, with thousands of runners from all over the country coming together on February 19th, 2023 in Seaside to support The Seaside School Inc.
More than $600,000 was raised through the Seaside School Race Weekend efforts, with 100% of the funds raised benefiting the Seaside School Foundation.
The Seaside School Inc. is a tuition-free, public charter school serving students across Walton County in grades 5 through 12. It is one of the first and oldest operating public charter schools in Florida and was recently ranked #1 combination public charter school in Florida.
Patrick McCarthy, President of the Seaside School Foundation, emphasized the importance of the money raised during Race Weekend, saying, "The students that we serve in 5th through 12th grades rely heavily on this annual fundraising event, and without the race and the support of the community, we would not be able to provide our students with the unique learning experience they receive at our school."
The charity race weekend started with the annual race pre-party, Taste of the Race, on Friday, February 17th. The event was hosted by Tom Glavine, Major League Baseball Hall of Famer and former Atlanta Braves' pitcher, and the Corchis Family, owners of Amici 30A Italian Kitchen and Amigo's 30A Mexican Kitchen restaurants.
Nearly 700 party-goers attended the Seaside party, where 18 local chefs competed for top culinary awards. The Shrimp Shack, Team Dawson Group, won the coveted Chef's Choice Award, Jackacudas, Chef Orion Cordoves, won the People's Choice Award, and Shunk Gulley, Chef Tyler, won the Judge's Choice Award.
On Race Day, the half marathon male champion was Derek Bovard, 37, of Freeport, FL, finishing the race in 1:15:46.19. The women's half marathon winner was Katie Sherron, 41, of Tallahassee, FL, with a time of 1:19:24.6.
In the 5K race, Drew Beroset, 10, of Pensacola, FL, won the male division with a time of 17:01.72, and Caroline Couch, 15, of Tallahassee, FL, was the women's 5K winner with a time of 19:23.56.
Teresa Horton, Executive Director of the Seaside Schools Foundation, expressed her gratitude towards the community of runners, supporters, volunteers, students, and staff who made Race Weekend possible, saying, "The participants of Race Weekend also provide a welcome boost to our local restaurants, boutiques, and accommodations during what's typically a slower time of year. Race Weekend truly benefits our entire community."
PARKS+REC
Destin City Council reinstates annual passes for residents at Joe's Bayou Boat Launch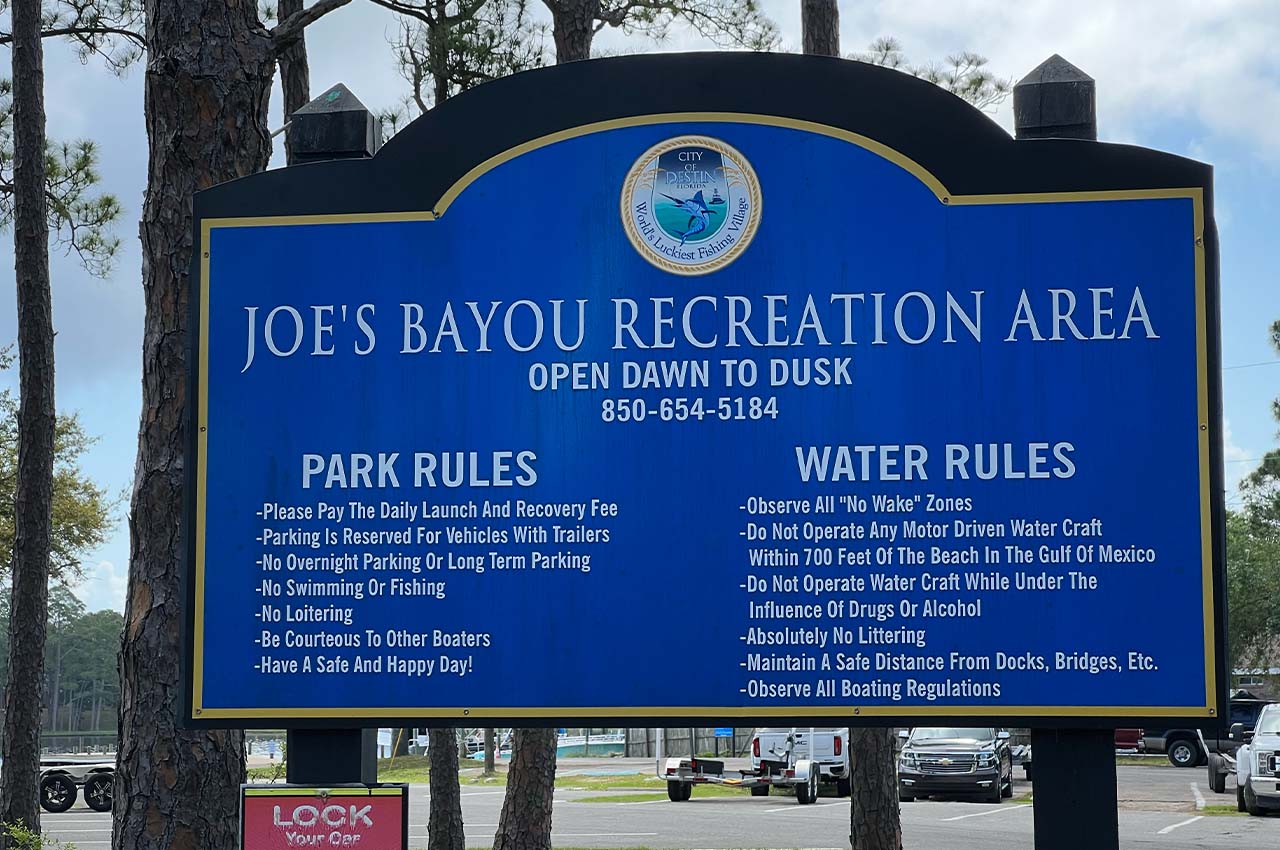 On Monday, March 6, 2023, the Destin City Council voted reinstate the annual pass for residents at Joe's Bayou Boat Launch.
According to the city, currently, Destin residents receive Joe's Bayou annual passes free of charge.
Non-Destin residents can purchase passes for $205 per calendar year.
Daily launch fees are currently $20.
The council voted to reinstate the Residents' Annual Pass to $20 per calendar year and to increase the daily launch fee to $25 per launch for non-pass holders.
In 2015, the city council approved the elimination of the Joe's Bayou local fee and the increase of the daily fee from $15 to $20.
"Several years back it was $30 for annual passes for residents to Joe's Bayou," said Council-member Teresa Hebert during the meeting. "So it would not be anything out of the norm to just go back to that. That's an annual $30 pass for everyone in Destin to launch their boat throughout the summer, winter. It's good for a year."
However, Council-member Kevin Schmidt suggested that rather than charging the citizens for the annual pass, he would like to leave it as-is (free) and just change the daily launch fee for the people that aren't citizens.
"It's the citizens' park, so part of me thinks about not bringing back the annual pass, but just increasing the daily launch fee," he said.
Council-member Dewey Destin also agreed with Schmidt's idea, stating, "I would agree with Kevin's idea of not to charge the residents. $30 is too much. It's above the commercial rate. And once again, we are trying to gouge some more money out of those that come here for vacation."
In the end, Council-member Teresa Hebert moved to direct staff to reinstate the Residents' Annual Pass to $20 per calendar year and to increase the daily launch fee to $25 per launch.
The vote passed 4-3, with Mayor Bobby Wagner having to be the deciding factor in a split vote.
Council-members Destin, Schmidt and Geile voted no on the change.
PARKING
Destin City Council increases paid parking fees for Harbor and beach areas, residents remain free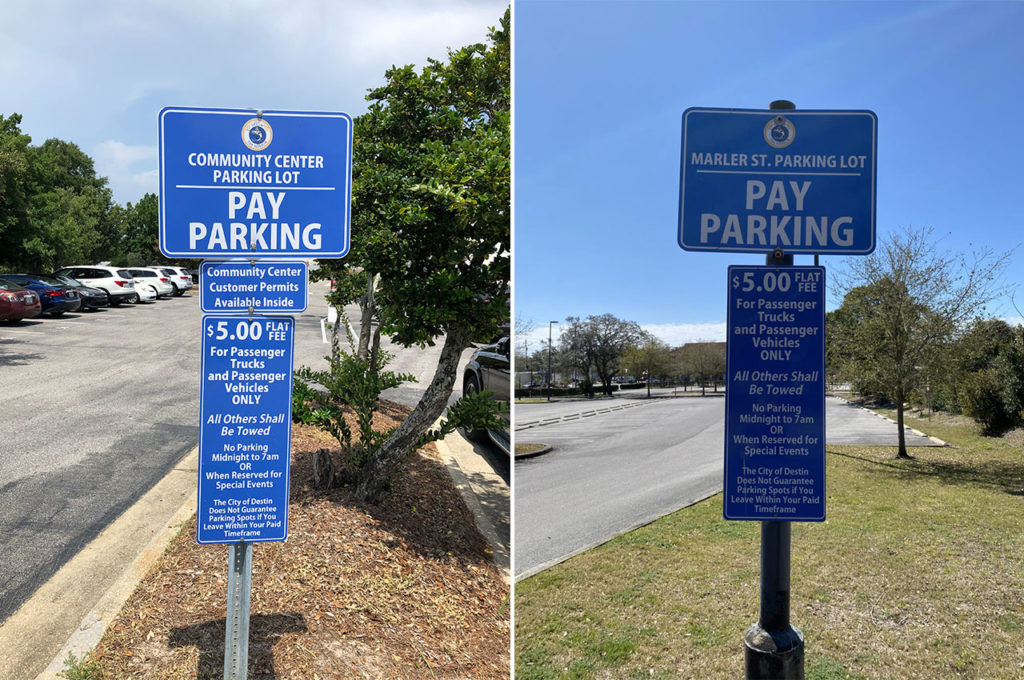 The Destin City Council has made changes to the city's paid parking program, which will affect both the Harbor and beach parking areas. The decision was made during a council meeting held on Monday, March 6, 2023.
The paid parking program was expanded in 2020 to include beach parking areas south of Highway 98, in addition to the Harbor District in the Zerbe, Marler, and Community Center parking lots.
The flat rates for these areas were established as $5 for 24 hours for the Harbor District and $5 for 5 hours for the beach areas.
Some privately-owned paid lots south of Highway 98 are considering charging $10-$20 per day, with hourly charges after a minimum time, according to the city.
City staff worked to improve the paid parking program in 2021 through better physical and digital wayfinding. According to the city, these efforts paid off as the usage of the Marler parking lot increased by approximately 320% for the 100 days of summer in 2021, compared to 2020, which was partly due to COVID-19.
In 2022, the city provided free resident passes for full-time residents, resulting in a 10% reduction in paid parking revenue. However, the Harbor District brought in 47% ($200,000) of the total paid parking revenue, while the beach district brought in about 53% ($225,000).
The City also established a designated fund for the paid parking program, dedicating all parking fund revenues to parking infrastructure.
After much discussion, the council ultimately decided to increase the Harbor Parking Fees to $20 per day and the beach parking fees to $20 for four hours. The fines for illegal parking will now be $100.
NOTE: All City of Destin full-time residents get two free parking passesfor their vehicles.
The City estimates that these fees updates will go into effect sometime in mid-May and staff will provide the council with an update in August to determine if future changes are necessary.
OK, that's all I have for you this morning! I hope you have a great Wednesday!
p.s. What did you think of this morning's newsletter? Hit the reply button and let me know!
Published with ♥ by Get The Coast.
Did someone forward you this email? Subscribe here.
124 Eglin Parkway SE Fort Walton Beach, FL 32548