March 10, 2023
|
Reading time:
15 mins
TOGETHER WITH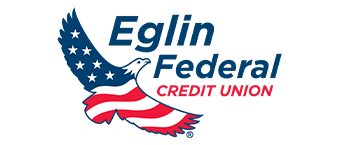 Good morning!
Quick reminder that ERA American Real Estate is hosting its "Super Open House" event from March 10-12, 2023, showcasing over 50 homes available for viewing across the Emerald Coast and beyond.
Visitors can access a map of all available homes at erareal.com/super, including details on the agents present and open times. The event aims to generate excitement around the housing market and provide a hassle-free way for visitors to explore a wide range of properties on their own schedule.
Let's get to the news this morning…
MILITARY
Eglin Air Force Base has a surge of weather balloon releases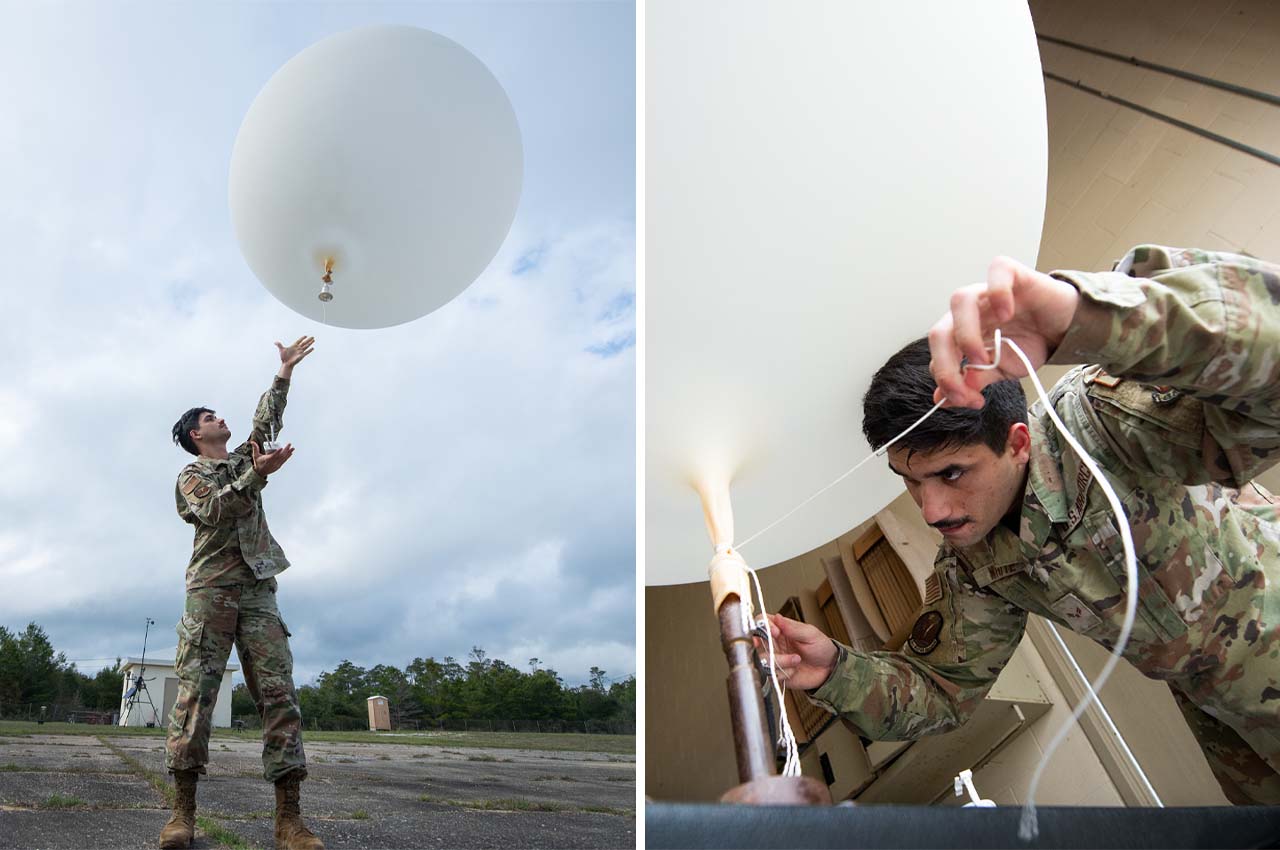 Over the last few weeks, the 96th Weather Squadron had a surge of weather balloon releases averaging three to five balloons per week.
According to Eglin Air Force Base, Squadron operators typically release an average of 70 balloons per year to gather atmospheric data for Eglin Range mission requirements.
These approximately four-foot diameter helium-filled balloons, which can reach elevations of over 70,000 feet, carry a small white box called a radiosonde.
The radiosonde, which begins collecting data as soon as it's activated, gathers information like GPS coordinates, wind speed, direction, height, pressure, temperature, and humidity. That data creates a map of the vertical structure of the atmosphere. The device transmits the weather data back to Eglin as the balloon carries it up through the atmosphere.
After approximately an hour, Eglin says the balloon pops and falls back to earth. The radiosonde senses the dramatic altitude drop and stops gathering data.
The gathered information from the balloon's flight is compiled by weather operators and delivered to test engineers, who use the data in various weapons test evaluations.
SPONSORED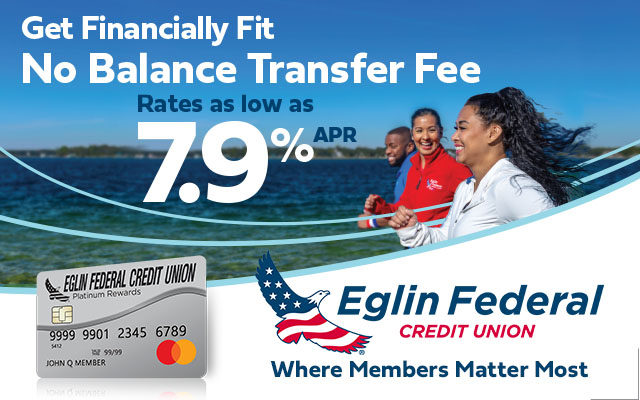 Lose the high interest credit card rate and transfer your balance to an Eglin Federal Credit Union Mastercard! There's no balance transfer fee, no annual fee, no cash advance fee, AND no international transaction fee. Interest rates are as low as 7.9% APR.
Get your finances in shape, and apply in person or online at eglinfcu.org/mastercard.
GOLF
Eglin Air Force Base to reopen golf course to the public in August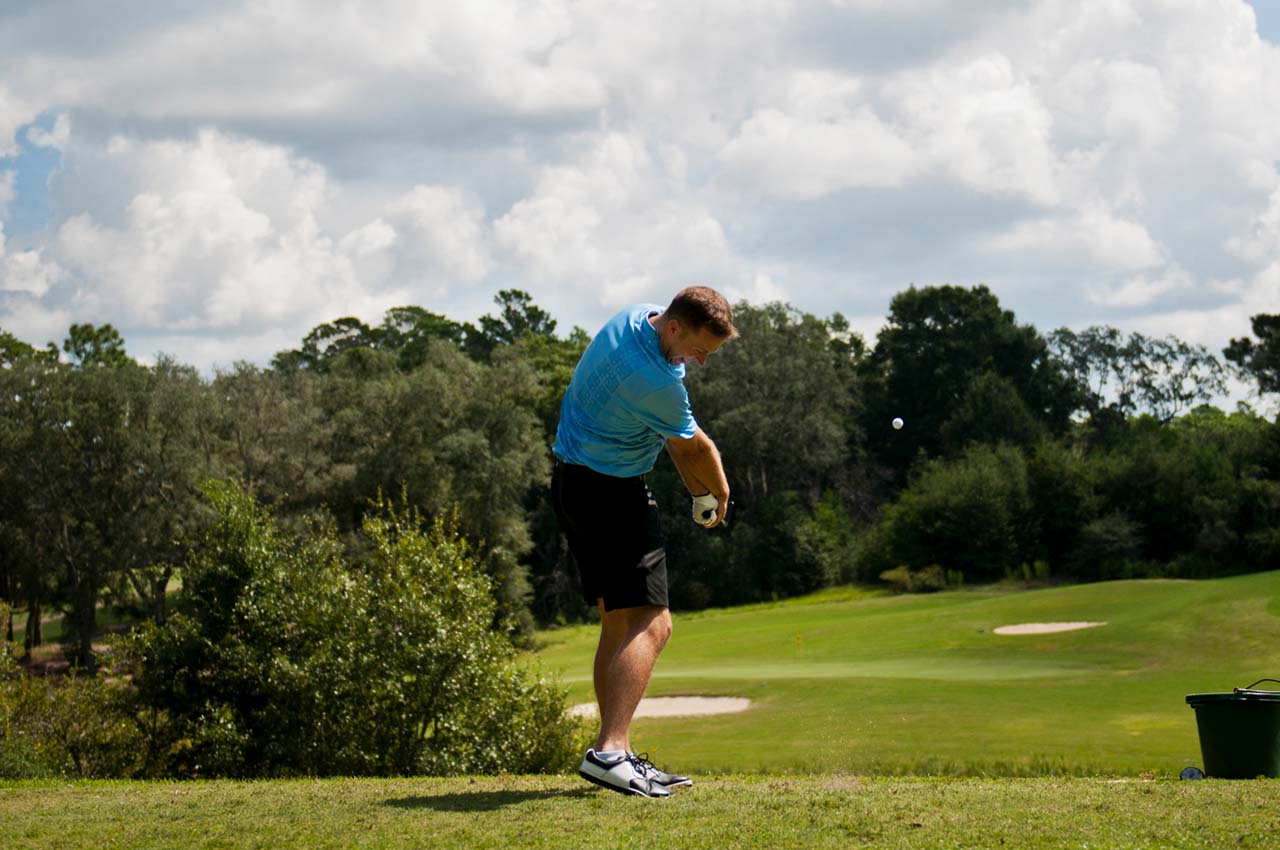 Eglin Air Force Base has announced plans to reopen its golf course to the public in August 2023, restoring community play for the first time in several years.
According to a press release from the base, members of the public will no longer need a Department of Defense ID sponsor to access the golf course, which will be reduced from 36 holes to 27 holes to accommodate the new public play.
The green fees for the public will be consistent with other area golf courses.
The 96th Force Support Squadron has developed initial renovation plans for the golf course, which include investment in a community-based clubhouse and driving range facilities. The squadron is also planning to invest in the course's infrastructure to meet the industry standards and expand community engagement.
Colonel Tassika Davis, the 96th Mission Support Group commander, said in the press release, "We want to provide a modern community-based golf-course where our service members and the community can play golf and celebrate life events."
The 96th Force Support Squadron's community service flight chief, Nyron Alexander, said, "Our goal is to enhance and broaden our customer base through creative programming with our community partners to promote family connectedness, recreation, fitness, and quality of life."
For more information on the golf course and community play, interested parties can call 882-2948 or visit https://www.eglinlife.com/golf/index.html.
GIVING BACK
Step One Automotive Group to announce 2023 Driving Opportunity Winner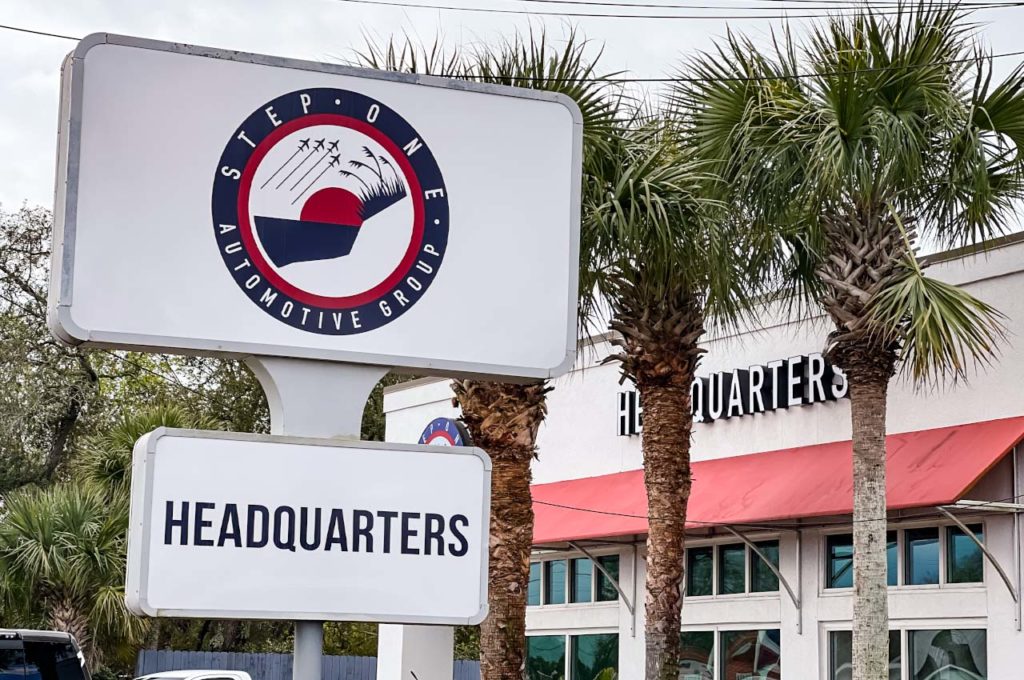 Step One Automotive Group, in partnership with United Way, will give a family in need the gift of mobility with the 2023 Driving Opportunity program. On March 31st, 2023, Step One Automotive Group will announce the winning family on Facebook Live.
Step One Automotive Group is known for being a community-involved organization and created the Driving Opportunity program to provide a reliable vehicle to families in need. The program has received an overwhelming response from families over the years, prompting the organization to partner with United Way agencies and their partner organizations to create a fair selection process.
"From day one we have been committed to empowering lives through smarter and easier ways of accessing mobility," said Darra Flanagan, Corporate Event Manager, Step One Automotive Group. "Bringing Driving Opportunity to life is the essence of who we are as a company."
This year, the Driving Opportunity program has expanded, with two additional United Way agencies added to the list of applicants. This expansion will provide more families with the opportunity to apply and potentially receive the gift of mobility.
According to Step One, the program's success has not only impacted the lives of the winning families but also fostered strong relationships between Step One Automotive Group and the United Way agencies.
Step One Automotive Group invites the public to join them on Facebook Live on March 31st, 2023, as they draw the 2023 Driving Opportunity winning family.
SCHOOL
Students at Pryor Middle School take on leadership roles for the day thanks to a long-time Okaloosa educator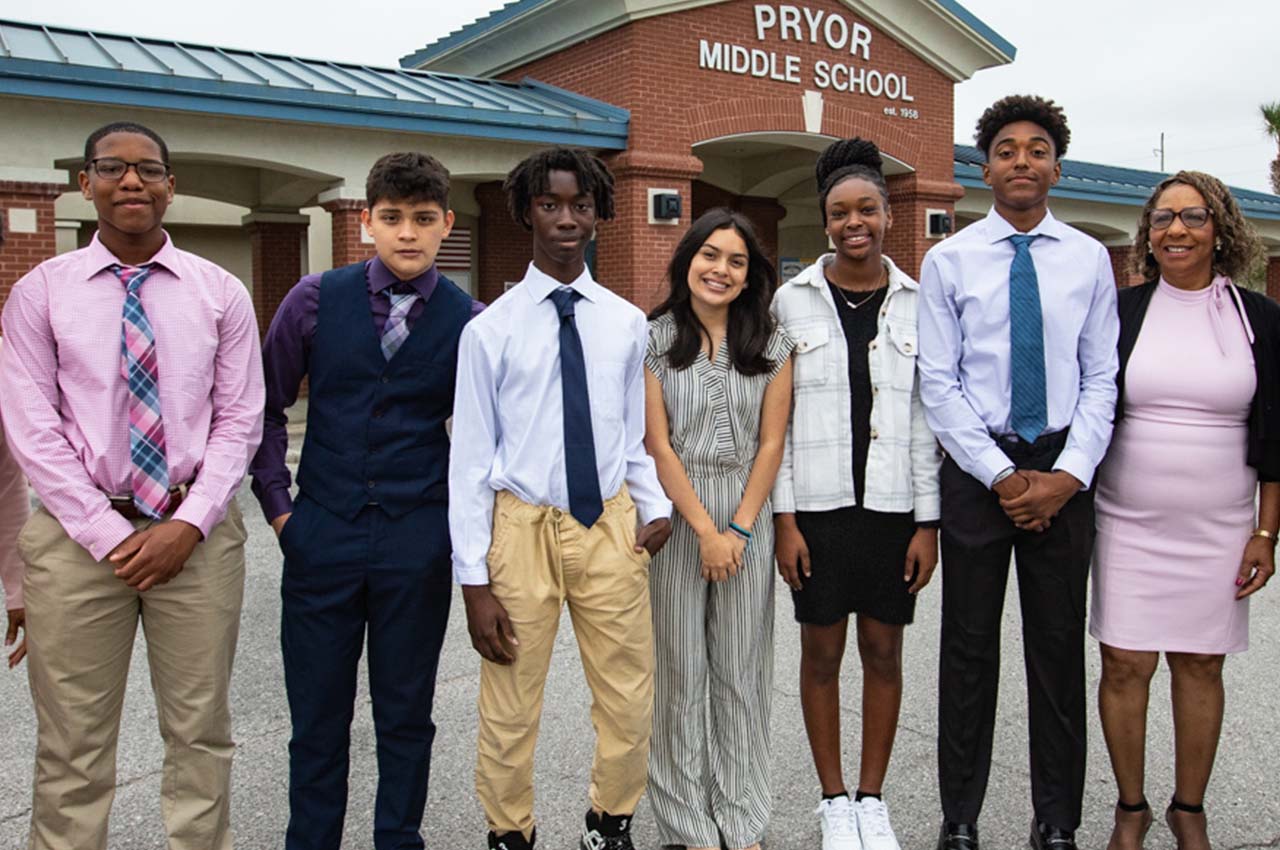 Yesterday, six students at Pryor Middle School in Fort Walton Beach were selected to participate as "Sophisticated Educators" for the day, an initiative that allowed them to step into leadership roles at the school.
The students, normally dressed in their Pryor Middle School shirts as part of their uniform, had the opportunity to get dressed up.
The idea for the leadership day came from long-time Okaloosa educator, Mrs. Gloria Parish, who has taught at Pryor for 27 years. Mrs. Parish's career began with her work with special needs students at Florosa Elementary. In her time teaching, she has taken a vested interest in listening to the students and being firm, while making sure she shows them how much she loves them and wants to see them succeed.
The students selected to participate in the "Sophisticated Educators" day were Destiny Cortez, Fernando Martinez, Oluwapelumi Adeniji, Anoviyah Wilson, Jamaarie Alcide, and Andre Bridgewater. All are 8th grade students.
Principal Brooke Barron praised Mrs. Parish for her dedication to the students, stating, "She has a true gift of getting to know her students on a personal level and building relationships that last beyond the classroom. When she approached me with this idea, I knew it would be something special."
Mrs. Parish's idea was to provide these students with the opportunity to step into leadership roles and demonstrate the importance of making the right choices in life.
Mrs. Parish also shared her motivations for starting the program: "I wanted to show the students that it's okay to struggle sometimes in education and in life, but you can do it," she said. "There is nothing out there in life that is easy. You will go down some rough roads, but then you will smooth them out. That's what I want these kids to know."
The day began with the students greeting their peers as they got off the bus, a responsibility typically reserved for school staff. They then took on the role of hall monitors and greeted their fellow students and staff throughout the day. The students dressed up in a mix of shirts and ties, slacks, and dresses, showing the entire school that they were serious about their leadership roles.
For these students, the day was an opportunity to demonstrate their commitment to education and their willingness to lead by example.
"It feels good to be a leader and be able to step out and be an example of what students should be doing and showing them what not to do," said Oluwapelumi Adeniji, Student Council President and one of the participating students.
Jamaarie Alcide added, "If you want to be successful, you have to make the right decisions that will lead you to success. We can show other students at Pryor that they can do and be anything they want by making the right choices."
The response from their fellow students and staff was overwhelmingly positive, with some teachers even shedding tears of pride. The students' peers greeted them as if they were real educators, offering compliments and support throughout the day.
In term of the impact on the 6 students, they were all happy to have been chosen and spoke of the importance of having Mrs. Parish in their lives.
"They both care about the students a lot," Andre Bridgewater said of Mrs. Parish and another teacher, Ms. Randolph. "I think of them both as family, like a grandmother."
Oluwapelumi Adeniji agreed and added that "they both love to take actions to show that they care," with Jamaarie Alcide saying "I push myself to make the right choices whenever I see them."
For Mrs. Parish, the day was an opportunity to show her students that they are capable of achieving greatness. One of the students shared with Mrs. Parish that he felt like a different person waking up that morning because of what he knew was happening at school.
"Looking at these kids this morning, it showed me that these kids can be anything they wanna be in life, they can accomplish anything they want to," she said.
Not just these 6, but students across the school mean the world to Mrs. Parish, who says they have made a difference in her life too.
"There are kids who really need someone to respect them and let them know that there are people out there in education that really care for them," she said. "These kids really touched me today. I never thought it would touch me like it has. It was just something that came across my mind and I wanted to give them this experience."
THE WEEKENDER
A few things to do around town
Want your event featured? Add it to our events calendar!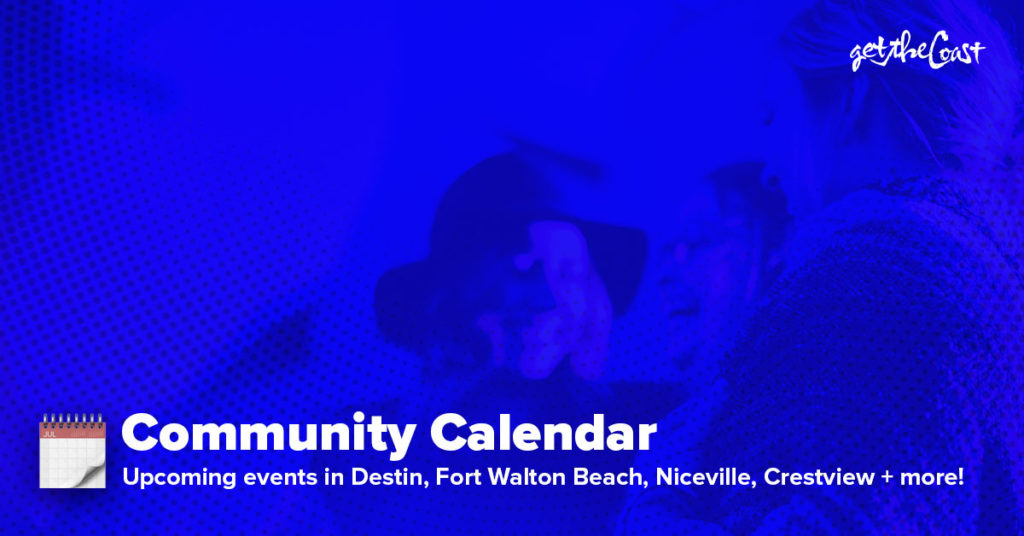 March 10, 2023 – Live Music at Twisted Grape: Rick Esguerra – View
March 11, 2023 – Live Jazz with Benghazi Gresham – View
March 11, 2023 – Classical Connections featuring Geneva Lewis, Violin – View
March 12, 2023 – The Destin Commons Market – View
March 12, 2023 – Ceramic Mushroom Wind Chime Class – $45 – View
March 14, 2023 – A Conversation with Author Ashlee Leppert – Free – View
March 15, 2023 – Spring Break Workshops – $10 – $12 – View
March 15, 2023 – C.A.R.E.ing for Turtles – $15 – View
March 15, 2023 – Wednesday Night Concert Series at The Village of Baytowne Wharf – Free – View
March 16, 2023 – Bubbly Baytowne – Free – View
March 17, 2023 – St. Paddy's Day Delight — Paint the Village Green – FREE – View
March 19, 2023 – 5th Annual INTERNATIONAL FESTIVAL Fort Walton Beach – FREE – View
March 19, 2023 – Scallywag Sunday – Free – View
March 20, 2023 – Holi Festival of Colors – Free – View
March 20, 2023 – Movie Monday – Free – View
March 21, 2023 – The Music of David Singley – Free – View
March 21, 2023 – Boomin Tuesday – Free – View
March 22, 2023 – Wednesday Night Concert Series at The Village of Baytowne Wharf – Free – View
March 23, 2023 – Animal Tales at the Science Center – $15 – $17 – View
March 23, 2023 – Gulfarium Sunset Camp – $25 – $89 – View
March 23, 2023 – Fly Guy Thursdays – Free – View
March 24, 2023 – Global Soundscapes Planetarium Event – $8 – $12 – View
PUBLIC SAFETY
Okaloosa Deputies crack down on Spring Break underage drinking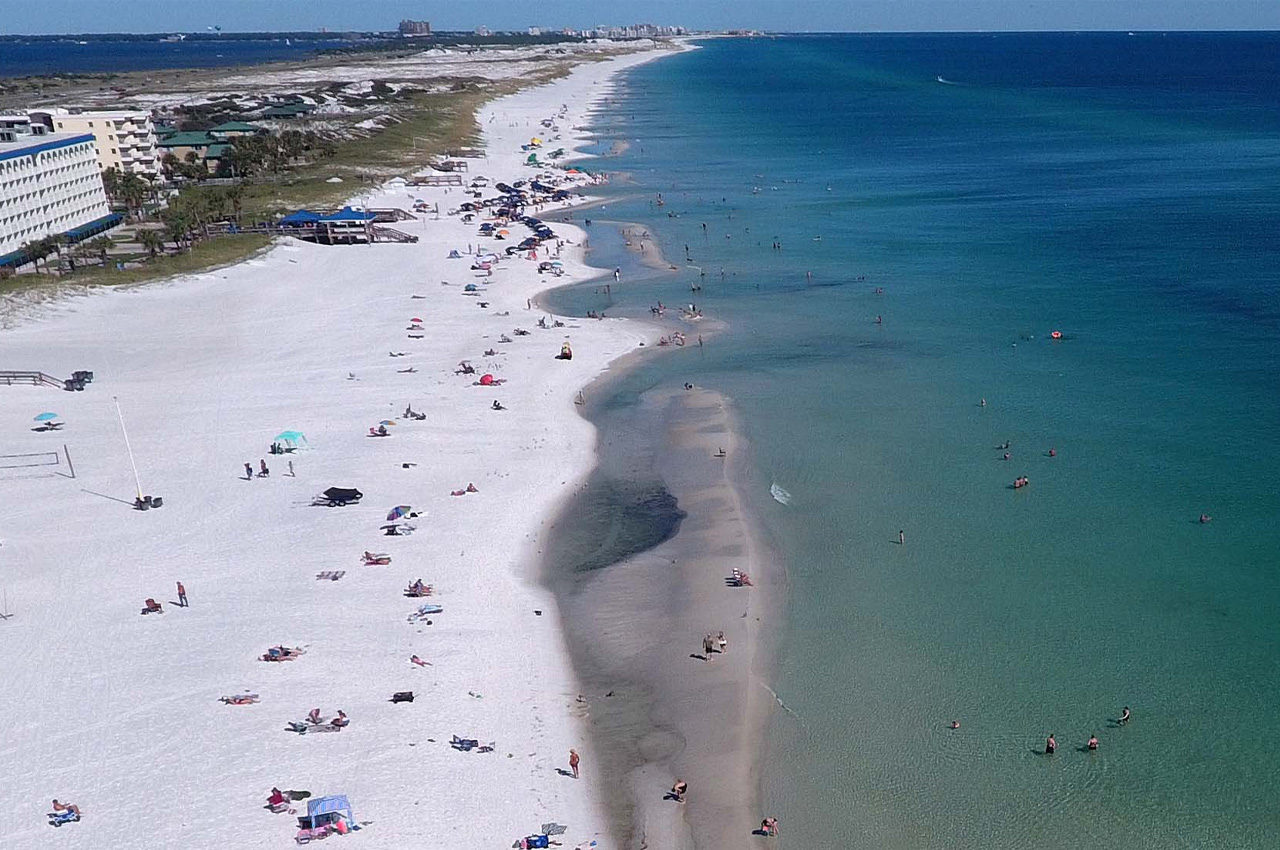 The Spring Break season has officially begun in Okaloosa County, with families and college students arriving into town to enjoy our beaches. However, the Okaloosa County Sheriff's Office (OCSO) has issued a stern warning to all students regarding underage drinking.
The OCSO has a zero-tolerance policy for underage possession of alcohol and has already issued 74 notices to appear (NTAs) during the first ten days of Spring Break.
These NTAs are essentially a ticket that requires the offender to appear before a judge.
It's important to note that these notices aren't limited to college students but can also apply to high school students. During last year's Spring Break season, the OCSO issued 659 NTAs to underage drinkers, ranging in age from 14-years-old to 20.
Out of these NTAs issues last year, 144 were issued to high school students, while 502 were given out in the Destin area, 153 on Okaloosa Island, and four others in the rest of Okaloosa County.
OK, that's all I have for you this morning! I hope you have a great Friday!
p.s. What did you think of this morning's newsletter? Hit the reply button and let me know!
Published with ♥ by Get The Coast.
Did someone forward you this email? Subscribe here.
124 Eglin Parkway SE Fort Walton Beach, FL 32548