March 14, 2023
|
Reading time:
15 mins
TOGETHER WITH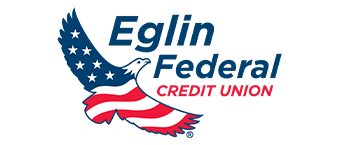 Good morning!
Today is Election Day for the cities of Fort Walton Beach and Laurel Hill. Polling Places will be open today, March 14, 2023, from 7am to 7pm. You can find your Election Day polling location by clicking here, and then viewing the sample ballot for your city.
There are 13 candidates for Fort Walton Beach and 4 candidates in Laurel Hill. Good luck and happy voting!
THINGS TO DO
Spring Kite Festival happening at The Boardwalk on Okaloosa Island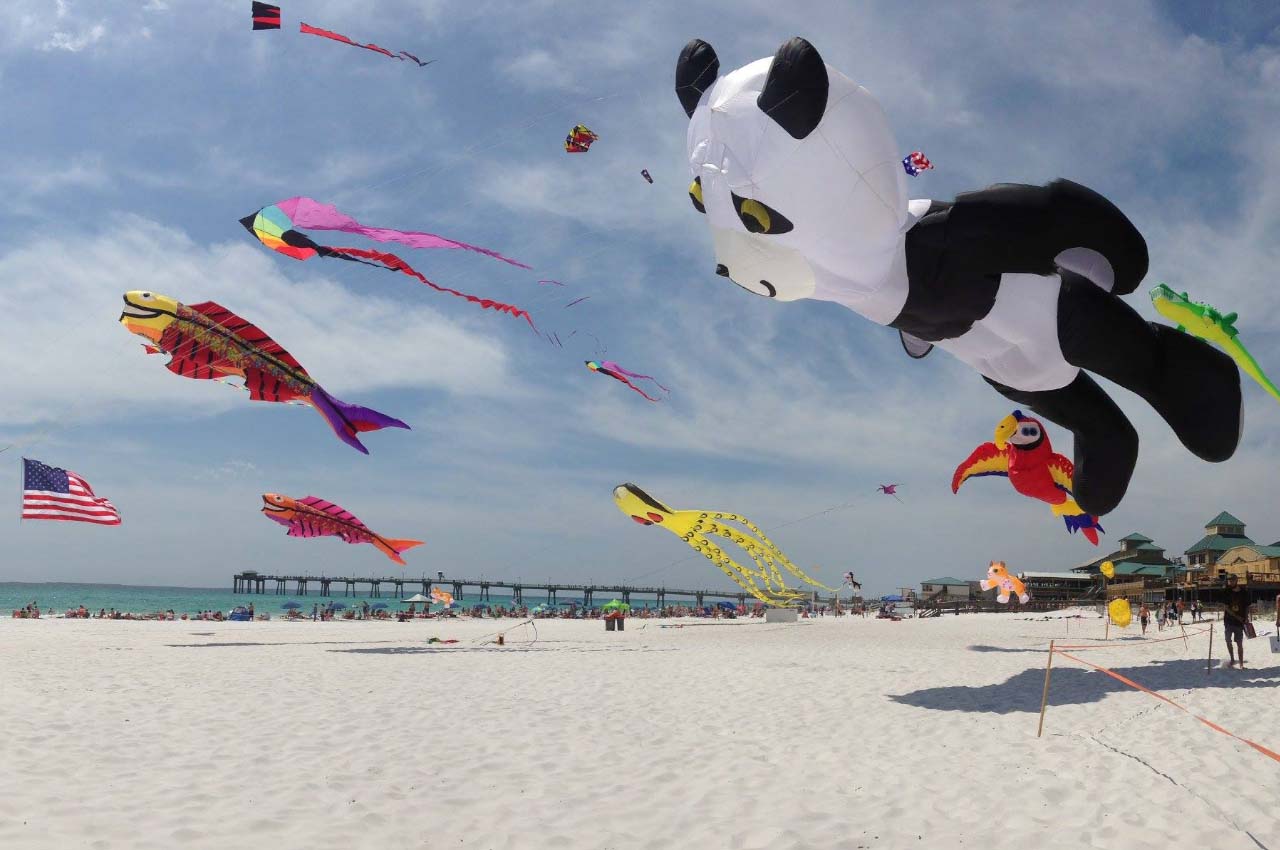 Get ready to soar to new heights at the upcoming Spring Kite Festival at The Boardwalk on Okaloosa Island! Join Kitty Hawk Kites and the Emerald Coast Kite Fliers Club on April 1st and 2nd for two days of FREE kite-flying fun.
If you're wondering what a 100-foot octopus, an 80-foot panda, and a 50-foot gator have in common, then you're in for a treat! They will all be flying high over the Fort Walton Beach Boardwalk during this event.
You won't want to miss this larger-than-life kite display that will take place from 10am to 4pm, with a grand finale kite flyer demonstration at 3:30m (weather dependent). Face painting with Galyna Trach and games for the public will also be available.
Are you interested in learning how to fly a kite like a pro? The Stunt Kite Demo/Kite Lesson Field, located on the west end of the Boardwalk across from the Okaloosa County Beach Safety-Lifeguard Headquarters, will offer free kite lessons with the Emerald Coast Kite Flyers Club and Jeremiah Stotesbery (available by walk-up). Additionally, you can watch some impressive stunt/power kite demos by Emerald Coast Kite Flyers Club, Quad FX, and Jeremiah Stotesbery from Kites N' Kids.
And that's not all! Head over to the Kitty Hawk Kites Store on Okaloosa Boardwalk from 10am to 4pm for even more kite-flying fun. Take advantage of the Kite Festival Super-Saver Deals at the store and enjoy free paper kite-making outside of Kitty Hawk Kites. And if your kite needs some fixing, Kite Doctor Chuck will be on-site to lend a hand.
Rockin' Tacos and The Boardwalk restaurants are proud supporters of the kite festival and provide complimentary meals to the event volunteers each year when they are at The Boardwalk.
"The Kitty Hawk Kite festivals are one of our favorite events here at Rockin' Tacos," said John Perry, General Manager, Rockin' Tacos Grill & Tequila Bar. "Our deck sits perfectly high above the beach for spectating the vibrant colors and creatures that fill the sky. It's always fun to see guests just casually eating tacos and then suddenly do a double-take at a flying panda or colorful octopus floating by."
Whether you're young or young at heart, the Spring Kite Festival at The Boardwalk on Okaloosa Island is the perfect event for anyone who loves outdoor fun. So, grab your family and friends, and come out to enjoy the festivities!
SPONSORED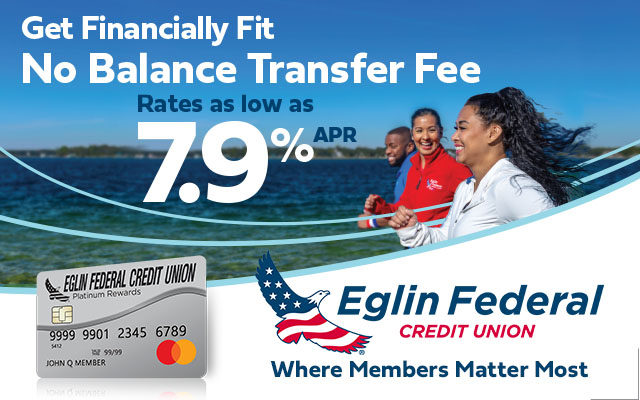 Lose the high interest credit card rate and transfer your balance to an Eglin Federal Credit Union Mastercard! There's no balance transfer fee, no annual fee, no cash advance fee, AND no international transaction fee. Interest rates are as low as 7.9% APR.
Get your finances in shape, and apply in person or online at eglinfcu.org/mastercard.
SPORTS
Destin Middle School unveils new tennis and pickleball courts, wins first match at home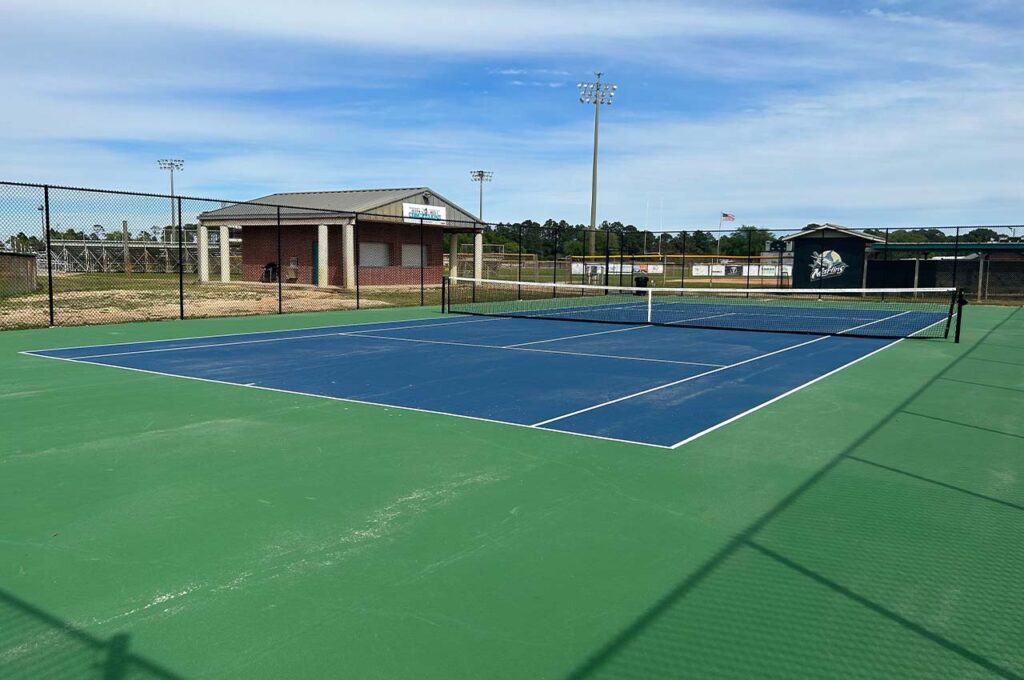 On Monday, March 13, 2023, Destin Middle School held a ribbon cutting ceremony to celebrate the completion of its new tennis and pickleball courts.
Last week, the boys and girls tennis teams played their first home games on the courts with both teams winning against St. Mary's of Fort Walton Beach.
The project to build the four new tennis courts and two pickleball courts began about a year ago. The courts were built by a contracted company from South Florida. Prior to the new courts, students had to travel to Bluewater Bay for practice and home matches.
"The new tennis courts will undoubtedly positively impact the tennis program at Destin Middle School, and we are grateful for the community's support in making this dream a reality for the students and staff," said Superintendent Marcus Chambers.
The new courts were a much-needed addition for the school's tennis program. In a press release from the Destin Chamber of Commerce, Destin Middle School Principal, Dr. Belinda Small, thanked several individuals and organizations for their contributions to the project.
"Our school community would like to thank Superintendent Marcus Chambers, the Okaloosa County School District, former DMS Principal Grant Meyer, Coaches Brett Chipser and Allison Frankfurt, and Brett Driver for helping make our vision a reality," said Dr. Small.
The new tennis and pickleball courts will provide students with a place to practice and play on their home turf.
PUBLIC SAFETY
Spring Breakers stopped for reckless driving, Okaloosa Deputies discover fake IDs, marijuana
On Monday, March 13, 2023, the Okaloosa County Sheriff's Office released an update on Spring Break arrests.
According to the update, four individuals, aged 18 and 19-years old, were pulled over for reckless driving.
During the traffic stop, law enforcement officials found fake IDs, marijuana, vapes, and paraphernalia.
The OCSO notes that possession of a fake driver's license is a felony and Deputies are urging people to avoid using fake IDs.
The Sheriff's Office has also issued 132 notice to appear citations for underage possession of alcohol, nearly doubling since Friday's report.
During last year's Spring Break season, the OCSO issued 659 NTAs to underage drinkers, ranging in age from 14-years-old to 20.
Out of these NTAs issues last year, 144 were issued to high school students, while 502 were given out in the Destin area, 153 on Okaloosa Island, and four others in the rest of Okaloosa County.
COMING SOON
'Coastal Kicks' set to open new store in Downtown Fort Walton Beach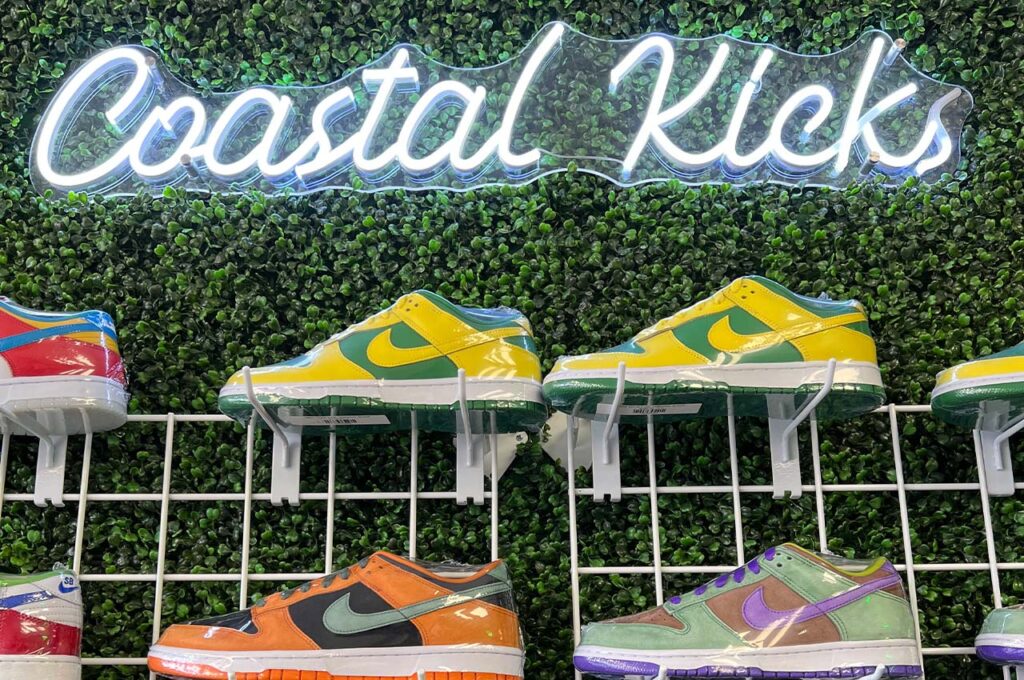 Coastal Kicks, a sneaker and streetwear store, is expanding and relocating to downtown Fort Walton Beach.
The store carries limited edition sneakers such as Jordans, Yeezys, and Nike Dunks. According to owner Cody Himes, they buy, sell, and trade sneakers, and are venturing into clothing and wholesale from brands.
Himes and his business partner, Ronnie Beale, started the business nearly 3 years ago in Mary Esther and have since opened a larger store in Pensacola. Now, they are moving their original store to the old Run With It location in downtown Fort Walton Beach. The new store will be 2,500 square feet, compared to their current location which is just under a thousand square feet.
Himes explained that they specialize in limited edition sneakers and streetwear.
"We carry the sneakers that sell out almost instantly when they are released," he said. "We are like a third party, or aftermarket, retailer."
When asked about the inspiration for the business, Himes said that he and Beale met while reselling shoes and decided to open their own store together. They started with a low amount of inventory and reinvested in the business to grow it as much as possible.
Himes explained that the move to the downtown area is part of their plan to attract more foot traffic (😏)and grow into a larger space. 
"We are just trying to get more front and center in the community and trying to just let everyone know we're here," he said. "The foot traffic and the amount of people in downtown Fort Walton Beach will be a lot better for us because right now we are hidden in a small plaza."
The move-in timeline is mid-to-late March 2023, with a projected opening date between May 1-May 15th. Himes is excited to be a part of the downtown area and see how everything develops over time. 
"We're super excited because we're already close with a lot of the shop owners down there so it'll be cool to be downtown and be a part of that area and see how everything develops over time," he said.
BUSINESS
Sandestin® celebrates 50 years, along with its rich history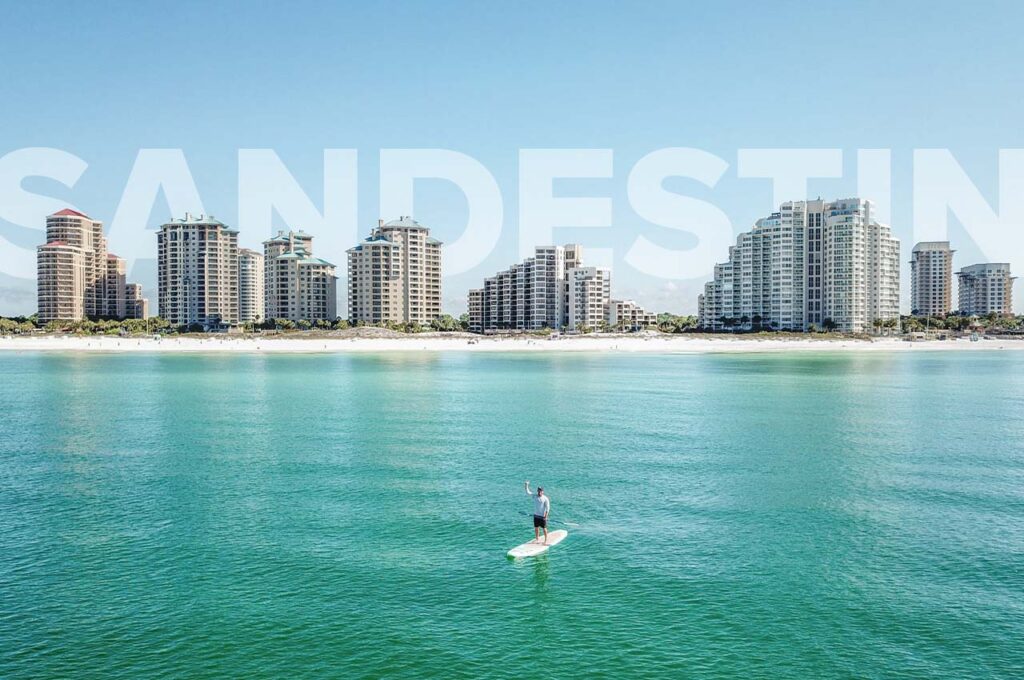 Sandestin Golf and Beach Resort® is marking a major milestone as it celebrates its 50th anniversary as a leading resort destination in Northwest Florida. The year-long celebration will feature new experiences, special surprises for guests, and throwbacks on social media and memory lane.
The resort has a rich history, starting with its original purpose as a farm for crops and livestock. During World War II, the military requisitioned a large portion of the Gulf side property to research captured "Buzz Bomb" missiles from the Germans.
According to Sandestin, the very first military use of American rockets was also tested and launched over the Gulf from top secret hidden bunkers located on the resort that can still be seen today, if you know where to look. 👀
In the 1950s, the land was sold to Winthrop Rockefeller, who later became the Governor of Arkansas, but his plans to develop the land into a coastal neighborhood were ultimately derailed. Walt Disney almost purchased the land in the 1950s for a proposed "Disney World," but his plans ultimately moved further south.
In the 1970s, developers with a vision of building a resort community borrowed the "San" from the unincorporated area known as Santa Rosa Beach to the east and mashed it together with "Destin" to the west. Sandestin® was formed in 1973, and its first golf course, The Links, was completed the following year, along with residential neighborhoods and a hotel on the bay, now known as Bayside at Sandestin®.
In the early 1980s, the marina, Baytowne Golf Course, and a beachside high rise were completed, and soon after, The Beach Boys performed right out on the sand for some 12,000 lucky attendees. The 1990s brought immense growth with the completion of restaurants like the popular Marina Bar and Grill, a professional Tennis Club, more distinct neighborhoods, as well as the prestigious Burnt Pine Golf Course.
The private Burnt Pine gated community within the Sandestin® gates soon followed, both named after a forest fire that had occurred in a portion of the woods a few years prior.
The Village of Baytowne Wharf also went into development and is now the town center of Sandestin®, filled with festive restaurants, world-class shopping, activities, and annual events.
In 2003, the Emerald Coast Blue Marlin Classic launched with awards totaling $371,000, when a group from Galati Yacht Sales and Sandestin Golf and Beach Resort® decided it was time to bring a big money tournament back to the Destin area. Total cash and awards totaled nearly $2 million in 2022, according to Sandestin.
The Sandestin Foundation for Kids was founded in 2011 by the owners of Sandestin Golf and Beach Resort®, the Becnel Family. The structure of the organization allows for funds to be gifted to children and families quickly in the event of a tragedy. Sandestin says that the goal is to provide support immediately, when it is needed most, to children throughout the community and abroad.
Osprey Pointe luxury condominiums welcomed their first guests in 2020, followed by the opening of Hotel Effie Sandestin, the resort's 250-room hotel, in 2021.
Today, Sandestin® is now home to seventy individual neighborhoods with full-time residents and thousands of lodging options that span the 2,400-acre expanse between the Choctawhatchee Bay and the Gulf of Mexico.
When asked about the success of this journey, Sara Becnel, Asset Manager and Vice President of Development shared, "The secret of the Sandestin experience is in the intentional details, smiles, commitment to service, memories passed down from generation to generation, dedication, and a lot of hard work." Becnel continued, "We have not simply remained relevant, but have led the tourism experience for guests through a balance of tradition and innovation."
Sandestin Golf and Beach Resort® has come a long way in its five decades of existence, and has big plans for this year's celebrations. The resort is already inviting guests to capture their #sandestin50 memories by participating in Instagram-worthy photobooth pop-ups, regularly updated and themed for each season of the year.
A special edition refillable cup is also available for purchase at Sandestin® retail and food & beverage outlets for $25. After purchasing the cup, guests can enjoy free soft drink refills for the rest of the year at participating Sandestin® food and beverage outlets.
On March 17, 2023, just in time for St. Patrick's Day celebrations, the resort will launch four signature beers at its food and beverage outlets. Sandestin® beers include a blond ale, sour ale, pale ale, and a lager. A signature wine is also in development.
Collectors-edition branded merchandise, including Sandestin-Opoly, will launch later this year, and guests can visit sandestin.com/sandestin50 for celebration updates and historical timelines.
OK, that's all I have for you this morning! I hope you have a great Tuesday!
p.s. What did you think of this morning's newsletter? Hit the reply button and let me know!
Published with ♥ by Get The Coast.
Did someone forward you this email? Subscribe here.
124 Eglin Parkway SE Fort Walton Beach, FL 32548