👋 Good morning! (And Happy St. Patrick's Day!)
After nearly 20 water rescue calls in the span of a few hours Tuesday afternoon, South Walton Fire District made the decision to change the flags to double red. Destin Beach Safety did the same thing.
Double red flags mean that the water is officially closed to the public.
At 2:55 pm on Tuesday, the Walton County Sheriff's Office responded to a water rescue on the beach behind a home on Beach Drive in Miramar Beach.
Before deputies arrived, beachgoers pulled a 54-year-old man from the water after he attempted to save a young boy who was in distress. The boy was able to make it back to shore, but the man was found slumped over in the water.
The victim, positively identified as Timothy M. Browne, was eventually pulled from the water and CPR was initiated by a registered nurse who was on scene. First responders arrived within minutes and continued life-saving measures. He was transported to Sacred Heart where he was pronounced deceased. This took place before the double reds were flying.
As of 8:30am this morning, the South Walton Fire District has confirmed that double reds are flying again today for the beaches of South Walton. And Destin Fire Control District has confirmed that the water is closed on Destin beaches.
"Surf looks calmer this morning, but high winds are expected for the next two days, which will kick the surf back up to levels that surpassed yesterday's conditions," said the South Walton Fire District. "The call to go Double Red is NOT made lightly. Yesterday's decision to go Double Red was the result of a high-volume of water rescues that overwhelmed EMS response capabilities, more-so than the actual surf conditions."
The map below is color-coded to indicate the forecast rip current risk level.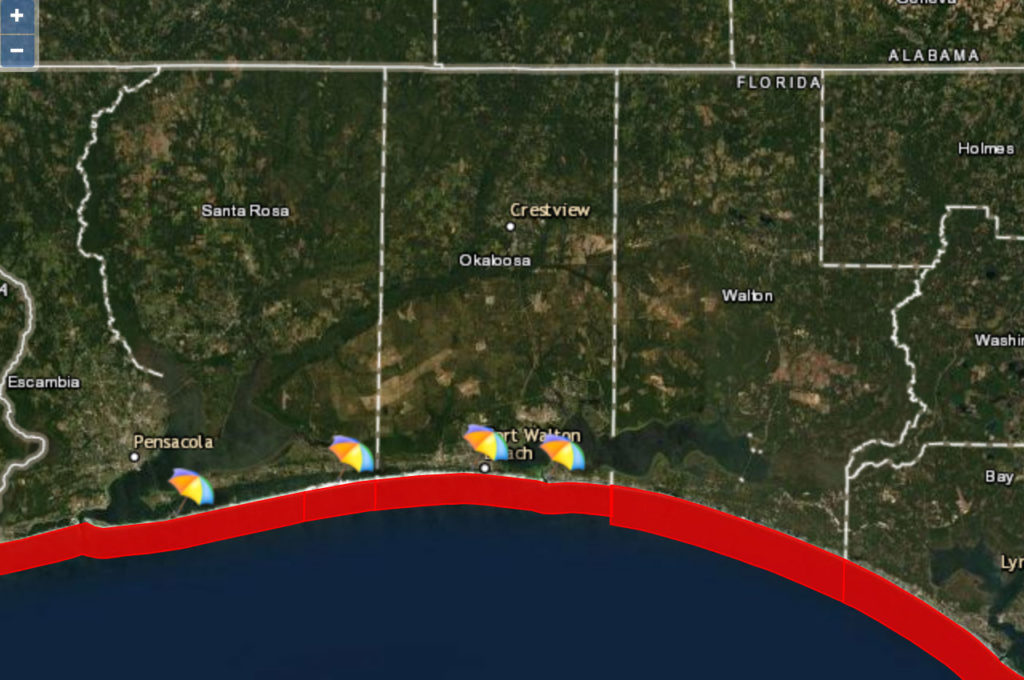 According to the Fire District, the Walton County Sheriff's Office, along with Walton County Code Compliance, will be issuing $500 citations for violating the Double Red Ordinance.
As a reminder: The beaches are open but the water will be closed until the flags change.
Ok, that's all I have for you this morning! Please forgive this being sent so late in the morning. I've been troubleshooting technical details all morning!
If you enjoyed today's newsletter, I would love to hear from you. Just hit the reply button and tell me what you think! I read them all 🙂
Have a great (and safe) Wednesday!
Jared