TOGETHER WITH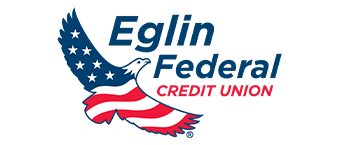 Good morning!
Quick reminder that Sea Turtles nesting season official began on May 1. The season lasts through October 31.
Here are some helpful tips from the City of Destin:
Sea Turtles nest in dark, quiet areas of the beach.
Please avoid flash photography and using bright, white, flashlights at night.
Be alert of signage posted around nesting areas.
Sea Turtles are protected and it is unlawful to touch them.
Fill in holes.
Please take all of your belongings with you…leave no trace.
To learn more about Sea Turtles, the Gulfarium and Visit Destin-Fort Walton Beach are hosting their "C.A.R.E."ing for Turtles program every Wednesday at 5pm from May through October!
Attendees will be able to visit the C.A.R.E. Center after-hours and get a behind-the-scenes look into the operations of the rehabilitation center, meet their current patients, and learn how to perform a mock in-take of an injured turtle. Click here.
Let's get to some more news this morning…
ROAD WORK
Crestview Southwest Bypass ahead of schedule, P.J. Adams widening contract has a year left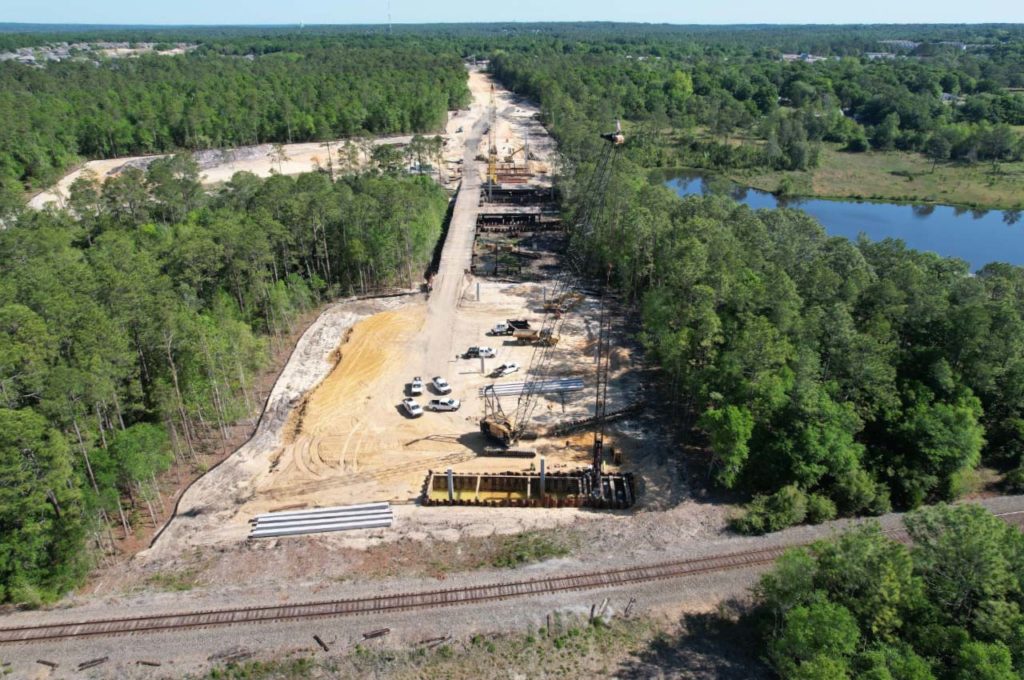 On Friday, April 29th, Okaloosa Public Works Director, Jason Autrey, gave an update on the I-10 Interchange, completion for PJ Adams widening, and the remaining time for the Southwest Bypass.
"I've got great news," said Autrey. "We're actually a little ahead of construction schedule at this point in time."
Autrey says that while they are still on budget for the project, material costs and fuel is something that they watching closely.
The widening of PJ Adams came with some challenges to overcome since it is a developed corridor. This meant that construction crews had to move the water, sewer, power lines, phone lines, and cable lines.
However, Autrey says they're nearing the end of that portion of the roadwork.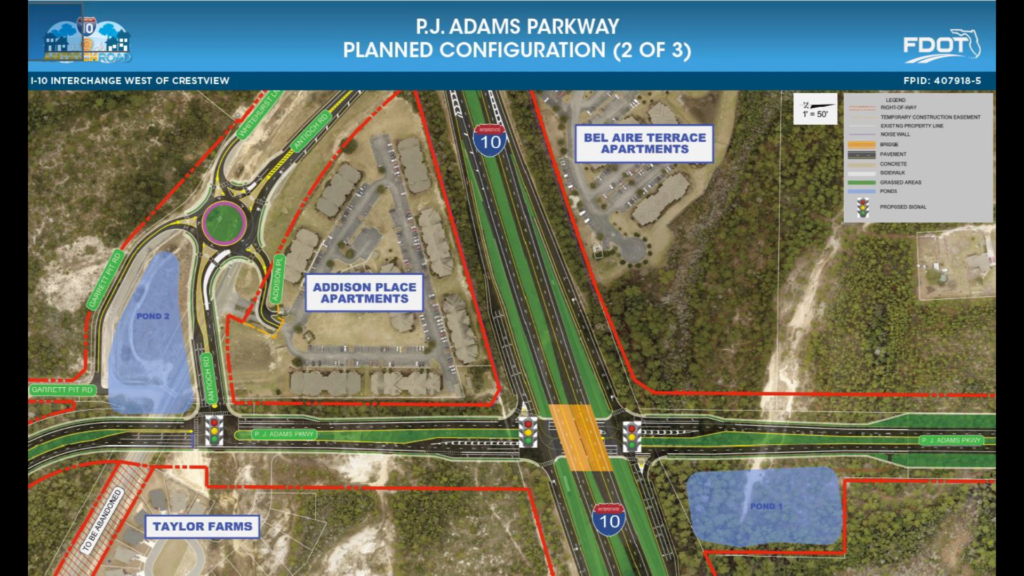 The PJ Adams project, on contract, has about a year left and then there is still an estimated 3 years to go on the North-South and the East-West connector portion.
"What will happen when we finish the four-laning of PJ, it's going to stop at Crab Apple subdivision and FDOT will pick the project up and the road will continue straight," said Autrey. "It will diverge off of what the current Antioch Road does. It'll go straight and make a hard turn to the right and then come up and cross over the Interstate."
Autrey says that if you want to stay on Antioch Road, or in the future if you want to go on Antioch Road, you'll have to make a left off of the new bypass roadway to go toward Antioch Elementary School.
There will be a roundabout after you get off the bypass to allow you to get to those other there's other points of interest.
"We want people to use the bypass and kind of relieve some of the congestion on Antioch Road," aded Autrey.
When asked about progress on the bridge portion of the project, he mentioned that bearing capacity is already being tested, and that although there was an issue with some soil rebound, Autrey believes they have it resolved.
"That bridge really is the long component of what this project is," he said. "Of the three years, that will take about two-and-a-half years to construct in-and-of-itself. It's going to be quite a marvelous structure when we're done."
SPONSORED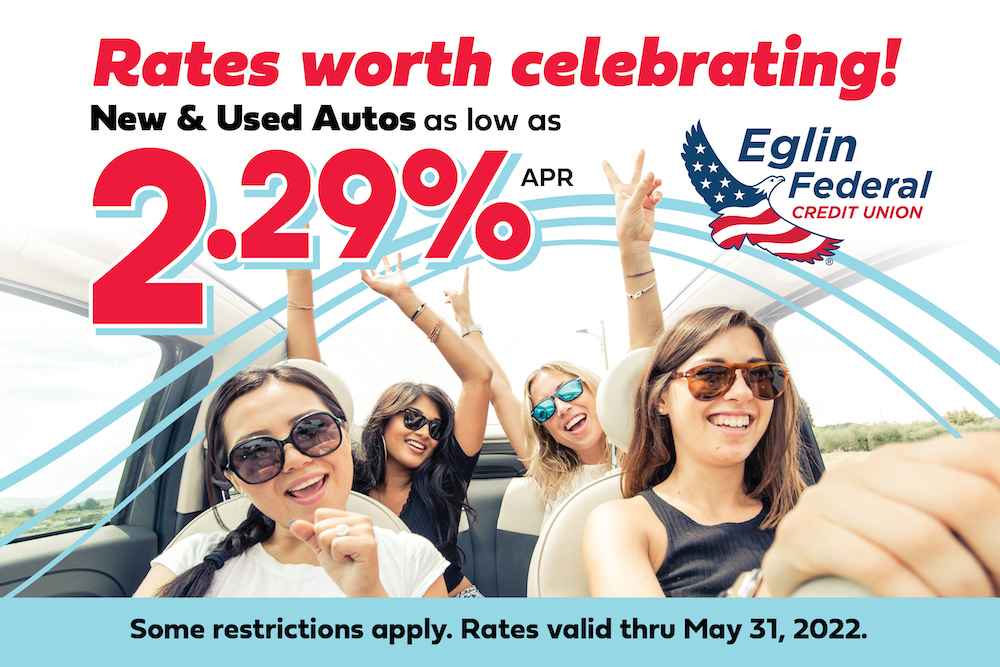 Get a new or used auto loan with rates as low as 2.29% APR for up to 66 months (some restrictions apply).
CLEANUP
"Founders' Day" Community Cleanup in Destin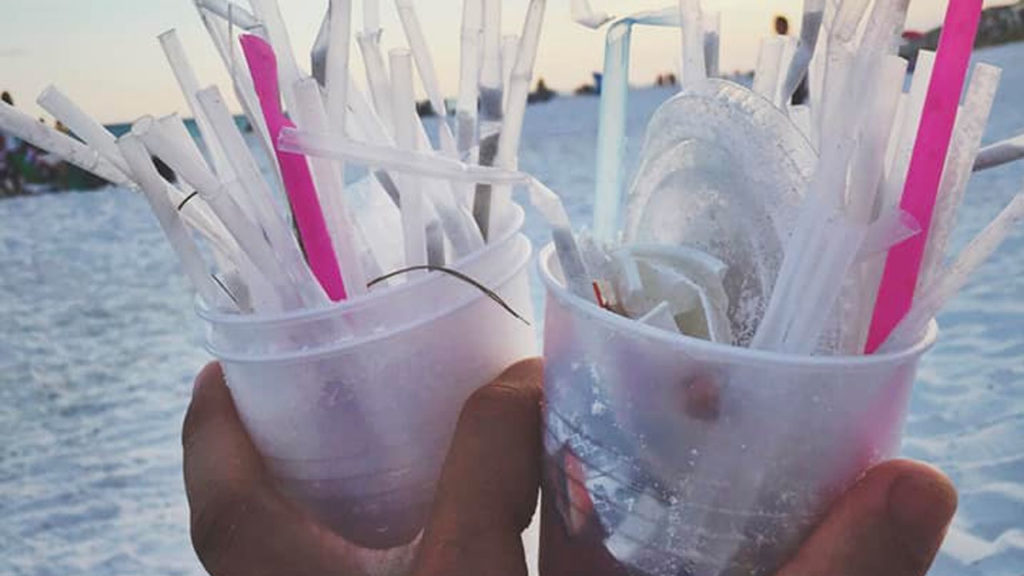 "Founders' Day" for the city of Destin is on May 7th, and this year, residents will have the opportunity to participate in a local cleanup around the Destin Community Center.
There will be 7 different areas for the cleanup:
Destin Memorial Cemetery
Clement Taylor Park
Captain Leonard Destin Park
Calhoun Ave
Sibert Ave
Stahlman Ave
Zerbe St
According to the Okaloosa Wildlife Habitat project, buckets, gloves, and other tools will be provided.
The cleanup kicks-off around 9am and is scheduled to last approximately 2 hours. For more details on the event, click here.
"Help us keep our home clean and make our parks safe and beautiful for our local wildlife," said the organization on Monday.
FROM THE STATE
Historic $30 Million in funding for Manatee Rescue Programs and Habitat Restoration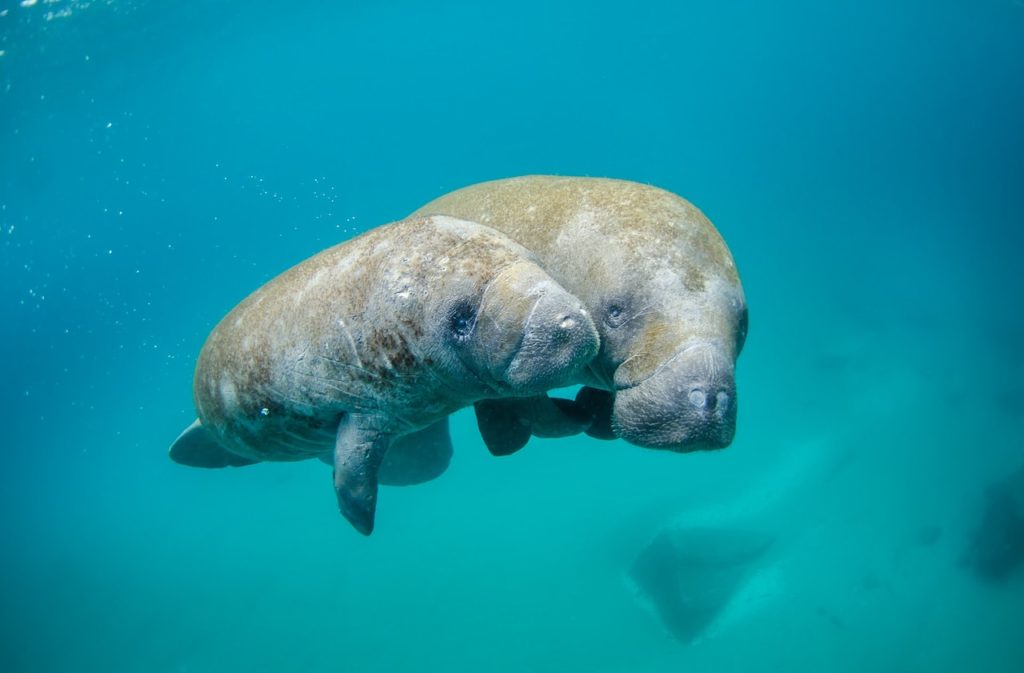 On Monday, Governor Ron DeSantis announced his commitment to supporting more than $30 million to enhance and expand manatee rescue and rehabilitation efforts and provide habitat restoration for areas where manatees are highly concentrated.
This record investment in manatee care and protection is an over $17 million increase over the current year budget.
"This historic funding will support important restoration efforts across the state to benefit our manatees and Florida's natural environment," said Governor Ron DeSantis. "My administration will continue working to find new and innovative ways to support our native species, like the manatee, so that the generations to come can experience Florida's natural resources."
The more than $30 million included in the budget includes:
$20 million to enhance and expand the network of manatee acute care facilities, restore access to springs, provide habitat restoration in manatee concentrated areas, expand manatee rescue and recovery efforts, and implement pilot projects like the supplemental feeding trials that took place this past winter.
$5.3 million to expand Florida Fish and Wildlife Conservation Commission (FWC) manatee mortality and response efforts, including 12 new positions.
$160,000 to support increased aerial surveys.
$4.7 million in base funding to support manatee acute care facilities and research, rescue, and conservation activities.
GIVING BACK
FWB Rotary Club donates $100,000 to help nursing students at Northwest Florida State College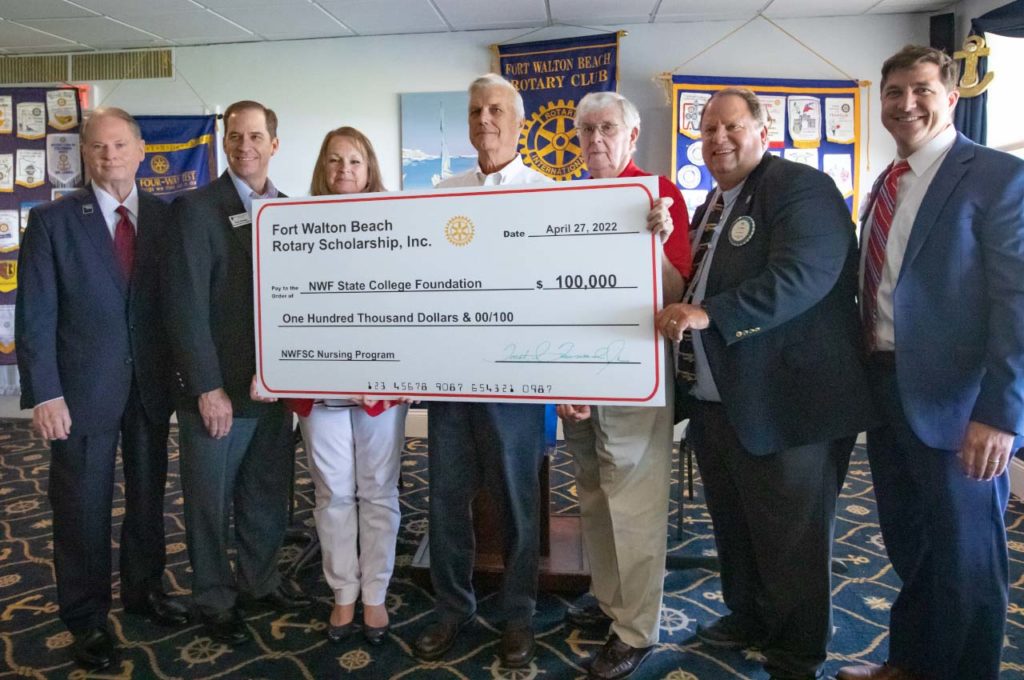 For 55 years, the Fort Walton Beach Rotary Club has been funding scholarships for local students at the high school level.
29 years ago, the Rotary Club made their first donation to Northwest Florida State College in the amount of $10,000. Since that time, the FWB Rotary has given a total of $209,650.
The Rotary has created 3 scholarship medallions, as well as an endowed teaching chair, which supports a faculty member at the college.
On Wednesday, April 27th, the Rotarians continued their generosity and donated $100,000 in support of the Nursing Program at the NWFSC.
In the 1960's and 70's, the FWB Rotary Club identified a need for nurses in the area. That was the beginning of their support for a nursing program at the college.
"In the late-70s, as this was growing, the state was matching funds for donations to college foundations," said Joe Meyer, President of The Fort Walton Beach Rotary Club Scholarship, Inc. "So our club donated $40,000, the State matched $35,000 and the hospital donated $150,000 to initially start the nursing school."
Meyer says that the money comes from the club's fundraisers over the years.
"Since 1967 the FWB Rotary Club has been committed to impacting academic growth in our community thru our scholarship programs," added Meyer. "This significant donation to the NWF State College Foundation for nursing scholarships is evidence to this fact."
Dr. Devin Stephenson, President of Northwest Florida State College, was in attendance for the check presentation and also gave an update on the college as a whole.
"You've helped a total of 74 students get through the nursing program and enter healthcare to better take care of all us," said Dr. Stephenson. "I just want to salute you today for that absolutely phenomenal gift over time that you've done for us."
According to Dr. Stephenson, the State of Florida is in a healthcare crisis. He says that by 2030, there will be a shortage of nearly 60,000 nurses in the state.
"It behooves us to ramp up our programming," continued Stephenson.
Here's how the money will be used:
$50,000 endowment for a teaching chair position in college's nursing program.
$25,000 Kay Stokes Scholarship Endowment for nursing students.
$25,000 in additional scholarships.
MILITARY
WATCH: Air Force sinks old cargo ship near Destin-Fort Walton Beach with new weapons
Originally written by Whitney Wetsig, Air Force Research Laboratory Public Affairs. Additions by Get The Coast.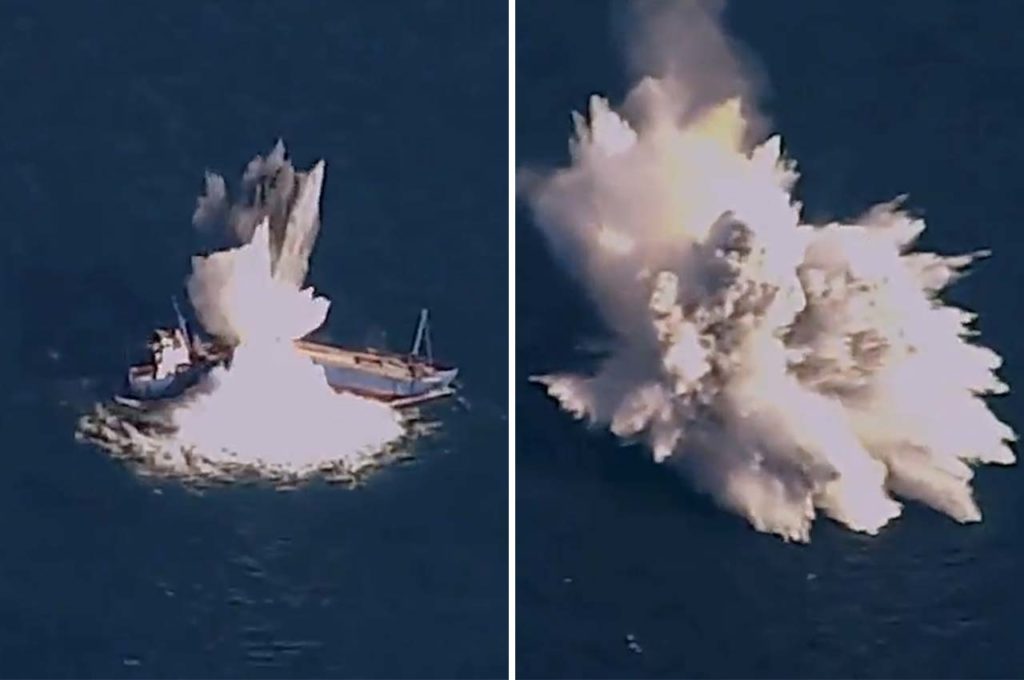 On Thursday, April 28, 2022, the Air Force Research Laboratory & Eglin's Integrated Test Team demonstrated a new low-cost, air-delivered capability for defeating maritime threats in the Gulf of Mexico.
An 85th Test and Evaluation Squadron F-15E Strike Eagle released a modified GBU-31 joint direct attack munition that successfully destroyed an old cargo ship.
This was third experiment in the QUICKSINK Joint Capability Technology Demonstration.
This all happened off the coast of Destin-Fort Walton Beach, Florida.
"AFRL MD and the 96th Test Wing took precautions to meet environmental requirements consistent with U.S. Navy ship sinking practices and the state of Florida environmental practices," said the Air Force Research Lab munitions directorate.
"QUICKSINK is an answer to an urgent need to neutralize maritime threats to freedom around the world," said Col. Tony Meeks, Air Force Research Lab's Munitions Directorate director. "The men and women of this directorate consistently find ways to solve our nation's greatest challenges."
The QUICKSINK program, a Navy partnership, aims to provide options to "neutralize surface maritime threats" while demonstrating the inherent flexibility of the joint force. This JCTD uses a Joint Direct Attack Munition integrated with a new seeker to rapidly demonstrate an immediate effect on stationary or moving maritime targets at minimal costs, according to the Air Force.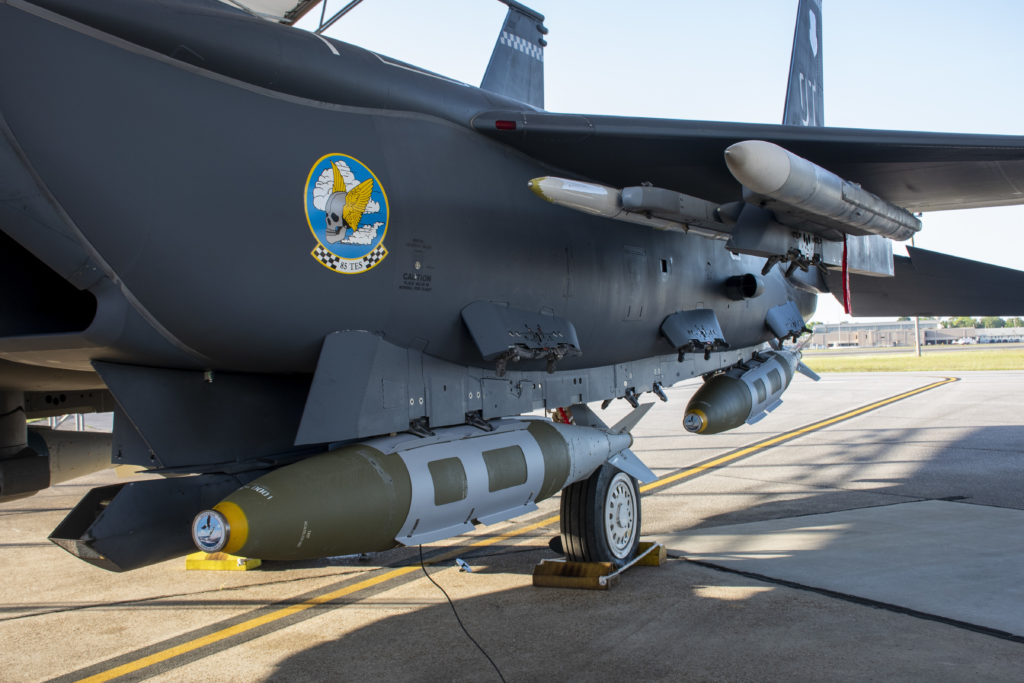 "QUICKSINK is unique in that it can provide new capabilities to existing and future DOD weapons systems, giving combatant commanders and our national leaders new ways to defend against maritime threats," said Kirk Herzog, AFRL program manager.
While torpedoes predominantly sink enemy ships via submarines, new methods explored through QUICKSINK may achieve anti-ship lethality with air-launched weapons, including modified 2,000-pound JDAM precision-guided bombs.
"Heavy-weight torpedoes are effective [at sinking large ships], but are expensive and employed by a small portion of naval assets," said Maj. Andrew Swanson, 85th TES Advanced Programs division chief. "With QUICKSINK, we demonstrated a low-cost and more agile solution that has the potential to be employed by the majority of Air Force combat aircraft, providing combatant commanders and warfighters with more options."
This latest experiment allowed researchers to assess the scientific and technology challenges associated with the QUICKSINK concept for operational use, according to Eglin Air Force Base.
"A Navy submarine has the ability to launch and destroy a ship with a single torpedo at any time, but the QUICKSINK JCTD aims to develop a low-cost method of achieving torpedo-like kills from the air at a much higher rate and over a much larger area," said Herzog.
The 96th Test Wing's role was that of support from aircraft maintenance, test coordination, planning and range availability.
According to Eglin, the 780th Test Squadron alone put in 250 hours of effort to support the test and also capture the footage. Those hours went into coordination of seven aircraft recording the weapon's detonation from various angles.
The team also directed the mission from a control room to make sure the aircraft were in the right place to collect the required data.
They were also in charge of any on-the-fly adjustments to the test plan such as bad weather, etc.
"The QUICKSINK mission was successful thanks to the collective test team's countless hours of planning and preparation," said Capt. J. Tucker Tipton, 780th TS's Air-to-Surface Test Flight commander. "This was another example of how the 780th Test Squadron supports weapons development test customers and helps deliver unique capabilities to the warfighter."
OK, that's all I have for you this morning! I hope you have a great Tuesday!
p.s. What did you think of this morning's newsletter? Hit the reply button and let me know!
Published with ♥ by Get The Coast.
Did someone forward you this email? Subscribe here.
124 Eglin Parkway SE Fort Walton Beach, FL 32548