May 5, 2023
|
Reading time:
15 mins
TOGETHER WITH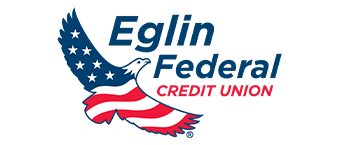 Good morning!
The 2023 Art Walk series continues in Downtown Fort Walton Beach this Saturday. The event will showcase the city's vibrant art scene and offer visitors a unique opportunity to explore the work of talented local artists while enjoying a fun-filled evening of shopping, dining, and entertainment.
The Art Walk is scheduled from 5 pm to 8 pm on May 6. This year, the event has introduced an exciting change in the layout, with artists lined up on both sides of Highway 98, allowing for more exposure and accessibility to their creations.
Let's get to the news…
PARKS+REC
'Emily's Playground': Fort Walton Beach unveils the new all-inclusive Cecelia Park inspired by young girl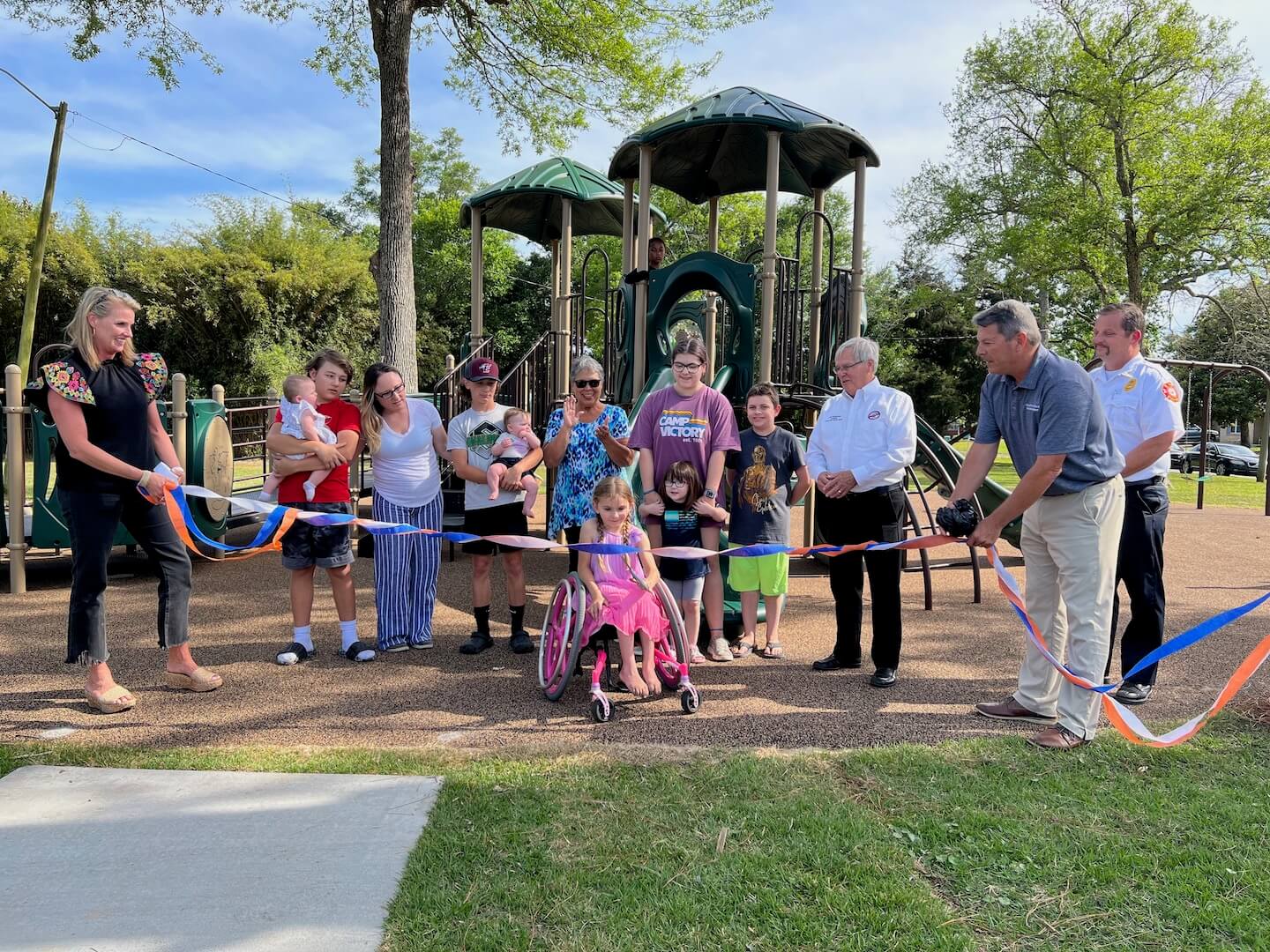 The City of Fort Walton Beach celebrated the grand opening of the newly renovated, all-inclusive Cecelia Park on Thursday, May 4, 2023 in Fort Walton Beach.
The park is the result of a collaboration between Alison Martin, her daughter Emily, City Manager Jeff Peters, and a host of others. Located at Cecilia Park, the $140,000 project offers a space where children of all abilities can play together without barriers.
The idea for an all-inclusive park was born when Martin reached out to then Recreation Director Jeff Peters, explaining that her daughter Emily loved Landing Park Playground but was unable to access half of it. "It really opened up our eyes as a Recreation Department and really for the community," Peters said, "We started doing some research on what actually is an all-inclusive playground."
The new park features wider ramps, accessible slides, and a rubber ground, making it easier for children of all capabilities to enjoy the space. "The factor behind this was Emily," Peters added. "When we would meet, she always used to bring a rose."
Before the ribbon cutting, Peters unveiled a new sign at the park reading "Emily's Playground," that featured a rose symbolizing the roses Emily brought him. Emily and her family, along with community members and city staff, all joined behind her as she cut the ribbon.
When asked about what this day means to her and her family, Martin said, "Overwhelmed, but in such a good way. Emily doesn't have any easy days, and to be able to have something like this where it's easier for her to just be a kid, I'm speechless."
Martin praised Peters for his determination and desire to help, saying, "I never for a moment doubted it. I had never met the man before, but he just had this determination and his desire to help and do what was right."
Emily, who is six years old, suffered a non-traumatic spinal cord injury when she was six months old. Medically, she's a C2 and a complete quadriplegic. However, on the afternoon of the unveiling, Emily could be seen all over the playground and even on the swings. 
Seeing the sign that says "Emily's Playground" reminds Martin of the importance of advocacy and fighting for children with special needs. "To see this park and know that she's the reason and that it's not just going to benefit her, but all the kids like her, is just, oh my gosh, it is special for sure," she said.
The park is located at 310 Cecelia Drive, Fort Walton Beach, FL
SPONSORED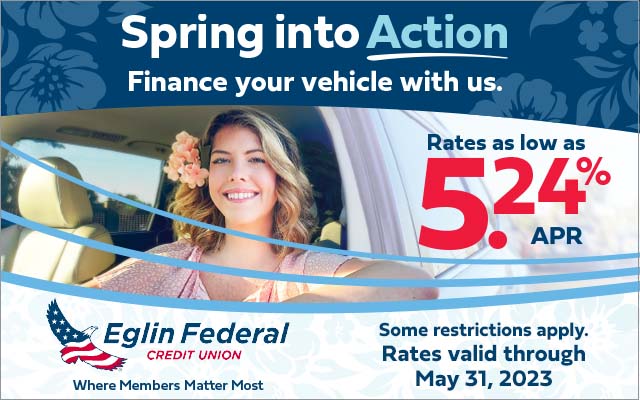 Spring into Action and finance a new or used vehicle with Eglin Federal Credit Union.
With auto loan rates as low as 5.24% APR, make a beeline to drive the car or truck you want. Learn more at eglinfcu.org/auto.
Some restrictions apply. Rates valid through May 31, 2023.
FROM THE STATE
Gov. DeSantis announces record 70-Day 2023 Gulf Red Snapper Recreational Season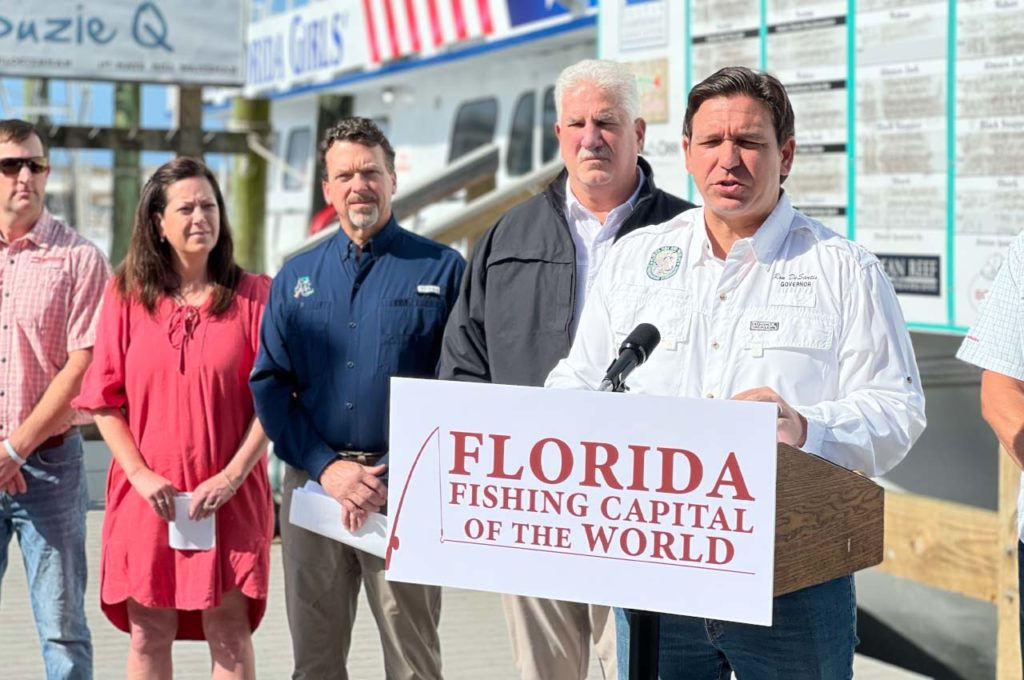 Governor Ron DeSantis announced today, May 4, 2023, that Florida will have a 70-day Gulf red snapper recreational season this year, which will be the longest combined season since the state took over management of the fish.
The season will comprise of a 46-day summer season and a 24-day fall season, providing more opportunities for fishing enthusiasts to enjoy the Gulf waters.
The 46-day summer season will begin on June 16, 2023, and will run through July 31, 2023. The 24-day fall season will include all weekends in October and November, Friday-Sunday, and has been scheduled for the following dates:
October 6-8
October 13-15
October 20-22
October 27-29
November 3-5
November 10-12 (Veterans Day Weekend)
November 17-19
November 24-26 (Weekend after Thanksgiving)
Those fishing from private recreational vessels in state and federal waters in the Gulf and charter vessels without a federal reef fish permit that are limited to fishing in state waters will be able to participate in the 2023 Gulf red snapper season.
However, it's important to note that even if you're exempt from fishing license requirements, you must sign up as a State Reef Fish Angler (annual renewal required) at GoOutdoorsFlorida.com to fish for red snapper in state or federal waters from a private recreational vessel.
The Governor also announced a budget approval of $17 million in the Fiscal Year 2023-24 to support continued oyster restoration efforts in Apalachicola Bay.
"Florida is the Fishing Capital of the World, and the gulf red snapper season brings anglers from across the country to enjoy our waters," said Governor Ron DeSantis. "It is a generational tradition for so many who call Florida home. I am happy that 2023 will be by far the longest combined season since the state assumed management of red snapper."
If you're interested in learning more about recreational snapper regulations, please visit the Florida Fish and Wildlife Conservation Commission website.
SPORTS
Choctaw's Flag Football Team scores big win in semifinals, advances to regional finals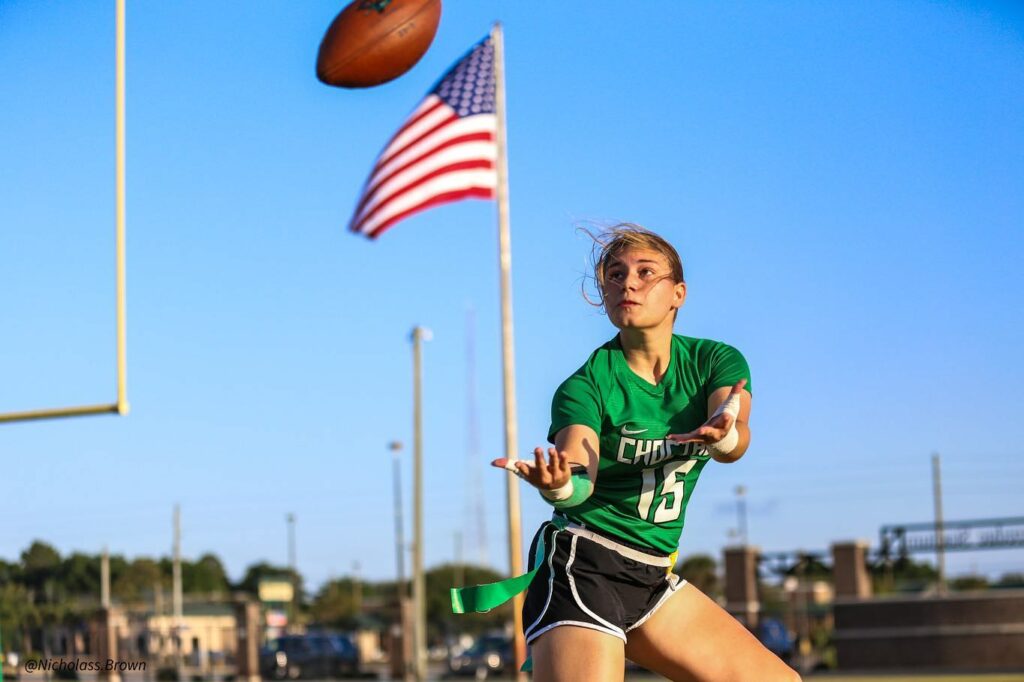 On Wednesday night, the Choctawhatchee High School Indians triumphed over the Paxon School For Advanced Studies Golden Eagles with a final score of 19-12 during a semifinals match.
The game was part of the 2023 FHSAA Flag Football State Championships – 1A FHSAA Girls Flag Football tournament.
The game kicked off with Paxon taking the lead in the first quarter scoring 6 points. However, the Indians would quickly take the lead scoring 7. The second quarter saw the Indians increase their lead with 13-6, and they continued their momentum into the third quarter with a score of 19-6. The Golden Eagles fought back in the final quarter, but it wasn't enough to close the gap, leaving the final score at 19-12.
Freshman quarterback Diaris Morales played a vital role in the Indians' win, completing 15 out of 24 pass attempts for a total of 257 yards, which included three touchdowns and one interception. Morales' longest pass was a whopping 65 yards.
When it came to rushing, junior Lauren Bage and Morales led the team with 36 and 56 yards, respectively. Bage also contributed defensively, recording nine solo tackles and one sack for a total loss of four yards.
Trinity Thomas, another junior, also made an impact defensively, with four tackles and a sack that resulted in a seven-yard loss.
The Indians' receiving game was also on point. Morgan Grace, a junior, was a standout, catching five passes for 55 yards and scoring two touchdowns. Freshman Khamauri Hardy made her mark with a 65-yard reception and one touchdown in the first quarter.
Defensively, the Indians displayed their prowess with two interceptions, one each from Morgan Grace and Khamauri Hardy, and six pass deflections. Natalie Edwards and Ellie Long both had two pass deflections each, contributing to the strong defensive performance.
With this win, the Indians, now 16-2, will advance to the regional finals against Stanton, another formidable Jacksonville team, on Monday, May 8 at 7pm, at Joe Etheredge Stadium. Stanton has an impressive 17-2 record so far this season, setting the stage for an intense match-up.
TRAFFIC
Fatal hit and run accident claims life of pedestrian in Walton County, vehicle found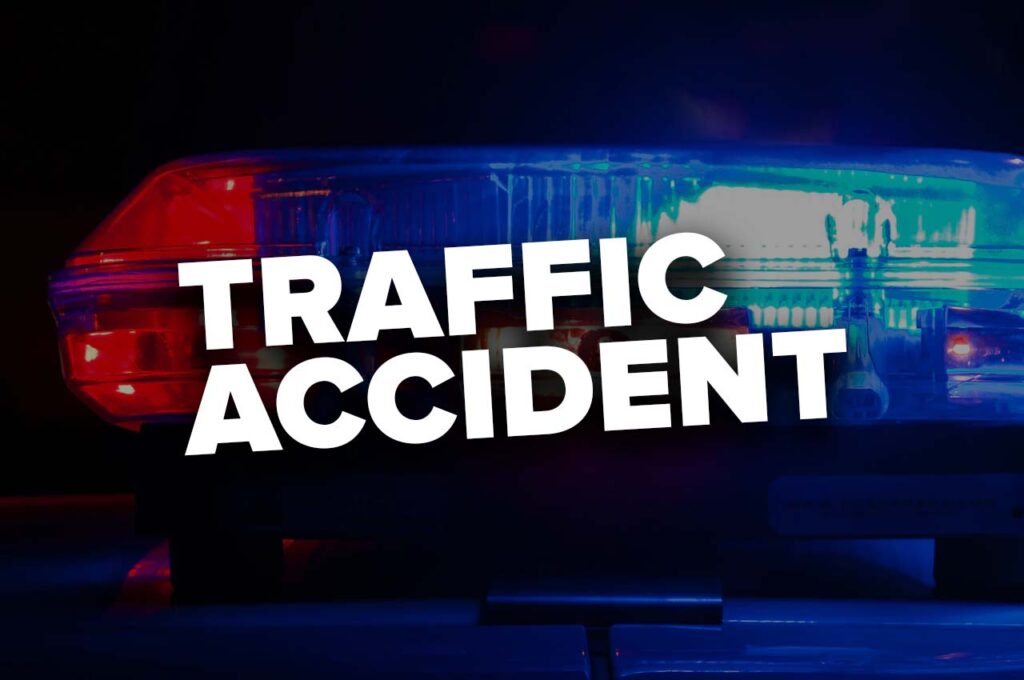 A fatal hit and run accident involving a pedestrian occurred in Walton County earlier Thursday morning, according to a report by the Florida Highway Patrol.
The accident happened at approximately 2:40 am on State Road 20 near the intersection of Blueberry Road.
The victim, who was walking westbound on State Road 20, was struck by a 2016-2020 black Nissan Titan traveling in the same direction. According to the FHP, the truck then continued to head west on State Road 20 without stopping.
Unfortunately, the pedestrian succumbed to their injuries and was pronounced dead.
However, by the afternoon, with the diligent assistance from Walton County Sheriff's Office, the vehicle involved in the hit and run was recovered. The incident is currently under investigation, and further details are yet to be disclosed.
THE WEEKENDER
A few things to do around town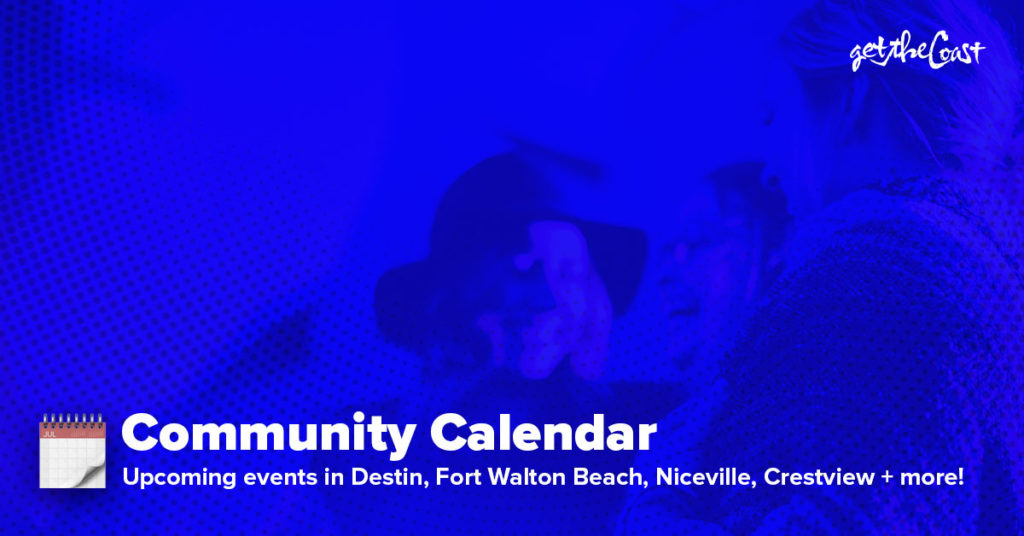 Now – May 24 – $1,000 Heron Hunt Contest – View
May 5, 2023 – Performance Custom Bike Show – Free – View
May 5, 2023 – Singo Music Bingo at The Island Resort Lounge – – View
May 6, 2023 – 11th Annual Paddle at the Park Sponsored by HCA Florida Destin Emergency – View
May 6, 2023 – Jazz in the Park – Free – View
May 6, 2023 – OPEN AIR ART DAY at Artful Things Niceville – Free – View
May 6, 2023 – Harley's Angels Bikini Competition – Free – View
May 6, 2023 – The Pearl Project's First Annual Family Sock Hop – – View
May 6, 2023 – Karaoke at The Island Resort Cabana – – View
May 7, 2023 – Jeeps & Java | Spring 2023 – Free – View
Looking ahead
May 8, 2023 –  Pirate Show  – Free – View
May 9, 2023 – Movies On The Beach: "LUCA"  – Free – View
May 10, 2023 – C.A.R.E.ing for Turtles – $15 – View
May 10, 2023 – Wednesday Night Concert Series at The Village of Baytowne Wharf – Free – View
May 11, 2023 – Concerts in the Village: Lucky Chops – View
May 12, 2023 – Singo Music Bingo at The Island Resort Lounge – View
May 12, 2023 – Forever Country by the Fort Walton Beach Community Chorus – $15 – View
May 13, 2023 – My Chemical Cocktail – $50 – View
May 13, 2023 – Karaoke at The Island Resort Cabana – – View
May 13, 2023 – Forever Country by the Fort Walton Beach Community Chorus – $15 – View
May 14, 2023 – Mother's Day Buffet at Beach House Bar & Grille – $20 – $75 – View
May 14, 2023 – The Destin Commons Market – – View
May 14, 2023 – Mother's Day Brunch at The Island Resort – $30 – $65 – View
May 14, 2023 – Forever Country by the Fort Walton Beach Community Chorus – $15 – View
May 15, 2023 – Pirate Show  – Free – View
May 16, 2023 –  Movies On The Beach: "ZOOTOPIA"  – Free – View
May 17, 2023 – C.A.R.E.ing for Turtles – $15 – View
May 17, 2023 – Wednesday Night Concert Series at The Village of Baytowne Wharf – Free – View
May 18, 2023 – Bubbly Baytowne – Free – View
May 18, 2023 – Wag the Flag – View
May 18, 2023 – Concerts in the Village: Yacht Rock Revue – View
FISHING
Local fisherman reels in 672-pound Bluefin Tuna near Destin-Fort Walton Beach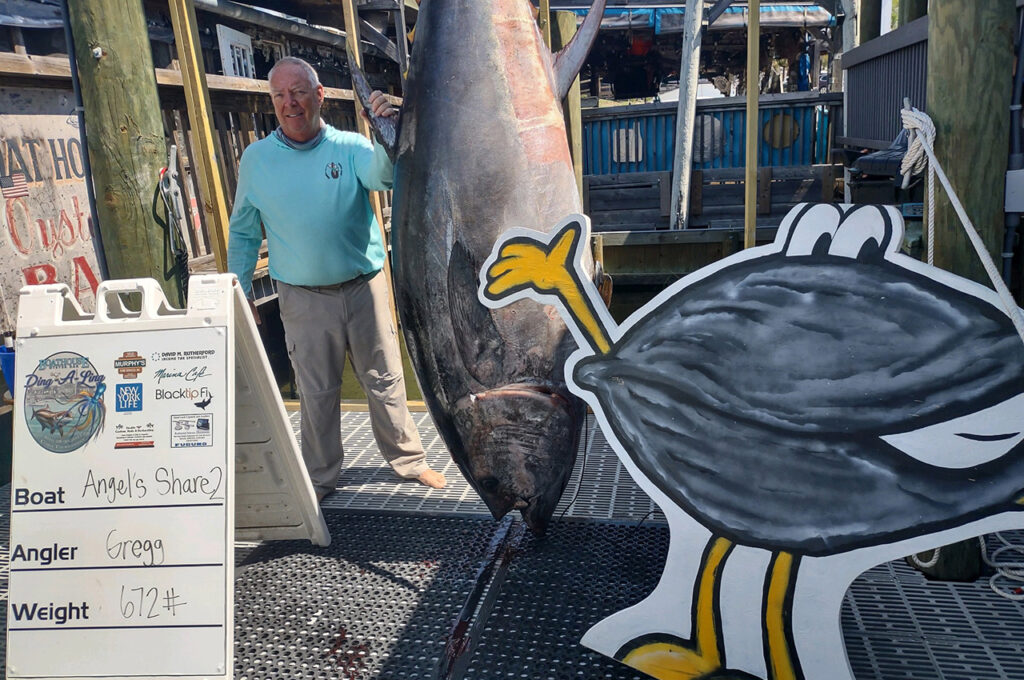 Local angler Gregg Lewis landed the catch of a lifetime when he reeled in a massive 672-pound Bluefin Tuna approximately 150-160 miles off the coast of Destin-Fort Walton Beach on May 2nd.
The feat took him three grueling hours, starting in daylight and ending after the sun had set. He was onboard the Angels Share 2 with Captain Ben Levi and Mates Daniel Menard and Bridger Beatey.
According to Lewis, his fishing party had already encountered several Bluefin Tunas and hooked into three of them earlier in the day. Although anglers are not allowed to specifically fish for Bluefin Tunas, they are permitted to catch them incidentally.
The first fish they fought for two-and-a-half hours managed to break off the line, but their fortunes changed when they began trolling for Marlin.
Lewis, who has lived in Destin for three years and describes the area as "paradise," has experience catching Yellowfin and Bigeye Tunas, but this was his first time hooking a Bluefin Tuna. His party had already released one Blue Marlin and one White Marlin, as well as caught a couple of smaller 40-pound Yellowfin Tunas before they hooked the massive Bluefin.
When asked about the experience, Lewis said it was "an adrenaline rush, that's for sure." Once caught, the party made their way back to The Boathouse Oyster Bar and reported the fish.
OK, that's all I have for you this morning! I hope you have a great Friday! 
p.s. What did you think of this morning's newsletter? Hit the reply button and let me know!
Published with ♥ by Get The Coast.
Did someone forward you this email? Subscribe here.
124 Eglin Parkway SE Fort Walton Beach, FL 32548