May 10, 2023
|
Reading time:
17 mins
TOGETHER WITH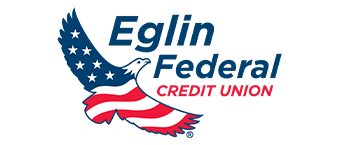 Good morning!
The Okaloosa County School District has announced the schedule of graduation ceremonies for the High School Class of 2023. All graduations will be live streamed and streaming links can be found here.
Baker School – Friday, May 19, Doug Griffith Stadium at 7:30 pm.
Choctawhatchee High School – Wednesday, May 24, Joe Etheridge Stadium at 7:30 pm.   
Crestview High School – Thursday, May 25, Jack Foster Stadium at 7:00 pm.     
Fort Walton Beach High School – Thursday, May 25, Steve Riggs Stadium at 7:30 pm.             
Laurel Hill School – Thursday, May 18, Laurel Hill Gym at 6:00 pm.           
Niceville High School – Wednesday, May 24, Niceville Eagle Stadium at 7:00 pm.        
OPENING SOON
ALDI to officially open first Crestview store on May 18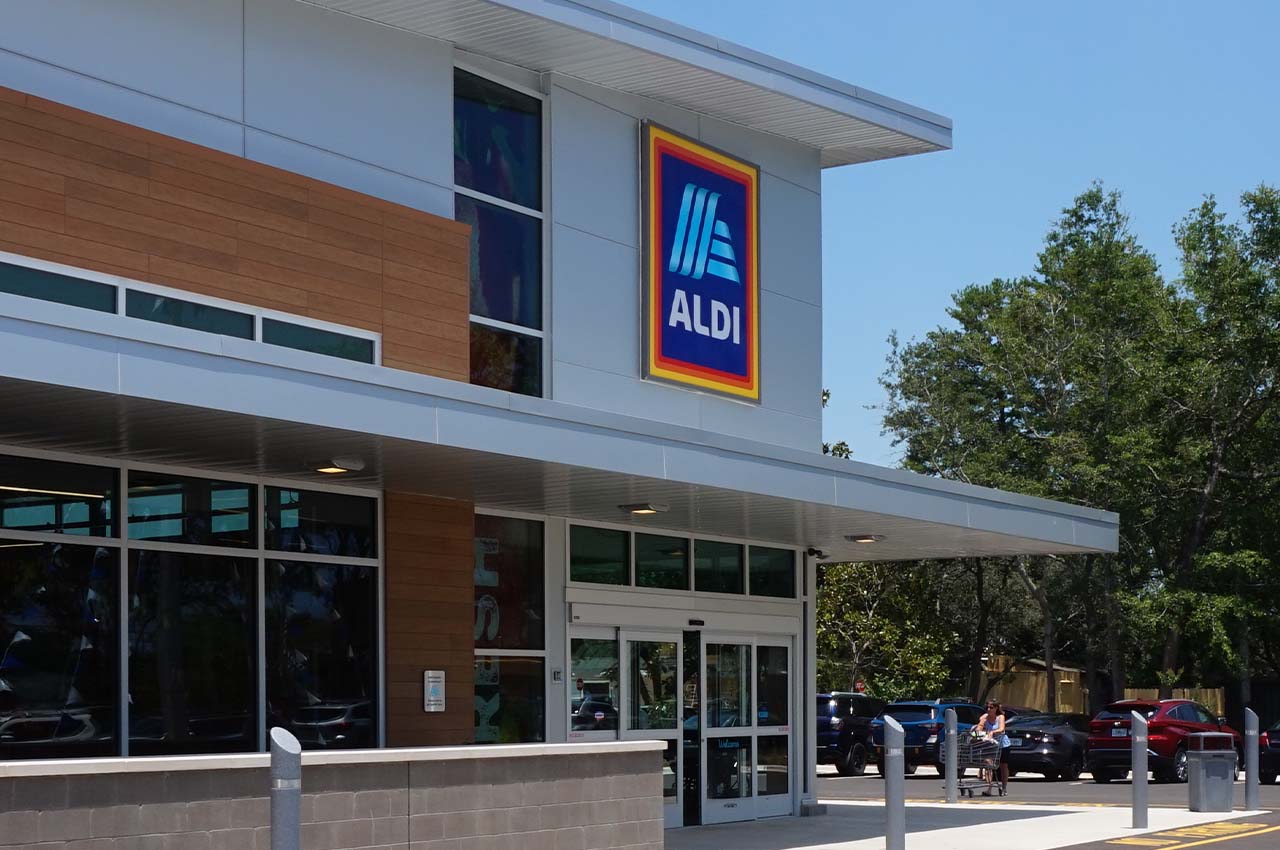 ALDI is set to open its first store in Crestview on Thursday, May 18 at 9:00 a.m.
The new store, part of a larger expansion that has seen over 1,000 ALDI locations opening throughout the United States in the past decade, promises to bring affordable and quality products to local residents.
The company is known for its unique business model, which includes a lineup of award-winning exclusive brands and a rotating selection of limited-time "ALDI Finds." This approach has garnered a loyal following of customers who appreciate the fast and affordable shopping experience.
Located at 2680 S. Ferdon Blvd., the Crestview ALDI will operate daily from 9 a.m. to 8 p.m. To celebrate its grand opening, the store has planned several promotional events. The first 100 customers in line on opening day will receive a gift bag filled with a sampling of ALDI Fan Favorites products and a gift card as part of the ALDI Golden Ticket gift card giveaway program.
In addition, shoppers will have the opportunity to enter a sweepstakes to win a $500 ALDI gift card during the opening weekend, running from May 18 through May 21.
Heather Moore, Loxley regional vice president for ALDI, expressed enthusiasm for the new store, stating, "Our stores are designed to make grocery shopping smarter, faster, and easier, and we've been voted the price leader for six years running. We're excited to open our first ALDI store in Crestview and introduce local customers to a new, more affordable way of shopping."
SPONSORED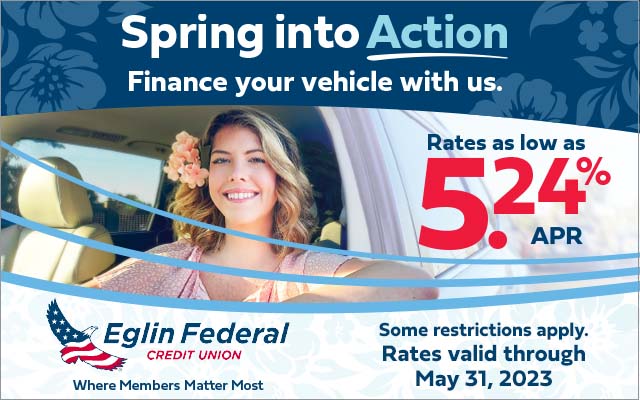 Spring into Action and finance a new or used vehicle with Eglin Federal Credit Union.
With auto loan rates as low as 5.24% APR, make a beeline to drive the car or truck you want. Learn more at eglinfcu.org/auto.
Some restrictions apply. Rates valid through May 31, 2023.
SPORTS
Choctaw's Flag Football wins Regional Championship 31-13, Advances to State Semifinals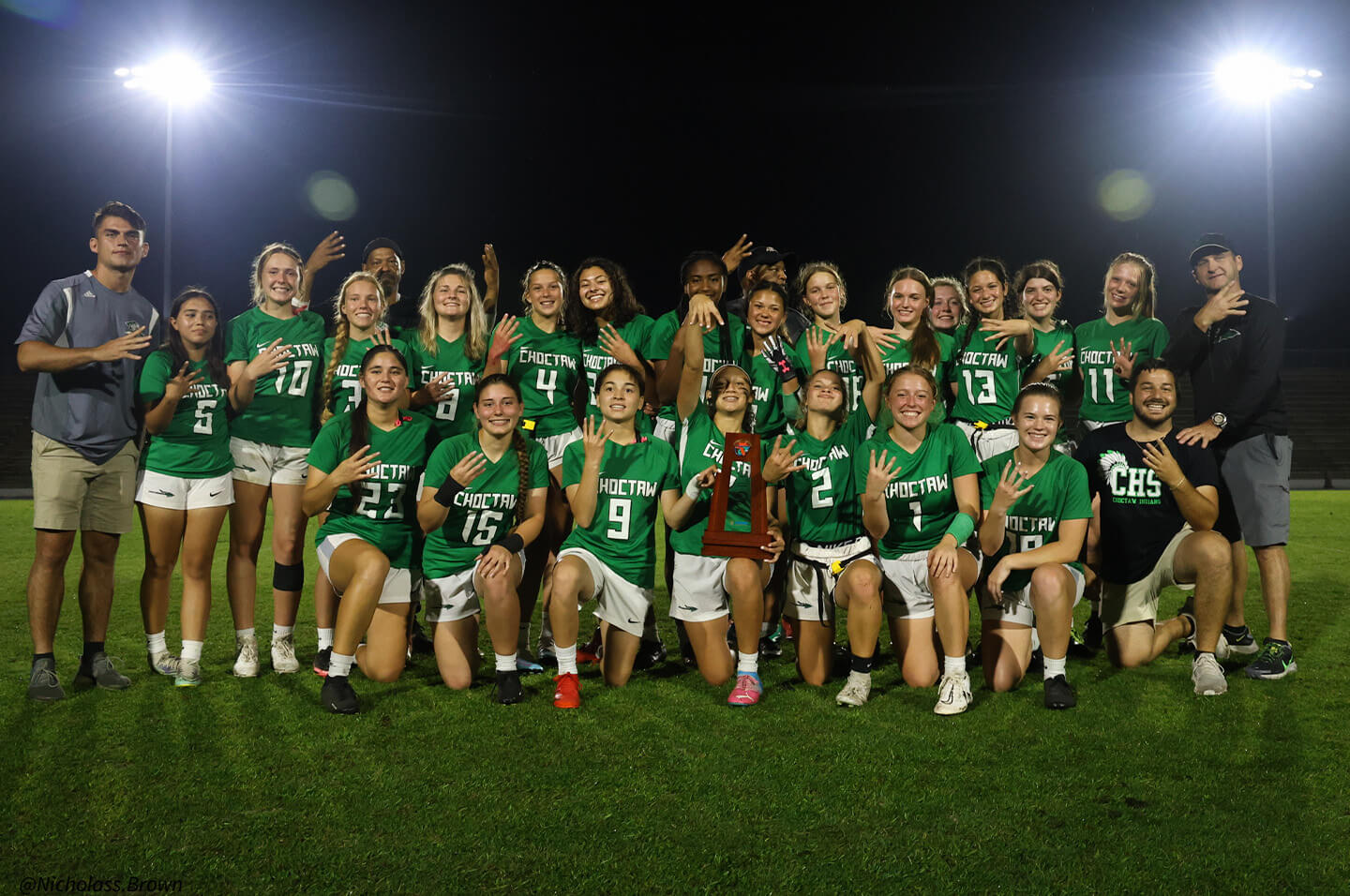 After a rainy Monday afternoon, the Choctawhatchee High School Indians clinched a decisive victory over the Stanton Blue Devils to become the Flag Football Regional Champs with a final score of 31-13.
This win propels the Indians forward into the state semifinals, where they'll face the formidable Edison team from Miami.
The Indians started strong, ending the first quarter with a 13-0 lead. By halftime, the score was 25-7, and the Indians didn't let up, with the third quarter closing at 31-7. Despite a late surge from the Blue Devils, the final score remained 31-13.
The Indians' offense was led by freshman quarterback Diaris Morales, who completed 12 of 23 passes for 289 yards. She also scored a touchdown while rushing for 29 yards on four carries.
Morales' top target was junior wide receiver Morgan Grace, who caught six passes for an impressive 147 yards and three touchdowns.
Junior Lauren Bage contributed as well to the win, with one touchdown reception and 18 yards rushing.
Senior Kaitlyn Eisenberg also made a noteworthy impact in Monday night's victory, leaving her mark on both offense and defense.
As a wide receiver, Eisenberg contributed to the Indians' dynamic offense with a crucial 49-yard reception. Her ability to stretch the field and exploit the Blue Devils' defense provided the Indians with more scoring opportunities and helped to maintain their lead.
Eisenberg also played an essential role on the defensive side, where she recorded six total tackles.
Khamauri Hardy, a freshman on the Indians roster, had an impressive game. On offense, Hardy exhibited her playmaking ability as a wide receiver, securing two receptions for an impressive 56 yards.
Defensively, Hardy shined as a key component of the Indians' stifling strategy with five total tackles. She also notched a crucial interception, returning it for 6 yards and halting the Blue Devils' momentum.
More on the defensive side, junior junior defensive powerhouse Trinity Thomas racked up seven total tackles and two sacks, stifling the Blue Devils' offensive attempts. Sophomore Ariana Gonzalez also made her presence known, contributing one sack, while freshman Khamauri Hardy notched an interception and five total tackles.
The Choctawhatchee Indians' well-rounded performance, highlighted by their strong offense and tenacious defense, secured them a spot in the state semifinals.
The Indians will now face Edison (Miami, FL) in an away game at Mandarin High School in Jacksonville, FL on Friday, May 12 at 6:30 pm. With the Indians holding a 17-2 record and Edison at 18-1, the match promises to be a face-off that fans won't want to miss.
FROM THE STATE
DeSantis signs bills to increase teacher pay, remove social media from classrooms, reduce school board term limits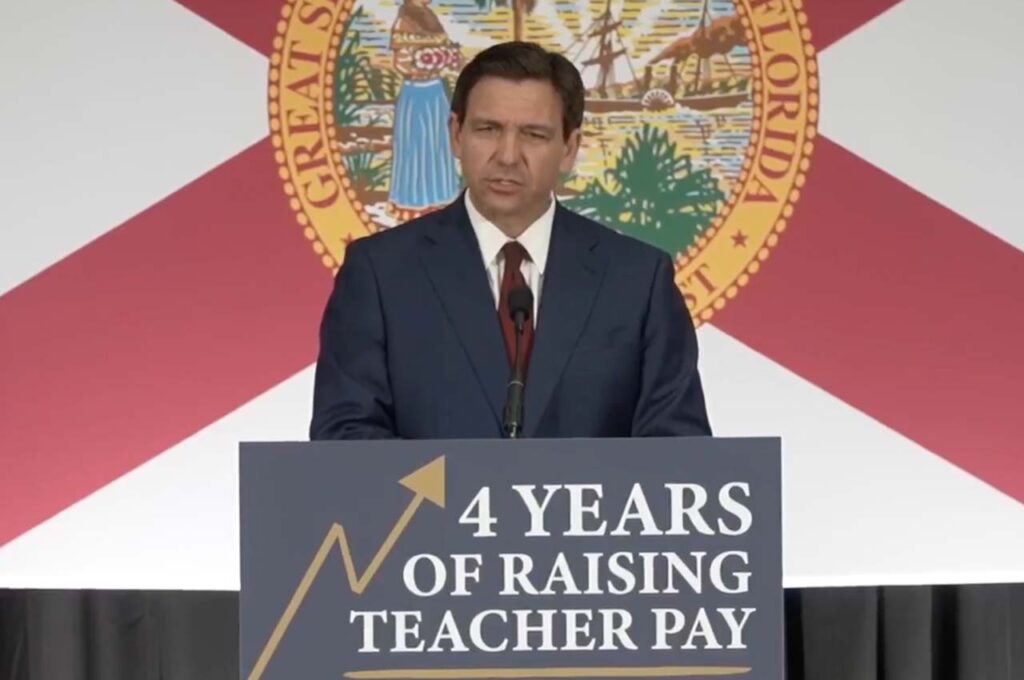 On Tuesday, May 9, 2023, Florida Governor Ron DeSantis signed a series of education-related bills that aim to empower teachers, implement new regulations on unions and school boards, and manage social media usage in schools.
The Governor also announced that he will approve more than $1 billion for teacher pay in this year's budget, which is a $252 million increase over the current record.
In the past five years, Florida has invested over $3.3 billion in teacher salary increases and bonuses.
"We have delivered another record boost to teacher pay and we have coupled salary increases with positive reforms," said Governor Ron DeSantis. For far too long, unions and rogue school boards have pushed around our teachers, misused government funds for political purposes, taken money from teachers' pockets to steer it for purposes other than representation of teachers, and sheltered their true political goals from the educators they purport to represent.
Among the signed bills are House Bill (HB) 379 and HB 477. HB 379 addresses social media usage in schools by giving teachers the authority to establish classroom rules on cell phone use during instructional times and allowing them to withhold a student's phone if it causes a disruption.
It also requires district school boards to implement website filtering to prevent students from connecting to social media sites while using a district-owned computer or server, and it prohibits the use of TikTok on district-owned devices.
The bill mandates that schools provide instruction on the harmful effects of social media.
HB 477, on the other hand, reduces term limits for school board members from 12 to 8 years, aligning them with the term limits for the Governor, Cabinet, and Legislature. In addition, the Legislature passed Joint Resolution 31, which will be on the November 2024 General Election ballot, proposing to return school board elections to transparent, partisan elections.
Other notable bills in this comprehensive package include SB 256, which focuses on union regulations, and HB 1035, which establishes the "Teachers' Bill of Rights."
These bills, along with HB 1537, represent significant policy changes in Florida's education system, aiming to support and empower teachers, increase accountability, and improve overall educational quality in the state.
"Today, I want to thank our legislative leaders and the many bill sponsors for working with us to empower our teachers and ushering in a new era of accountability to the people," added DeSantis. "No longer will politically motivated school boards and special interests wield their power over Florida's teachers."
GIVING BACK
Step One Automotive Group's generous $22,000 donation to two local charities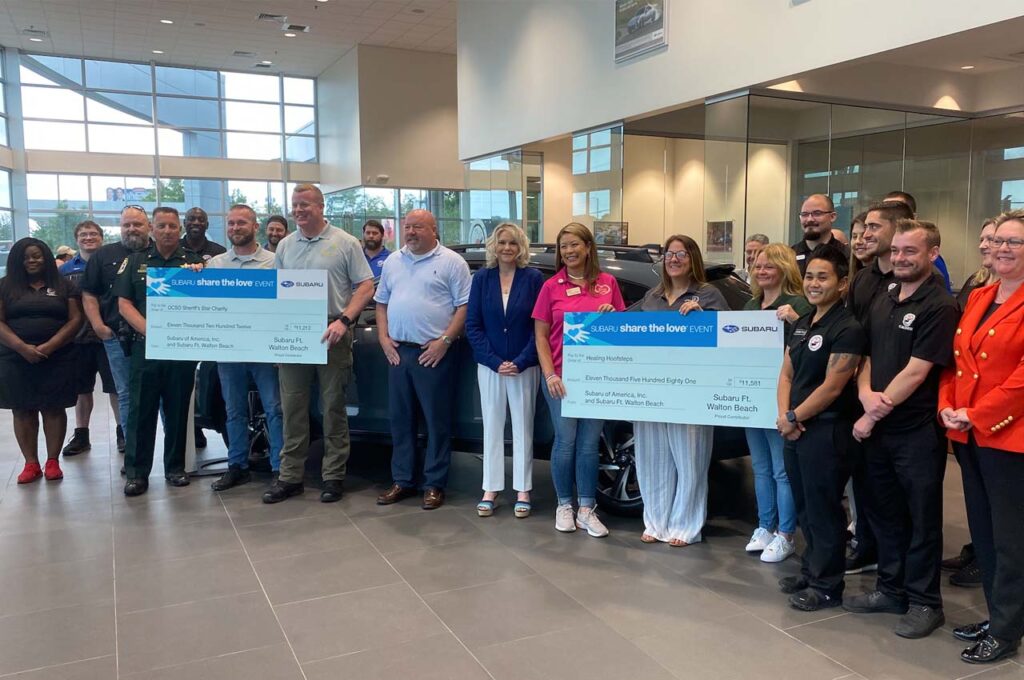 Step One Automotive Group presented significant donation checks to two local charities on Monday, May 8, 2023. The recipients were Okaloosa County Sheriff's Office (OCSO) Sheriff's Star Charity and Healing Hoof Steps Equine Assisted Mental Health Counseling and Therapeutic Riding.
The donations were part of Subaru's nationwide "Share the Love" initiative. Step One Automotive Group and Subaru Fort Walton Beach had announced these organizations as the hometown beneficiaries for the 2022 edition of the event, which ran from November 17, 2022, to January 3, 2023.
During this period, every customer who purchased or leased a new Subaru was given the opportunity to designate a $250 donation from Subaru of America, Inc. to either the OCSO Sheriff's Star Charity, Healing Hoof Steps, or one of four national charities.
Sarah Cagle, the Store Director of Subaru Fort Walton Beach, expressed her enthusiasm about the initiative and the local charities involved. "We are so excited to be able to include two such wonderful charities in Share the Love this year," said Cagle. "We are proud to call them partners and help support all the good works they do."
The check presentation ceremony took place at the Subaru Fort Walton Beach dealership, with representatives from both charities in attendance. Healing Hoof Steps received a check for $11,581.00, while the OCSO Sheriff's Star Charity was awarded a donation of $11,212.00.
Healing Hoof Steps offers equine-assisted mental health counseling and therapeutic riding, providing an invaluable service to those in need.
The OCSO Sheriff's Star Charity provides support to Okaloosa County residents who have experienced hardships, making both charities critical pillars in the local community.
For those interested in learning more about Step One Automotive Group and its ongoing community outreach efforts, visit their website at https://www.steponeautomotive.com.
COASTAL RESOURCES
Okaloosa to deploy 38 Prefabricated Artificial Reefs off the coast of Destin-Fort Walton Beach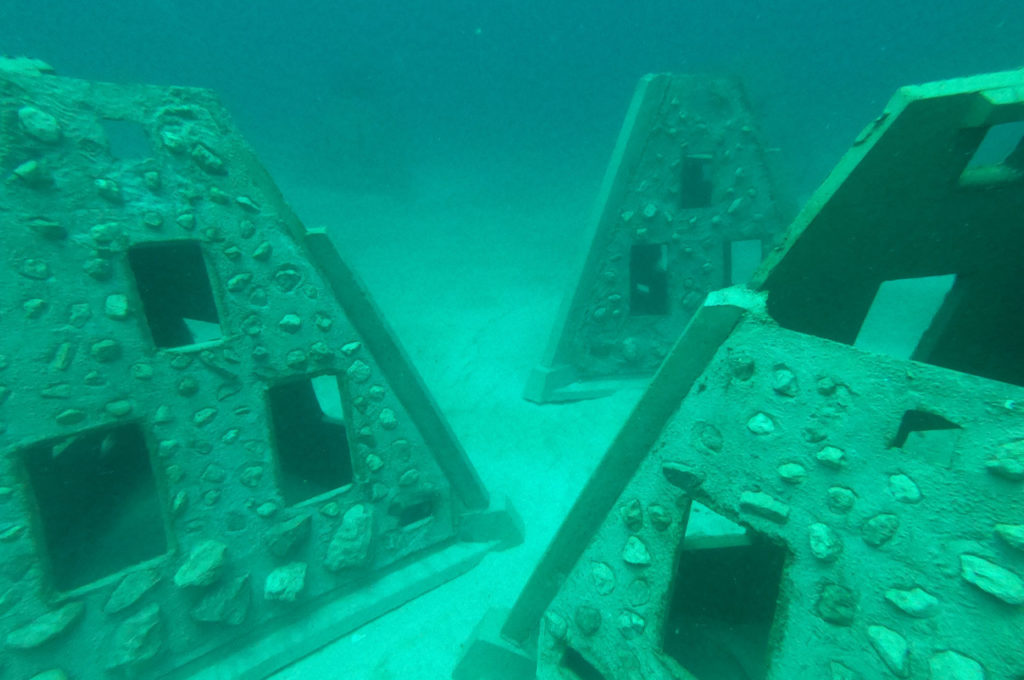 Okaloosa County's Coastal Resource Team is gearing up to deploy 38 prefabricated artificial reef modules off the coast of Destin-Fort Walton Beach, an exciting initiative that highlights the community's dedication to marine conservation.
The project, made possible through funding provided by private partners and the Okaloosa County TDC, is part of a larger 5-year plan aimed at enhancing the area's marine ecosystems and sparking interest in local water adventures.
"It's exciting to see private organizations expressing interest in collaborating with us on artificial reef initiatives," said Coastal Resource Manager Alex Fogg. "This cooperation significantly extends the reach of our tourism dollars, benefiting both tourists and residents while amplifying the overall impact of our projects."
The 38 prefabricated concrete modules, 4 of which will be 25ft tall and the remaining 34 will be 8ft tall, will create 14 patch reefs within three permitted areas in state and federal waters. Each module will be strategically placed at depths of 70-115ft to optimize the benefits for marine life and the dive community.
According to Fogg, these artificial reef modules are specifically designed to encourage growth on the structure and mimic natural reef features.
"Not only are we fostering new habitats for marine life, but we're also providing a means for people to experience these resources in a responsible and sustainable manner," said Fogg. "These reefs have a positive economic effect on the region by drawing in anglers and divers of all ages and skill levels from around the globe, bolstering local businesses like dive shops and charter boats."
In addition to benefiting marine ecosystems, the project has been a valuable learning experience for some members of the community. Destin High School, for example, created a fishing class with an emphasis on marine conservation and has taken an active role in the project.
The class recently held a fundraiser at Half Hitch in Destin and raised $10,000 to purchase up to five reef modules for this deployment. The school will deploy one "super reef" (25ft tall) surrounded by 10 smaller reefs.
Last week, the Sharks went on a field trip to Orange Beach, AL. to watch the reefs get made and to name all of the reefs that will be deployed.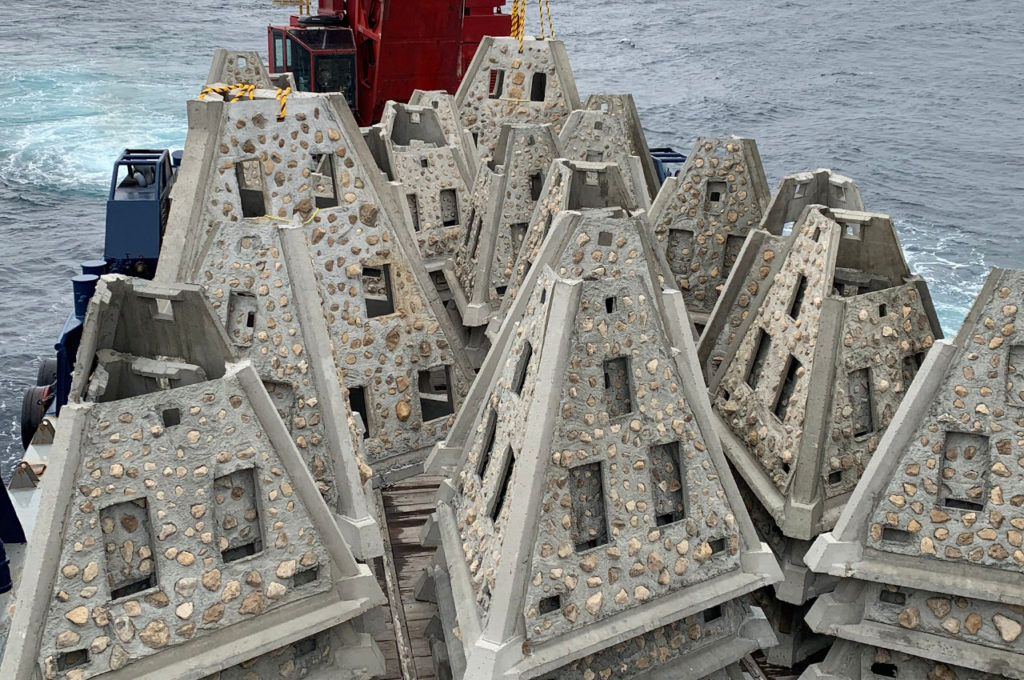 Starborough Wines is also deploying $28,000 worth of reef modules. In 2022, Starborough deployed two artificial 'Super Reefs' off Okaloosa and Walton beaches.
For this project, Starborough Wines will deploy 2 prefabricated 'Super Reefs' that will be accompanied by 16 small modules off the coast of Destin-Fort Walton Beach.
Saltwater Restaurants is deploying $33,160 worth of reefs to establish the Crab Trap Offshore Reef site. This site will be located directly south of Crab Trap Destin and consist of 9 prefabricated reefs (1 large, surrounded by 8 small reefs).
The Emerald Coast Reef Association has recently reestablished and hopes to build momentum and interest in the organization by deploying 2 small prefabricated reefs at a cost of $4,790.
The three permitted areas (State and Federal Waters) for this deployment are:
Fish Haven 14 (State): Starborough Wines
LAARS A (Federal): Destin High School Reef & Crab Trap Offshore Reef
LAARS C (Federal): Emerald Coast Reef Association
Walter Marine, the contractor selected for this project, plans to deploy the artificial reef modules in just one day, weather permitting. The targeted date for deployment is on or around May 17, 2023, during the first favorable weather window. The reef modules are constructed from clean, durable concrete and limestone materials.
The project is yet another milestone in the ongoing 5-Year Artificial Reef Planto make Destin-Fort Walton Beach the dive capital of Florida. With this deployment, nearly 2,000 modules will make up more than 300 reef sites. This is in addition to the dozens of large vessels and other reef materials deployed in the area.
"Our long-term goal is to establish an exceptional artificial reef system that supports both the ecosystem and the community," said Fogg. "We're constantly seeking new opportunities and partnerships to bring this vision to fruition."
The coordinates for all of these artificial reefs will be posted on Visit Destin-Fort Walton Beach's website after the deployment.
OK, that's all I have for you this morning! I hope you have a great Wednesday! 
p.s. What did you think of this morning's newsletter? Hit the reply button and let me know!
Published with ♥ by Get The Coast.
Did someone forward you this email? Subscribe here.
124 Eglin Parkway SE Fort Walton Beach, FL 32548