Good morning!
There is quite a bit to cover but before we do…I need to ask you for a favor. Previous newsletters looked a bit "broken" for some readers using an older version of Outlook. I've been working on getting this email to look great in as many email clients as possible but it's difficult to test them all.
So, if this looks weird on your end, will you please let me know?
Ok, let's get to the news today!
COVID cancels council….meeting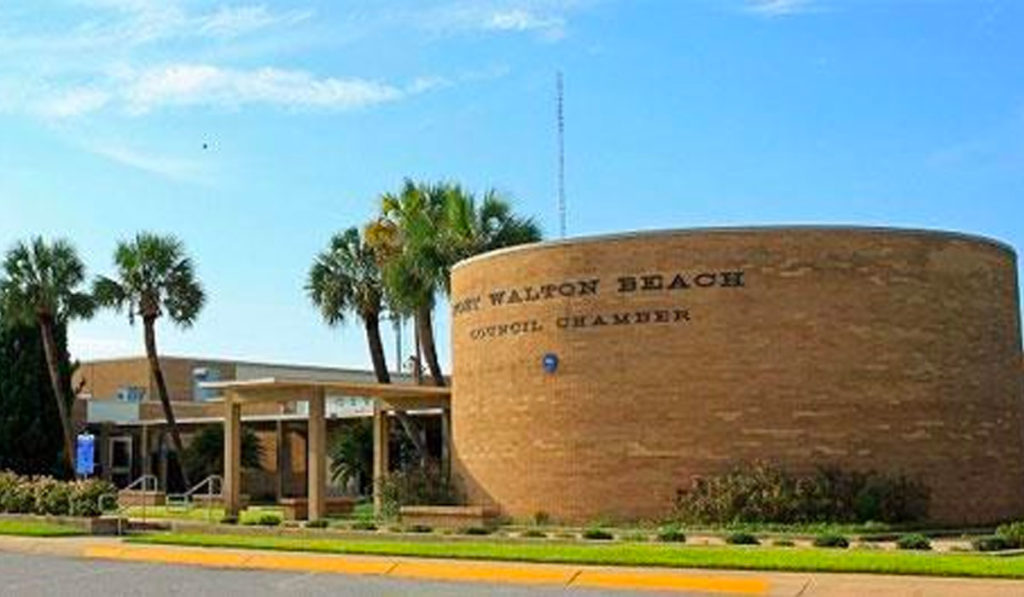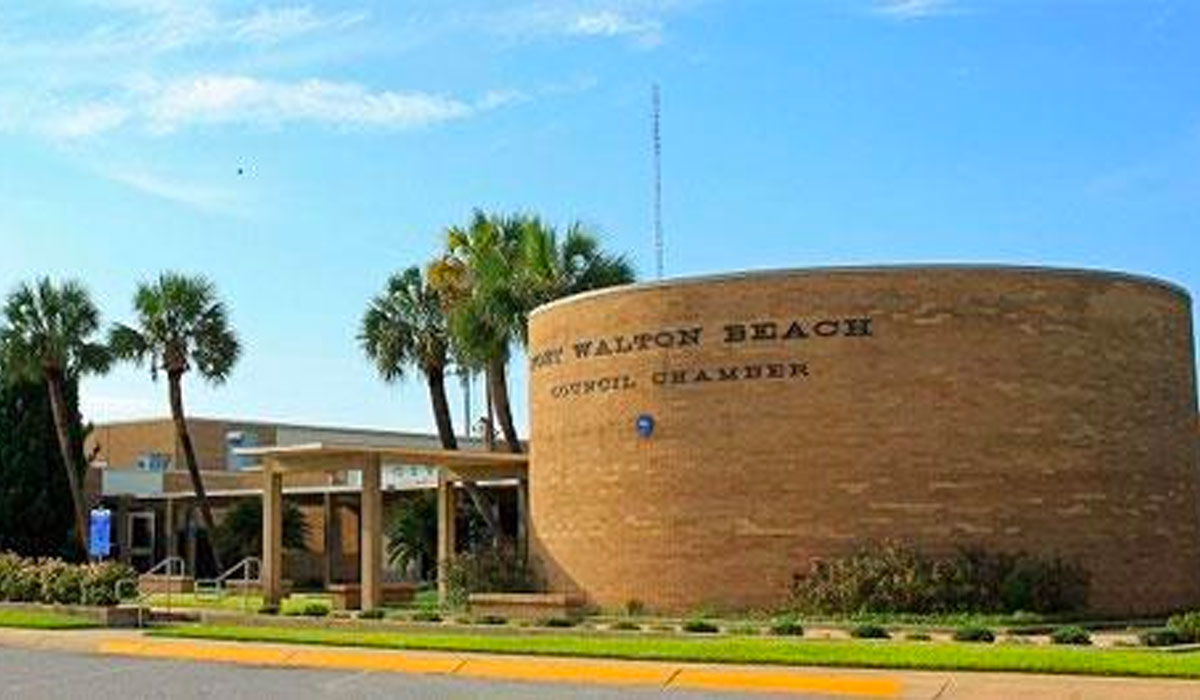 Because of a confirmed COVID-19 exposure affecting multiple members of the City's administrative staff and elected officials at the City's Strategic Planning Session on May 4th, 2021, the upcoming Fort Walton Beach City Council meeting has been rescheduled.
The meeting was originally scheduled for for Tuesday, May 11th has been rescheduled for Tuesday, May 18th, at 6pm.
According to the city, the decision to reschedule the meeting was made based on the latest CDC guidelines for COVID-19 exposure and with input from the Florida Department of Health, Okaloosa, to ensure the safety of the public, City Council and staff. The updated meeting agenda and details will be posted at www.fwb.org/agenda.
SPONSORED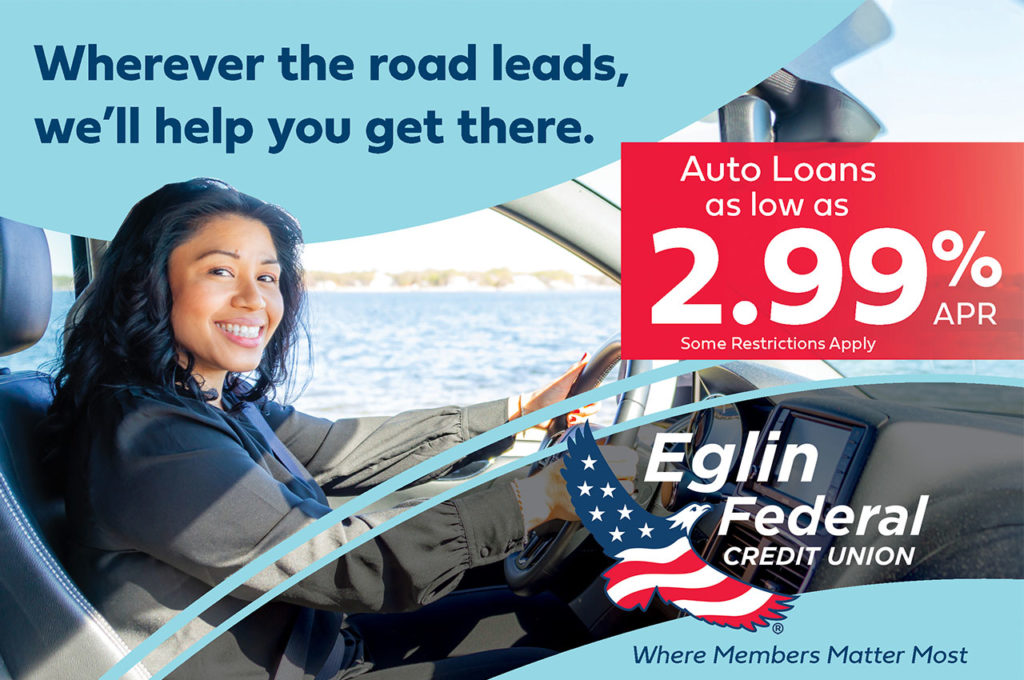 Wherever the road leads, Eglin Federal Credit Union can help you get there!
Current auto rates are as low as 2.99% APR for up to 66 months on new or used vehicles (some restrictions apply).
99Rock names new program director
Cumulus Media has announced that it has appointed veteran Rock radio programmer, Dave Rossi, as Program Director for heritage Rock station, WKSM/99ROCK in Fort Walton Beach-Destin, FL.
Rossi joins Cumulus from iHeartMedia Nashville, where he was a program director.
"We are elated to have Dave join the Fort Walton Beach team," said Ashley Allegretto, Vice President/Market Manager, Cumulus-Fort Walton Beach-Destin. "Dave's wealth of knowledge, years of experience, and creativity in the Rock format make him a natural fit to lead our heritage Rock station."
"There's spectacular growth in this market and I'm thrilled to work at this incredible radio station," said Rossi. "After great conversations with Chris Kellogg, Ashley Allegretto, Troy Hanson and Doug Hamand it became clear that Cumulus was where I needed to be and the opportunity in Fort Walton Beach is a perfect fit. I'm looking forward to leading the team of proven winners at 99ROCK and building on the winning tradition they've created!"
Lightning caused some huge damage!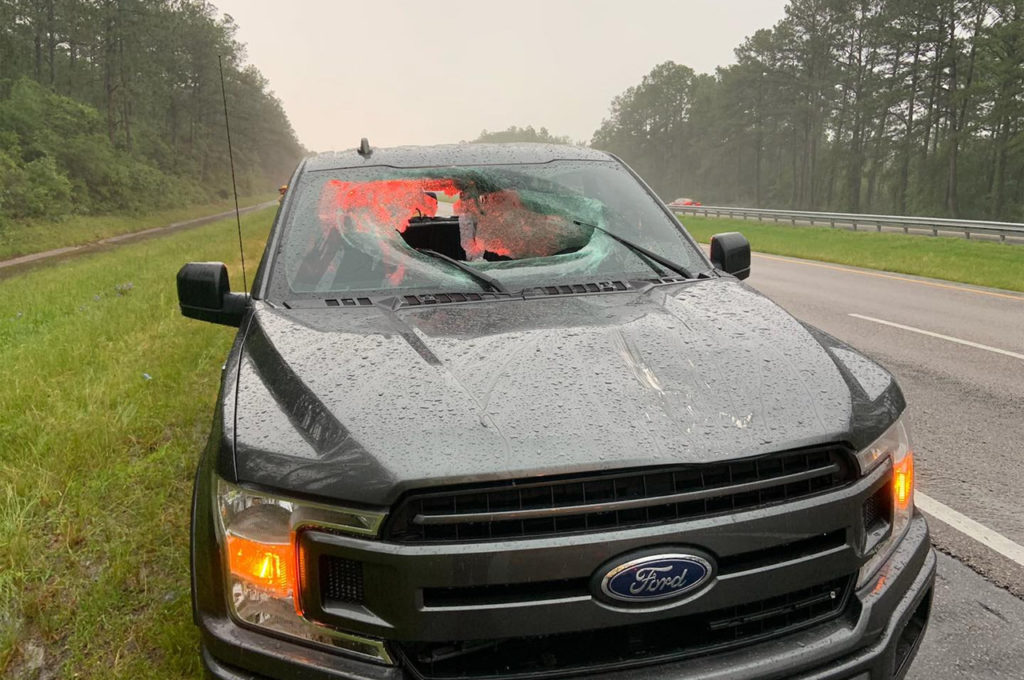 Just after 7:30am yesterday morning, the Walton County Fire Rescue was dispatched to a traffic crash near mile marker 81 eastbound on I-10.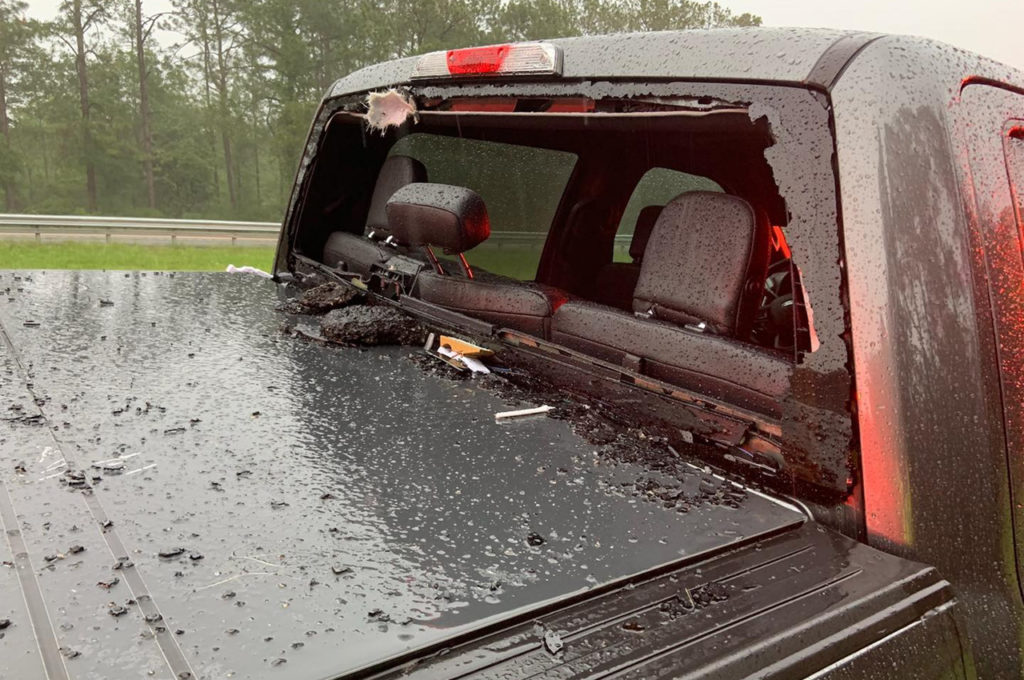 According to the WCFR, lightning struck the roadway, causing a chunk of the road to fly through the windshield of the truck. Both occupants of the vehicle were transported with injuries.
The lightning strike took off the top layer of the road causing damage that was about the size of a dinner plate.
American Airlines is hiring at Destin-Fort Walton Beach Airport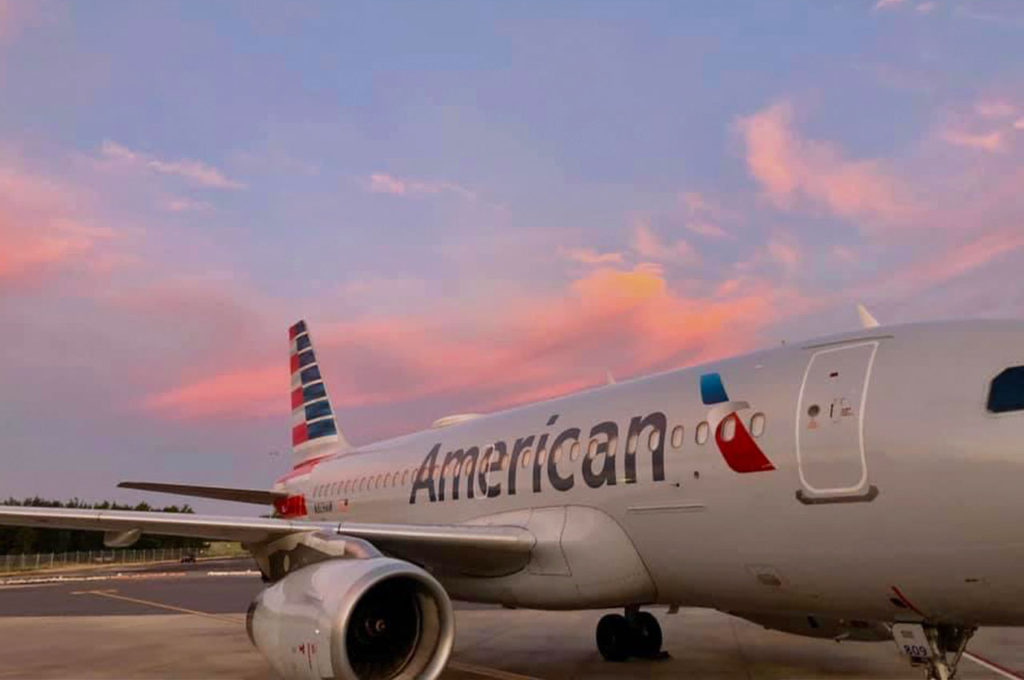 With the continued growth at expansion at the Destin-Fort Walton Beach airport, airlines are continuing to hire.
American Airlines is hosting a hiring event for graduating seniors on May 14th at 9am at the Comfort Inn Suites in Niceville, FL.
"Piedmont Airlines is offering positions at the VPS Airport that include free flights on the American Airlines Network, said Nicholas Calo, Recruiter for Piedmont Airlines. "This would be a great opportunity for young adults to experience a positive work environment as well benefits of seeing the world on a budget, once COVID permits of course."
Here is a quick look at some of the positions:
Ramp agents handle luggage, load/unload aircraft, service and clean aircraft, operate ground support equipment (GSE), marshal aircraft, assist passengers and perform other duties as assigned.
Gate agents provide front-line customer service to passengers in the boarding area. Duties include creating and modifying flight itineraries, changing seat assignments, making boarding announcements, assisting passengers with special requests and needs, assisting passengers with luggage and operating the passenger boarding bridge.
Cross-Trained agents preform the job functions of a ramp agent along with our above-the-wing responsibilities; which may include Gate, Ticket Counter and Baggage Service Office (BSO).
Oh, and you get to travel for free within a few weeks of bring hired! Immediate family members also fly for free.
Gas prices likely to climb higher with major pipeline shutdown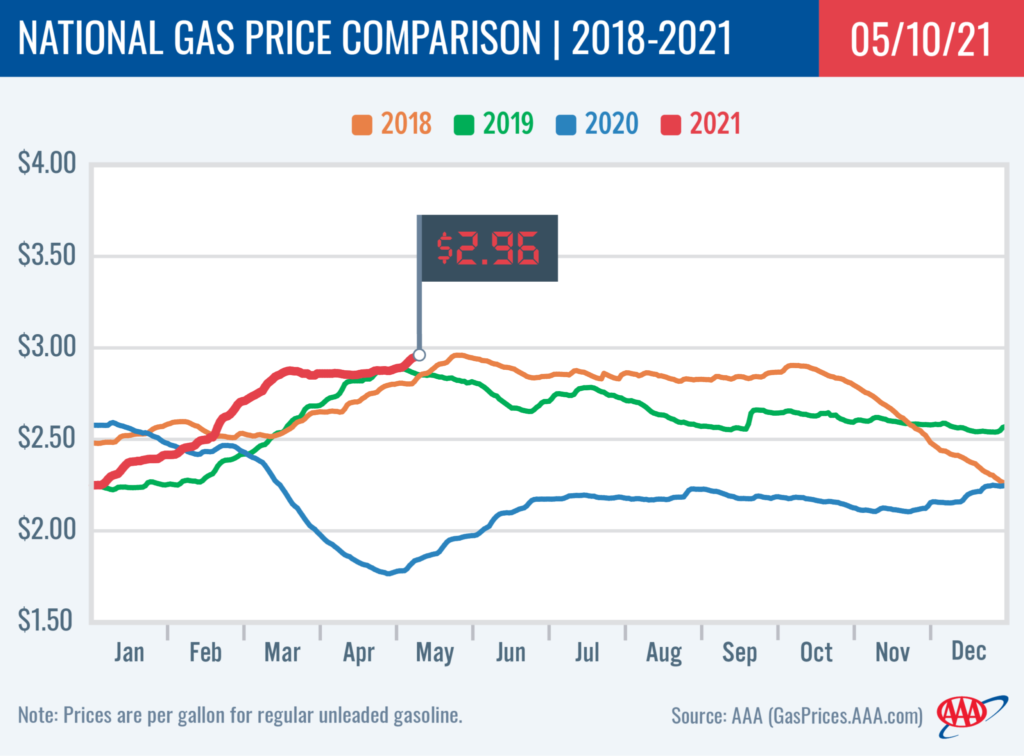 On the week, the national gas price average jumped six cents to $2.96. If the trend continues, an increase of three more cents would make the national average the most expensive since November 2014 –the last time we saw average prices at $2.99 and higher, according to AAA.
AAA forecasts gas prices to climb this week in reaction to the shutdown of the Colonial Pipeline, which delivers approximately 45% of all fuel to the East Coast. Over the weekend, the Colonial Pipeline announced they were the victim of a cybersecurity attack and, as a precaution, shut down the pipeline, which runs from Texas to New York Harbor. At this time, some lateral lines have reopened, but there is no word of when the mainline, including the gasoline line, will be operational.
"This shutdown will have implications on both gasoline supply and prices, but the impact will vary regionally. Areas including Mississippi, Tennessee and the east coast from Georgia into Delaware are most likely to experience limited fuel availability and price increases, as early as this week," said Jeanette McGee, AAA spokesperson. "These states may see prices increase three to seven cents this week."
The longer the pipeline is offline, the larger the impact on the east coast. However, foreign gasoline imports and other pipelines can supplement Northeastern supply. Other areas of the country will see little impact, according to the report.
Once the pipeline is up and running, there could still be residual delays as it takes about 15–18 days for fuel to flow from Texas to New York.
The Big Dawg is sunk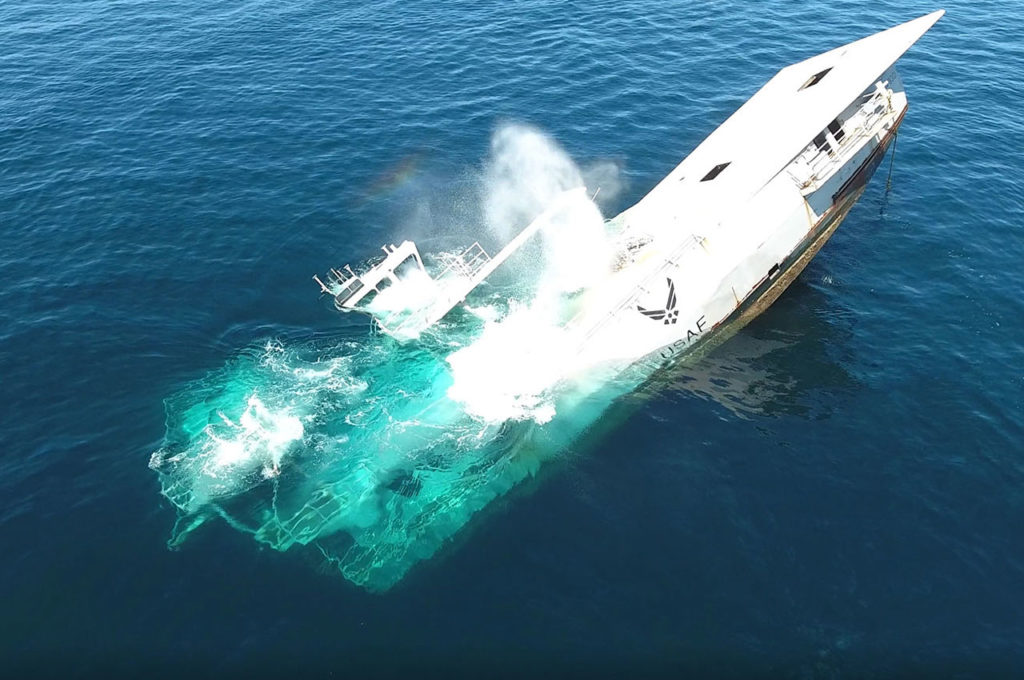 Okaloosa divers and fishermen have a new artificial reef to enjoy as of Friday, May 7, 2021. The large 93-foot US Air Force steel-hull water training vessel, BIG DAWG was sunk to the seafloor in 104 feet of water, 14 miles southwest of the Destin Pass.
Background: The vessel was offered to Okaloosa County Staff in June 2020, soon after the official request was made. The County worked with Hurlburt Field and a local contractor to transport the BIG DAWG to its final resting spot at the bottom of the Gulf of Mexico.
Alex Fogg, Okaloosa County Coastal Resources Manager with Destin-Fort Walton Beach TDD managed the acquisition, preparation and deployment. After many months of preparation to ensure the vessel was clean and environmentally friendly, a local contractor, DreadKnot was hired to prepare (clean), tow, cut holes and pump water into the vessel sinking it to the bottom.
Once the mission was complete, divers inspected the new reef and reported a perfect, upright landing with sea life already starting to gather. Details on the Okaloosa County Artificial Reef Program can be found here.
Additional agencies onsite for the deployment included representatives from Okaloosa County Sheriff's Office, Hurlburt Field, Eglin Air Force Base, National Oceanic and Atmospheric Administration (NOAA) and US Coast Guard.
Ok, that's all I have for you this morning! Have a great Tuesday!
Jared
p.s. What did you think of this morning's newsletter? Hit the reply button and let me know!