OKALOOSA
Mosquito spraying schedule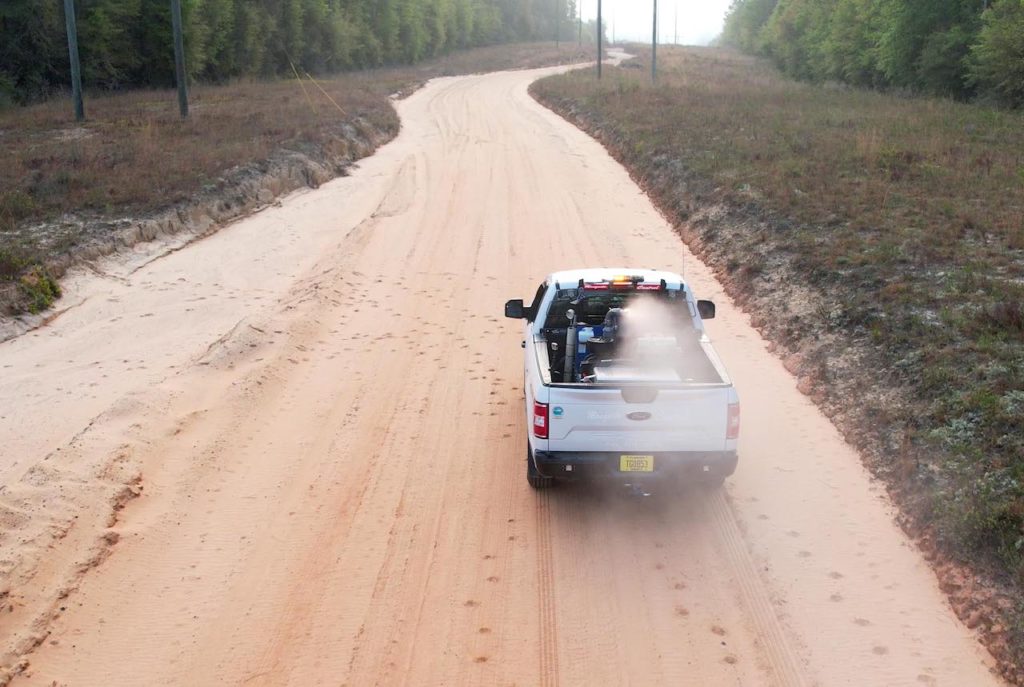 The Okaloosa County Mosquito Control Program sprays for mosquitoes county-wide excluding federal and state-owned land.
Mosquito spray trucks generally begin operating 1 hour before sunset and/or in the 1 hour after sunrise.
"We are spraying Kontrol 4-4, a permethrin-base chemical," said Brian Shepherd, Supervisor for Okaloosa County Mosquito Control. "Our chemical is meant to kill the adult mosquitoes."
According to Shepherd, when the spray is coming out of the truck, the truck can not go over 20mph. Once it exceeds 20mph, an alarm will indicate inside the truck and the engine will shut down until the technician lowers their speed.
In addition to spraying, the County has an aggressive larviciding program that includes more than 1,500 sites treated and are checked on a regular basis. Additionally, more than 750 ponds and areas with standing water are treated with gambusia fish which eat mosquito larva and are able to reproduce at a high rate.
"Mosquitoes bite and it's only the females that bite, not the males," he said. "The females are looking for blood meals so that they can produce more eggs and reproduce."
Shepherd added that "the females decide to bite whenever you exhale carbon dioxide."
"They're basically looking for a host and you're it!"
SPONSORED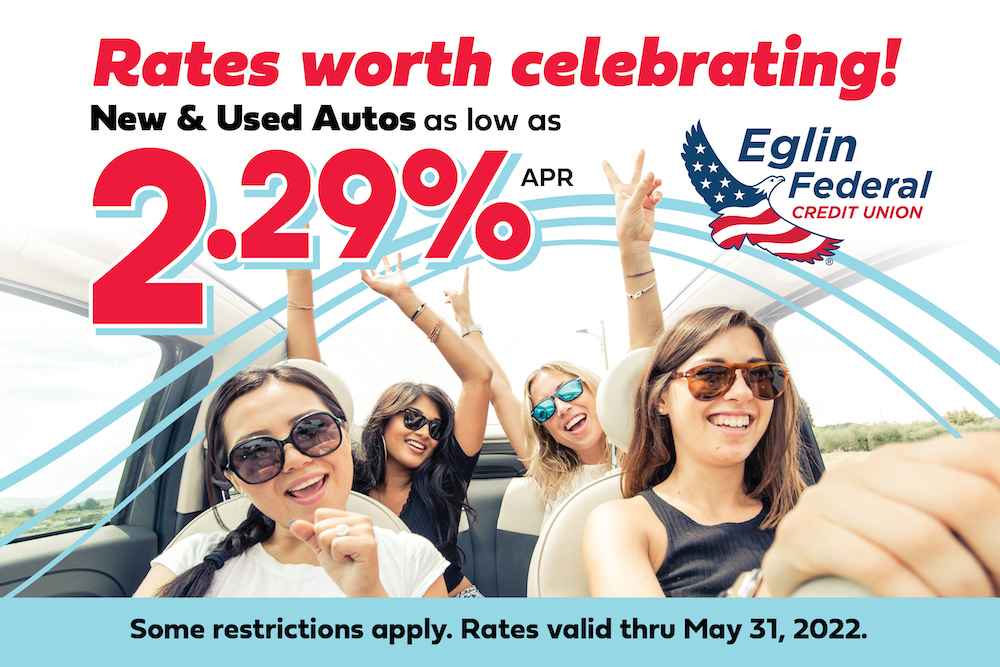 Get a new or used auto loan with rates as low as 2.29% APR for up to 66 months (some restrictions apply).
TRAFFIC
Okaloosa and Walton County Traffic Advisory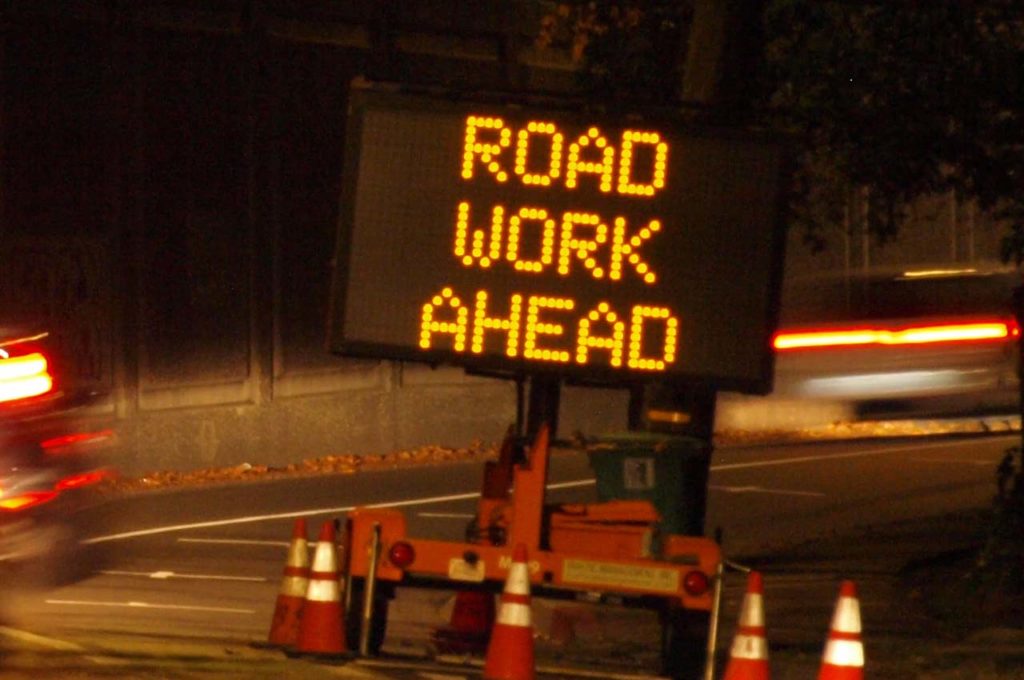 Drivers will encounter traffic disruptions on the following state roads in Okaloosa and Walton counties as crews perform construction and maintenance activities.
Okaloosa County:
State Road (S.R.) 85 Improvements from S.R. 123 to Hospital Drive- Drivers will encounter intermittent, temporary northbound lane closures between S.R. 123 and Shoal River Bridge, Monday, May 23 through Thursday, May 26, for paving operations. S.R. 85 northbound lane closures will not occur between 1 p.m. and 8 p.m. One travel lane will always remain open and access to private property and driveways will be maintained.
S.R. 20 (John Sims Parkway) Resurfacing Project- Drivers may encounter intermittent outside westbound lane closures from Edge Avenue to west of the Rocky Bayou Bridge, Sunday, May 22 through Thursday, May 26, from 9 p.m. to 6 a.m. The lane closures are required to repair and construct sidewalk along the north side of the roadway.
S.R. 4 Bridge Replacement at Blackwater River – Motorist will encounter intermittent daytime lane closures Monday, May 23 through Friday, May 27. Drivers are reminded the speed limit has been reduced to 45 MPH through the work zone.
Mary Esther Cutoff (S.R. 393) Routine Maintenance at Playground Music in Fort Walton – Motorist will encounter intermittent lane closures, Wednesday, May 25 from 9 a.m. to 2 p.m. for concrete operations.
S.R. 397 (North John Sims Parkway) Routine Maintenance from Government Avenue to Edge Avenue in Valparaiso – Motorist will encounter intermittent lane closures the week of Monday, May 23 from 7 a.m. to 4 p.m. for tree trimming operations.
Roger J. Clary Highway (S.R. 123) Routine Bridge Maintenance over Eglin Parkway Overpass – Motorists will encounter intermittent lane closures, Sunday, May 22 from 9 p.m. to 5 a.m. for guardrail repair.
Walton County:
U.S. 98 Widening from Emerald Bay Drive to Tang-O-Mar Drive – Drivers will encounter intermittent east and westbound lane closures the week of Sunday, May 22 from 9 p.m. to 5 a.m. for paving operations. Additionally, widening work on Forest Shore Drive at U.S. 98 will require flagmen to direct drivers through the work zone.
All activities are weather-dependent and may be delayed or rescheduled in the event of inclement weather. Drivers are reminded to use caution, especially at night, when traveling through a work zone and to watch for construction workers and equipment entering and exiting the roadway.
MORE ON TRAFFIC
Upcoming Resurfacing Project on State Road 85 in Okaloosa County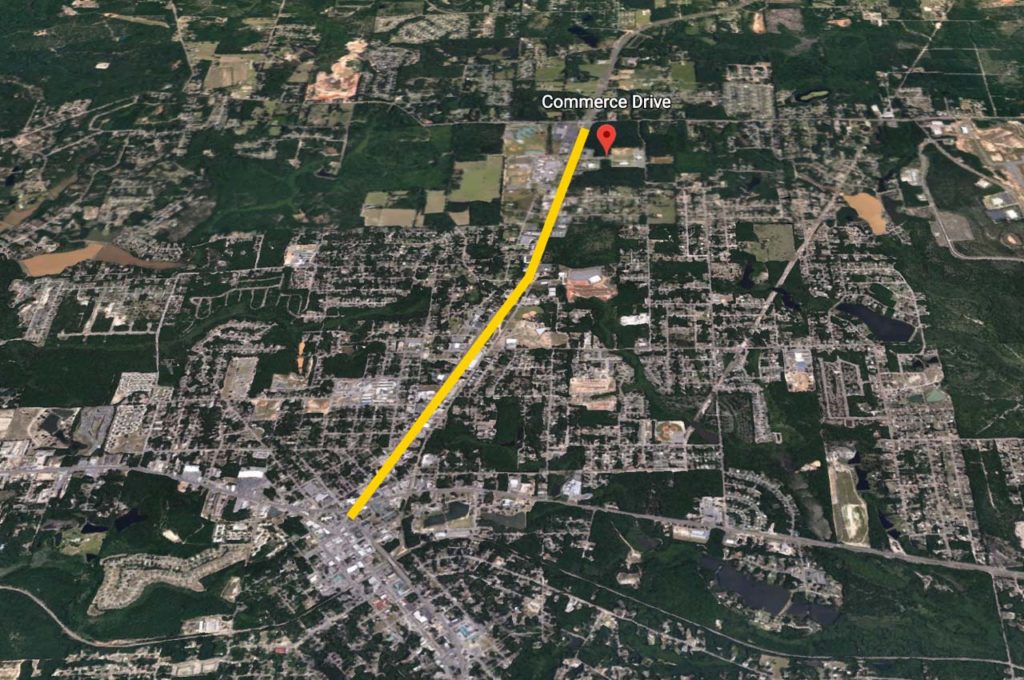 Work is scheduled to begin in June 2022 on a new $3.2 million project to resurface a 2.2-mile segment of State Road (S.R.) 85 (North Ferdon Boulevard) from U.S. 90 to north of Commerce Drive.
These additional improvements and enhancements will also be made during this project:
Sidewalk improvements.
Signalization enhancements.
Drainage upgrades.
New signage and pavement markings.
During construction, drivers may encounter temporary traffic shifts as well as intermittent and alternating lane closures between 9 p.m. and 5 a.m. Sunday through Thursday nights.
No lane closures will be scheduled during special events at Crestview High School, Richbourg School, or Northwood Elementary School. Pedestrians may be temporarily detoured while sidewalk work and repairs are performed.
The project is estimated for completion in early 2023.
FROM THE STATE
Governor Ron DeSantis announces launch of Florida Hometown Heroes Housing Program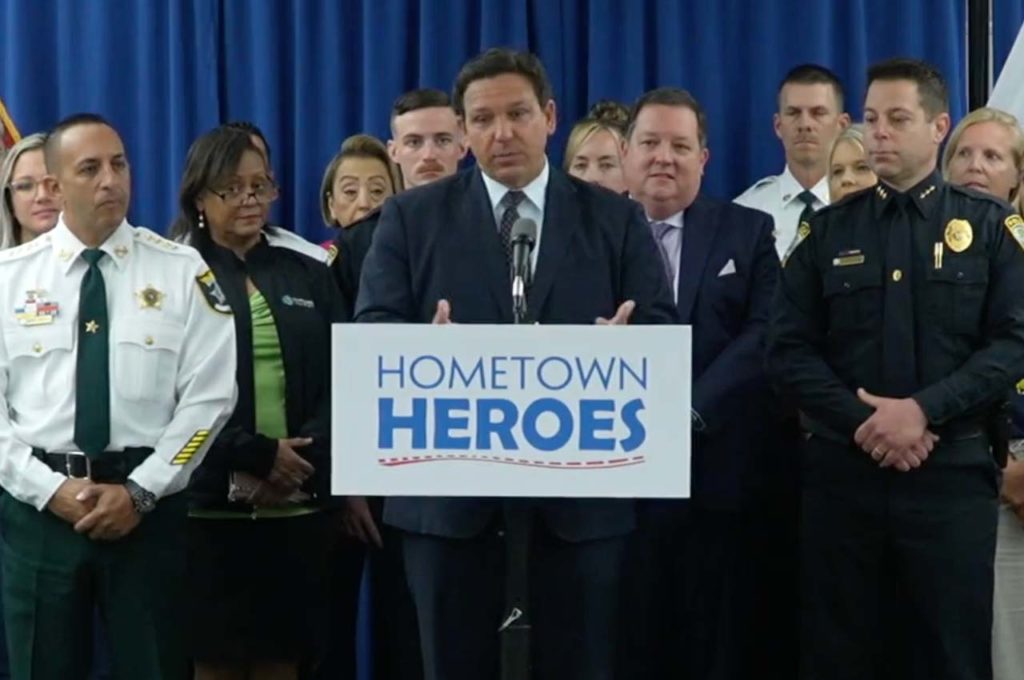 Yesterday, Governor Ron DeSantis announced the June 1 launch of the Florida Hometown Heroes Housing Program to help Floridians in over 50 critical professions purchase their first home.
The Hometown Heroes Housing Program will be available to Floridians including law enforcement officers, firefighters, educators, healthcare professionals, childcare employees, and active military or veterans.
Including this $100 million program, the Governor also announced his intent to support the total of nearly $363 million appropriated for affordable and workforce housing in the 2022-2023 budget, the highest total in 15 years.
The program is administered by the Florida Housing and Finance Corporation (Florida Housing) and has the highest and most inclusive eligibility of all Florida Housing down payment assistance programs.
The program is geared to expanding on Florida's existing housing programs to reach critical workers and those who have served our country. Find more about the program here.
"In Florida, we value the contributions of our police, firefighters, teachers, and nurses," said Governor Ron DeSantis. "Our hometown heroes are the backbone of Florida communities and making sure that they can afford to be homeowners is a great way to give back to them and support the future of the American Dream."
Florida Housing received $100 million from the state Legislature this year to establish and administer the Florida Hometown Heroes Housing Program. This program will aid essential community workers in 50 different eligible professions with down payment and closing cost assistance to help first-time, income-qualified homebuyers purchase a primary residence in the communities they serve.
Funds will be available to reserve starting June 1, which coincides with National Homeownership Month. This occasion celebrates the value that owning a home brings to families, communities, and neighborhoods across America.
To qualify for this program, homebuyers must connect with a participating loan officer, have a minimum credit score of 640, provide certification for one of the eligible occupations, and meet the income threshold for their county.
Eligible borrowers will receive up to 5% of the first mortgage loan amount (up to a maximum of $25,000) in down payment and closing cost assistance in the form of a 0%, non-amortizing, 30-year deferred second mortgage.
For more information, please visit www.floridahousing.org/hometownheroes.
TRAFFIC
Truck vs. Bridge: This is why traffic was backed up yesterday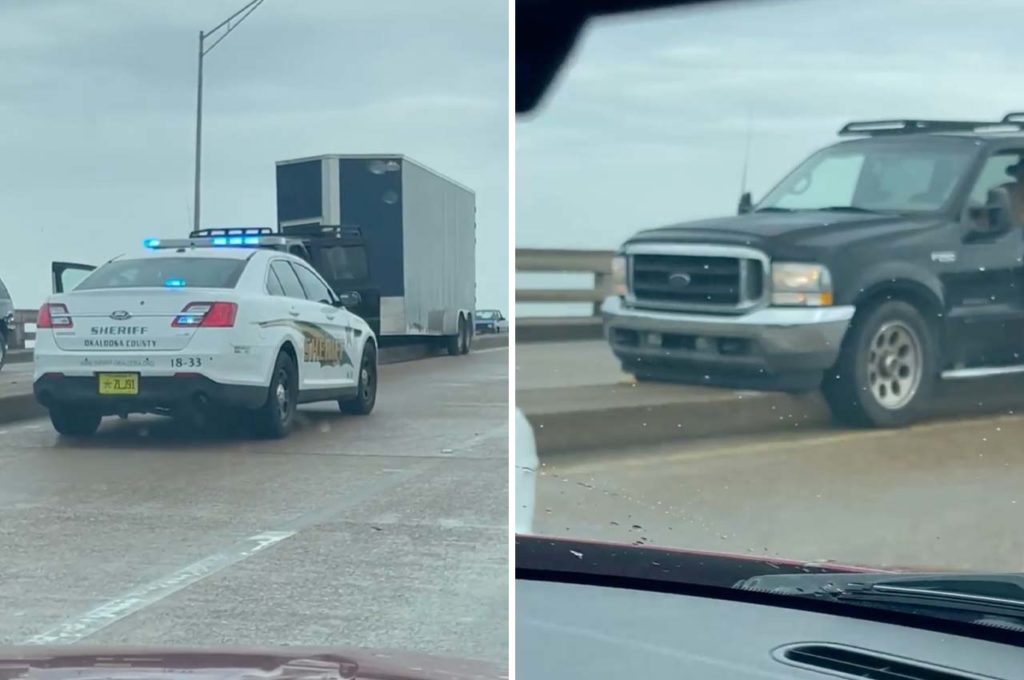 Yesterday morning, traffic in front of my office in Downtown Fort Walton Beach came to a standstill. For a relatively uneventful Monday, this was unusual.
I didn't hear sirens.
I didn't see an ambulance.
FDOT didn't even report a traffic accident on their live feed.
Turns out, a truck pulling a trailer somehow got completely stuck on the median headed eastbound toward Destin. This caused all lanes on the Brooks Bridge to be closed.
I'm not even sure how you manage to straddle the median like this, but thankfully a tow truck was able to get to the scene, remove the truck and get traffic flowing again.
SCHOOLS
HOPE Squad makes big impact on Okaloosa students, High schooler selected for National Council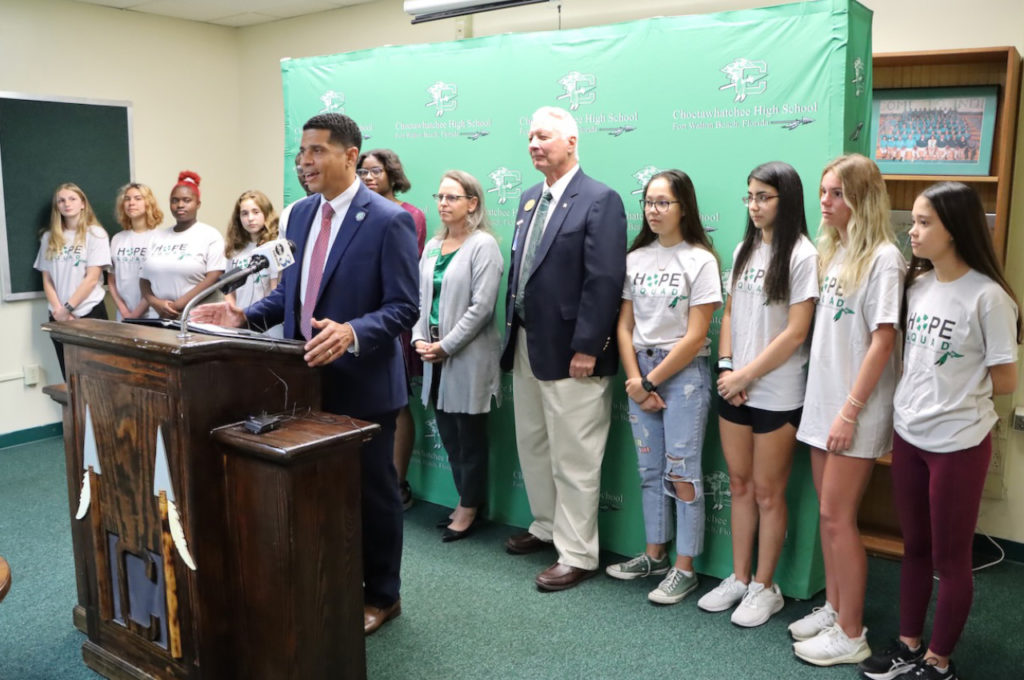 On Wednesday, May 18, 2022, the Okaloosa County School District held a press conference at Choctawhatchee High School in Fort Walton Beach to discuss mental health and the HOPE Squad in the schools.
Additionally, Choctaw student Angelique Patterson has been chosen to be on the National HOPE Squad Council.
36 students across the nation were chosen to be on this national council.
Only one in the state of Florida.
As May is Mental Health Awareness Month, Superintendent of Schools Marcus Chambers says the district will continue to look at demystifying, or taking away the stigma of, mental illness.
"We know over the last two years, that we have students that might be struggling with mental illness and even employees and families," he said at the beginning of the press conference. "Everything that we can do as a school district to support our students, we think is absolutely vital and important."
There's a component of mental health that the school district has talked about a lot lately and that's suicide prevention and awareness. The OCSD has a program called HOPE Squad that was spearheaded by Peggy Brockman and supported financially by Eglin Federal Credit Union and IMPACT 100.
By the end of this year, every secondary school in Okaloosa County will have HOPE squad," added Chambers. "Next year, every elementary school will have HOPE Squad as well."
Chambers went onto say that "there's nothing more important in a school district than keeping our students safe."
"If we can't keep our students safe, and have programs in place to do so, everything else pales in comparison."
As for the HOPE Squad, Chambers says it has already saved lives this year across the county. Not only has the group been able to intervene at Choctaw, but in other schools across the district.
HOPE Squad's impact at Choctaw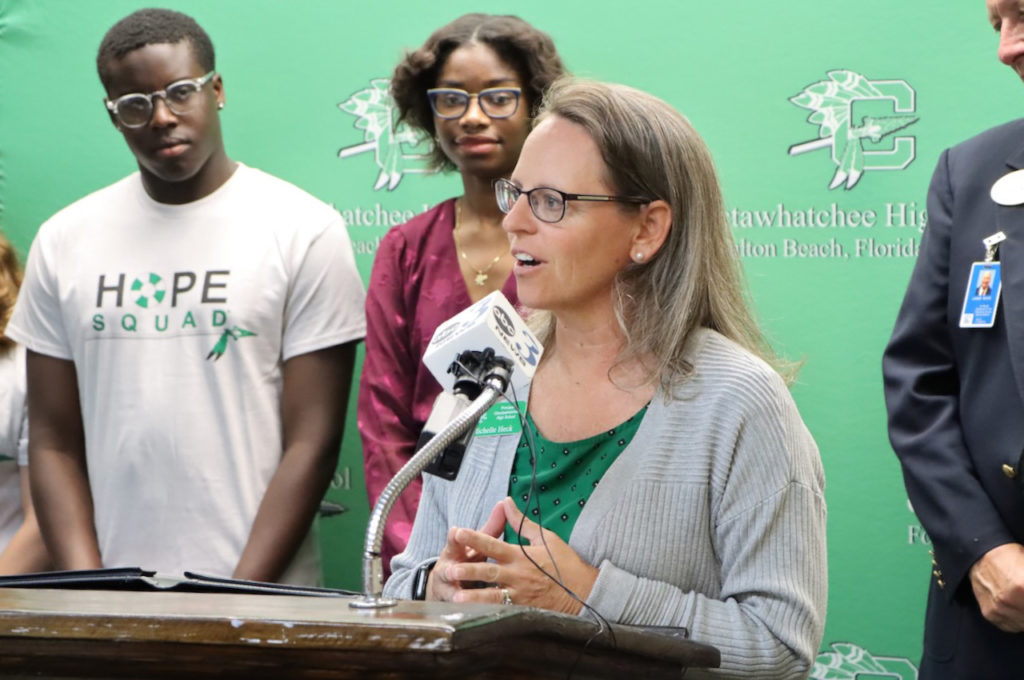 "This is really personal to Choctaw," said Principal Michelle Heck. "I have seen the power of HOPE Squad in action."
Heck says that when the school first implemented HOPE Squad and her students went through the training they needed, they began to flood the school with positive messages and have been visible throughout the school.
That visibility, and training, ultimately led to members of the HOPE Squad helping one of their peers.
"Unbeknownst to me, we had a student who was in crisis and shared some concerning thoughts with a friend of theirs," said Heck, fighting back the tears. "That friend was not a HOPE Squad member but knew who our HOPE Squad members were and reached out and shared with the member the concerns they had for their friend."
Heck says it was alarming and concerning, but that the HOPE Squad member knew exactly what to do, asked the right questions and then brought in one of the HOPE Squad Sponsors to intervene.
"No sooner did that happen, that HOPE Squad Sponsor came and said that the student was being taken care of," added Heck. "This is exactly what this organization stands for and that is making sure our kids who are struggling have someone to talk to. So it is very personal here at Choctaw."
Local leadership makes it to the national level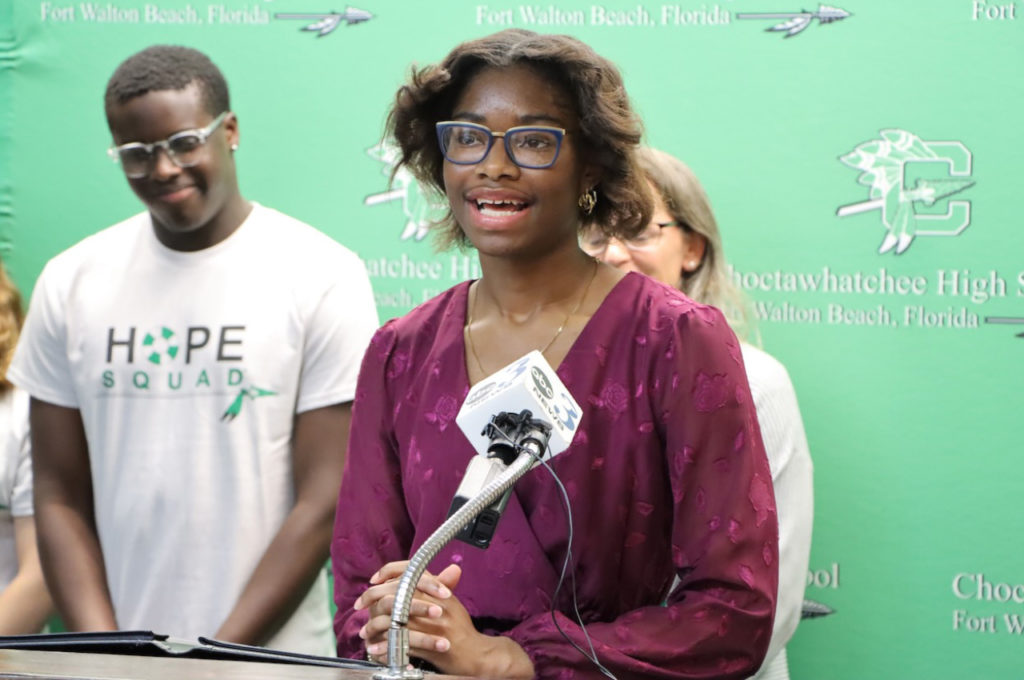 The main reason for the press conference was to introduce Angelique Patterson, a Choctaw student selected to sit on the National Council for HOPE Squad.
36 students across the nation were chosen to be on this national council.
Only one from the state of Florida.
Angelique is also a member of the Okaloosa County Youth Leadership Council, a Director of WBGI-TV- Choctaw's in-house television production program, Junior Class President/Senior Class President-Elect, and a member of the National Honor Society, Link Crew, and Multicultural Club.
On top of that, she maintains a 4.1 weighted GPA and is a Dual Enrolled student.
As part of her being on the national council, she will not only participate in the meetings, but also plan and facilitate state and national leadership conferences on HOPE Squad.
"They will talk to political figures, not only in the state of Florida, but across the nation," said Chambers. "Angelique is about to not only do something that's beyond worthwhile in helping save lives, but she's also about to take part in literal leadership in helping her as she continues to grow and go forward."
Angelique told the audience that it was a great honor for her to be selected as part of the national council.
"It means everything to me because it's about listening to your peers, and hearing what they have to say," she said. "It's stressful sometimes being a high schooler and the pressure that you're under. You know that you have to succeed and sometimes you don't know how you're going to get there, but you have to make sure that it happens."
"For me to be someone that my peers feel that they can come to, I can't even explain how great that is for me and how that feels for me to be able to help them with anything that they need."
Angelique says she would not have been able to do any of this without proper training from her teachers, going to the HOPE Squad meetings and her friends.
"As HOPE Squad members, it can be a lot to take on because it's almost like you take on that person's struggle because you want to listen to them and you want to be there and you're always checking in on them," she added. "And with that comes to the responsibility of having that same weight on you."
Angelique says that the support system at Choctaw, along with the HOPE Squad, has had an extremely large impact on the lives of students at the school. She says she can't wait to get involved at the national level and bring back new initiatives to her school.
"I would just say for anyone out there who is considering joining HOPE Squad, try to be a part of it, be a part of that change, and be a listener," she added. "We all go through our own mental tasks and struggles at times, and we're all human. We just want to make sure that we can work together together as a community."
OK, that's all I have for you this morning! I hope you have a great Tuesday!
p.s. What did you think of this morning's newsletter? Hit the reply button and let me know!
Published with ♥ by Get The Coast.
Did someone forward you this email? Subscribe here.
124 Eglin Parkway SE Fort Walton Beach, FL 32548