May 25, 2023
|
Reading time:
19 mins
TOGETHER WITH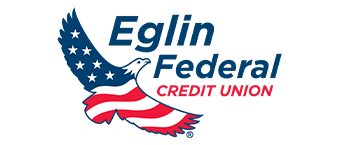 Good morning!
It's the last day of school in Okaloosa County! Congrats to all of our seniors who have already had their graduation, and congrats to those who will walk across the stage today and tomorrow!
Let's get to the news this morning…
NEWS
Circle K's 'Fuel Day' offers 40 cents off each gallon in Okaloosa and Walton County locations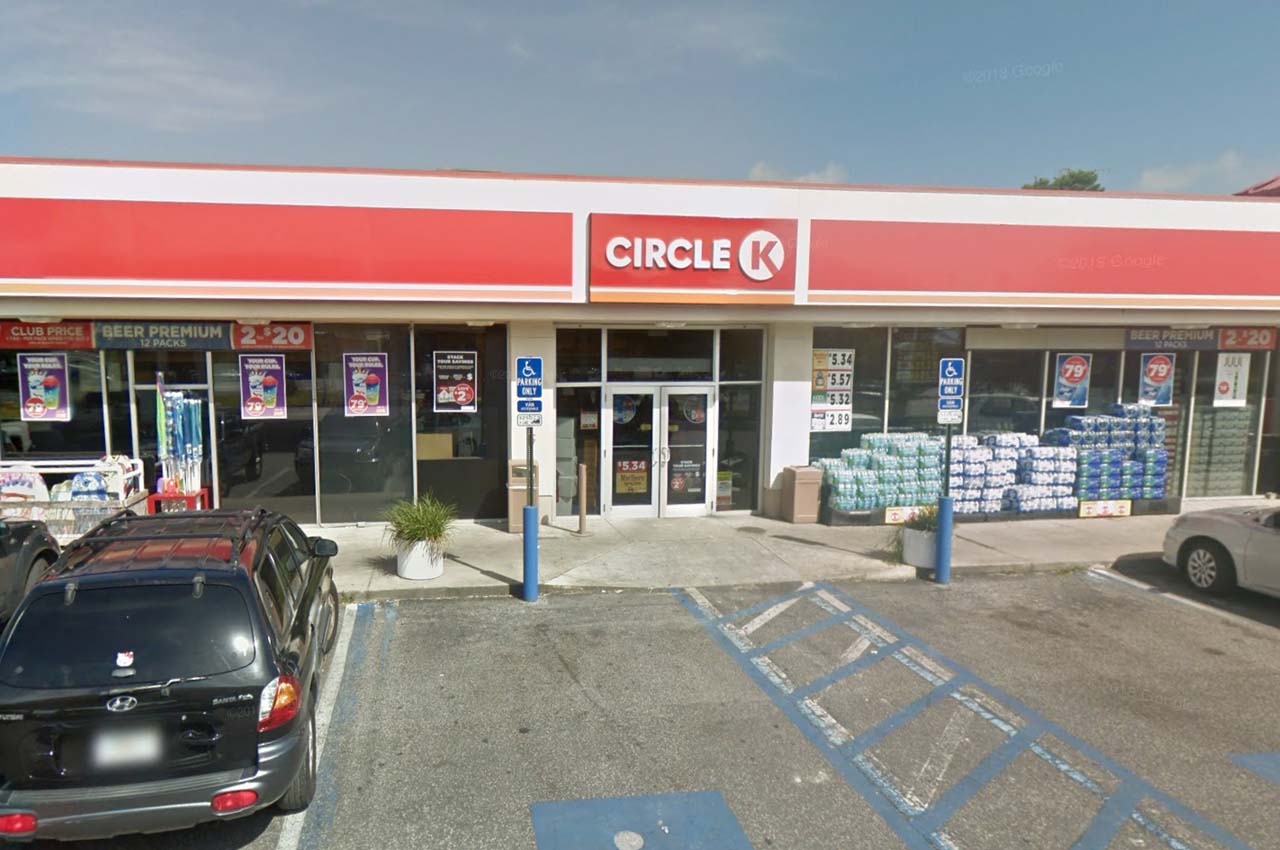 Circle K has announced its "Circle K Fuel Day" event for Thursday, May 25, 2023. This event will be hosted at Circle K locations with gas operations across the United States, including several in Okaloosa and Walton Counties.
According to Circle K's announcement, customers at participating locations will receive a discount of 40 cents off each gallon of gas. The discount will be in effect from 4 pm to 7 pm local time and applied directly at the pump.
Here are the locations in Okaloosa County:
213 Racetrack Rd Nw, Fort Walton Beach, FL
65 Miracle Strip Pkwy Se, Fort Walton Beach, FL
701 Harbor Blvd, Destin, FL
34920 Emerald Coast Pkwy, Destin, FL
4563 E Highway 20, Niceville, FL
1381 John Sims Parkway, Niceville, FL
1554 Scenic Gulf Dr, Destin, FL
Here is the location in Walton County:
10685 US Highway 98 West, Miramar Beach, FL
SPONSORED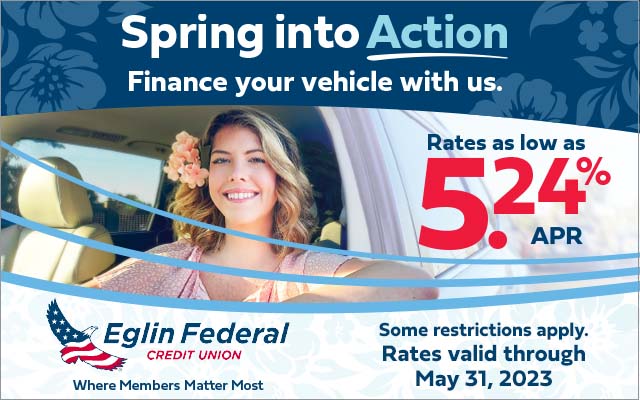 Spring into Action and finance a new or used vehicle with Eglin Federal Credit Union.
With auto loan rates as low as 5.24% APR, make a beeline to drive the car or truck you want. Learn more at eglinfcu.org/auto.
Some restrictions apply. Rates valid through May 31, 2023.
THINGS TO DO
Shred It: Free paper document shredding and games galore at Crestview Library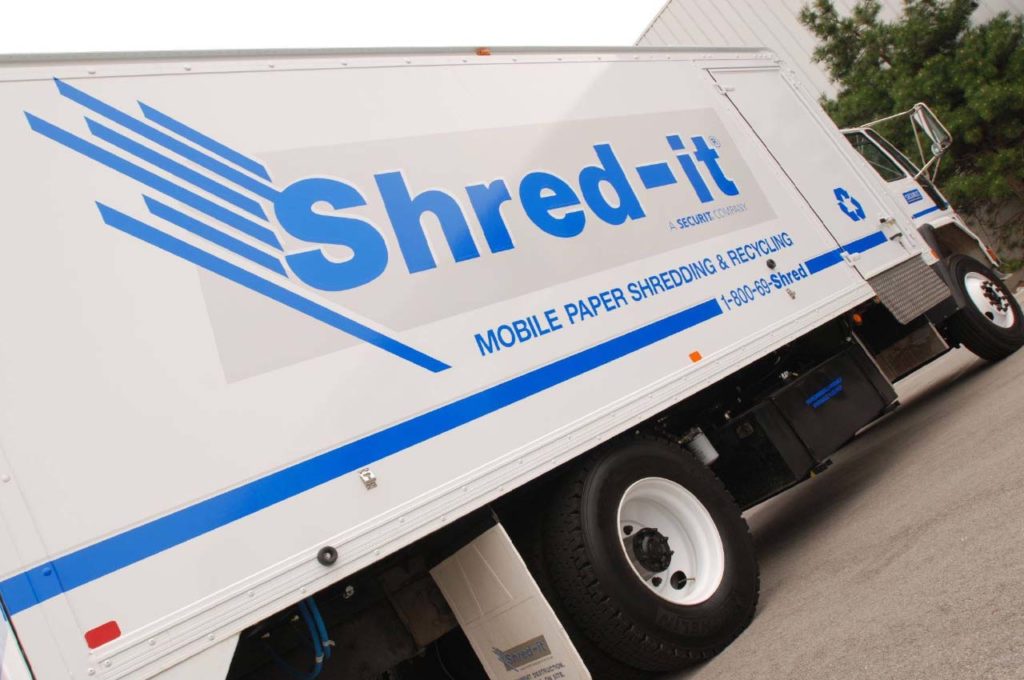 Keep Okaloosa Beautiful is inviting all Okaloosa County residents to join them at the Crestview Library on May 26th, 2023, from 11am to 1pm for their Shred It event. This free event aims to provide a convenient and eco-friendly solution for disposing of unwanted paper documents, while also offering a day of entertainment for the whole family.
Located at 1445 Commerce Dr Crestview, FL 32539, the Crestview Library will serve as the venue for this community event. Attendees are encouraged to bring their personal documents for secure shredding, and there's no need to remove staples or rubber bands.
Shred It utilizes a cross shredder, ensuring that all paper documents are transformed into confetti-like pieces, guaranteeing the security of sensitive information.
Additionally, Keep Okaloosa Beautiful has organized a range of games and activities to keep everyone entertained throughout the day. Recycling games, girl scouts, sea turtles and marine debris, and a library scavenger hunt created by the Crestview Library will be among the highlights.
Children and adults alike can participate in the library scavenger hunt and stand a chance to win fantastic prizes.
Upon completing the hunt, participants will receive reusable totes as a token of appreciation.
Tables will also be set up at the event, providing additional information on recycling, upcoming clean-up initiatives, and other relevant topics.
Those interested in lending a helping hand can volunteer for the event by sending an email to khiemier@myokaloosa.com.
SPORTS
Fort Walton Beach Track and Field team racks up 11 medals at State Finals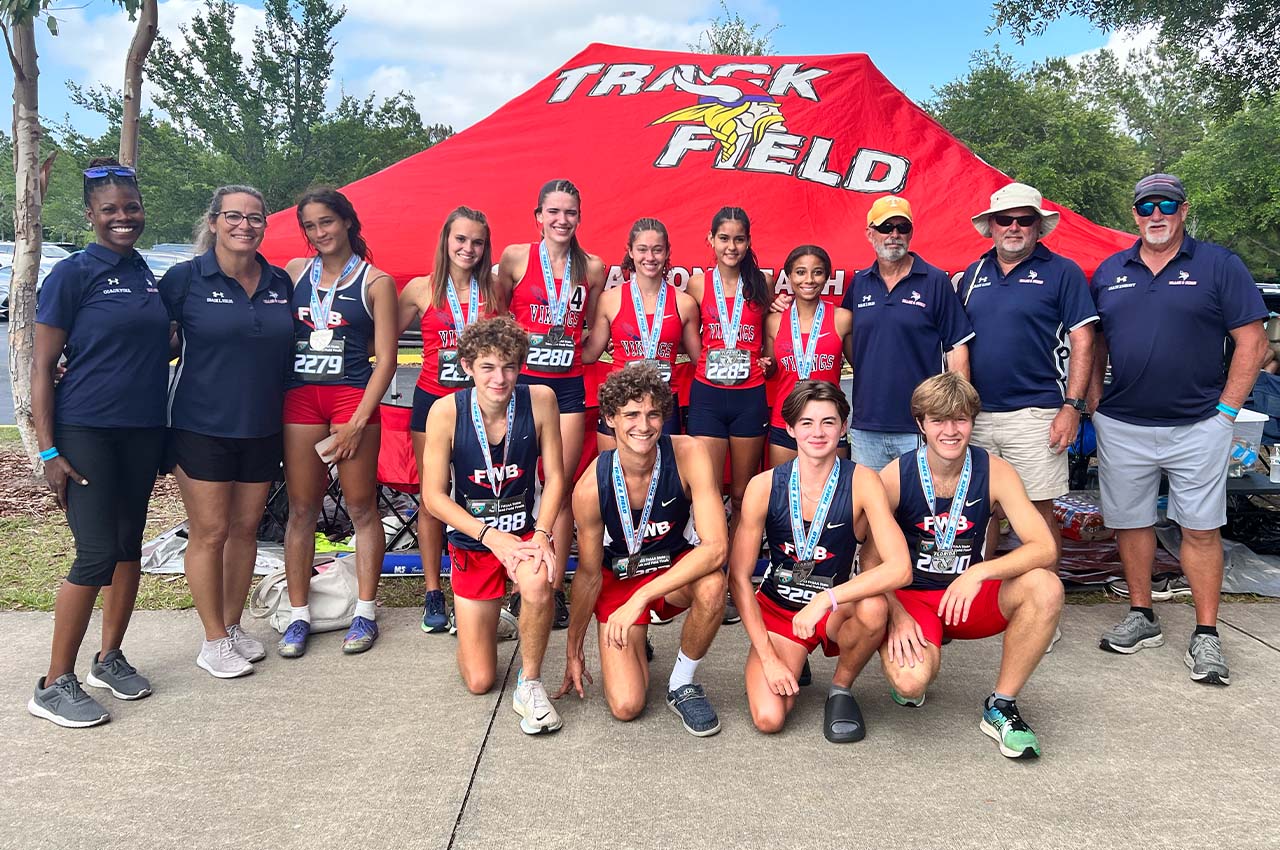 Fort Walton Beach High School made an impressive mark at the 3A FHSAA Outdoor State Finals 2023 Track and Field Competition held at Hodges Stadium in Jacksonville, FL, from May 17-20, 2023. With 11 athletes participating in this high-stakes competition, the school amassed an impressive tally of 11 medals.
Sophomore Makala Sims clinched the second position in the Javelin with an impressive throw of 114'-08". Her performance was one of the key highlights of the competition, securing her the silver medal in this highly competitive category. Not too far behind in terms of accolades was Brooke Hawkins, another runner-up state champion, who excelled in the high jump, clearing a height of 5'3 3/4".
Grace Hebson demonstrated her strong middle-distance prowess by securing 7th in the 800m run with a commendable time of 2:18.75.
The girls' performance was further boosted with the Girls 4×800 relay team, including Reece Knowlton, Martha Curtis, Belicia O'Grady, and Grace Hebson, achieving 7th place with a time of 9:38.21.
The boys' performance was equally stirring. The boys 4×800 relay team, including Luke Endt, Connor Rising, Jackson Light, and Grant Chastain, outperformed every other local area team in this category to secure the 6th position with a solid time of 8:04.75.
Despite these achievements, the Viking athletes also competed valiantly in other events. Brooke Hawkins marked her versatility by also competing in the triple jump and the long jump, with distances of 37'-00.5" and 16'-10.50" respectively. Similarly, Yasmin Lott threw the javelin to a distance of 96'-02", while Luke Endt completed the 800m in 2:02.06, and Grant Chastain ran the grueling 3200m in 9:50.62.
The impressive performances of the athletes were best summed up by Coach Lissette Fields, who said, "Having 11 athletes compete and 10 earn medals is a display of their hard work. These athletes added another chapter of excellence our program has been known for over the last 20 years!"
POLICE BLOTTER
Niceville man in custody following 9 hour standoff, facing multiple charges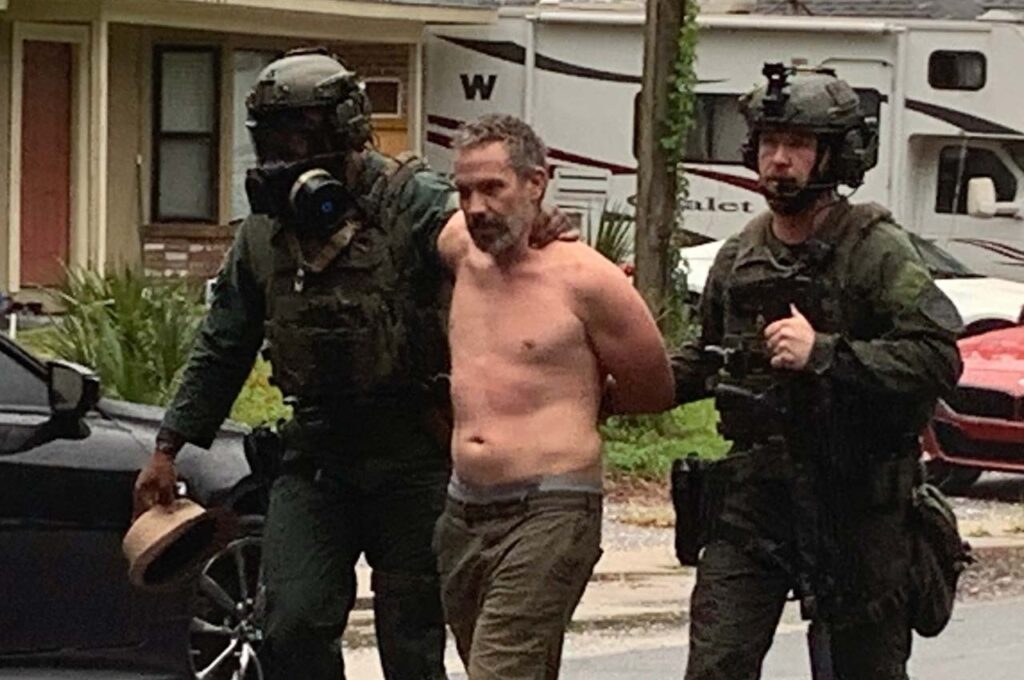 A Niceville man is in custody and facing multiple charges following a nine-hour standoff on Wednesday with the Okaloosa County Sheriff's Office.
According to the OCSO, Deputies were called to a home on 23rd Street around 8:30am in reference to a domestic battery call. The suspect, Michael Leavins, barricaded himself inside the home and refused to come out.
The OCSO Special Response Team and Crisis Negotiations Unit, along with other specialized units, responded and ultimately found Leavins hiding in the attic. He was taken into custody by members of the Special Response Team.
Leavins is a convicted felon but multiple firearms were recovered from the home, according to the report.
The OCSO had assistance from the Niceville Police Department, Okaloosa County EMS, Niceville and other fire departments, as well as Okaloosa Emergency Management.
No one was injured in the incident. Additional details on the charges will be released once they become available.
SPORTS
Choctaw's Flag Football: A look at an unforgettable season and what lies ahead for the young team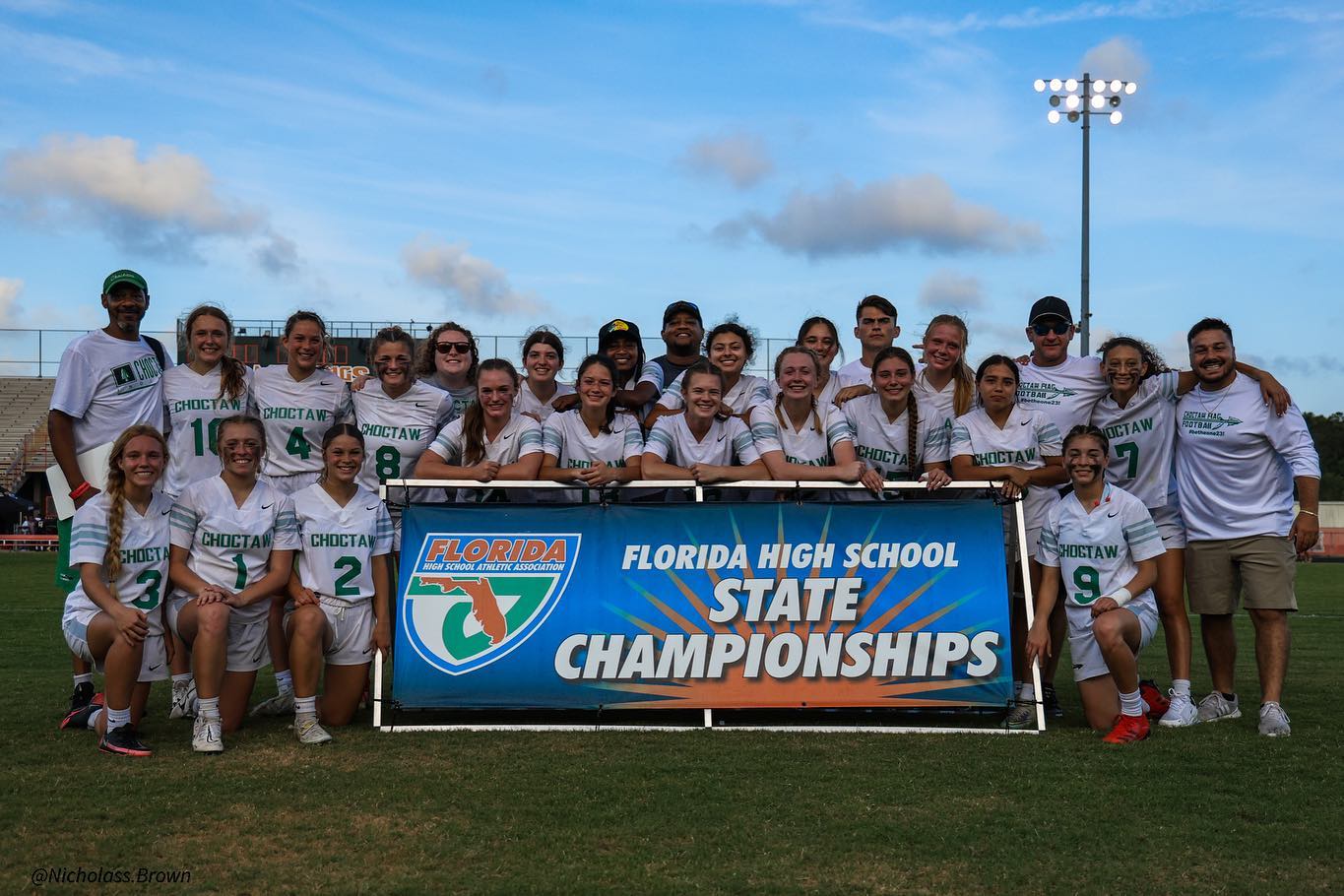 The sun has set on another banner year for the Choctawhatchee High School Girls Flag Football team. The team marched all the way to the State Championship, but came up short against Robinson 32-13.
Despite the heartbreak of the loss, their record points to a remarkable season. With an impressive 18-3 record, the young team from Fort Walton Beach showed they're here to stay.
"Coming into the season, there were some unknowns for us," said Head Coach Jim Bay, "We lost seven starters who went on to play at D1 and D2 schools. We had three returners and nine positions to fill."
Among the newcomers was freshman quarterback Diaris Morales, a talent from Pryor Middle School. Coach Bay said he knew the team was in good hands, it just depended on her ability to handle the varsity realm coming from middle school.
"It's a big jump and she's done incredible with that," he said. "It's been a work in progress but she's really matured towards the end of the season and stepped up."
Aside from Morales, Coach Bay knew he was in good hands with leadership with Morgan Grace and Trinity Thomas. Kaitlyn Eisenberg was also a key component this year as the only senior on the roster.
"We lose one spot this next year with Kaitlyn Eisenberg, who is a two-way player," he noted. "So as we were moving forward into the season, we had to get a feel for what we needed to work on and we had a lot of growth."
There was some early doubt in the season when the team faced a senior-stacked Pace team. Despite a loss, Bay called it a "good loss" because it let the girls understand they had a lot of work to do, yet were able to compete at this high level.
This was a turning point, fueling a long winning streak and giving the team the confidence that they could play with any team in the state.
Fast forward to the State Championships, where despite being young, the team proved they could hold their own. They had a big win on Friday, and went into the State Championship game on Saturday against a big opponent. Even though the girls lost, Bay reflected on what it meant for this young team.
"It was huge for our program," Bay said. "We've been working hard, and this has been a long journey of nine years since I started this program."
The heartwarming story of the season, however, lies beyond the games. It lies in the camaraderie, the bonds formed, and the teamwork honed in the heat of competition.
"The girls have really come together as a whole and more of a family," Bay beamed. This unity transcended their diverse sporting backgrounds, which included athletes from softball, basketball, track, soccer, and even lacrosse.
Looking ahead, the team isn't resting on its laurels. The goal is to compete year-round like the other top teams in the state, which means a summer of grinding out practices and forging further camaraderie. Coach Bay is also keeping an eye on a fresh crop of girls from his two feeder middle schools that he believes will make a significant impact on the team next season.
"We have a couple of players that are on the watch list who can be impactful next year," said Bay. "So even for the girls that had positions this last year, they're going to feel the pressure of these young girls coming up and wanting positions and they're going to be hungry."
It's clear the team's trip to the State Championships has fueled a hunger for more. "Getting to the state finals again has to be earned," Bay emphasized. "Every year is a new season and nothing is a given."
Flag football has come a long way since it began at Choctaw nine years ago. The community has taken to it, the girls love it, and Bay himself has been rejuvenated by the enthusiasm of the talent coming up.
Wrapping up the season, Bay couldn't be more proud of his girls. "I'm so proud of these girls this year," he shared. "From how they performed and competed, to just battling every game, and they had fun doing it."
Yes, the season ended with a loss, but this tale is about more than just the scoreboard. It's a tale of growth, resilience, and unity. It's a tale of a group of girls who believed in each other and gave it their all.
The Choctaw Girls Flag Football team will be back. They'll be training over the summer, and working throughout the year. Their sights are set firmly on that State Championship, and as they showed this year, they should never be underestimated.
After all, as Coach Bay's motto for the year states, they always aim to "be the one" – first in line, first team in the district, and the first in state.
SCHOOL
Kindergarten Teacher Cathy Baker retires from Kenwood Elementary, her childhood school, after 37 years
Every corner of Kenwood Elementary in Fort Walton Beach tells a story. And one figure central to many of these stories is Cathy Baker, who has spent over three decades nurturing young minds in the very same school where she once was a student.
Born in Fort Walton Beach, Baker grew up in the Kenwood neighborhood when the streets were still red clay. She attended Kenwood Elementary in its inaugural year as a first-grade student. After going on to Pryor and Choctaw and graduating from Troy State, her heart led her back home, back to her roots, to Kenwood.
"I received my education degree and had done my student teaching in kindergarten," Cathy shares, a hint of nostalgia in her voice. "When I came to sub, there were actually about four teachers that were still here that had taught me. I was just elated because I always liked the younger kids. So I started in January of that year and I've been here ever since."
Over the years, Cathy bore witness to the evolution of Kenwood Elementary, a transformation that held a mirror to the ever-changing world outside its walls. "The school got smaller. Sixth grade wasn't here anymore and we grew a new wing," Cathy observes.
But despite the changes, some things remained the same – like the metal monkey bars her father, a former PTO president, had helped acquire, which still stand strong in the playground.
In her 37-year tenure, Cathy has dedicated her life to the education and well-being of kindergarten students. "I feel like it's my greatest accomplishment, just sticking with a grade level that long," she says. When asked about her enduring love for this age group, her face lights up. "Just their inquisitiveness about things and their love of learning and excitement of learning makes it really fun," she says.
It's this dedication that has not only touched the lives of hundreds of children but has also inspired some to follow in her footsteps. "The ones that have grown up here and stayed here, they'll make an effort to come back and see you and then they'll tell you 'you're why I became a teacher.' So yeah, that makes it really special," Cathy says.
As Cathy prepares for her impending retirement on May 31st, there's an undeniable mixed bag of emotions. "Right now I'm excited. But come August, it's going to hit me when I'm going through Walmart and want to smell the crayons," she shares. "But, the interaction with the children is what I'm going to miss."
Though she plans to indulge in some much-deserved rest and leisure, such as gardening and spending time with her retired sister, Cathy's love for Kenwood remains undiminished. "I'd like to come back and volunteer," she confesses.
To those considering a career in education, Cathy advises persistence and patience. "Stay five years because you learn so much every year, and in the beginning it is hard and you have a lot to learn. But the reward is so awesome, to know that you're really making a difference in these kids' lives."
Cathy's legacy will endure in the hallways of Kenwood Elementary and in the hearts of her former students. As she steps into her next chapter, she leaves behind a wealth of resources for the incoming teacher, a parting gift from a woman whose life has been intertwined with Kenwood's journey.
"I wouldn't trade it for anything," she says, reflecting on her time at Kenwood. "It's going to be bittersweet. I spent half of my life here. This place has grown me. It's made me who I am."
It's in every interaction, every crayon sketch, every treasure box reward, every little hand she's held and guided through the fundamental building blocks of life – Cathy Baker's story is etched into the heart of Kenwood Elementary.
Her journey takes us back to a time when the streets in her neighborhood were red clay, when a younger version of Cathy walked into Kenwood as a student for the first time, little knowing that her future would be so tightly woven with the very fabric of this place.
Her story isn't just about the passing of knowledge from one generation to the next, but a lifelong commitment to her community. Through the evolution of the school, the changes in curriculum, the advances in technology such as tablets in the classroom, Cathy remained a steadfast figure, her dedication unwavering.
And now, as she steps back and prepares to hand over the reins, it's clear that her departure will mark the end of an era. But it's also the start of a new one. With the lessons and materials she leaves behind, a new teacher will step in, and the legacy of Cathy Baker will continue to live on in the walls of her beloved Kenwood Elementary.
From her first steps inside the school as a student, to having her children walk the halls like she did, to the countless steps she's taken with her students, Cathy Baker's story is a journey worth celebrating. For those lucky enough to have been a part of it, her influence will echo on, proving the power of a devoted educator and the lasting impact they can have on their community.
OK, that's all I have for you this morning! I hope you have a great Thursday! 
p.s. What did you think of this morning's newsletter? Hit the reply button and let me know!
Published with ♥ by Get The Coast.
Did someone forward you this email? Subscribe here.
124 Eglin Parkway SE Fort Walton Beach, FL 32548