May 26, 2023
|
Reading time:
15 mins
TOGETHER WITH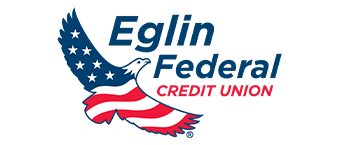 Good morning!
School is out and summer is officially here! Let's get into the news you need to know this Friday morning…
COASTAL RESOURCES
Hooked sea turtle rescued at Okaloosa Island Pier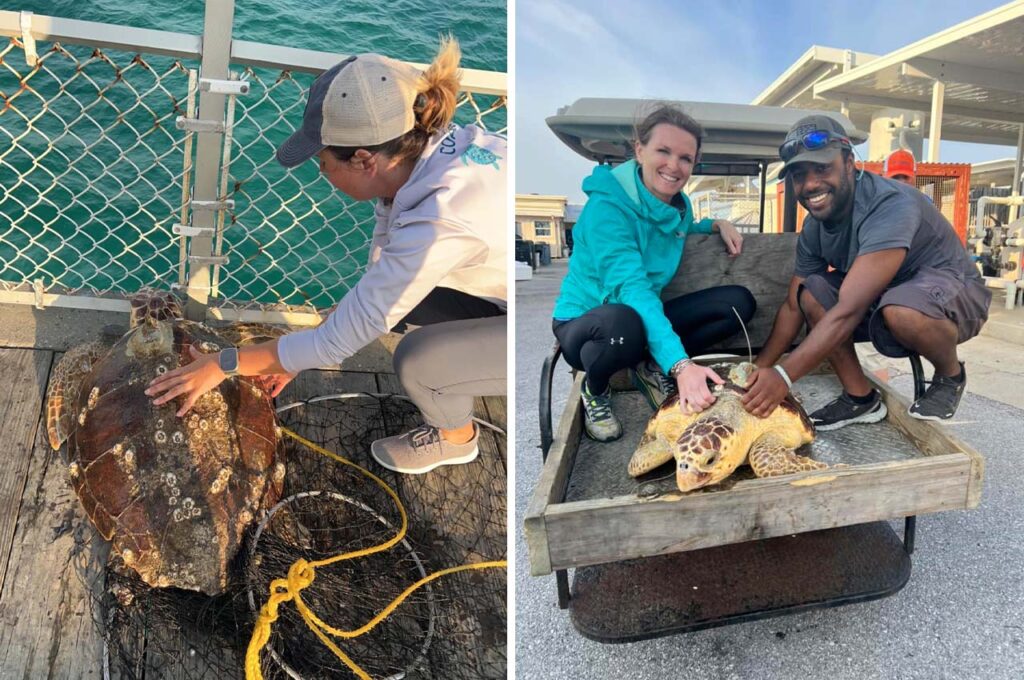 A loggerhead sea turtle was successfully rescued on Thursday, May 25, at the Okaloosa Island Pier, according to Eric Brown, Manager at the Pier. The incident occurred early in the morning, adding an unexpected twist to the day's events.
The angler who accidentally hooked the sea turtle acted responsibly, refraining from cutting the line and alerting the Pier's dedicated Turtle Rescue team, according to Brown. The team, which is on site seven days a week and on call 24 hours a day, promptly responded to the call.
The rescue operation was later joined by Jessica Valek, the Okaloosa Coastal Resource Coordinator. Together, the team managed to safely rescue the sea turtle and transport it to the neighboring Gulfarium CARE Center.
This particular loggerhead sea turtle is slightly unique, as it has multiple tracking tags. It will now undergo rehabilitation at the Gulfarium CARE Center, where it will receive the necessary care and attention.
The Okaloosa Island Pier operates under the Responsible Pier Initiative from Loggerhead Marinelife Center, a first-of-its-kind program designed as a collaborative tool to work directly with fishermen and fishing piers. This incident is an example of the dedication of the local community has to preserving marine life.
SPONSORED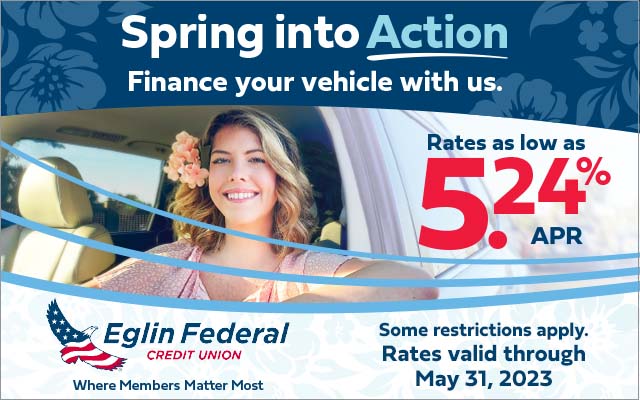 Spring into Action and finance a new or used vehicle with Eglin Federal Credit Union.
With auto loan rates as low as 5.24% APR, make a beeline to drive the car or truck you want. Learn more at eglinfcu.org/auto.
Some restrictions apply. Rates valid through May 31, 2023.
ARTS+CULTURE
Arts & Design Society hosts reception for "Inspired by Van Gogh" Art Show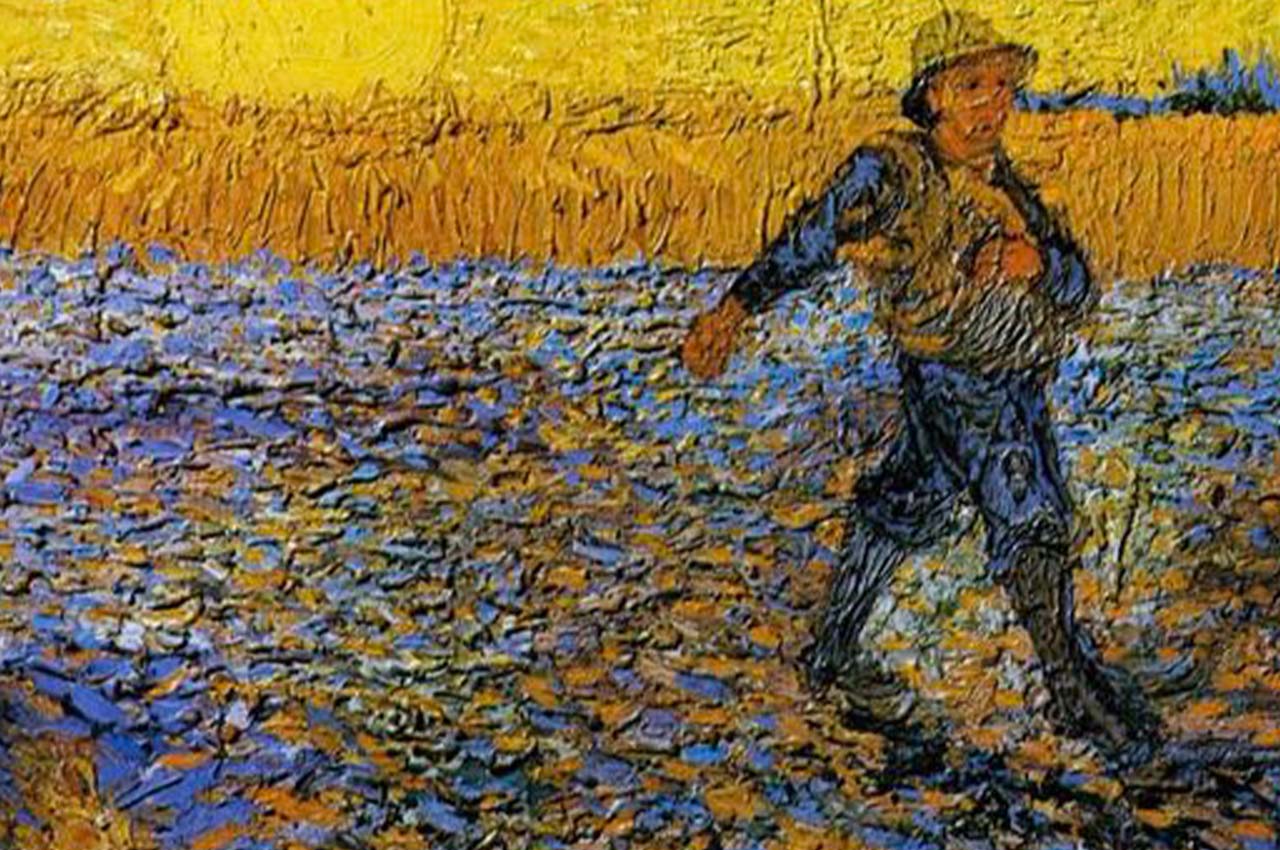 The Arts & Design Society (ADSO) is gearing up for an exciting art event this Friday evening, May 26. ADSO will be hosting a reception to unveil their newest art show, aptly titled "Inspired by Van Gogh." The show promises to be a delightful celebration of various artistic mediums inspired by the works of the renowned painter, Vincent Van Gogh.
Located at 17 First Street in Fort Walton Beach, ADSO is a well-known hub for local artists and art enthusiasts. The "Inspired by Van Gogh" exhibition will showcase an array of artworks that draw inspiration from Van Gogh's unique style and techniques. From vibrant landscapes to expressive portraits, the collection aims to capture the essence of Van Gogh's artistic legacy.
However, the reception holds an extra treat for attendees—a one-of-a-kind event known as "The Battle of the Brushes." In this competition, artists and aspiring artists can showcase their skills under pressure. Participants are invited to pay a $10 entry fee and arrive at ADSO prior to the reception to ensure all necessary materials are prepared.
Once the battle begins, contestants will have a mere 45 minutes to create their interpretation of a picture provided by ADSO. At the end of the creative frenzy, a winner will be selected based on their artistic prowess and originality.
The Battle of the Brushes is set to commence around 6:30 pm, adding an extra layer of excitement to the evening. The entry fee includes all the required materials, such as canvas and paint, making it an accessible opportunity for all those interested in putting their artistic talents to the test.
For those unable to attend the reception, fear not! The "Inspired by Van Gogh" art show will run from May 26th through June 16th, giving art enthusiasts ample time to appreciate the diverse range of pieces on display. ADSO's gallery will be open from 12 pm to 4 pm on Tuesdays through Fridays, and from 1 pm to 4 pm on Saturdays.
To find out more information about ADSO, including gallery hours and contact details, interested individuals can visit their website at artsdesignsociety.org. The society can also be reached by phone at 850-244-1271 or via email at adso@artsdesignsociety.org.
BUSINESS
Eglin Federal Credit Union recognizes Senior Vice President for 35 years of service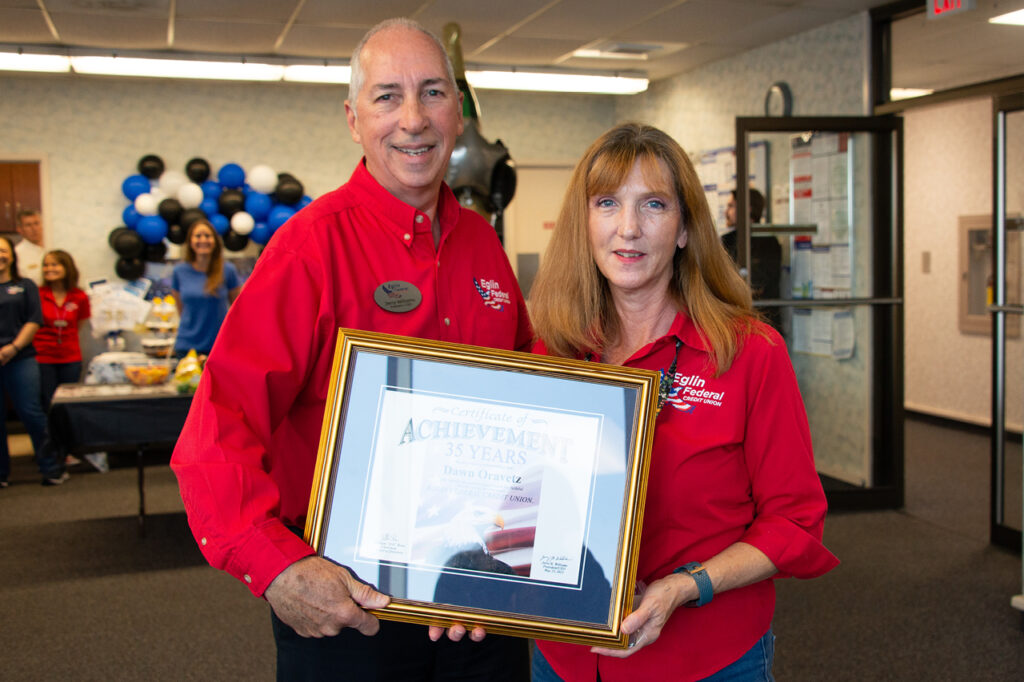 Eglin Federal Credit Union recently celebrated Senior Vice President/Chief Payments Officer Dawn Oravetz for her 35 years of service.
"Dawn has been an integral part of our team over the past 35 years, and we value her contributions to our growth," said President/CEO Jerry Williams. "We are grateful for the loyalty, expertise and commitment she has shown, and the years of service she has dedicated to our organization."
Dawn joined the Credit Union in May 1988 as a Computer Aide in Data Processing. She was promoted five times within the Data Processing Department over the next 12 years before accepting the position of Data Operations Manager in May 2000.
In 2005, Dawn was promoted to Vice President of Data Operations in Data Processing, and in May 2013, she was promoted to Senior Vice President.
The department was restructured in 2019 to Payment Systems, and in November 2022, Dawn was promoted to her current position of Senior Vice President/Chief Payments Officer.
During her celebration, Dawn commented, "It has been exciting to be a part of the Credit Union growth over the years and to work with awesome individuals, both past and present, who are committed to doing their best for our members, our community and each other. I look forward to seeing how the Credit Union and my teammates continue to evolve over the coming years."
SCHOOL
Destin High School's Inaugural Graduation to feature 2 celebrity speakers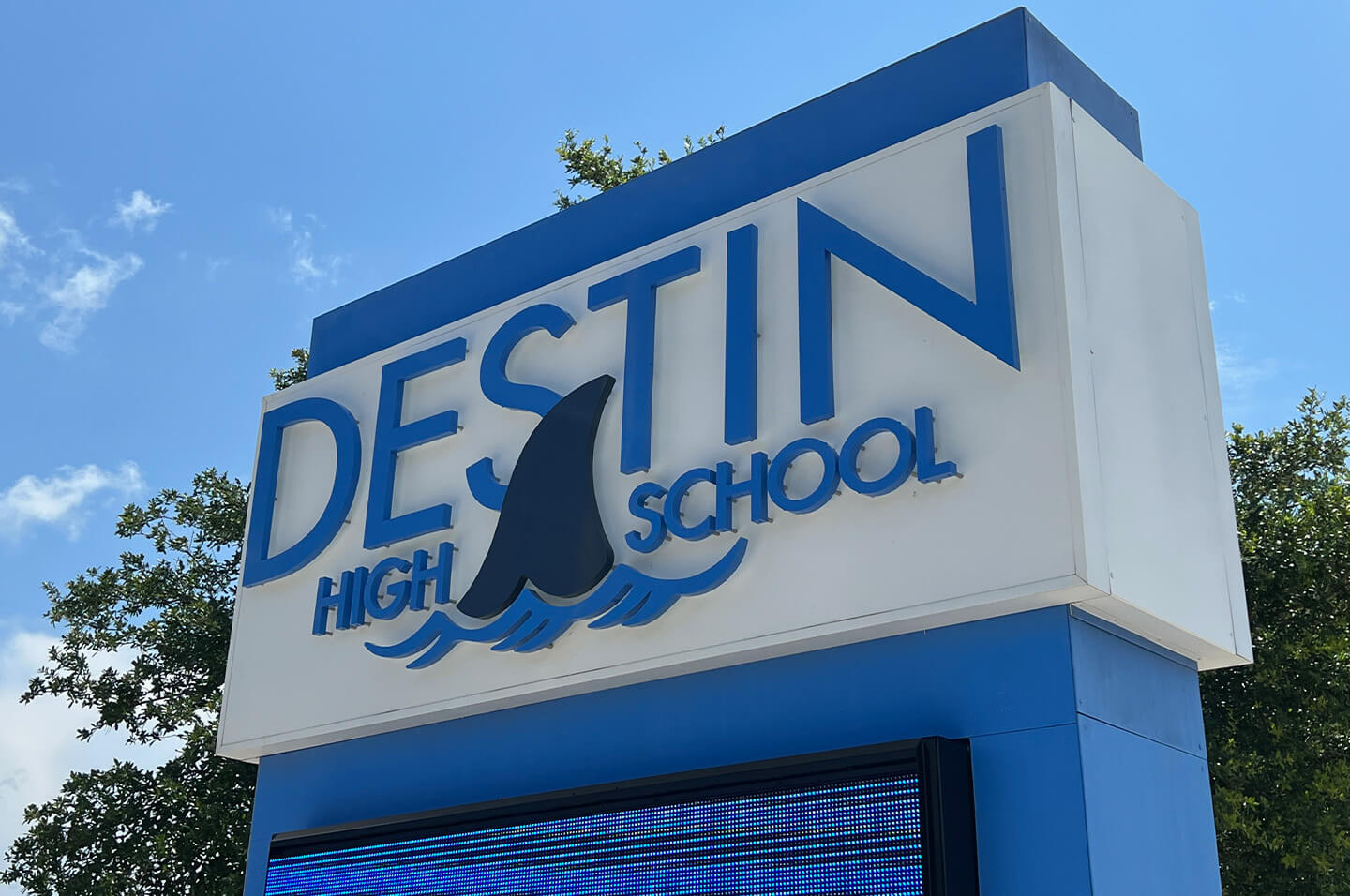 Destin High School has announced the celebrity guest speakers for the 2023 Commencement, which will feature the very first graduating class in the school's history.
The ceremony will take place on Friday, May 26, 2023, at 7:00 p.m. at the Mattie Kelly Arts Foundation Amphitheater, located adjacent to the high school's campus.
"We are excited to invite the entire community to join us as we celebrate the Class of 2023 and to hear from not one, but two celebrity keynote speakers, with local ties to Destin, for the Destin High School Class of 2023 commencement," said Head of School, Christine Cruickshank.
Cruickshank added, "Our Graduation speakers bring a diverse range of life experiences, business acumen and both embody the values we strive to uphold each day — making a difference, innovative thinking, hard work, and resilient leadership, all while inspiring hope, and promoting kindness, with a touch of laughter."
The first speaker is Leigh Anne Tuohy from the book and movie "The Blind Side." A graduate of Ole Miss, Leigh Anne is a motivational speaker, interior designer, and New York Times best-selling author. She has ties to Destin, owning a home along the Emerald Coast for many years.
Leigh Anne's work has been featured on popular TV shows, and she has designed for notable clients, including athletes and CEOs. She and her husband established The Making It Happen Foundation, which supports children in need.
The second speaker is Sean Dietrich, also known as Sean of the South. Sean is an acclaimed writer, columnist, and stand-up storyteller known for his reflections on life in the American South. His work has appeared in various publications, and he has authored fifteen books.
Sean's writing evokes both laughter and tears, resonating with readers through heartfelt and poignant stories. Having made Walton County his home as a teenager, Sean draws inspiration from the Panhandle. He met his wife in Destin and currently resides in Birmingham.
Reserved seating assignments will be provided for graduate's immediate family and guests, according to the high school. Community guests are encouraged to bring lawn chairs if seating is needed. 
THE WEEKENDER
A few things to do around town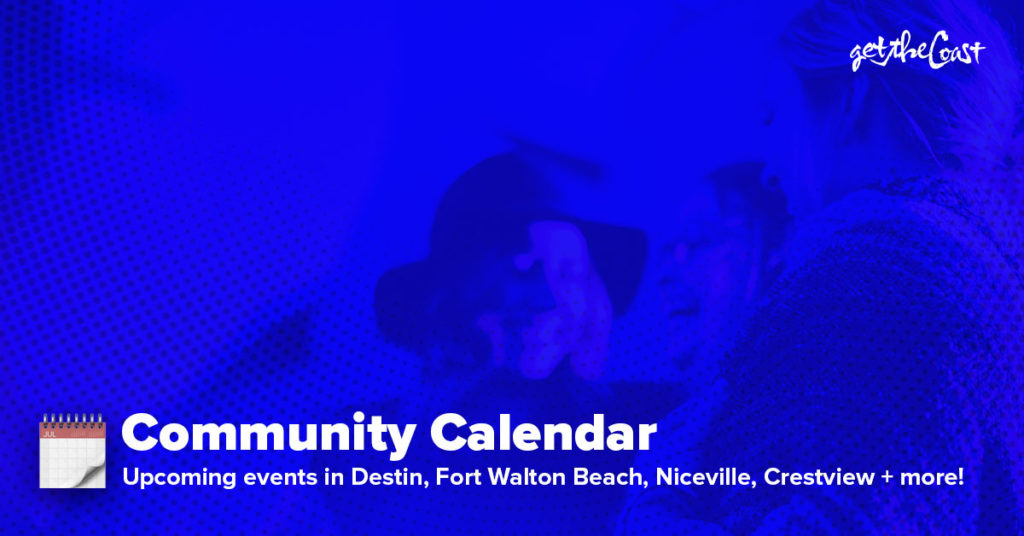 May 26, 2023 – Okaloosa Shred It – Free – View
May 26, 2023 – Singo Music Bingo at The Island Resort Lounge – View
May 26, 2023 – Inspired by Van Gogh – Opening Reception & Battle of the Brushes – View
May 27, 2023 – Eglin AFB – GATE TO GATE Memorial Run/Walk – View
May 27, 2023 – Downtown FWB Farmer's Market: Memorial Day Edition – View
May 27, 2023 – Karaoke at The Island Resort Cabana – View
May 27, 2023 – Memorial Day Celebration – View
May 28, 2023 – The Destin Commons Market – View
May 28, 2023 – Emerald Coast Cruisin' 98 – Car Show at Rick's On The Island – View
May 29, 2023 –  Pirate Show  – Free – View
May 29, 2023 – Bingo – $20 – View
Looking ahead
May 30, 2023 – Boomin Tuesday – View
May 30, 2023 –  Movies On The Beach: "LIGHTYEAR"  – Free – View
May 31, 2023 – C.A.R.E.ing for Turtles – $15 – View
May 31, 2023 – Wednesday Night Concert Series at The Village of Baytowne Wharf – Free – View
June 1, 2023 – STEAM Machine: June 1 – July 27 – View
June 1, 2023 – Fly Guy Thursday – View
June 1, 2023 – Concerts in the Village: Gotta Groove Band – View
June 2, 2023 – Creature Features: June 1 – September 2 – View
June 4, 2023 – Scallywag Sunday – free – View
June 5, 2023 –  Pirate Show  – Free – View
June 5, 2023 – Bingo – $20 – View
June 5, 2023 – Movie Monday – View
June 6, 2023 –  Movies On The Beach: "THE MITCHELLS VS THE MACHINES"  – Free – View
June 7, 2023 – C.A.R.E.ing for Turtles – $15 – View
June 8, 2023 – Fly Guy Thursday – View
June 8, 2023 – Concerts in the Village: Adam Ezra Group – View
June 9, 2023 – Creature Features: June 1 – September 2 – View
June 9, 2023 – Johnny Ocean Photography Featured Artist Show at Maxine Orange Gallery – View
June 9, 2023 – Free Community Gospel Concert – Free – View
NOW OPEN
Newly renovated hotel, Beal House, debuts on Okaloosa Island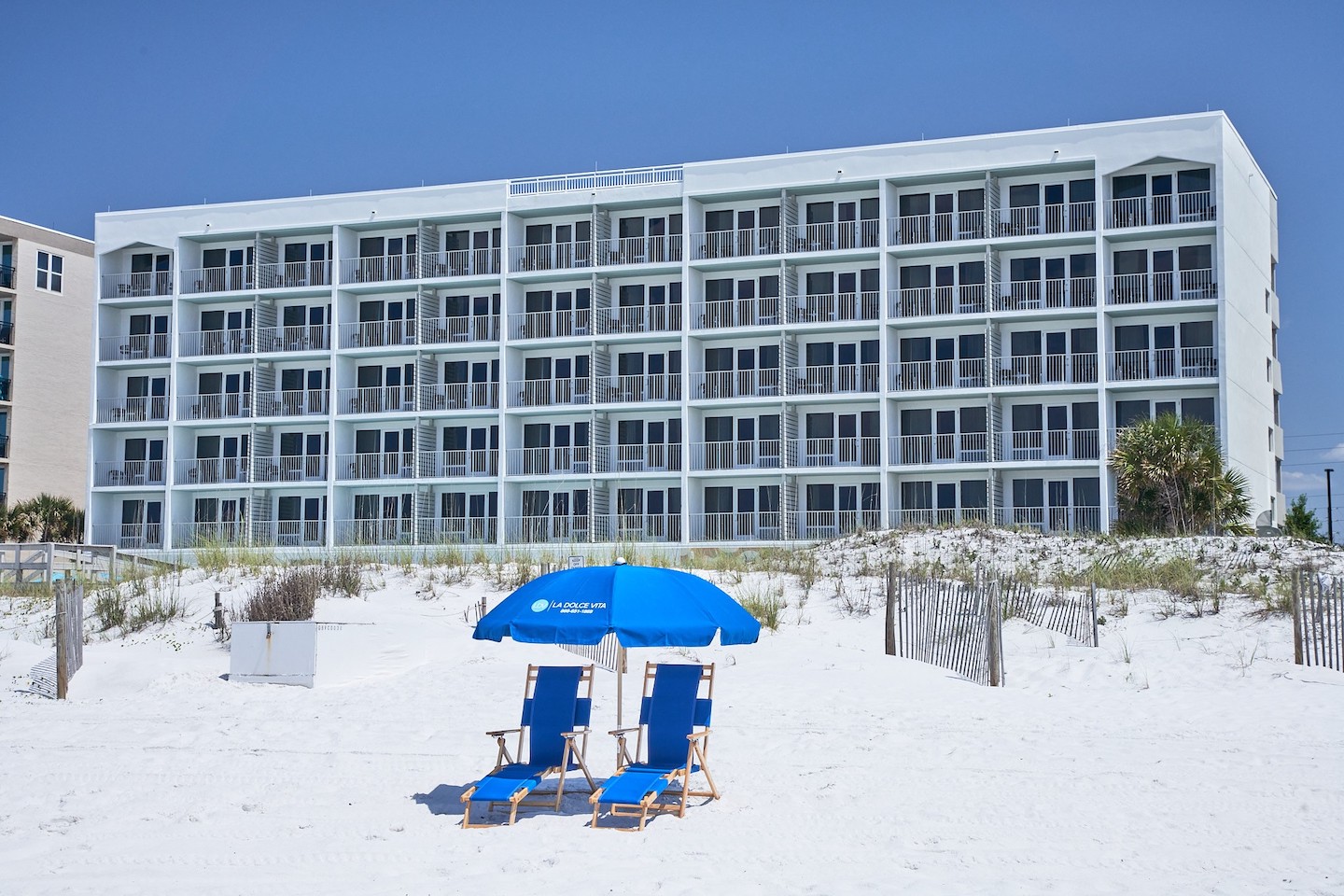 Beal House Fort Walton Beachfront, Tapestry Collection by Hilton, has officially opened its doors on Okaloosa Island, marking the completion of an extensive renovation project.
The six-story, 100-key hotel, formerly known as the Best Western, underwent a complete transformation to merge its new identity with the area's rich history. The reimagined Beal House is owned and operated by OTO Development, based in South Carolina, and is part of The Johnson Group.
Nestled along the sugar-white sand of Okaloosa Island, Beal House Fort Walton Beachfront is ideally situated to offer guests an unforgettable experience. The hotel reopened on Thursday, May 25, after an extensive renovation that left no stone unturned.
Paula Evans, the general manager of Beal House, emphasized the hotel's commitment to capturing the essence of Fort Walton Beach, stating, "It matters where you stay, and Beal House makes the most of everything visitors love about Fort Walton Beach: the sugar-sand beach, the emerald-green water, the balmy weather, and, of course, the laid-back vibe."
Evans leads the hotel's dedicated leadership team, which includes Diana Gonzalez, the director of sales.
Beal House features 100 thoughtfully designed rooms, with 60 offering balconies that overlook the stunning waters. The rooms boast clean lines, coastal touches, and practical amenities such as storage cubbies to accommodate guests' beach gear.
The hotel provides a range of conveniences, including a well-equipped fitness center, an outdoor pool, a library, and an onsite restaurant called The Remedy Coastal Kitchen + Bar. The restaurant specializes in "Coastal Fresh with a Dash of Cajun" cuisine, offering a relaxed beach atmosphere and both indoor and outdoor bar seating.
From morning coffee to late-night cocktails and meals in between, The Remedy aims to satisfy guests' cravings. The dinner menu focuses on locally sourced seafood, while the bar menu showcases handcrafted cocktails, specialty martinis, boozy slushies, and local brews.
Evans describes Beal House as a "home base for guests," providing cozy rooms that make it easy to unwind. However, the hotel's new identity is designed to encourage guests to explore the local area. Beal House seamlessly combines contemporary décor with elements that honor the history of Fort Walton Beach.
The hotel's name pays homage to Dr. James Hartley Beal (1861-1945), a remarkable figure known for his accomplishments as a pharmacist, avid shell collector, and contributor to the region's early tourism industry.
To further celebrate Dr. Beal's legacy, the hotel incorporates his passion for shell collecting into its design. Throughout the property, guests will find a commissioned mosaic created by Georgian artist Brandon Harder, featuring over 300 pounds of shells from around the world. Lobby shadowboxes proudly display an array of captivating seashells. Additionally, a pool bar selfie wall by Panhandle muralist Sara Gramlich sets the tone for a "Good Time State of Mind."
Evans states, "Beal House is imbued throughout with authentic touches to invoke guests' curiosity, encouraging them to discover both the history and current attractions of Fort Walton Beach."
Conveniently located at 380 Santa Rosa Blvd. on Okaloosa Island, Beal House is less than a mile away from prominent local destinations, including the Destin-Fort Walton Beach Convention Center, the Gulfarium Marine Adventure Park, and The Boardwalk on Okaloosa Island.
Beal House Fort Walton Beachfront, Tapestry Collection by Hilton, is part of Hilton Honors, the acclaimed guest-loyalty program encompassing Hilton's 19 distinct hotel brands. For more information about Beal House or to make reservations, visit BealHouseFortWaltonBeach.TapestryCollection.com or call +1 850.243.9444.
OK, that's all I have for you this morning! I hope you have a great Friday! 
p.s. What did you think of this morning's newsletter? Hit the reply button and let me know!
Published with ♥ by Get The Coast.
Did someone forward you this email? Subscribe here.
124 Eglin Parkway SE Fort Walton Beach, FL 32548