TOGETHER WITH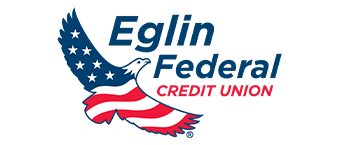 Good morning!
There is some good news this morning regarding the renovation project for The Landing Park in Downtown Fort Walton Beach. City Manager Michael Beedie told Get The Coast that he has received the fully executed U.S. Army Corps of Engineers permit for the Landing Improvements! 
This means that the city can now move forward with bidding out the construction for this much-anticipated project. Beedie told me yesterday that the city will more than likely award the contracts for the renovations in August.
Since August 2017, the city has been working with Department of Environmental Protection and the U.S. Army Corps of Engineers to permit the Landing Improvement Project.
While it didn't take as long to get the DEP permits, the permit from the U.S. Army Corps of Engineers has been the major hold-up.
The USACOE permit has been held up in historical review by the State of Florida due to the presence of historical artifacts in the area of the proposed improvements.
Click here to learn more on the upcoming renovations.
Let's jump into the news this Friday…
SCHOOLS
Collegiate High School students inducted as 'Take Stock in Children' Scholars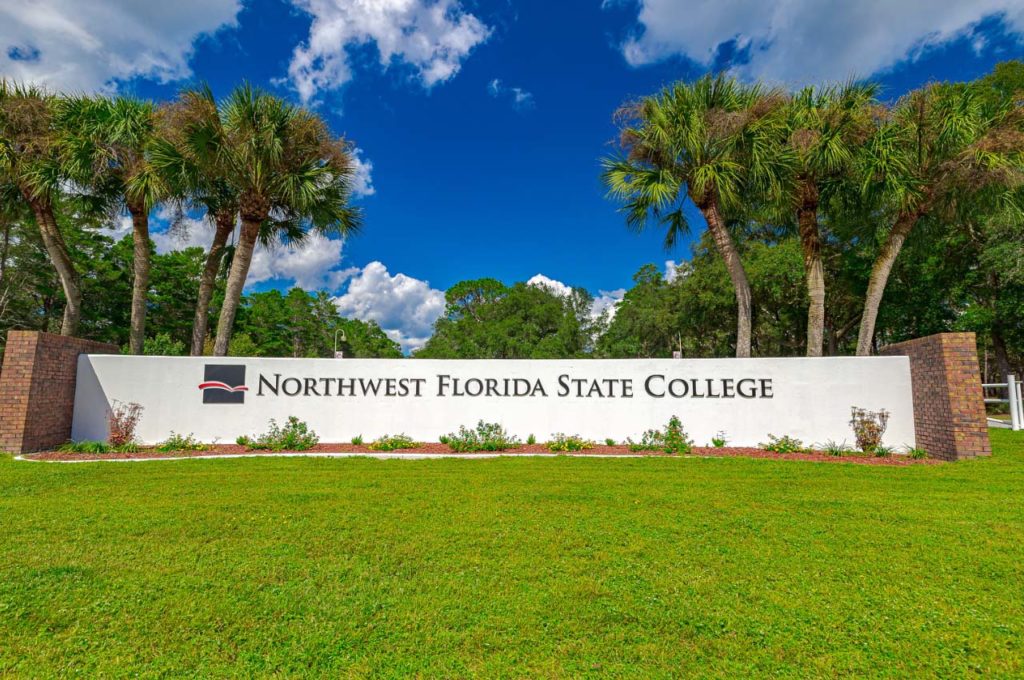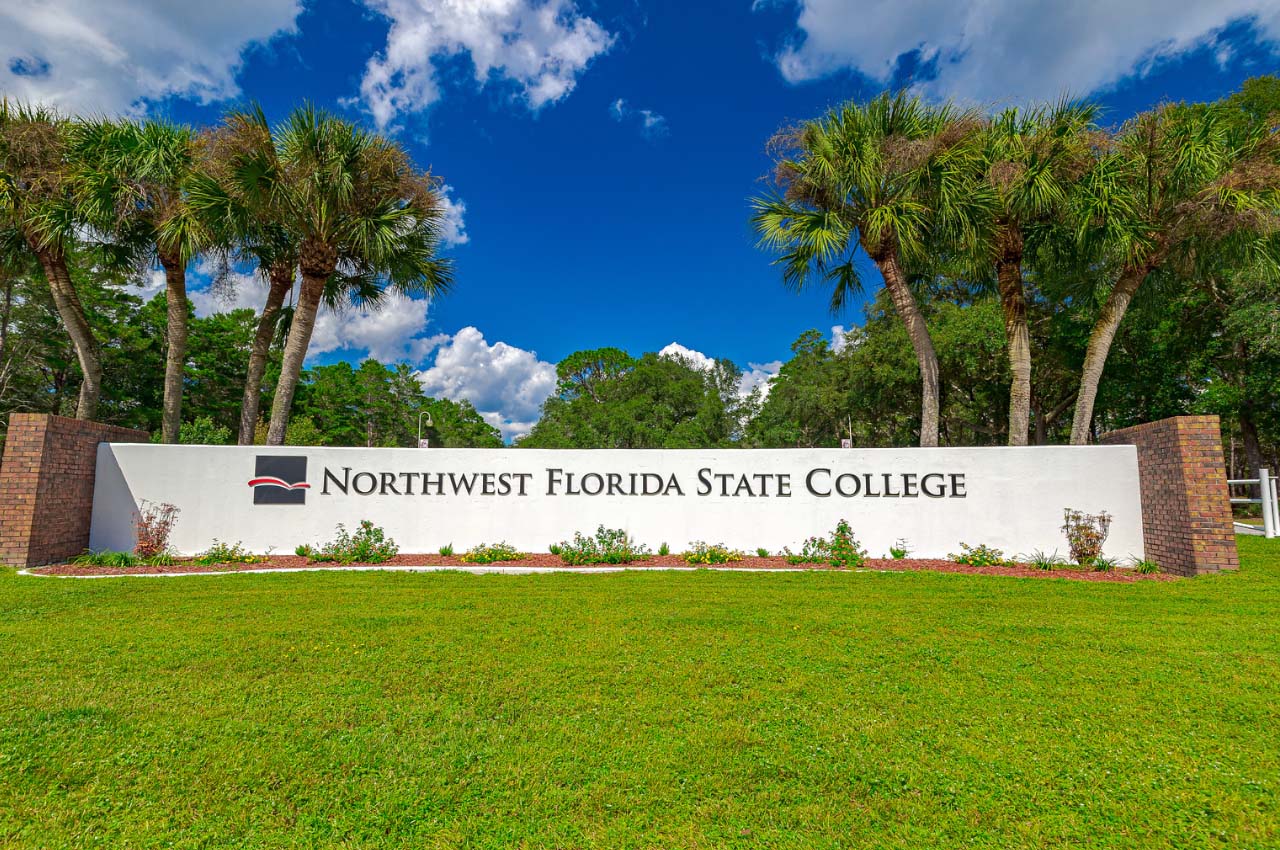 Northwest Florida State College joined the Okaloosa Public Schools Foundation earlier this month as they honored Collegiate High School students during the Take Stock in Children Student Awards Ceremony.
The Take Stock in Children program serves deserving, low-income youth throughout Florida by providing them with mentors, student advocates, case managers, and early intervention. Students who maintain the terms of the program's contract are awarded tuition scholarships to the post-secondary institutions of their choice.
With the support of local school districts, the Florida Prepaid Foundation, businesses, and community members, Take Stock in Children has been able to serve over 8,500 6th-12th grade students across the state each year.
"We are grateful to the Take Stock in Children program for their scholarships that provide vital support to students at the Collegiate High School," said Dr. Deidre Price, Vice President for Academic Affairs. "Their selection as recipients reflects their strong commitment to their studies, and we believe the support provided through Take Stock in Children will be instrumental in their academic success."
The following Collegiate High School students were inducted as Take Stock in Children Scholars during this year's award ceremony:
Nyla Griffin – 60 hours of college tuition (2-year Florida Prepaid Scholarship) (value over $6,000)
Grace Michelli – 60 hours of college tuition (2-year Florida Prepaid Scholarship) (value over $6,000)
Ingrid Mueller – 120 hours of college tuition (4-year Florida Prepaid Scholarship) (value over $12,000)
"All of the faculty and staff at the Collegiate High School at NWFSC are very proud of the three students who earned Take Stock in Children Scholarships," said Dr. Sandy Arteaga, Interim Academic Dean, College Pathways & Collegiate High School. "These students have worked very hard, and they will continue to make us proud as they move to their next academic chapter in life."
Congrats!
SPONSORED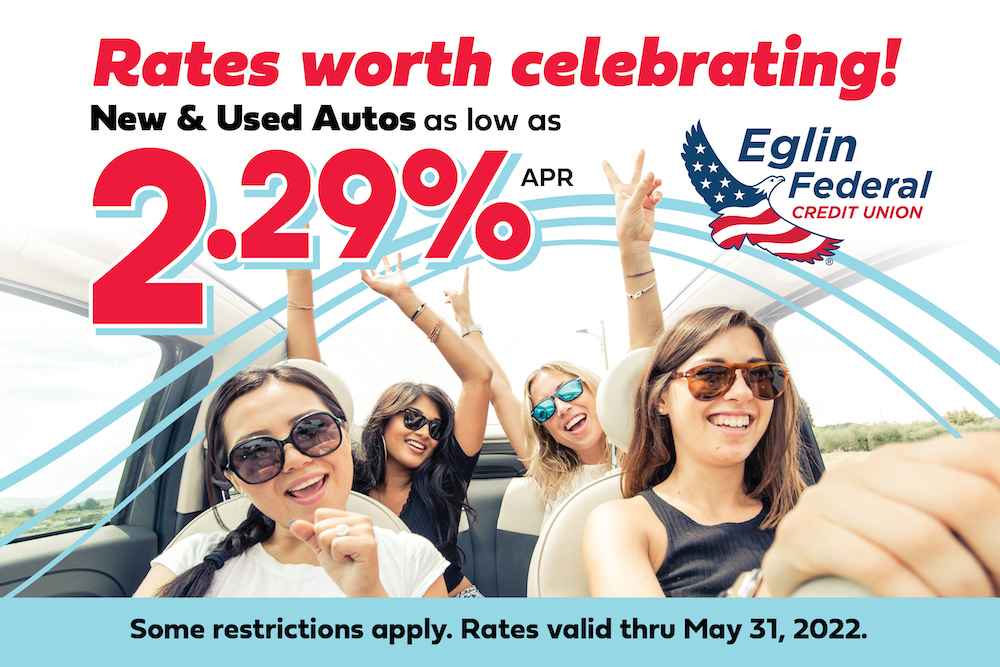 Get a new or used auto loan with rates as low as 2.29% APR for up to 66 months (some restrictions apply).
POLITICS
Okaloosa School Board member will not seek re-election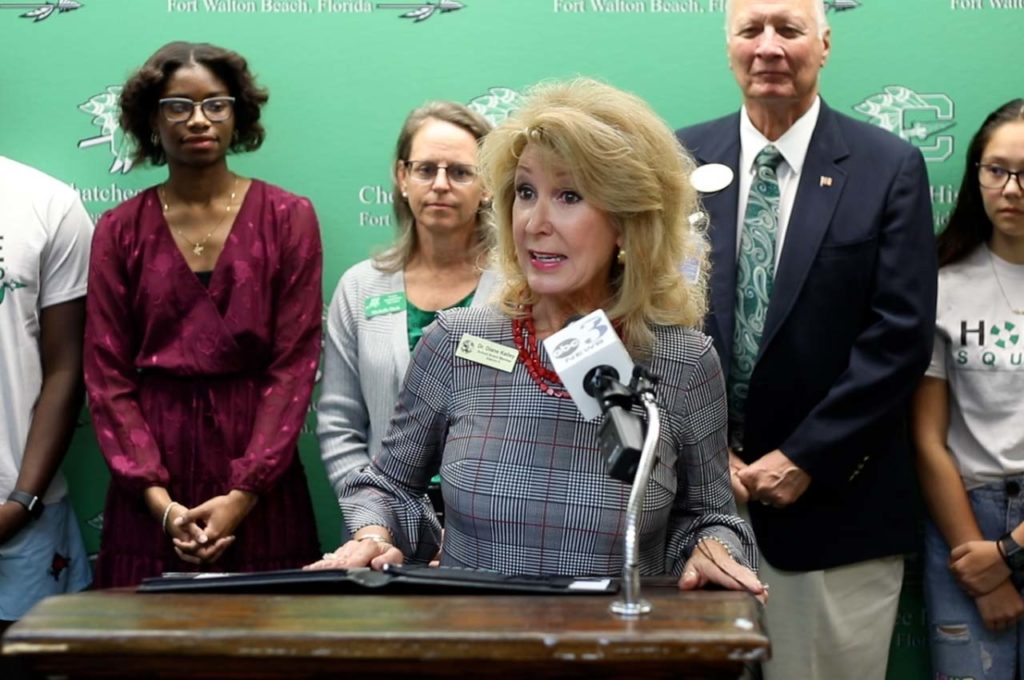 On Thursday night, Okaloosa School Board Member Dr. Diane Kelley announced that she would not be seeking re-election later this year.
"As the school year draws to a close, I feel so honored that you've allowed me to be your school board member, to support your students and our employees, and to work for initiatives and ideas that would continue to propel us forward as a district," said Dr. Kelley. "I'm humbled to be the only incumbent unopposed in this election cycle. Your support has meant everything to me, and I hope that I've honored my commitments to you."
Dr. Kelley says she was recently offered an opportunity to work for HOPE Squad, an organization that she has volunteered with for nearly 3 years. Dr. Kelley was a huge advocate for getting HOPE Squad into our schools in Okaloosa County.
"After much prayer and soul-searching, I've decided to go to work with the Hope Squad," she said. "I am passionate about their work and I believe in their mission. This opportunity will allow me to continue to work with young people (my passion for many decades) on an even larger scale."
"God has given me much to be grateful for in my life, not the least of which will be the wonderful memories and people of our phenomenal school district," she said.
Upcoming election: Dr. Kelley was the only incumbent who did not have opposition. Dr. Lamar White is seeking re-election and is running against Jerry Buckman. Linda Evanchyk has not formally announced her run for re-election, but Darrel Barnhill is running for District 3.
Election qualifying will be held from Noon, beginning Monday, June 13, 2022, and ending Friday, June 17, 2022 at Noon.
BEACH
Get familiar with the Beach Flag Warning System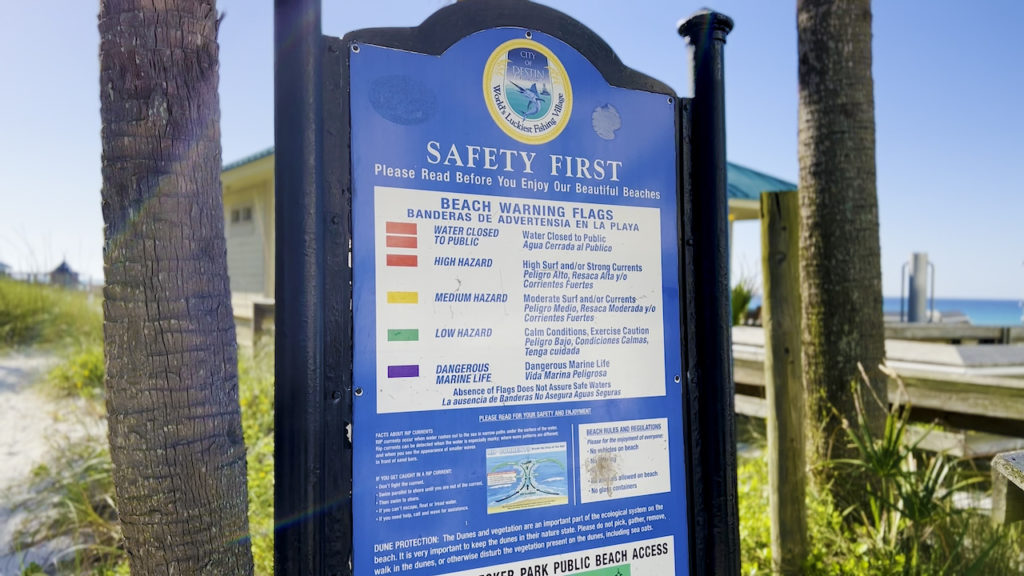 The City of Destin uses the internationally accepted beach flag warning system in an effort to protect residents, as well as the millions of tourists who visit our area from the dangerous rip currents.
"Rip currents are so strong that it can easily pull the most experienced swimmers out to sea," said Joe D'Agostino, Destin Fire Control District. "Double red flags means the water is close to swimmers with the only exception being surfers that are tethered to a board."
D'Agostino says that it's important to be familiar with the flag system and always use caution.
"We care about your safety, and we want you to enjoy your time here at the beach," said Destin City Council-woman Teresa Hebert. "If you get caught in a rip current don't panic, swim parallel to the shore until the current weakens, and then swim back to the shore."
Hebert urges beach-goers to to use good judgment when out in the water and to swim near a lifeguard.
She also recommends having a buddy system in place.
In April 2022, the Destin City Council unanimously voted to establish a beach flag warning system consistent with the system currently in place for unincorporated Okaloosa County.
In the past, observations may have prompted a different warning flag to be posted at beaches within Destin city limits than the flag selection for unincorporated Okaloosa County. To further improve the effectiveness of Beach Safety, Okaloosa County, City of Destin and Henderson Beach State Park will now post a synchronized beach warning flag based on conditions observed.
Because of the consistent flag selection across all of Destin-Fort Walton Beach, a daily text messaging system has been made possible.
Locals and visitors are encouraged to text "BEACH" to 44144 for a consolidated, daily beach warning flag update for Okaloosa Island, Henderson Beach State Park and City of Destin public beaches guarded by Destin Fire Control District.
THINGS TO DO
Memorial Day Fireworks at The Boardwalk on Okaloosa Island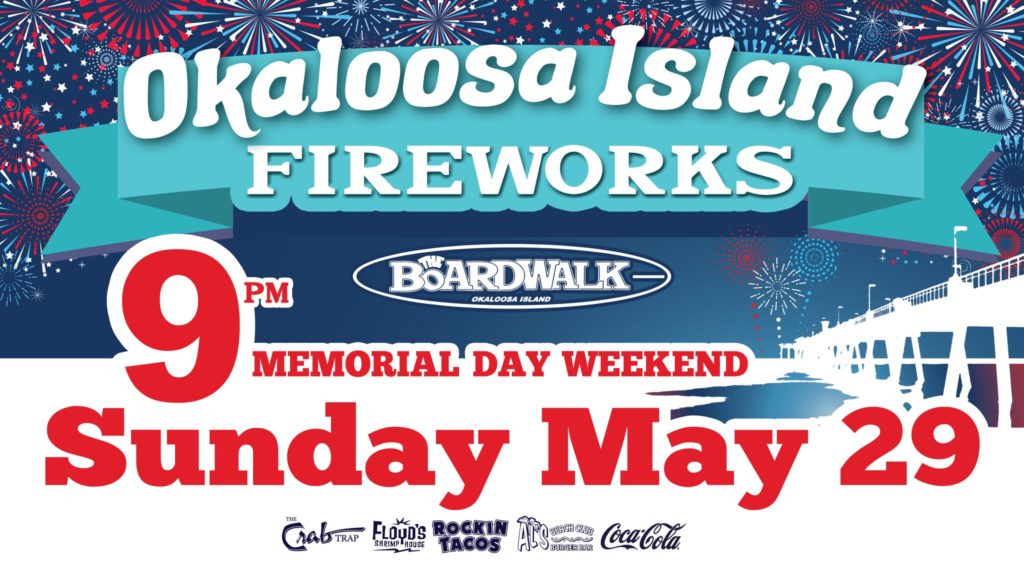 Celebrate MEMORIAL DAY and watch as The Boardwalk on Okaloosa Island lights up the night sky with a patriotic FIREWORKS SHOW in honor of those who gave their all
Bring the family and grab your friends and head out to The BOARDWALK!
Throwdown a blanket or pull up a chair, at any Boardwalk restaurant for a front row view of the show.
It's all happening on Sunday, May 29, 2022 beginning at 9pm
SCHOOL
Destin High School announces $9 million expansion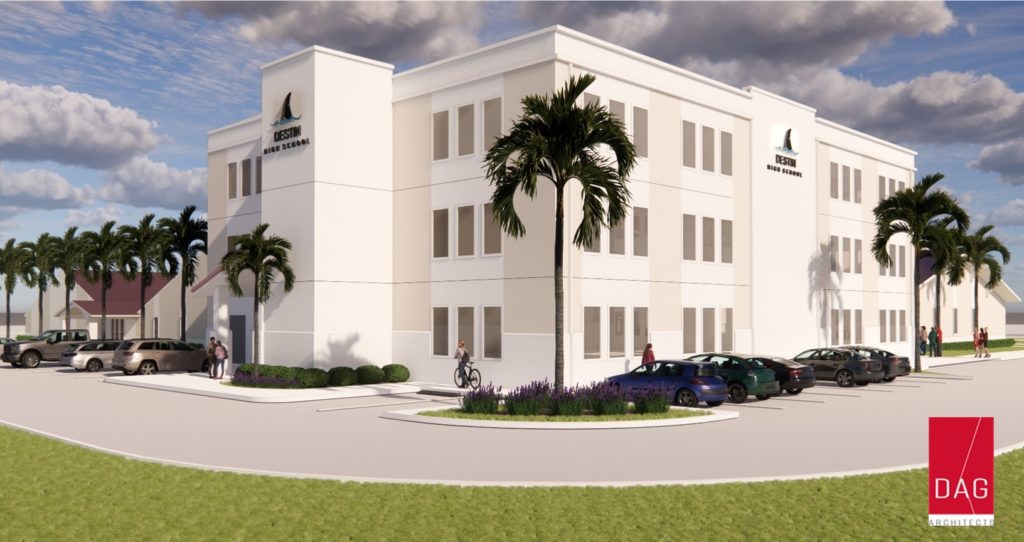 Destin High School has just wrapped up their first school year in Okaloosa County. The tuition-free, public charter school officially opened last summer for the 2021-22 school year, and is funded through donations, fundraisers, and supporters.
At a press conference on Wednesday, they announced that enrollment for the 2022-23 school year has exceeded expectations and now has a waiting list. With a current capacity of 470, the high school will need to be able to accommodate 800 to 1,000 students.
To help with this, the Governing Board kicked off a new Phase 2, $9 million Capital Campaign. This campaign will enable the school to expand with the construction of a 26,000 square foot, multi-story, classroom building to include wet science labs and an expansive art studio.
Also included in the Phase 2 expansion is a 3,000 square foot Physical Training building to be used for sports classes and athletic training. 
"After a five-year journey dedicated to opening a high school in Destin, our Board is beyond excited to see the many successes of the first year for our students," said Denise Fountain, President of the DHS Governing Board commented. "This couldn't have happened without the support of the community and we thank them. We hope the community will step up again to help us attain the expansion needs." 
THE WEEKENDER
A few things to do around town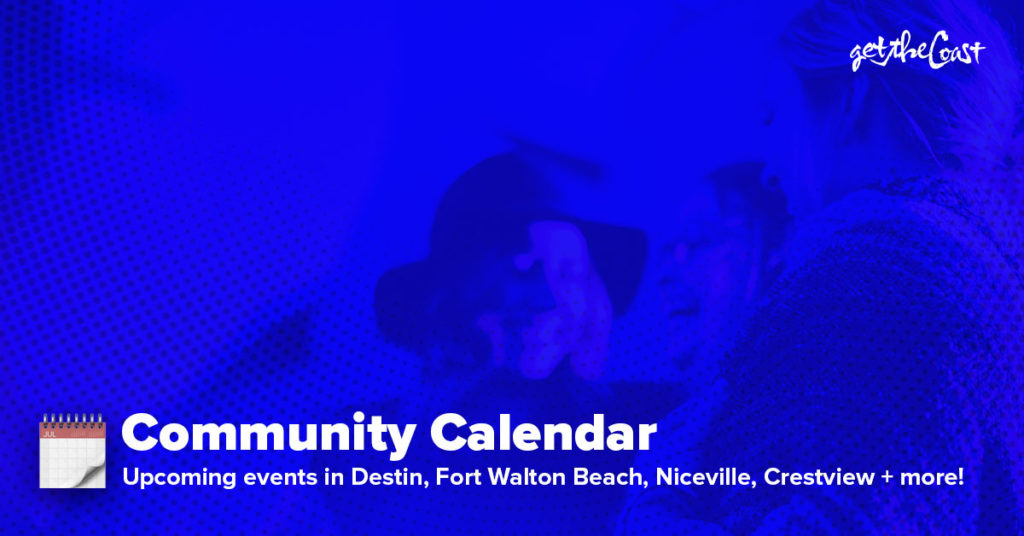 May 27, 2022 – Concerts at The Landing in FWB – View
May 28, 2022 – Downtown FWB FARMERS MARKET at the Landing! – View
May 28, 2022 – 5th Annual East Pass Slacker 0.5K – View
May 29, 2022 – The Stoked Comedy Hypnosis Show Starring Terry Stokes – View
May 31, 2022 – J.Leon Gallery Pop-Up Showcase – View
Looking ahead
June 1, 2022 – C.A.R.E.ing for Turtles – $10 – View
June 1, 2022 – Summer Nights at the Gulfarium – View
June 2, 2022 – MKAF's Concerts in the Village: Alter Eagles – $12. – $15 – View
June 3, 2022 – Sip N' Stroll Gallery Night at J.Leon Gallery – View
June 4, 2022 – Step One Automotive Hosts the Saving with Soul Adoption Event – Free – View
June 4, 2022 – Adult One-Stroke class with Sheila Mahony at ATN – $47.50 – View
June 4, 2022 – Downtown FWB Art Walk sponsored by Artesano Boutique! – View
OK, that's all I have for you this morning! I hope you have a great Friday! 
p.s. What did you think of this morning's newsletter? Hit the reply button and let me know!
Published with ♥ by Get The Coast.
Did someone forward you this email? Subscribe here.
124 Eglin Parkway SE Fort Walton Beach, FL 32548