TOGETHER WITH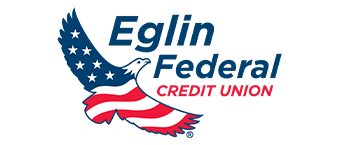 Good morning!
Invest 91L (now Potential Tropical Cyclone 1) will not significantly impact our area with wind and rain. However, according to Okaloosa Public Safety Director Patrick Maddox, a swell associated with Potential Tropical Cyclone One will approach the Alabama and western Florida Panhandle beaches Friday, persisting into at least Sunday morning.
Maddox says that this swell will cause the strength and frequency of rip currents to increase along area beaches during that period.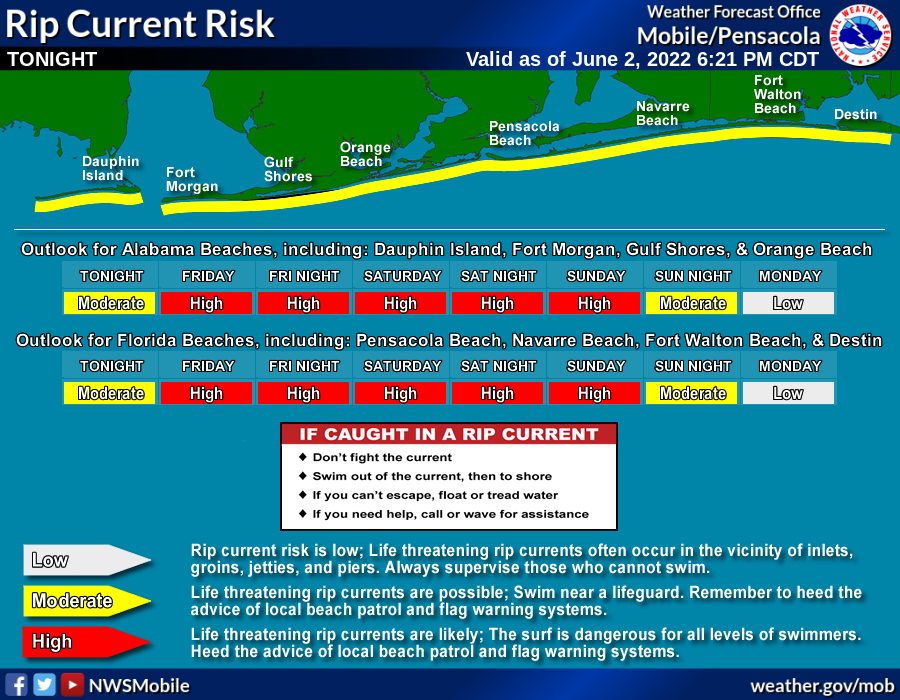 Because of this, the National Weather Service has decided to issue a warning for HIGH RISK of rip currents from Friday afternoon through Sunday morning.
Stay safe and pay attention to beach flags and Lifeguards.
THINGS TO DO
Special Storytimes at Captain Leonard Destin Park this Summer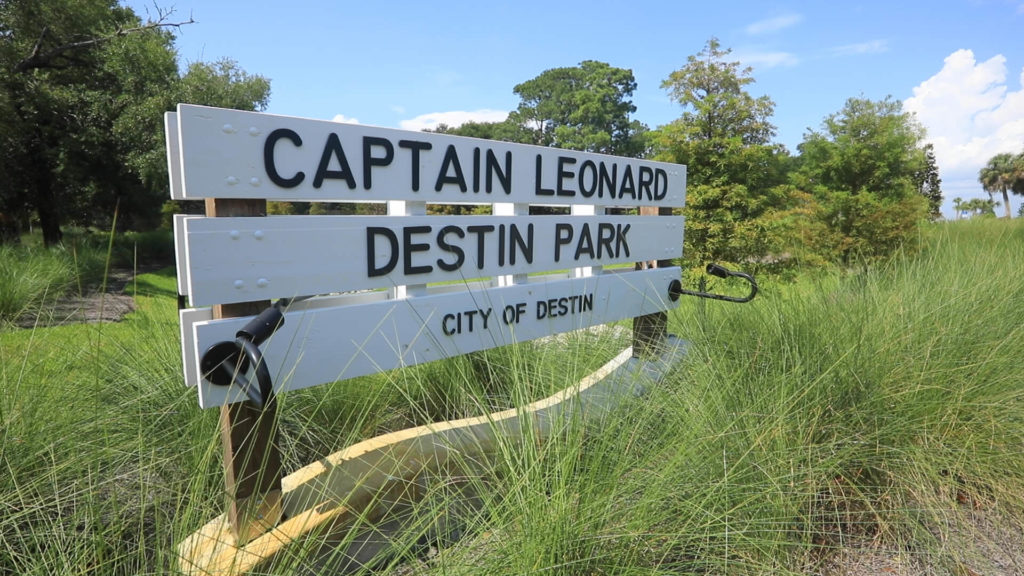 For Summer Reading 2022, the Destin Library will host a special series of Cuddlers and Toddlers storytimes at Captain Leonard Destin Park.
The theme for summer reading this year is Oceans of Possibilities, where kids will hear stories about ocean monsters, ocean wildlife, and other aquatic marvels.
There will also be fingerplays, stretching, and ocean-themed yoga fun.
Feel free to bring a blanket or mat to participate.
Storytimes at the Park will be held every other Thursday on June 9th, June 23rd, July 7th, and July 21st at 10:30 a.m. On the other Thursdays, storytimes will be held at the library, as usual.
Captain Leonard Destin Park is located at 101 Calhoun Avenue, less than half a mile from the library. These storytimes are targeted to ages 0-3, but are open to all children.
If you have any questions, please contact the library at 850-837-8572 or library@cityofdestin.com.
SPONSORED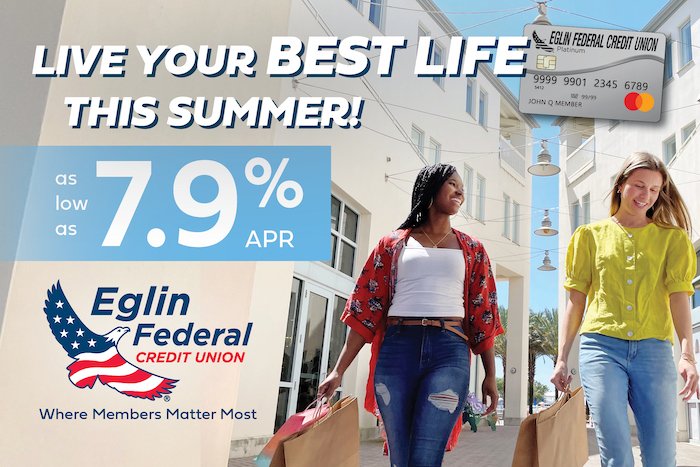 Live your best life this summer with an EFCU Mastercard®!
Get your card today by applying at any of Eglin Federal Credit Union's 9 branches. Stop by, apply, get your card and get shopping!.
*During normal business hours. Subject to membership and credit approval.
PUBLIC SAFETY
Health advisory lifted for the Destin Harbor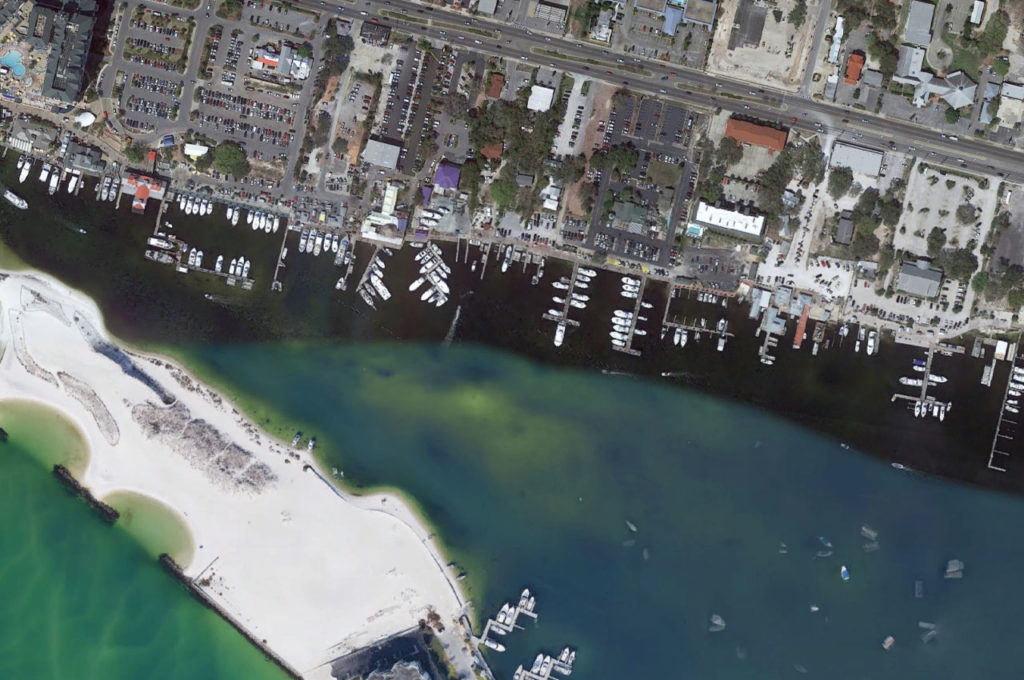 The Florida Department of Health in Okaloosa County has lifted a health advisory for the Destin Harbor. Sampling of the waters in that area have resulted in bacterial levels below the advisory level. 
For more information about the potential health effects of wastewater overflow, residents and visitors are encouraged to contact DOH-Okaloosa at (850) 833-9247 or visitwww.HealthyOkaloosa.com.  
TRAVEL
TSA staff shortages cause morning delay at Destin-Fort Walton Beach Airport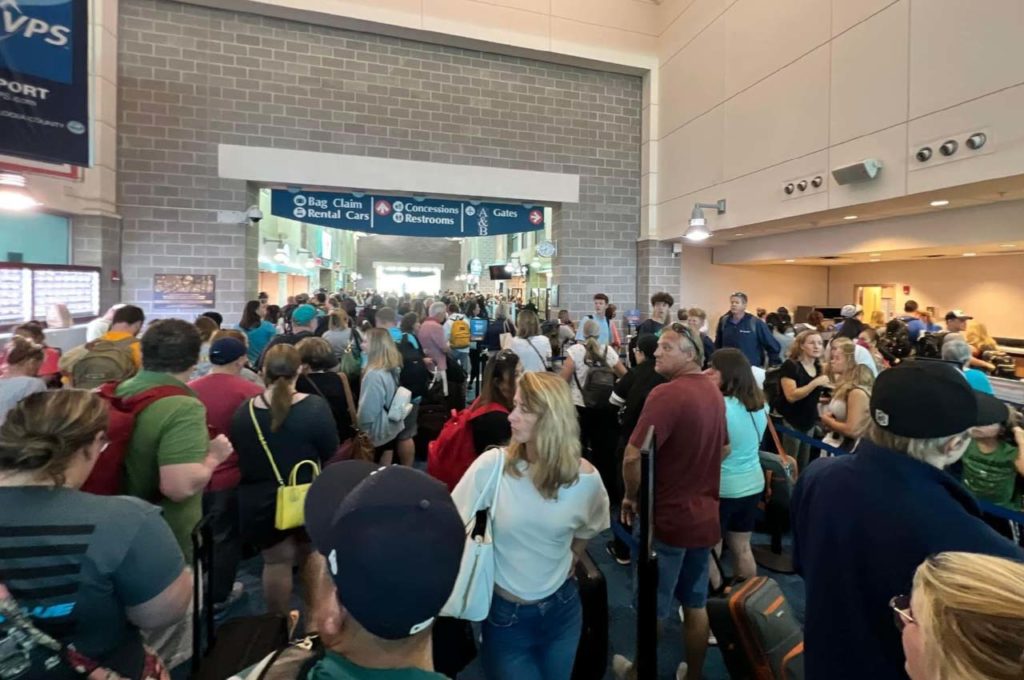 On Thursday morning, images of a crowed Destin-Fort Walton Beach Airport began circulating on social media.
While the initial claims were that the delays were due to the new Allegiant terminal that opened this week, it turns out, it is due to significant TSA staffing shortages.
According to Okaloosa County, those staffing shortages prevented TSA from opening up enough lines to keep it moving swiftly.
The county told Get The Coast that Airport staff and leadership are working with TSA to find a solution.
As a reminder, the Destin-Fort Walton Beach Airport is recommending passengers arrive at least 2 hours early before your flight.
By 10:00am on Thursday morning, the airport had resolved the line issues.
FUNDRAISING
Emerald Coast Fitness Foundation Raises over $74,000 at Inaugural Fundraising Event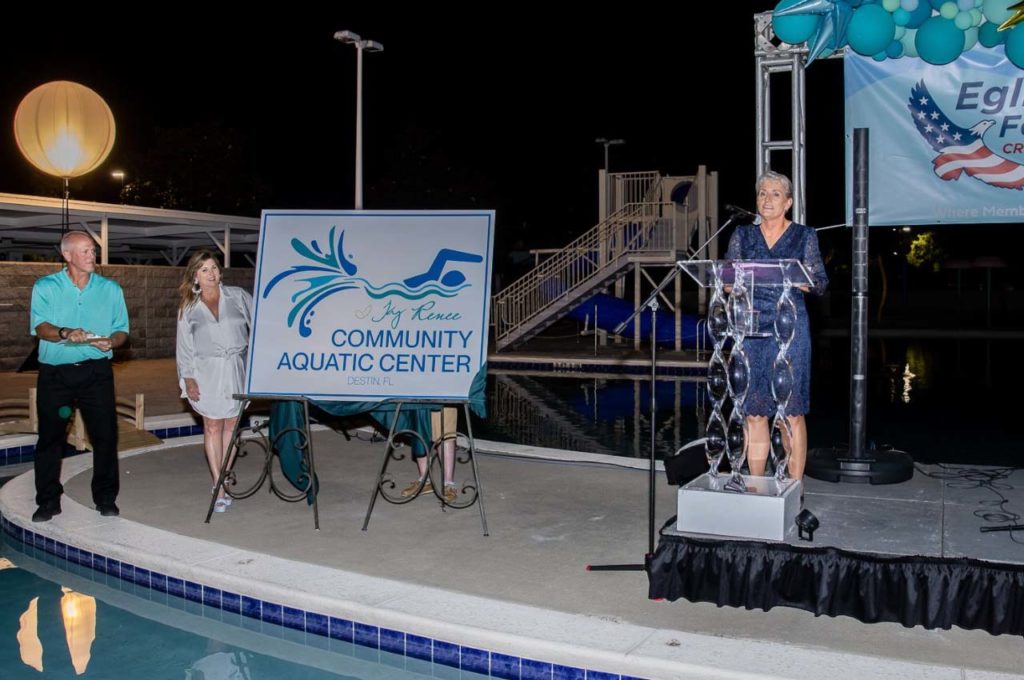 On Thursday, June 2, 2022, the Emerald Coast Fitness Foundation announced that over $74,000 was raised at the Inaugural Sip and Splash: An Aquatic Affair presented by Tim Smith Acura. 
The first-of-its-kind event took place outside on Saturday, May 14 at the Aquatic Center of Destin located at 4345 Commons Drive West, where the pool facility was transformed into an elegant event space.
The sold-out fundraising dinner welcomed over 250 guests who kicked off the evening with a cocktail hour featuring hand rolled sushi by Camille's at Crystal Beach's Yoshie Eddings.
Entertainment included live music by Reed Waddle, a photo booth, a cigar bar, live painting by Maxine Orange, and an extensive silent auction featuring two week-long vacations in Colorado, jewelry, gift cards, gift baskets, artwork and much more.
All funds raised through ticket sales, sponsorship, and the silent auction go directly back to the foundation to help fund operation costs and equipment upgrades. These funds will also be utilized for the numerous aquatic programs at the three community pools the ECFF manages, including the Aquatic Center of Destin, the Bernie R. Lefebvre Aquatic Center of Fort Walton Beach, and the ROC Pool of Crestview.
An intimate five-course dinner was prepared and served by local chefs and restaurants. The lineup included:
Chef Orion Cordoves of Jackacudas Seafood + Sushi
Chef Al Massa of Brotula's Seafood House and Steamer
Chef Jim Shirah of Dewey Destin's Harborside
Chef Chad Donelson of Bitterroot
Chef Daniel Soto of Café Rico
Each of the chef's unique courses were paired with craft cocktails from Bitterroot.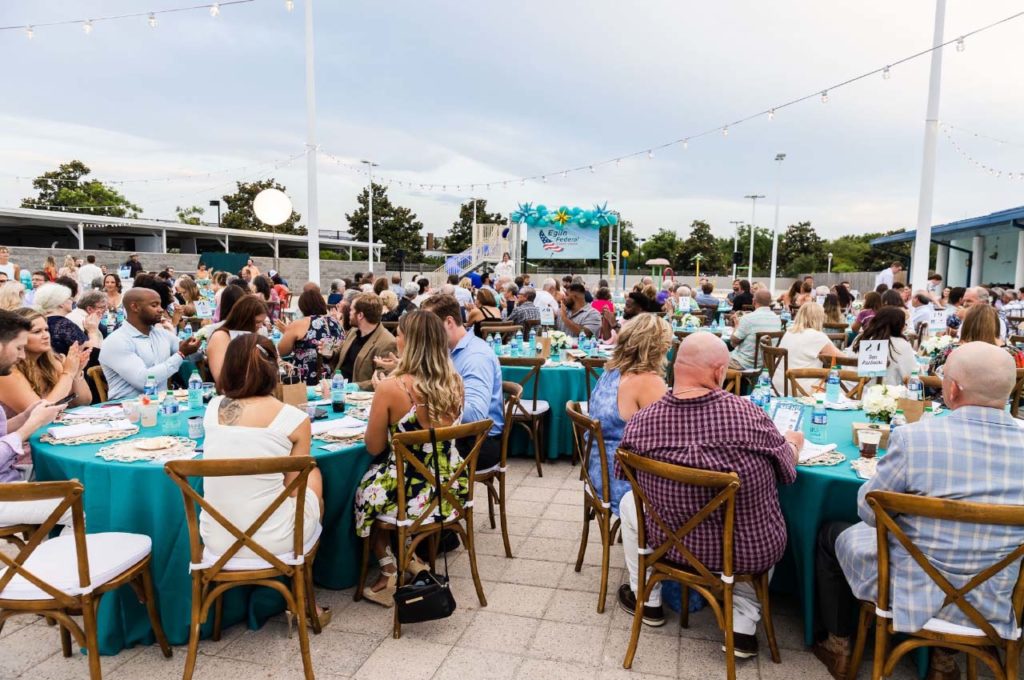 In between courses, the Emerald Coast Fitness Foundation honored some of their own members by inducting them into the Okaloosa County Swim and Dive Hall of Fame, an organization formed to recognize excellence by local coaches, athletes, and volunteers. The 2022 inductees included James Lefebvre, Betty Ballasch, Mary Edith Malin, Dave Smith, and Monty Landingham. 
Before the night ended, the foundation also unveiled the new, official name of the Aquatic Center during a heart-felt tribute to a close friend. 
"We wanted to name the pool after someone we knew personally and who exemplified characteristics that could be a representation of all of those who have worked with us," said Kathi Heapy, co-founder of ECFF. "A person came to mind who was smart, generous, thoughtful, hardworking, faithful, willing to serve, anxious to work, and supportive of swimming and water safety for everyone."
Taj Renee Oliver was one of Heapy's close friends and swim teammate in 1980. They formed a special friendship and bond throughout the years until Taj succumbed to pancreatic cancer in 2008.
Taj Renee means "Love Reborn," so when the Heapys were looking for a permanent name for the Aquatic Center, the answer to them was obvious. 
"The facility will now be known as the Taj Renee Community Aquatic Center, fondly known as 'The Taj', in honor of Taj Renee Oliver Brown, who represented the many people who helped revive the facility because of their shared love of swimming," Heapy said.
A new sign was also unveiled during the event, which will be displayed outside the Aquatic Center, showcasing the new name and logo that includes a heart written in Taj's own handwriting.
TRAFFIC
Contractor chosen to design (and build) the new Brooks Bridge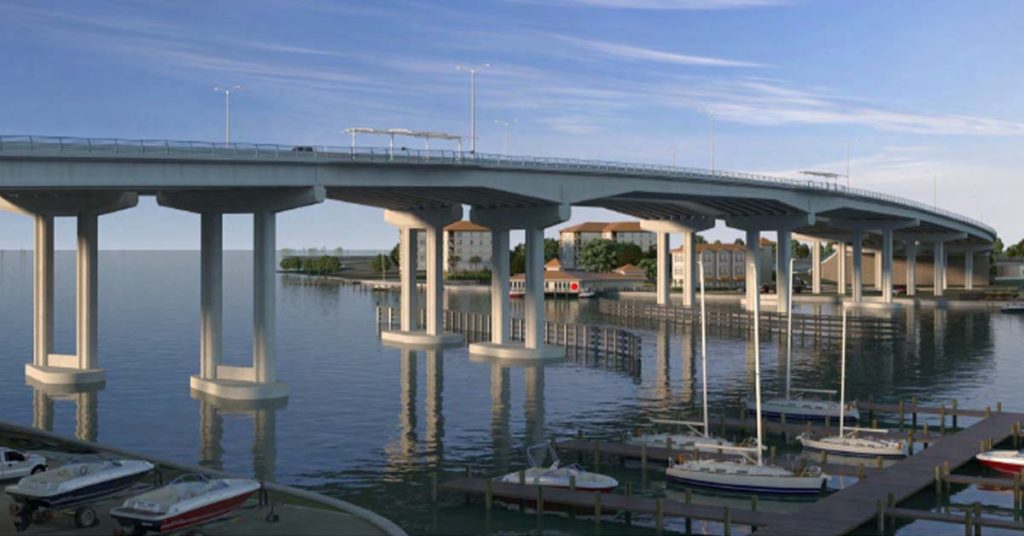 Earlier this week, the Florida Department of Transportation awarded Superior Construction Southeast with the $171 million design-build contract for the Brooks Bridge Replacement Project.
The project involves replacing the John T. Brooks Bridge which connects Fort Walton Beach to Okaloosa Island.
A design-build contract means the same company does the design and the construction. FDOT has a standard process called design-bid-build where you have one company that does the design, and then another company does the construction.
As you can imagine, from bridge replacements to highway widening, transportation projects can take years to plan, design and build when each phase of the project occurs sequentially at separate times.
When a project needs to be expedited, FDOT considers contracting the project using the Design-Build method, which combines design and construction of a project under one contract. This allows construction to begin as designs are finalized, and also helps reduce costs.
According to FDOT District 3 spokesperson Ian Satter, Superior Construction Southeast will begin the design, which should take about a year to complete. Actual construction of the bridge will likely begin at some point in the Summer of 2023.
In total, the project should take about 5-years to complete.
There are 1,810 days in the contract, weather permitting.
Satter says that once the design is complete and they move into the construction portion, there will be a public information meeting just to show the general public what the final design is going to be, and that construction is now starting.
"It'll be an update of what to expect during construction, as well as renderings of the project moving forward," he said. "And when construction begins, we'll probably have a construction meeting too at the beginning of the project."
ARTS+CULTURE
New 'learning trail' added at Ferry Park in Fort Walton Beach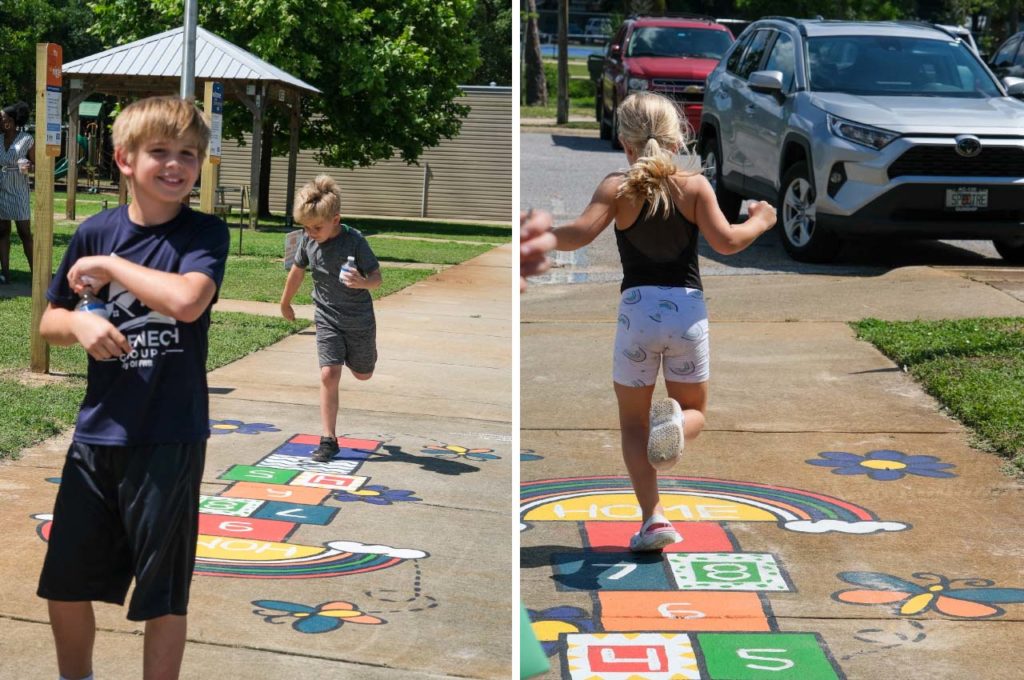 On Friday, May 27, 2022, the United Way Emerald Coast unveiled their new "learning trail" at Ferry Park in Fort Walton Beach.
"Today is all about creating a safe space for our children," said Kelly Jasen, President & CEO of United Way Emerald Coast. "A place where they can thrive, a place where they can learn, a place where they can build stronger bonds with their caregivers."
The Born Learning Trail features eight stations scattered throughout Ferry Park. Each station has a sign that encourages interaction designed to help children move their bodies, wake up their brains, and start conversations between caregivers and their children.
"It's encouraging us to put our phones down and to get really involved in this beautiful outdoor community that we all live in," added Jasen. "To take care of our mental health, to take care of our relationships and to take care of our bodies as well."
Jasen says that the trail would not have happened with the financial support of United Fidelity Bank, along with the city of Fort Walton Beach. She also thanked Off The Walls Murals for partnering on the designs.
"Together, we can really take care of the next generation and make sure that they have these safe spaces to learn and to grow, and to spend time with their families and friends," said Jasen. 
While volunteers were helping with painting one morning, a gentleman and his granddaughter were at Ferry Park and asked what the group was creating. They explained a bit about the learning trail to give them an idea of what to expect.
"The next thing you know, they're with a paintbrush helping us with the trail," said Ed Burns, Community President United Fidelity Bank.
For the city of Fort Walton Beach, it was an easy request to say yes to.
"When Kelly came to me a few months ago, she didn't even have to get the full request out," said Michael Beedie, Fort Walton Beach City Manager. "I said, Absolutely! We both agreed that Ferry Park was going to be the perfect spot."
Beedie says that the addition of the trail adds to the amenities of the park that just continues to improve the overall quality of life for city residents.
THE WEEKENDER
A few things to do around town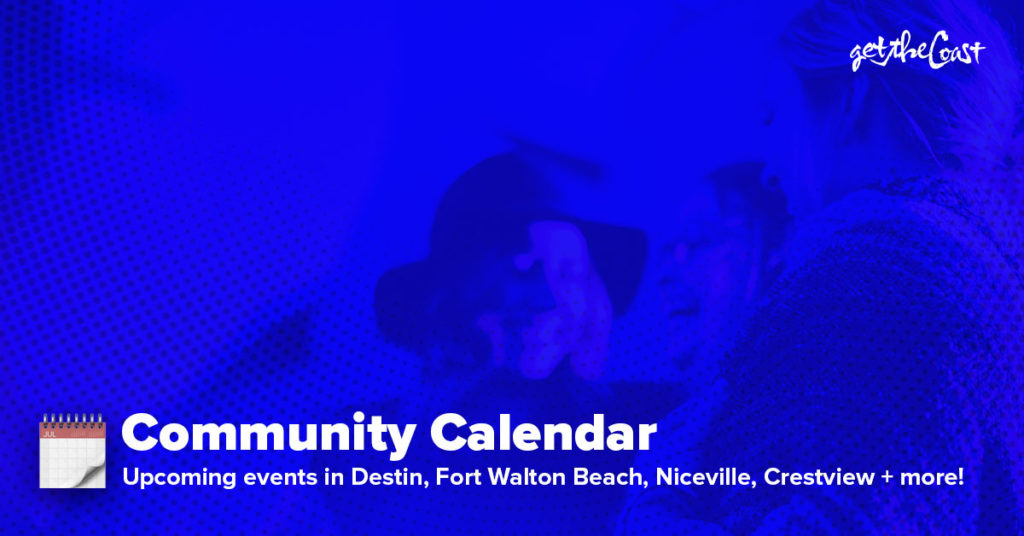 June 3-5, 2022 – Caliber Car Wash – Free washes – View
June 3, 2022 – Concerts at The Landing – View
June 3, 2022 – Sip N' Stroll Gallery Night at J.Leon Gallery – View
June 4, 2022 – Step One Automotive Hosts the Saving with Soul Adoption Event – Free – View
June 4, 2022 – Adult One-Stroke class with Sheila Mahony at ATN – $47.50 – View
June 4, 2022 – Downtown FWB Art Walk sponsored by Artesano Boutique! – View
Looking ahead
June 6, 2022 – NWFSC Futures Forward – $100 – View
June 8, 2022 – C.A.R.E.ing for Turtles – $10 – View
June 8, 2022 – Emerald Coast Learning Center Groundbreaking Event – Free – View
June 9, 2022 – MKAF's Concerts in the Village: Sister Hazel – $12. – $30 – View
June 11, 2022 – Doll and Toy Sale and Show in Milton, Florida – $1 – $4 – View
June 11, 2022 – Kid's Watercolor Cards at Artful Things Niceville – $37.50 – View
June 12, 2022 – Step One Fest – View
June 12, 2022 – Blood Drive at Step One Fest – View
OK, that's all I have for you this morning! I hope you have a great Friday! 
p.s. What did you think of this morning's newsletter? Hit the reply button and let me know!
Published with ♥ by Get The Coast.
Did someone forward you this email? Subscribe here.
124 Eglin Parkway SE Fort Walton Beach, FL 32548