TOGETHER WITH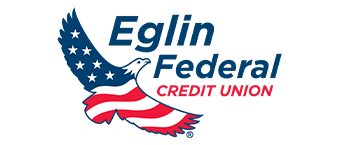 Good morning!
It will be hot and humid again today as our area is under another heat advisory, according to the National Weather Service out of Mobile.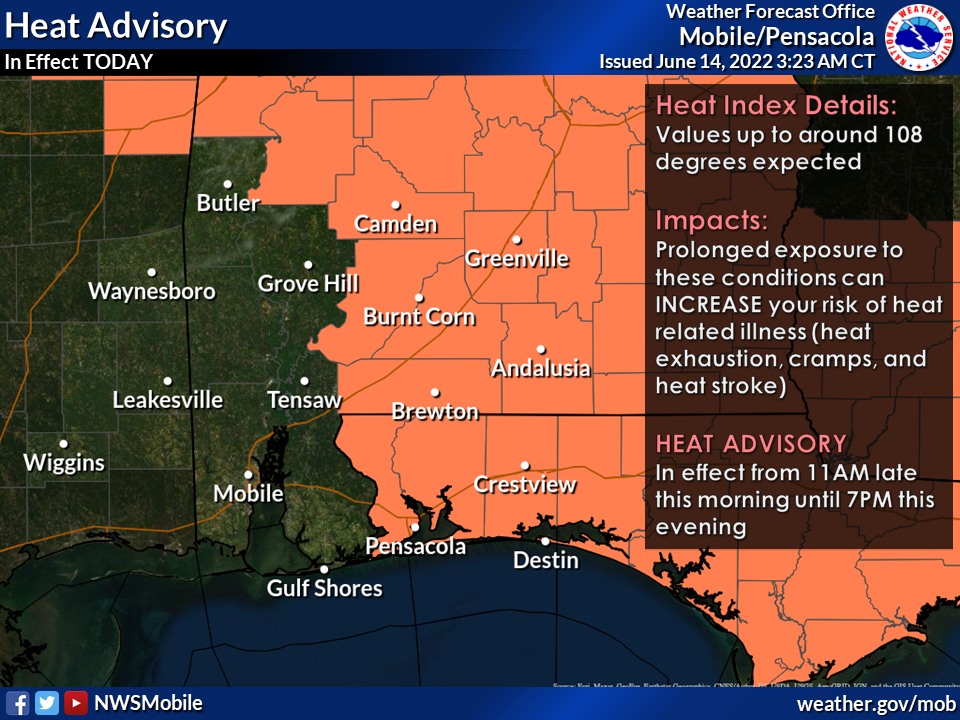 Heat index values up to around 108 degrees are expected, especially for areas east of the Alabama River.
A Heat Advisory is in effect from 11am-7pm.
PUBLIC SAFETY
Okaloosa Sheriff's Office investigating sexual assault in Destin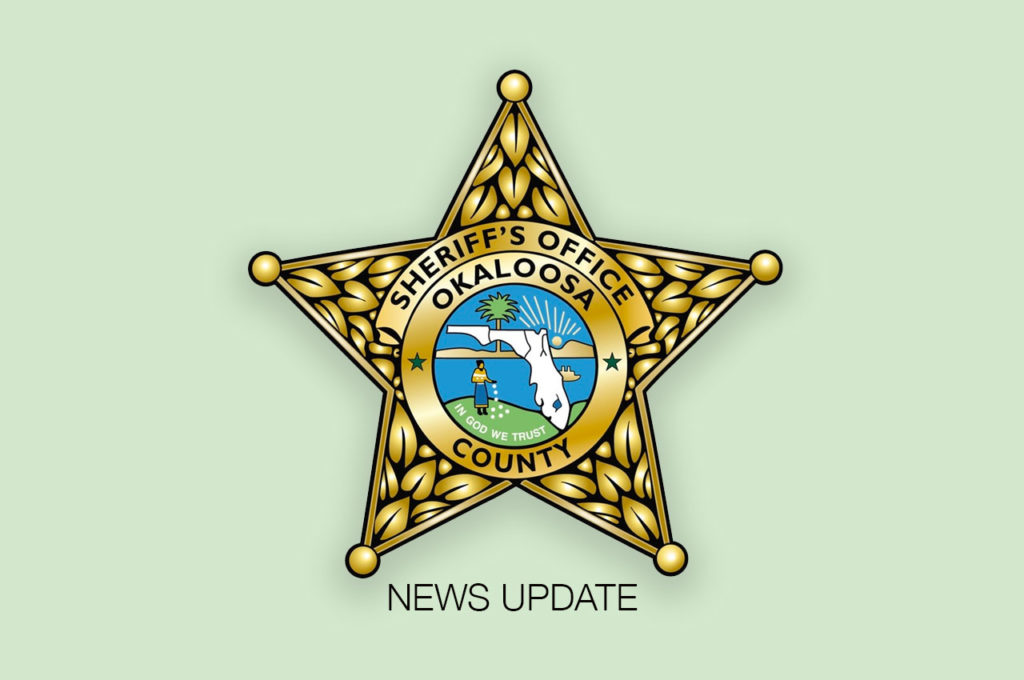 The Okaloosa County Sheriff's Office is investigating a report that a woman was sexually assaulted early Sunday morning in Destin.
The victim told deputies the assault happened as she was walking to a night spot in the area of Mountain Drive and Palmetto Street around 2:30am on Sunday morning.
According to the OCSO, the victim said that multiple individuals wearing ski masks rolled up to their foreheads approached her and then struck her in the head with an unknown object, causing her to lose consciousness.
The victim stated that when she awoke around 5:00am, her clothing and wallet were missing.
An active investigation is underway.
Anyone with information about this incident is asked to call the OCSO at 850-651-7400 or Emerald Coast Crime Stoppers at anonymously at 850-863-TIPS, EmeraldCoastCrimeStoppers.com or via the P3 Tips Mobile App.
SPONSORED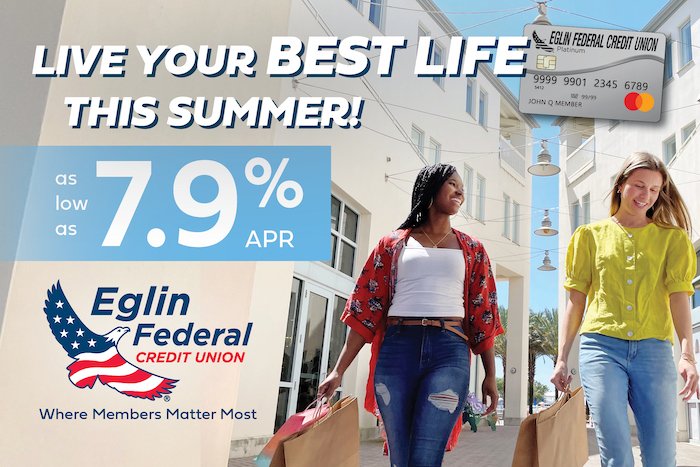 Live your best life this summer with an EFCU Mastercard®!
Get your card today by applying at any of Eglin Federal Credit Union's 9 branches. Stop by, apply, get your card and get shopping!.
*During normal business hours. Subject to membership and credit approval.
FROM THE STATE
Governor Ron DeSantis signs 6 Bills in Fort Walton Beach to support Florida's Military Families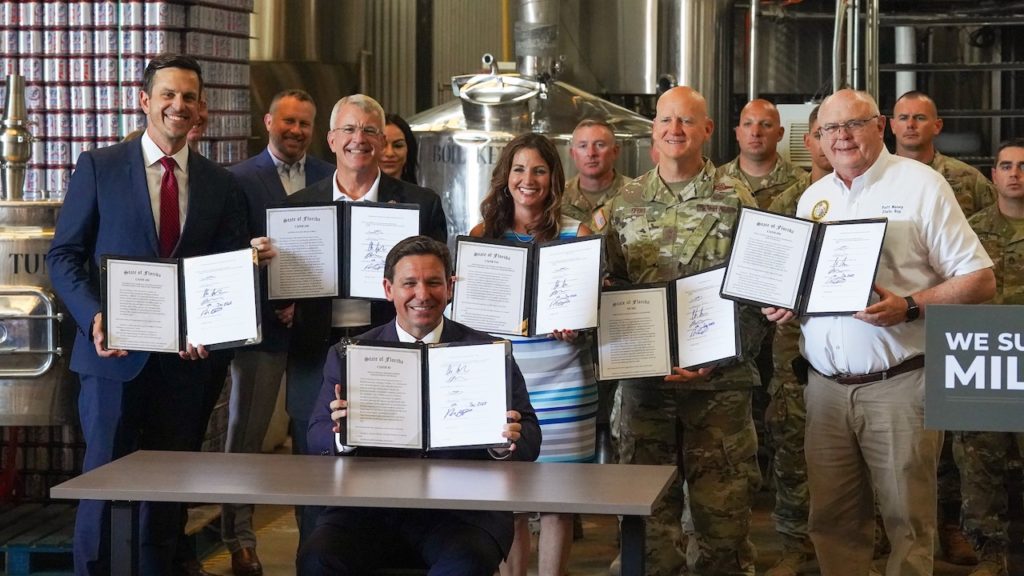 On Thursday, Governor Ron DeSantis signed six bills to support veterans, military members, and their families in finding employment and educational opportunities in Florida.
DeSantis signed the bills at Props Brewery in Fort Walton Beach.
Props was founded by 2 USAF Special Operations Pilots.
These pieces of legislation build on funding provided in the Freedom First Budget signed by Governor DeSantis two weeks ago to support Florida's military members and their families.
"Florida is the most military friendly state in the nation, and I am proud to continue that commitment to our military members and their families by signing these pieces of legislation," said Governor Ron DeSantis. "Providing military families with the resources they need to receive a high-quality education and find good jobs is the best way that we as a state can show our appreciation for the sacrifices that they make."
"I enlisted in the Air Force when I was 18-years-old. I used the GI Bill and an ROTC scholarship to get a commission," said Nate Vannatter, Owner, Props Brewery and Grill. "10 years after that commission, my partners and I used a VA/SBA loan to start our business right here in Fort Walton Beach. I thank the Governor for his support of these veteran bills. As these men and women depart the armed forces and go into the next phase of their life, these bills are really going to mean something."
The six bills signed by the Governor will support education opportunities for veterans and children of active-duty military as well as expand access to employment opportunities by removing barriers to licensure and postsecondary education requirements. Those bills are:
House Bill (HB) 45 provides educational opportunities for disabled veterans by providing additional assistance to achieve a 100 percent award for tuition and fees.
Senate Bill (SB) 430 reenacts the Interstate Compact on Educational Opportunity for Military Children which ensures a smooth transition for children of active-duty military families by enabling seamless school placement, enrollment, records transfers, and verification of graduation requirements.
SB 514 allows state agencies to substitute work experience, including military experience, for postsecondary education to allow veterans to use on the job experience to apply for civilian jobs.
SB 896 will help veterans access jobs in education by allowing their military service to count toward the requirement for a temporary educator certificate under the mentorship of a certified teacher.
SB 562 requires the Department of Business and Professional Regulation to expedite license applications of active-duty military spouses.
SB 438 updates Florida's definition of Uniformed Service to include the United States Space Force and updates military base names.
The Governor also announced that CareerSource Florida and state workforce agencies will dedicate $20 million in targeted workforce training supports for Florida's veterans. This funding will focus on high demand industries including aviation, aerospace, and defense.
COASTAL RESOURCES
Gulfarium C.A.R.E. Center successfully releases Five Rehabilitated Sea Turtles back into the Gulf of Mexico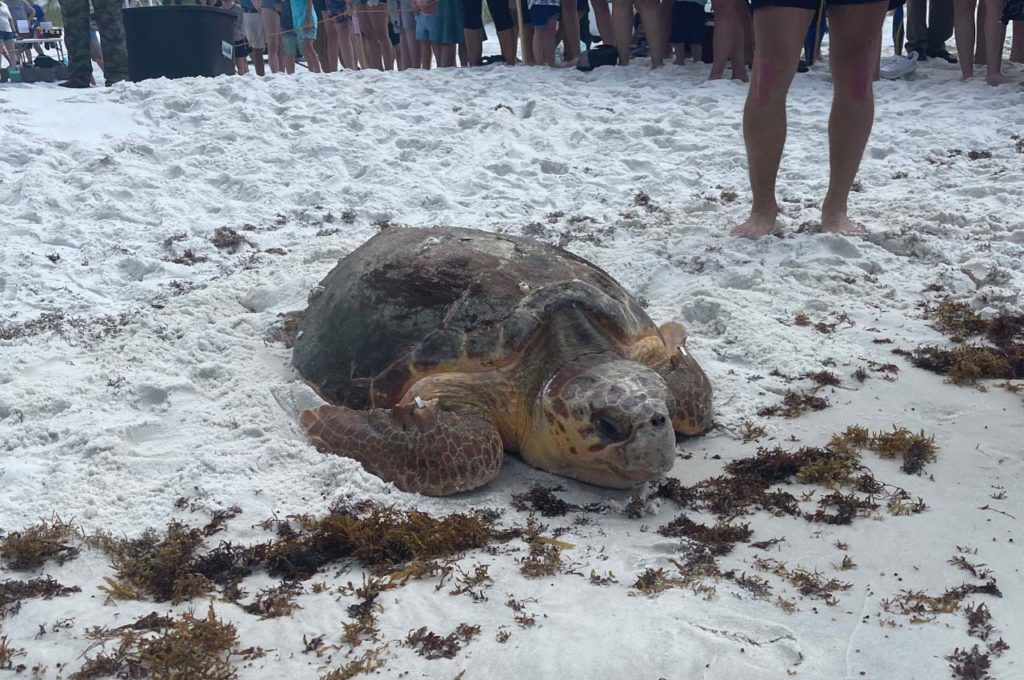 The Gulfarium's C.A.R.E. Center successfully released five rehabilitated sea turtles on Thursday, June 9, 2022, at Topsail Hill Preserve State Park off of West County Highway 30A.
All of the rehabilitated sea turtles had fallen victim to fishing hook related injuries, according to the C.A.R.E. Center.
(1) One interesting (and very large) turtle who was part of the release was Mambo, an adult female loggerhead weighing 213lbs. Mambo was hooked in the mouth by a large shark fishing circle hook on June 4th, 2022, according to the C.A.R.E. Center.
With light sedation, the hook was removed and Mambo was deemed ready for release.
After examining Mambo upon arrival at the C.A.R.E Center, the team believes that she had recently nested and laid eggs.
"Release days are always extremely rewarding for the whole team," states Tabitha Siegfried, Stranding Coordinator for the Gulfarium C.A.R.E. Center. "Knowing that Mambo is a reproductively active female who potentially laid eggs recently, getting her back out to possibly nest again this breeding season is especially exciting as all species of sea turtle are endangered."
(2) Another turtle released was Orion. This juvenile green weighed 15lbs and arrived at the C.A.R.E. Center for the second time, on May 30th, 2022, after being accidently foul hooked by a fisherman at Navarre Beach Fishing Pier.
Orion first received rehabilitation at the center in 2021.
Due to her smaller size, she was walked into the surf for release.
(3) Rosalind, a sub-adult Kemp's ridley weighing in at 45lbs, who was hooked in the mouth with a large shark fishing hook and a J-hook, on May 27th, 2022. Both of the hooks were removed with light sedation and following a short recovery period to ensure all was well, Rosalind was cleared for release.
(4) Dot, a juvenile green weighing in at 17lbs, who was foul hooked with a Sabiki hook in the right front flipper, at Navarre Beach Fishing Pier on May 29th, 2022 was also released. This was Dot's third visit to the C.A.R.E. Center, after last receiving treatment in 2020.
(5) Lil Bit, a juvenile green sea turtle, arrived at the C.A.R.E. Center on June 5th after being foul hooked by a fisherman at Navarre Beach Fishing Pier. This turtle weighed just 7lbs and had clear radiographs upon arrival at the center, so was medically cleared for release by the veterinary team.
If you see a sea turtle in distress, injured, or deceased please report it to Florida Fish and Wildlife Conservation Commission immediately at 1-888-404-FWCC (1-888-404-3922).
THINGS TO DO
BIA Announces 2022 Fall and Winter Events
The Building Industry Association of Okaloosa and Walton Counties recently announced its 2022 Fall and Winter events, beginning with the new Hammers & Hotrods Car Show on August 27, 2022. The first-time event will be held at the Okaloosa Technical College and is made possible by Platinum Sponsor, TRU Plumbing and Gas.
"The Building Industry Association of Okaloosa and Walton Counties (BIA) is excited to announce the following events to round out our 60th Anniversary year serving the Emerald Coast," said Alan Baggett, Executive Vice President. "The BIA continues to be the Voice of the Construction Industry and the go-to source of information when wanting to build or remodel your home."
In October, the public is invited to join the association to see informational seminars, vendors, and community members, including the Okaloosa County Master Gardners at its annual Home Show. The Home Show will be held at the Destin-Fort Walton Beach Convention Center.
BIA Fall and Winter events include:
August 27, 2022 | BIA Hammers and Hotrods Car Show
10 AM | Open to the Public
Facebook Event Link for More Information: https://fb.me/e/4JzQy6iTa
September 9, 2022 | BIA Annual Golf Tournament
7:30 AM Registration | Fort Walton Beach Golf Course
Facebook Event Link for More Information: https://fb.me/e/1LBK7W3ru
October 21st and 22nd, 2022 | BIA Home Show
Destin-Fort Walton Beach Convention Center
Facebook Event Link for More Information: https://fb.me/e/3sNEJiZO3
November 10, 2022 | BIA Cornhole Tournament
Kitchen and Bath Center
December 9th, 10th, and 11th, 2022 | Holiday Parade of Homes Main Event
TRAFFIC
Okaloosa and Walton County Traffic Advisory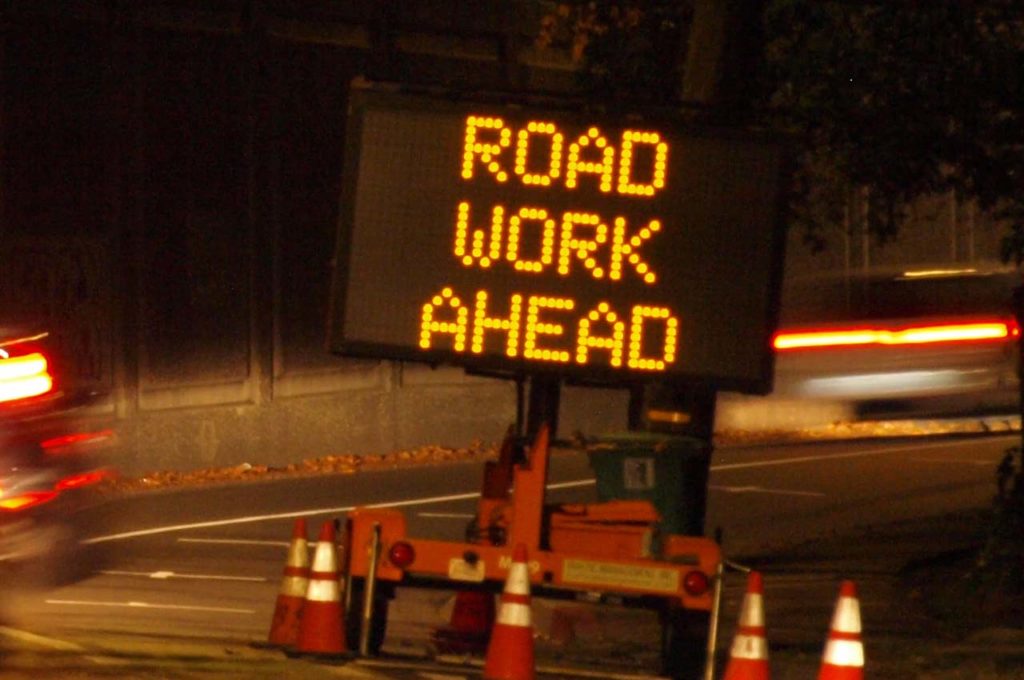 Drivers will encounter traffic disruptions on the following state roads in Okaloosa and Walton counties as crews perform construction and maintenance activities.
Okaloosa County:
State Road (S.R.) 85 Improvements from S.R. 123 to Hospital Drive – Drivers may encounter intermittent, temporary northbound lane closures between S.R. 123 and Shoal River Bridge, Monday, June 13 through Saturday, June 18, for paving operations. S.R. 85 northbound lane closures will not occur between 2 p.m. and 8 p.m. One travel lane will always remain open and access to private property and driveways will be maintained.
S.R. 20 (John Sims Parkway) Resurfacing Project – Drivers may encounter intermittent outside westbound lane closures on S.R. 20, from Edge Avenue to west of the Rocky Bayou Bridge, Monday, June 13 through Thursday, June 16, from 9 p.m. to 6 a.m. The lane closures are required to repair and construct sidewalk along the north side of the roadway.
U.S. 98 Routine Utility Maintenance Near Miracle Strip Parkway – Motorists will encounter intermittent lane closures, Thursday, June 16 from 9 a.m. to 3 p.m. for powerline maintenance.
U.S. 98 Widening from Emerald Bay Drive to Tang-O-Mar Drive – The week of Sunday, June 12, drivers will encounter intermittent U.S. 98 east and westbound single-lane closures between 9 p.m. and 5 a.m. as crews place structural asphalt in the outside travel lane. Additionally, paving work on County Road (C.R.) 2378 (Scenic Gulf Drive) at U.S. 98 will require flagmen to direct drivers through the work zone.
U.S. 98 widening from Mack Bayou Road to C.R. 30A – The week of Monday, June 13, crews will install drill shafts on the south side of U.S. 98 at the C.R. 30A intersection. This work may require intermittent single lane closures on C.R. 30A during the hours of 6:30 p.m. and 5:30 a.m.
U.S. 98 Resurfacing Project from Village Road to East of U.S. 331 – The speed limit will be reduced from 55 mph to 45 mph, between Village Road and U.S. 331. Additionally, drivers may encounter temporary traffic disruptions as crews begin mobilizing equipment and materials to construct the new U.S. 98 westbound right turn lane at Don Bishop Road.
U.S.331 Routine Bridge Maintenance over Choctawhatchee Bay Bridge – Motorists will encounter intermittent lane closures two miles north of U.S. 98, Monday, June 13 from 9 a.m. to 4 p.m. for routine bridge maintenance.
All activities are weather-dependent and may be delayed or rescheduled in the event of inclement weather.
GRAND OPENING
ALDI in Niceville set to officially open on June 23rd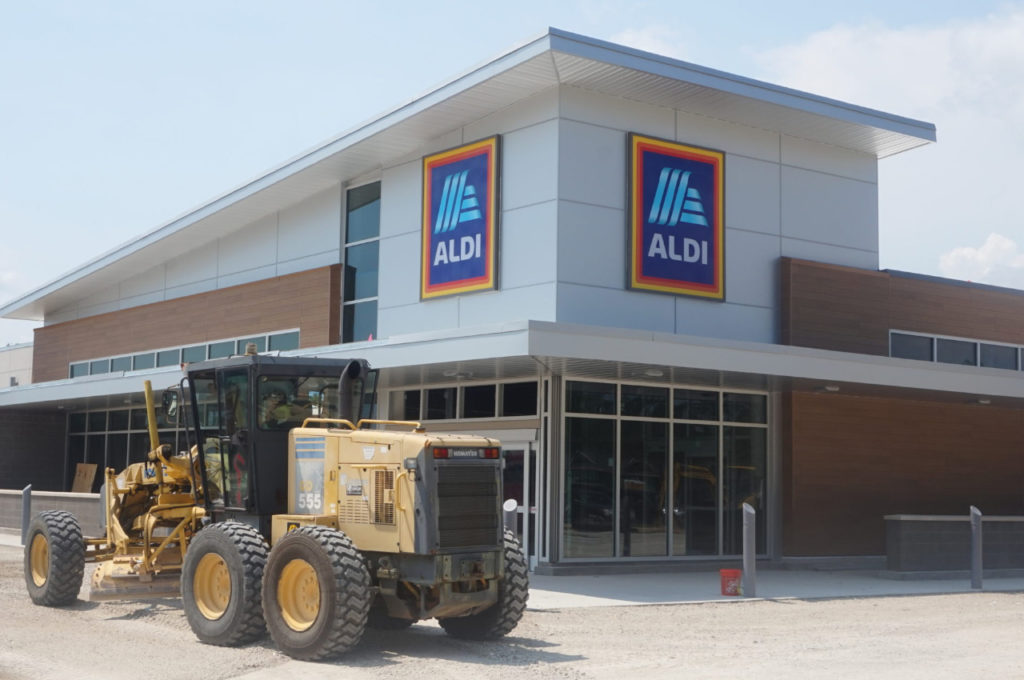 Last Friday, ALDI officially announced the grand opening of their newest location in Niceville, Fl. The store will open to the public on June 23, 2022 at 9am.
The new location on John Sims Parkway is part of the company's aggressive nationwide growth in recent years including the opening of 150 new stores this year, approximately 20 of which will be in Alabama, Mississippi, the Florida Panhandle and Louisiana.
To celebrate the new store, ALDI will host a Grand Opening ribbon-cutting ceremony on Thursday, June 23, at 9:00 a.m. The first 100 customers will receive a gift bag filled with a sampling of ALDI Fan Favorites products, as well as a gift card as part of the ALDI Golden Ticket gift card giveaway program.
Shoppers will also have the opportunity to enter a sweepstakes for a chance to win a $500 ALDI gift card.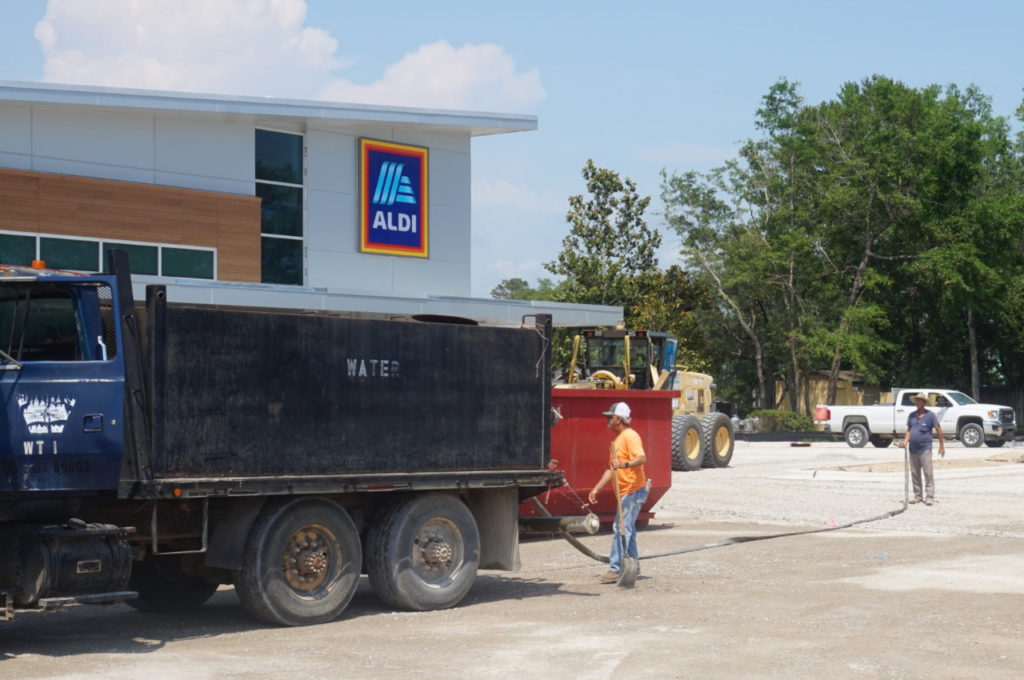 "Our stores are designed to make grocery shopping smarter, faster and easier, and we've been voted the price leader for five years running," said Heather Moore, Division Vice President for ALDI. "We offer easy access to affordable fresh food and household essentials, as well as a great selection of regional items. Our new Gulf Coast locations will carry local favorites such as Tony Chachere's Creole Seasoning, Crystal's Hot Sauce, Blue Plate Mayonnaise, Blue Bell Ice Cream and Luzianne Sweet Tea."
More information about ALDI stores can be found at their website here, https://www.aldi.us/en/
OK, that's all I have for you this morning! I hope you have a great Tuesday!
p.s. What did you think of this morning's newsletter? Hit the reply button and let me know!
Published with ♥ by Get The Coast.
Did someone forward you this email? Subscribe here.
124 Eglin Parkway SE Fort Walton Beach, FL 32548