TOGETHER WITH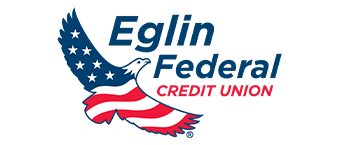 Good morning!
What questions do you have for the current Okaloosa County Commissioner candidates and School Board candidates? Just reply to this email with your questions.
Local elections are right around the corner for Okaloosa County Commissioner and School Board seats.
Click here for details on tomorrow evening.
PUBLIC SAFETY
Okaloosa & Walton County Sheriff's Offices had a busy weekend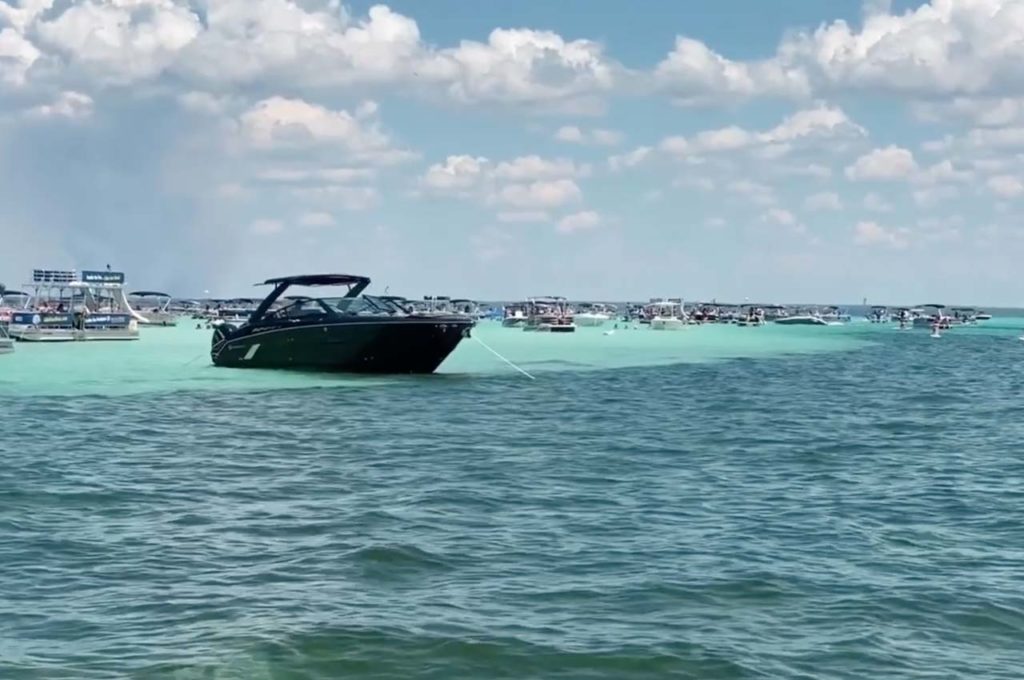 With another 4th of July weekend in the books, both the Okaloosa & Walton County Sheriff's Offices have released stats for their non-stop weekend. Here's how it looked:
The OCSO Marine Unit made 255 vessel stops, issued 48 citations, and made 17 boating under the influence arrests during Operation Dry Weather.
Additionally, Deputies also dealt with:
66 disturbances
52 fireworks calls
24 noise complaints
72 traffic crashes
43 reckless vehicle calls
15 thefts
18 parking complaints
30 trespassing calls
The Beach Unit issued 32 Notices to Appear for underage possession of alcohol.
As for Walton County, here's how they looked.
Total Calls for Service: 1,532
Total Traffic Stops: 223
Total Arrests: 26
SPONSORED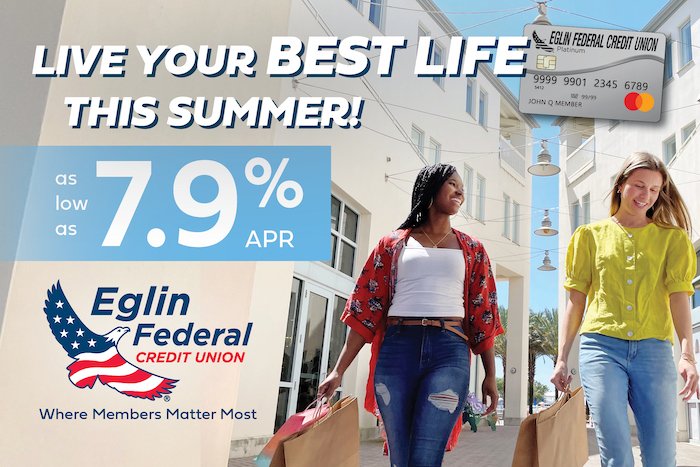 Live your best life this summer with an EFCU Mastercard®!
Get your card today by applying at any of Eglin Federal Credit Union's 9 branches. Stop by, apply, get your card and get shopping!.
*During normal business hours. Subject to membership and credit approval.
TRAFFIC
Okaloosa and Walton County Traffic Advisory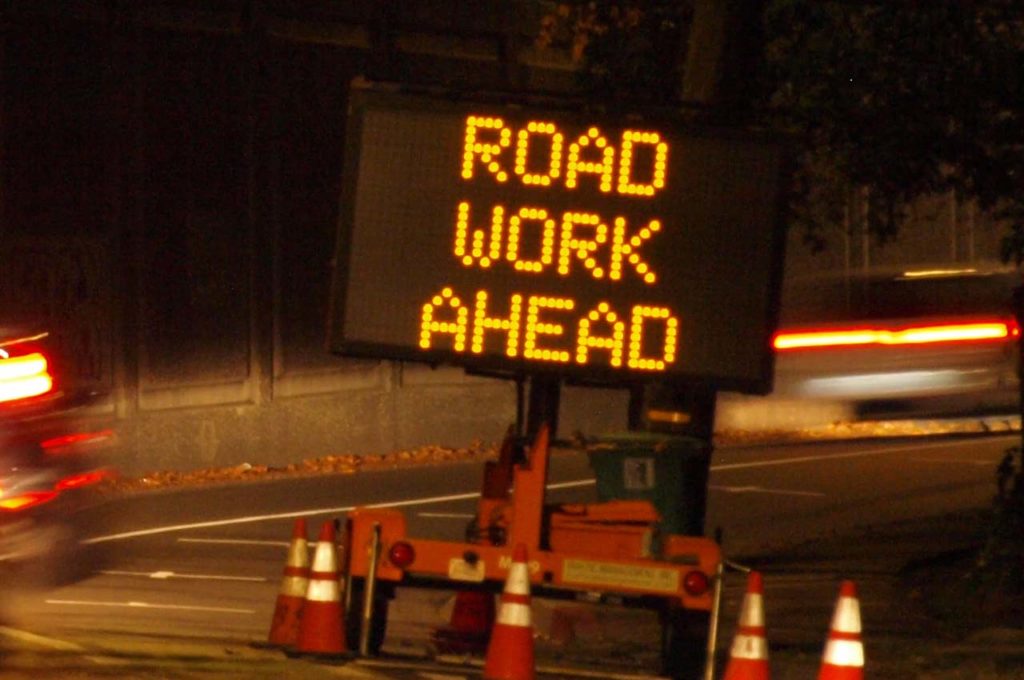 Drivers will encounter traffic disruptions on the following state roads in Okaloosa and Walton counties as crews perform construction and maintenance activities.
Okaloosa County:
State Road (S.R.) 85 Improvements from S.R. 123 to Hospital Drive – Drivers will encounter intermittent, temporary northbound lane closures on S.R. 85, between S.R. 123 and Shoal River Bridge, Tuesday, July 5 through Saturday, July 9, for shoulder work. S.R. 85 northbound lane closures will not occur between 2 p.m. and 8 p.m. (peak travel times). One travel lane will remain open at all times and access to private property and driveways will be maintained. Signage and traffic flaggers will be on-site to direct traffic through the work zone.
S.R. 20 (John Sims Parkway) Resurfacing Project – Drivers may encounter intermittent outside westbound lane closures from Edge Avenue to west of the Rocky Bayou Bridge Tuesday, July 5 through Thursday, July 7 from 9 p.m. to 6 a.m. as crews repair and construct sidewalk along the north side of the roadway.
S.R. 397 (South John Sims Parkway) Routine Utility Maintenance in Valparaiso – Motorists can expect lane closures Wednesday, July 6 through Thursday, July 7 from 2 a.m. to 5 a.m. for utility maintenance.
U.S. 98 Widening from Emerald Bay Drive to Tang-O-Mar Drive – This week, drivers will encounter intermittent and alternating lane closures on U.S. 98 east and westbound between 9 p.m. and 5 a.m. These closures are required for asphalt paving, cutting traffic signal detection loops, and additional work list items. Additionally, paving work on County Road 2378 (Scenic Gulf Drive) at U.S. 98 will require flagmen to direct drivers through the work zone.
All activities are weather-dependent and may be delayed or rescheduled in the event of inclement weather. Drivers are reminded to use caution, especially at night, when traveling through a work zone and to watch for construction workers and equipment entering and exiting the roadway.
COASTAL RESOURCES
217-pound sea turtle hooked at Okaloosa Fishing Pier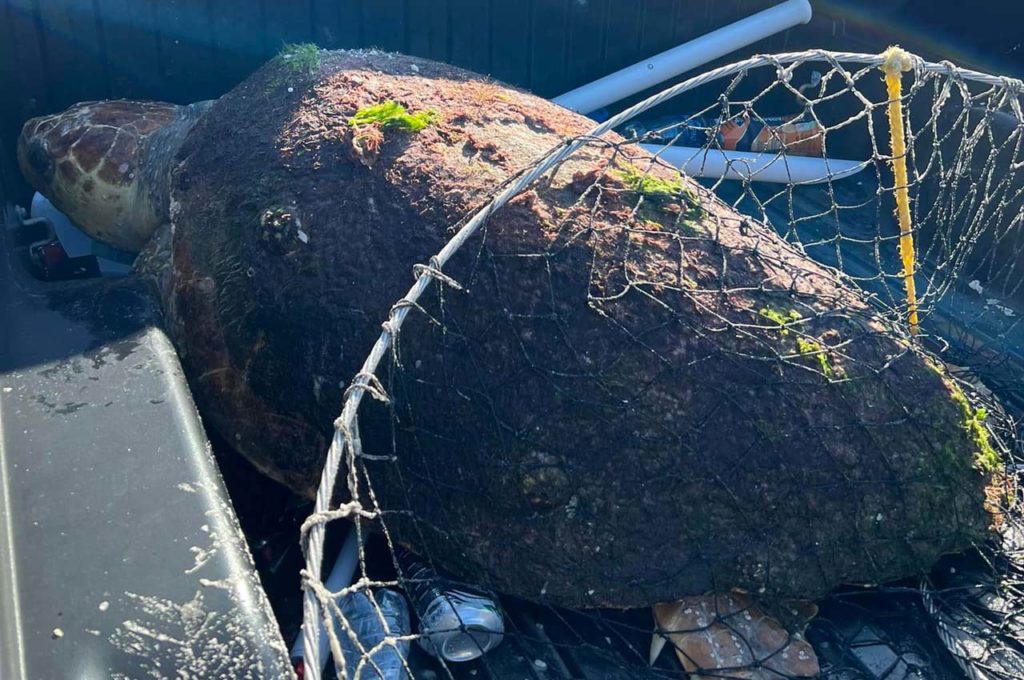 On Tuesday morning, a 217-pound sea turtle was foul hooked at the Okaloosa Fishing Pier on Okaloosa Island.
According to information from the Okaloosa Fishing Pier, the sea turtle had two rods, a lot fishing line, and even a portion of a tire trailing behind her.
"We cannot be thankful enough for our staff and a few local anglers for stepping up to rescue this big gal," said Okaloosa Fishing Pier in a statement. "Our staff had to go swimming with the Gulfarium Stranding Team to get her in!"
Once the sea turtle was rescued, she was taken next door to Gulfarium CARE Center.
If you accidentally hook a sea turtle, here's what the Pier says to do:
Do not cut the line.
Let the staff know immediately and call FWC.
Work slowly towards the beach until the stranding team arrives.
Clear the rail and give the team room to work.
"The future generations of this species needs our help," wrote the Pier. "If you come across a nesting sea turtle or a turtle making it's way to shore, admire from afar and leave it alone."
POLITICS
Okaloosa County Commission candidate's Facebook page hacked with inappropriate content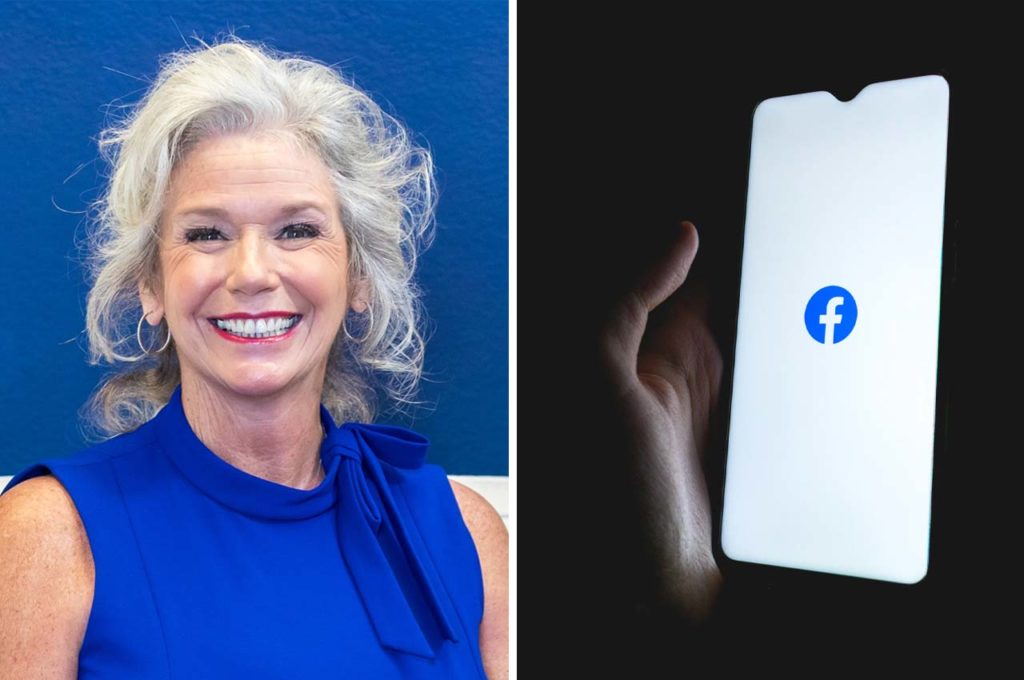 On Monday, June 27, 2022, the campaign Facebook page of CareySue Beasley, candidate for Okaloosa County Commissioner District 2, was allegedly hacked.
Although her page is still up, Facebook has it locked, leaving her unable to respond, interact or post anything for 29 days.
"About 7:30 in the morning last Monday," Beasley explains, "I got a notification that inappropriate content was posted to my account, and I had no idea what they were talking about."
According to Beasley, when she accessed her account, she saw there were 11 posts in total including four pornographic videos and what she later learned from the Sheriff's Department to be an ISIS flag, which quickly triggered the lockdown.
She is also locked out of her Okaloosa Donuts and Easy Vacation Services, LLC pages, both of which she owns, and all of the pages associated with her business and Instagram accounts.
Beasley filed an appeal with Facebook and today (July 5) got an email from the government affairs department for Facebook's parent company, Meta. She also filed a report with the Okaloosa Sheriff's Department and with the FBI.
While she waits for Facebook to lift the restriction, people can reach out to her via email, phone, or text, and also through her Twitter account.
"I'm confident that Facebook will hopefully get it resolved this week," she explains. "And of course, the publicity regarding this attack has been very helpful now to let people know that I'm not ignoring them."
Although Beasley does not have any idea where the attack came from, she has the utmost confidence that the Okaloosa Sheriff's Department will solve it.
"When I spoke with the investigator, he said they had already contacted Facebook to preserve my data and there were subpoenas being issued for getting the IP addresses. It's a prosecutable offense obviously, and we will absolutely be prosecuting to the fullest when they are discovered."
As far as her campaign is going, Beasley is very much looking forward to the Candidate Forum this Thursday, July 7 at 5:30 pm at the Fort Walton Beach Auditorium. She has also scheduled forums of her own in the coming weeks.
POLITICS
Bryan Jones withdraws from Congressional race against Rep. Matt Gaetz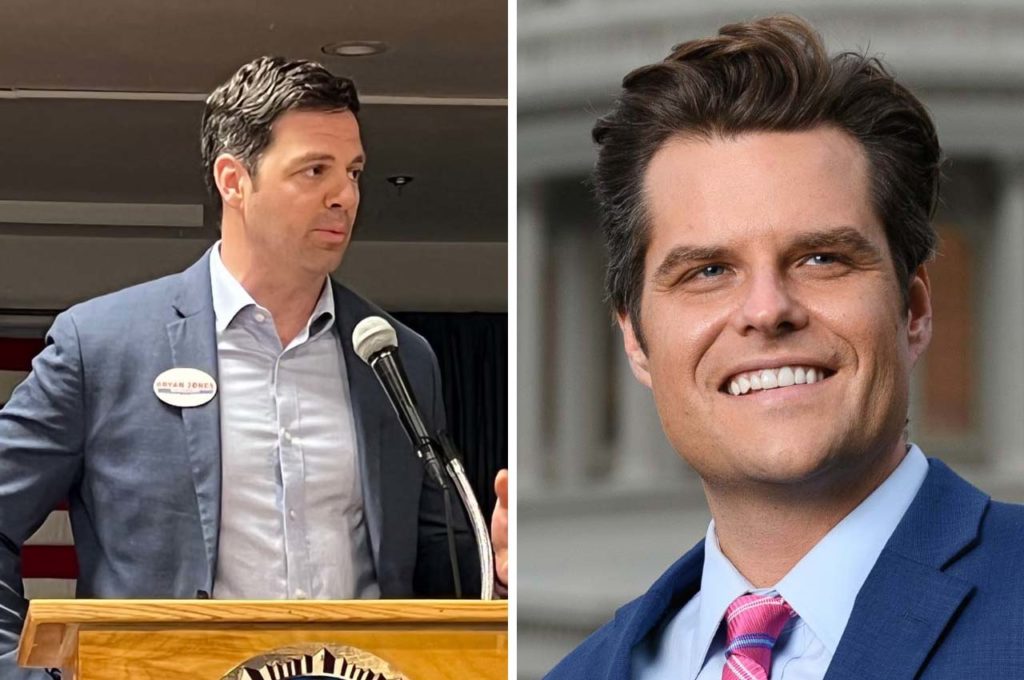 As of Tuesday, July 5, 2022, Bryan Jones has officially withdrawn his candidacy from the race for US House of Representatives representing Florida's 1st Congressional District.
This comes after Marine Corps Veteran Mark Lombardo joined the race and pledged to put $1 million dollars of his own money into his campaign.
A press release on Tuesday morning from Jones' campaign said that "this scenario of fellow veterans on the same ballot, splitting votes, goes against the ultimate goal of ensuring Northwest Florida has a representative that will always put our area's interests above themselves."
"This area has the highest density of veterans and military families of any congressional district in the nation, yet it has not had a veteran representative in Congress for 27 years," he continued. "The panhandle deserves a fighter, but a real fighter who will fight for their constituents, and not just themselves. Someone who will deliver results and not just rhetoric. A serious legislator and not just an entertainer."
Jones says that he got into this race because he was "once again" answering a calling to serving this nation.
"I no longer felt our representatives reflected the values of my family, my neighbors, or me, and I felt compelled to mount a campaign to be a representative that would serve this nation honorably," he said. "The Republican Primary on August 23rd is a winner-take-all system and a crowded ballot is not in the best interest of the voters of this district."
Jones told Get The Coast that while this has been one of his family's most difficult decisions to make, his withdrawal of candidacy for this race is out of a higher calling to remain truthful to his faith, the core values that guide him and his life's mission of putting the good of others above my own.
"Service before self is not just a motto for me, it is my life's mission," he continued. "My family and I are forever grateful to our supporters and for those who entrusted us along the way. We will never forget the outpouring of time, friendship, and financial backing of our campaign that the great people of this area have shown my family and me as we stepped into public life to be a representative who will always keep Florida first."
As for Lombardo, Jones says that he looks forward to learning more about his vision and goals for District 1.
"I encourage all voters to do their research and choose the candidate that is reflective of their own personal values and who they believe willbest represent the proud heritage of service in this incredible area," he added.
TRAFFIC
Brooks Bridge Construction to impact Downtown Parking Areas in July as demolition continues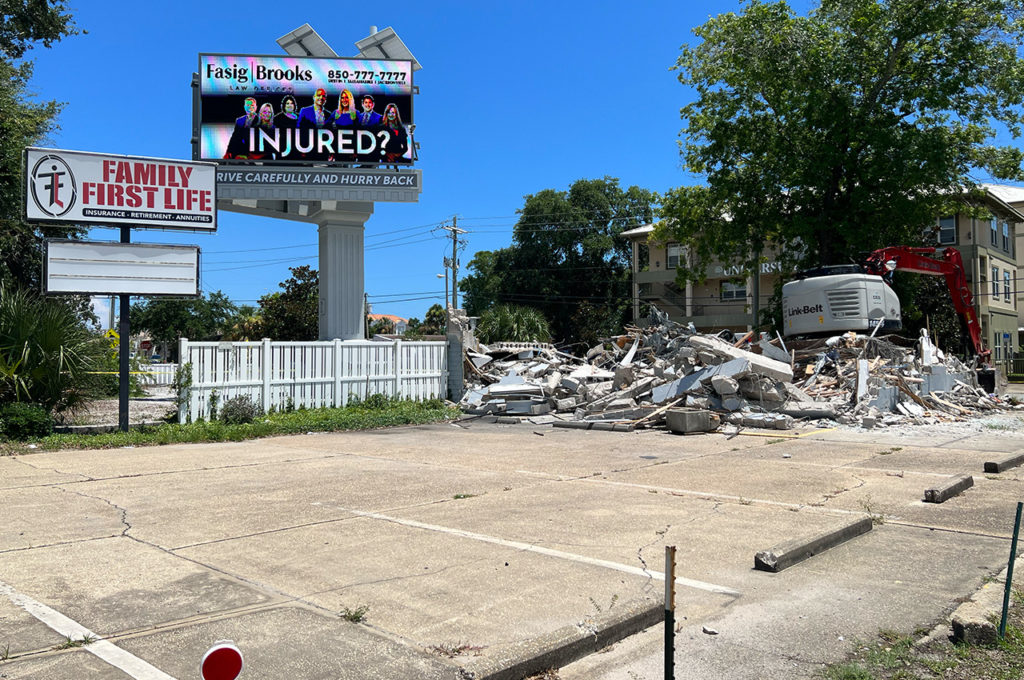 The Florida Department of Transportation (FDOT) has acquired numerous properties in the Downtown Fort Walton Beach area in preparation for the upcoming Brooks Bridge Replacement Project.
FDOT recently acquired three properties on the south side of U.S. Highway 98 between Perry Avenue SE and Brooks Bridge that are currently used for public parking. The properties recently acquired by FDOT are:
234 & 236 Miracle Strip Parkway SE (Public Parking Available)
240 Miracle Strip Parkway SE (City-Owned Public Parking Lot)
246 Miracle Strip Parkway SE (No Public Parking)
FDOT has notified the City that demolition of the building at 246 Miracle Strip Parkway SE will begin on Tuesday, July 5, 2022. Demolition of the building at 234 & 236 Miracle Strip Parkway SE will begin on Monday, July 11, 2022.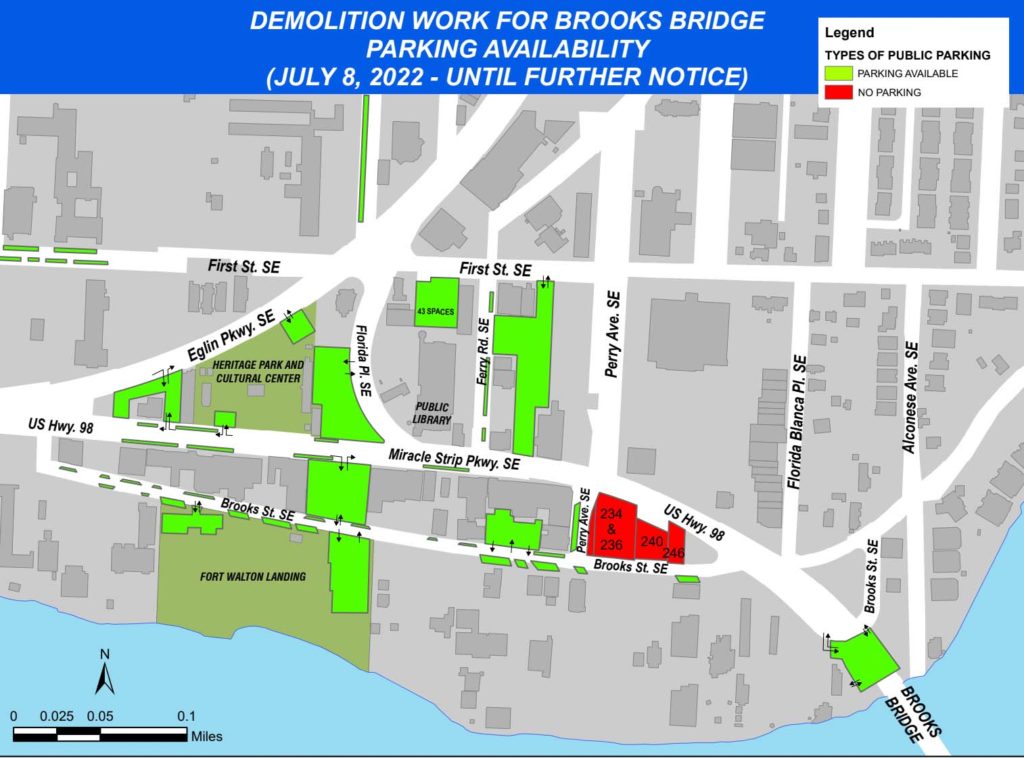 In preparation for the demolition of these properties, there will be no public parking available on these properties beginning Friday, July 8, 2022 through approximately Monday, July 25, 2022, according to a press release from the city. All of these lots will be blocked off and barricaded prior to the start and through the completion of demolition.
According to the city, once demolition of these properties is completed, the areas will be opened back up for public parking until construction of the Brooks Bridge Replacement Project begins in 2023.
"The City appreciates their patrons being patient through this process," said Jessica Faulk, Public Relations Specialist for the city. "Their teams are working hard to ensure a smooth transition that will have the least impact on the downtown businesses and the citizens who visit them."
OK, that's all I have for you this morning! I hope you have a great Wednesday! Don't forget to send me your questions for the candidates…
p.s. What did you think of this morning's newsletter? Hit the reply button and let me know!
Published with ♥ by Get The Coast.
Did someone forward you this email? Subscribe here.
124 Eglin Parkway SE Fort Walton Beach, FL 32548