MEDICAL
Twin Cities Hospital named among Top 100 Hospitals in U.S.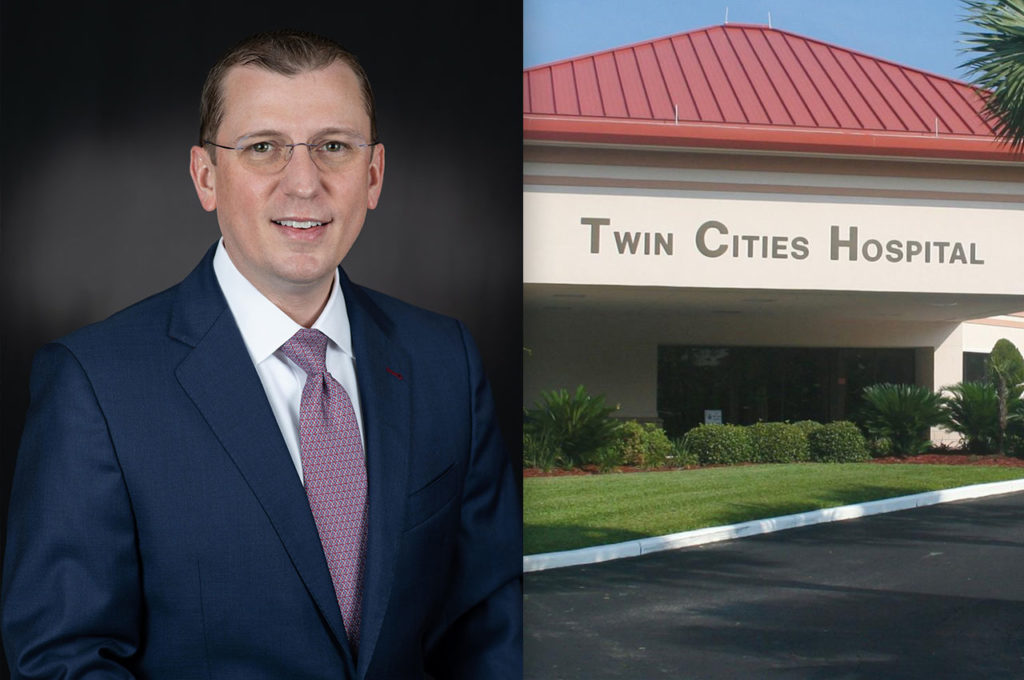 HCA Florida Twin Cities Hospital in Niceville has been named to the 2022 Fortune/Merative 100 Top Hospitals® list.
This is the first time HCA Florida Twin Cities Hospital has been recognized as one of the top performing Small Community Hospitals in the U.S.
The annual list was published by Fortune.
Merative, a data, analytics and technology partner for the health industry, has identified the top hospitals from an evaluation of 2,650 short-term, acute care, non-federal hospitals in the U.S. The annual list recognizes excellence in clinical outcomes, operational efficiency, patient experience and financial health.
Merative, formerly IBM Watson Health, established the list to help identify best practices that may help other healthcare organizations achieve consistent, balanced and sustainable high performance.
"We are proud to have received this national recognition for the first time," said HCA Florida Twin Cities Hospital CEO, Todd Jackson. "Our team truly cares for each patient like family, and we are dedicated to continuing to provide the best patient experience possible."
According to Merative, as compared to similar hospitals, the hospitals included on the Fortune/Merative 100 Top Hospitals list had better results on key clinical and operational performance indicators.
These include survival rates, patient complications, healthcare associated infections, 30-day mortality and 30-day hospital-wide readmission rates, length of stay, throughput in emergency departments, inpatient expenses, profitability and ratings from patients.
The Fortune/Merative 100 Top Hospitals lists also incorporates a community health measure into its ranking process. For the community health measure, hospitals were surveyed across three components:
Assessing hospital contributions to community health as a provider of critical services for community health and preventive care.
Identifying ways that hospitals contribute to community health as a community partner teaming up with local organizations to implement critical programs.
Focusing on ways that hospitals promote community health through their practices as anchor institutions supporting local economic and social progress.
SPONSORED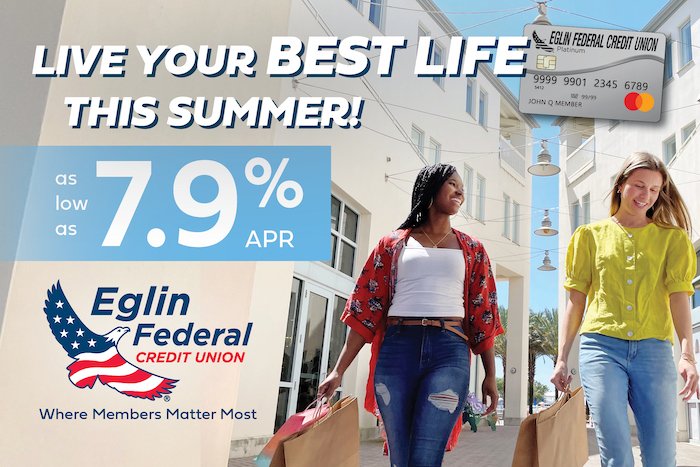 Live your best life this summer with an EFCU Mastercard®!
Get your card today by applying at any of Eglin Federal Credit Union's 9 branches. Stop by, apply, get your card and get shopping!.
*During normal business hours. Subject to membership and credit approval.
GROWTH
Step One Automotive Group expands into Birmingham, Alabama with Bessemer-Based Acquisitions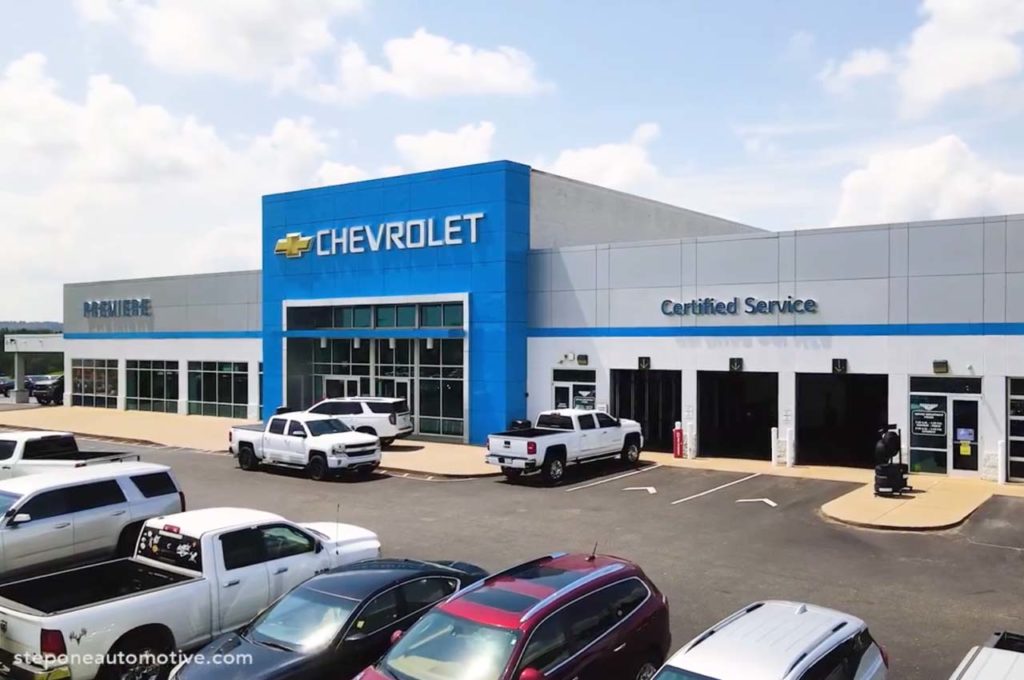 On June 27, 2022, Step One Automotive Group announced that it has acquired its 18th new car dealership, formerly Premier Chevrolet in Bessemer, Alabama.
The new dealership, now named Chevrolet Bessemer, provides new and used vehicle sales as well as parts, service, and a body shop.
Customers new and existing can expect the same great people and service under the new ownership led by store director, Glenn West.
"Our acquisition of Chevrolet Bessemer adds to our family of dealerships and increases our geographic presence," said Maureen Bierman, Director of Marketing and Communications of Step One Automotive Group. "We are proud and excited to bring the Step One Advantage to those living and working near Birmingham, Alabama."
Chevrolet Bessemer is the third GM store purchased by the group and the first Chevrolet store in its portfolio. Step One also purchased a used car operation in Bessemer, Alabama now known as Step One Bessemer.
CRESTVIEW
Blackwater Golf Club opening for public play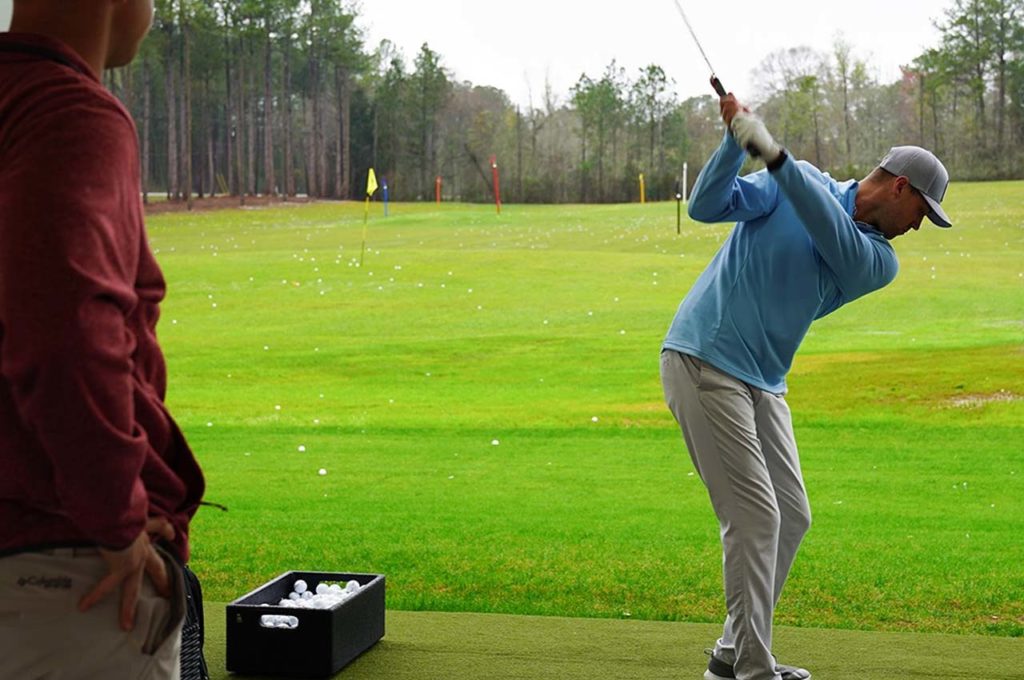 Blackwater Golf Club, located in Crestview, Florida, will officially open their newly renovated 18-hole championship golf course to the public beginning July 22. This announcement comes after months of hard work on the property.
Blackwater's General Manager, Brandon Martin, says the anticipation has been escalating.
"We know the wait will have been worth it," said Martin. "The eagerness in the city of Crestview is visible, and we're so excited to share this hidden gem with the public."
To secure your tee time with the best pricing available, visit GolfAtBlackwater.com. Public round rates will start at $30 per round and increase as the course conditions improve.
"The course and grounds crew has continually been prepping for the increase in play, and we are ready for the rise in rounds played," said Martin. "Each day shows continual improvement and there's no end in sight."
Membership applications have re-opened for purchase at Blackwater Golf Club. Blackwater membership details are available online and include plans for individuals or families. Memberships include:
Unlimited golf at the Blackwater Golf Club
Priority access to tee times
Discounts & priority access to club leagues & tournaments
Unlimited, basic access to the Blackwater driving range
Carts are included
No food and beverage minimums
GROWTH
City of Fort Walton Beach looks to renovate or rebuild City Hall, possibly in a new location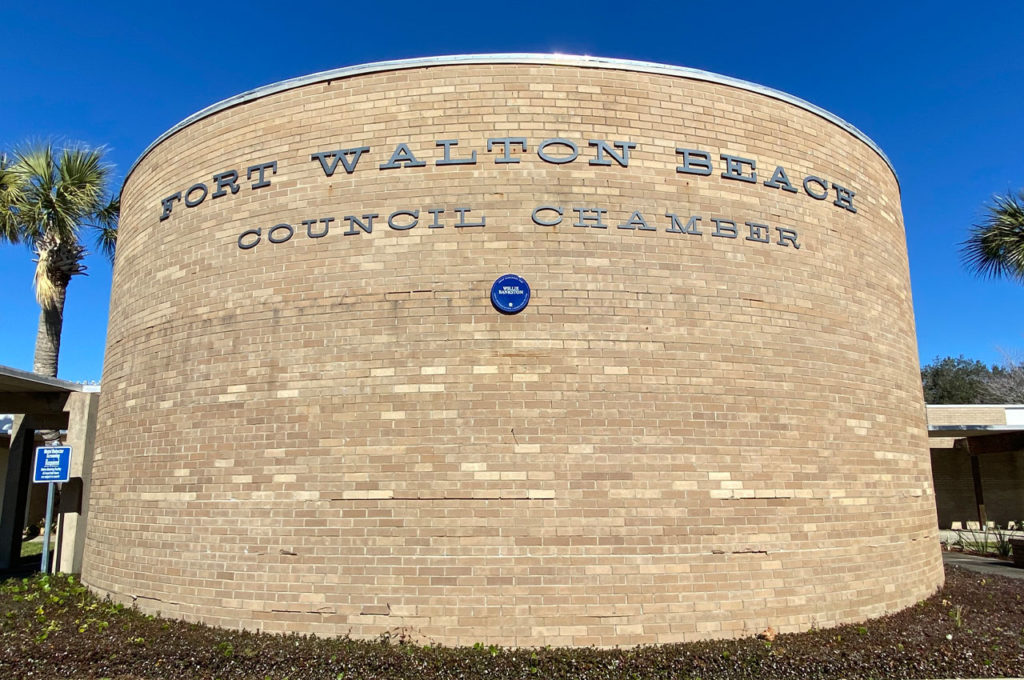 Back in November 2016, the City of Fort Walton Beach issued a RFP for architectural engineering and construction management services for renovation/replacement of city facilities.
This was subsequently awarded to Ajax Building Corporation and Sam Marshall Architects, as a team.
In 2017, Phase 1 began which consisted of looking at all of the city facilities to determine their condition, functionality, and current / future needs.
After reviewing all of the facilities, the two biggest conclusions were that the Field Office Complex and City Hall were in pretty bad shape. The city ultimately moved forward with building a new Field Office Complex on Hollywood Boulevard.
Now, the city has to decide what to do about the existing city hall facilities that includes the annex, council chambers, and the auditorium. As part of the FY 2021-22 budget process, funding was allocated to resume programming and design of a new City Hall Complex.
On June 6, 2022, City Staff met with representatives of Ajax Building Corporation and Sam Marshall Architects to discuss a potential proposal and continuation of the existing contract related to a new City Hall.
The inspections identified deficiencies and the challenges with the current facilities including:
Lack of continuity with four (4) separate structures.
Exterior conditions, water intrusion and air quality.
Structural conditions with concrete and brick.
Special Flood Hazard Area designation, 50% Building Value threshold.
Space and efficiency, consolidation of areas, utilities.
According to the city, Ajax Building Corporation and Sam Marshall Architects have been aware of the desire to determine if it was possible to renovate the current facility in order to minimize the program costs.
However, the technical evaluation of the current condition of the buildings, the efficiency of operations, and the space-needs revealed that making a significant investment on the current building was not the recommended approach.
"The condition of the buildings, the current value, inefficient layouts and locations, and substantial costs of improvements were a poor use of resources," according to the report.
The proposal
On June 22, 2022, Ajax Building Corporation and Sam Marshall Architects provided a proposal to the City for the preliminary planning and design of a new City Hall Complex.
The proposal includes phased tasks in order to update the existing program for the City Hall Complex, which includes City Hall, City Hall Annex, Council Chambers, Bathroom/Mechanical, and Auditorium.
The proposal is broken down into three (3) Phases in the following amounts:
Phase I – Master Planning (Update) – $62,283
Phase II – Design/Preconstruction – $1,517,380 ($855,238 City Hall only)
Phase III – Bidding / GMP Phase – $123,158 ($70,772 City Hall only)
The firms' proposal is based on the following assumed project size and construction costs, not including site costs: A 28,000 sqft City Hall at $15 million and a 20,000 sqft Auditorium at $11 million.
New city hall location is an option
According to Public Works Director Daniel Payne, the submitted proposal will include an evaluation of up to three (3) sites/locations including the existing City Hall property.
Possible sites for a new City Hall include:
The existing City Hall property at 107 Miracle Strip Parkway S.W.
Chester Pruitt Park off Hollywood Boulevard (city-owned)
Okaloosa County School District Administrative Complex property on Lowery Place.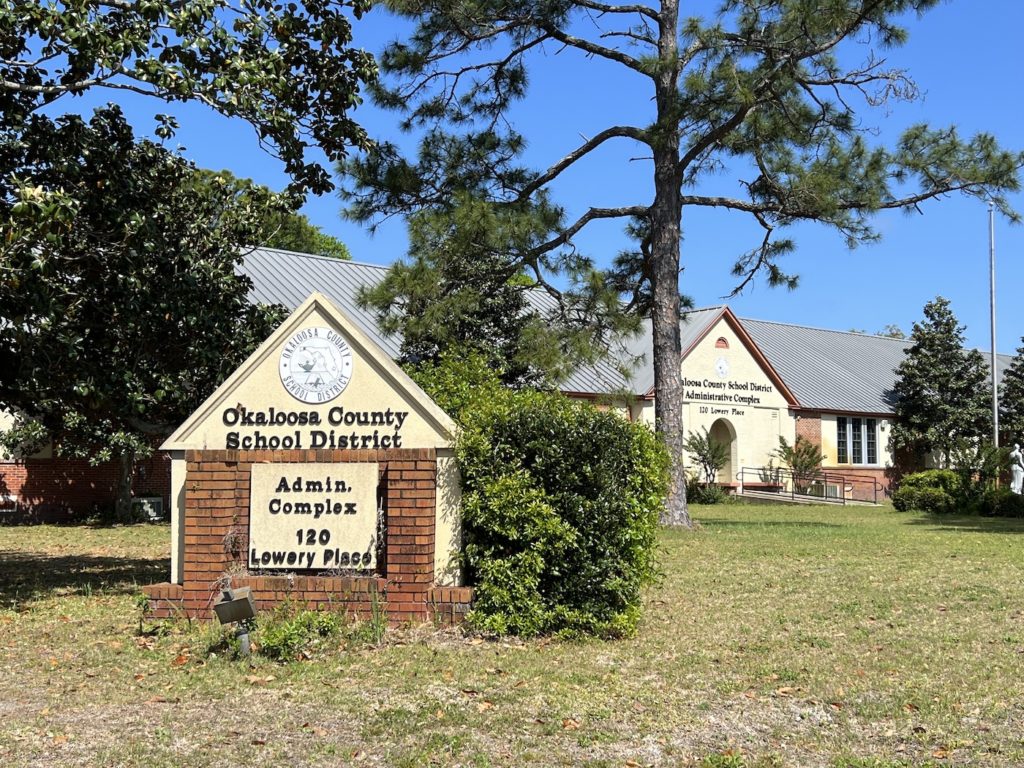 According to the city, the existing city hall buildings could be renovated if council chooses to remain at the current location, but it must meet the existing flood insurance program guidelines.
"The goal is to provide the 3 options with pros and cons of each site, as well as their recommendation," said City Manager Michael Beedie. "The final decision on site selection will be up to the council."
The council approved paying $62,283 to Ajax Building Corporation and Sam Marshall Architects to bring back their findings on those options.
GAS PUMPS
Florida Dept. of Agriculture shuts down the pumps at Sam's Club in Fort Walton Beach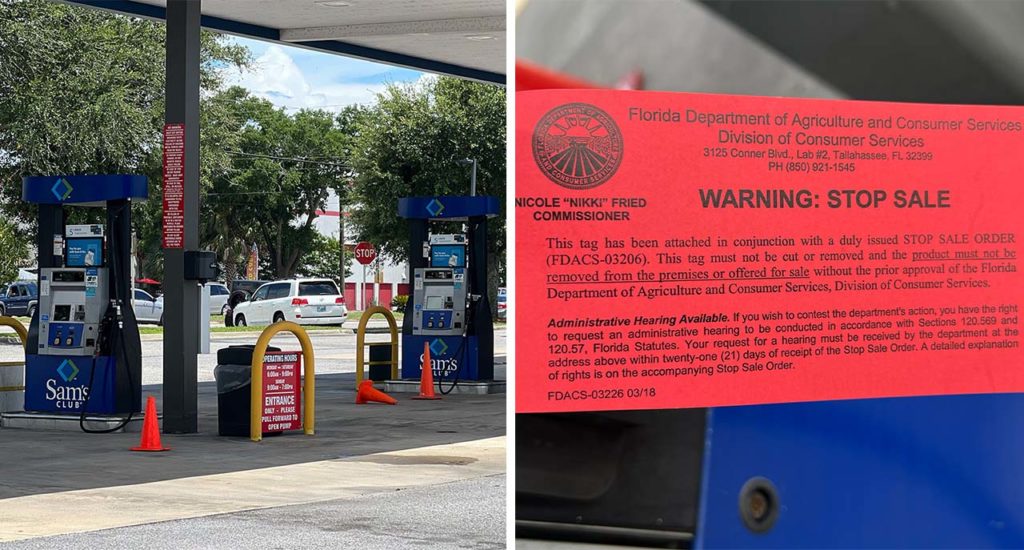 On Wednesday, July 13, 2022, the Florida Department of Agriculture issued a stop sale at the Sam's Club gas station on Beal Parkway in Fort Walton Beach.
The Florida Department of Agriculture says it is because the "fuel was found to be substandard," which is a violation of state law.
According to the Florida Statue, it is unlawful to sell or distribute, or offer for sale or distribution, any petroleum fuel which fails to meet any standard adopted by rule of the department. Here's what the statute reads:
"The substandard product shall be placed under a stop-sale order by the department and the measuring devices and storage tanks of said product shall be sealed by the department to prohibit sale of said product."
"If the product is made to conform to standard or removed from the premises in a manner approved by the department, the department shall issue a release order."
Per documents from the FDACS, 11,747 gallons of fuel was placed on the stop sale order for containing "water, sediment, and/or suspended matter."
The stop sale will remain in place until the issue is resolved, which is dependent upon how quickly the facility can rectify the problem, according to the Florida Department of Agriculture.
Conditions for release of the stop sale include:
Removal of substandard product.
Deliver new product.
Flush all hoses.
Provide documentation showing gallons removed, gallons delivered, and gallons flushed.
Call Bureau of Standards for re-inspection.
On Thursday afternoon, a crew from SPATCO Energy Solutions were on-site doing repair work on a pump, according to a Sam's Club employee.
A spokesperson for the Florida Department of Agriculture says that if you have gotten substandard gas from this location, they recommend the following:
File a complaint at 1-800-HELP-FLA
Contact the station owner and file a complaint
Contact your mechanic to minimize possible engine damage
THINGS TO DO
A few things to do this weekend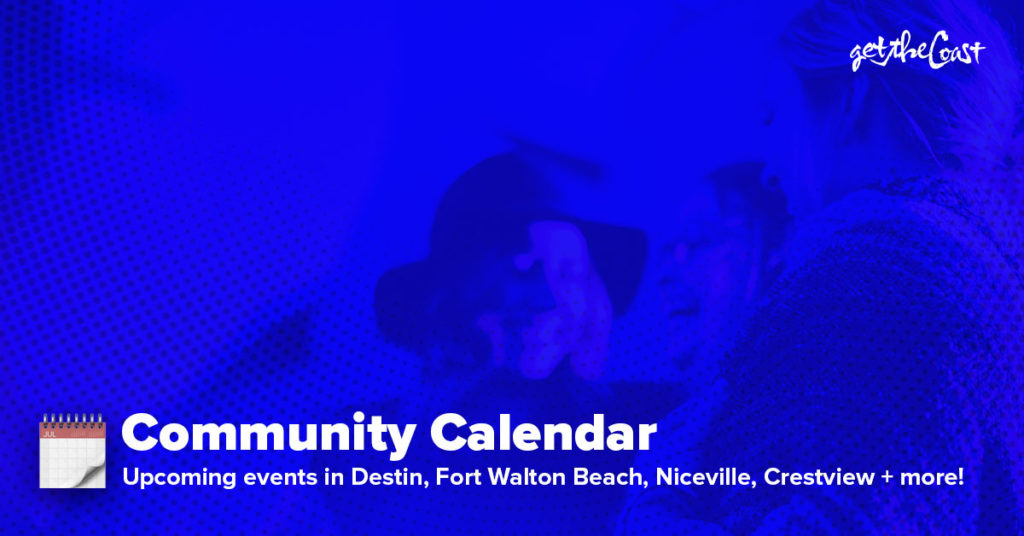 July 15, 2022 – July 2-Day Art Camp at Artful Things Niceville – View
July 15, 2022 – Billie Gaffrey Featured Artist Opening at Maxine Orange Studio Gallery – – View
July 16, 2022 – Kitten Yoga by Saving with Soul Pet Rescue and Symmetry Integrative Health – $30 – View
July 16, 2022 – Live Music: Trest Richerson – – View
July 16, 2022 – Art of Charcuterie with Shelli – $115 – View
July 16, 2022 – Live Music: Below Alabama – View
July 17, 2022 – Live Music: Blue Levee – View
Looking Ahead
July 18, 2022 – Al's Beach Club & Burger Bar – LIVE MUSIC: JAMEL BOAST – – View
July 18, 2022 – Captain Davy and the Crossbones Pirate Show – View
July 19, 2022 – FREE Movies on the Beach – View
July 20, 2022 – C.A.R.E.ing for Turtles – $10 – View
July 20, 2022 – Summer Nights at the Gulfarium – – View
July 20, 2022 – Weekly Okaloosa Island Firework Shows – View
July 21, 2022 – Reading event at the Destin Library – Hooked on History – View
July 21, 2022 – Weekly LUAU BEACH PARTY at Al's Beach Club & Burger Bar – View
July 22, 2022 – Super Sew Day – Free – View
July 22, 2022 – Encaustic Scenes Workshop at Artful Things Niceville – $47.50 – View
July 23, 2022 – The Art of Resin Pours with Barbara Suhadolnik – $150 – View
WHAT ELSE THIS MORNING
A few more things to know…
On Wednesday, July 13, 2022, a judge sentenced Andrew Griswold of Niceville to jail time for participating in the breach at the U.S. Capitol on January 6, 2021. Griswold was sentenced to 75 days in jail, two years of supervised release and he must pay $2,000 restitution.
Eglin Air Force Base Testers begin night fly operations next week. Residents may experience aircraft noise when the 40th Flight Test Squadron and the 85th Test and Evaluation Squadron conduct night flying operations in the area.Fighter aircraft will conduct missions July 18 – 21 between 6:30 and 9:30 p.m.
OK, that's all I have for you this morning! I hope you have a great Friday!
p.s. What did you think of this morning's newsletter? Hit the reply button and let me know!
Published with ♥ by Get The Coast.
Did someone forward you this email? Subscribe here.
124 Eglin Parkway SE Fort Walton Beach, FL 32548