NEIGHBORHOOD CLEANUP
Fort Walton Beach will pick up your unwanted household items in August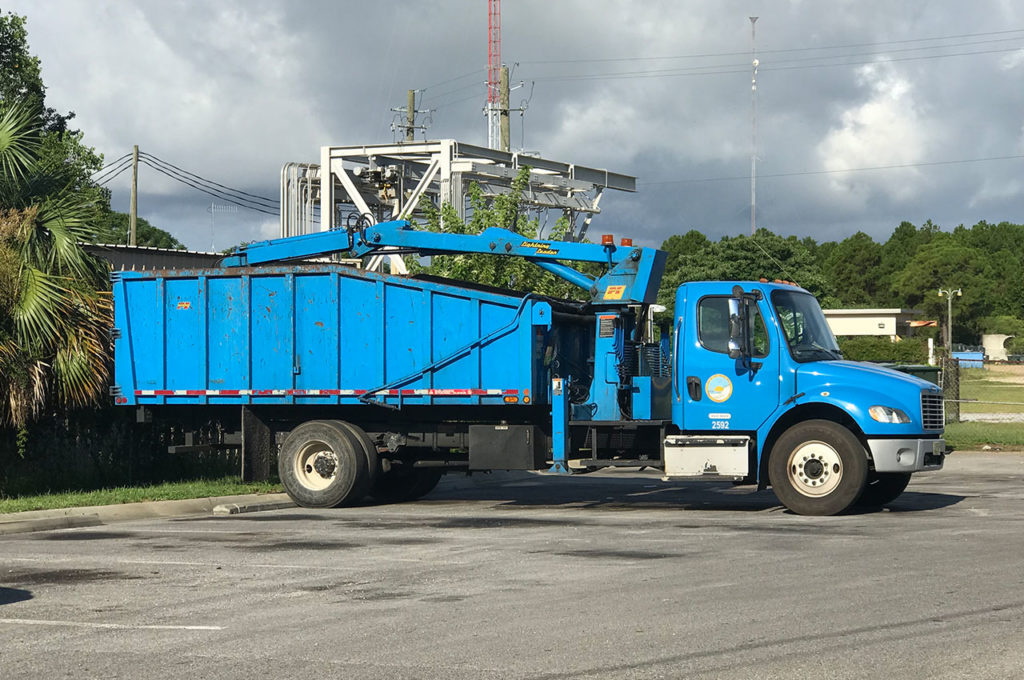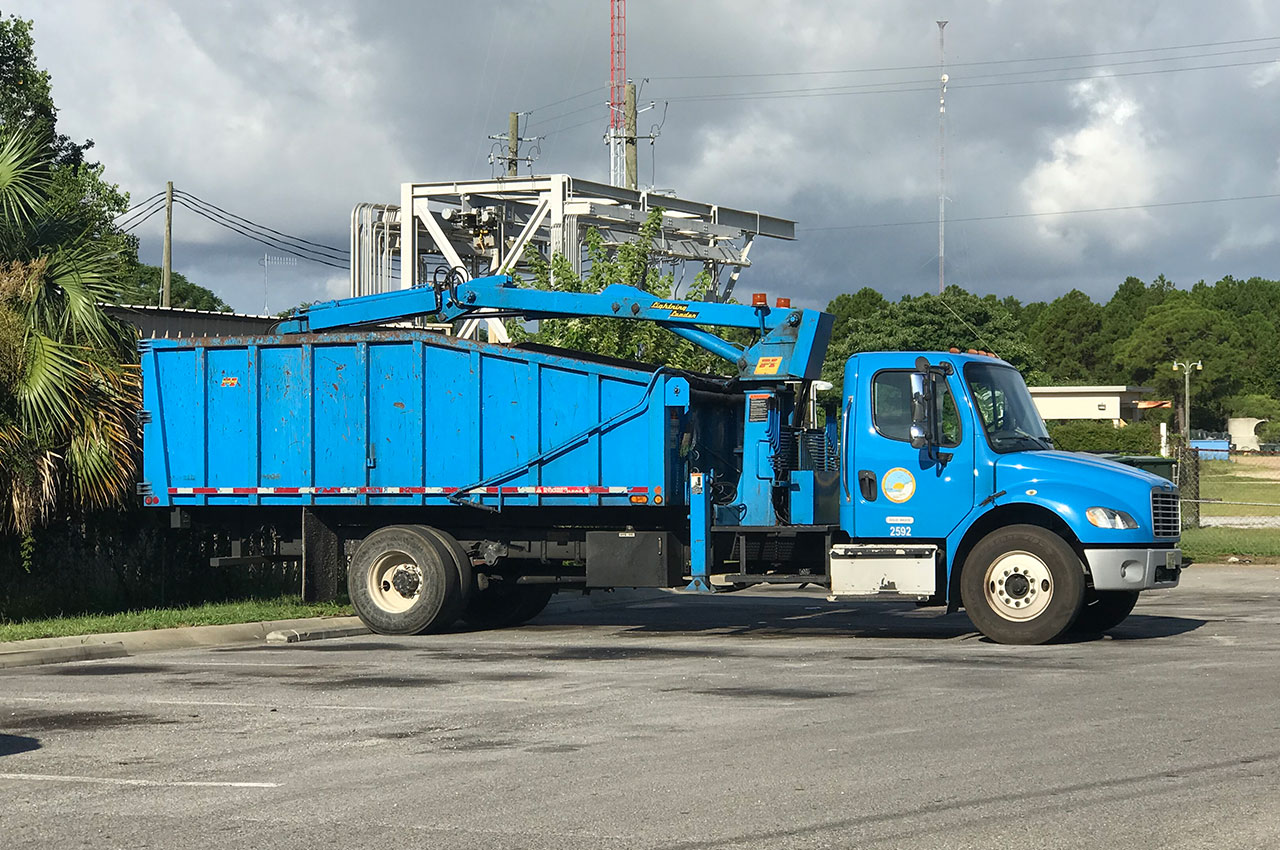 It's time to clean up! During the month of August, residents of the City of Fort Walton Beach can leave unwanted household items curbside for pickup on regularly scheduled yard waste days.
Items that can be picked up include furniture, mattresses, old grills and appliances. NO hazardous items, construction debris or tires. Please call (850) 833-9655 for more information.
For Hazardous Waste Disposal needs, the Okaloosa County Haz-Mat Center is the answer. Call (850) 301-2013 for details. Hours of operation are 7 a.m.-3 p.m., Tuesday-Saturday.
Hazardous items include paint, pesticides, used oil filters, pool chemicals, batteries, gas, solvents, paint products, tar, automotive chemicals, fluorescent bulbs, smoke alarms, fire extinguishers, computer monitors, etc. Disposal is free for residential customers.
Tires can be disposed of for FREE at the South Okaloosa County Transfer Station. Call (850) 651-7394 for more information.
This applies only to local households, not businesses. Tire sizes are limited to passenger and light truck tires. Five tires per household/per month.
SPONSORED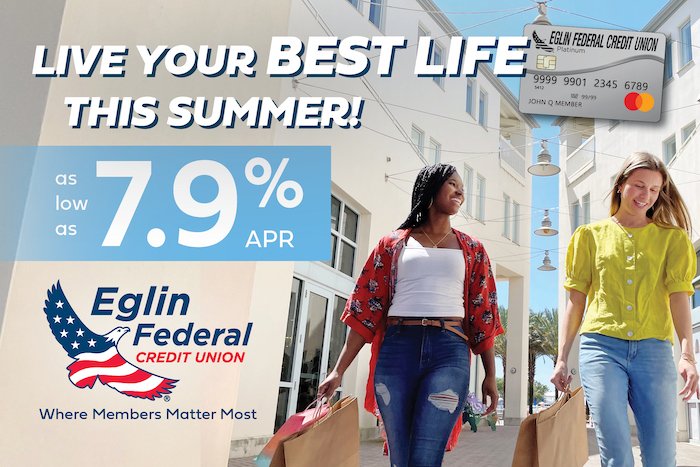 Live your best life this summer with an EFCU Mastercard®!
Get your card today by applying at any of Eglin Federal Credit Union's 9 branches. Stop by, apply, get your card and get shopping!.
*During normal business hours. Subject to membership and credit approval.
A MESSAGE FROM OKALOOSA GAS
"Stuff The Bus" with school supplies for students in Okaloosa & Walton Counties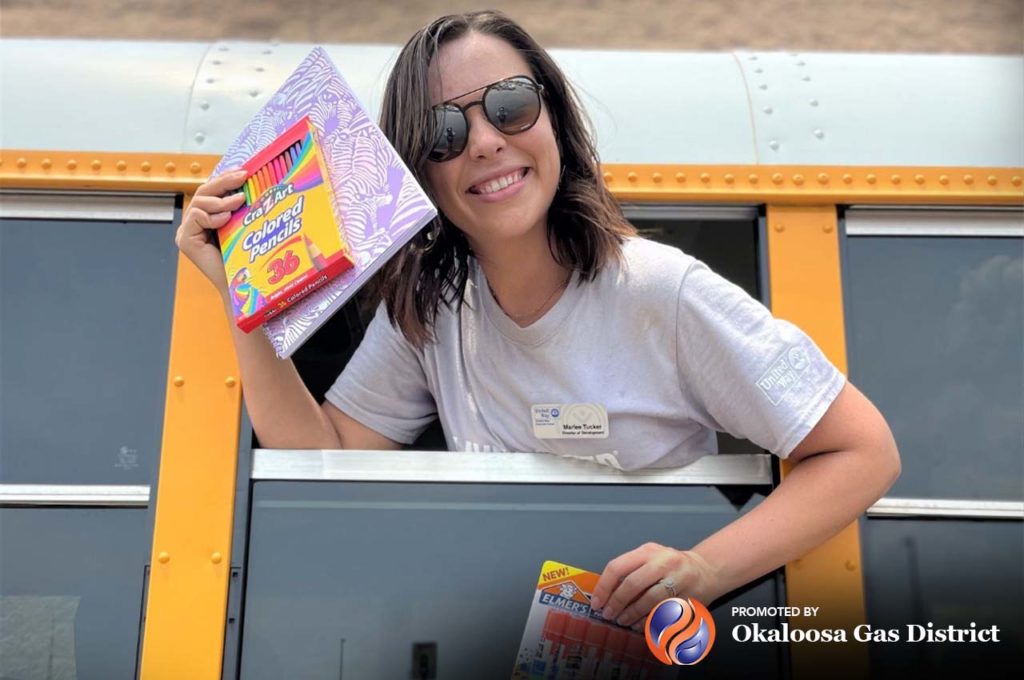 The upcoming school year is approaching and United Way Emerald Coast is on a mission to help students in Okaloosa & Walton Counties have the best first day of school with their Stuff The Bus event.
Stuff the Bus helps local students get the tools they need for the upcoming school year. In 2021, United Way collected nearly $15,000 worth of supplies, impacting over 10,000 students in 53 schools across Okaloosa & Walton counties.
"Without our community's generosity, students would lack the supplies they need to be successful during the school year," said Kelly Jansen, United Way Emerald Coast.
Here's the plan:
United Way will be at the following locations on July 30, 2022 from 8am-4pm for the community to drop-off school supply donations. You'll be able to take advantage of Florida's tax-free weekend and add a few extra school supplies to your cart, or give a monetary donation so our local schools can utilize bulk discounts.
Walmart – Crestview (3351 S Ferdon Blvd)
Walmart – Fort Walton Beach (748 Beal Pkwy NW)
Walmart – Niceville (1300 E John Sims Pkwy E)
"As part of our community support program, Okaloosa Gas District is proud to partner with United Way Emerald Coast to Stuff the Bus to benefit students throughout Okaloosa and Walton counties," said Jenni Brunson, Public Relations Specialist, Okaloosa Gas. "This program has an extraordinary impact for thousands of students in portions of our service area. Our office locations are accepting donations during normal business hours and we are excited to see the successful result of this year's event."
School Supply Wish List
"Any help that you can give to allow our students to have their own individual supplies would be greatly appreciated," said Marcus Chambers, Superintendent of Okaloosa County School District. "I want to thank United Way and the many community sponsors who make a difference in the lives of our students by giving them the much needed supplies that they need each and every day."
Most needed supplies include:
Crayons
Colored Pencils
Washable Markers
Dry Erase Markers
Folders
Backpacks
#2 Pencils
Glue Sticks
Notebooks
Composition Notebooks
Loose Leaf Paper
Donation Sites
Do you already have school supplies to donate? Now through July 30, you can visit a participating business to drop off your donation of school supplies ahead of the main event.
Crestview:
Okaloosa Gas
Regions Bank
CCB Bank
DeFuniak Springs:
Destin:
Warren Averett
LULU's
Destin Chamber of Commerce
Trustmark
Regions Bank (all locations)
Freeport:
Fort Walton Beach:
Okaloosa Gas
Harley Davidson
Regions Bank
Warren Averett
UPS
University West Florida FWB
Niceville:
Okaloosa Gas (Valparaiso)
Synovus (Bluewater Bay)
Regions Bank
CCB Bank
Paxton:
GIVING BACK
Eglin Federal Credit Union and Okaloosa Saves partner in summer youth savings campaign
Eglin Federal Credit Union partnered with Okaloosa Saves for the annual Teach a Child to Save campaign April 1 – June 30. Youth were encouraged to set a savings goal and make a deposit into a savings account at EFCU.
This year there were 108 youth under the age of 18 who participated with deposits totaling $18,685. Their names were entered into a random drawing for six children to win a $50 deposit into their EFCU account from Okaloosa Saves.
Since the program began in 2004, there have been 3,386 children making deposits totaling $350,104.07.
The six winners were:
Genesis Albright, Fort Walton Beach
Dorothy Kollar, Fort Walton Beach
Mason Mueller, Fort Walton Beach
Nathan Smith, Crestview
Ruby Smith, Mary Esther
Soulina Sellers, Destin
The six winners were presented a certificate by Okaloosa Saves at the Okaloosa Board of County Commissioners board meeting on Tuesday, July 19.
Chairman Mel Ponder, District 5, said, "Wise money management is such a beneficial skill to learn. The knowledge our youth gain in the Teach a Child to Save program will positively impact them now, their future families and businesses right here in our community in the years to come."
"Okaloosa Saves has been active in encouraging people of all ages to save money for life events," said Eglin Federal Credit Union President/CEO Jerry Williams. "We are proud to have partnered with Okaloosa Saves for 18 years to help teach children the importance of saving, and we look forward to this program every summer."
Sherry Harlow, APR, serves on the Okaloosa Saves Board as the Treasurer and donated $1,000 to help with the Teach a Child to Save campaign. Harlow said, "It is never too soon to start teaching children to save. Helping them to develop good saving and spending habits in their youth can carry over into adulthood, especially in having funds for emergencies."
Savings Tips for Parents:
Talk about the importance of budgeting and saving money
Visit your local EFCU branch to open a savings account or deposit into an existing account
Teach the basics of investing
Encourage them to be entrepreneurs
Be a role model
ON THE WATER
Sailboat stolen out of Destin has turned up abandoned near Pensacola Beach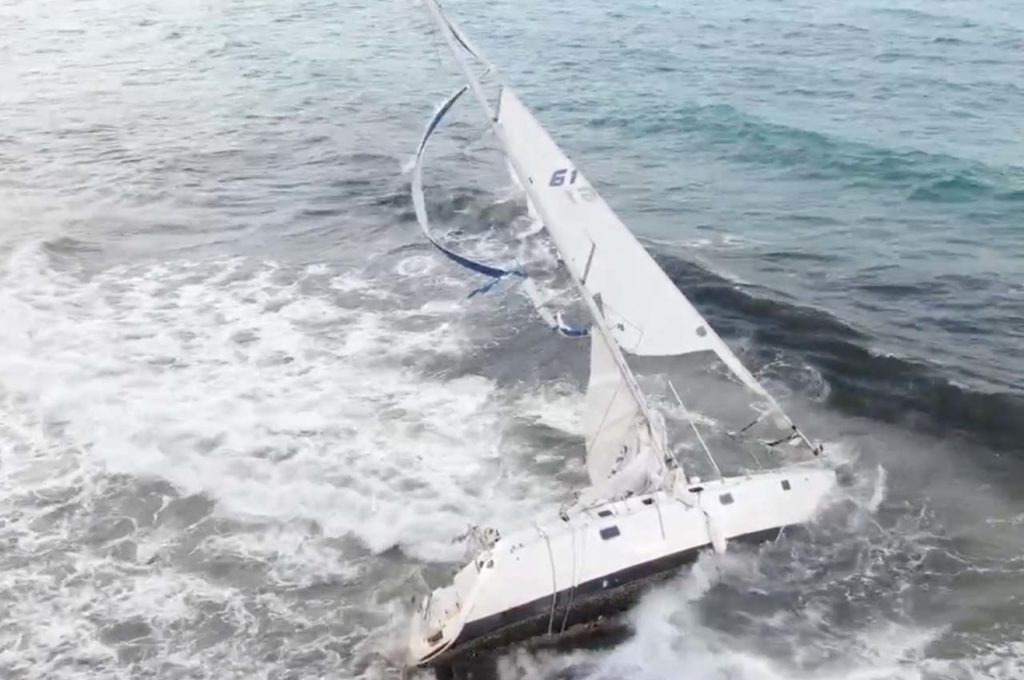 A sailboat that was reported stolen out of Destin on July 18, 2022 has turned up abandoned, being battered by waves near Pensacola Beach.
According to the Okaloosa County Sheriff's Office, the sailboat, named Vanishing Point, disappeared from its mooring spot in the Destin Harbor and was found yesterday at Gulf Islands National Seashore in Escambia County.
Per the United States Coast Guard, no pollution has been found.
This is an active investigation. Anyone with info please contact the OCSO at 850-651-7400 or Emerald Coast Crime Stoppers.
NEW BUSINESS ALERT
Destin's first-ever Blowout Bar opens this week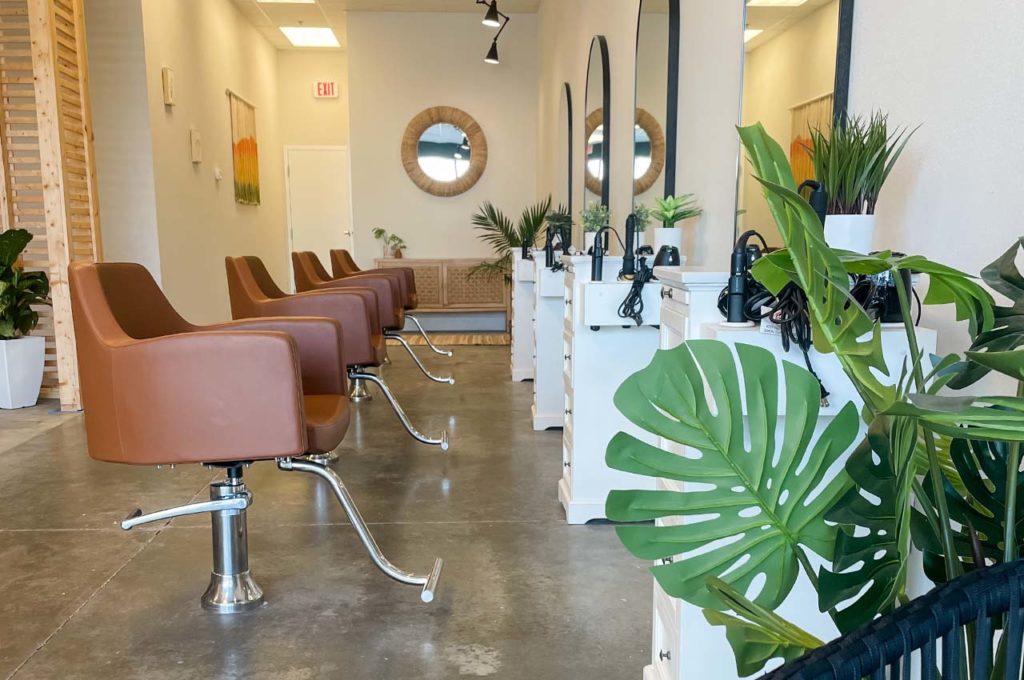 Blowout bars are predominantly found in big cities. Up until now, the small-town life of Destin, with its laid-back beach style, hasn't seen much of a need.
But things are changing in Destin and with that comes the first-ever Blowout Bar.
The vision for Destin Blowout Bar comes from Brianna O'Brien, who relocated to the area 9 years ago with her active-duty husband. O'Brien brings 12 years of experience to Destin and for the past 6 years has worked out of a private suite with her assistant.
But the goal was to always have a shop of her own.
"I like organizing, designing, creating and managing as much as I like doing the artistic side of things," explains O'Brien. "So when we finally got the ball rolling and looking at locations and concepts, I realized that Destin didn't have a blowout bar."
For those not familiar, a blowout bar is just a wash and style, and is a bit uncommon at most traditional salons, according to O'Brien. At the Destin Blowout Bar you walk in, get your hair washed, get a scalp massage, and then have it styled however you choose. O'Brien says clients can be on their way in 45 minutes to an hour, depending on the volume of hair.
The aim for the Blowout Bar is to be a quick, easy pop-in place, for everyone from busy moms to entrepreneurs to realtors who have a photoshoot for open house signs. Additionally, O'Brien is aiming to attract vacationers who have been on the beach all day and have an event to go to such as a rehearsal dinner or a date night.
"Destin is booming, so now a blowout bar is too good of a concept for Destin not to have, given our local clientele as well as tourists," she said.
Aside from just blowouts, Brianna does offer other services in a private suite at the salon.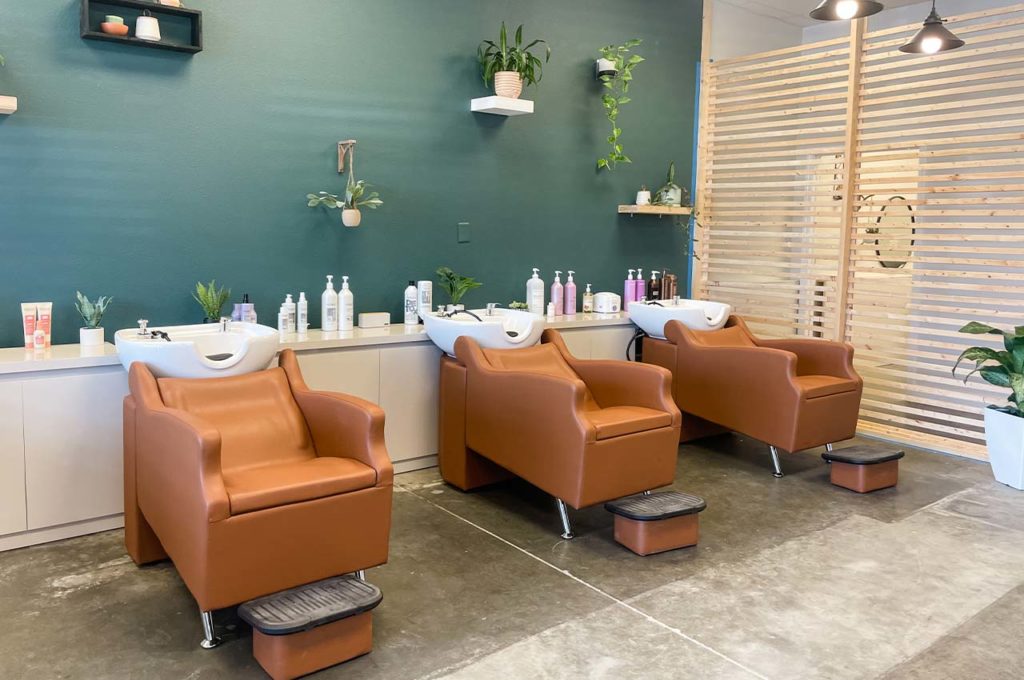 "I offer color, cuts, highlights, and extensions and I do a lot of men's cuts and children's cuts as well," she said. "In the secondary room behind the suite, I offer semi-permanent makeup, which is a tattooing form of eyebrows and lips."
A neat aspect of the blowout bar is that they are a registered partner with Green Circle Salons, which is a program that works on recycling in the salon industry.
Aluminum, aerosol cans, excess color, cardboard and even hair clippings are sent off to be properly processed for reuse or turned into clean energy.
"We are hoping to help move more salons into a mindset that focuses on sustainability and proper follow through with the unique garbage waste this industry puts out," said O'Brien.
The Grand Opening of the Destin Blowout Bar is this Friday, July 22 at 6 pm. O'Brien says it will be an evening of fun and celebration with a Botox party, snacks, bubbles and blowouts.
There will be a drawing for a gift basket. To enter, find the event on their social media pages and share it. The more times you share, the more entries you get.
The gift basket will include a Bitterroot gift card, gift certificates for the Blowout Bar and jewelry made by local vendors. 
Destin Blowout Bar is located at 4463 Commons Drive, in the same parking lot as Marshalls and the same building as Bitterroot.
"At this point, we are wide open for walk-ins, but the easiest way to get a slot is to book online," says O'Brien. 
To learn more, click here.
WHAT ELSE THIS MORNING
A few more things to know…
The City of Crestview is ready to open their new park and splash pad located at 375 N. Wilson St. in downtown Crestview. The splash pad was made possible by a generous donation from the Crestview Rotary Club, and the park itself was created through a partnership with the Okaloosa Board of County Commissioners and the City of Crestview. The ceremony will take place on Wednesday, July 27 at 2 pm.
On Wednesday evening, two teenagers were pulled from the Gulf of Mexico by the Okaloosa Island Fire Department at Princess Beach on Okaloosa Island. According to the Okaloosa County Sheriff's Office, their prognosis is very good. Red flags were flying on Wednesday.
Also on Wednesday, the Walton County Sheriff's Office was in the area near the 8000 block of County Highway 30a in response to a 911 call following an accident at a construction site. When deputies arrived at the home under construction they discovered a male had fallen down an elevator shaft. Life-saving measures were unsuccessful and the male was pronounced deceased at the scene. No foul play is suspected.
OK, that's all I have for you this morning! I hope you have a great Thursday!
p.s. What did you think of this morning's newsletter? Hit the reply button and let me know!
Published with ♥ by Get The Coast.
Did someone forward you this email? Subscribe here.
124 Eglin Parkway SE Fort Walton Beach, FL 32548