TOGETHER WITH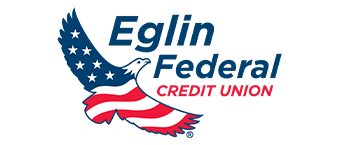 Good morning!
I'm headed to Blackwater River this morning with a bunch of family that's in town. We've been going to Blackwater since I was a kid, and now my kids love going as well.
Have you ever spent a day tubing or canoeing at Blackwater?
"Cram The Van" school supply drive 🚐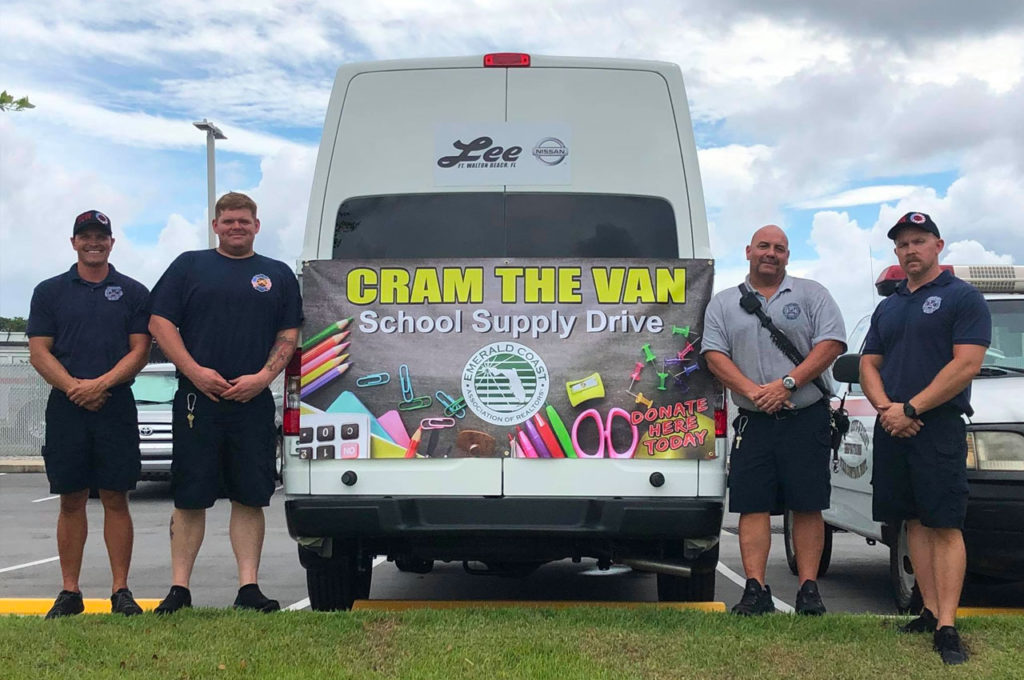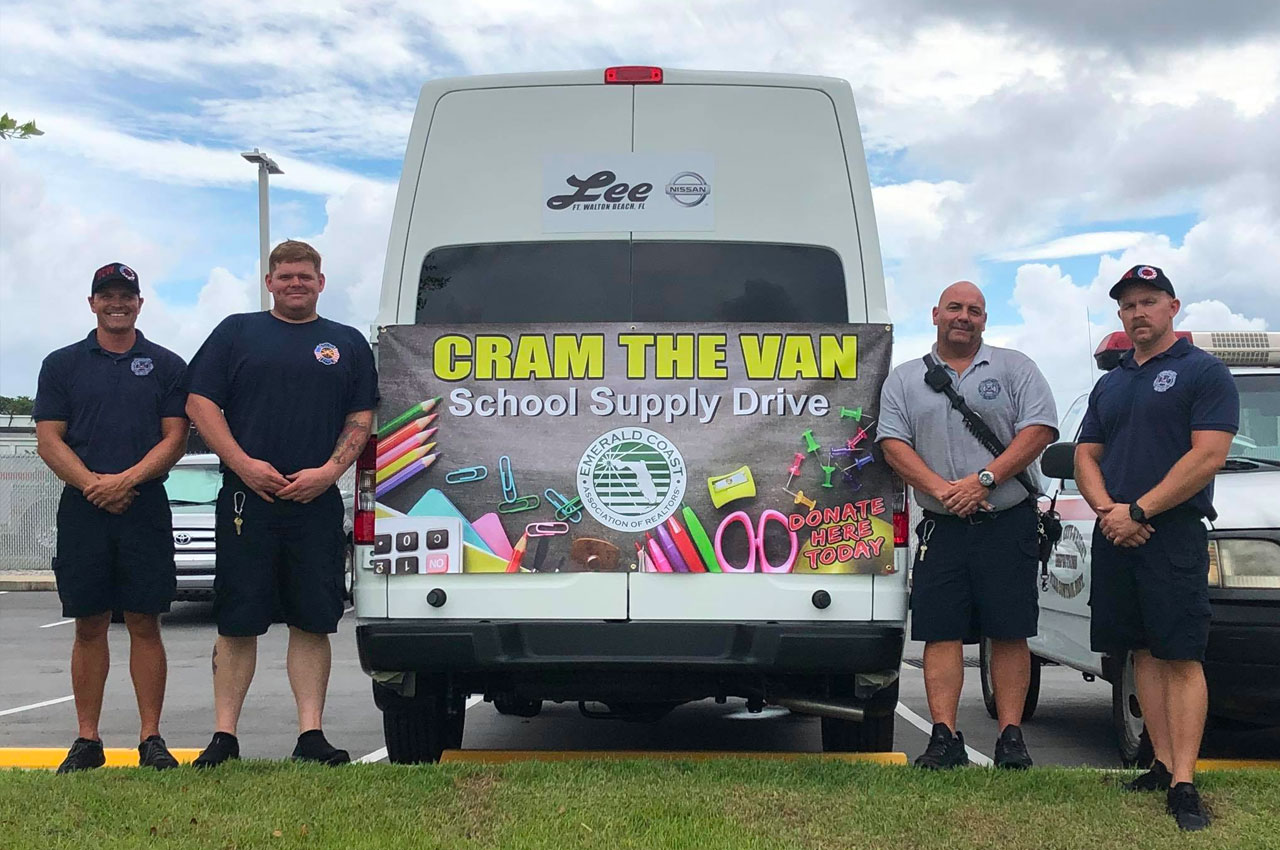 Help the Emerald Coast Association of Realtor's Community Military Outreach Committee (CMOC) "Cram the Van" and "stuff the truck" to help local elementary school students!
Help teachers and students have the best, stress-free school year possible by picking up the supplies listed below and dropping them off at AJ's on the Bayou on Friday, July 30, from 11 a.m. – 6 p.m.
Supplies List:
Paper: Lined paper, copy paper, construction paper, spiral notebooks, composition books, index cards.
General Supplies: Blue or black pens, #2 pencils, colored pencils, erasers, crayons, pencil sharpeners, pencil cases, markers, highlighters, dry-erase markers, report covers, pocket folders, rulers, protractors, glue sticks, scissors.
Classroom Staples: calculators, staples, staplers, paper clips.
Things you can never have too much of: Tissues, sanitizing wipes, hand sanitizer, paper towels, gloves, back packs!
"Collect supplies the entire month of July and come drop them off the day of the event," said Chrissy Hartley, Community Military Outreach Committee. "Come meet a Firefighter, Police Officer and enjoy live music, free Culvers custard, and fun activities for the kids!"
SPONSORED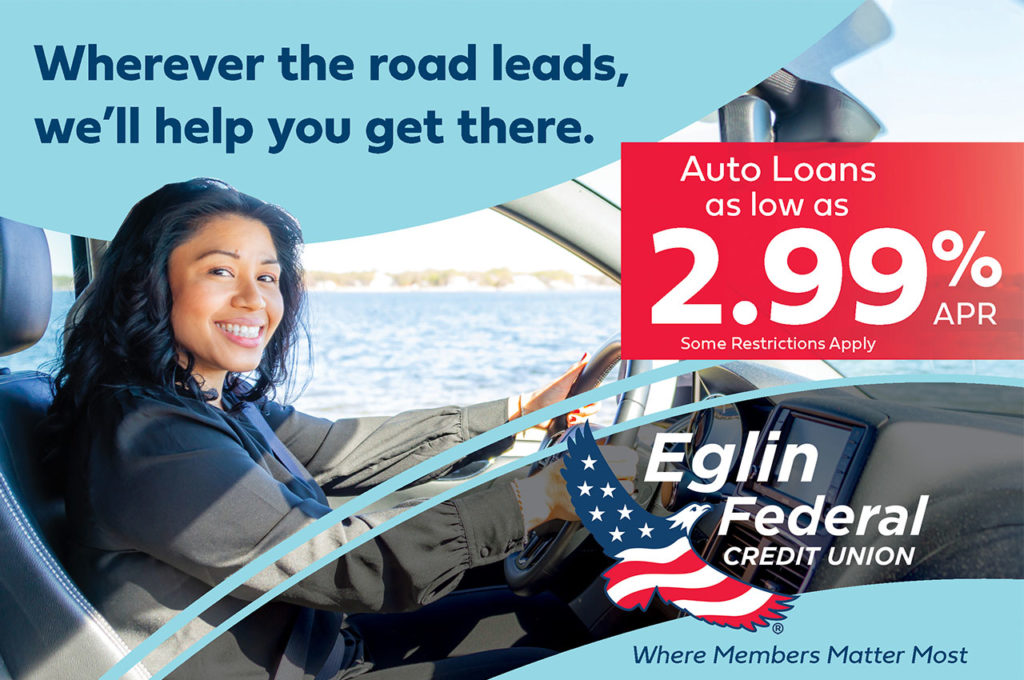 Wherever the road leads, Eglin Federal Credit Union can help you get there!
Current auto rates are as low as 2.99% APR for up to 66 months on new or used vehicles (some restrictions apply).
Santa Rosa Beach resident appointed to the Triumph Gulf Coast Board of Directors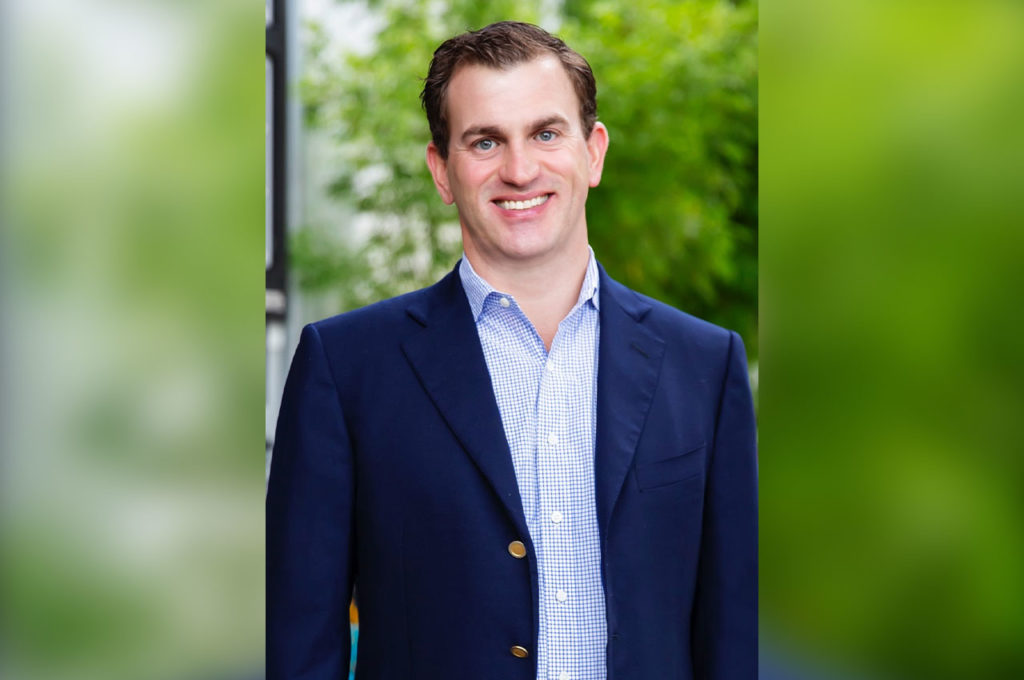 On Tuesday, Florida Chief Financial Officer Jimmy Patronis announced the appointment of Reynolds Henderson to the Triumph Gulf Coast, Inc. Board of Directors.
Originally created in 2013, Triumph Gulf Coast, Inc. administers the distribution of the funds from the Deepwater Horizon oil spill. These funds are to be used for the recovery, diversification and enhancement of eight Northwest Florida counties affected by the oil spill.
"I am honored to appoint Fox Reynolds Henderson to the Triumph Board of Directors today," said Patronis. "The Triumph Gulf Coast Board of Directors oversees the expenditure of funds to address economic recovery of some of the most heavily impacted communities in the Panhandle following the Deepwater Horizon oil spill. I'm confident Mr. Henderson will work diligently to provide funding to projects and programs that generate maximum economic benefits to these counties."
Henderson resides in Santa Rosa Beach and is a principal owner of Continental Pacific, LLC, a real estate investment and development company. He was involved in the DeFuniak Springs Main Street program and co-founded the Florida Opportunity Fund that acquired properties in the North Walton County Opportunity Zone in order to build affordable housing and develop additional commercial opportunities.
He also co-owns Custom Home Shop, LLC which constructs affordable pre-fabricated housing and delivers the units using a proprietary trailering system.
In addition to his work with these companies, Reynolds serves on the Board of Governors for Florida Citizens Property Insurance, the Board of Trustees for Northwest Florida State College, and as chair of the CRA (Community Redevelopment Agency) for the City of DeFuniak Springs.
Henderson's term is effective immediately and expires on June 30, 2025.
Thank you, Lieutenant Gary Venuti 🙏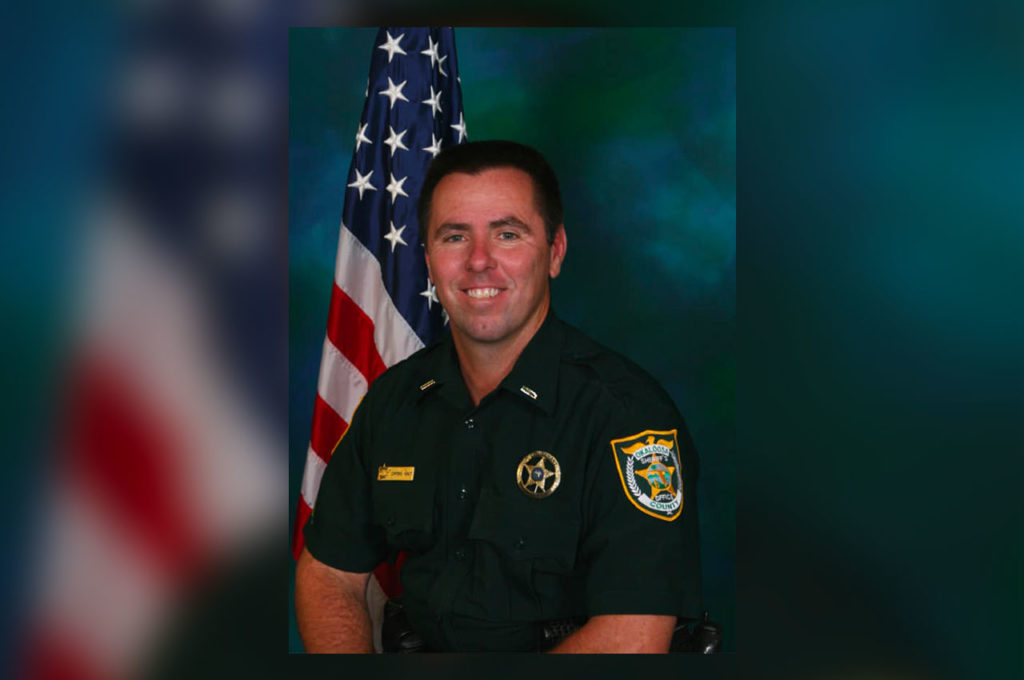 Today, Lieutenant Gary Venuti retires from the Okaloosa County Sheriff's Office.
Lt. Venuti has been a School Resource Officer in the Okaloosa County School District since 1997 and is widely considered "an absolute member of the Okaloosa County School District FAMILY," according to Superintendent of Schools Marcus Chambers.
Lt. Venuti has progressed through the Sheriff's Department to lead the prestigious, award-winning team of over 57 SROs in the district, positively impacting thousands of students, teachers, staff and administrators.
In July of 2020, Lt. Venuti earned the Florida "Lifetime Achievement" Award as he has dedicated his life to the safety of Okaloosa students and the School Resource Officer Program.
"Today, he begins a new chapter as he retires from the Sheriff's Department," said Superintendent Chambers. "I would like to thank Lt. Venuti for his dedicated service and congratulate him on a successful career with the Sheriff's Office and the School District."
"Lt. Venuti, you will be missed in the hallways of our schools, but we know your legacy will continue through the Officers you have trained and worked alongside," Chambers continued. "You will never be forgotten as your impact has been immense!!"
High School Bands are 'excited' for marching season 🥁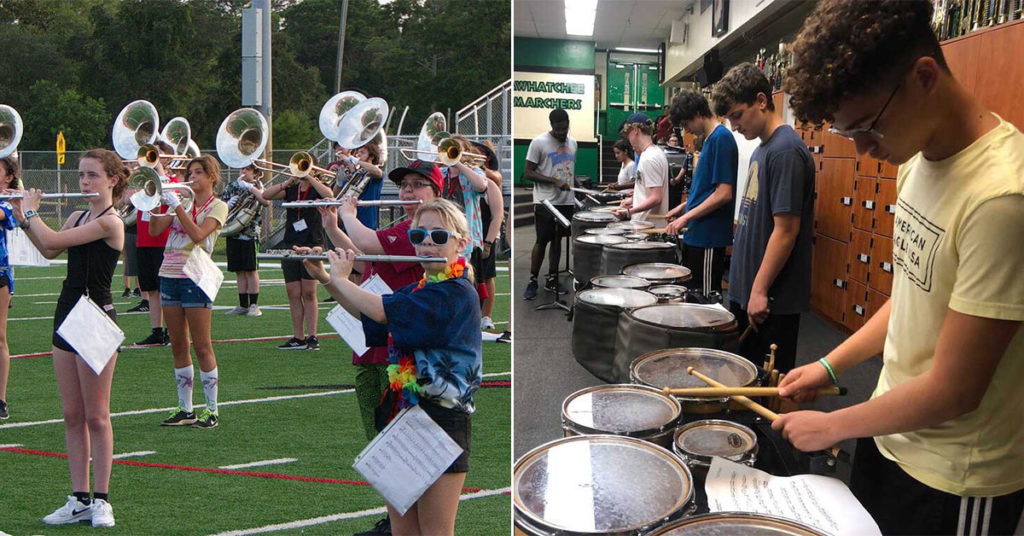 It's that time during Summer break where high school bands head back to the band room as they begin a week of band camp.
And with less restrictions on how the bands can operate, the excitement of getting back on the field to perform is contagious.
"We started band camp on Monday, July 19th but we started our summer practices in early July," said Brad Parks, Director of Bands at Choctawhatchee High School. "We've got our crew back, everybody's here, and the excitement is definitely more noticeable."
Over at Fort Walton Beach High School, Director Derek Fields echoed the sentiment.
"It's really great to have band camps this year because last year we weren't able to do all of that," said Fields. "We really missed out not just on strength and endurance and muscle building, but camaraderie and team building, so it's been going really good."
For two groups of the marching bands across the county, band camp is the icing on the cake. The percussion and color guard have already been putting in some serious work for the upcoming season.
"Last week was drum camp and color guard," said Fields. "Our band has been rehearsing twice a week since June so we have a little bit of a preseason. Now it's time to set the tone for the year."
Up in Crestview, the Big Red Machine doesn't officially start their band camp until next week but that hasn't stopped them from working.
"I guess you might call these pre-camps," said Jody Dunn, Director of Bands at Crestview High School. "We've had our percussion and color guard going since sometime in June."
For the Style Marchers, their color guard and percussion will arrive earlier than the rest of the band this week as they work on choreography and fundamentals.
"The color guard will be working on fundamental techniques with their flags, with their weapons, as well as dance fundamentals and different body exercises," said Parks. "Our percussion is working on all of their fundamentals, their rudiments, their show music, and all of their basic needs for percussion. This includes both the pit and our battery."
And while this year comes with more freedom, there are a host of challenges that come with basically losing an entire marching season last year.
"I have half of the band who's never done marching band before," explained Dunn. "The freshmen have never done it and that's not unusual. But this year, the sophomores have also never done it. The juniors have only done it once and my seniors have only done it twice. So there's a serious effort to basically start over and build it again in a lot of ways."
Dunn explained that his team has had to take that into consideration when it comes to this year's drill and music. 
And building doesn't come overnight.
Helicopters in Destin 🚁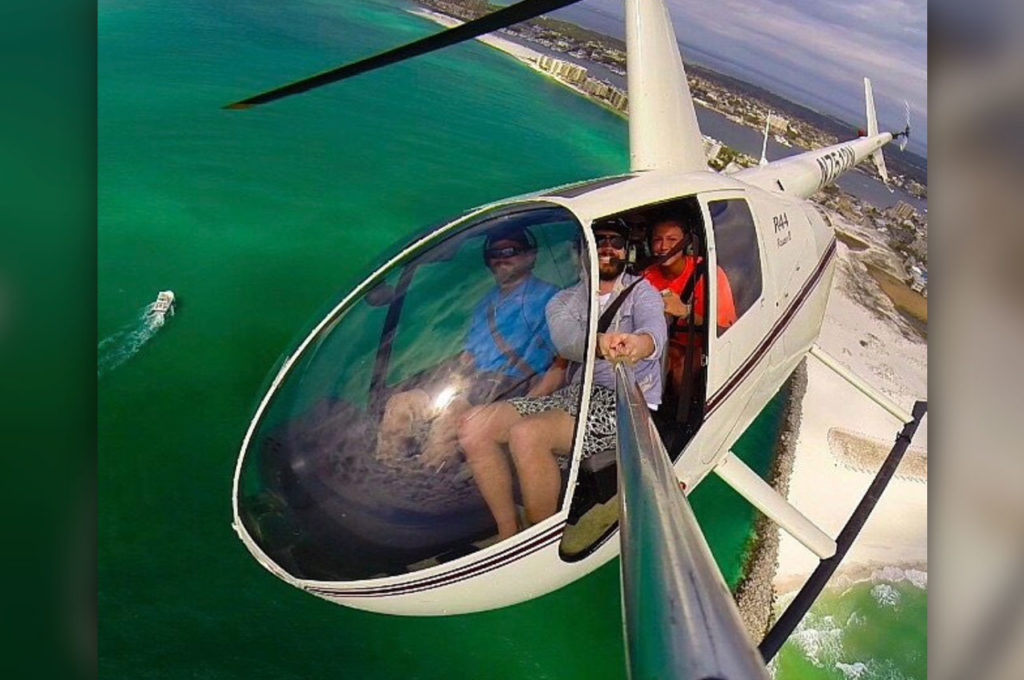 There were 16,744 flight operations out of the Destin airport in the month of June, according to Timberview Helicopters. Timberview's tours represented about 5,000 of those.
"It's a busy airport and it's getting busier as the city grows," said Justin Johnson, owner of Timberview.
According to Johnson, since the last meeting with the Commissioners, Timberview has made some adjustments to their routes to see how it bears with the public. Johnson claims they have raised some altitudes on their aircraft.
"We have a larger aircraft now that is capable of climbing at a higher rate quicker, and we've tried to make the climb-rate higher than any fixed-wing aircraft to try to create a noise buffer," said Johnson to the Board of County Commissioners on Tuesday.
According to Johnson, helicopter operators are in control of the aircraft, but they are told where to go.
"When we take off, we don't choose to fly over someone's house or fly over someone's property," he said. "When you get in the aircraft, the first thing you key up in the mic is your tail number or your call sign, and you ask, 'may I depart?' The tower tells you how to depart, where to depart and where to go. If we deviate, it's called a pilot deviation and if you get one or more of those, you could lose your license."
"It's like breaking the speed limit or breaking through a stop sign," Johnson continued. "So for someone's idea that the business is operating irresponsibly where they fly, we are under a tethered connection with the tower until we get to the beach."
Johnson says that once his helicopters arrive over the beach, they are released down the beach but that the tower still wants to know where they are at.
"If we deviate off of our route, we have to report it," he said. "So it's not like the wild west out there. It's very controlled."
Johnson went on to tell the Commissioners that his aircraft goes from zero to 500 feet.
"That's what the map says for helicopters. We have to be in-between those altitudes. If we exceed those altitudes, that's a violation. But as you climb out, they're going to be at 100 feet, 200 feet, 300 feet. They have to get to that altitude."
According to Johnson, when an aircraft is heavier, it takes longer to get to that altitude.
"Every flight is not the same because it depends on the load on the aircraft, how much fuel is in it, and how many people are in it."
Johnson explained that if one flight seems lower than another, that it's probably because it had a heavier load coming out of the airport.
He also claims that Timberview has changed the altitude as their helicopters come into the airport.
"We've remained higher at almost 600 feet, which is 100 feet over the limit…The tower can authorize that and they did."
In the end, Johnson stated that the tower controls everything they do out of the airport. Timberview's attorney, Michael Schofield, had the same things to say:
"We cannot simply change routes because we desire to do so, we have to go through the FAA. The FAA governs the airspace once you lift-off in this area," he said.
The Opposition: A group known as "Stop The Chop" was also in attendance with themed-out t-shirts as they spoke to the Commission.
The group of Destin citizens have voiced their frustrations over the tours that they say is hurting their quality of life.
Meanwhile, Timberview and the County are continuing to work on a new operating agreement. Okaloosa County will hold a meeting on Tuesday, August 3, 2021 at 5:30 p.m. at the Destin City Hall Annex, located at 4100 Indian Bayou Drive, Destin, FL 32541.
The purpose of the meeting is to discuss the draft Operating Agreement with Timberview Helicopters.
What else we are reading… 📚
Ok, that's all I have for you this morning. Hope you have a great Friday! Could you do me a favor today? Could you forward this email to someone you think would enjoy local news?
I'm wanting to grow the readership and reach more locals and a recommendation from someone they trust goes a long way!
Jared
p.s. What did you think of this morning's newsletter? Hit the reply button and let me know!