August 2, 2022
|
Reading time:
12 mins
TOGETHER WITH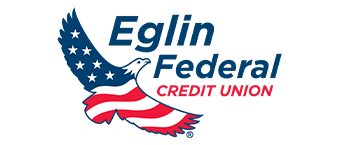 Good morning!
Can I ask you for a favor? Would you forward this email to 3 people that you think would enjoy my free local newsletter?
Simply forward this email and have them sign-up by clicking this link.
I'm trying to reach as many people in the community as possible and this would go a long way in helping me do that!
Let's get to the news…
BACK TO SCHOOL
"Back to school" happy hour for teachers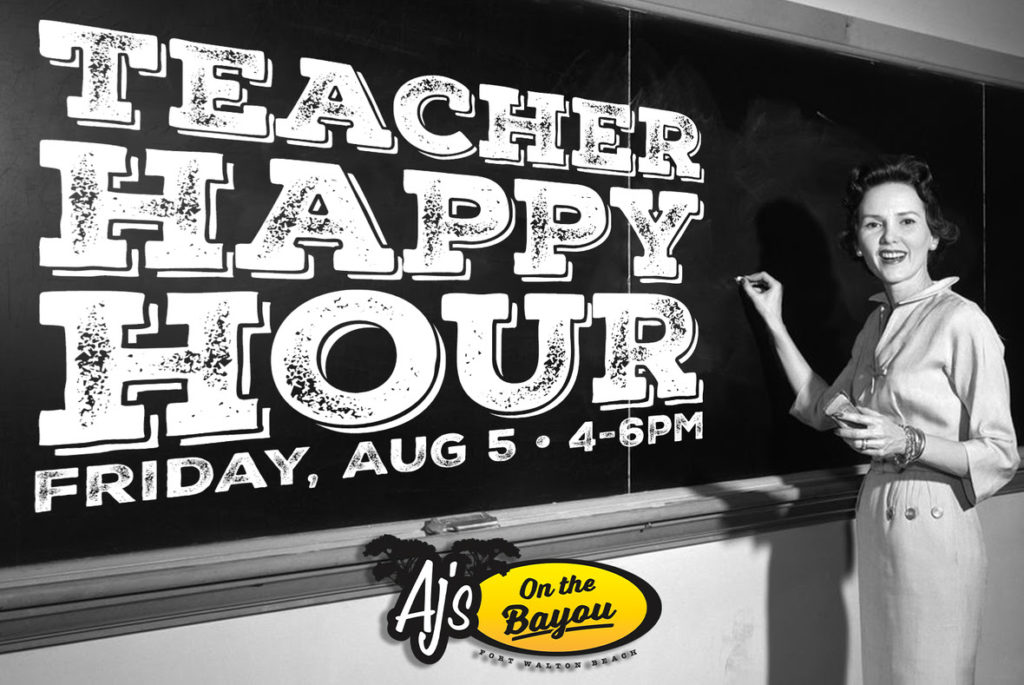 The first day of school is on August 10, and Aj's on the Bayou in Fort Walton Beach wants to say thank you to all of our local teachers before the big day!
Show your teacher badge at their Welcome table anytime from 4pm-6pm on Friday, August 5th and your first two drinks are on them. AJ's on the Bayou will also have appetizers out for you to enjoy.
Make sure to register for the $500 classroom drawing.
One lucky Teacher will receive funds to use for their classroom this year, thanks to Liufau McCall Insurance Group.
"Make sure to join us August 5th for drinks, appetizers, live music, and to register for giveaway," said the restaurant in a statement. "Thank you for doing such important work in Okaloosa County."
AJ's on the Bayou is located at 200 Eglin Parkway, Fort Walton Beach, Fl. 32548
SPONSORED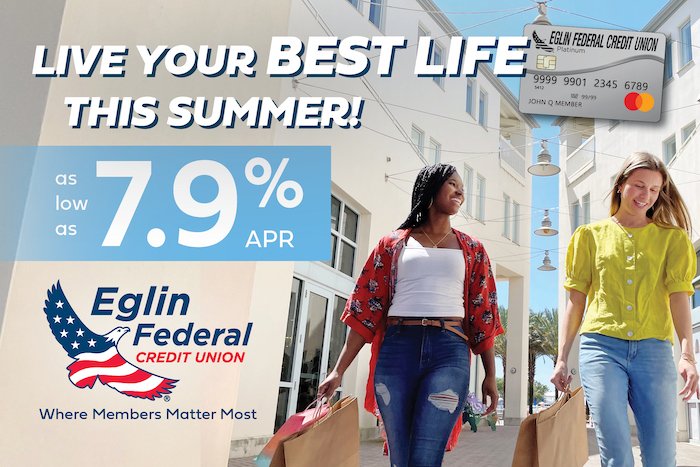 Live your best life this summer with an EFCU Mastercard®!
Get your card today by applying at any of Eglin Federal Credit Union's 9 branches. Stop by, apply, get your card and get shopping!.
*During normal business hours. Subject to membership and credit approval.
SCHOOLS
NWFSC Ranks Among the Top 10 Safest Colleges in Florida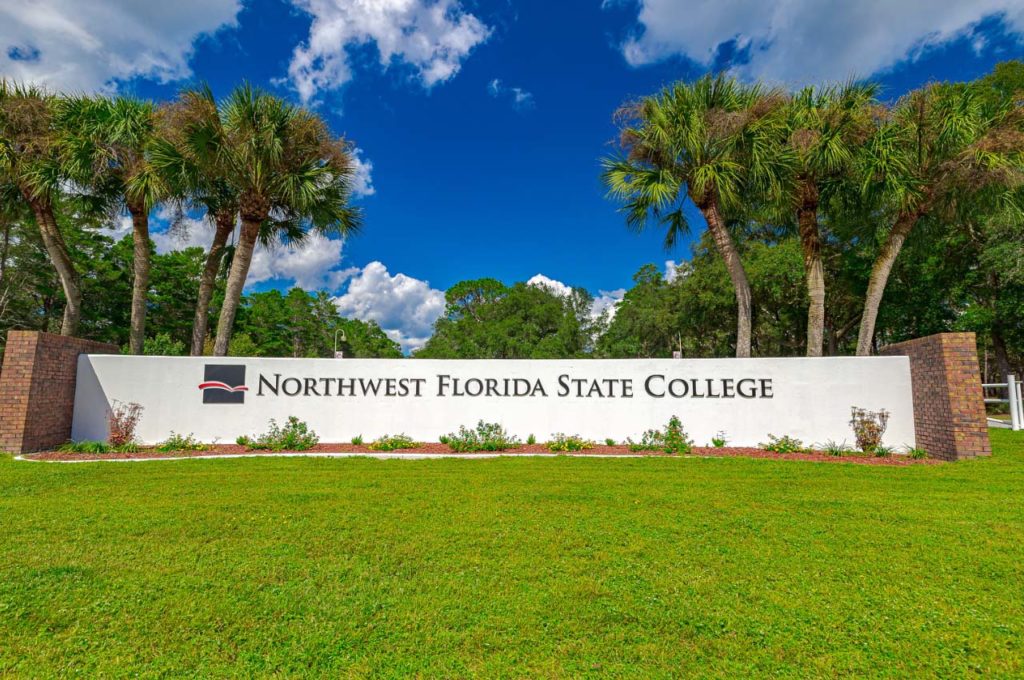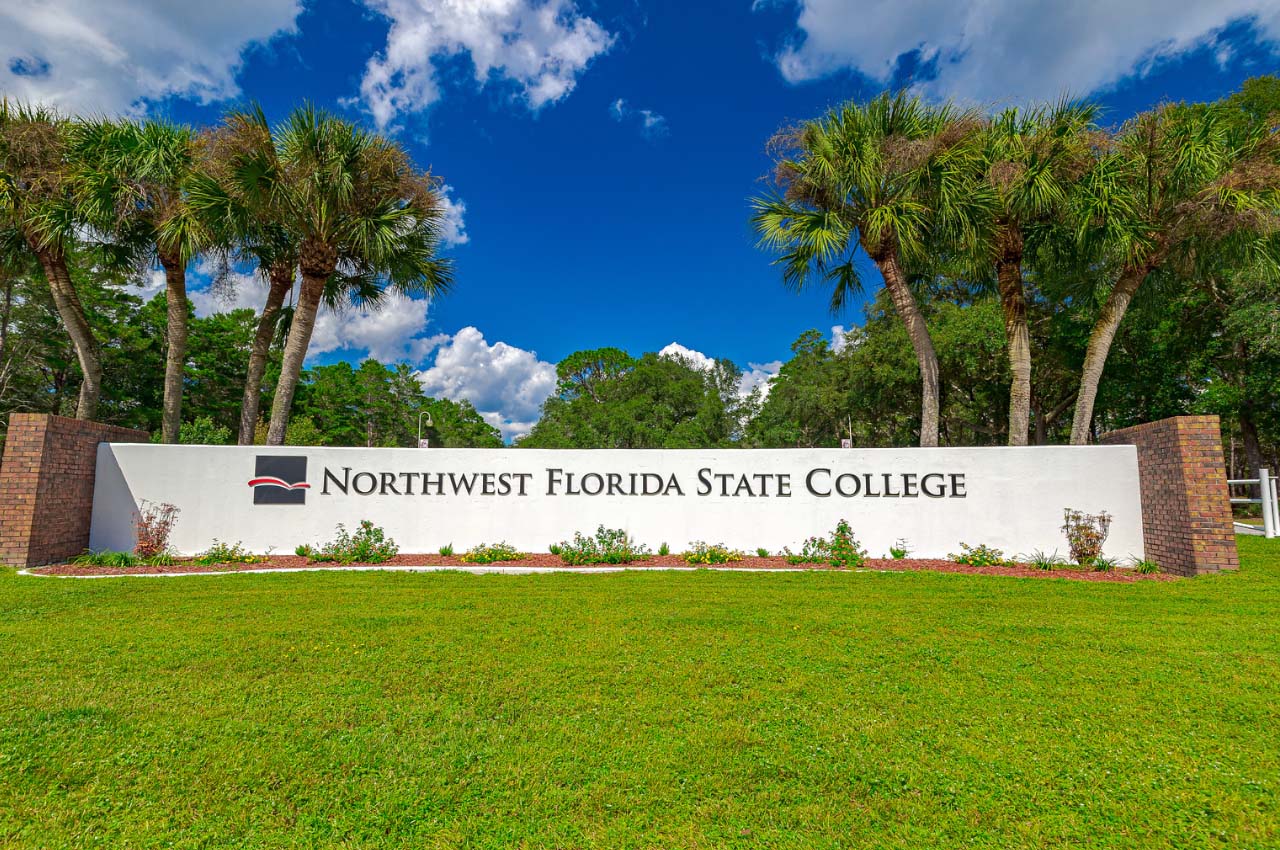 Northwest Florida State College has ranked among the top 10 safest college campuses in Florida, according to Niche.com.
The rankings for campus safety were established after evaluating campus and community crime rates, rates of violent crimes, and student surveys on crime.
NWFSC ranked number 10 out of the 48 colleges and universities evaluated in 2022.
NWFSC Executive Director of Campus Safety and Security, Chief Aaron Murray, explained that the College's investment in officer training and development has contributed significantly to its current ranking.
"In the last four years, we have developed a robust response capability and built great relationships with other public safety agencies in our region," Chief Murray said. "We have added several technologies and installed additional cameras that vastly improve our ability to monitor situations and respond. We have also actively worked with multiple departments throughout the College on emergency response training, including bleed control, active shooter responses, firearms safety, self-defense, and rape aggression defense training."
Among the newly incorporated technologies are the Unmanned Aerial Systems. Last month, the College was recognized as one of 10 colleges in the United States to have implemented security drones to improve campus safety, and it is the first in the region to implement a four-member team that can respond to any campus location and launch an aircraft to assist with emergency responses.
The College has also implemented a FLIR SkyWatch Mobile Surveillance and Deterrence Tower, courtesy of Florida State University, which allows officers to have a bird's eye view of outdoor events and identify security issues within a crowd
Additionally, they have the Raider Connect app, which turns cell phones into mobile alert devices. Once the Raider Connect app is activated, campus police officers and the emergency communications center are alerted for an immediate response.
The app also provides users access to campus maps, emergency response plans, notifications, and safety training links.
"I am proud of our campus police for their efforts in making our College one of the safest in the state," said NWFSC President Dr. Devin Stephenson. "This recognition is proof of our commitment to fostering a safe and supportive environment for all of our students, faculty, and staff. We will continue prioritizing safety as we improve our capabilities and expand our Raider Safe Training Program."
FOR PARENTS
Free Cyber Safety Class for Parents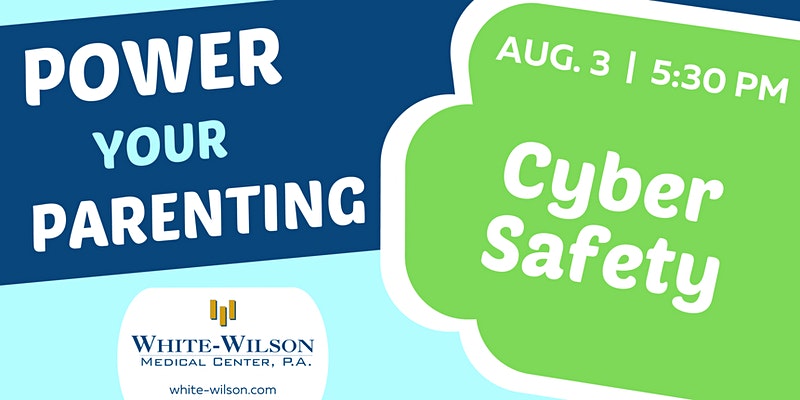 White-Wilson Medical Center is introducing Power Your Parenting, an engaging and informative four-part parent education series.
The first class will focus on cyber safety and will take place on Wednesday, August 3 at White-Wilson's main campus in Fort Walton Beach, 1005 Mar Walt Drive, from 5:30 p.m. until 6:30 p.m.
Pediatric nurse practitioner Shana Haywood and the Okaloosa County Sheriff's Office are pairing up to talk about the good, the bad and the ugly on cell phones, internet gaming, social media, bullying and more. The parent-only class is free to attend, and refreshments and door prizes will be provided.
"As a parent and a health care provider, I know how difficult it can be to shield our children against predators and harmful online behavior. The technology is always changing and there are always new threats out there, but it's up to us to educate ourselves and do all that we can to protect our kids," said pediatric nurse practitioner Shana Haywood. "I am thrilled to partner with the Okaloosa County Sheriff's Office to get the latest information out there about how we can keep our children safe."
Haywood continued, "No matter how young or old your child is or if they are a boy or a girl, chances are, they are at risk of exposure to some very disturbing things. That's why I would encourage all parents to join us for this session."
White-Wilson will continue the series with three additional topics to benefit parents. These include:
Tips for a Healthy School Year on September 8
Awkward Conversations on October 4
Emergency Basics on November 3
The classes are free and open to parents, grandparents, caregivers and community members. You do not have to be a White-Wilson patient to attend.
However, they do ask that due to the sensitive nature of these topics, children do not accompany their parents. Registration is required for each session in the series.
For additional information on registering, click here.
REAL ESTATE
30A's highest income producing property hits the market at $18,990,000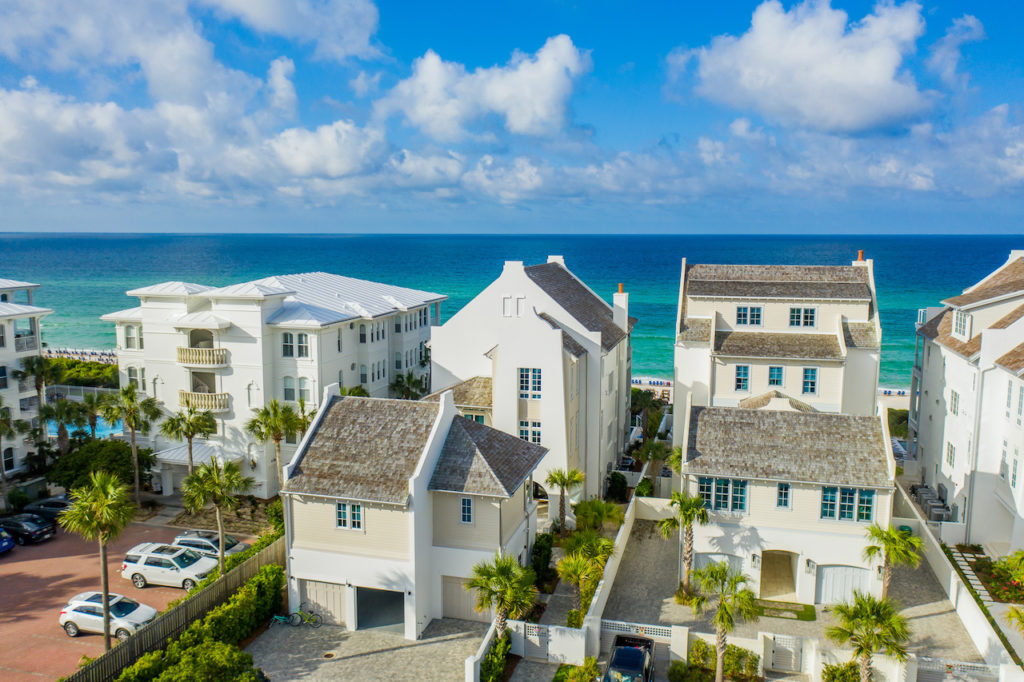 Corcoran Reverie has listed 113-A Sandy Shores Court in Seacrest, Florida at $18,990,000. The property breaks records as the highest income producing property year-to-date with over $1 million in rental revenue, according to Key Data Dashboard.
"With an impressive rental history, 113-A Sandy Shores is an incredible opportunity for any investor seeking to grow their real estate portfolio in Northwest Florida," said listing agent and Corcoran Reverie owner Jacob Watkins."
The property features 60′ of Gulf frontage atop the Bluffs at Sandy Shores. The home encompasses more than 7,400 square feet of living space including six bedrooms, six full baths, and two half baths.
"This stunning Gulf-front home truly redefines coastal luxury living along 30A and makes for an ideal investment property with its sought-after location in a low-density gated enclave of residences between Alys Beach and Rosemary Beach," said listing agent and Corcoran Reverie broker/owner Hilary Farnum-Fasth.
A MESSAGE FROM THE BOARDWALK
Great Blue Heron rehabbed and released on Okaloosa Island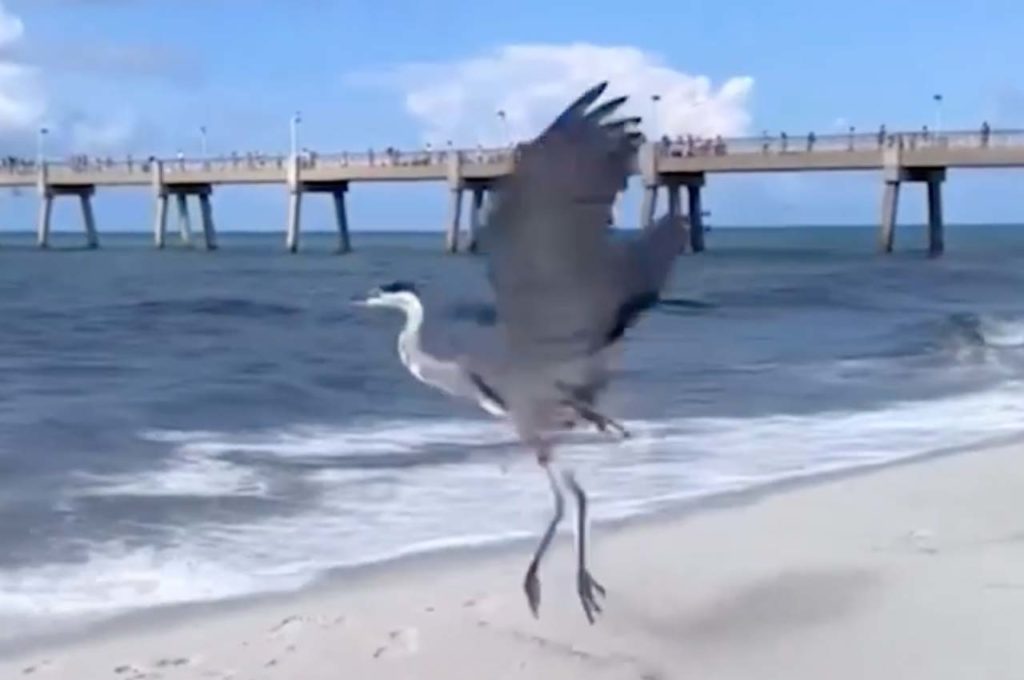 Meet Floyd! He is a Great Blue Heron who was found on the Okaloosa Island Fishing Pier about three weeks ago with a mass of fishing line, hooks, and bobbers wrapped around his leg. 
He was just released last week at The Boardwalk on Okaloosa Island after some rehab at the Emerald Coast Wildlife Refuge.
"Thankfully, rescuers from the Emerald Coast Wildlife Refuge were able to safely capture Floyd, take him to their shorebird rehabilitation habitat, and give him the care he needed with treatment and antibiotics," said Misty Rae Ruthrauff, Marketing Director for Saltwater Restaurants.
Saltwater Restaurants' ongoing S.E.A. (Safety – Environment – Activities) initiative assists in programs that support beach conservation and welfare campaigns along the Emerald Coast.
Last year, Saltwater Restaurants, Inc. donated $10,000 to Emerald Coast Wildlife Refuge (ECWR) to build a shorebird rehabilitation habitat and support the rehabilitation costs for shorebirds that have become injured or orphaned along the Destin-Fort Walton Beach Panhandle area.
"The Great Blue Heron is a bird commonly seen on our beaches, even within the bay and the estuary," explains Jessica Valek, Okaloosa Coastal Resource Coordinator. "They can be seen all over the place, walking along the beach and checking things out. They're gorgeous, they're always looking for food, and they are so much fun to see."
What's really unique and important about the Great Blue Heron, especially here in our Florida waters and environment, is that scientists use them as an indicator species.
"If a Great Blue Heron is inhabiting a specific habitat, that means the habitat, ecosystem, and environment are probably doing pretty well," explains Valek. "It is a very good thing that they are here on our beaches. The more we see, the better."
Valek added that if there is an area they used to inhabit for a while but are not there as much anymore, that means that ecosystem might be declining for whatever reason.
"So they are very important in letting scientists know how our ecosystem is doing," she said.
Ruthrauff and Valek met at The Boardwalk on Okaloosa Island this past week to release Floyd. "Floyd is feeling fine and ready to fly," said Ruthrauff.  Lucky bystanders were able to watch Floyd as he was released and flew out over the Gulf.
To learn more about the S.E.A. initiative, click here.
THE WEEKENDER
Looking ahead at some events
Want your event featured? Add it to our events calendar!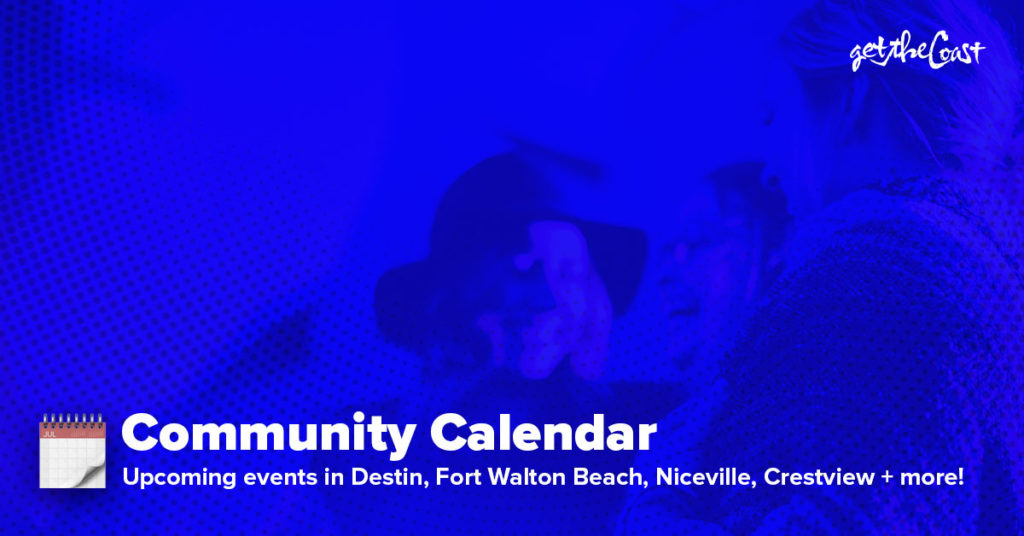 August 3, 2022 – C.A.R.E.ing for Turtles – $10 – View
August 3, 2022 – Game Night at Third Planet Brewing Co – $10 – View
August 3, 2022 – Weekly Okaloosa Island Firework Shows – View
August 4, 2022 – Weekly LUAU BEACH PARTY at Al's Beach Club & Burger Bar – View
August 5, 2022 – Sip N' Stroll Gallery Night at J.Leon Gallery – View
August 6, 2022 – Step One Automotive Hosts the Saving with Soul Adoption Event – Free – View
August 6, 2022 – Roll & Ride Out – Free – View
OK, that's all I have for you this morning! I hope you have a great Tuesday!
p.s. What did you think of this morning's newsletter? Hit the reply button and let me know!
Published with ♥ by Get The Coast.
Did someone forward you this email? Subscribe here.
124 Eglin Parkway SE Fort Walton Beach, FL 32548