TOGETHER WITH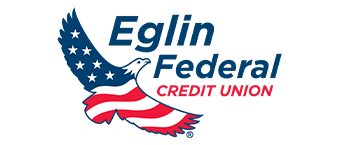 Good morning!
There was a devastating fire at WaterSound yesterday as South Walton Fire District units battled a second alarm structure fire in the area of Watch Tower Lane at WaterSound.
More on that below, but first…
AFFORDABLE HOUSING
Fort Walton Beach Housing Authority plans major redevelopment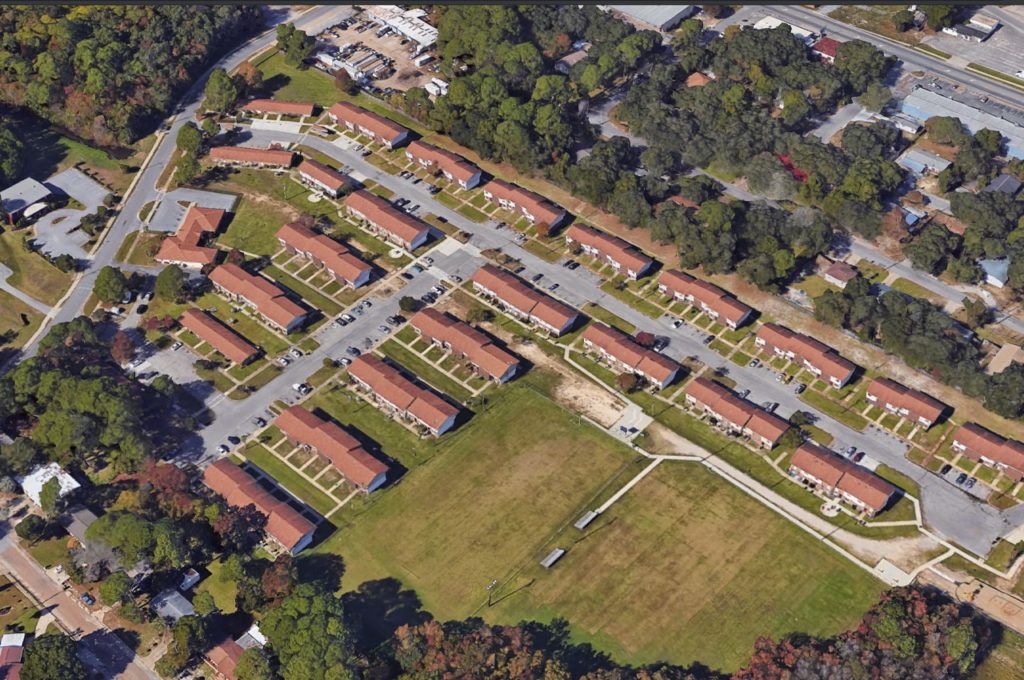 The Fort Walton Beach Housing Authority is one step closer to beginning a major overhaul to the 124-unit Charlie Hill Terrace on Robinwood Drive in Fort Walton Beach.
At Tuesday night's Fort Walton Beach City Council meeting, council voted 6-0 to commit $340,000 to the Housing Authority as a Local Government Areas of Opportunity contribution towards the redevelopment into affordable and workforce housing units.
The new development will be called Bayside Gardens, and will be very similar to the redevelopment that took place on Carson Drive.
The Florida Housing Finance Corporation requires a local government contribution due to Okaloosa County qualifying as a medium-small county. That contribution requires $340,000 per project, according to City Manager Michael Beedie.
The need for a local contribution:
The Housing Authority has applied for two annual rounds of the 9% Low Income Housing Tax Credits through the Florida Housing Finance Corporation process.
Due to extremely high demand for limited resources, they have not had success getting funding.
A local contribution increases their odds of being awarded funding for the project.
The City of Fort Walton Beach has been working with the Fort Walton Beach Housing Authority on their plans for Bayside Gardens for over two years.
The redevelopment will happen in five phases with each phase estimating to cost between $19-22 million.
The first phase is set to take place on undeveloped areas of the 20-acre property as to not displace any of the current residents. It would be a 4-story building with 65-75 units.
As new buildings are finished, existing residents will be moved so that workers can begin demo on old units.
"We're not going to overbuild the site, because we want to have greenspaces and a really nice development over there," said Jane Dixon, consultant to the Housing Authority. "We're considering it to be a master development plan and it will be a campus that will be multi-generational. So you'll have some families in there and you'll have some seniors in there."
According to Dixon, this new development will allow residents who need the affordable housing to have greater and better options.
Additionally, the development will include amenities such as:
Senior gardens
Playgrounds
Large green-space for children
Walking trails
And "green buildings features" to helps conserve water and energy usage
Click here to see the site plans and what the buildings could look like.
KIDS
City of Destin to host Destin Dolphin Cheerleading Program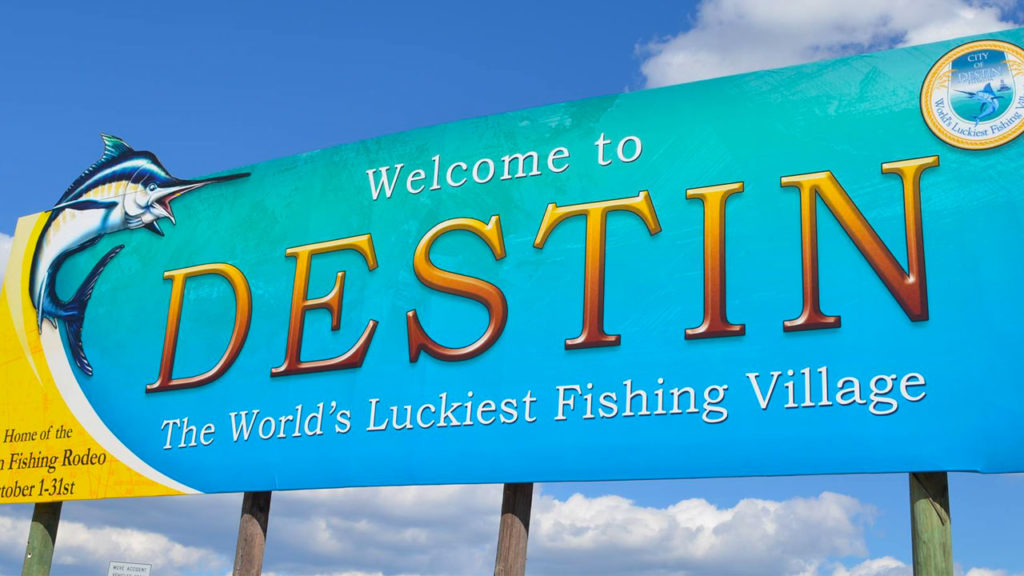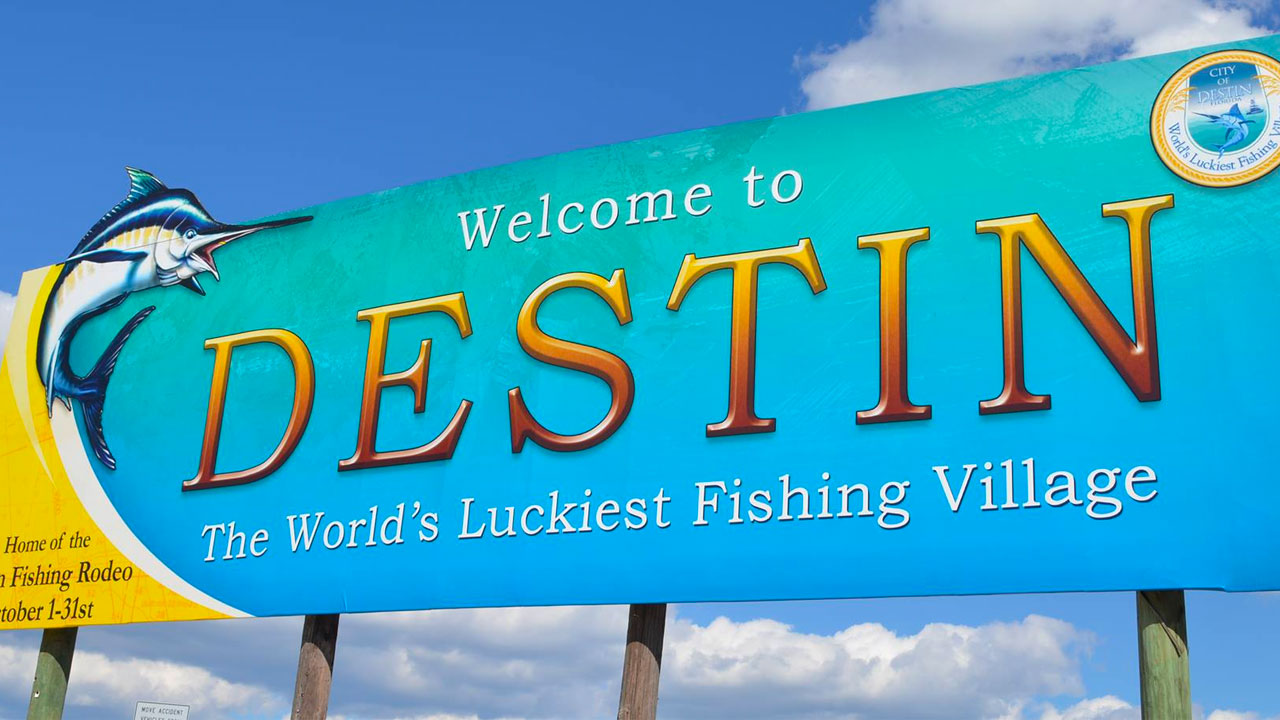 The City of Destin is now accepting registrations through Monday, August 16th, for the fall Destin Dolphin Cheerleading program.
Practices will take place at the Destin Community Center on Tuesday evenings from 5:00 pm to 6:00 pm.
The program is designed for children ages 5 to 10 and the cost is $45.00 for non-Destin residents and $35.00 for residents, plus uniform cost.
Practices will begin the week of August 16th and games will be played on Saturdays. Please call 850-654-5184 for more information.
THE TROPICS
Tropical Depression Fred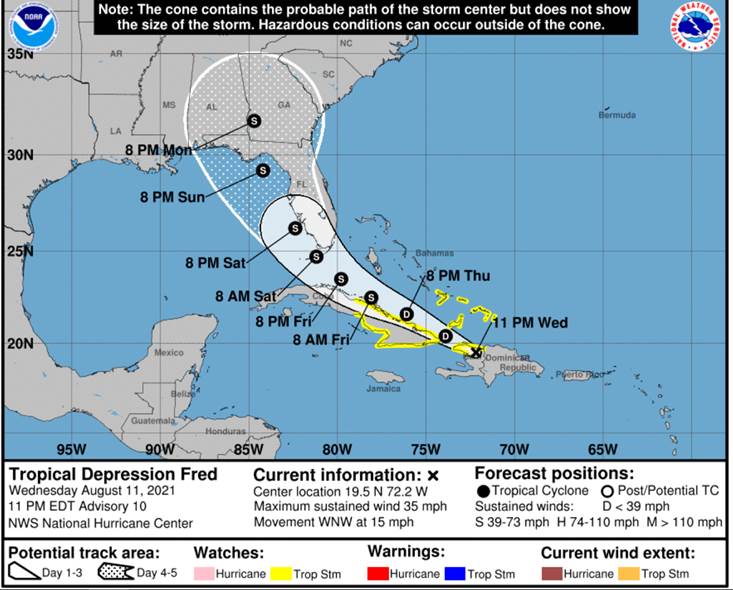 The rugged terrain of Hispaniola has taken a toll on Tropical Depression Fred.
Satellite images and surface observations indicate that the circulation is stretched out and seems to resemble a trough at the surface.
"The system is now emerging back over water and is located between Haiti, eastern Cuba, and the southeastern Bahamas," wrote the National Hurricane Center on Thursday morning. "Most of the associated showers and thunderstorms are located to the east of the estimated center, with heavy rains continuing over portions of Hispaniola."
Both the NOAA and Air Force Hurricane Hunters will be investigating Fred later this morning, and the data from both planes will be helpful in estimating Fred's strength and structure.
By the weekend, the NHC says there will be a slow down and a gradual turn to the northwest and then north across portions of the Florida Keys, the Florida peninsula, and the eastern Gulf of Mexico.
There is uncertainty in exactly where and when Fred will make that turn to the right, with models currently spanning a region from over Florida to the east-central Gulf of Mexico.
Since the official forecast shows a track over the eastern Gulf, additional strengthening is predicted before Fred makes its final landfall along the Florida Big Bend region or Florida panhandle late in the weekend or early next week.
NICEVILLE
The impact that 2020 had on Northwest Florida State College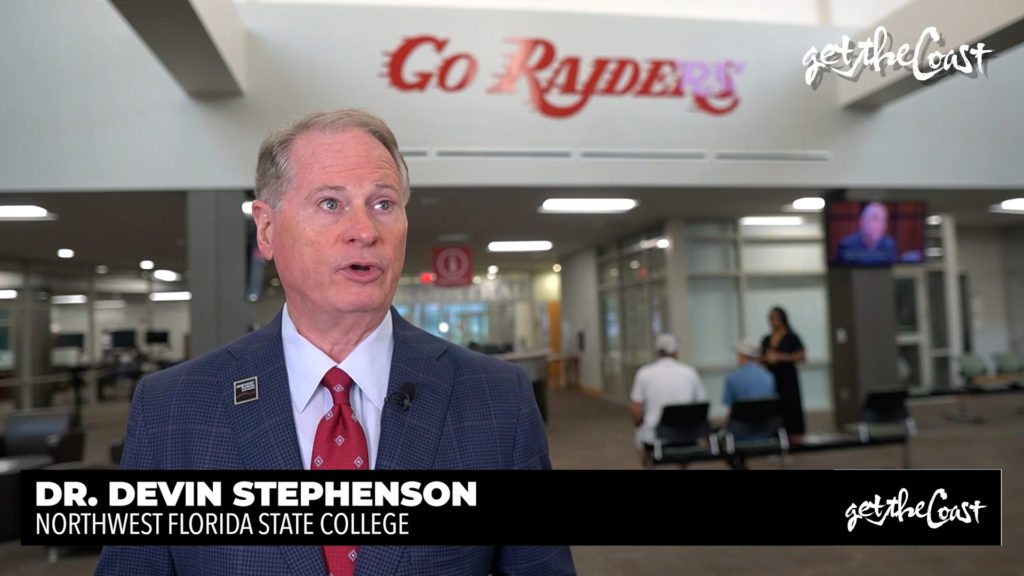 Northwest Florida State College President Dr. Devin Stephenson talked with our very own Christopher Saul about the future of the college – and how it is going to positively affect Niceville and the greater Okaloosa County area.
As you can probably guess, the pandemic had a really negative affect on the enrollment of the college last year and this year.
The slow trickle of students is coming back to the college during the summer semester at Northwest Florida State College.
Tuition dollars are down, because fewer students have decided to enroll.
"The COVID epidemic has had an impact on higher education throughout the country," said Stephenson. "Florida is seeing a double digit decline at universities and 2 year colleges. Some institutions are seeing really high rates, 25-35%."
According to Stephenson, NWFSC has been fortunate because of their budgeting.
"We have a tremendous marketing team here," he said. "We believe that going into the fall that we are going to be down some. But we're seeing a rush here before the fall semester, like a real big rush."
Before COVID, seats were filled pretty easily at NWFSC. Enrollment peaked at about 6,000 people across the spectrum of courses they offer. But it wasn't just a decreased enrollment – the pandemic required the college to reset and refocus.
"When the pandemic hit, it chilled excitement and enthusiasm. People retrenched and withdrew, they sat back. So what we are trying to do is regain that energy," continued Stephenson.
CARES Act Money and other funds have kept the college in the black – but the time to rely on federal money is soon coming to a close.
That means getting people to come back and take courses at the college and making sure the entire team at the college, which employs more than 700 people, is ready to go.
Classes start on the 18th of August – if you are interested in enrolling, head over to NWFSC.edu.
THE FIRE
South Walton Fire District battled devastating fire at WaterSound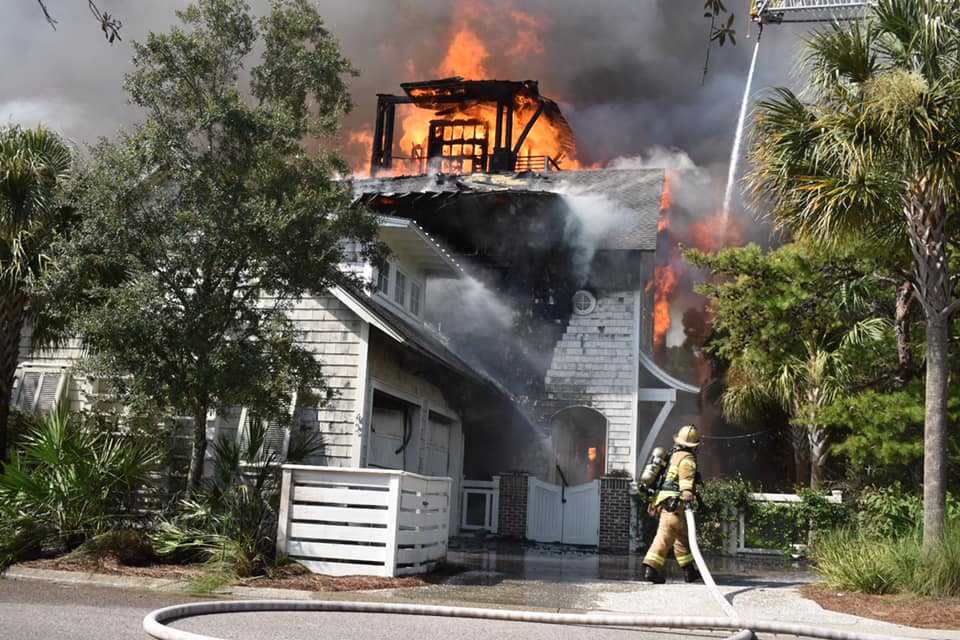 Yesterday afternoon, the South Walton Fire District announced that crews were battling a second alarm structure fire in the area of Watch Tower Lane at WaterSound.
The fire has destroyed three homes and impacted a total of five.
Partners from Panama City Beach Fire Rescue and Walton County Fire Rescue assisted, as well as Walton County Sheriff's Office.
Around 7:30pm last night, the fire was under control. By 9:15pm, the fire was out.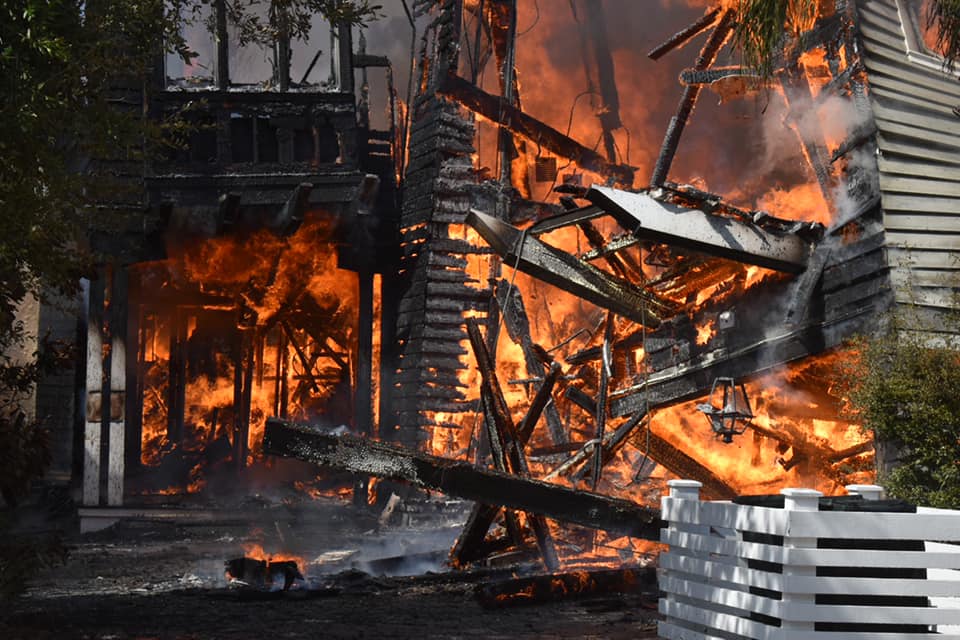 According to the SWFD, firefighters would remain on scene through the night to extinguish remaining hotspots. The South Walton Fire Marshal and State Fire Marshal are working in a joint investigation to determine the cause, but it's still unknown as of this morning.
Approximately 50 firefighters and command staff responded to the call, not including off-duty personnel who were recalled.
Nearby homes suffered minor-to-moderate damage from embers spreading, according to the SWFD. No injuries were reported.
Ok, that's all I have for you this morning. Hope you have a great Thursday!
Jared
p.s. What did you think of this morning's newsletter? Hit the reply button and let me know!