TOGETHER WITH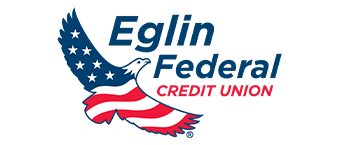 Good morning!
It's the calm before the Fred, as Tropical Storm Fred continues its journey toward the Gulf Coast with another nudge to the east. Landfall forecast is about 18 miles West of Panama City as of 7am this morning.
"This is again beneficial for Okaloosa and nudges tropical storm force wind probabilities and rainfall down a bit," said Patrick Maddox, Okaloosa Public Safety. "No great changes outside of those two metrics."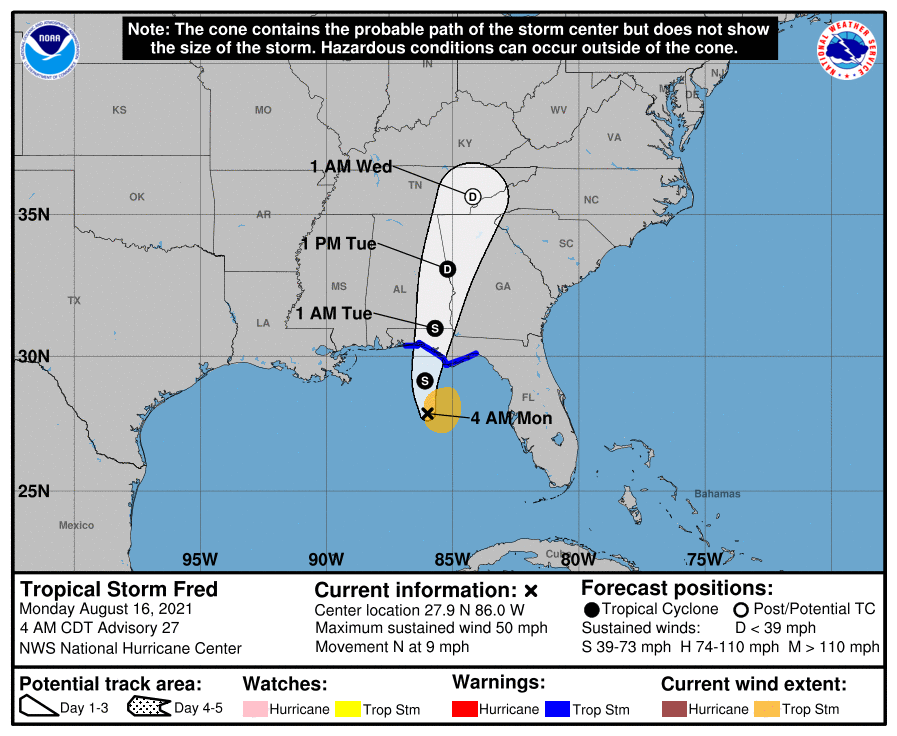 As you can imagine, most businesses and government services will be closed today across our area, however…Chick-Fil-A in Fort Walton Beach let us know just how for the people they are this morning:
"We WILL be OPEN as long as it is safe for our team and for you from 6am-Until," they wrote on Facebook.
Us 🤝 Chick-Fil-A
SCHOOL IS OUT
Okaloosa & Walton Schools closed on Monday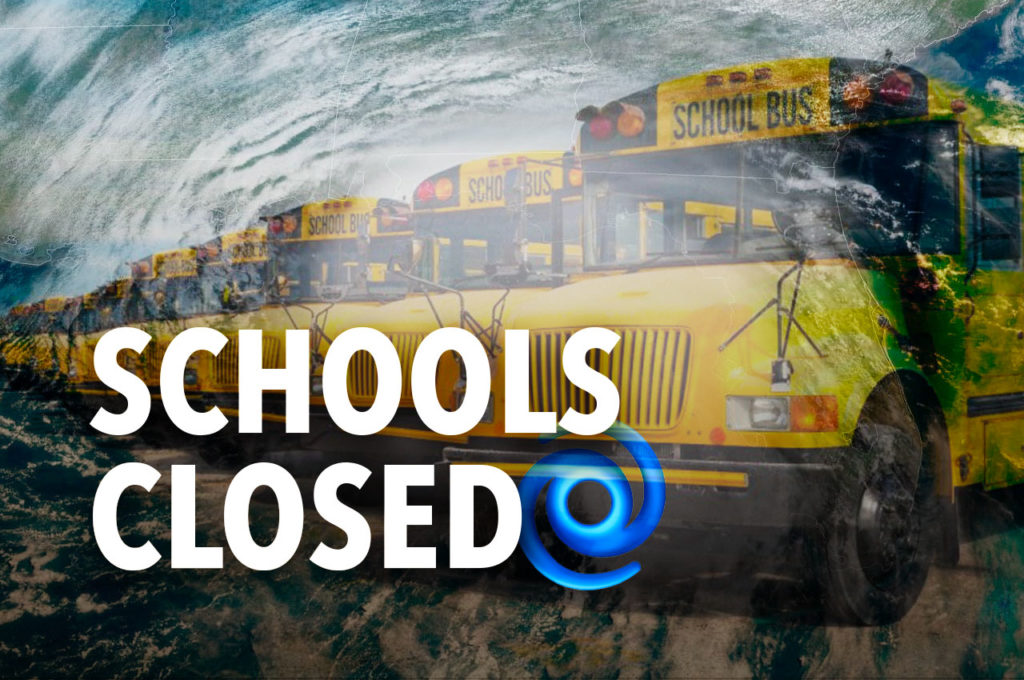 On Sunday, Okaloosa Superintendent of Schools Marcus Chambers confirmed that Okaloosa County Schools will be closed on Monday, August 16th due to Tropical Storm Fred. This includes all school activities.
Okaloosa County School District will monitor the storm and make a decision later on Monday for school on Tuesday, August 17th.
Walton County schools will also be closed on Monday
Additionally, ALL Boys & Girls Clubs of the Emerald Coast will be closed today too.
BGCEC will make a decision about Tuesday later today.
SPONSORED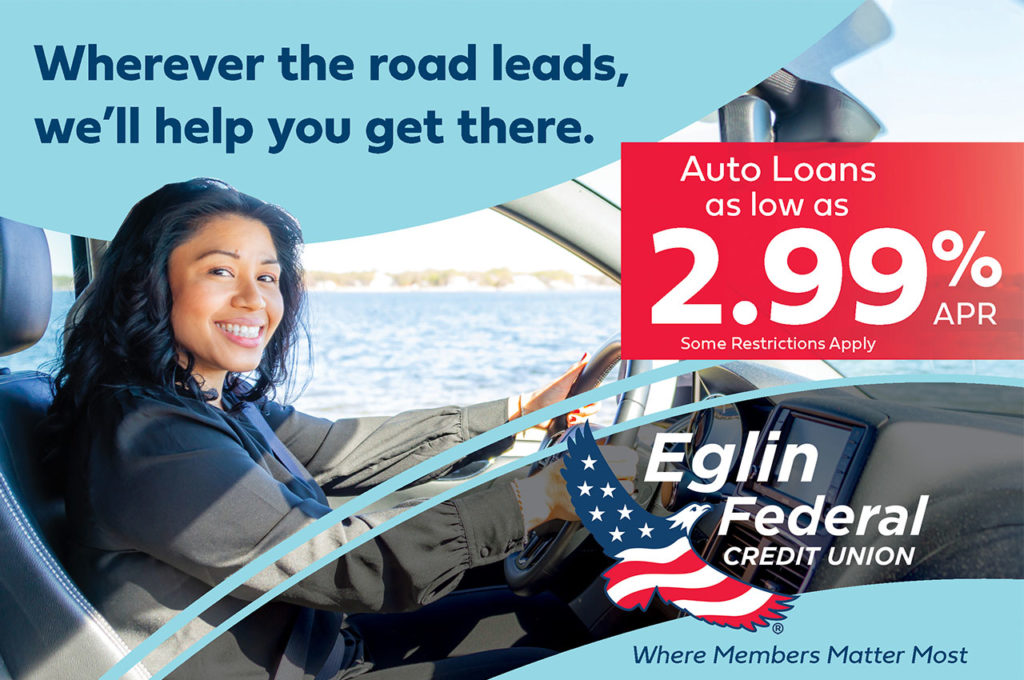 Wherever the road leads, Eglin Federal Credit Union can help you get there!
Current auto rates are as low as 2.99% APR for up to 66 months on new or used vehicles (some restrictions apply).
THE TROPICS
Destin declares State of Emergency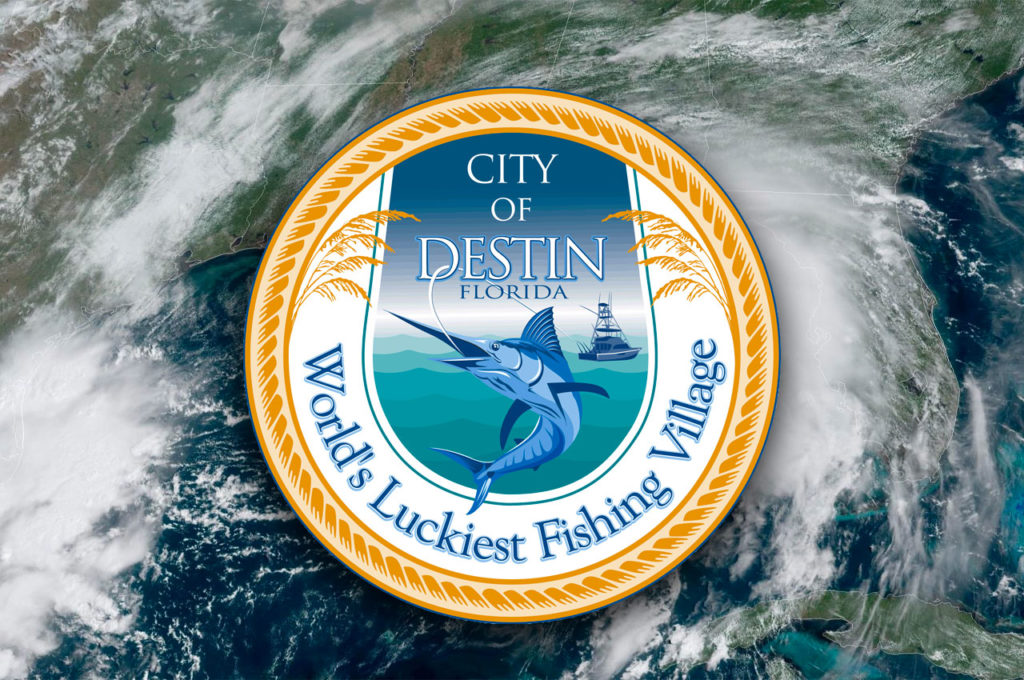 On Sunday afternoon, Destin City Manager Lance Johnson declared a State of Civil Emergency due to the expected impact of Tropical Storm Fred on the city.
This will allow the city to take actions to protect the public and to apply for reimbursement of expenses incurred during our efforts to protect life and property related to this storm event.
This declaration will be on the next Council meeting agenda for the Council to ratify.
The Destin City Council meeting slated for Monday, August 16th, has been postponed until Thursday, August 19th at 6 p.m.
All city facilities are closed and will remain closed to the public today, Monday, August 16th.
Out in Walton County, they declared a local state of emergency on Friday morning in preparation for any potential impacts from the storm.
TRASH PICKUP
Garbage services still scheduled for Monday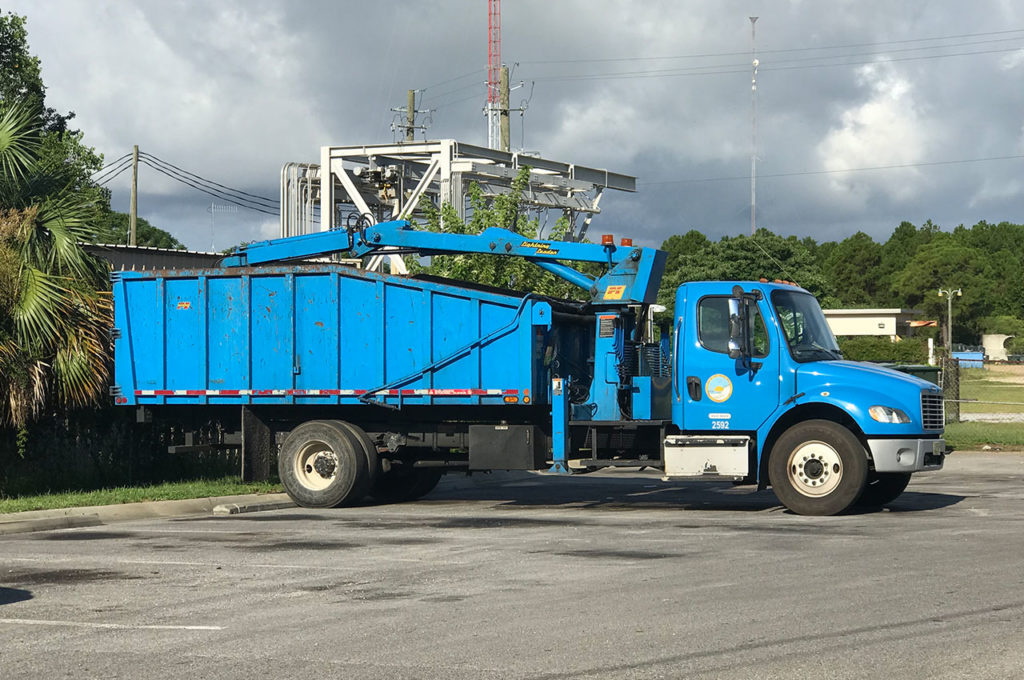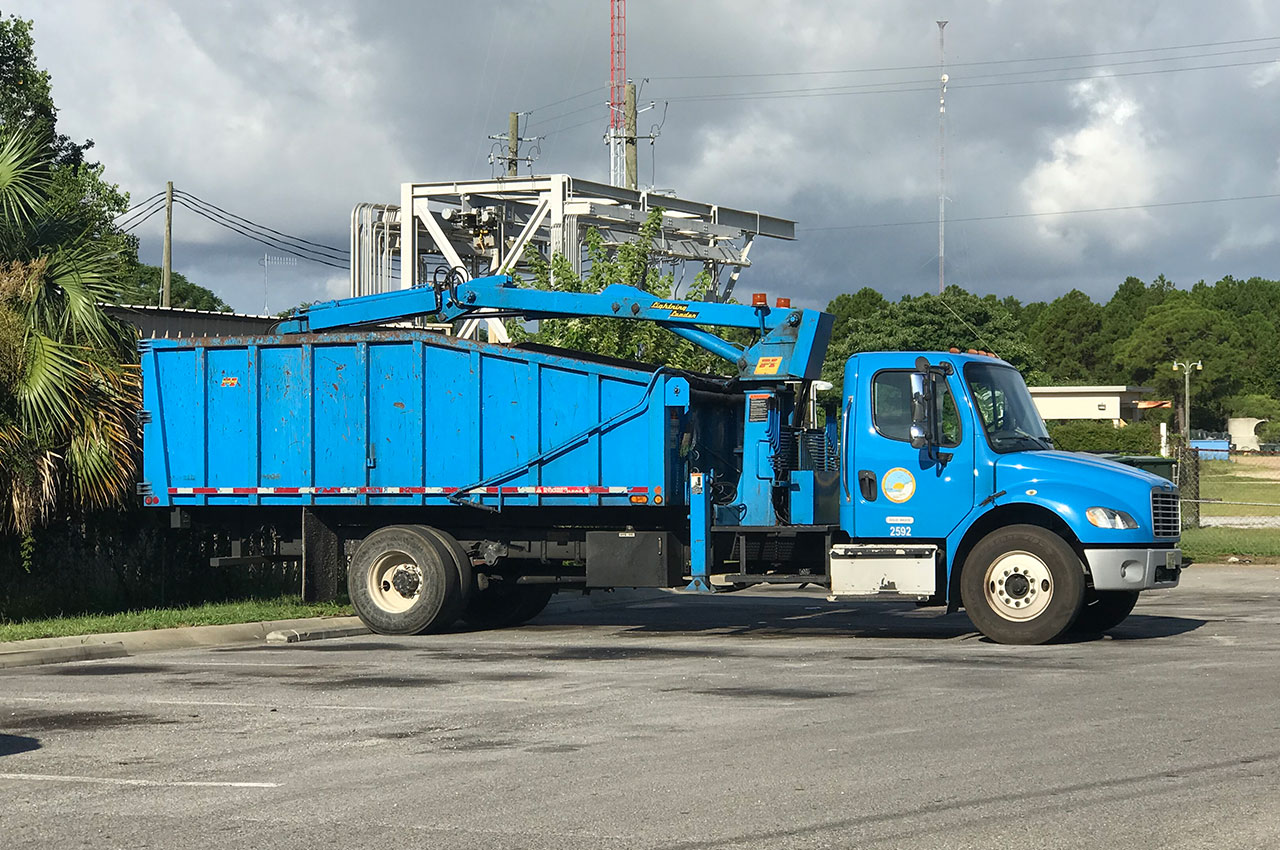 Garbage service for Monday in Fort Walton Beach is scheduled to operate normally as long as winds remain below 35 mph.
The City asks that you DO NOT cut limbs or stack debris by the road at this time as it could cause hazards and clog storm drains.
Out in Destin, Waste Management is currently planning on running their normal routes Monday and Tuesday.
SPEED ZONES
Cinco Christian School has a school zone. Yes, the speed limit is 15mph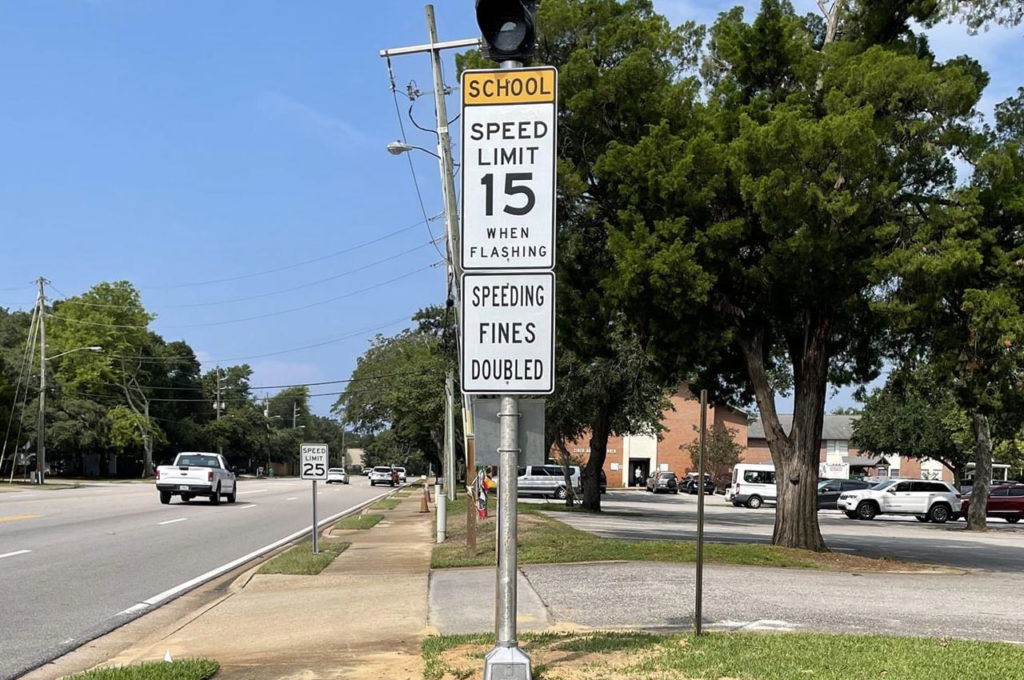 Two days before the start of their school year, multiple school zone signs were installed around Cinco Cristian School on Yacht Club Drive in Fort Walton Beach.
The reason: Mainly safety due to the speed of some drivers along that stretch of road.
"A lot of people do not know that there is an actual school there that works just like all of the other schools in the district," said Chrissy Hartley, community member. "It's just a private school."
Hartley feels that many residents think that Cinco is just a church and don't realize what is happening in the morning with drop-off and in the afternoon with pick-up. The constant speed in front of the school during pick-up and drop-off prompted a team of parents to fundraise to get the $15,000 needed to put up sign on Yacht Club and additional side streets.
"When you're coming from the direction of Beal Parkway and need to turn into the parking lot, it's a hard street to cross," explained Hartley. "It makes it almost impossible to do it safely because you're trying to jet across as quick as possible to make it in due to the heavy flow of traffic and the cars that are speeding."
According to Hartley, because that portion of Yacht Club Drive is actually a state highway, they had to go through a lot of channels in order to get the sign. But it's here.
On school mornings, the lights start flashing around 7:40am and ends around 8:15am.
In the afternoon, the lights start around 2:40pm and ends around 3:15pm.
The speed limit when flashing is now 15mph. Otherwise, the speed limit is 25mph.
"It's just making the public aware that there is now a school zone there and that they need to watch their speed and drop it down to 15mph when flashing," she continued. "This will make it easier and safer for the parents to drop their kids off."
And while the Okaloosa County Sheriff's Office isn't currently out there monitoring speed, she is hoping that the school can get some help soon.
"We just want people to slow down before somebody gets hurt and that's what I am trying to prevent," said Hartley.
STING OPERATION
Okaloosa County Sheriff Office targeting child sex predators. 32 suspects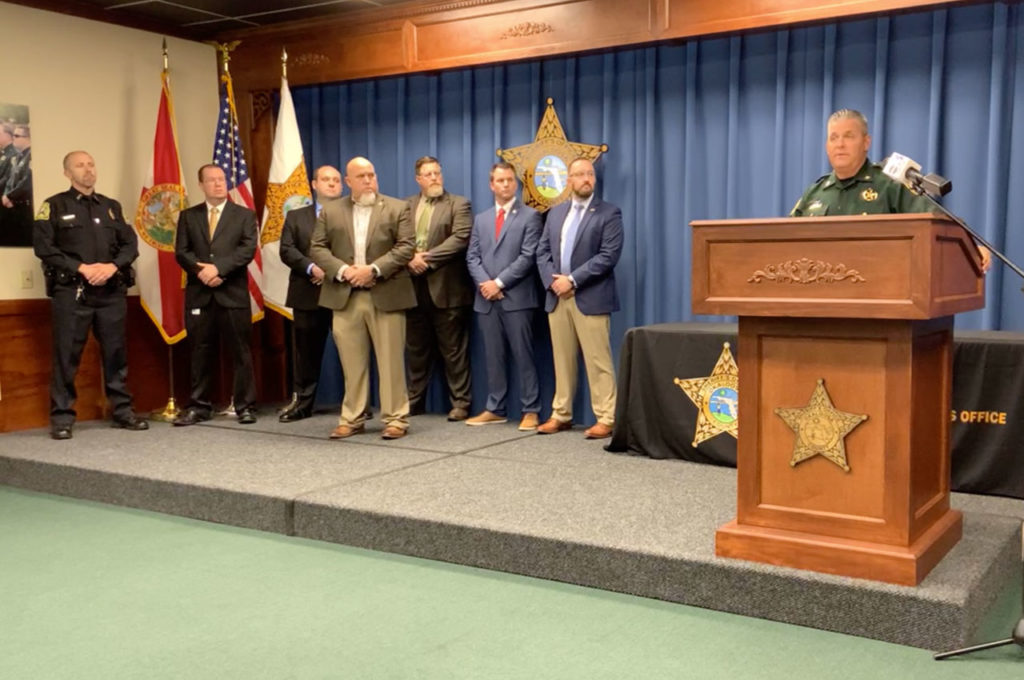 The Okaloosa County Sheriff's Office held a press conference on Friday morning to discuss an operation targeting child sex predators.
Sheriff Eric Aden discussed the results of a five-day operation that ended on Monday morning with 32 suspects.
12 of those suspects have been apprehended.
'What these criminals are doing are preying on our children for sexual activity," started Sheriff Aden. "They are sexual deviants. They're animals. And many of them are in our community."
According to Aden, the additional 20 suspects will be apprehended and identified in the next coming weeks.
"These electronic devices have come a long way and there are all of these kids apps that are very, very dangerous," continued Aden. "These people are preying on these children by texting, emailing and phone calls. Sexual predators are using message applications such as Whisper and Kik and MeetMe."
According to Aden, some of the apps are "hidden apps", disguised to look like a calculator or photo gallery but are really messaging apps.
One suspect in this operation is a registered sex offender who currently lives in Santa Rosa county.
He was using the MeetMe app to try and encounter a 14 year old girl.
He wanted the girl to travel to the Santa Rosa/Okaloosa county line because he's on probation with a GPS monitor on his leg.
Another suspect wanted to have one of the victims, a 14 year old girl, get picked up by an Uber because his wife was home and he did not want the girl to come over to the house.
Sheriff Aden went onto say that part of the operation involved law enforcement posing as children in online chat rooms.
"We have chat rooms set up and we sit there and have open dialogue. I hate to say it but they come to us," he said.
Each of the 32 suspects will be hit with multiple charges ranging from pornography to "travel-to-meet a juvenile" with the intent of sex.
"This is a priority for law enforcement, continued Sheriff Aden. "We're going to continue to see stings like this and every time we have a sting operation like this, we're going to continue to see results like this. And that's a scary thing."
DROPPED POLICIES
Harris Insurance helps Florida homeowners after thousands of policies have been dropped across the state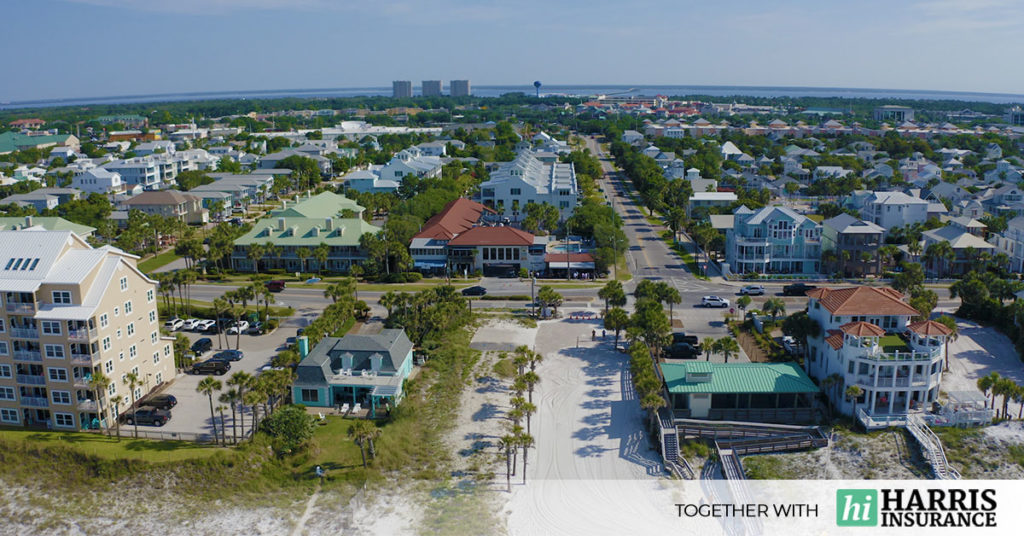 Florida Insurance Agency Harris Insurance is open for businesses and wants to help homeowners navigate a slew of 'non-renewal of home insurance policies' happening across the state.
Here's a quick breakdown of dropped policies according to a report by the Insurance Journal. All of these were approved according to consent orders from the Florida Insurance Commissioner, David Altmaier.
Gulfstream Property & Casualty already cancelled about 20,311 personal residential policies back in May and has agreed to now liquidate.
Universal Insurance Co. of North America decided to drop 13,294 personal residential policies.
Southern Fidelity Insurance Co. is going to non-renew approximately 19,600 personal residential policies over the next 14 months.
Ready to learn more? Click here or contact Harris Insurance here
MO' READS
What else we are reading this morning
City of Crestview and Florida Trail Association officials plan to boost awareness of the City's little-known designation as a Florida National Scenic Trail Gateway Community, according to the Crestview Bulletin. Officials say they want to make more hikers aware of the local sections of the trail and that it is expected to benefit the local economy.
Walton County commissioners approved a first reading of a proposed ordinance to regulate electric stand-on scooters (e-scooters) and other 'micromobility' devices, according to the Walton Sun. However, the proposal is likely to change before its scheduled final adoption next month.
Ok, that's all I have for you this morning. Remember, the FDOT will close bridges once sustained winds reach 40mph. Stay alert and aware of what is happening with this storm.
Hope you have a safe Monday!
Jared
p.s. What did you think of this morning's newsletter? Hit the reply button and let me know!
Published with ♥ by Get The Coast.
Did someone forward you this email? Subscribe here.
124 Eglin Parkway SE Fort Walton Beach, FL 32548