TOGETHER WITH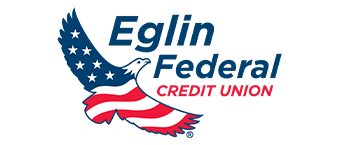 Good morning!
There is a storm out there and her name is Ida. Although Ida isn't expected to make landfall in Northwest Florida, we could certainly feel some of the effects.
The new intensity forecast is slightly stronger than the previous forecast, and it now calls for Ida to reach a peak intensity of 100 kt before landfall. After landfall, Ida should weaken as it moves through the lower Mississippi and Tennessee River valleys. According to the NHC, there remains "higher-than-normal confidence" that a significant hurricane will approach and impact the Gulf coast during the weekend and early next week.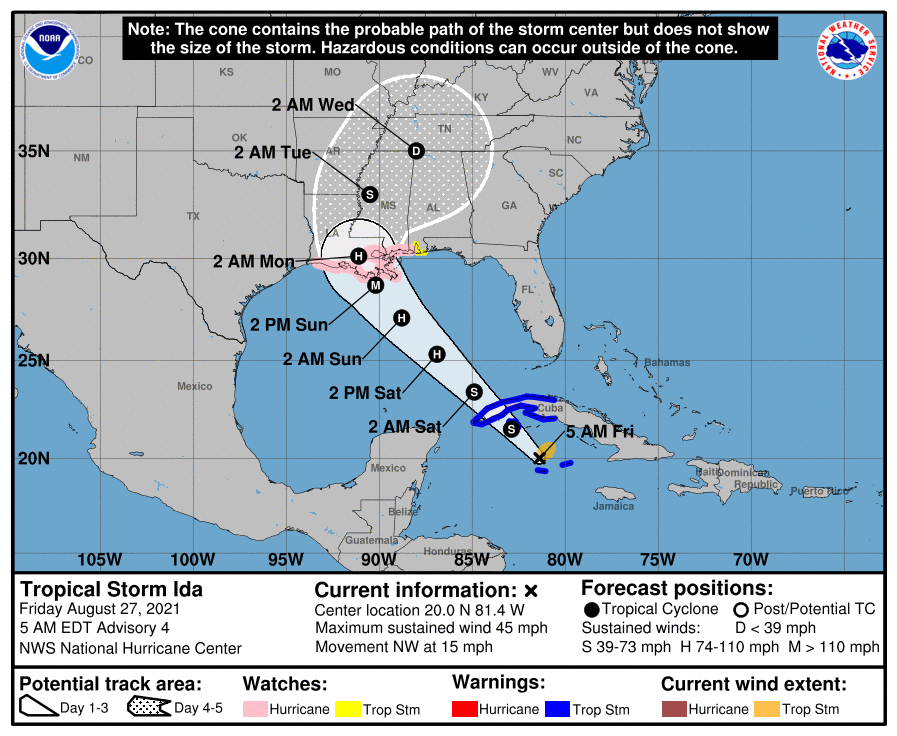 Ida is likely to produce heavy rainfall Sunday into Monday along the central Gulf coast resulting in flash, urban, small stream, and riverine flooding.
Keep an eye on this one and stay safe.
LIBRARIES
Local libraries prepare for software conversion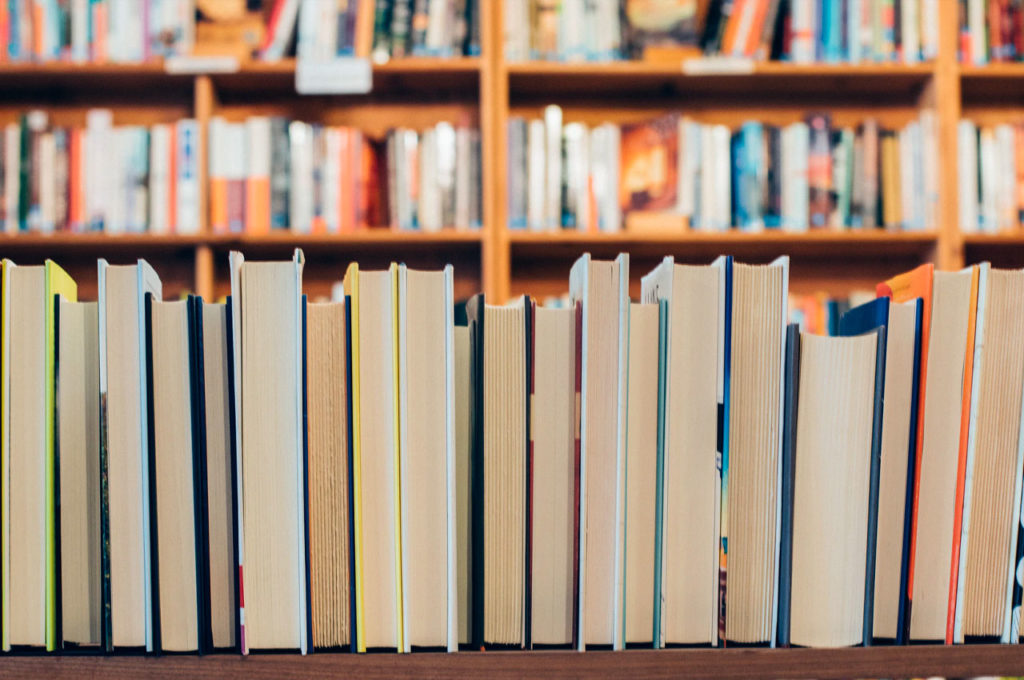 All of the five libraries in the Okaloosa County Library Cooperative are converting to a new software system for their library management effective September 13th, 2021.
This new system will be utilized both internally by the libraries and by library patrons via the website portal at www.Readokaloosa.org. The data conversion will affect the library hours of operation as follows:
Friday, September 10th – Library open, but will close at 5:00 p.m. (instead of 6:00), online catalog unavailable after 5:00 p.m.
Saturday, September 11th – Library closed all day and online catalog unavailable.
Monday, September 13th – Library opens at 9:00 a.m. with new software system and online catalog.
According to the City of Destin, if you saved your reading history or made reading lists on Readokaloosa.org, that data will not transfer to the new system and will be lost. You will need to save your reading history and lists from your library account to an external file, like a Word document, before September 9th.
ARTS
Mattie Kelly Arts Foundation looking for artists for festival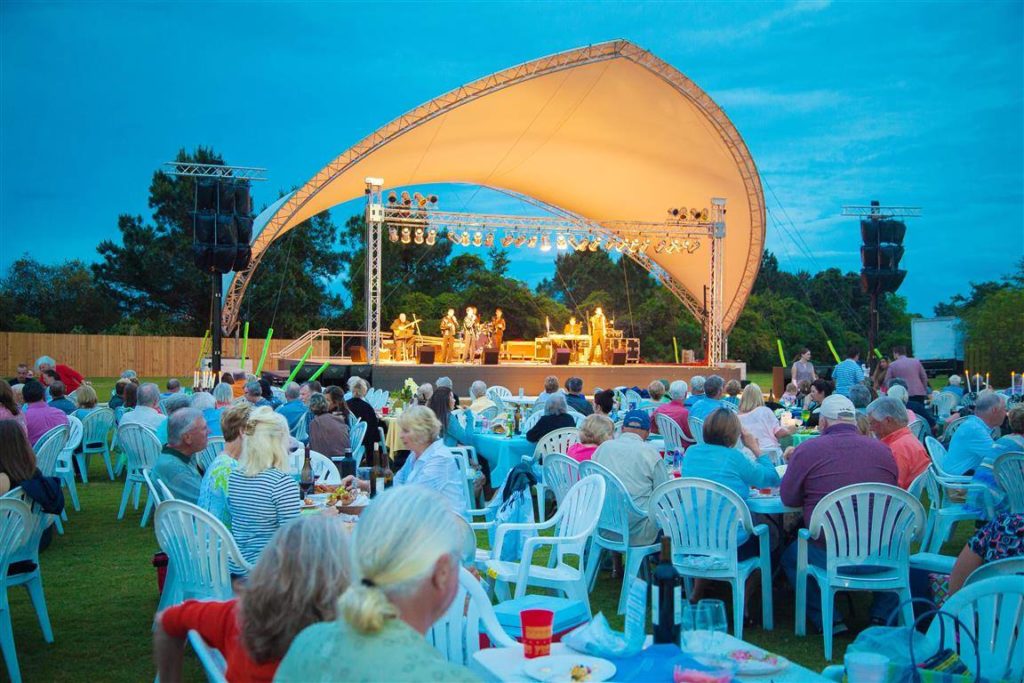 The Mattie Kelly Arts Foundation is now accepting applications for the Adult Collaborative Art Exhibit component of the 26th annual Festival of the Arts (Oct. 30-31, 2021) at the Mattie Kelly Cultural Arts Village in Destin.
One of the unique features of the Festival is the Collaborative Art Exhibit.
This exhibit showcases the work of seasoned and emerging adult artists and local high school student artists.
They are competing for the $850 McIlroy Awards given in honor of the late Patricia McIlroy, Destin's first First Lady and an MKAF advocate and patron.
"Artwork should be of an artistic caliber associated with a juried fine art show," announced the Foundation in a press release. "Artists in the Adult Collaborative Exhibit can display and/or sell up to three pieces of artwork."
The competition is open to the first 25 eligible applicants.
The entry fee is $30 per person for up to three pieces of art.
The application deadline is Friday, Sept. 16, 2021.
To receive an application, contact Deb Nissley at the Mattie Kelly Arts Foundation at deb@mkaf.org or (850) 650-2226. Student applications will be handled through high school art teachers.
SCAM
New twist on an old scam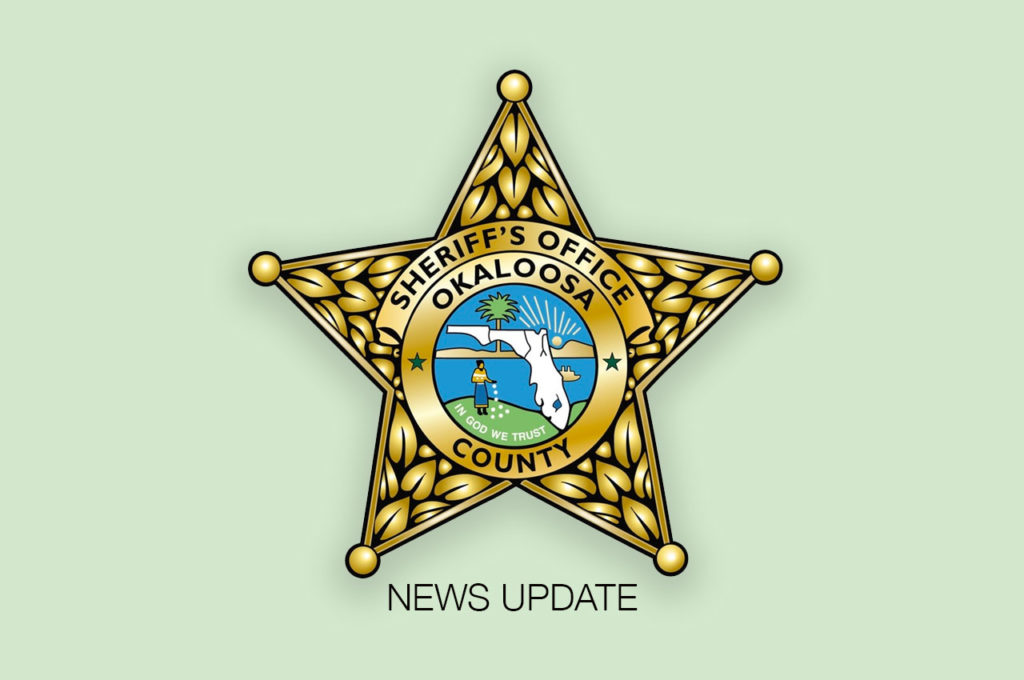 Scammers are once again contacting local residents and trying to convince them they missed jury duty and must pay a fine to avoid arrest, according to the Okaloosa County Sheriff's Office.
"In an apparent attempt to make the ruse appear more legitimate, they're asking the victims to show up with the "fine", typically to be paid with money cards, at a local public building such as a courthouse," wrote the OCSO in a statement.
According to the OCSO, the scammers have also set up an elaborate, bogus phone system for return callers claiming to be the "Okaloosa County Sheriff's Department".
The OCSO asks that you please share this new scheme with others to prevent these scammers from getting the money of innocent victims
FISHING
FWC's High School Fishing Program curriculum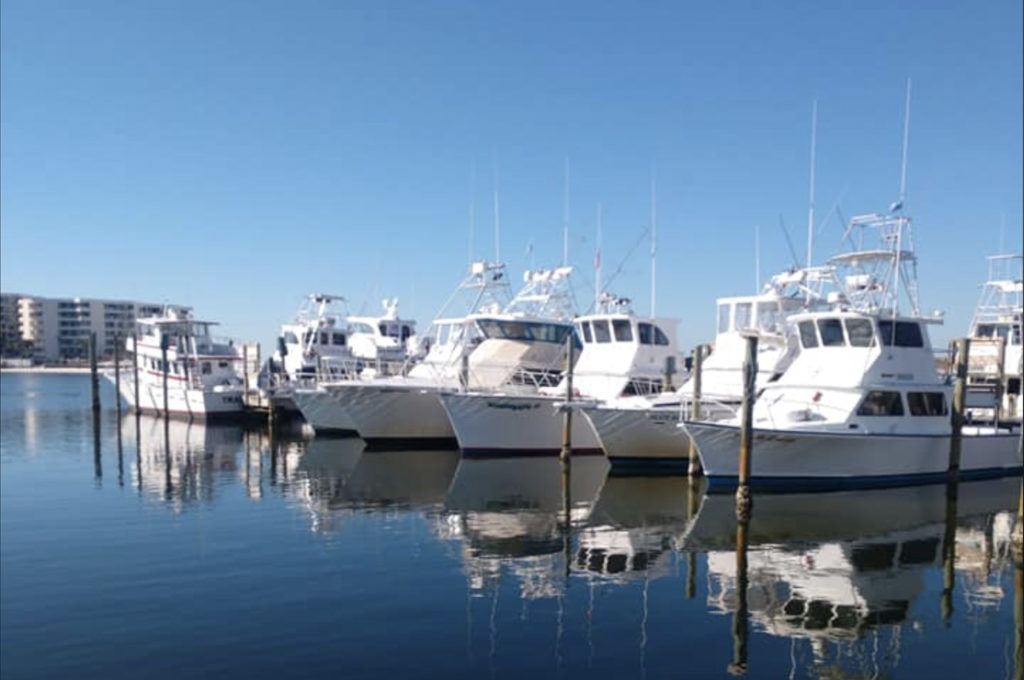 The Florida Fish and Wildlife Conservation Commission's 2021-2022 High School Fishing Program offers high school fishing clubs or teams the opportunity to teach fisheries conservation, practice fishing skills and apply for the Florida R3 Fishing Grant Program.
This grant program is focused on recruiting new anglers to ensure the future of fishing in Florida.
The Florida Sport Fish Restoration R3 Fishing Grant will award up to 30 high school fishing clubs or teams $500 this year to assist with club expenses and the purchase of fishing licenses or gear for participants.
Participating clubs and teams will receive an updated educational curriculum comprised of lessons and activities on fisheries conservation and resource management, plus a chance to win prizes by completing a conservation project.
The grant program is open to freshwater or saltwater fishing clubs or teams at public, private and charter high schools throughout Florida. To be considered for the grant, high school fishing clubs or teams must have a minimum of five members and be represented by a school faculty member or parent who will follow the provided instructor's manual.
The grant application can be found online at MyFWC.com/HSF by scrolling down to "Florida's R3 Fishing Grant Program."
The deadline for submitting applications is Friday, Sept. 17 at 5 p.m. ET.
SPORTS
Tennis & Pickleball courts in Fort Walton Beach to be resurfaced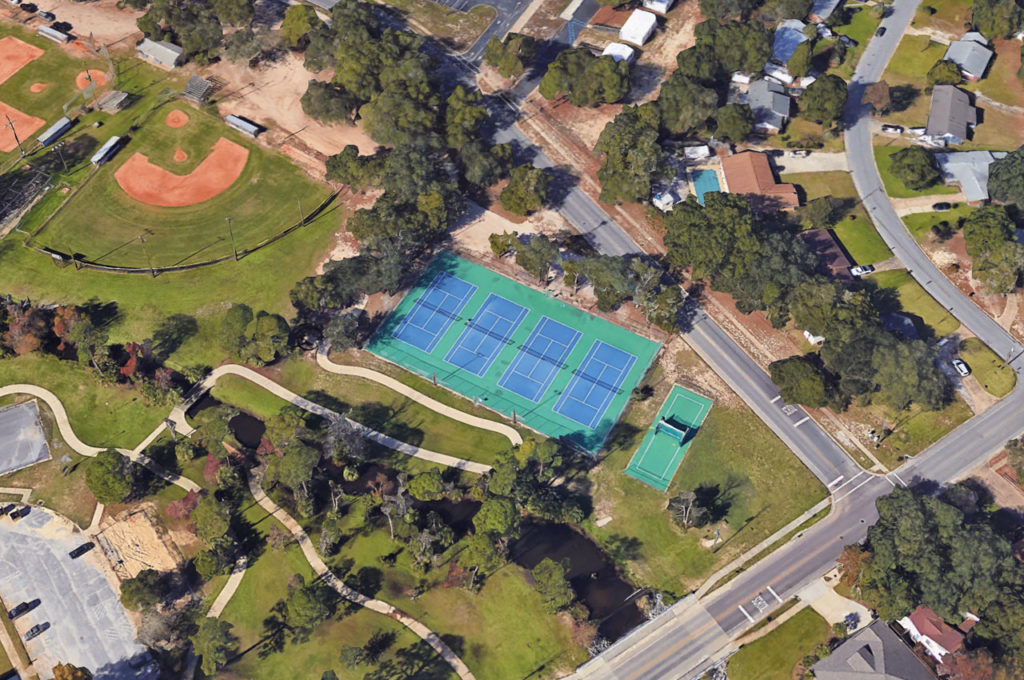 The pickleball courts on Holmes Blvd and Jet Drive, along with the tennis courts at Ferry Park are slated to receive some much needed TLC.
On Tuesday night, Fort Walton Beach City Council approved the repair and resurfacing request from the Rec Department.
The pickleball courts on Holmes/Jet officially opened in March 2020 and are insanely popular with all six courts being utilized on most days. However, the courts have developed thick cracks and separation, causing safety concerns with tripping hazards.
According to Rec Director Jeff Peters, the courts have also shown some raised areas with cracking due to the intrusion of oak tree roots underneath the courts.
The courts weren't brand new to begin with, as they were converted from old tennis courts into pickleball courts. The cracks the city is having issues with today were there from when they were tennis courts, and weren't repaired correctly by the original contractor, according to the City.
The repair work will include:
Sanding of the entire pickleball court area.
Filling of the existing cracks with Rite-Way crack repair.
Resurfacing of the pickleball court surface.
Over at Ferry Park, the tennis courts will receive a major overhaul after hollow spots were identified by the city's resurfacing contractor.
"In order to fix that, we have to mill up the asphalt, bring in the City's asphalting contractor to re-asphalt the courts, and then resurface the tennis courts," said Peters. "With that, you have to take the fencing down, which is probably 60 years old anyway."
In total, the Ferry Park Tennis Complex project includes:
Removal and replacement fencing.
Milling of the entire court surface and replacement with 1-½" asphalt.
Resurfacing of the tennis court area.
Replacement of tennis posts and nets.
The total cost for the repairs and resurfacing project at the Jet/Holmes Pickleball Courts and the Ferry Park Tennis Complex is estimated at $125,000.
"Those tennis courts at Ferry Park get some action and they are way past due," said Councilman Travis Smith. "So I think this is a good project."
POLITICS
Cities & County could come to an agreement over Bed-Tax expansion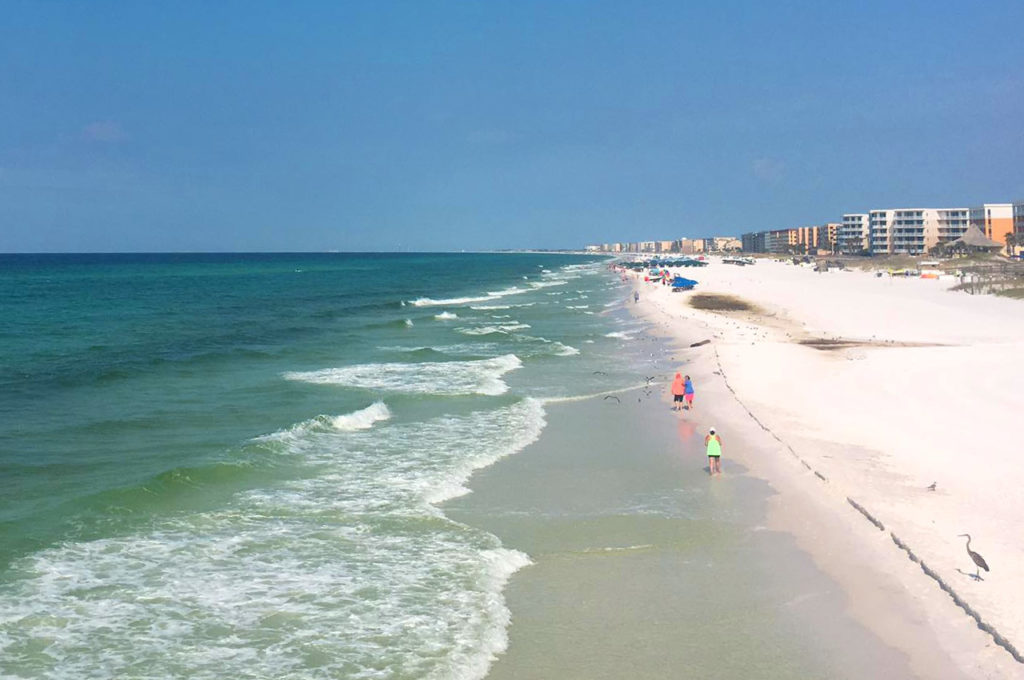 As you know, Okaloosa County is trying to expand the Bed-Taxing District countywide. Currently, the district runs from the county-line in Destin to eastern parts of Mary Esther, and then south of the Bay.
Since the announcement, there has been some opposition from Destin surrounding the expansion as stakeholders want to make sure that the money is split "fairly and equitable".
This led to a conflict resolution between all parties involved and has been going since August 18th.
Well, it seems as though as of Wednesday, an agreement between all municipalities may have actually happened.
On August 18th, the County proposed setting aside 12.5% of the annual Tourist Development Tax collections to be used by the municipalities subject to the nine municipalities agreeing to an Interlocal Agreement detailing how those funds would be earmarked for each municipality.
The municipalities agreed to have staff and attorneys meet again on August 24th to discuss how the funds would be earmarked for each municipality.
The August 24th meeting resulted in terms that staff and the attorneys agreed to take back to their city councils for consideration.
These terms have not been made publicly available yet but will be provided to the Council-members in advance of their meetings.
According to a memo from the City of Destin, attorneys and staff will continue working collaboratively with other muncipalities' attorneys and staffs towards the drafting of a formal Interlocal Agreement.
The City of Destin will have a regular city council meeting on Monday. The City of Fort Walton Beach is expected to call a special meeting sometime next week.
The mail-in ballot only election is scheduled for October 5.
OKALOOSA ISLAND
Town Hall set to discuss Okaloosa Island improvements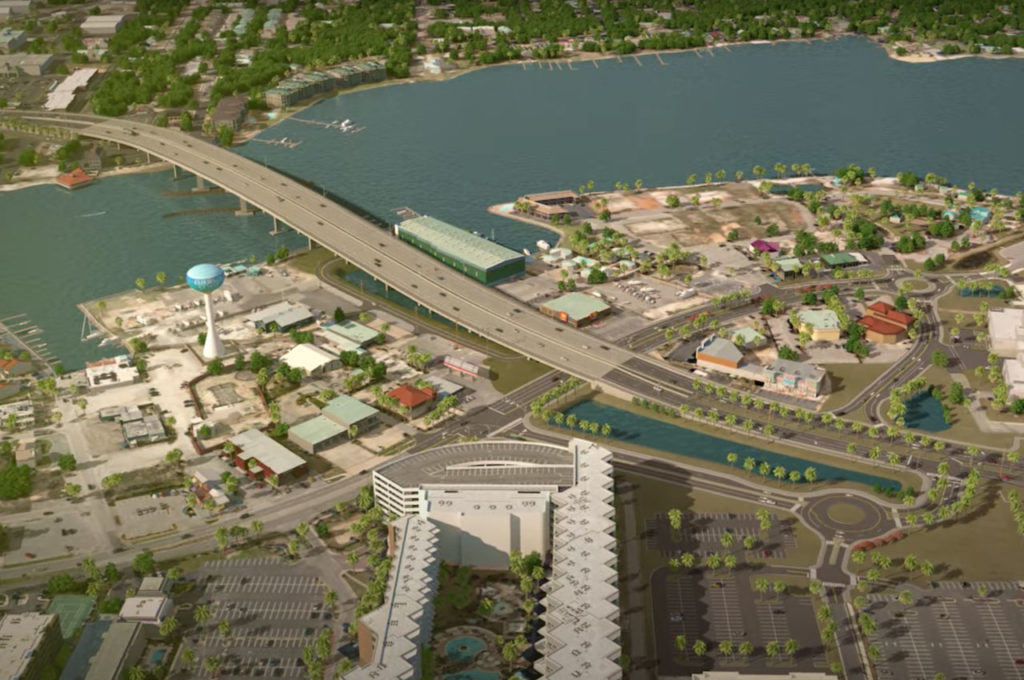 Okaloosa Chairman Carolyn Ketchel will be hosting a Town Hall meeting to discuss concepts for future improvements on Santa Rosa Boulevard.
Members of the public are welcome to attend.
Two or more members of the Board of County Commissioner may be in attendance.
In August of last year, Commissioner Ketchel held the first town hall on this where she discussed 4 proposed concepts for the improvements.
Concept A features include:
5ft meandering sidewalk on southside of roadway
Minor utility adjustments
Overall improved landscaping and crosswalks
Improved micro-swales and ditch bottom inlets
Concept B features include:
12ft multi-use path
Minor utility adjustments
Overall improved landscaping and crosswalks
Improved micro-swales and ditch bottom inlets
Concept C features include:
Corridor Revitalization
Conversion to a 2-lane divided roadway
Roundabout opportunities
12ft multi-use path
Pocket Parks with enhanced landscape features and seating
Overall significant improvements
Improved stormwater collection and conveyance including bioswales
Concept D features include:
Corridor Revitalization
Conversion of West-bound lane into a 2-way undivided roadway
Roadside Parking
12ft multi-use path
Pocket Parks with enhanced landscape features and seating
Overall significant improvements
Improved stormwater collection and conveyance including bioswales
The meeting will take place on Tuesday, August 31, 2021, beginning at 8:30 am., at the Okaloosa County Administration Building, located at 1250 N. Eglin Parkway, Shalimar, FL 32579.
Click here to see images over each proposed Concept listed above
Ok, that's all I have for you this morning. Sorry that this was a little late being sent out. Hope you have a great weekend!
Jared
p.s. What did you think of this morning's newsletter? Hit the reply button and let me know!
Published with ♥ by Get The Coast.
Did someone forward you this email? Subscribe here.
124 Eglin Parkway SE Fort Walton Beach, FL 32548