September 22, 2022
|
Reading time:
17 mins
TOGETHER WITH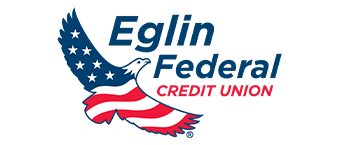 Good morning!
We have a number of news items this morning so let's just jump right into the stories you need to know!
By the way, would you forward this email to someone you think would enjoy our local newsletter?
As our flagship product, I'm hoping to continue to grow the newsletter readership with our take on a "digital newspaper."
WE REMEMBER
Remembering Okaloosa Deputy Sheriff Bill Myers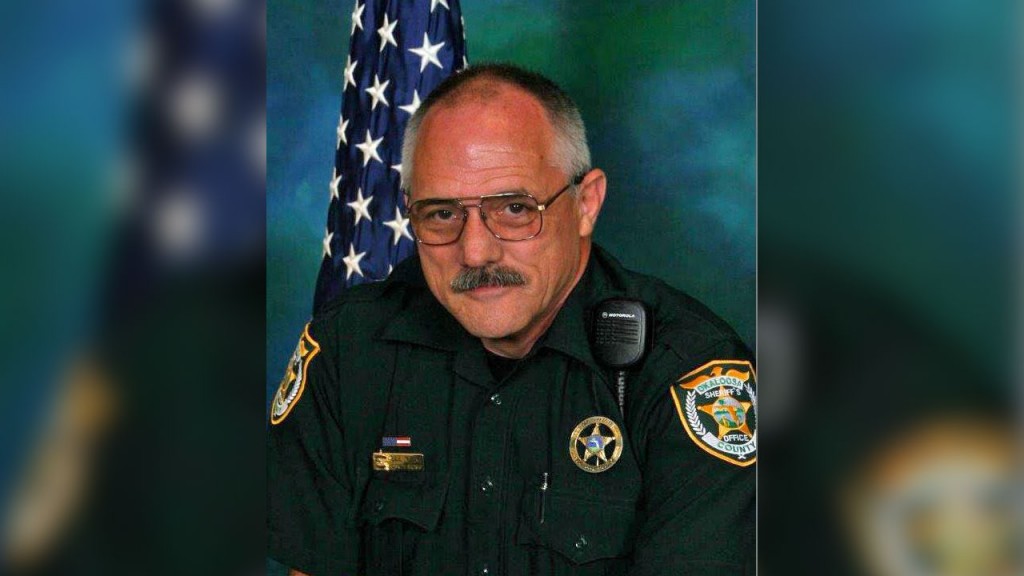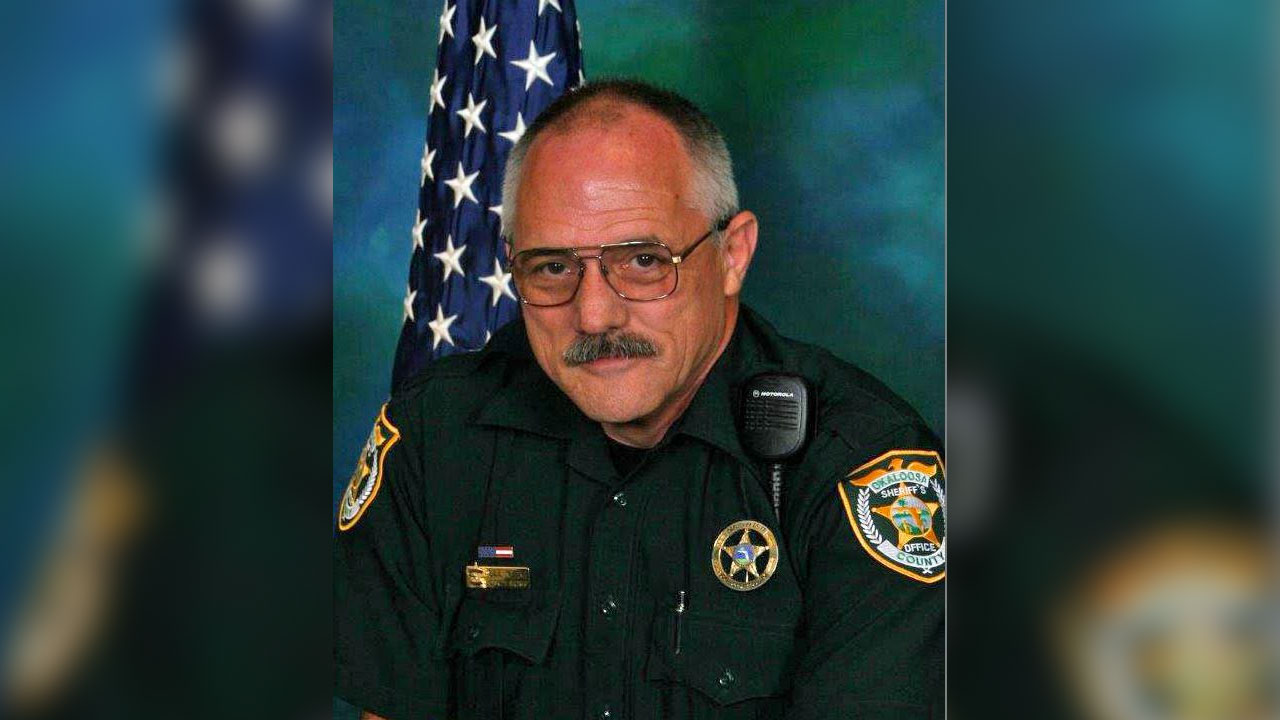 Like many in Okaloosa County, I won't forget the tragic incident surrounding the death of Okaloosa Deputy Sheriff Bill Myers on this very date (September 22) in 2015.
I had gotten the courage to somewhat launch this news operation called Get The Coast and this story surrounding Deputy Myers was one of the very first articles that I did at the time.
Deputy Sheriff Bill Myers was shot and killed on an early Tuesday morning while serving a domestic violence injunction at a local attorney's office on Plew Avenue, in Shalimar, at approximately 8:20 am.
Investigators said Myers had served the papers on the subject and a discussion regarding firearms confiscation ensued. The subject reportedly told Myers that the firearms were in his vehicle. As Deputy Myers was leaving the office, the man opened fire from behind, striking him multiple times in the back and the back of the head.
The man fled in his black truck to the Comfort Inn and Suites in Niceville where he barricaded himself in room 205 for approximately 90 minutes. The OCSO Special Response Team responded and evacuated the building to the KFC across the street, and proceeded to set up a perimeter. 
The suspect was shot and killed by members of the Special Response Team after exiting the room displaying a firearm.
At a press conference that very afternoon, former Okaloosa Sheriff Larry Ashley said, "Deputy Myers has been a treasured part of this agency's family since 1989."
"He served this community with distinction for decades. He was loved, admired, and respected for his dedication to the law enforcement profession," said Sheriff Larry Ashley at the time. "He loved photography and he had an ability to make those around him smile, especially his young granddaughter who he adored and took to Disney World as often as he could. We pray for his soul and for his family and we ask that the community pray for them as well, and for all the men and women who have the courage in these troubled times to put their lives on the line for others."
64-year-old Deputy Myers was a U.S. Air Force veteran and had served with the Okaloosa County Sheriff's Office for a total of 26 years. He retired from the OCSO in November 2013 and had only recently rejoined the agency that January to serve civil papers part-time.
In 2018, the Shalimar Bridge on Eglin Parkway was memorialized as "Deputies Tony Forgione and Bill Myers Memorial Bridge." There is a sign displayed near the bridge to honor them.
Forgione was a three-year veteran of the Okaloosa Sheriff's Office. He was shot and killed while attempting to arrest a suspect who had escaped from custody while he was under going a mental evaluation at a local hospital.
Today, we remember Deputy Sheriff Bill Myers.
SPONSORED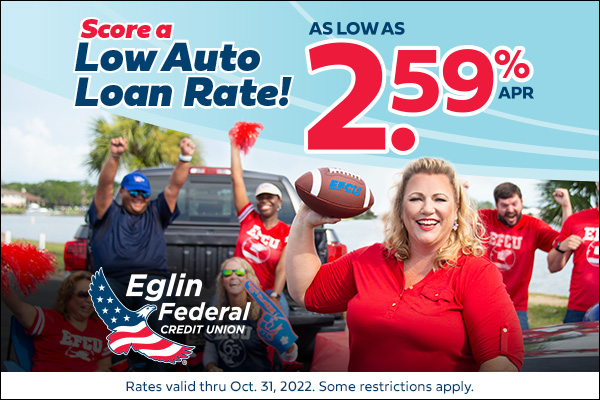 Score a low auto loan rate!
Financing your next auto purchase with Eglin Federal Credit Union is quick and easy. EFCU offer low rates and flexible terms to meet your needs.
GROWTH
$16 million expansion at Crestview's Bob Sikes Airport, adding more jobs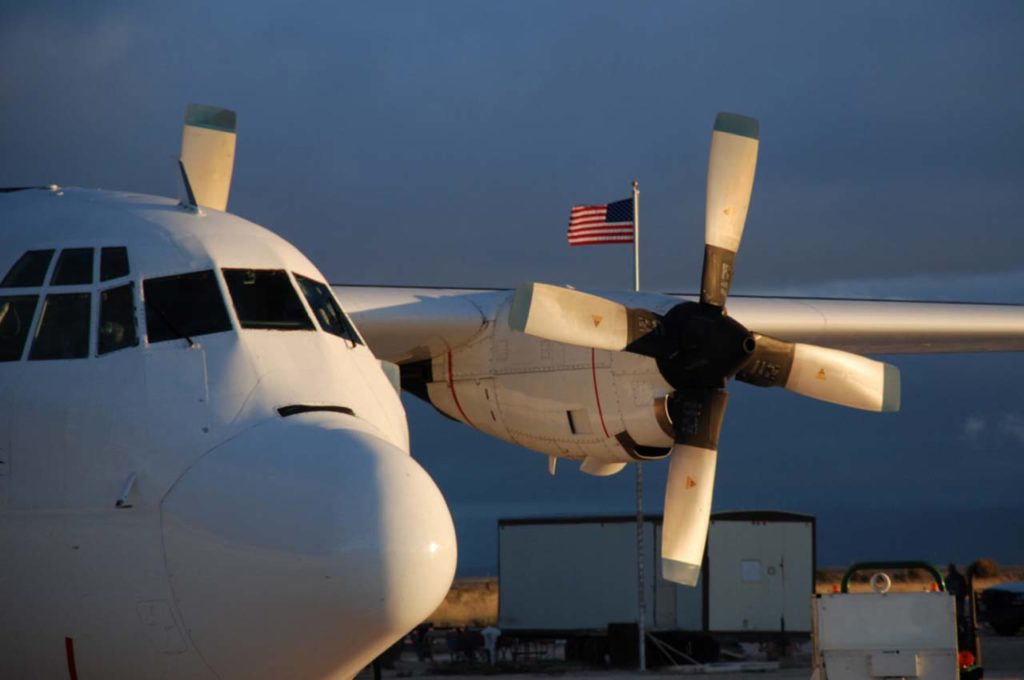 On Tuesday, September 20, 2022, the Okaloosa Board of County Commissioners approved a ground lease agreement and an Ad Valorem Tax Exemption for Gulf Air Group, Inc. for an expansion into Okaloosa County.
According to One Okaloosa EDC, the anticipated $16,000,000 investmentwill be applied toward the construction and equipping of a new, state-of-the-art aircraft hangar complex totaling 70,000 SF.
Along with the investment, the company has committed to hiring 55 individuals at an average wage of $89,000 (179% of Okaloosa County's average wage).
These positions are in addition to the 102 employees the company currently employs in their existing facility at Bob Sikes Airport.
Gulf Air Group specializes in the maintenance and operation of the L-382 Hercules aircraft – widely regarded as the most reliable, versatile and powerful aircraft for hauling oversized loads to and from remote areas, according to One Okaloosa EDC.
The company provides solutions for medium-lift cargo aircraft, maintenance, technical expertise, and research (RDT&E) for clients worldwide.
As an FAA repair station, Gulf Air focuses on high-quality, low-volume maintenance across the entire L-382-series of airplanes through our 14 CFR Part 145 Repair Station. In 2019, Rolls-Royce selected Gulf Air Group to be an Authorized Service Center for the AE2100D3 engines.
"Gulf Air Group has been a proud member of Okaloosa's aviation community since 1987," said Tim Rhyne, President/CEO, Gulf Air Group. "During this time we have found the aviation offerings at Crestview's Bob Sikes Airport to be second to none, and with the recent addition of the Northwest Florida State College Aviation Center of Excellence directly across the airfield from us, it will only get better."
Rhyne says that although Gulf Air reviewed other locations, the support of the Okaloosa Board of County Commissioners, the Okaloosa County Aviation Advisory Board, the Okaloosa County Airports Department and One Okaloosa EDC made it very attractive to expand their Crestview maintenance operation with the new facility.
"Today's announcement, that Gulf Air Group will be undertaking a significant expansion in Crestview is, not only welcome news for the 55 individuals who will ultimately be presented with new career opportunities, it is welcome news for the entire community," said Chairman Mel Ponder, Okaloosa County Board of County Commissioners. "Aviation is an exciting industry sector with tremendous growth potential, and companies like Gulf Air Group continue to prove that Okaloosa is well-equipped to share in this future."
It's been a busy week for Okaloosa County Airports Director Tracy Stage. On Monday, his team celebrated the grand opening of the new $11.4 million Concourse C at the Destin-Fort Walton Beach Airport. With today's announcement, Stage is proud to help facilitate a significant expansion with Gulf Air Group through a new lease at the Bob Sikes Airport.
"We are very excited to see the new aeronautical development that will fit like a glove at CEW. Gulf Air Group is well poised to further their success and are thrilled with their commitment to high wage job creation in our community – we look forward to building on our solid partnership," said Tracy Stage, Okaloosa County Airports Director.
"One Okaloosa EDC applauds the decision by Gulf Air Group to undertake their competitive expansion project at Crestview's Bob Sikes Airport," said Leslie Sheekley, Chair, One Okaloosa EDC. "The targeted infrastructure investments made by the Okaloosa County Board of County Commissioners in recent years – combined with Okaloosa's skilled workforce bolstered by an annual pipeline of 1300 technically-trained military transitioners – continue to bear fruit in this highly prized industry sector."
PUBLIC SAFETY
Shooting in Destin's Regatta Bay community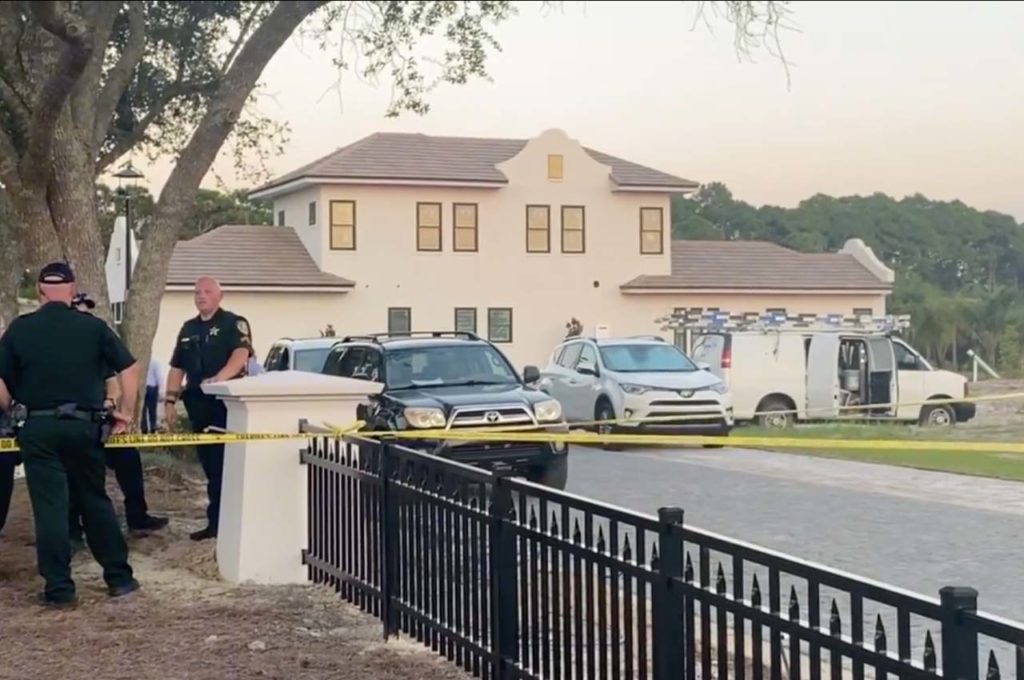 An armed disturbance led to an officer involved shooting on Wednesday afternoon.
According to the Okaloosa County Sheriff's Office, one person is dead after deputies responding to a call of shots fired encountered a man chasing and shooting at a woman inside the Regatta Bay Community in Destin.
Investigators say it appears to have been a domestic violence situation, with the armed man pursuing the woman around and inside a home under construction on Sailmaker Lane around 4:30 p.m.
The OCSO reports that the man ignored repeated demands to drop the gun and fired at one of their deputies. Fire was returned and the suspect was struck and died at the scene. No deputies were injured.
The State Attorney's Office also responded, according to the news brief. As part of the standard protocol for use of force investigations, the deputies involved will be placed on administrative leave, with pay, pending the results of an investigation.
Additional details will be released at a later time.
THE WEEKENDER
A few things to do around town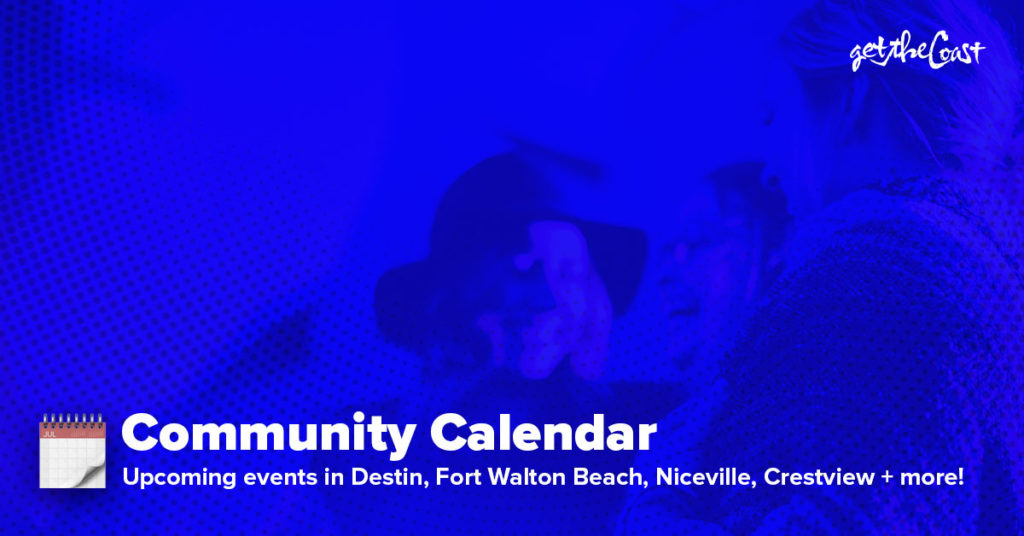 September 23, 2022 – Super Sew Day – Free – View
September 23, 2022 – CONCERTS AT THE LANDING: Flow Tribe – View
September 24, 2022 – 8th Annual CMSAF James C. Binnicker Memorial Run – $35 – View
September 24, 2022 – Felted Soap Making Class – $15 – View
September 24, 2022 – Andi Scurto reading of "The Accidental Adventure of Mattie the Giraffe" – View
September 24, 2022 – Oktoberfest – $10 – View
September 24, 2022 – 2nd Annual Burgers, Bourbon & Beer Festival – View
September 24, 2022 – MKAF Fall Flix: Hairspray – View
Looking Ahead
September 26, 2022 – Embroidery Demo Day – FREE – View
September 28, 2022 – C.A.R.E.ing for Turtles – $10 – View
September 29, 2022 – Fort Walton Beach High School Reunion – Class of '72, '73, '74 & '75 – Price Varies – View
September 30, 2022 – CONCERTS AT THE LANDING: Interstellar Echoes – (A Tribute to Pink Floyd) – View
October 1, 2022 – Step One Automotive Hosts the Saving with Soul Adoption Event – Free – View
October 1, 2022 – 2022 Women's Expo at The Island Resort – Free – View
October 1, 2022 – Downtown FWB Art Walk sponsored by Artesano Boutique – View
October 1, 2022 – MKAF Fall Flix: The Goonies – View
October 4, 2022 – 2022 National Night Out – 80's Themed Community Block Party – View
October 5, 2022 – C.A.R.E.ing for Turtles – $10 – View
PUBLIC SAFETY
'Aqua Alert' launches in Okaloosa to aid in the search for missing or endangered boaters and kayakers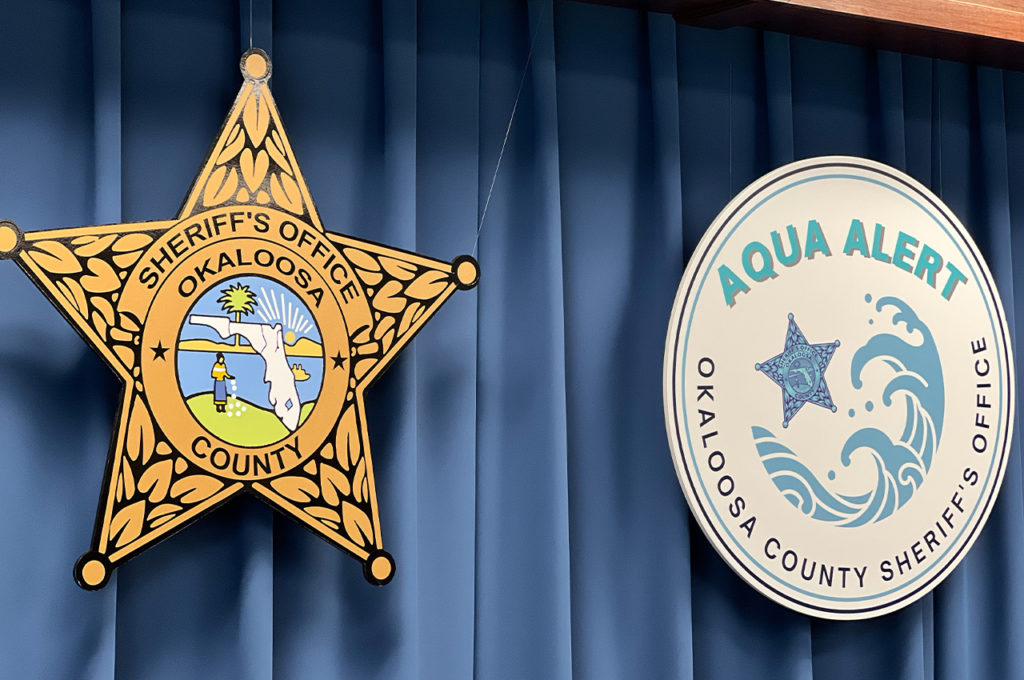 On Wednesday morning, the Okaloosa County Sheriff's Office and the City of Destin held a joint press conference to debut the new Aqua Alert notification system. Aqua Alert is missing boater public alert notification system that was developed to aid in the search for missing/endangered boaters and kayakers.
It is being launched as the result of a collaborative effort between the City of Destin, the Okaloosa County Sheriff's Office and the Okaloosa County Board of County Commissioners.
Residents can download the OCSO's Official app from the App Store and turn on the "Aqua Alert" notification.
The Aqua Alert concept was conceived by Minnesota resident Judy Schink after her husband, 61-year old Dave Schink, disappeared while kayaking in the Gulf of Mexico February 13th, 2021. During a search and rescue operation, Dave's kayak was discovered twenty miles offshore but sadly, he was never located.
"A year-and-a-half ago, my husband went paddling much on a beautiful day like today and his paddle broke," said Mrs. Schink during the recent Okaloosa Commissioners meeting. "He got washed out to sea and was lost and we never got the opportunity to see him again. Had we been able to alert boats in the Harbor, he may have been saved."
Schink says it was her son that came up with the idea of having an Aqua Alert to notify boaters, much like the Amber Alert notifies drivers to be more situationally aware.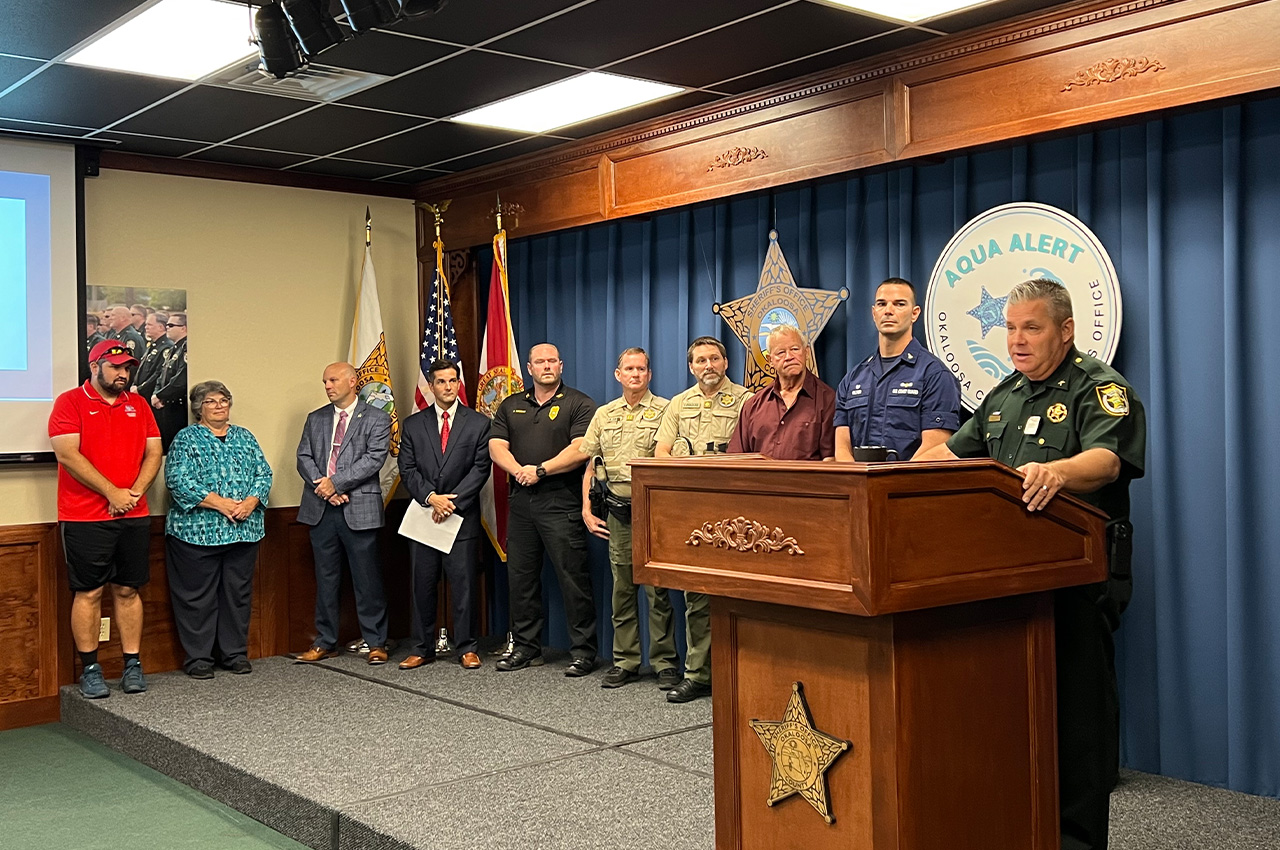 Before the alert is sent out, Okaloosa County Sheriff's Office will take all reasonable actions to ensure the search and rescue of missing boaters. However, when boaters meet certain criteria, they will be entered into the Aqua Alert tab of the Okaloosa County Sheriff's Office Smart Phone Application that will then be pushed out to subscribers.
"In today's world, when there's an incident on the water, the Coast Guard is usually called either through 911 or the Coast Guard themselves," said Destin Mayor Gary Jarvis. "As they're working through the verification process, they will put out a notice to Mariners to tell people keep their eyes and ears open while they're on the water, because there may be a swimmer in the water or an incident in their general area."
Mayor Jarvis explained that this notification goes out on radio channel 16, a channel that not everyone uses.
"We have renters or even charter boat captains that are not on channel 16," he added. "Everybody has a smartphone and if you're in range of cell coverage, this program, if you sign up for it through the Sheriff's Office and using their app, will just put that many more eyes and ears on the water. Not necessarily to go and participate in a search and rescue, but just to be aware that there's something amiss in their immediate area.
"It will make a difference in somebody, if not their life, at least in their recovery," he said.
Here's how it works:
When the Okaloosa County Sheriff's Office is made aware of a missing boater, a Deputy will be dispatched to contact the reporting person. Once it is confirmed the boater is missing, the following will occur:
Notify the Special Operations Lieutenant or Sergeant.
Notify the United States Coast Guard and the Florida Fish and Wildlife Conservation Commission.
If safe conditions exists, the Special Operations Lieutenant or Sergeant will initiate a search and rescue.
The supervisor will notify the Okaloosa County Sheriff's Office Public Information Officer for media notification.
According to the OCSO Policy Guide, Law Enforcement must conduct a preliminary investigation in which the agency has concluded that the disappearance poses a credible threat to the person's welfare and safety. That's when the following will take place:
The missing/endangered person(s) must be entered into FCIC/NCIC and a USCG PAN-PAN should be issued.
Contact has been made with the PIO for media notification.
A sufficient description of the missing person and/or vessel must be obtained.
A last known location of the person and/or launch location with a travel plan must be known. This is to ensure the report and Aqua Alert is documenting an actual missing person/vessel.
When that criteria is met, the Okaloosa County Communications Center will be advised to create an Aqua Alert notification.
It's important to note that this is not a distressed swimmers notification system. This system is intended for vessels and occupants of vessels that are in distress, according to Sheriff Eric Aden.
"We have confined area for most of our distressed swimmers and have procedures in place for that," he added."
"Okaloosa County is home to some of the most popular boating areas in the U.S.," Aden said. "Having a rapid way to get out detailed information when a life is in danger will mean potentially thousands of additional eyes on the water to help."
OK, that's all I have for you this morning! I hope you have a great Thursday!
p.s. What did you think of this morning's newsletter? Hit the reply button and let me know!
Published with ♥ by Get The Coast.
Did someone forward you this email? Subscribe here.
124 Eglin Parkway SE Fort Walton Beach, FL 32548