November 4, 2022
|
Reading time:
17 mins
TOGETHER WITH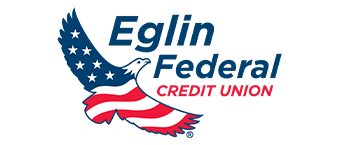 Good morning!
We have a lot to cover, and it's FRIDAY! Let's get to it…
BUSINESS
Formula 3 race car driver works to motivate, inspire others as part of Step One Motorsports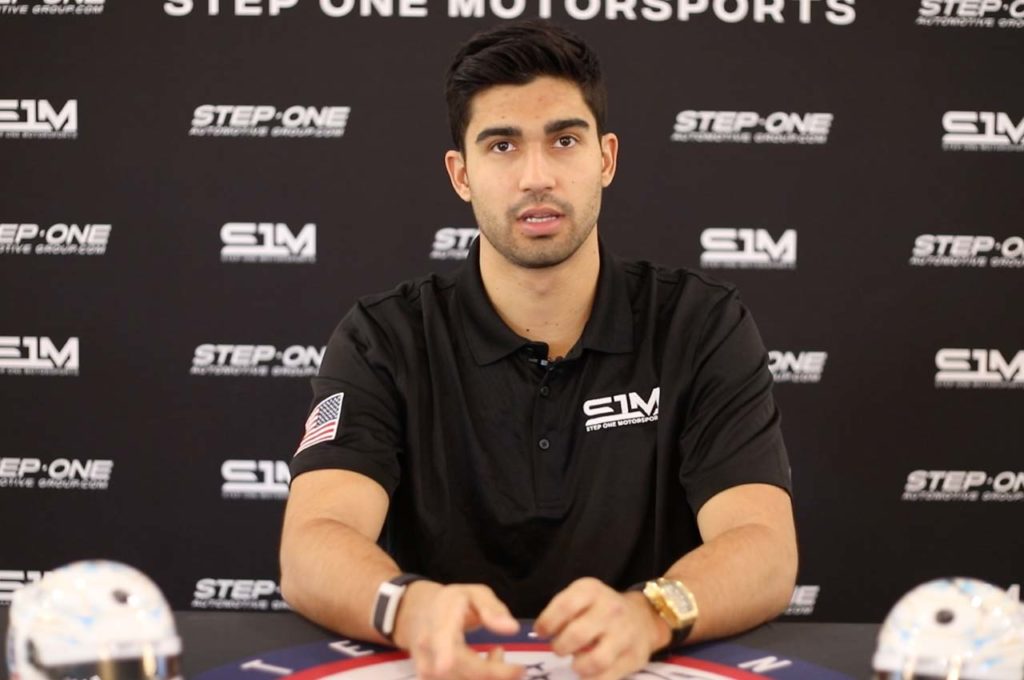 Late last month, Formula 3 race car driver Juan Manuel ("JM") Correa made a pit stop in Fort Walton Beach to visit a few of Step One Automotive's car dealership locations.
"Being one of the ambassadors of the Step One Motorsports Program is a really big deal because there are very few motorsport programs that work together with such a variety of drivers coming from so many different aspects," he said. "I am very happy and honored to be a part of that, and I think for Step One, it's really smart of them to use their platform to capitalize on Motorsports."
Motorsports is growing everywhere, especially in the U.S. market with the Drive to Survive documentary series produced in a collaboration between Netflix and Formula 1.  Correa is currently doing the Road to Formula 1 and recently raced on October 16th in Algarve, Portugal.
"It was one of the endurance races I'm doing this year, the second one I've ever done," he said. "We ended up winning the race, which was amazing."
Correa has been racing for 15 years, since he was 7-years-old. In 2019, he suffered an almost career-ending, life-threatening tragic accident racing in the F2 Championship at Spa Circuit in Belgium.
"Recovery has been hard, probably harder than I imagined to get back into it," he explained. "To hop in after such an injury into such a competitive championship like the Formula 3 World Championship, I knew it was not going to be the easy way back in, and it took a lot of work and effort to become competitive again."
Thanks to the support of his family and friends and his team of doctors, rehabbers, trainers, and his race team, Correa feels like he is finally back at a high level, driving-wise.
"Personally I feel like I'm performing really well and finally it seems like things are starting to come together again, and my professional career has started to take off once more and gain traction. I'm very pleased."
Correa has been working with Step One for many years and he comes to the Fort Walton and Pensacola dealerships quite often. "My main goal is to integrate myself into the Step One team and try to bring in the leadership and teamwork skills that I have gathered as a racing driver and try to transmit that into the business," he said. 
On a previous trip to our area, Correa, who also speaks Spanish, took the time to talk to the students at Pryor Middle School in Fort Walton Beach. The school currently has over 180 students where English is their second language. And while some of these English-language learning (ELL) students do speak English, 102 students don't speak English at all. For Correa, representation is important. 
"I actually did not know there was such a Spanish-speaking community here," he said. "So when I had the opportunity to speak to those kids at the school in their native language, I took it. It's actually pretty cool to see kids looking up to me and asking me questions and admiring what I do, because I remember like it was yesterday when I was one of those kids at school."
Correa says that race car drivers learn about high performance, leadership and teamwork from a very early age. He feels that those are the core pillars of what you have to have to help be successful. He sees the same values inside Step One Automotive, and leverages his status to help motivate and inspire the staff at the dealerships.
"When you're all working for a common goal, the most efficient way to get to the goal is working as one," he added. "You see that so clearly in racing teams. You have the individual talent (the driver), but if you're not able to support each other and work for a common goal, it does not work. It's very much the same for a car dealership."
Correa said that for 2023, he wants to be back in Formula 2, and the plan seems to be going in the right direction. "For me, as long as I'm racing in any of these top categories and doing what I love, that for me is a big win," he said.
SPONSORED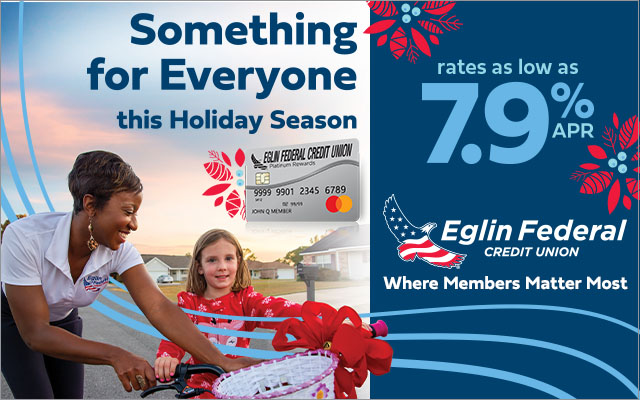 Something for everyone this Holiday Season!
Enjoy all the benefits and features that come with Eglin Federal Credit Union's lowest rate credit card.
SPORTS
Okaloosa athletes advancing in Fall sports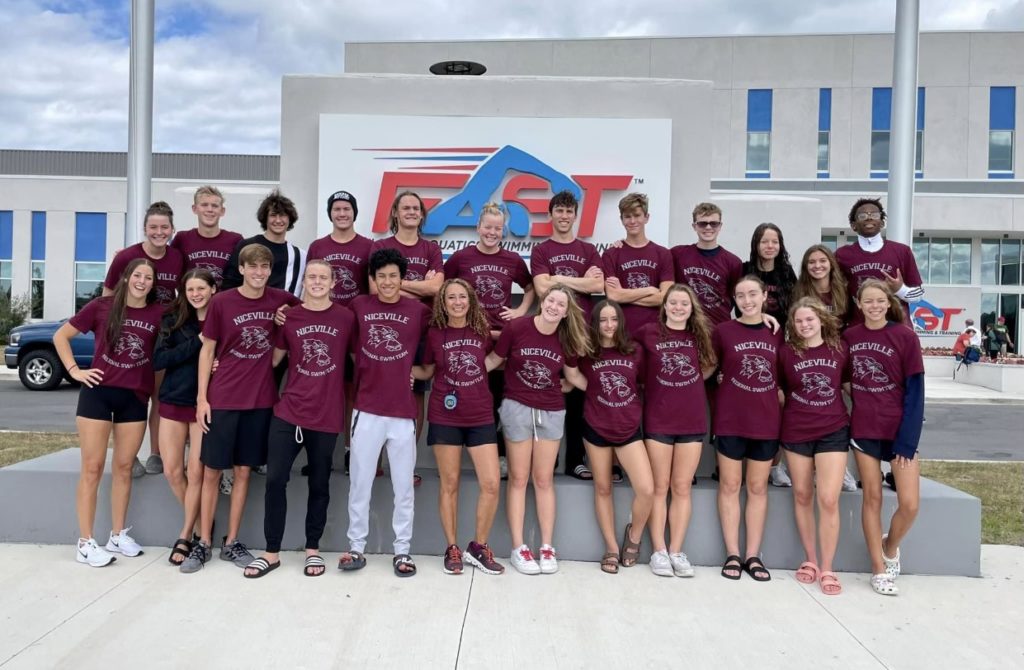 In an update from the Okaloosa County School District, multiple sports teams from the district have been advancing in their individual competitions. Here's what the area high schools are up to:
Choctaw:
Choctaw's volleyball team advanced to the 5A District 1 Regional Semifinal (Elite 8) but lost to Vanguard High School.
The swim team advanced to regionals and competed in the regionals on Thursday at UWF.
Both the boys and girls cross country teams advanced to regionals. Eight boys and five girls will compete at the State Championship on Sunday.
The boys golf team saw Joshua Kelley qualifying for the regional match and will compete Tuesday.
Fort Walton Beach High School:
Fort Walton Beach's cross country team advanced to state with the girls team placing 3rd overall with two in the top 10, and the boys team placing 4th overall with one runner placing 4th.
The swim team competed in regionals with the boys finishing 5th and the girls finishing 15th. The team advanced to state.
The golf team won the 2A District Championship and advanced to regionals. They will compete this week.
Niceville High School
The Niceville girls swim team placed 4th out of 22 schools, and the boys placed 6th of 24 at regionals. They compete in Stuart this week.
The cross country girls team finished 2nd with 7 State Qualifiers, and the boys finished 5th with 7 State Qualifiers.
The girls golf team won the 3A District Championship at the Hidden Creek Golf Club in Navarre. The boys team won 2nd and will compete at regionals this week.
Baker School
Baker's volleyball team won their Regional Semifinal game vs. Central then won their home playoff match against Chipley (FL) by a score of 3-0 on Nov 1.
The cross country team placed 4th in the region with Danielle Davis, Eliana Butler, Jayden Harvey, Addison Merritt, Elizabeth Merritt, Diamond Moore, Shana Stanfield, and Summer Morgan all advancing to state.
Crestview High School
Crestview's relay team, now in its second year of the program, sent two individual matches to regionals. This consisted of Addyson D, Taylor, Cherish, and Lily Derif.
Laurel Hill
Laurel Hill's cross country team advanced to regionals with State Championships taking place Saturday, November 5th in Tallahassee.
REAL ESTATE
Okaloosa County interested in revamping Fairgrounds property, making it an event venue for locals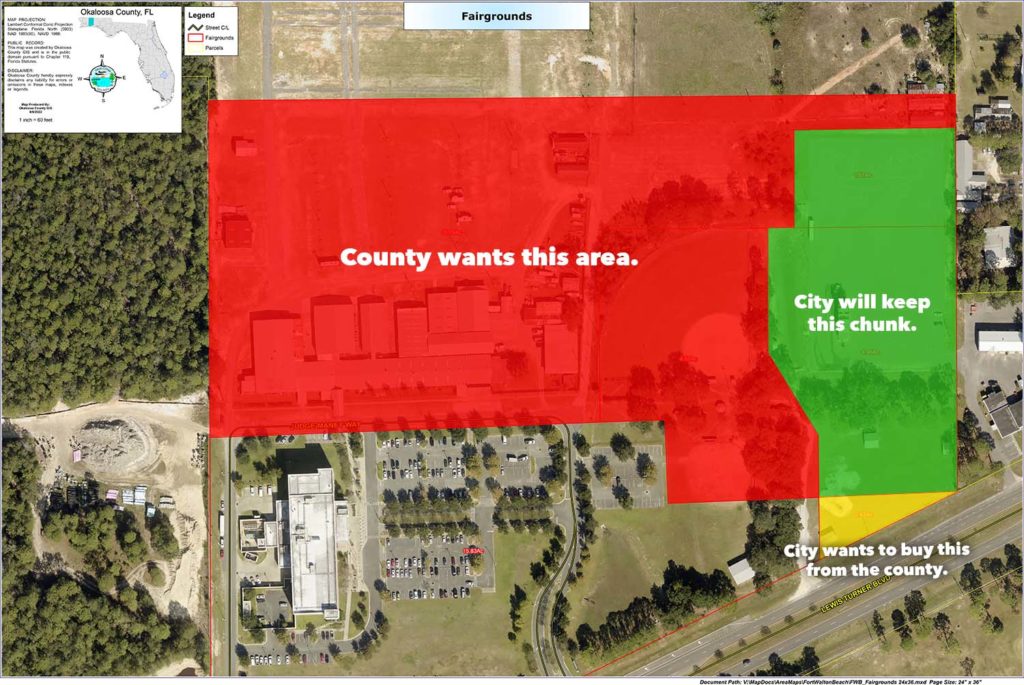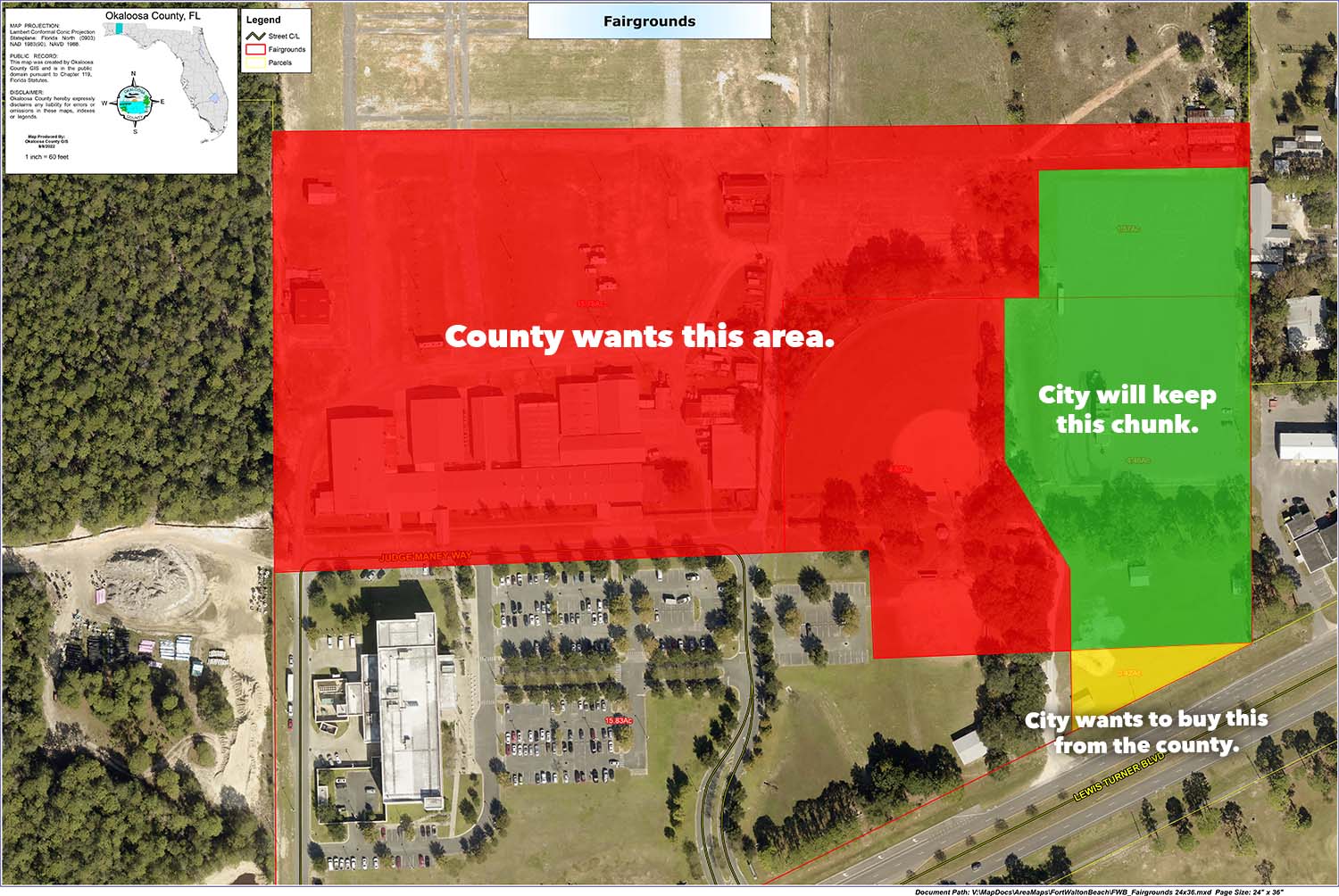 On Tuesday, November 1, 2022, the Fort Walton Beach City Council held a public workshop to discuss the future of the Northwest Florida Fairgrounds property on Lewis Turner Blvd.
The 40-acre property was originally purchased by the City of Fort Walton Beach for around $4 million. Years later, the city would sell the front half (roughly 16 acres) to the county for $2 million for the construction of the courthouse annex.
City Manager Michael Beedie explained to the council that for a little over a year now, city staff has been throwing around different ideas as to what to do with the property because the county does have interest in acquiring 20 acres.
In June 2020, the Fairgrounds property was among 10 properties discussed as far as surplussing. The council ultimately decided to not surplus the property after hearing concerns from residents.
In October 2021, the city had an independent appraisal done on the property. However, the county would only be purchasing roughly 20 of 26 acres.
"As-is" – $5.45 million
"As if vacant" – $5.925 million
According to Beedie, Okaloosa County has expressed interested in an outright purchase of the property for the appraised value, exploring some type of land swap, or a combination of the two.
He says they have discussed a land swap deal for the old hospital site, which is off of Hospital Drive and Staff Drive. The county owns this property, however, it is surrounded by property within the city limits.
The Hospital Drive property is approximately 6.57 acres. It is also home to the Okaloosa Health Department, which the county is required to provide space for. An appraisal has also been done on this property.
"As-is" – $4.72 million
"As if vacant" – $1.5 million
"Most of the buildings are dilapidated and need to be demolished," explained Beedie to the council. "The county did get an estimate for that at about $250,000, which we could get a potential credit for as part of any deal."
Following Beedie's briefing, Okaloosa County Administrator John Hofstad addressed many questions that the council had and offered up some insight into the county's overall vision for the property.
"Our intent is to preserve the public use out there at that property," said Hofstad. "That property is now included in the expanded bed-tax [district] and we can utilize bed-tax dollars to give that facility a much needed facelift."
Hofstad explained that there is still the need for a staging area in the event of a natural disaster and they simply cannot replicate a 26-acre facility in another part of the south-end of the county.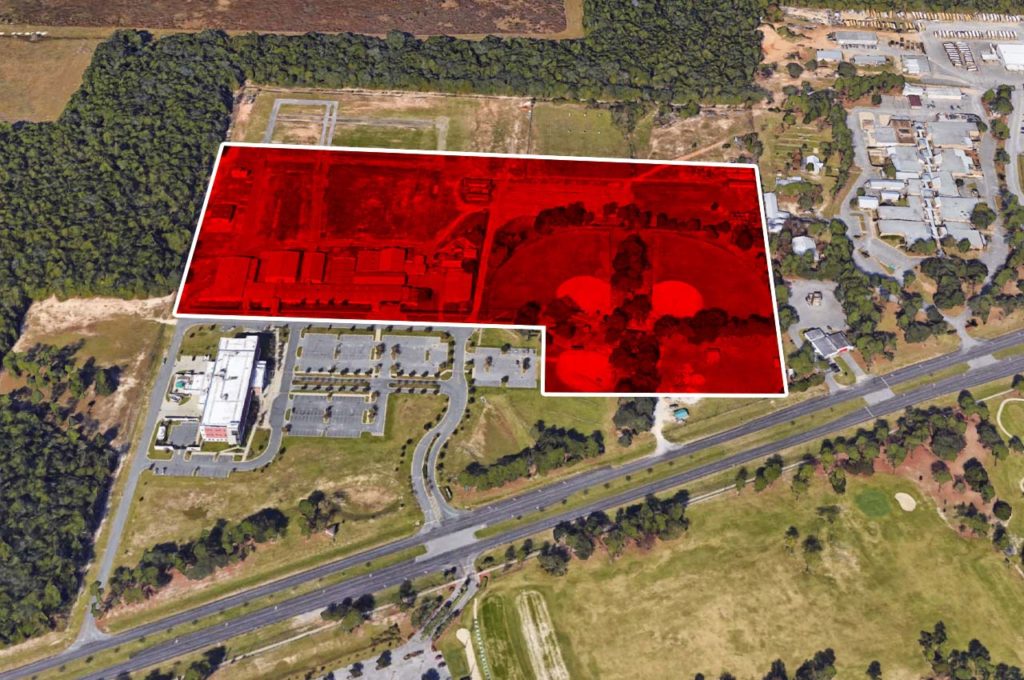 As far as the facelift is concerned, Hofstad said the county would explore using tourism dollars to revamp the facilities and continue working with the Fair Association to continue hosting events on the property. He says there is a need for a lesser cost option to the Convention Center on Okaloosa Island.
He says that while the convention center may never be a profitable operation, the Board of County Commissioners would like to get it to a break-even point. However, current rental rates for use of the facility have made it difficult for many local events.
"We've priced some local events out of being able to use that facility," said Hofstad. "So this gives us an alternative to use that space, to host local events, while working with the Fair Association to maintain their events out there."
Hofstad added that as the county continues to grow past the current 210,000 population, they will have to expand the judicial facility too. He says the courthouse building was built with the intent of being able to expand it on that site, and this would give them the opportunity to do that.
"We're not looking to acquire the property to develop it for some other use other than what it's currently being used for," he said. "To expand and enhance that use that is out there right now."
Okaloosa Commissioner Trey Goodwin was also in attendance on Tuesday night and spoke to the council about the land.
"With the expanded bed-tax [district], I view it as an opportunity to use tourist tax dollars to pour into a facility that will benefit our locals and our tourists, as well," said Goodwin.
Moving forward, the council will have the opportunity to deem the Fairgrounds property surplus at the next meeting on November 15. Then, an updated appraisal will be done. Once the appraisal is completed, it will be put on the market for a minimum of 30 days.
Several months back, the city council updated the way they handle surplus properties and go through the bidding process.
The council does not have to take the highest bid. They can choose which bid they feel is best for the property.
NOW OPEN
AJ's launches new specialty meat and gourmet market in Destin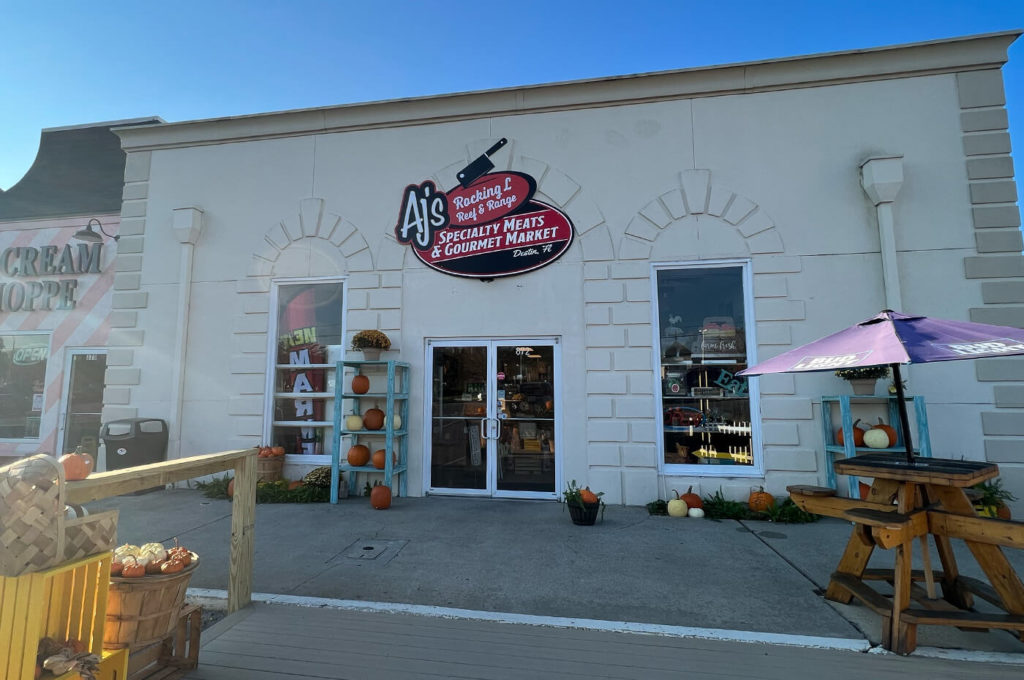 A new specialty meat and gourmet market is now open in Destin, Florida, as AJ's launches the new "Rocking L" at the Shoreline Village Mall
Alan Laird, owner of four of AJ's restaurants along Florida's Gulf Coast, announced his latest business concept on Thursday, that features grass-fed black angus and Wagyu beef.
The location was previously home to Hebert's Specialty Meats, and boasts 2,500 square feet of space dedicated to providing custom cut meats while maintaining a small-town atmosphere.
"We're here to serve the families of the Emerald Coast and to ensure that we meet all of their meat and produce needs," said Laird.
All of the meats sold in the market are sourced from the family's farm – Rocking L Ranch and Farm, in nearby Florala, AL. Laird says that he and his family can be found at the ranch – working the crops and managing the cattle.
"We're devoted to raising the freshest produce and finest beef," he added. "Our cattle graze on pesticide and herbicide-free pastures to ensure customers get the best."
In addition to offering customers a wide selection of premium meats, the market also features a variety of fresh seasonal produce from their partners at Maples Market in Andalusia, AL. Residents in Fort Walton Beach will remember Maples Market that was previously located on Jonquil Ave. The Market shutdown the location near the end of 2020.
Additionally, Rocking L features a selection of wines, desserts, fine cheeses and daily to-go hot lunch plates too.
Just in time for Thanksgiving, AJ's Rocking L Specialty Meats and Gourmet Market is also offering pre-order Thanksgiving meals for those who prefer to spend more time with family and order out.
The Market will have a ribbon cutting on Friday, Nov. 4 at noon and a grand opening party is scheduled for Saturday, Nov. 5 from 11:00 a.m. to 6:00 p.m.
Food samples, live music, beer and wine tastings and market giveaways – including a complete Thanksgiving feast – will all be part of the opening day festivities.
AJ's Rocking L Specialty Meats and Gourmet Market is located at Shoreline Village Mall at 872 Highway 98 E. Unit #19
OK, that's all I have for you this morning! I hope you have a great Friday!
p.s. What did you think of this morning's newsletter? Hit the reply button and let me know!
Published with ♥ by Get The Coast.
Did someone forward you this email? Subscribe here.
124 Eglin Parkway SE Fort Walton Beach, FL 32548