November 9, 2022
|
Reading time:
9 mins
TOGETHER WITH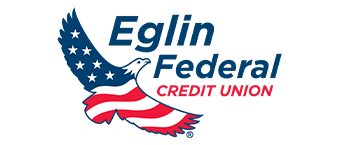 Good morning!
There's a Tropical Storm out in the Atlantic that is forecast to reach hurricane strength as it approaches the southeast coast of Florida late Wednesday night into Thursday morning.
According to Okaloosa Public Safety Director Patrick Maddox, if Tropical Storm Nicole follows the forecast track, the center of Nicole should move west across the Florida peninsula and then lift north up the west coast of Florida, or possibly over the extreme northeast Gulf of Mexico on Thursday/Thursday night before turning northeastward sometime on Friday.
While we are currently currently out of the tropical storm force wind probability and large tropical rain probability ranges, Maddox says they will continue to monitor for changes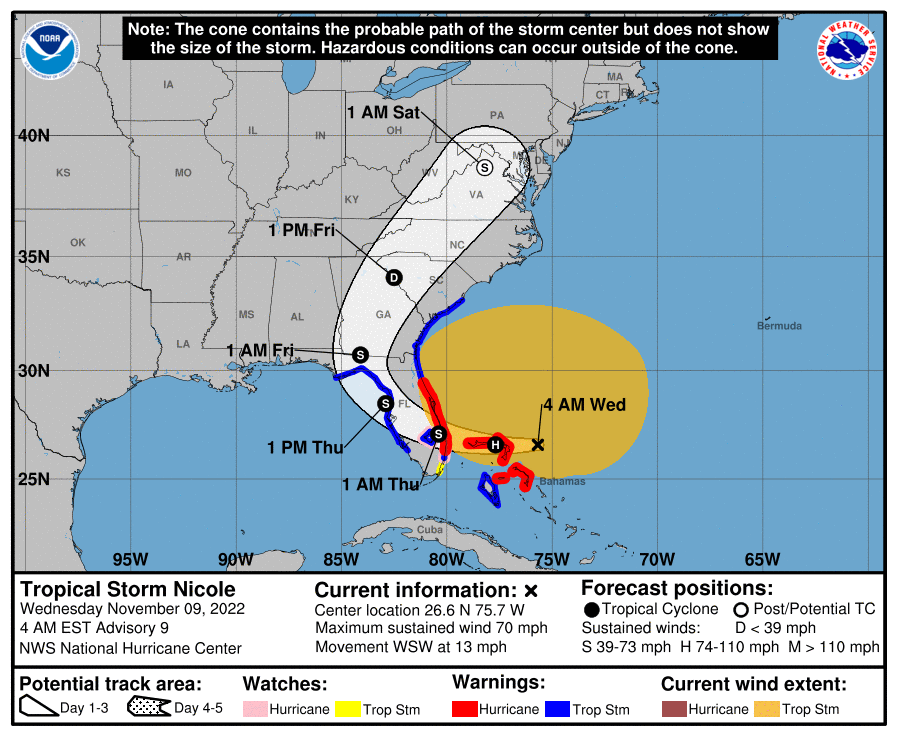 "There remains some uncertainty in the forecast midweek and beyond and further adjustments to the track are possible, but for now it continues to appear that any significant impacts from Nicole will be well east of our forecast area," he said on Tuesday. "We will continue to monitor this system over the next few days and keep you informed if any changes do occur."
Beach/Marine Threats – The threat of high surf and a higher rip current risk appears lower for the middle and late part of the week due to the offshore flow expected around the western periphery of Nicole. But if Nicole does track a little further west than expected there could be a minimal threat of both, according to Maddox.
Wind – For now, Maddox expects moderate to strong offshore, north to northeasterly winds (15 to 20 mph with gusts up to around 25 mph) over that area later this week, especially from late Wednesday through late Thursday.
HONOR
212 American flags now on display at Air Force Armament Museum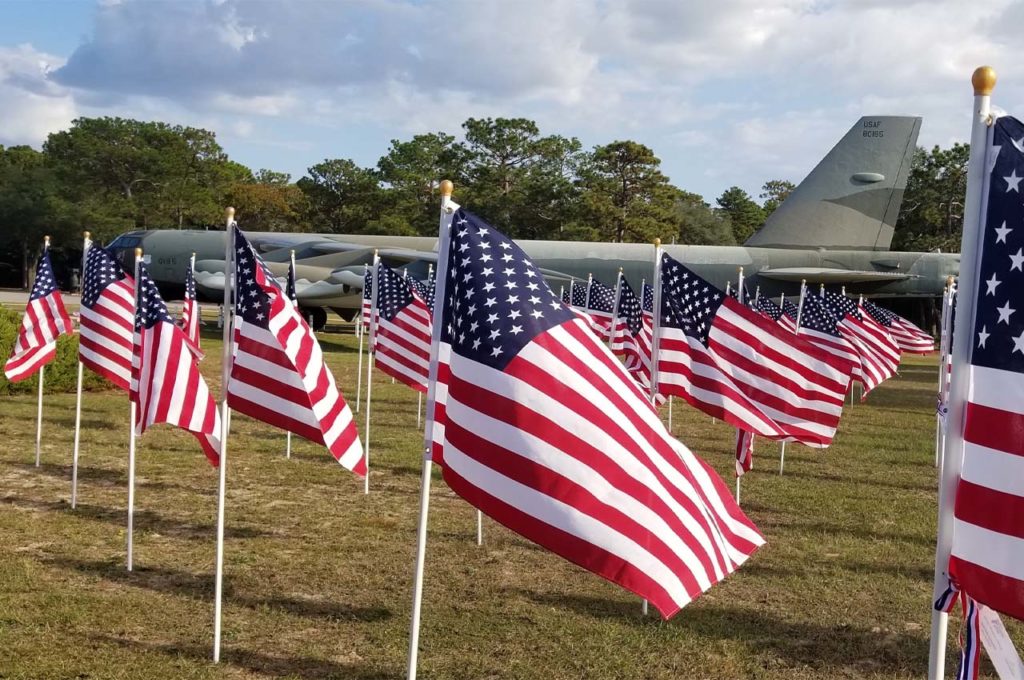 The Emerald Coast Exchange Club has posted their flags for honorees at the Air Force Armament Museum on Eglin Air Force Base.
The flags are each sponsored and recognize local Veterans and active-duty service members, according to the Museum.
Each of the 212 flags displayed has a tag with the honored Veteran's name, their data and photo.
You can stop by the Air Force Armament Museum between now and Saturday at noon to see this display. The display is also lit at night in case you want to make it an evening visit.
The museum is located at 100 Museum Dr, Eglin AFB, FL 32542
SPONSORED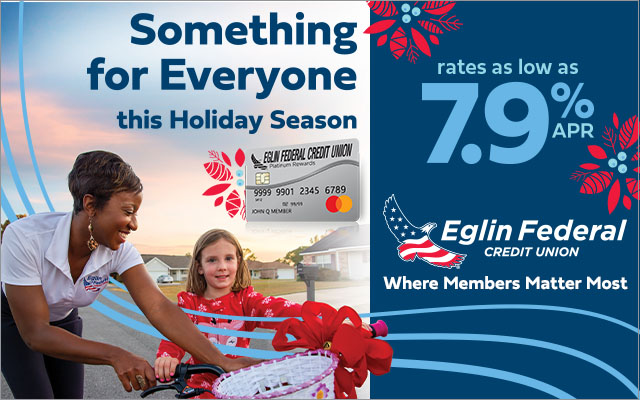 Something for everyone this Holiday Season!
Enjoy all the benefits and features that come with Eglin Federal Credit Union's lowest rate credit card.
VETERANS DAY
Annual Veterans Day Parade in Mary Esther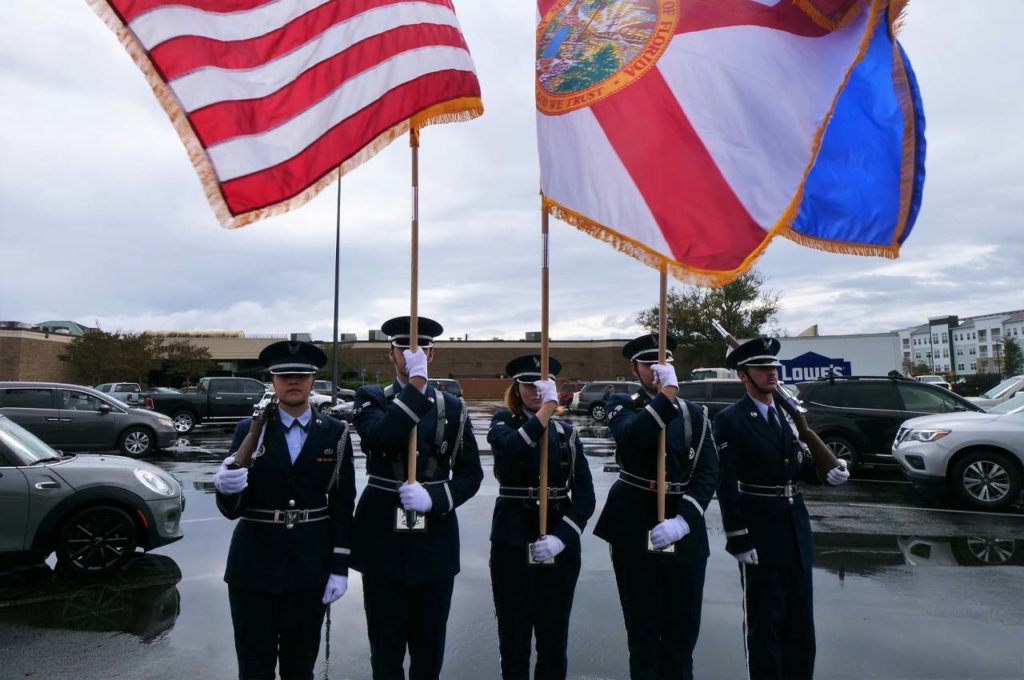 On Friday, November 11, the City of Mary Esther will host their Annual Veterans Day Parade. The theme of this year's event is "Honoring All Who Served".
There are several new additions this year, including food trucks and kids activities.
Event festivities start at 11:00 a.m. and end at 3:00 p.m. 
The parade kicks off at 1:00 p.m. on Page Bacon Road and will proceed east, turning right on Mary Esther Boulevard, right on Hollywood Boulevard, ending at the southwest entrance to the Santa Rosa Mall.
Colonel Allison Black has been named Grand Marshal of the parade. Colonel Black is the commander of the 1st Special Operations Wing, Hurlburt Field, Florida. She is responsible for preparing Air Force special operations forces for worldwide missions in support of joint and coalition special operations. 
Food trucks and a dining tent will be located in the parking lot in front of the former JCPenney building. The following vendors have registered:
Cheesus
Dippin' Dots
Emerald Coast Kettle Corn
Okaloosa Donuts
Tiana's Lunch Box
Tonie's Gumbo House
Raman Filipino Foodtruck
Kids activities and booths will also be located in the parking lot in front of the former JCPenney building. All activities are provided free of charge and include:
Face painting
Bounce house and slide
Climbing wall
City of Mary Esther Library
U.S. Army Recruiting
Ocean City/Wright Fire Department
Okaloosa County Sheriffs Office K-9 Unit
NEW BUSINESS
'Grunt Style' opens first Florida store at Destin Commons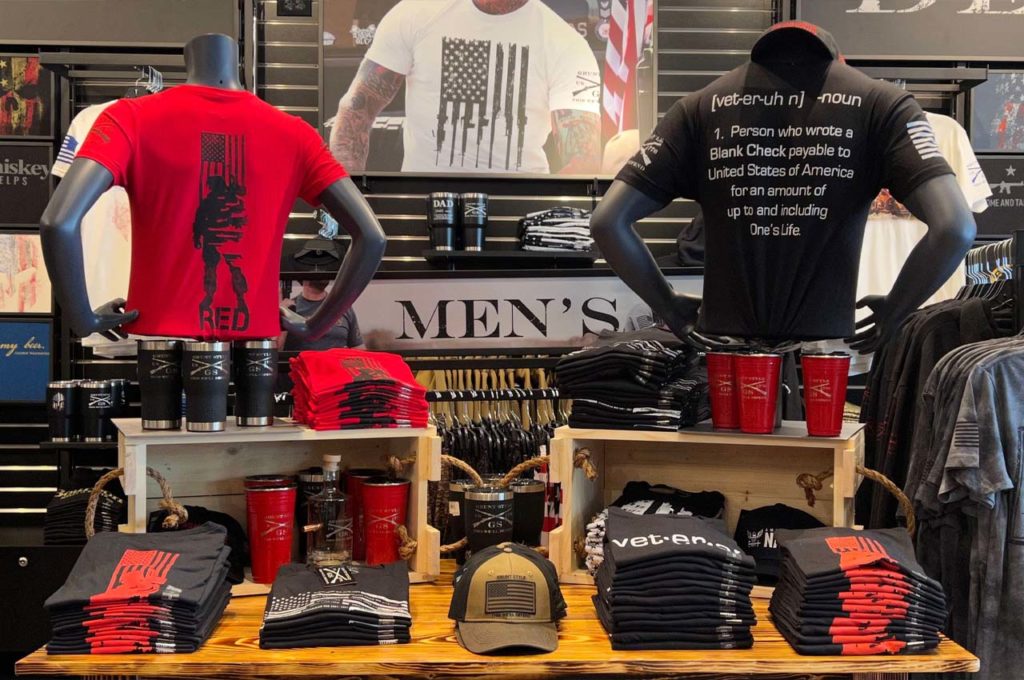 Grunt Style is the newest business to set up shop at Destin Commons, and officially opened on November 4.
In 2009, a former Army Drill Sergeant started Grunt Style in Fort Benning, Georgia with just $1,200 in his pocket. Today, this location is Grunt Style's first location in Florida and 14th in the nation. 
"Grunt Style officially opens our doors today at Destin Commons," said Helen Bruemmer, Grunt Style Director of Retail Operations. "We are excited to introduce our brand to Floridians, and the many tourists that visit this wonderful state."
Grunt Style is dedicated to displaying American pride through their vast selection of apparel (Men's, Women's, and Kid's Collections), gear, and accessories. The company strives to deliver a lifestyle brand to not only veterans but to everyone that loves the USA.
"It's exciting to have the 1st Grunt Style in the State of Florida at Destin Commons," added Cynthia Garber, Senior Leasing Manager. "We are proud to partner with a Veteran founded brand that is representative of our community and the large military presence in the surrounding areas."
THE WEEKENDER
A few things to do around town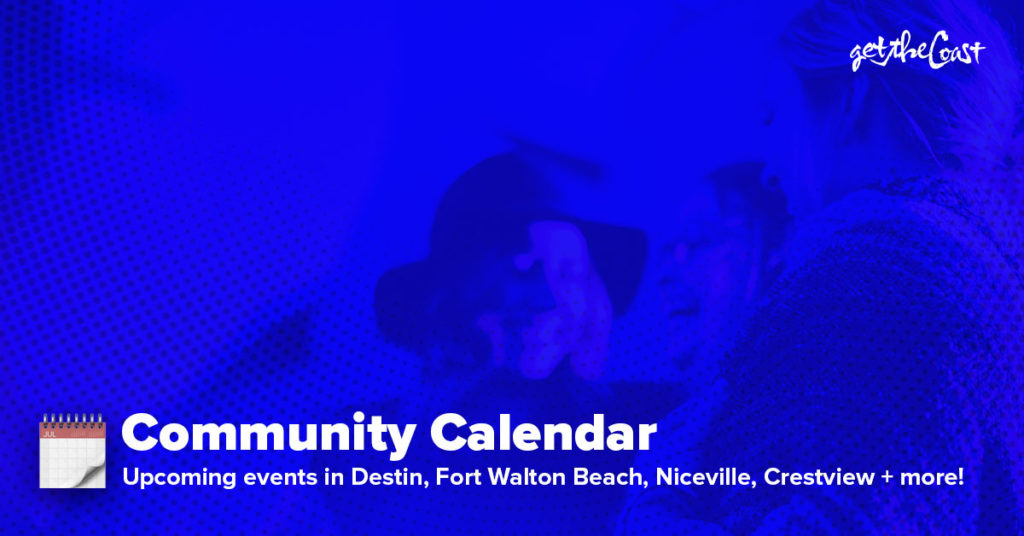 November 9, 2022 – Corey Mack's Unfiltered Stand-Up Comedy Night –  View
November 10, 2022 – Ireland Family Wines Walk Around Tasting at Primrose – $60.00 – View
November 11, 2022 – Veterans Day Parade in Mary Esther – Free – View
November 11, 2022 – Veterans Day Parade in Crestview – Free – View
November 11, 2022 – Ireland Family Wines Dinner at Primrose – $150.00 – View
November 12, 2022 – Really Rad Weekend 2022 –  View
November 12, 2022 – Heritage Hike: Oak Tree Nature Preserve –  View
November 12, 2022 – Band Together for Autism – $35 – View
November 12, 2022 – Band Together for Autism ft. The Molly Ringwalds –  View
November 12, 2022 – Murder on a Ghost Walk – Fundraiser – $75 – View
November 12, 2022 – CeeLo Green w/ Special Guest Corey Mack –  View
November 13, 2022 – Night of Soul 2: Oscar's Edition –  View
November 13, 2022 – Tropidelic and Mike pinto at Downtown Music Hall!! –  View
Looking ahead
November 18, 2022 – Santa's Arrival & Tree Lighting –  View
November 19, 2022 – Crop Drop 2022 –  View
November 19, 2022 – Turkey Trot Fundraiser –  View
November 19, 2022 – Resin Ocean Christmas Ornament Class – $80 – View
November 20, 2022 – Sunshine State Animal Rescue Holiday Pet Photos – View
POLITICS
Election results from Tuesday night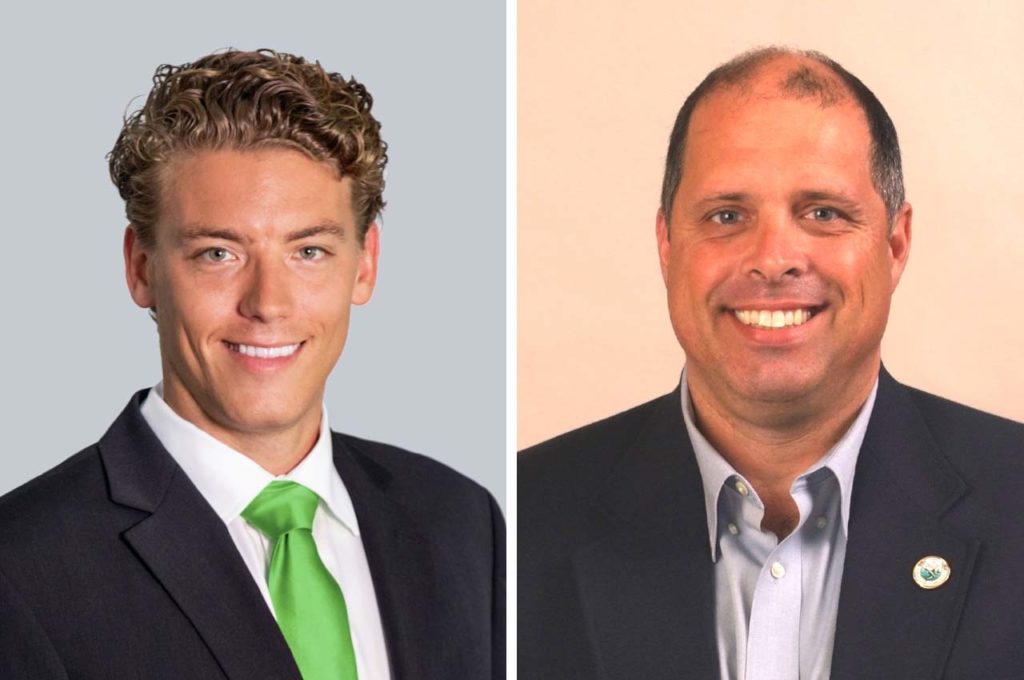 On Tuesday night, Destin Mayoral candidates Bobby Wagner and Rodney Braden faced-off in a battle to become the next Mayor of Destin. Wagner defeated Braden with 60% of the votes.
Bobby Wagner – 3,787
Rodney Braden – 2,476
Representative Matt Gaetz defeated Democratic challenger Rebekah Jones with 71% of the votes.
Matt Gaetz – 56,562
Rebekah Jones – 22,973
In Crestview, Joe Blocker defeated Shannon Hayes and Thara Larkins to win the Precinct 1 seat for the Crestview City Council.
Other winners across the state include:
Governor Ron DeSantis
Senator Marco Rubio
Ashley Moody (Attorney General)
Jimmy Patronis (Chief Financial Officer)
Doug Broxson – State Senator District 1
Jay Trumbull – State Senator District 2
Joel Rudman – State Senator District 3
OK, that's all I have for you this morning! I hope you have a great Wednesday!
p.s. What did you think of this morning's newsletter? Hit the reply button and let me know!
Published with ♥ by Get The Coast.
Did someone forward you this email? Subscribe here.
124 Eglin Parkway SE Fort Walton Beach, FL 32548