DESTIN
City of Destin to host Youth Basketball League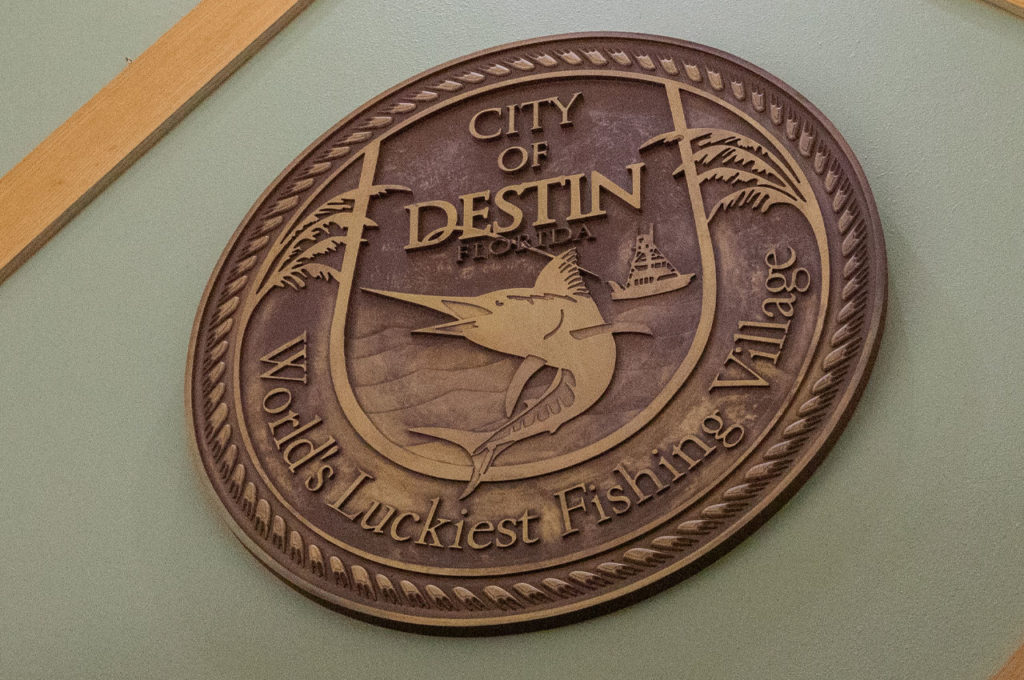 In-person registration for the City of Destin's Youth Basketball League is running now through December 3rd, at the Destin Community Center.
The program is for children ages 5 – 16 (age as of September 1st) and a birth certificate is required unless already on file with city staff.
Space is limited to the first 60 participants in each age group.
Evaluations and drafts will commence December 13th and go thru December 15th. Practices and games will begin in January and will be held at the Destin Community Center.
The fee is $45 for Destin Residents and $65 for non-residents.
Team sponsorships are needed, and the cost is $125.
In-person registration is Monday thru Friday from 9 a.m. to 7 p.m.
For more information, please call (850) 654-5184.
SPONSORED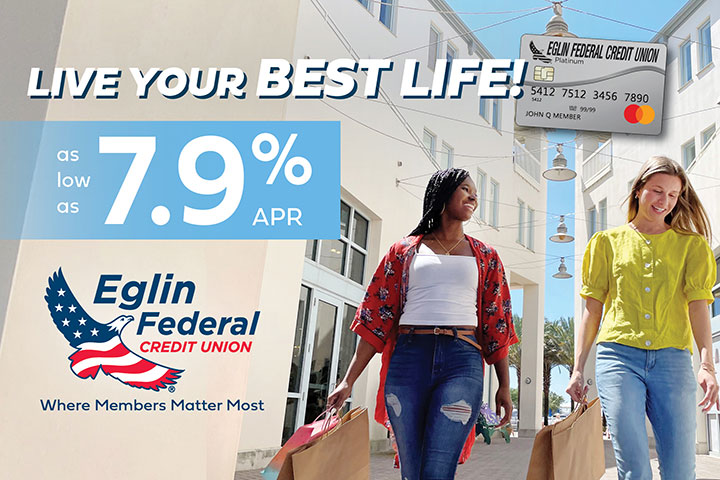 FORT WALTON BEACH
Light up the night in Fort Walton Beach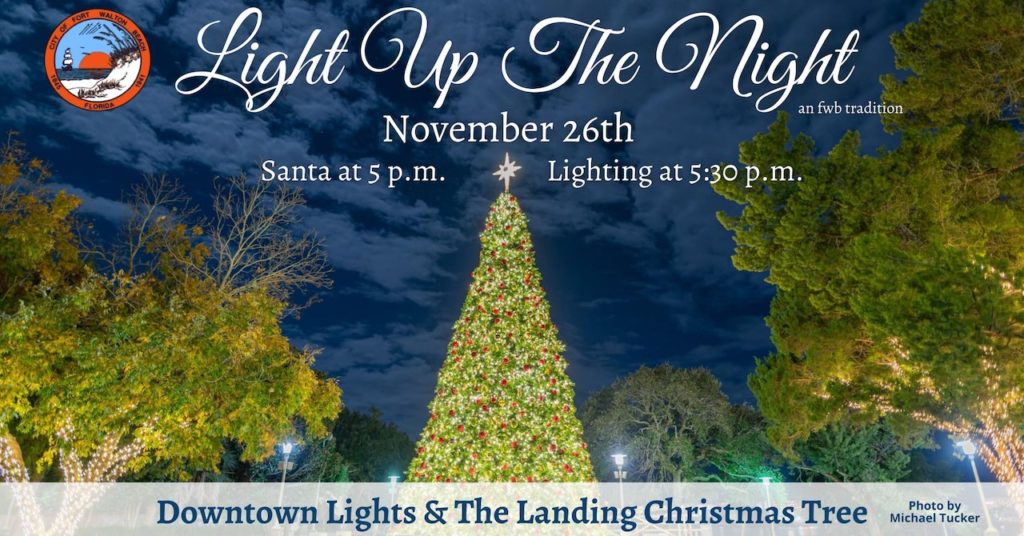 Mark your calendars for Fort Walton Beach's Light Up the Night event on Friday, November 26th. The Downtown Christmas Lights and the Landing Christmas Tree will shine for the first time this Holiday Season.
Festivities begin at 5 p.m. at the Landing with Christmas music, a visit and storybook reading from Santa, and a message from Mayor Dick Rynearson.
At 5:30 p.m. sharp, all of the Downtown lights and the Christmas Tree will come on, welcoming the Holiday Season in Fort Walton Beach.
What: Light Up the Night
When: November 26, 2021
Santa arrives at 5 p.m.
Lights come on at 5:30 p.m.
Where: Downtown FWB and the Landing
PARADE
Destin announces "Jingle Bell Rock" Christmas Parade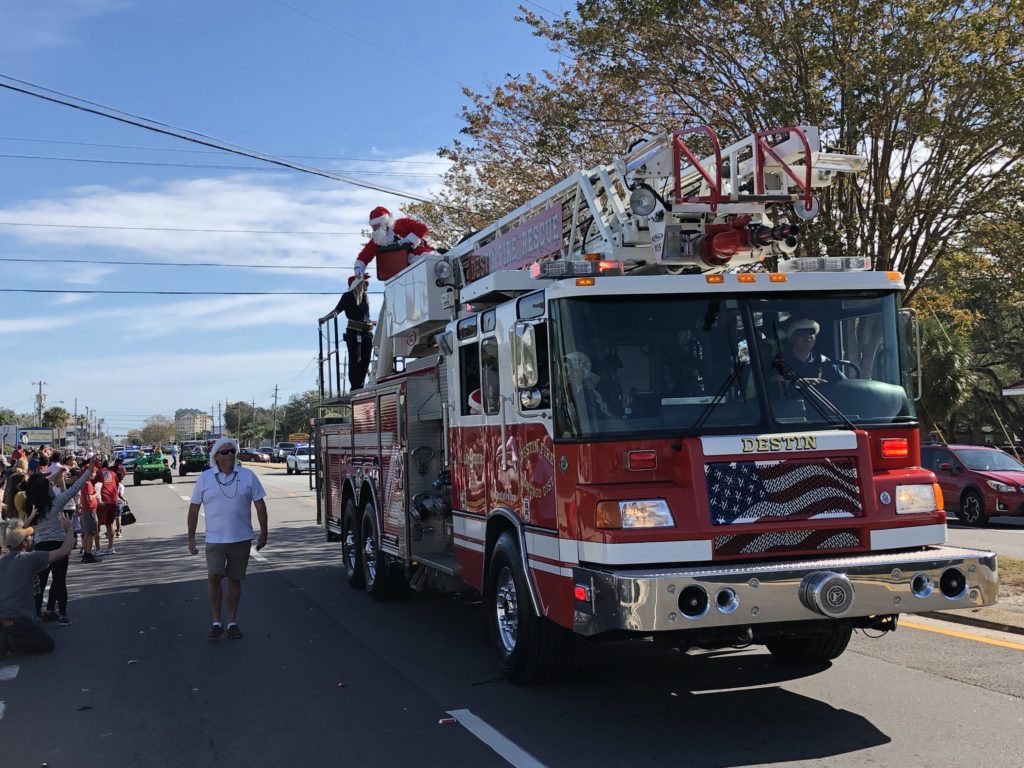 There will be plenty of events this Holiday season, and Destin's 37th annual "Jingle Bell Rock" Christmas Parade is one you won't want to miss.
The parade will take place in Downtown Destin on Saturday, December 11th at 10 a.m, and is a perfect event for all ages and groups.
The floats will begin at the Downtown Destin Shopping Center and travel west down Harbor Boulevard (Hwy 98) to Stahlman Avenue. Spectators are asked to stand on the north side of Harbor Boulevard to watch the parade.
Want to participate? You can email Recreation@cityofdestin.com to request an application. Applications must be received no later than Wednesday, December 1st, 2021.
OKALOOSA SCHOOLS
Pryor Middle School adds 'translation headsets' for Spanish-speaking students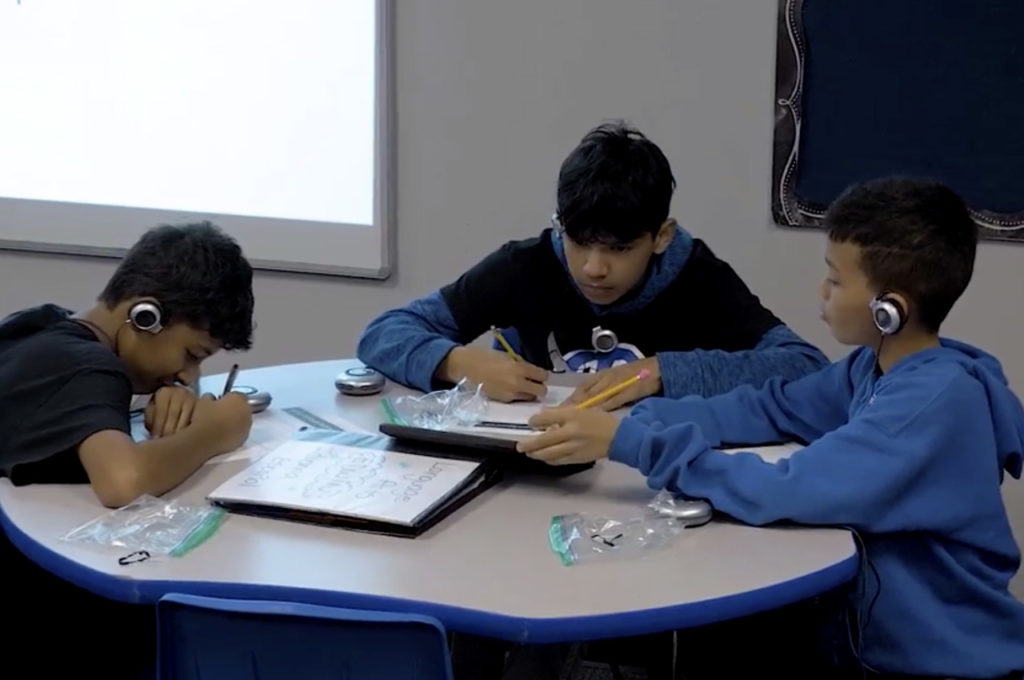 Thanks to Step One Automotive Group for their support. "Empowering lives through smarter and easier ways of accessing mobility."
Pryor Middle School in Fort Walton Beach currently has over 180 students where English is their second language. And while some of these English-language learning (ELL) students do speak English, 102 students don't speak English at all. 
As part of the Subaru Loves Learning initiative, Step One Automotive Group presented the school with a $10,000 check to help purchase 3 language interpretation systems.
"They are brand new to this country," said Principal Barron. "It impedes the learning process because when our teachers speak in English, they have to pause and wait for the translator to say exactly what they just said in English, into Spanish for our Spanish-speaking students."
As you might imagine, this increases the time it takes for a teacher to give direct instruction to the class. With this new interpretation system, the school is excited to create a more efficient flow inside the classrooms.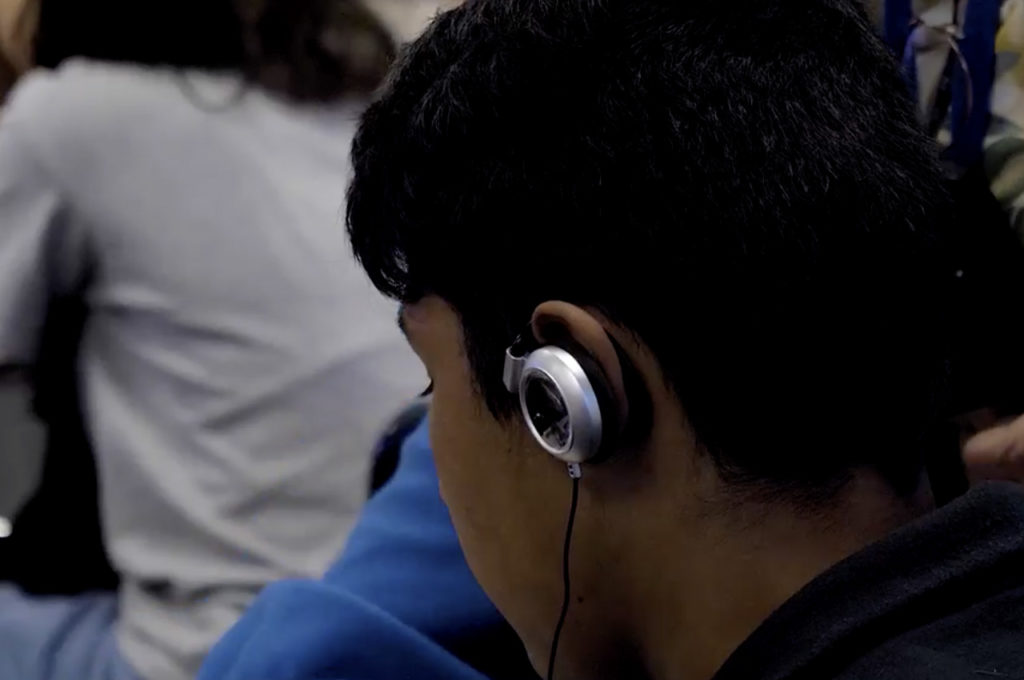 Here's how it works:
A translator will be in the back part of the classroom where they can speak "very quietly" into a microphone. Each ELL student will have a headset on and be able to hear the translator.
The student will still have one free ear to be able to hear everything in English.
"They know when to put their paper away, when to get a pencil out, when to start working to solve a problem," continued Barron. "They will be able to understand instructions at the same time as their peers, and it's going right into their ear!"
Barron says that when the students break out into small groups or stations, the interpretation system isn't used because the school wants the ELL students to be able to use the skills they are learning and practice English in the classroom.
"It's really the best of both worlds because our students are getting what they need to learn without impeding the speed of instruction for others," Barron said.
Outside of the classroom, this new system can reach up to 75 people at one time. This will allow the school to use it during student assemblies, as well as Open Houses with Spanish-speaking parents.
"I'm so excited about all the new opportunities this is going to do for us here at Pryor," said Barron. "These children are now able to follow classroom instruction in real time and will perform better academically almost immediately."
The Subaru Loves Learning program is the product of a partnership between Subaru of America, Adopt a Classroom.org and Subaru retailers around the country, including Subaru Fort Walton Beach to support schools and students lacking supplies and resources needed to succeed in the classroom.
"All children deserve an education that will help them achieve their dreams," added Maureen Bierman, Marketing Director for Step One Automotive Group. "We were so glad to be able to participate in this program and support the kids at W.C. Pryor Middle School."
LEADERSHIP
Suicide prevention and financial literacy tops the list for Okaloosa Leadership students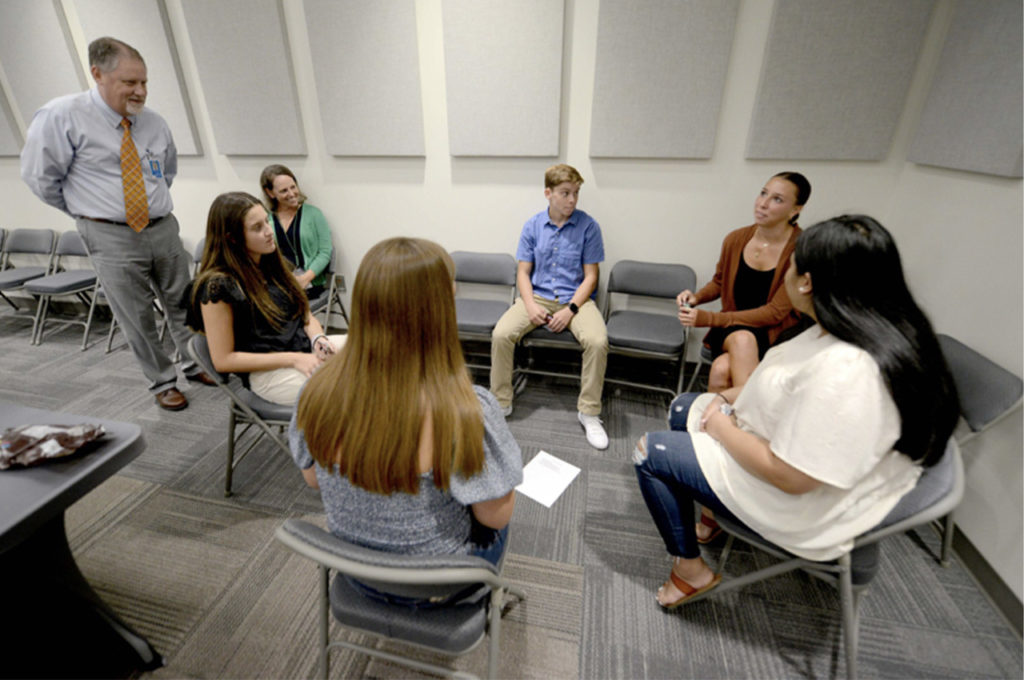 When Okaloosa County Commissioner Mel Ponder was elected to office, one thing he knew he wanted to establish was a youth leadership council of some kind. Ponder approached Superintendent Marcus Chambers with the idea, and it just so happened that the school district was looking to do something similar.
A partnership was formed, and what was birthed from that is a youth council that includes a Junior and Senior from each leadership area within each high school in the county.
In the late Spring of 2021, the council had their first meeting that would introduce the vision for this group. They would be tasked with coming up with ideas of things they would love to see change within the county, or introduced. Likewise, they would come up with ideas they can introduce to the Okaloosa County School District.
After Summer break, the council met and began listing out the ideas.
"We have 10 or 11 ideas for the school district that were proposed, and I believe 7 or 8 within the county," said Commissioner Ponder.
"We've got this up-and-coming generation and they're spectacular in their own way," continued Ponder. "We'd love to get ideas, thoughts, and concepts they feel could enhance or make better what we're currently offering."
Two of the Youth Council's ideas could be coming before the Okaloosa County School Board shortly. According to Superintendent Chambers, these two ideas are centered around suicide prevention and financial literacy.
Chambers told the school board at a workshop last week that the council would like to see the Hope Squad implemented at all of the schools in Okaloosa County.
The Hope Squad program is a school-based peer support team that partners with local mental health agencies.
Peers select students who are trustworthy and caring individuals to join the Hope Squad.
Squad members are trained to watch for at-risk students, provide friendship, identify suicide warning signs, and seek help from adults.
Hope Squad members strive to create a safe school environment, promote kindness and connectedness, support anti-bullying, encourage mental wellness, reduce mental health stigma, and prevent substance misuse, according to the OCSD.
As for financial literacy, this is currently offered at two high schools in the county but the council is expressing the desire to see it offered at all high schools. Chambers said that he and his staff would be talking with high school principals about adding a financial literacy-type class.
"I think those are just great skills that students can utilize as they go forward, especially upon graduation," said Chambers. "There were a number of other items about schools but those were two that were at the top of their list that I thought were very mature to come from students."
Aside from regular meeting business, Ponder says that he brings in leaders from Okaloosa County to talk to the students each month. So far, the students have heard from:
Marcus Chambers, Superintendent of Schools
John Hofstad, County Administrator
Nathan Sparks, One Okaloosa EDC
"I've been very inspired by the leadership that's part of this council," said Ponder. "One of the things I've been trying to do at each meeting is team building, and really open their eyes to students and issues from other schools."
Ponder says that it's this thought process that as they work together and get to know each other, that they can begin to build a more cohesive family here in Okaloosa County.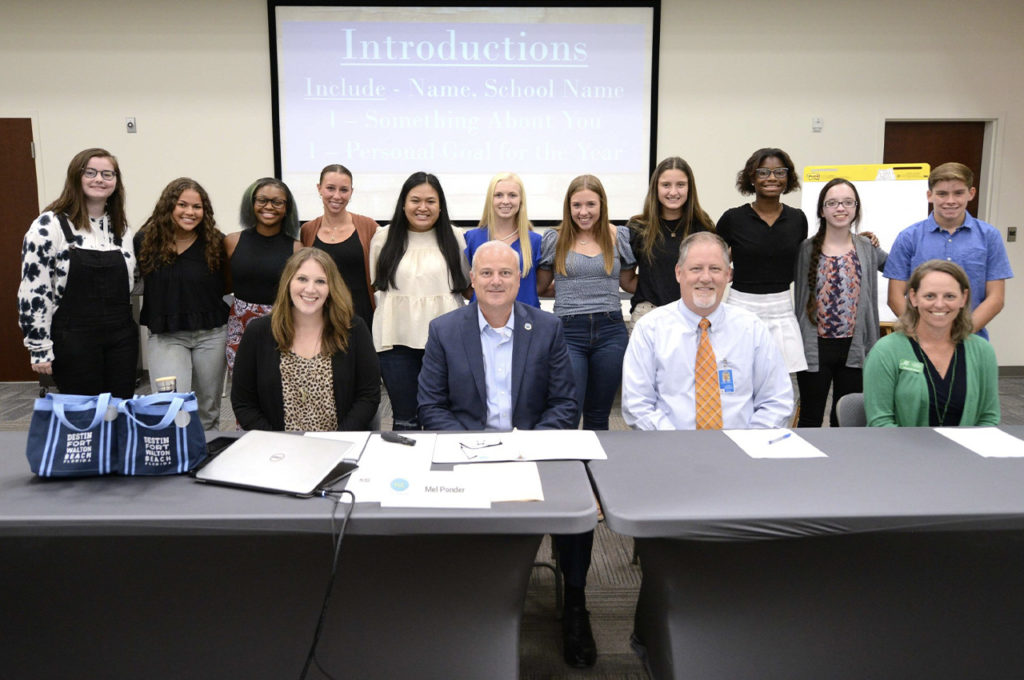 Even with a list of great ideas, Ponder knows that practicality has to come into play, and he, along with Superintendent Chambers and Assistant Superintendent Steve Horton, are working with the students to help facilitate these ideas.
"I'll tell the students that these are fantastic ideas but challenge them to think about the practicality of them coming to pass," explained Ponder. "Additionally, if there's a financial piece to them, what's the probability that it happens?"
Ponder told Get The Coast that it's this guidance that is helping the students learn more about the process of getting a new idea implemented in the school system or even the county, and is getting them prepared for February.
"I've challenged our Chair and Vice-Chair to come before the Okaloosa School Board and the Board of County Commissioners and present their ideas in February," said Ponder. "They will have to give their reasons why these ideas are good and be prepared to take questions."
In the meantime, the Youth Council will continue to drill down on their current list of ideas using "practicality and probability" as their guide.
OK, that's all I have for you this morning! I hope you have a great Wednesday.
p.s. What did you think of this morning's newsletter? Hit the reply button and let me know!
Published with ♥ by Get The Coast.
Did someone forward you this email? Subscribe here.
124 Eglin Parkway SE Fort Walton Beach, FL 32548