TOGETHER WITH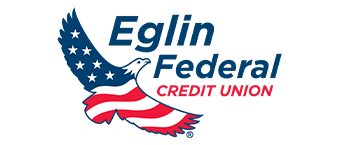 Good morning!
On Saturday afternoon, Vinnie McGuires Pizza in Destin caught fire. Thankfully, there were no reported injuries with crews extinguishing the fire by around 5:30pm. Click here to see pics.
COMMUNITY
FWB Woman's Club's celebrates 100th Anniversary with launch of "Helpers & Heroes" calendar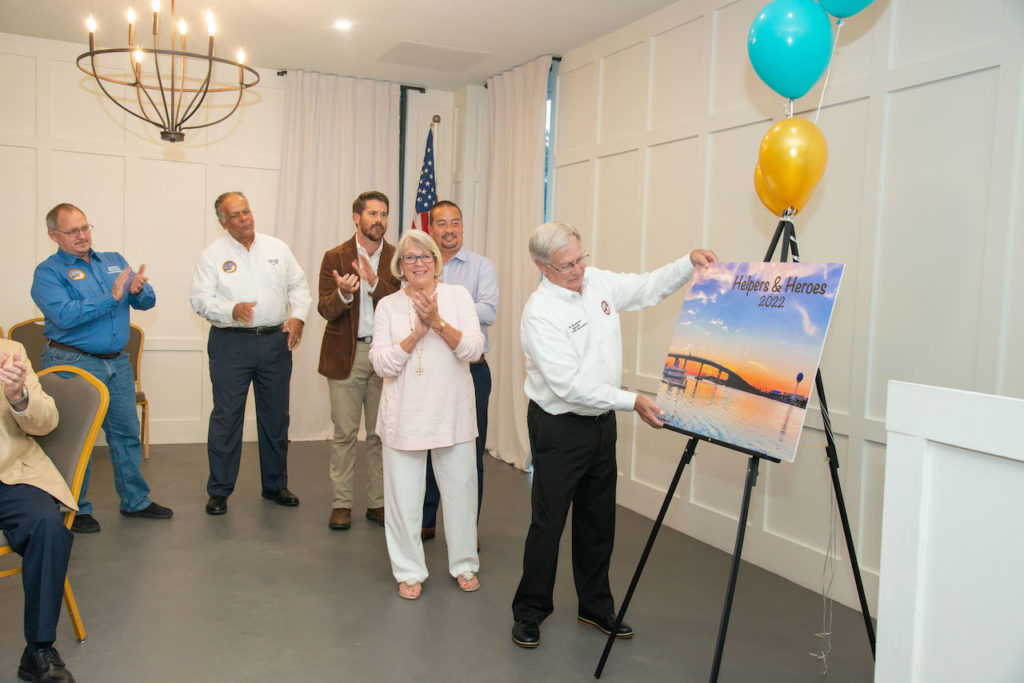 As part of the FWB Woman's Club's 100th Anniversary celebration, the members have released a 2022 calendar called "Helpers & Heroes."
This calendar recognizes twelve organizations that have been instrumental in keeping the city going during the last 'almost' two years of the pandemic.
At a recent calendar reveal reception, Fort Walton Beach Mayor Dick Rynearson unveiled the calendar cover which depicts a sunrise over the Brooks Bridge, symbolic of the start of a new century for the club, and hopefully a move towards the end of the pandemic.
The organizations recognized in the calendar are:
The Greater Ft. Walton Beach Chamber of Commerce
The Fort Walton Beach Police Department
The Fort Walton Beach Fire Department
Fort Walton Beach Medical Center
The Hsu Educational Foundation
Goodwill Gulf Coast
Panhandle Animal Welfare Society
Okaloosa County School District
The Hope Squad
Okaloosa Department of Health
Sharing and Caring
Fort Walton Beach Salvation Army
Copies of the calendar are on sale for $10 with proceeds going toward the Woman's Club's projects including providing clothing, toiletries and food to homeless students.
To purchase a calendar email fwbwomansclub@yahoo.com or call 850.240.0804.
SPONSORED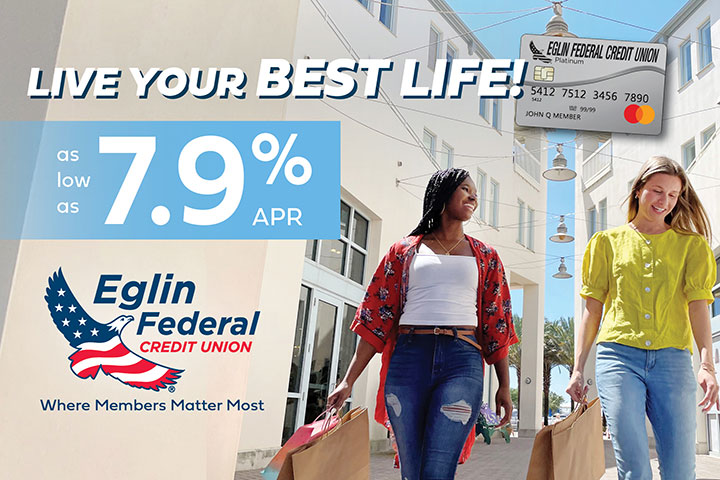 GIMME
FOOD
Saltwater Restaurant properties open Thanksgiving Day
Thanksgiving is next week…NEXT WEEK! If you're like me and have absolutely no idea what you're doing…or simply don't want to cook, a few of Saltwater Restaurants' locations will be open.
Surf Hut, Miramar Beach
Seating 11am – 7pm (first come-first served seating only)
Traditional Thanksgiving Plated Dinner – Adults 34.99 / Children 13.99
Limited Regular Menu Available
The Crab Trap, Destin
Seating 11am – 7pm (first come-first served seating only)
Traditional Thanksgiving Plated Dinner – Adults 34.99 / Children 13.99
Limited Regular Menu Available
The Crab Trap, Fort Walton Beach
Seating 11am – 7pm (first come-first served seating only)
Traditional Thanksgiving Plated Dinner – Adults 34.99 / Children 13.99
Limited Regular Menu Available
The Crab Trap, Perdido Key
Seating 11am – 6pm (accepting reservations)
Crab Trap Full Menu Available
Nick's Boathouse, Pensacola
Seating 11am – 6pm (accepting reservations)
Traditional Thanksgiving Plated Dinner – Adults 24.99 / Children 11.99
Limited Regular Menu Available
The following properties will be closed Thanksgiving Day and resume normal hours on Friday, November 26:
Rockin Tacos
Floyd's Shrimp House
The Boathouse Landing
Blackstone Golf Course
COMMUNITY
Eglin Federal Credit Union conducts a financial fitness bootcamp for 100 youth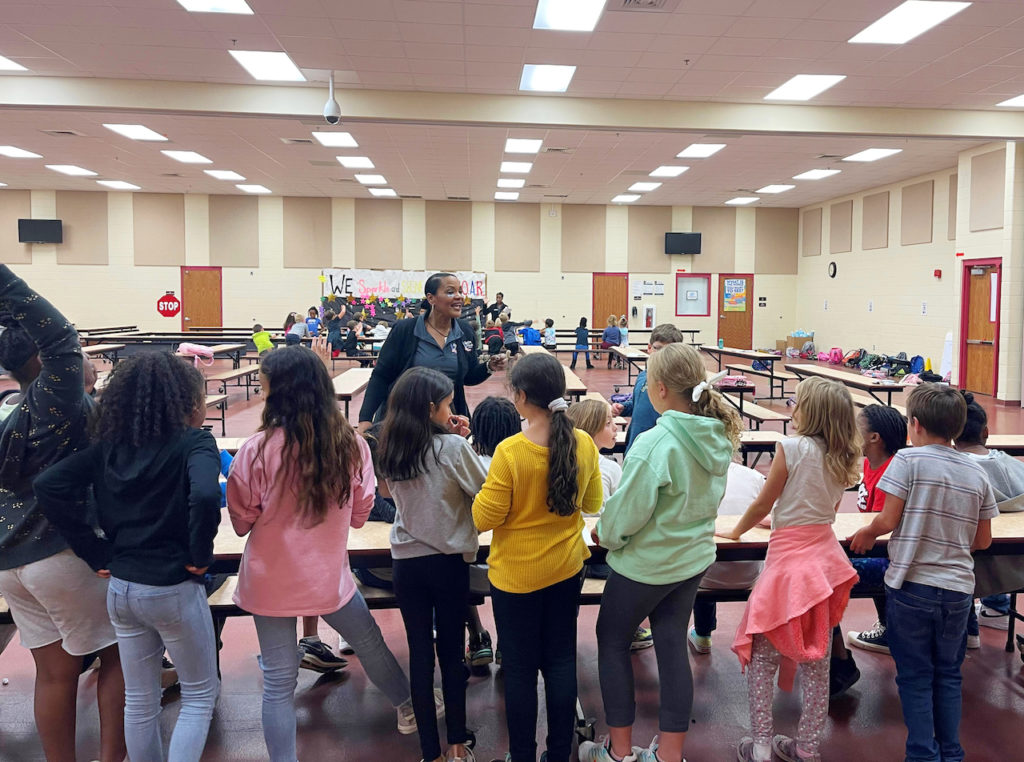 Eglin Federal Credit Union partnered with the Boys and Girls Club of the Emerald Coast (BGCEC) and Hey Gym Friend to conduct a Financial Fitness Bootcamp for approximately 100 youth on Friday, Nov. 5 at Riverside Elementary School in Crestview.
"The kids loved every minute of the Finance and Fitness Bootcamp and can't wait until the next session," said John Bryant, BGCEC campus director, Riverside Elementary. "We are grateful to EFCU for investing their time in our kids and the community."
EFCU VP of Membership and Community Development Neko Stubblefield and Financial Education Specialist Courtney Dollson taught youth about financial wellness with lessons centered on ways to earn, save, spend and donate money.
After Courtney and Neko facilitated financial fitness, the youth joined Tonnisha Deonn from Hey Gym Friend for a physical fitness workout.
Participants also had a chance to win one of four $25 cash drawings from EFCU.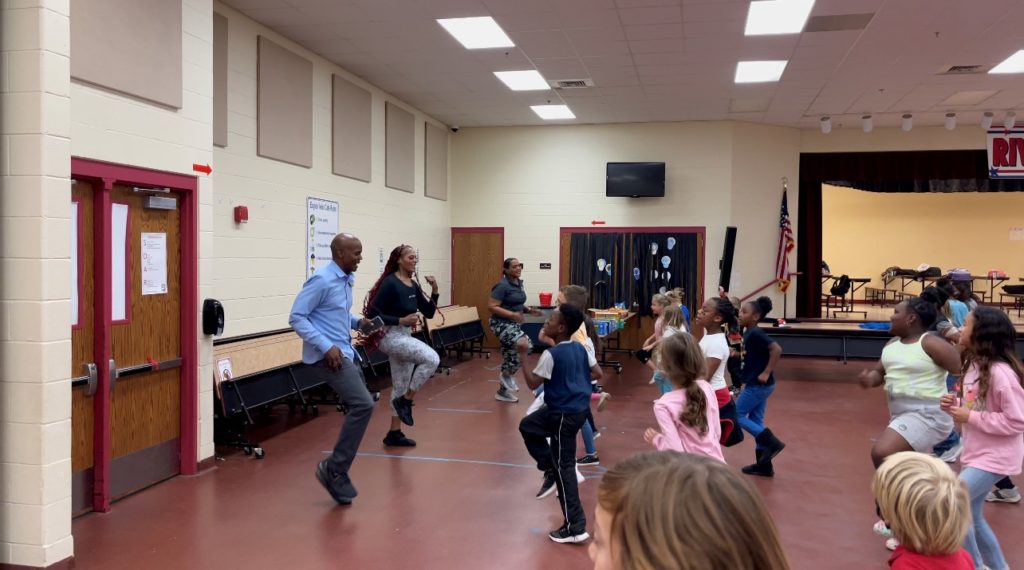 "We joined forces with the Boys and Girls Club in Crestview to talk about the essentials of finances, savings, donating and giving back to the community," said Neko Stubblefield. "We rounded it out with a fitness bootcamp to have fun. It's our way of giving back to the community by talking about those things that are important for future financial health. It's a great opportunity to start at this level to build healthy financial behaviors that will last a lifetime."
THINGS TO DO
Veterans Park on Okaloosa Island is open, featuring 8 statues honoring military women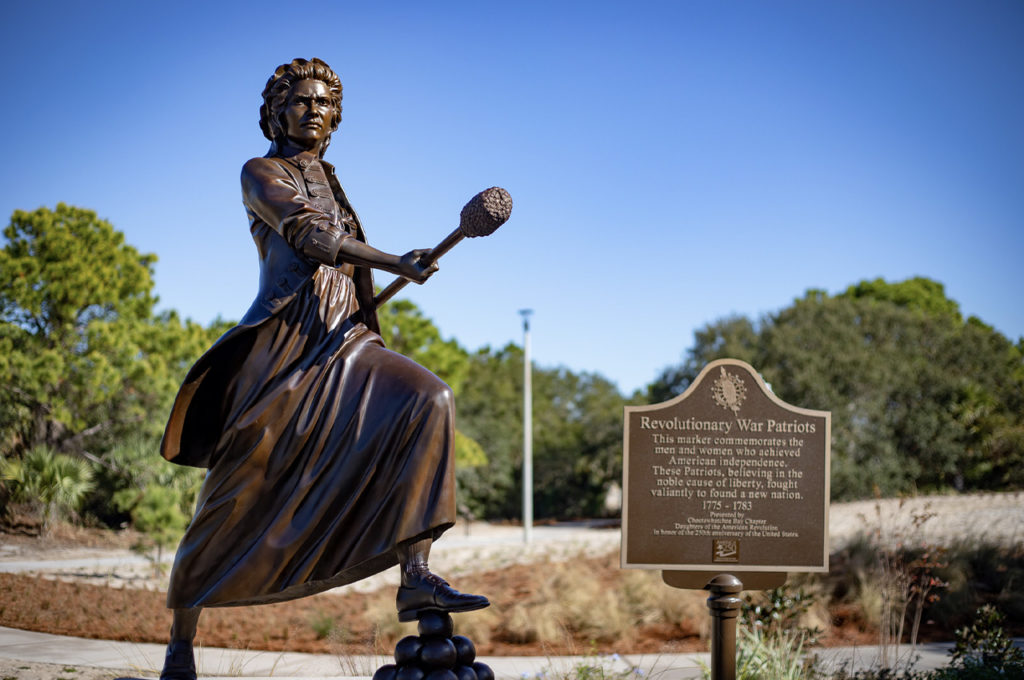 Veterans Park on Okaloosa Island was officially unveiled on Thursday, and features 8 bronze statues honoring women who have served in the United States military.
It was a packed house at the Convention Center as an estimated 500 guests arrived to take part in the event, including 5 rows of special guests and local dignitaries.
The event was led by Commissioner Carolyn Ketchel, who spearheaded this project and helped make it a reality.
Speakers included:
Kay Yarbrough, Daughters of the American Revolution
General Scott Cain, 96th Test Wing Commander, Eglin Air Force Base
Colonel Allision Black, 24th SOW Vice Commander, Hurlburt Field
Following the indoor event, the crowd made their way to the 17.5-acre park situated on the Choctawhatchee Bay just behind the Convention Center.
The park is home to native wildlife and vegetation and features a self-guided walking tour to view all of the statues.
A ribbon cutting was held that featured a host of locals involved with making the project come to life, followed by a fly-over from Eglin.
The women honorees include:
Margaret Corbin – Revolutionary War, Army
Cathay Williams – Civil War, Army
Lenah Higbee – World War I, Navy
Jacqueline Cochran – World War II, Air Force Reserves
Jonita Ruth Bonham – Bovée, Korean War, Army Air Corps / Air Force
Sharon Ann Lane – Vietnam War, US Army Nurse Corps Reserve
Leigh Ann Hester – Persian Gulf War, Army National Guard
Naseema – War in Afghanistan, US Air Force
THE FEELS
Town of Shalimar honored local historian, photographer and author Tony Mennillo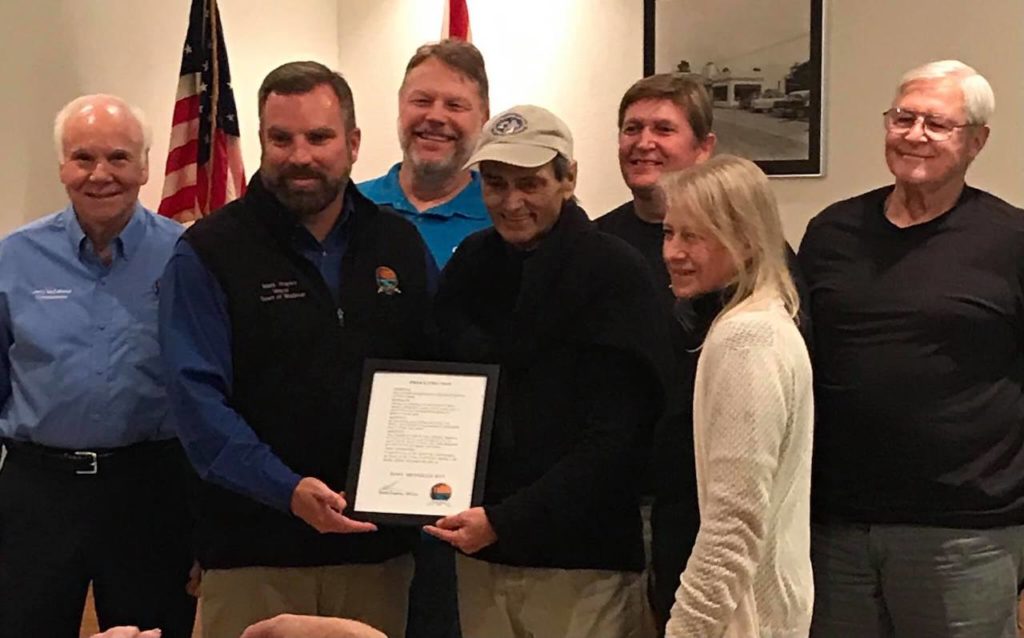 Last Tuesday, the Town of Shalimar honored local historian, photographer and author Tony Mennillo, recognizing his significant contribution to the preservation of local history and photographic media from the mid-twentieth century era.
Mayor Mark Franks is a Mennillo fan and has several Arturo and Tony Mennillo works in his home and office.
The Town of Shalimar's official website has numerous photographs taken in Shalimar by Arturo.
Tony's father, Arturo Mennillo, was assigned to Eglin Army Air Field as a photographer during WWII. He met his wife, Olivia Brunson, in Destin and after the war, Arturo set up his photography studio in Downtown Fort Walton Beach.
Many of Arturo's assignments were exclusive and his images were the only ones produced. He frequently covered the arrival of dignitaries and famous persons visiting Eglin AFB and Fort Walton Beach-Destin, including:
Presidents Harry Truman and John F. Kennedy
WWI Ace Eddie Rickenbacker
Actors Vivien Leigh, Robert Mitchum and Gregory Peck among many others
When not covering event, he was busy taking what have become iconic photographs of "old" Destin and Northwest Florida.
According to a press release, at the time of his death, Arturo's Studio had a collection of over 10,000 photographs. And although his collection was lost for several years, thanks to a friend, Tony Mennillo eventually located his father's work.
In 1998, Tony immortalized his father and his images with the publication of "Destin Florida – Highway to Heaven."
Tony published a second book, "Fort Walton Beach… A Miracle Strip" in 2002.
"Salty Memories…Along the Coastal Highway", was published 2012 and features many photographs from the 1940s and 1950s of Destin and its legendary fishing boat captains.
November 9th was the first of many Tony Mennillo Day observances in Shalimar, as the Town looks to celebrate an honor the man who captured so much of our history through a lens.
OK, that's all I have for you this morning! I hope you have a great Monday.
p.s. What did you think of this morning's newsletter? Hit the reply button and let me know!
Published with ♥ by Get The Coast.
Did someone forward you this email? Subscribe here.
124 Eglin Parkway SE Fort Walton Beach, FL 32548