TOGETHER WITH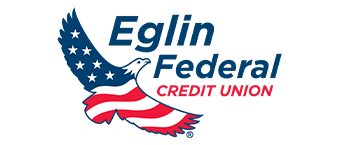 Good morning!
The Niceville City Council renamed the stretch of SR-85 between John Sims Parkway and College Boulevard after former Mayor of Niceville Randall Wise, according to Correspondent Chris Saul.
"Mayor Wise was the 15th longest-serving mayor in American history at 48 years and 19 days," said Saul. "He led the city from the early seventies until his death in early 2020."
Addresses along the roadway will keep their names for regular mail delivery. A ceremony christening the road is in the works. 
HEALTH
Rabies alert for Niceville area
The Florida Department of Health in Okaloosa County (DOH-Okaloosa) issued a rabies alert for Niceville area. This is in response to a feral cat that tested positive on November 15, 2021. 
All residents and visitors in Okaloosa County should be aware that rabies is present in the wild animal population and domestic animals are at risk if not vaccinated. According to the DOH, rabies activities can also occur outside the alert area. 
This rabies alert is for 60 days. The center of the rabies alert is the 32578 zip code of Okaloosa County, and includes the following boundaries: 
From Redwood Ave to Hwy 85 N
From College Blvd. to Choctawhatchee Bay
An animal with rabies could infect domestic animals that have not been vaccinated against rabies. 
"All domestic animals should be vaccinated against rabies and all wildlife contact should be avoided, particularly raccoons, bats, foxes, skunks, otters, bobcats, and coyotes," wrote the DOH in a press release.  "Rabies is a disease of the nervous system and is fatal to warm blooded animals and humans. The only treatment for human exposure to rabies is rabies specific immune globulin and rabies immunization. Appropriate treatment started soon after the exposure will protect an exposed person from the disease."
Residents and visitors are advised to take the following precautions: 
Keep rabies vaccinations up to date for all pets and at-risk livestock.
Do not allow your pets to run free. Follow leash laws by keeping pets and livestock secured on your property. If your pet or livestock are bitten by a wild animal, seek veterinary assistance for the animal immediately and contact Okaloosa Animal Services at Panhandle Animal Welfare Society (PAWS), 850-244-0196.
Support animal control in efforts to reduce feral and stray animal populations.
Spay or neuter your pets to help reduce the number of unwanted pets that may not be properly cared for or regularly vaccinated.
Do not handle, feed, or unintentionally attract wild animals, including feral cats, with outdoor food sources such as cat or dog food, uncovered trash or litter.
Never adopt wild animals or bring them into your home.
Teach children never to handle unfamiliar animals, wild or domestic, even if they appear friendly.
Prevent bats from entering living quarters or occupied spaces in homes, churches, schools, and other similar areas, where they might come in contact with people and pets.
Persons who have been bitten or scratched by wild or domestic animals should seek medical attention and report the injury to the DOH-Okaloosa at 850-833-9247.
For further information on rabies, go to www.floridahealth.gov/diseases-and conditions/rabies/index.html, or contact DOH-Okaloosa at 850-833-9247. 
SPONSORED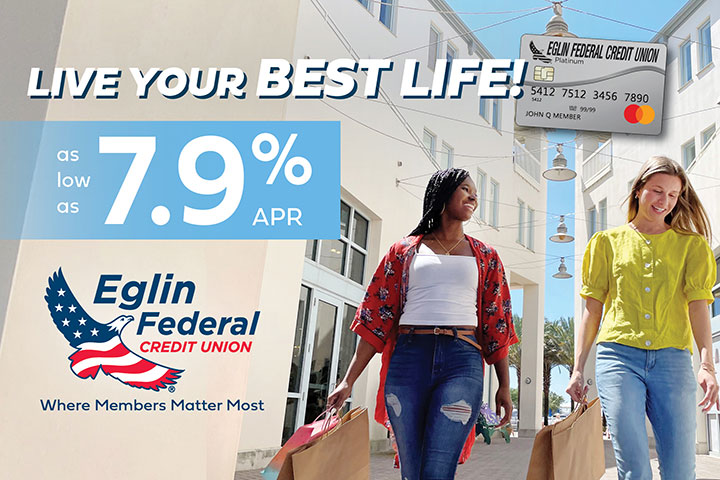 CRESTVIEW
Downtown road closures for Crestview Railroad Crossing repair extended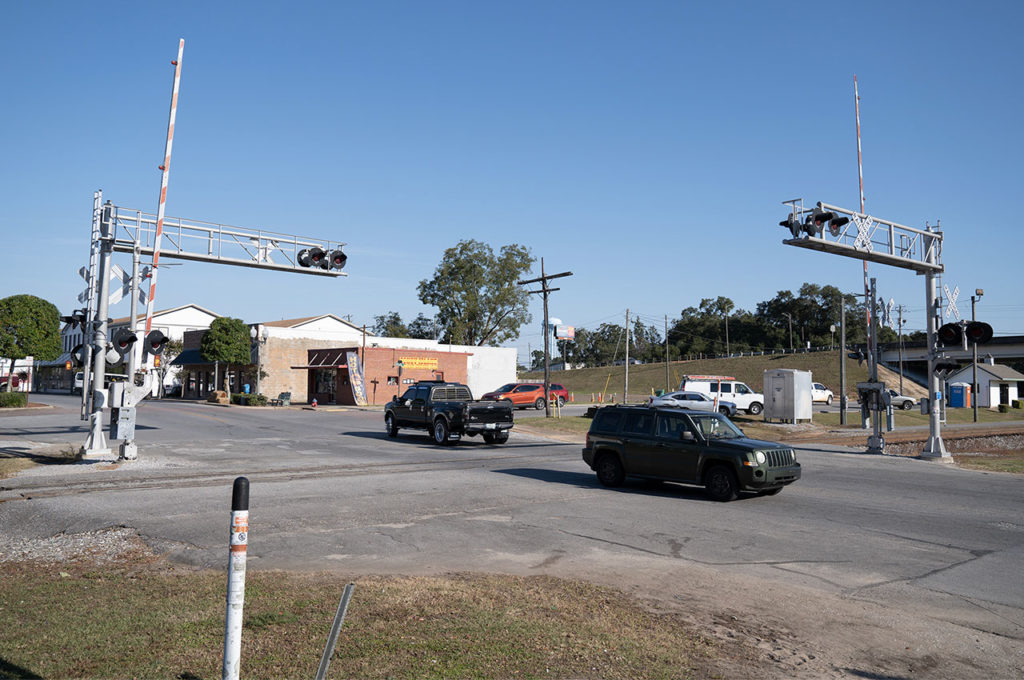 The Florida Gulf Atlantic Railroad company has experienced unforeseen
delays in the materials needed to complete the railroad repairs in Crestview.
The Wilson St. railroad crossing will now be closed until Nov. 18 and will reopen on Nov. 19.
Work will then immediately start on the Main St. Crossing through Nov. 23.
"We understand the closures will be inconvenient for motorists and downtown businesses. Still, we are excited about these repairs as they will continue to move us forward with our Downtown Revitalization Project," said City Manager Tim Bolduc. 
West Woodruff Ave and Martin Luther King Jr. Ave will serve as the designated detour routes during the closures, and signage will be placed throughout the downtown area to assist motorists.
DESTIN
Tree lighting ceremony & Jolly Christmas Drive-Thru in Destin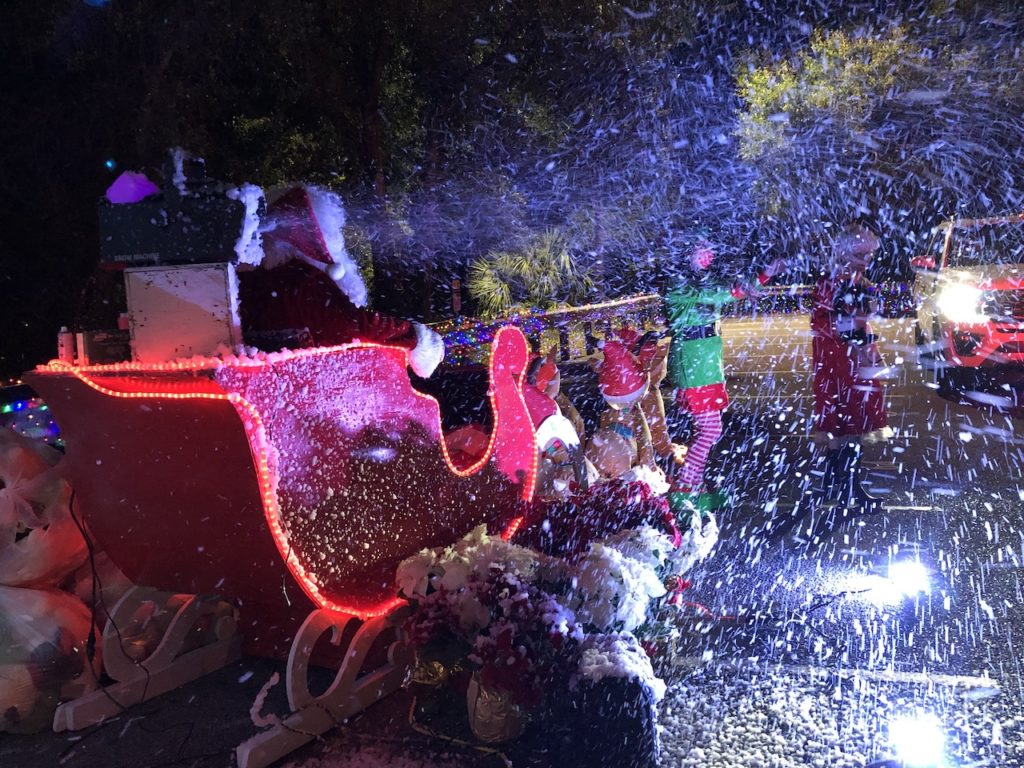 The City of Destin will host its 35th Annual Christmas Tree Lighting event and a Jolly Christmas Drive-Thru .
The Christmas Tree Lighting event will happen on Thursday, December 2nd, starting at 6:00 p.m. at the Destin Community Center, located at 101 Stahlman Avenue.
This will be an outdoor event for the entire family with a visit from Santa Claus.
Entertainment will be provided by the Destin Elementary Chorus.
Donations of one non-perishable food item will be collected for families in need. 
The Jolly Christmas Drive-Thru will take place on Thursday, December 16th, from 6:00 p.m. – 8:00 p.m. also at the Destin Community Center parking lot.
Cruise through the city's Christmas light decorations, as well as visit with Santa.
The City is asking that you please bring one non-perishable food item for admission. Donations will be given to our local food bank, Harvest House.
For more information call the Destin Community Center at (850) 654.5184.
FORT WALTON BEACH
Fort Walton Beach shares initial 'Branding Project' discovery report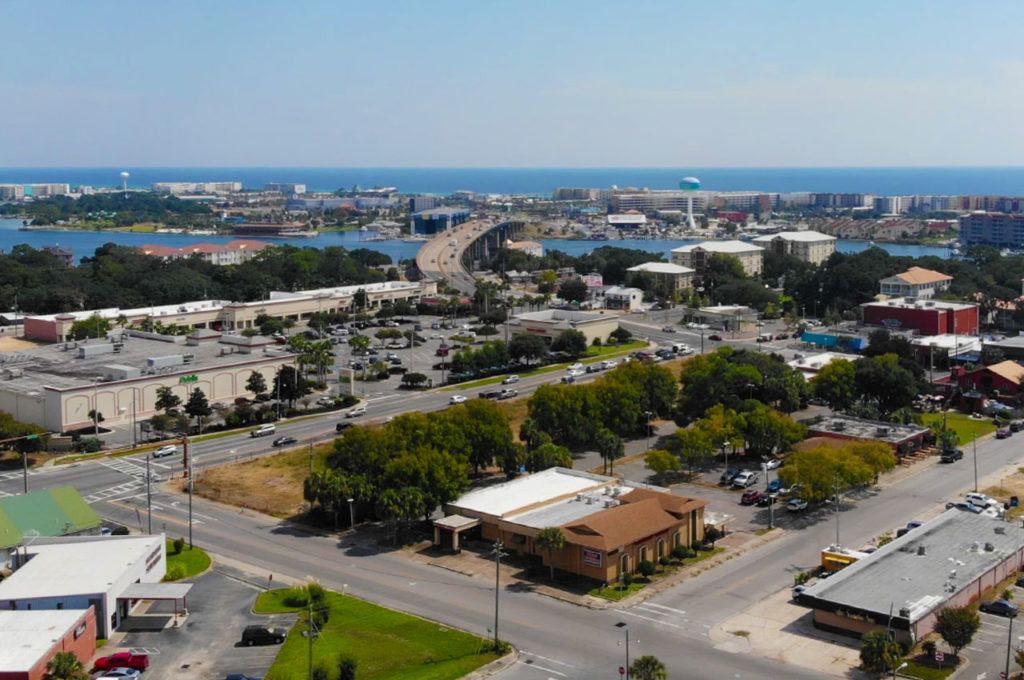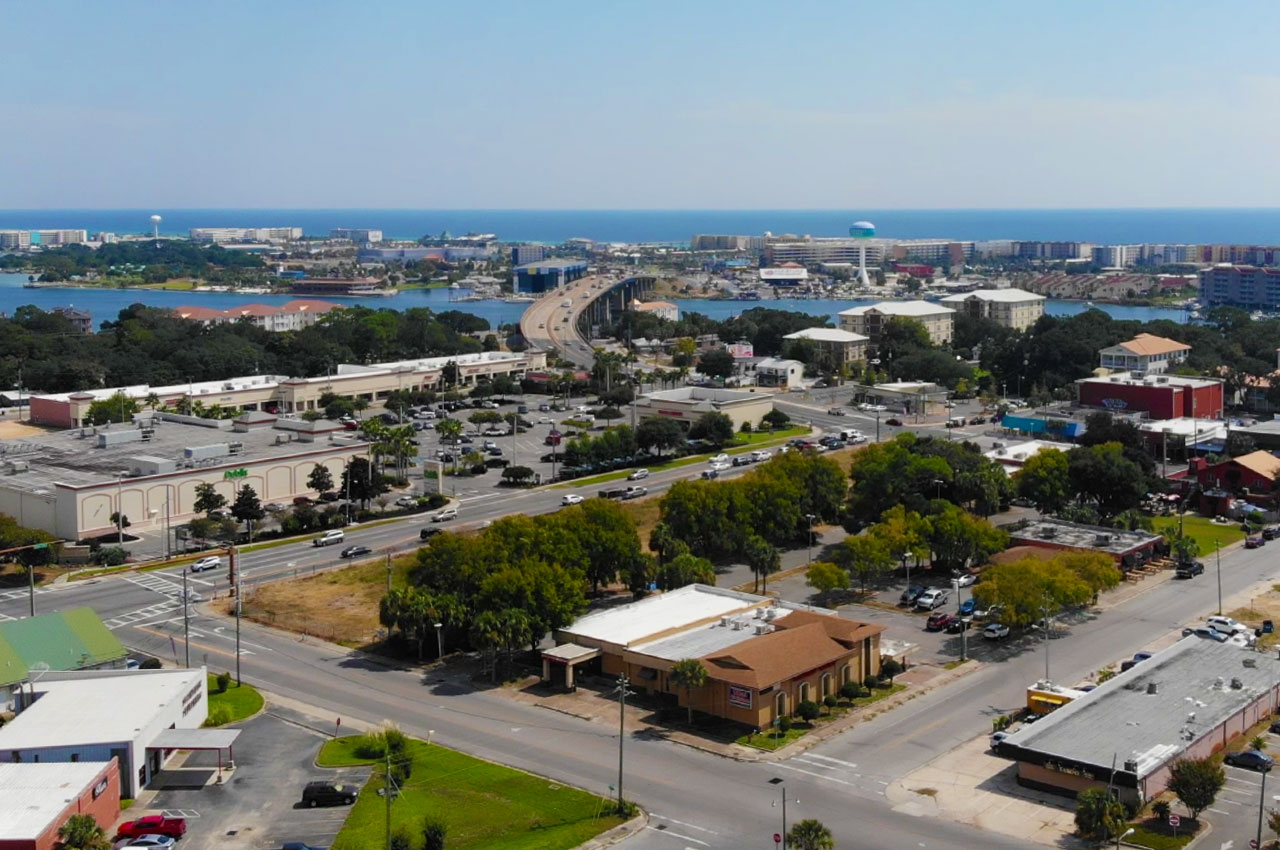 In early January 2021, Get The Coast first reported that the City of Fort Walton Beach would be launching a branding project to find out "exactly who we are and where we want to go."
At the time, City Manager Michael Beedie said "we are at a pivotal time in our city and are experiencing a great deal of momentum thanks to our elected leaders, businesses and residents."
The idea has been discussed for many years among city leaders and the business community to establish a baseline for marketing, messaging, visual consistency and revitalization.
"An identified city brand affects the entire community and has many benefits," said Doug Rainer, Public Information Officer for the City of Fort Walton Beach.
This includes:
Messaging and marketing among stakeholders align: all parties talk about the community in the same tone.
The ability for regional, state and national recognition is greatly enhanced: the city becomes an identifiable topic of positive conversation.
Economic and business decisions are easier to see and understand: locals share messages about the direction the city is headed.
Negative perceptions can be overcome: residents and businesses embrace the community and engage in positive discussions
The project's "discovery phase" included citywide information gathering from residents, business owners and key stakeholders. More than 180 participants shared input and valuable information with the city's consultant, no luggage Brand Strategies, through one-on-one conversations and community collaboration sessions.
The result of this phase of the project has been summed up in this report.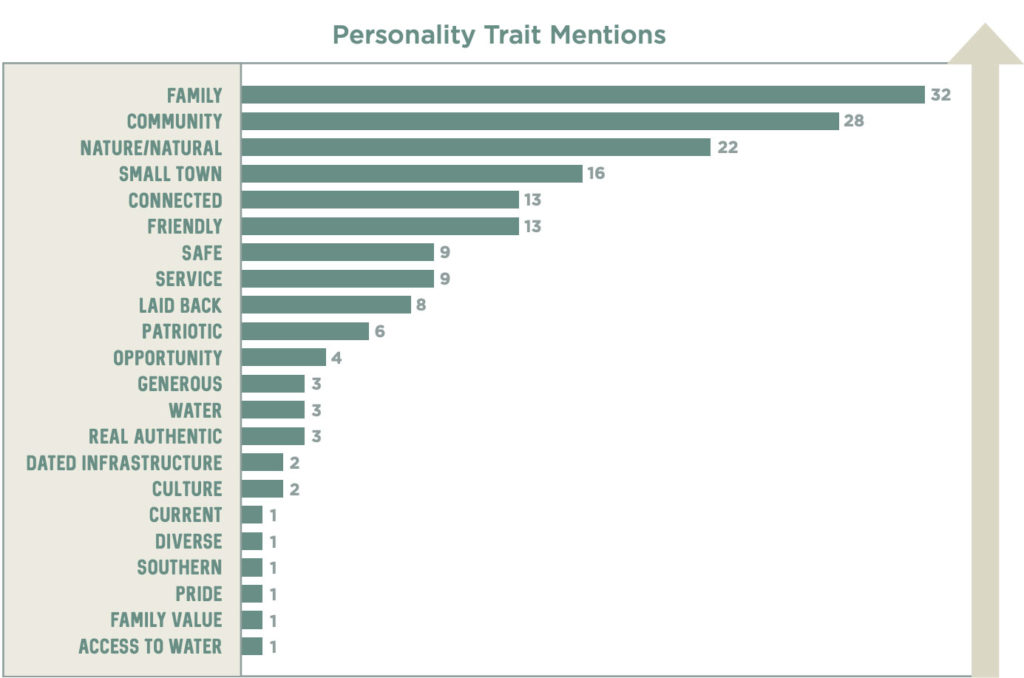 Some highlights
Family is at the center of the future.
The family is the nucleus of the City of Fort Walton Beach, according to the report. Not only was it by far the number one personality trait cited when describing the City, it was also universally agreed upon that the young family is the key to the long-term viability and vibrancy of the community.
Moving forward, the brand promise will be family-centric and new programs and opportunities should be built around them.
Given the impact of Hurlburt Field, young military (retired and active) families should be the catalyst for this development.
Move from optimistic and passive to engaged and active.
The City has an opportunity to move beyond City Hall. The report states that stakeholders want to create a stronger sense of place for families.
Use outdoor, natural assets like the Landing, Brooks Street, the new Recreation Center, the Golf Club, the Yacht Club to connect in person and tackle challenges like welcoming new families into the community or inviting military families to learn about water-based activities.
Use small, neighborhood examples like "teaching kids to sail" at the Yacht club as incubators for new, family events to try.
The next phase of the project is underway, according to the city, and will include the development of creative elements such as a brand story, promise, character, position and tone of voice.
"These foundations will become the baseline for marketing, messaging, visualization and revitalization for Fort Walton Beach, and will also inspire a sense of community pride," continued Rainer.
Once the final phase is complete, a report will be shared with the community, said Rainer.
"This information will provide the City with the direction to create a new logo, tag line, talking points, and a general look for all marketing and messaging moving forward," he said.
ROBOTICS
Fort Walton Beach deploys 'paint robot' to paint sports fields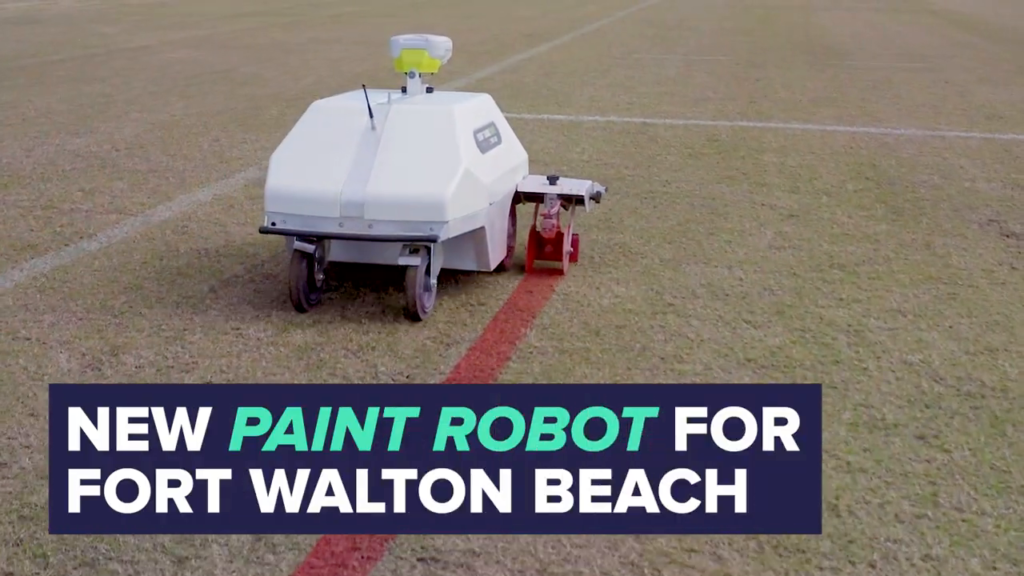 The City of Fort Walton Beach's Recreation Department deployed their new paint robot about a month ago. The robot is programmed to paint the lines on all of the fields in the city for any type of sport.
As Rec Director Jeff Peters says, "you basically hit play!"
"We've got a pretty large organization with 36 recreation areas, and the Preston Hood Complex being one of our bigger ones," said Peters. "It takes two to three guys 2 days to paint a field. This paint robot will do each field anywhere from 15 to 16 minutes."
According to the city, it is not only a huge timesaver, but allows Rec employees to focus on other areas of the department that also need attention.
"We have a great addition to the City's Rec Department that paints a line straighter than I think any of our humans could possibly do," joked Mayor Dick Rynearson. "I've watched this thing and action and it's a great labor-saving device."
"It's an investment that we decided to make as a city," continued Peters. "We're a first-class organization. We pride ourselves in being at the top of the list for everything that we do and this is just one more step that we have to make that happen."
POLITICS
Bobby Wagner temporarily appointed to Destin City Council.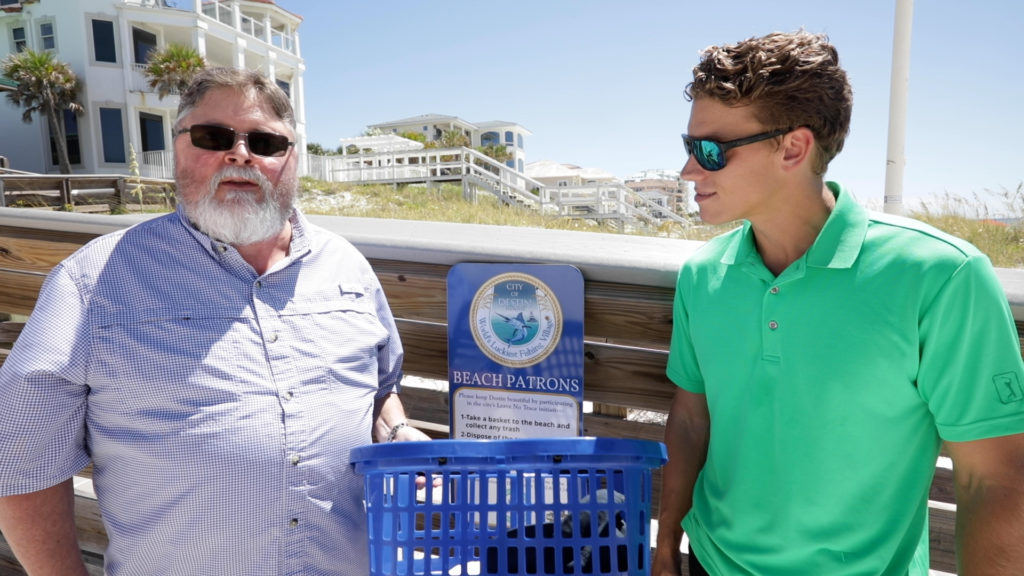 Last night, the Destin City Council voted 4-2 to temporarily appoint Bobby Wagner to fill the vacancy left by the suspension of Prebble Ramswell.
The suspension of a municipal officer by the Governor creates a temporary vacancy in the office during the suspension. It is required to fill that vacancy for the period of the suspension.
Since technically there would be less than one year left on Ramswell's term by the time a new appointee would be sworn into office, a formal election by the citizens was not required.
The suspension occurred on November 4, 2021
Next election is on November 8, 2022.
However, the earliest Council could appoint a replacement is at its regular meeting on November 15, 2021.
Destin just did a special election that resulted in Jim Bagby securing the W, followed by Bobby Wagner in a close second. Because of this, and rather than taking applications and delaying the process, Council-member Kevin Schmidt immediately made a motion to appoint Wagner.
He was seconded by Johnny King with Rodney Braden and Dewey Destin offering support.
OK, that's all I have for you this morning! I hope you have a great Tuesday.
p.s. What did you think of this morning's newsletter? Hit the reply button and let me know!
Published with ♥ by Get The Coast.
Did someone forward you this email? Subscribe here.
124 Eglin Parkway SE Fort Walton Beach, FL 32548