TOGETHER WITH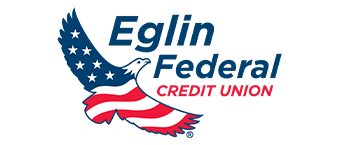 Good morning!
There are some serious discussions happening around getting a bunch of murals painted in Downtown Fort Walton Beach.
The idea would be to hire artists and it a walkable tour where you could learn more about the mural and the artist.
What concepts would you like to see painted Downtown?
DESTIN
City of Destin seeking volunteers to serve on boards and committees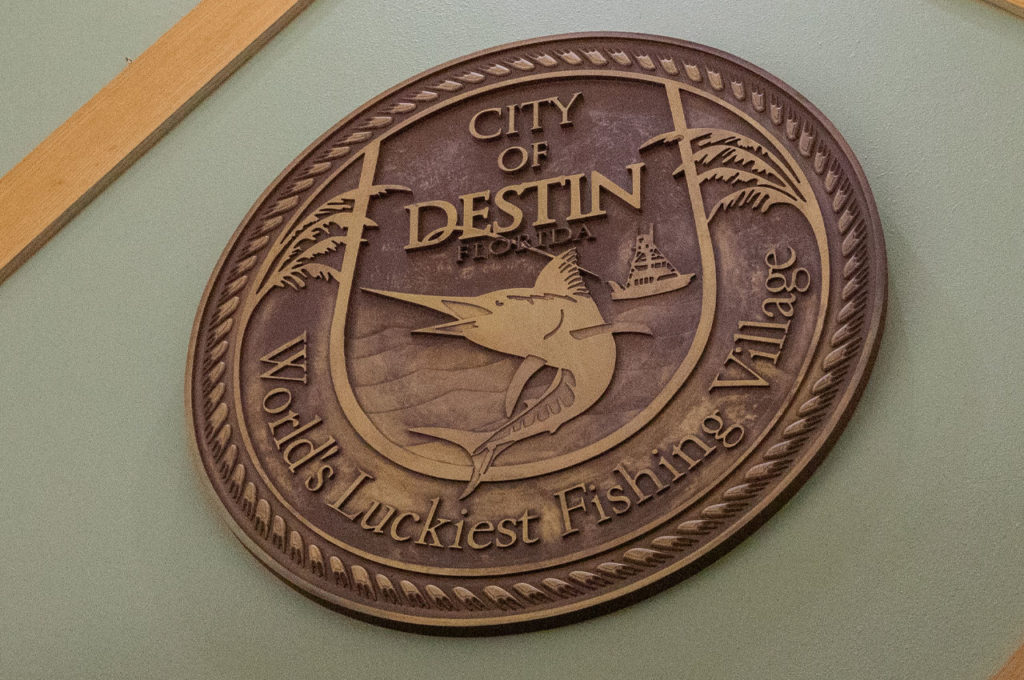 The City of Destin is seeking interested and qualified residents to serve on the following boards and committees:
Board of Adjustment
Local Planning Agency
Public Works/Public Safety Committee
Town Center Community Redevelopment Agency Advisory Committee
In order to be considered qualified, an applicant must be a resident of the City of Destin (see map).
To read more on each board or committee listed above, click here.
For more information, contact Rey Bailey, City Clerk at rbailey@cityofdestin.com or call 850-837-4242.
SPONSORED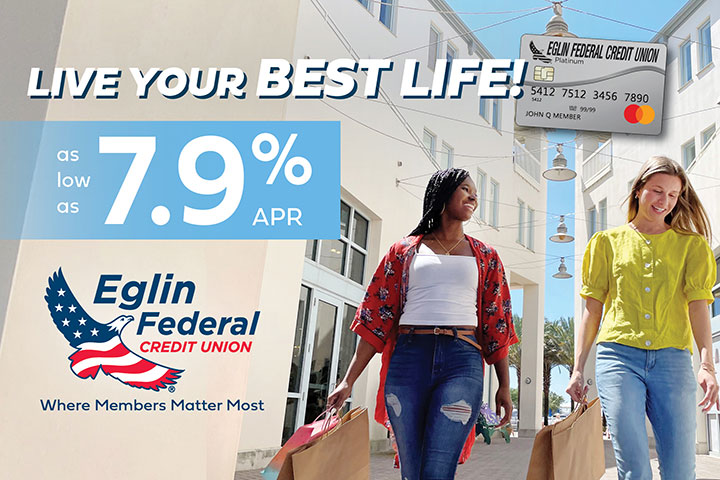 NEW JOBS
DeSantis announces bonuses of up to $5,000 for new Florida correctional officer hires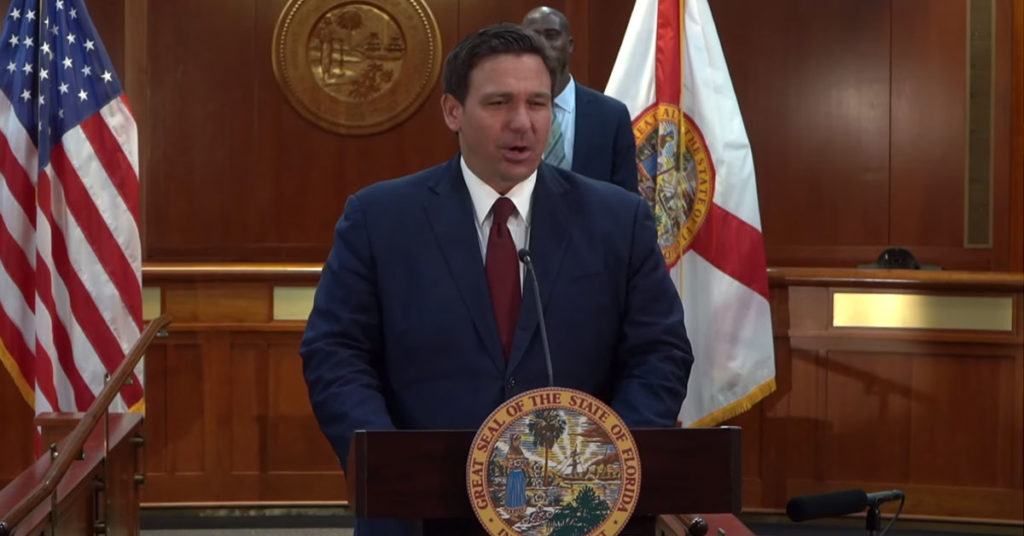 On Wednesday morning, Governor Ron DeSantis and the Florida Department of Corrections (FDC) announced incentives for correctional officer new hires, including hiring bonuses up to $5,000.
"As so many cities and states choose to disrespect, degrade and defund the work of law enforcement, we want Florida to continue valuing our men and women of law enforcement today, tomorrow and for generations to come," said Governor Ron DeSantis.
In a press release, DeSantis states that his office has prioritized initiatives to recruit and reward high quality officers, especially corrections officers.
"These new bonuses, effective immediately, will help support public safety positions within the Florida Department of Corrections," he said.
Effective immediately new bonus offered, detailed below:
$3,000 new hire bonus for all new correctional officers
$1,000 hiring bonus for correctional officers to join high vacancy institutions
$1,000 hiring bonus for certified correctional officer applicants
Beginning January, 2022, state correctional officers starting salary will be raised to $38,750 (an increase of 16%).
In addition to an increase in correctional officer salary, all current state correctional officers will receive a one-time $1,500 bonus, and state probation officers will receive a $3,000 bonus December 2021.
OKALOOSA
Okaloosa raises awareness to end human trafficking in our local area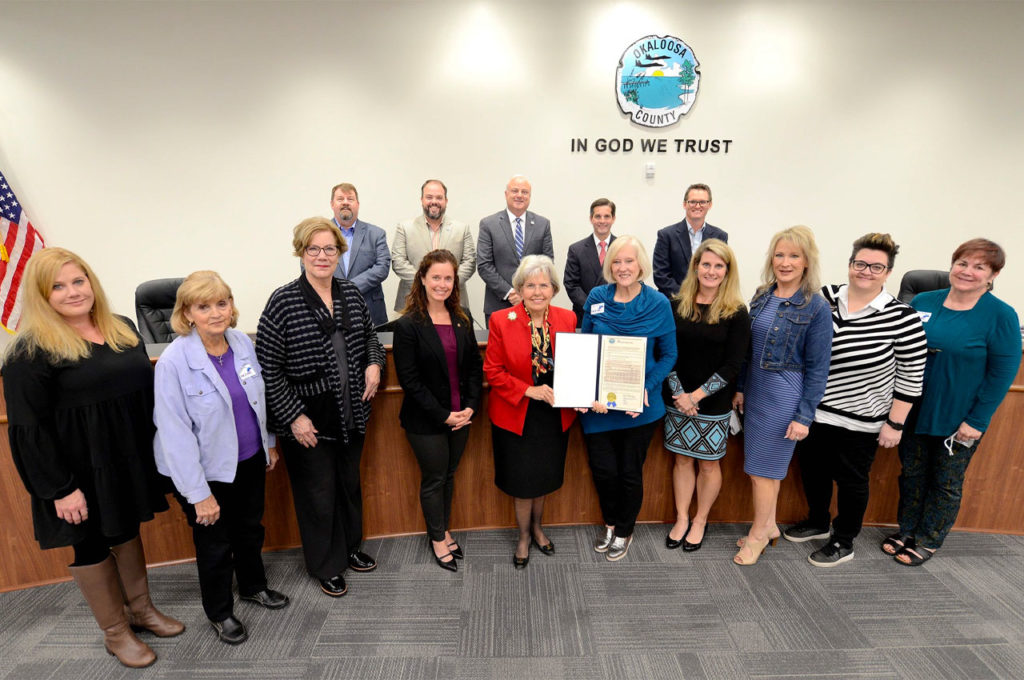 On Tuesday, the Okaloosa Board of County Commissioners supported an effort to raise awareness to end human trafficking in our area with a proclamation that supports educating the public on spotting the warning signs of human trafficking and reporting it to the authorities.
The Okaloosa County Commission on the Status of Women led a series of meetings with stakeholders from various Okaloosa County women's organizations and subject matter experts, including the Executive Director of the Florida Alliance to End Human Trafficking to discuss ways to fight human trafficking locally.
Human trafficking involves the use of violence, manipulation, force, fraud, or coercion to obtain some type of labor or commercial sex act.
Things such as language barriers, fear of their traffickers and law enforcement frequently keep victims of any age, race, and gender from seeking help, allowing the perpetuation of human trafficking a hidden crime.
The proclamation states that "human trafficking, a form of modern-day slavery, occurs when people are subjected to sexual exploitation or labor through force, fraud, or coercion."
Florida continues to rank third in the nation in the number of calls to the National Human Trafficking Hotline.
Industries commonly targeted by human traffickers are located in Okaloosa County as well as along Interstate 10, which has been used as a corridor for human trafficking.
According to the proclamation, victims include children, women, and men with the average age at which a victim is trafficked for commercial sex being between the ages of 12-14.
According to data collected by Polaris, the organization that operates the U.S. National Human Trafficking hotline, 15,222 females were trafficked in 2019, compared to 3,003 males.
"Human trafficking is often 'hidden in plain sight,' meaning that a victim may not appear to be subject to exploitation," states the proclamation. "Captors typically use a strategy of recruitment, manipulation, intimidation, and abuse, causing intense trauma for human trafficking victims and fear keeps them from seeking help. Survivors may never get out unless the community is equipped to detect the warning signs."
This is why local interventions are important for saving trafficking victims, and dismantling the criminal networks, which are often involved in other types of illicit activities, according to the Okaloosa County Commission on the Status of Women.
The Florida Alliance to End Human Trafficking, in collaboration with the Florida Forensic Institute for Research, Security and Tactics, developed online training to help detect human trafficking, best practices for reporting human trafficking, and interventions and treatment for survivors of human trafficking.
NICEVILLE
Reused water in Deer Moss Creek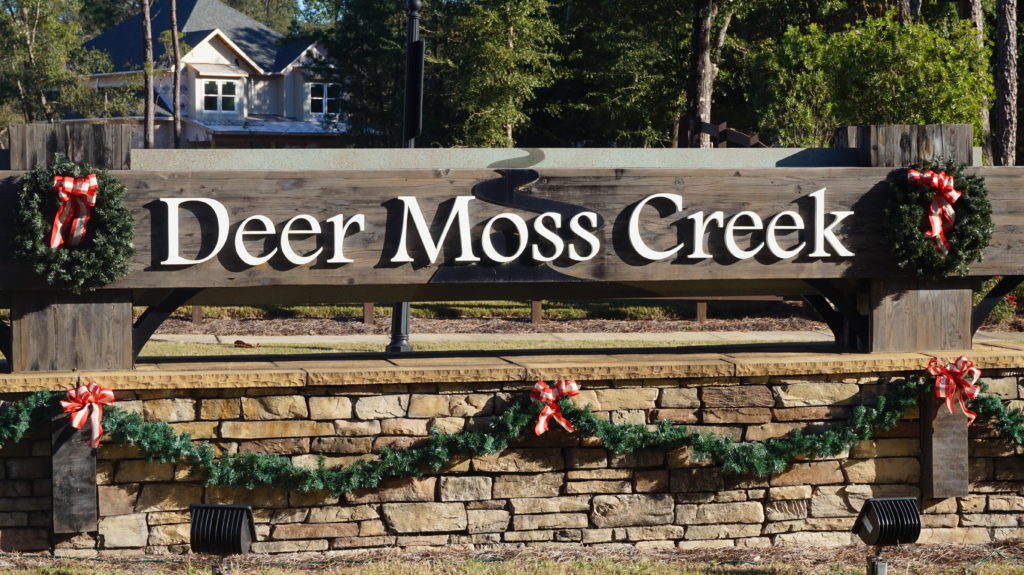 Good news for the residents of Deer Moss Creek in Eastern Niceville: City Manager Lannie Corbin said during the city council meeting on Tuesday that he expects non-potable recycled water to be available to the subdivision by March.
The city is working with the County and Eglin Air Force Base (which owns the land) in order to get the permits and permissions necessary to run reclaimed water piping on the land to the subdivision.
As you might've guessed, reclaimed water is much cheaper to use than potable water in order to keep lawns and gardens irrigated. This will result in much cheaper water bills in the future for those residents.
Reclaimed water is separated from sewage and other waste at the Arbennie Pritchett Water Reclamation Facility in Fort Walton Beach and then pumped back to the community for non-drinking uses.
This water is treated several times, but is not considered safe enough to drink.  
OKALOOSA
New sidewalks to be added near Niceville and Crestview schools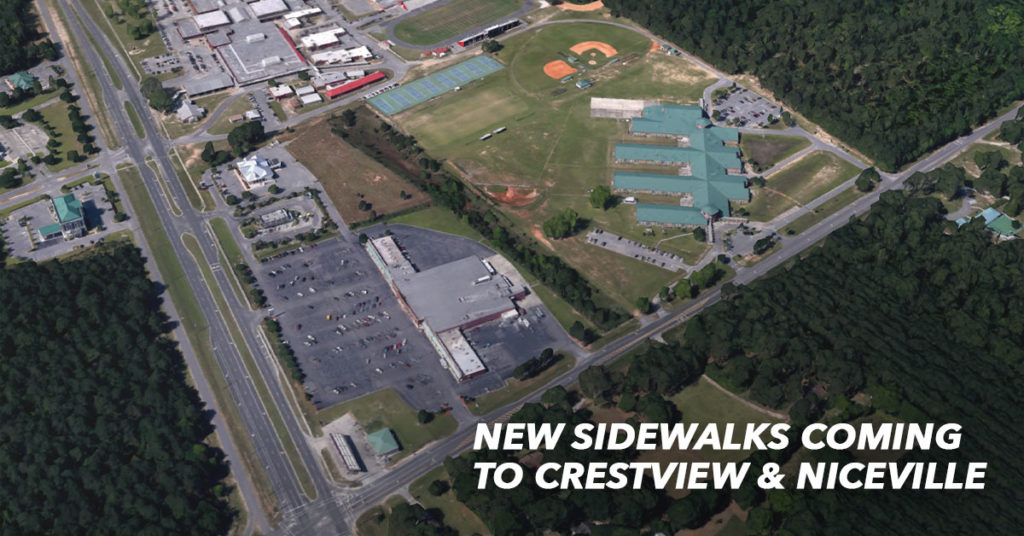 On Tuesday, the Okaloosa Board of County Commissioners unanimously approved adding new sidewalks near Niceville and Crestview schools, along with other street improvements.
In Niceville, the sidewalk improvements will happen at the Redwood Avenue and John Sims Parkway Intersection.
This area is located within walking distance of Plew Elementary School. Additionally, pedestrian traffic along Redwood Avenue has grown to the point where sidewalks are needed, according to Jason Autrey, Public Works Director.
"Segments of sidewalks exist in the area, but linking those sections along with intersection modifications will dramatically improve pedestrian safety," said Autrey.
The Plan: 5 foot sidewalk improvements will tie into the existing facilities at the signalized intersection on SR 20 and extend south to Valparaiso Blvd., almost a mile south.
Other improvements include stormwater structures, driveway and intersection modifications, parallel parking spaces, retaining wall, signage and handrails.
"It's a big win," said Commissioner Mel Ponder. "It's a mile of sidewalk and improvements."
Money: $350,000 of surtax money was already allocated to get the project started. An additional $1,000,000 was approved to get it completed.
Up in Crestview
Several years ago, Okaloosa County, along with the Okaloosa County School Board, submitted a request to the Safe Route To Schools Program for sidewalks along Old Bethel Road in Crestview.
According to Autrey, it "just barely missed the cut" at that time, but the need has continued to grow.
"There's more development out that way and the school has grown," said Autrey. "Commissioner Paul Mixon reached out to the Surtax Committee and made a presentation about the potential for putting this sidewalk project in."
Davidson Middle School is located on the south side of Old Bethel Road, just west of the Winn Dixie shopping center, located in the southwest corner of Highway 85 and Old Bethel in Crestview.
The westernmost middle school driveway also serves as an access to Crestview High School.
Lakewood Christian School is located directly across Old Bethel Road from that driveway.
Despite the numerous subdivisions located north and west of the three schools, and the obvious potential for foot and bicycle traffic, there are no sidewalks in an over mile-long segment of Old Bethel Road between the Winn Dixie shopping center and Normandy Road.
Autrey says that although his department requested full-funding of the project from the county, they will be submitting this project to the state for some reimbursement.
Money: The project will cost $1.5 million.
Commissioner Mixon was happy to see the project funded stating "there are hundreds of kids that walk morning and afternoon down these these non-existent shoulders."
Timeline: Autrey told the Commissioners that the goal is to have the improvements complete by next school year.
DESTIN
New Destin Chick-Fil-A coming soon to help alleviate traffic problems
On Monday night, the Destin City Council unanimously approved the Major Development Order to build a new Chick-Fil-A at 1021 Highway 98 East. This will replace the existing Chick-Fil-A.
The location is currently the vacant Gulfview Plaza, which residents will note is only 3 parcels west of Chick-Fil-A's existing location on Highway 98.
It's no secret that the current Chick-Fil-A has some traffic issues, with cars regularly backing-up onto Highway 98 trying to get into the parking lot or drive-thru. It's an issue that the Destin City Council has heard from the public for quite some time, along with Whataburger traffic at the foot of the bridge.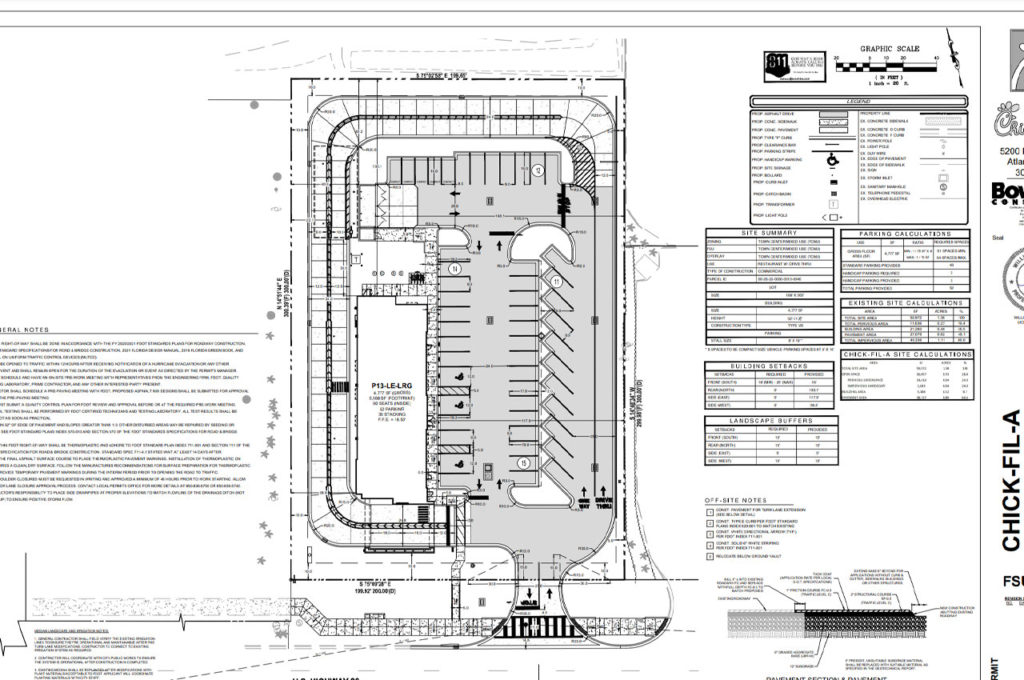 The new site plans include a new building, 52 parking spaces and a dedicated drive-thru lane (2 lanes) that will wrap around the entire 1.38 acres.
The 'stacking' of vehicles is the main problem at the existing location.
The new location will allow for the stacking of at least 36 vehicles, not including the ordering point.
OK, that's all I have for you this morning! I hope you have a great Thursday.
p.s. What did you think of this morning's newsletter? Hit the reply button and let me know!
Published with ♥ by Get The Coast.
Did someone forward you this email? Subscribe here.
124 Eglin Parkway SE Fort Walton Beach, FL 32548