November 23, 2022
|
Reading time:
13 mins
TOGETHER WITH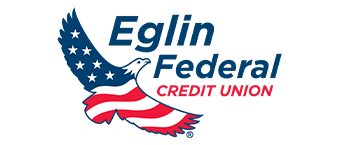 Good morning!
Here's a look at the Thanksgiving Trash & Recycling Schedule across Okaloosa County:
Okaloosa County:
Residential curbside recycling normally serviced on Thursday will be delayed to Nov. 26, 2022.
Household garbage that is normally serviced on Nov. 24 will be serviced on Nov. 28, 2022.
Yard waste and bulk items will be serviced on December 1, 2022.
Commercial: If your scheduled service day is Thursday, Nov. 24, you will be serviced either Wednesday, Nov. 23 or Friday, Nov. 25, 2022.
Fort Walton Beach:
Thanksgiving Day – NO residential, commercial or yard waste collections.
The Day after Thanksgiving – The city will be servicing residential recycling and commercial accounts but there will be NO bulk waste or yard waste pick up.
Crestview:
Any services that fall on Thursday, November 24, will be pushed to Friday, November 25. Normal Friday services will be pushed to Saturday, November 26.
FROM THE STATE
State Representative Patt Maney gears up for 2023 Legislative Session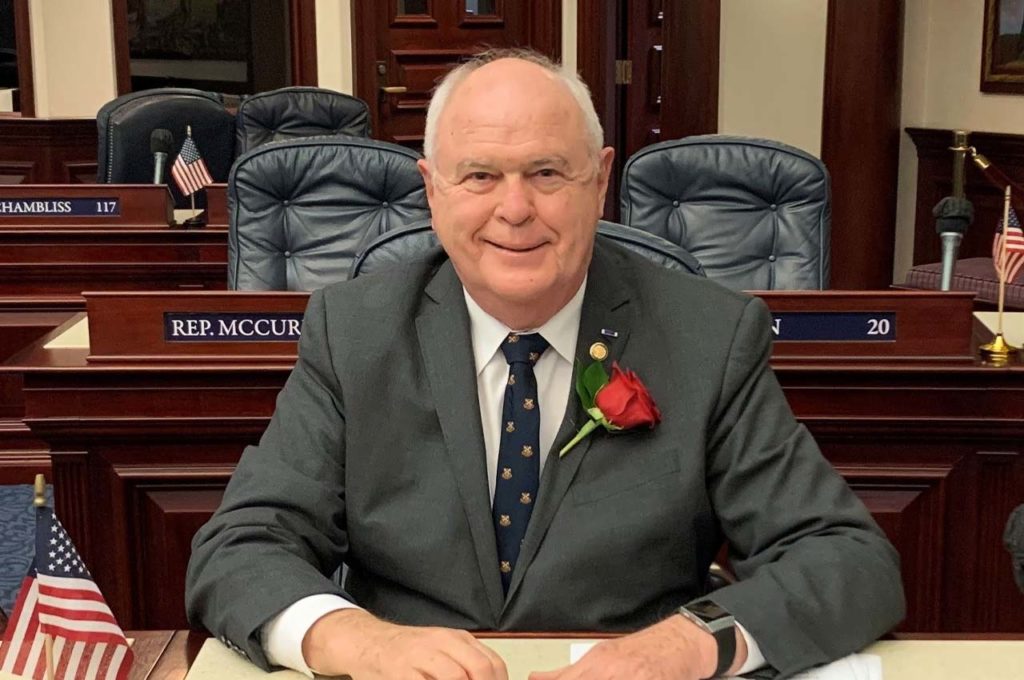 On Tuesday, November 22, 2022, State Representative Patt Maney stood alongside duly elected peers in the Florida House of Representatives in Tallahassee and organized for the 2023 Legislative Session.
An organization session is the first formal day in a legislative term and convenes for the exclusive purpose of organization and selection of officers, the date of which is the 14th day following a general election.
"Leadership is half the battle," said State Representative Patt Maney. "The other half is grit to get the job done. I am exceptionally confident in the leadership we've installed in the Florida House and Senate today, and the grit they continue to demonstrate in the defense of conservative Florida values."
Rep. Maney said on Tuesday that his mission remains clear; To ensure the health, safety and prosperity of Okaloosa families and Floridians statewide.
"I am honored, encouraged, and impatient to drive our good work forward," he said.
The Florida Legislature meets in session every year for sixty consecutive days. A regular session of the Legislature convenes on the first Tuesday after the first Monday in March of each odd-numbered year, and on the second Tuesday after the first Monday in January of each even-numbered year.
Legislative committees will begin meeting on Monday, December 12, through Friday, December 16, with subsequent committee weeks beginning on January 3, January 17, January 23, February 6, February 13, and February 20. The 60-day regular session begins on Tuesday, March 7.
SPONSORED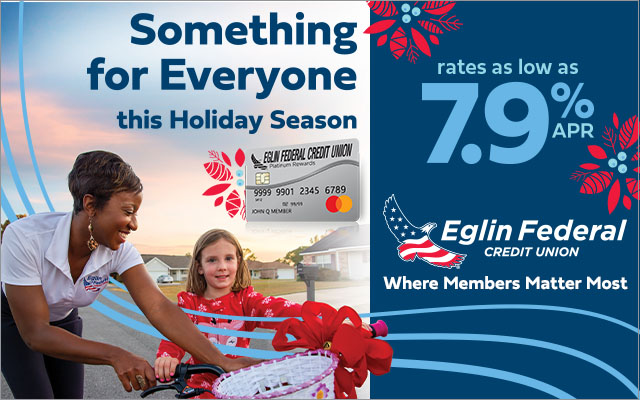 Something for everyone this Holiday Season!
Enjoy all the benefits and features that come with Eglin Federal Credit Union's lowest rate credit card.
NEWS
Gulf Breeze Zoo announces unexpected death of beloved giraffe, Jigsaw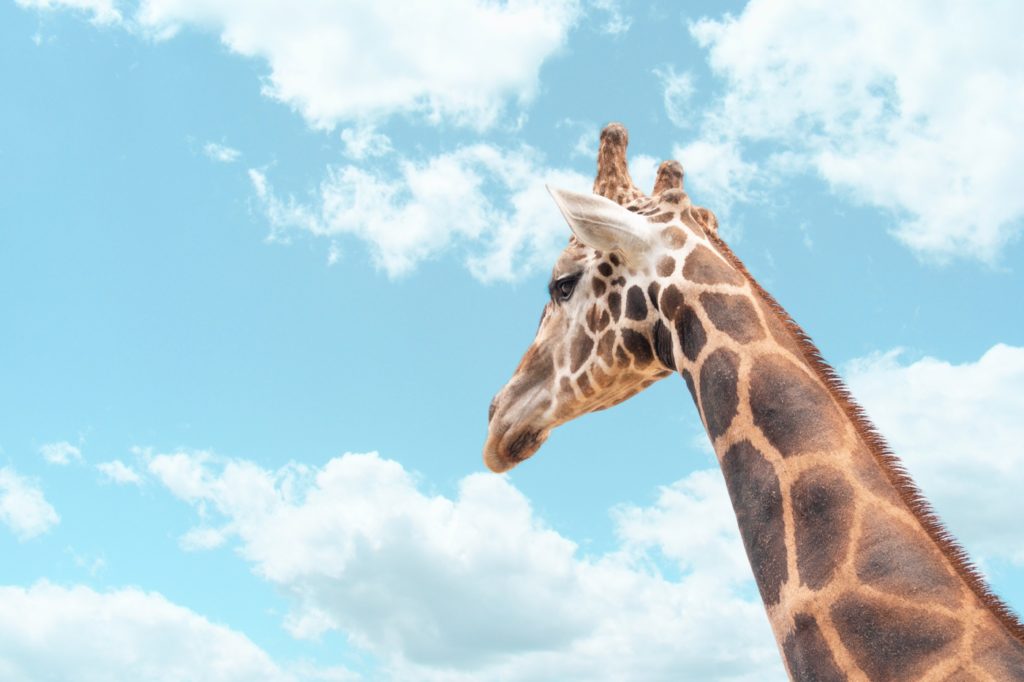 On Monday, November 21, 2022, the Gulf Breeze Zoo took to social media to announce the unexpected death of Jigsaw, the zoo's beloved male reticulated giraffe.
According to the announcement, Jigsaw was found unresponsive in his night house by his keepers during their morning opening rounds.
"The Gulf Breeze Zoo family, and especially those animal care team members who are with the giraffes daily, are saddened by this tragic and unexpected loss," said Jamie McMaster, Gulf Breeze Zoo Director.
According to McMaster, Jigsaw had been observed acting normally the previous day, interacting with the other giraffes and guests. McMaster says that the zoo's animal keepers work closely with the animals daily to ensure the best care possible.
He added that the necropsy results showed that Jigsaw died of natural causes.
"Jigsaw was an important part of the giraffe herd, and the staff is taking comfort in being able to care for the calves he sired," said McMaster.
THINGS TO DO
Fort Walton Beach Police gearing up for 'Winter Wonderland', annual toy drive for local kids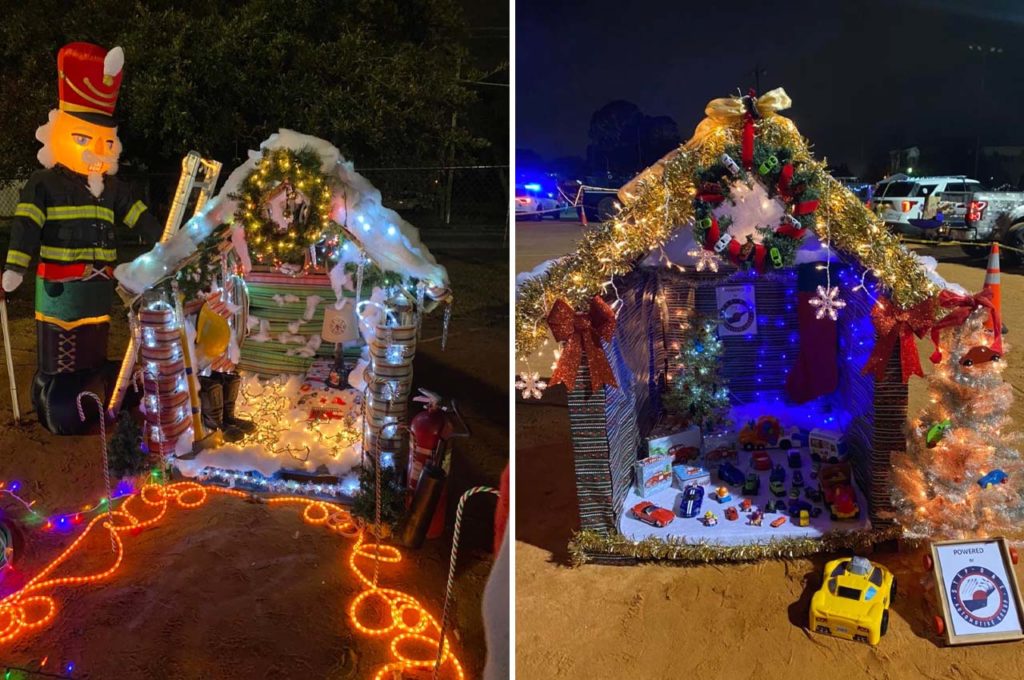 The Fort Walton Beach Police Department is hosting its 3rd annual Winter Wonderland on Friday, December 9, from 6pm to 10pm at the Chester Pruitt Softball Park (15 Hollywood Blvd NE) in Fort Walton Beach.
What began nearly three years ago as a small internal event in the parking lot of the Police Station, doubled in size the following year and had to be moved to the park. The Fort Walton Beach Police Department spends a few days building simple pallet houses that sponsors then decorate leading up to the event.
"It's grown this year, even bigger than it was last year and the year before," says Sgt. Kendra Stalls of the Fort Walton Beach Police Department. "We'll have 30 pallet houses with different sponsors, and we've dubbed it Pallet House Lane."
Admission is free, and the event benefits Emerald Coast Toys for Tots. Attendees are asked to bring a new, unwrapped toy to get a raffle ticket for a chance to win one of the prizes donated by generous businesses in the community.
Or, instead of donating a toy, a $10 cash donation will get you one raffle ticket.
Raffle prizes include local hotel stays, restaurant and store gift cards, unique gifts, a snorkeling trip, and much more.
"Santa Claus and the Grinch will be there, and the 501st Storm Troopers, too," says Stalls. "Hayden from Z96 is going to come out and DJ for us. We'll have bounce houses, interactive soccer and basketball, paintball targets, a photo booth, face paintings, games, and more."
There will be food trucks offering discounted meal deals, and part of the proceeds will go to Toys for Tots.
"The projector will be out there again this year with the blow-up screen playing a Christmas movie, and at the end we'll have a snowman and snow," says Stalls.
The pallet houses are decorated by local area businesses, each one vying to be the most creative. Photos of all the pallet houses will be posted on social media, and the public will be able to vote for the best designed pallet house.
Participating organizations decorating pallet houses:
Bald Bros
United Fidelity Bank
FWB Library
FWB Growth Management
FWBFD (2 shifts)
FWBPD (8 units)
Eglin SF
Hurlburt SF
Mayor Dick and Janey Rynearson
Emerald Coast Crimestoppers
Class Sea Chic
State Attorney's Office
FWB Bowl Heather Hughes
Emerald Coast Bait & Tackle
Okaloosa Donuts
Fort SK8
The Island Hotel
Domenech Group Realty ERA
PAWS
Erase the Trace
Torch Technologies
Panhandle United Roller & FWB Junior Bombers
Make plans with your family and friends to head out and experience the Winter Wonderland. Take a stroll along Pallet House Lane and enjoy an evening of hot chocolate, games and giveaways, food, music, and lots of holiday merriment.
POLICE BLOTTER
Florida man arrested for running gambling house in Crestview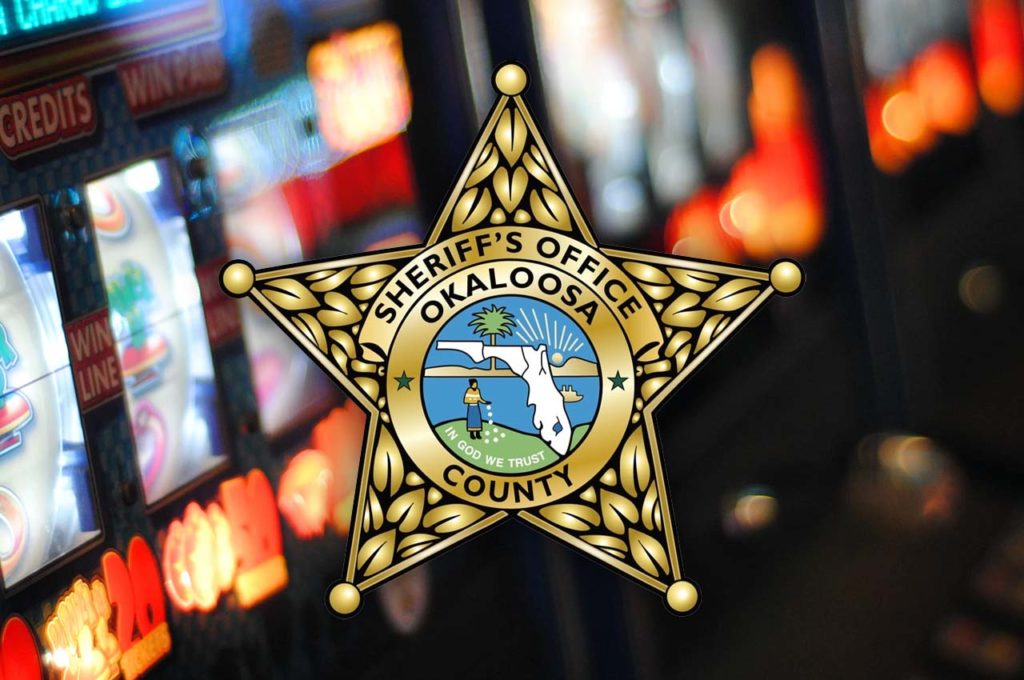 On Monday, the Okaloosa County Sheriff's Office announced that a Winter Garden man was arrested earlier this month on a misdemeanor charge of keeping a gambling house on North Ferdon Boulevard in Crestview.
Okaloosa County Sheriff's Office investigators say 56-year-old Lin Zhuo habitually kept and permitted a gaming room and slot machines at The Lucky Pearl Internet Cafe.
During the undercover investigation, an employee told the investigator there were internet slots that people could play. He was also told there were stand-alone machines that accept cash, win real money, and can cash out on-site or use CashApp.
The employee admitted approximately 90% of their business is online and the business uses CashApp to pay out and collect money. The Undercover OCSO Investigator cashed out on the standalone machine and the employee paid the investigator $17.10 in cash.
Investigators say records reveal from November 11, 2020 to November 12, 2021, there were approximately 23,413 transactions paid to The Lucky Pearl totaling $758,905 via CashApp by persons believed to be customers.
During that same approximate time frame, $13,072 was paid out to customers via CashApp, with a a majority of the comments citing "winnings".
"The Florida Gaming Control Commission says the business is not a legitimate and sanctioned gambling facility and having computerized slot machines in a business outside a sanctioned facility is a violation of the law," wrote the OCSO in a press release.
THINGS TO DO
Fort Walton Beach's downtown Christmas tree lighting event is this Friday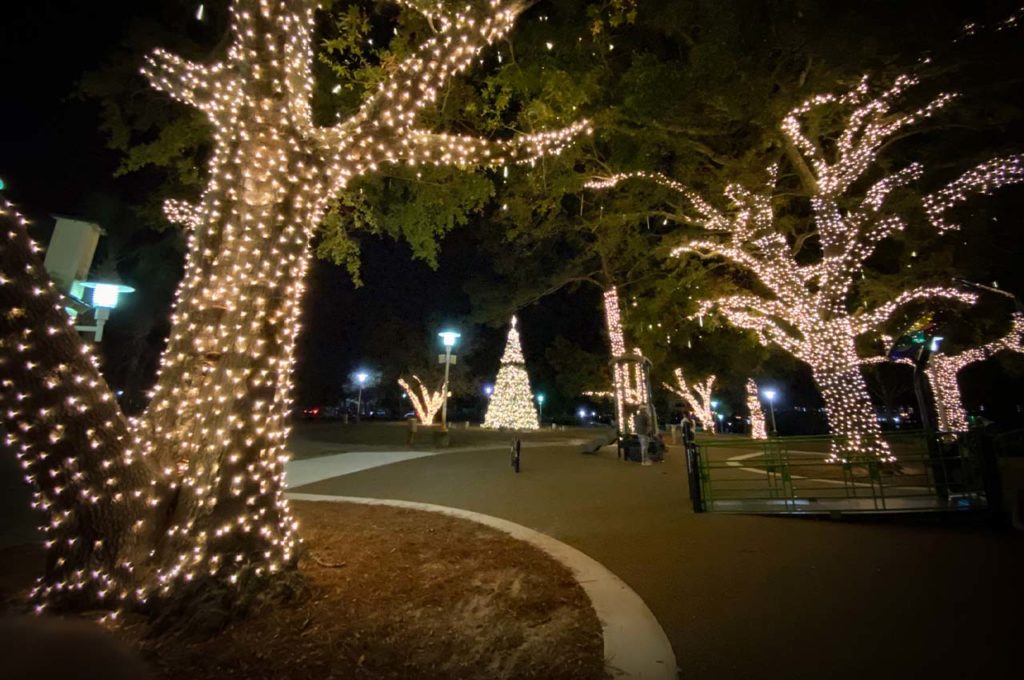 The City of Fort Walton Beach will hold their annual "Light Up The Night" Christmas tree celebration at The Landing Park in Downtown Fort Walton Beach on Friday, November 25, beginning at 5 p.m.
Local businesses will be open for food, beverages, and music, as the Fort Walton Beach Community Choir performs along with a visit from Santa.
Then, beginning at 5:30pm, Mayor Dick Rynearson is expected to lead the countdown as the 30-foot tall Christmas tree "lights up the night" along with other decorations in the downtown area.
"This is one of our favorite times of the year in the City," said Jeff Peters, interim City Manager. "The Light up the Night Tree lighting event has grown over the past few years. It kicks the Holiday Season off in a great way and then we follow up with the Christmas Parade on December 5th."
OK, that's all I have for you this morning! I hope you have a great Wednesday and a Happy Thanksgiving! I will more than likely not be sending out a newsletter tomorrow so we will pick back up on Friday!
p.s. What did you think of this morning's newsletter? Hit the reply button and let me know!
Published with ♥ by Get The Coast.
Did someone forward you this email? Subscribe here.
124 Eglin Parkway SE Fort Walton Beach, FL 32548