TOGETHER WITH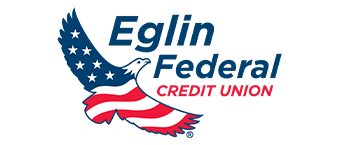 Good morning!
Destin High School just announced E.G. Green as their first football coach. E.G. is a native to Fort Walton Beach, who went on to play at FSU and the NFL. He's a legend in Okaloosa County. Also a legend, was his late father, Coach Green.
Door Dash is no friend to Niceville High School. Earlier this week, Niceville Principal Charlie Marello posted his frustration on Twitter. "Stop ordering door dash or other food deliveries to the school immediately. We will reject the delivery or we will eat your food in the front office."
TRAFFIC
More progress being made on Crestview Bypass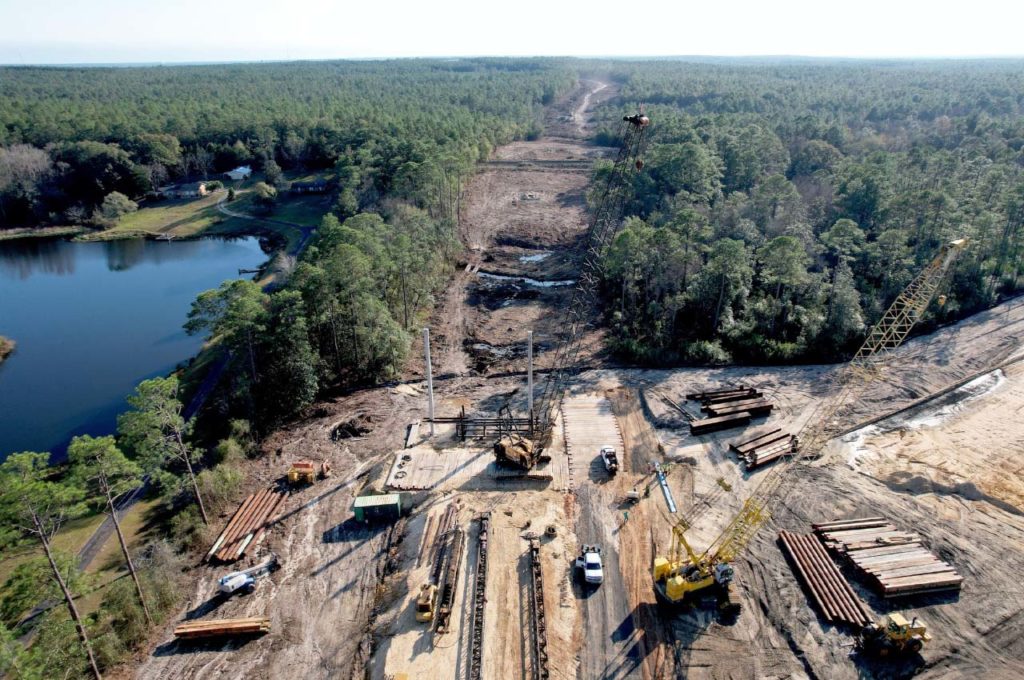 Earlier this week, Public Works Director Jason Autrey gave an update on the construction progress of Phase V.
Test piles have been placed for a bridge to go over the railroad tracks on the Phase V portion just south of U.S. Highway 90 near Enzor Road.
Hundreds more piles will be installed for the new bridge as the construction continues.
According to the county, a work bridge will have to be built before the real bridge is constructed.
The bridge alone is going to take about a year-and-a-half to two years to build.
South of the bridge, most of the land has been cleared for the three miles of roadway that will be taking shape in the coming months.
"It's a major structure that we have out there," said Autrey. "The line and grade, all the way down to the beginning of the bridge has been set."
Additionally, the county has excavated a pond.
FORT WALTON BEACH
FWB to foreclose on the old PS Gifts building after repeated code violations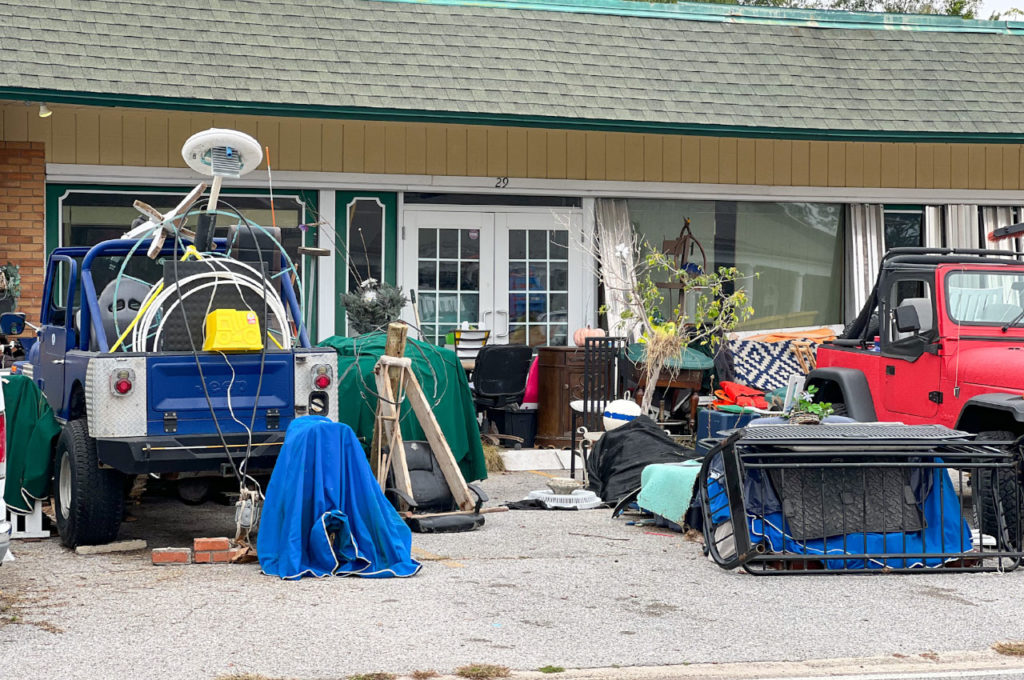 What was once a thriving gift shop, has become an eye sore in Fort Walton Beach.
The property at 29 Walter Martin Road used to be home to PS Gifts (the business shut down years ago). Now, it is home to a number of code violations under the new property owner.
According to the City of Fort Walton Beach, the code violations started taking place over this past year. Last October, the city opened their initial code cases on the property shortly after it was purchased by the current owner.
NOTE: The Rynearson's, who owned/operated PS Gifts, sold the building some time ago.
"The main thing we started seeing was outdoor storage," said Growth Management Director Chris Frassetti. "There was an accumulation of stuff all over the property and inside as well."
Frassetti says that when the city tried to work on the property owner to gain compliance, it was clear that he was not going to work with the city on cleaning it up.
By February 2021, this case was brought before the code enforcement board.
That gave the owner a deadline of February 20th to have the violations corrected.
They were not.
In March 2021, city staff brought the case back to the code enforcement board where they started imposing fines of $250/day until the property was brought into compliance.
As of right now, the property is still not in compliance and has continued to go downhill, according to the city.
Current liens on the property are $70,750.00 in fines just this year. These liens are from the City of Fort Walton Beach.
Frassetti told the city council on Tuesday night that his department has already worked with Fire Marshal and the FWB Fire Department.
"They've relayed their concerns to us as far as fire code violations for unsafe storage practices inside and outside the property," said Frassetti.
What happens next: The council authorized a nuisance abatement which means that the city will be able to go and clean-up/remove the items in violation. Additionally, the foreclosure process will begin on the property.
The city expects to begin the foreclosure process sometime in January.
COVID
Monoclonal antibody site at Northwest Florida Fairgrounds to shut down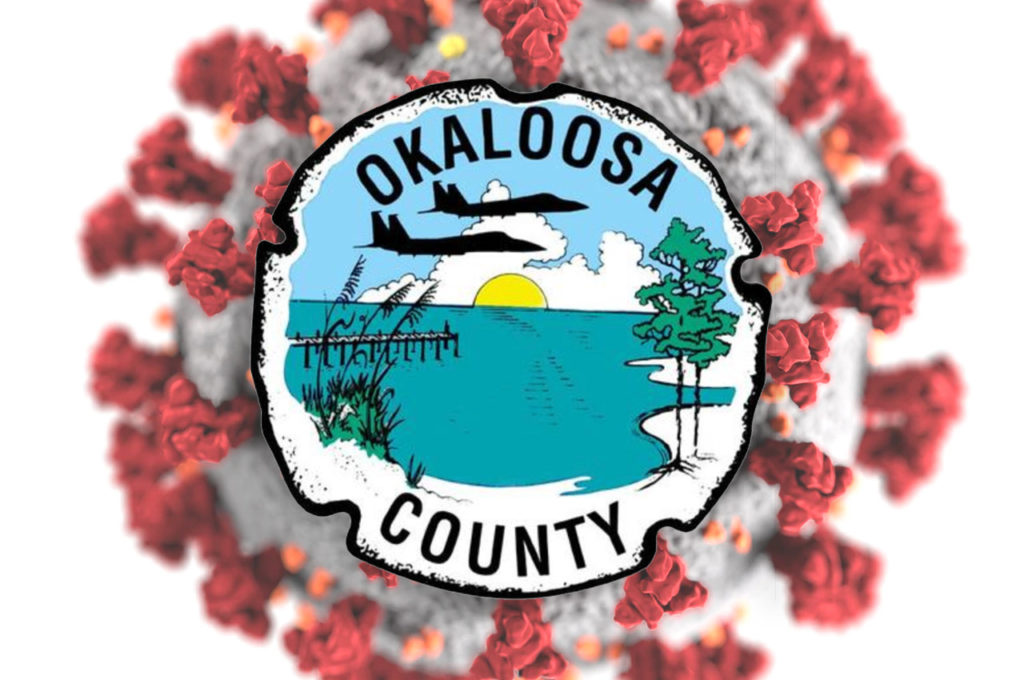 The state-run monoclonal antibody site at the Northwest Florida Fairgrounds in Okaloosa County will shut down on Saturday at 5 p.m.
Okaloosa County made the announcement on Thursday morning.
Microbe Emerald Coast Infectious Disease clinic is providing monoclonal antibody treatment by appointment only.
Patients must call 850-862-3979 or text 850-889-8884 to schedule.
OKALOOSA
Approved mitigation plan will reduce the community's vulnerability to natural disasters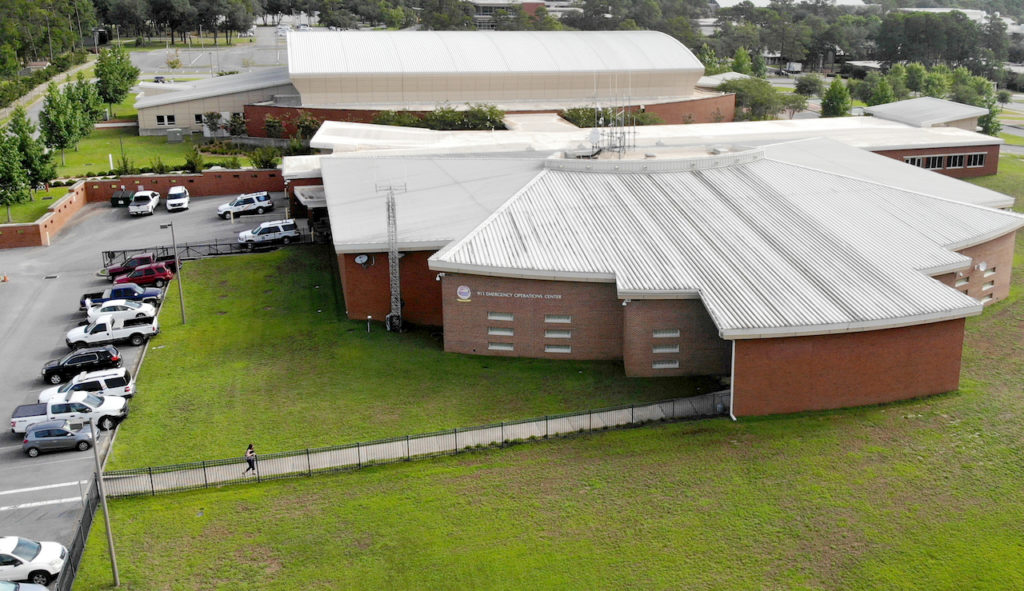 Okaloosa County is better prepared for disasters with the recent Federal Emergency Management Agency (FEMA) approval of their local hazard mitigation strategy (LMS).
This long-term plan to reduce the community's vulnerability to natural disasters will remain in place for the next five years.
Approval of the LMS provides eligibility through the State for mitigation grant programs administered by FEMA including Hazard Mitigation Grant Program, Flood Mitigation Assistance and Building Resilient Infrastructure and Communities.
"Because of our team's effort in developing this strategy for identifying and mitigating potential hazards in our County, community officials will have the framework required, to make the decisions necessary to protect lives and property," said Okaloosa Board of County Commissioners Chairman Carolyn Ketchel.
The plan details strategies to lessen the impact of future disasters and the costly expenses associated with them.
According to the county, strategies include a general description of each natural hazard to which the County is vulnerable as well as goals, objectives, policies and projects intended to reduce the risk for both Unincorporated Okaloosa County and a municipality-specific analysis.
In a press release on Thursday afternoon, the county stated that "history shows that the physical, financial and emotional losses caused by disasters can be reduced significantly through hazard mitigation planning."
The planning process encourages communities to integrate mitigation with day-to-day decision-making regarding land-use planning, floodplain management, site design and other activities.
FEMA reviews and approves state, tribal and local hazard mitigation plans, which are required as a condition for states and communities to receive certain types of disaster assistance, including funding for mitigation projects.
GIMME FOOD
New sports bar with mobile ordering stations coming to the Fort Walton Beach Golf Course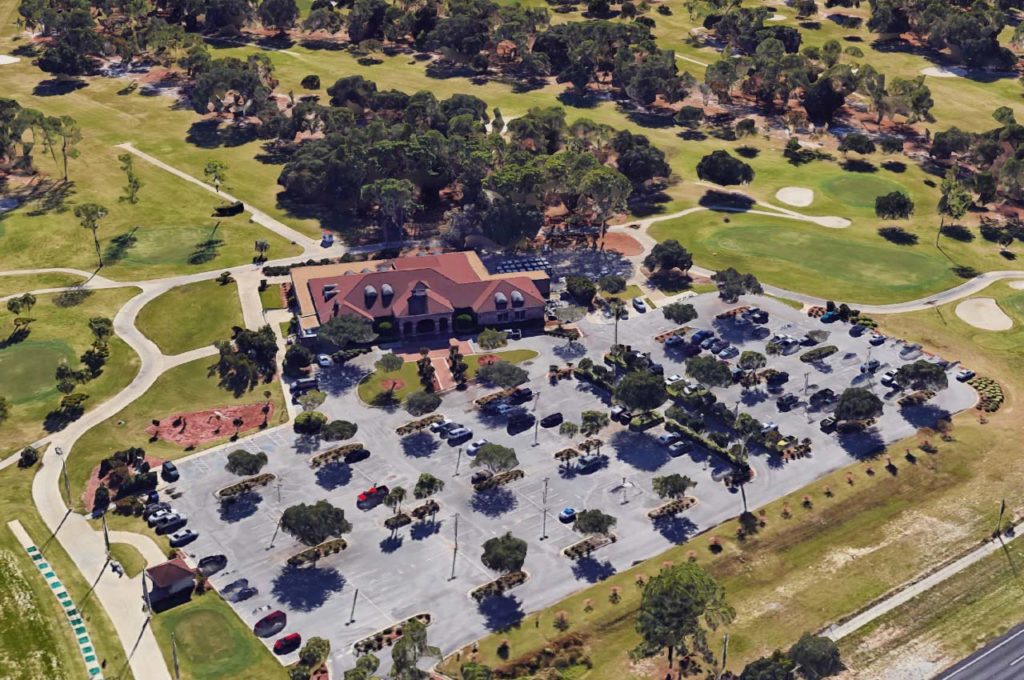 On Tuesday night, the Fort Walton Beach City Council approved (5-2) the opening of a new restaurant at the Fort Walton Beach Golf Course.
Tentatively, the restaurant will be called The Clubhouse Grill.
The Fort Walton Beach Golf Club restaurant, Two Trees, has been managed by Northwest Florida Facilities Management since May 2001 through a lease agreement.
The existing lease agreement expires on March 31, 2022 with no remaining extension options.
On August 24, 2021, the Purchasing Division issued a Request for Proposals (RFP) for Golf Course Restaurant Services/Lease. Bay Enterprises of NW Florida was the only one who sent in a proposal.
Here's what Bay Enterprises proposes as part of this lease agreement:
To continue to provide breakfast and lunch.
To create a sports bar atmosphere and develop services to cater to the golfers of the FWB Golf Club.
To upgrade the existing facilities to include new flooring, tables/chairs, televisions for sporting events and outdoor family activities, such as fire pits and game areas.
To provide non-stop beverage cart service, options to pre-order food/drinks for pickup or delivery for golfers and discounts on food and drinks for players.
To provide space for meetings, banquets, and wedding/wedding receptions.
Bay Enterprises has also inquired about the leasing of the old Edwin Watts facility to allow for the expansion of their services.
James Bay, the current owner of Bay Enterprises of NW FLA, Inc., also owns Emerald Coast Social Sports and Emerald Coast Shuttle Bus. He is also no stranger to the restaurant industry.
He owned L.J. Schooners from 1990-1992, when he sold the business.
He assisted in the opening, staff selection, and bar manager for Leubo's of Niceville from 1993-1994.
He helped open Lucky Snappers from 1994-1995 and was the general manager for Johnny Ray's BBQ in Crestview from 1995-1996.
"We understand that a much-needed change is required to create a positive experience for the golfers and area residents at the City of Fort Walton Beach Golf Course," said James Bay of Bay Enterprises. "The restaurant is there to first and foremost serve the customers that are using the facility and there are several changes or opportunities that we will create to bring golfers back into the restaurant."
According to Bay, there will be mobile ordering stations that will be set up on the holes that lead to the restaurant. QScan menu stickers will be in golf carts so golfers can order from their mobile phones. Beverage and food carts will also run throughout the day.
"We want golf members and guests to feel like they are a priority," said Bay. "We also feel that the restaurant should be a destination place for people seeking great food with a great atmosphere that they would want to bring their family and continue to come back. We feel that establishing a dinner several nights of the week would give the area locals a nearby alternative instead of having to travel to other parts of the county."
Bay also believes that the Golf Course is a good place to host banquets, private parties, and weddings. But that there have been missed opportunities due to the setup and decor.
"We plan on proposing some decor and outdoor landscape ideas to improve and entice potential customers to seek out the golf course for these memorable events," he said. "The veranda and outdoor area need some improvements. Improvements like paver pads with gas-fed fire pits and room for entertainment area and or a wedding gazebo. Our ultimate goal is to make this location a place where people want to come and enjoy their evening."
Let's talk food
The menu is slated to be more of an American grill. Breakfast will be fast and economical, with some pre-made breakfast sandwiches for the golfers on-the-go. Bay says that they will also look at adding dinner to the menu and open several nights towards the end of the week and into the weekend.
Planned menu prices:
Breakfast: Price range of $4.99 to $9.99
Lunch: Price range of $5.99 to $14.99
Dinner: Price range of $9.99 to $19.99
Desserts: Price range of $2.99 to $5.99
Bay says that he plans to have a smooth transition with minimal downtime through the busy spring months, with slight changes to the menu and atmosphere.
"We plan to have a major focus on being put into the old Edwin Watts space to get that usable," he said. "We plan to get service carts up-and-running and install course signage and install methods to target the golfers and guests."
In the winter of 2022-2023, that's when some major improvements are planned for the bar, dining area, and veranda. He says that the goal is to be fully operational with all improvements 100% complete by Spring 2023.
Here's a look at the proposed improvements:
Bar Area: Update, improve and make it more appealing for golfers coming in from the course.
Gill/Dining Area: Update lightly and separate area from the bar. Arrange in a way that it feels cozy and not a cold large room.
Banquet Area (partition area of the dining room): Update decor with keeping the option to open and close off. We will also box around the dividers to help conceal and improve the space.
As for the old Edwin Watts space, Bay says that they are open to discussions and currently looking at several options.
One option is to make the room into large banquet room for special events, meetings, private parties, and weddings.
An annual lease amount of $30,616 was submitted by Bay Enterprises of NW Florida, Inc. at a rate of $2,551.33 per month for the operation of the restaurant and veranda area at the FWB Golf Club.
OK, that's all I have for you this morning! I hope you have a great Friday.
p.s. What did you think of this morning's newsletter? Hit the reply button and let me know!
Published with ♥ by Get The Coast.
Did someone forward you this email? Subscribe here.
124 Eglin Parkway SE Fort Walton Beach, FL 32548