TOGETHER WITH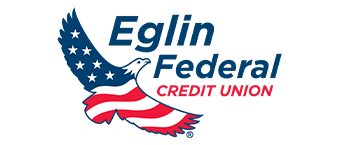 Good morning!
Deputy Charles Sprague, with the Okaloosa County Sheriff's Office, lost his prescription eye glasses while pursuing a suspect on foot. David Cox, owner of Family Vision of Crestview, heard what happened and made a new pair of glasses and donated them to Deputy Sprague!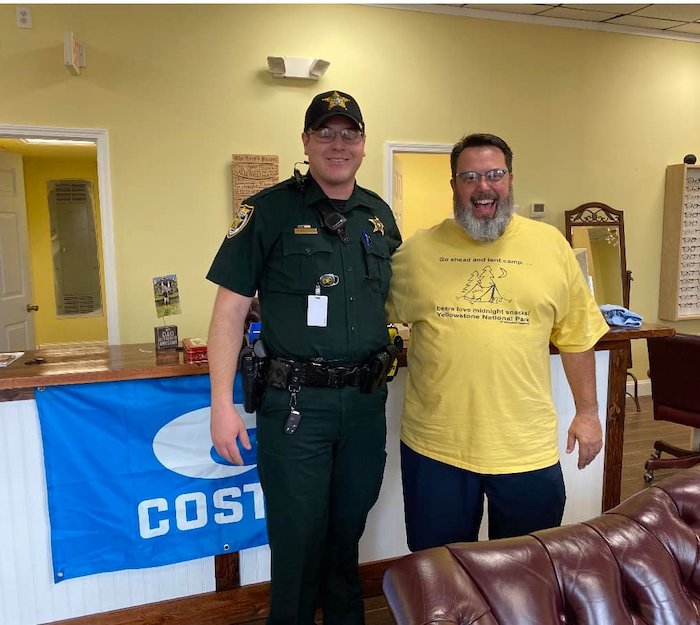 Now, let's get to more news…
SPONSORED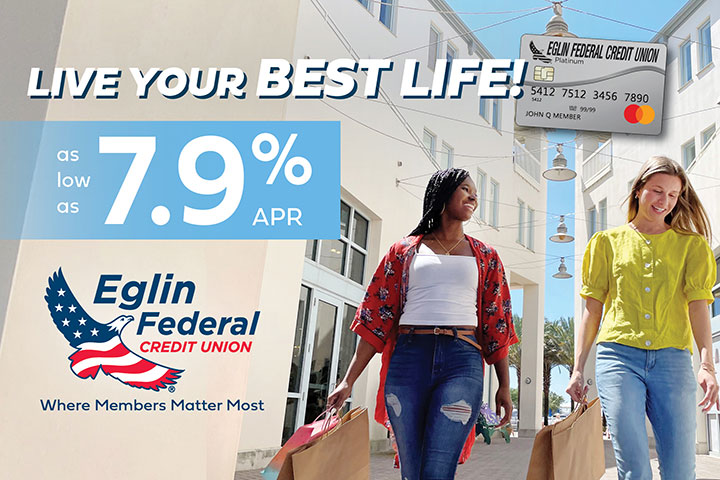 TRAFFIC
New traffic pattern on P.J. Adams Parkway to begin in January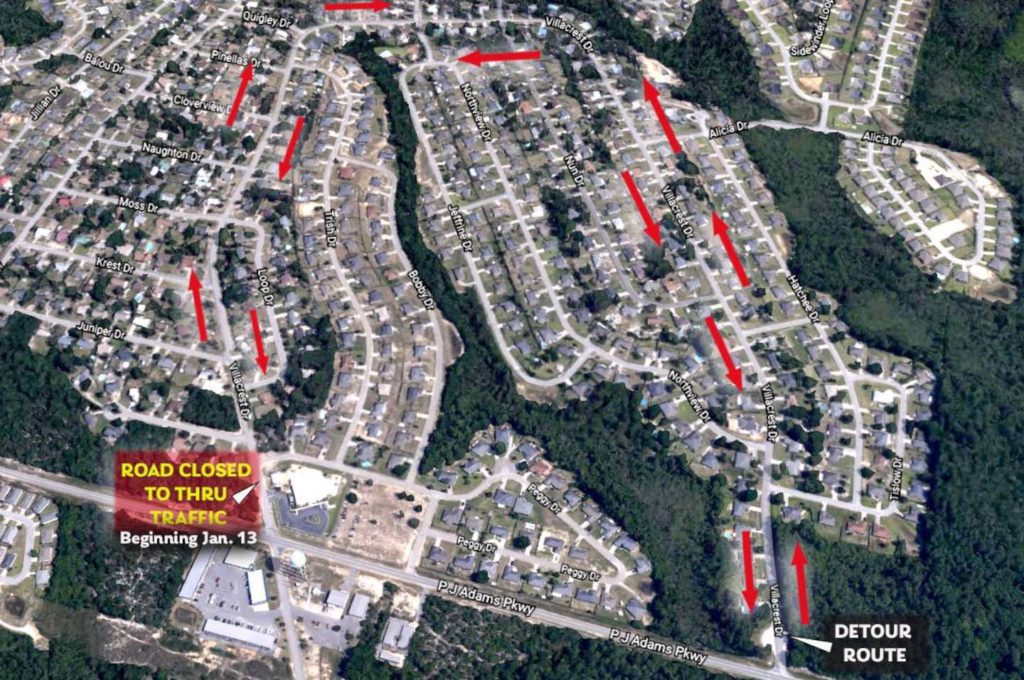 A new traffic pattern on P.J. Adams Parkway at Villacrest West will go into effect on January 13th as construction progress continues.
Here are the details…
On Thursday, January 13th, access to Villacrest Drive West from P.J. Adams Parkway will be temporarily closed to traffic as contractors make improvements at that intersection.
The county expects the Villacrest West / PJ Adams intersection closure to last 3 months, weather dependent.
Residents living on Villacrest West will be detoured and gain access using the Villacrest Drive East intersection, but may also use the signalized intersection at Northview.
Residents with questions or concerns can contact Public Works at 850-689-5772.
CRIME
OCSO requesting surveillance video in connection to Okaloosa Island shooting death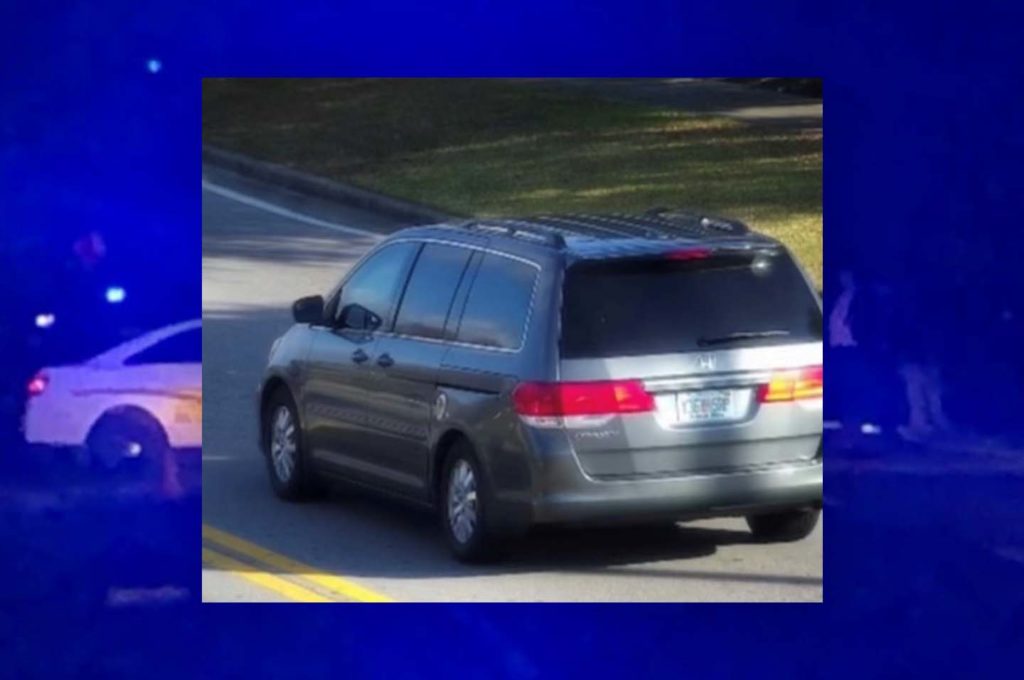 Okaloosa County Sheriff's Office investigators are continuing to pursue information in the shooting death of a man whose body was found along Highway 98 on Okaloosa Island the night of December 22nd.
The victim, believed to be a Jamaican national who resided in the Fort Walton Beach area, left work in Miramar Beach that night around 9 p.m. and drove two co-workers home, according to the OCSO.
The second co-worker says he dropped her off in Fort Walton Beach around 10 p.m. and left to go to an unknown location.
He was found deceased from multiple gunshot wounds about 45 minutes later, lying partially in an eastbound lane of Highway 98.
The shooting appears to have taken place at that location.
The victim was known to drive a gray 2008 Honda Odyssey van, which was found by the OCSO the next day, backed into a wooded lot on Parkview Road.
"Whoever was driving the van left the area either on foot or in a vehicle," wrote the OCSO in a press release. "Residents in that vicinity did not recognize the vehicle."
The OCSO is asking for anyone who may have surveillance video between the time of 11 p.m. and 11:20 p.m. in the area of Parkview Road and Denton Boulevard to please contact Investigations at 850.609.2000.
If you have any information on the crime, you can also call the OCSO at 850.651.7400 or contact Emerald Coast Crime Stoppers anonymously at 850.863.TIPS, EmeraldCoastCrimeStoppers.com, or by using the P3 Tips Mobile application.
WEATHER
Severe storms a possibility Wednesday across Okaloosa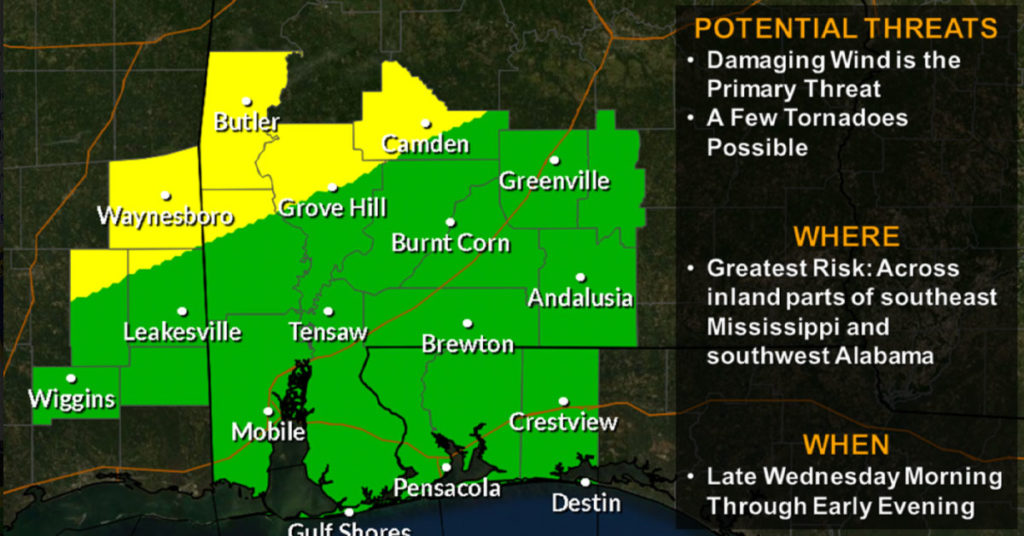 The approaching cold front has the potential to create conditions which are "marginally conducive for the development of some strong/severe storms on Wednesday," according to Okaloosa County Public Safety.
"We are expecting a cold front to approach the region from the northwest on Wednesday, bringing scattered-to-numerous showers and a chance of storms to the area," said Patrick Maddox, Public Safety Director. "Atmospheric conditions may allow for some strong to possibly severe storms."
According to Maddox, the inland portions of southeast Mississippi and southwest Alabama is outlooked with a Slight Risk of severe storms for Wednesday, with a Marginal Risk across the remainder of the area, including Okaloosa County.
"Damaging straight line winds will be the primary threat, but an isolated tornado cannot be ruled out," continued Maddox.
What: Strong to possibly severe storms.
When: Wednesday, especially from late morning through early evening.
Where: The entire area (all of interior southeast MS, southwest and south central AL and the western FL panhandle).
Confidence: Low at this time, but models have indicated an increasing threat over the past 24 hours.
EVENT
New Year's Day 'Pelican Plunge' at The Boardwalk on Okaloosa Island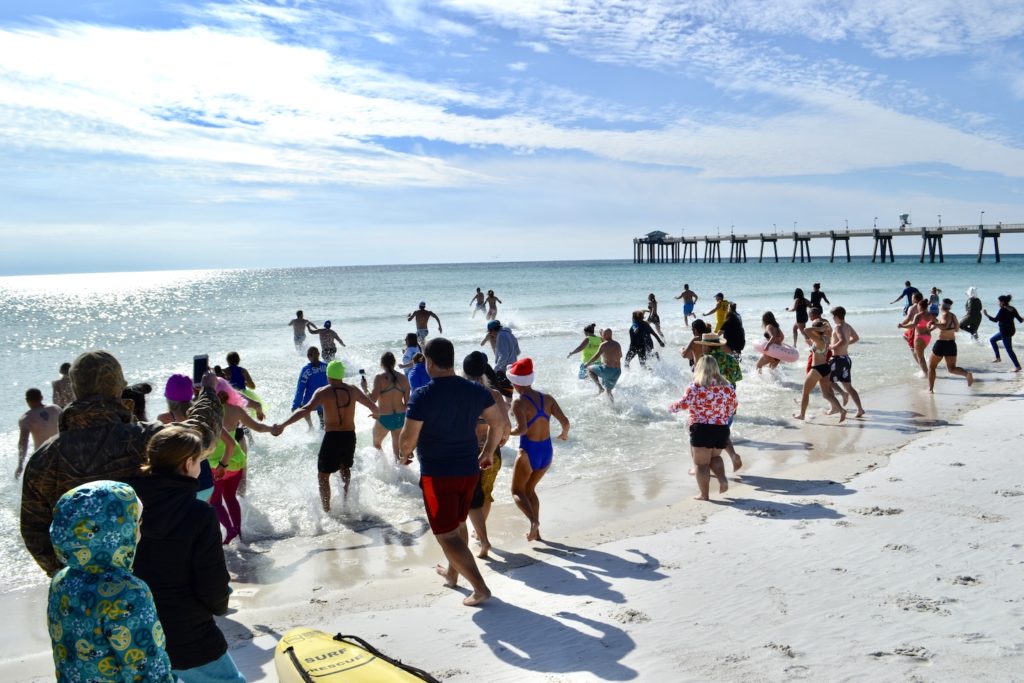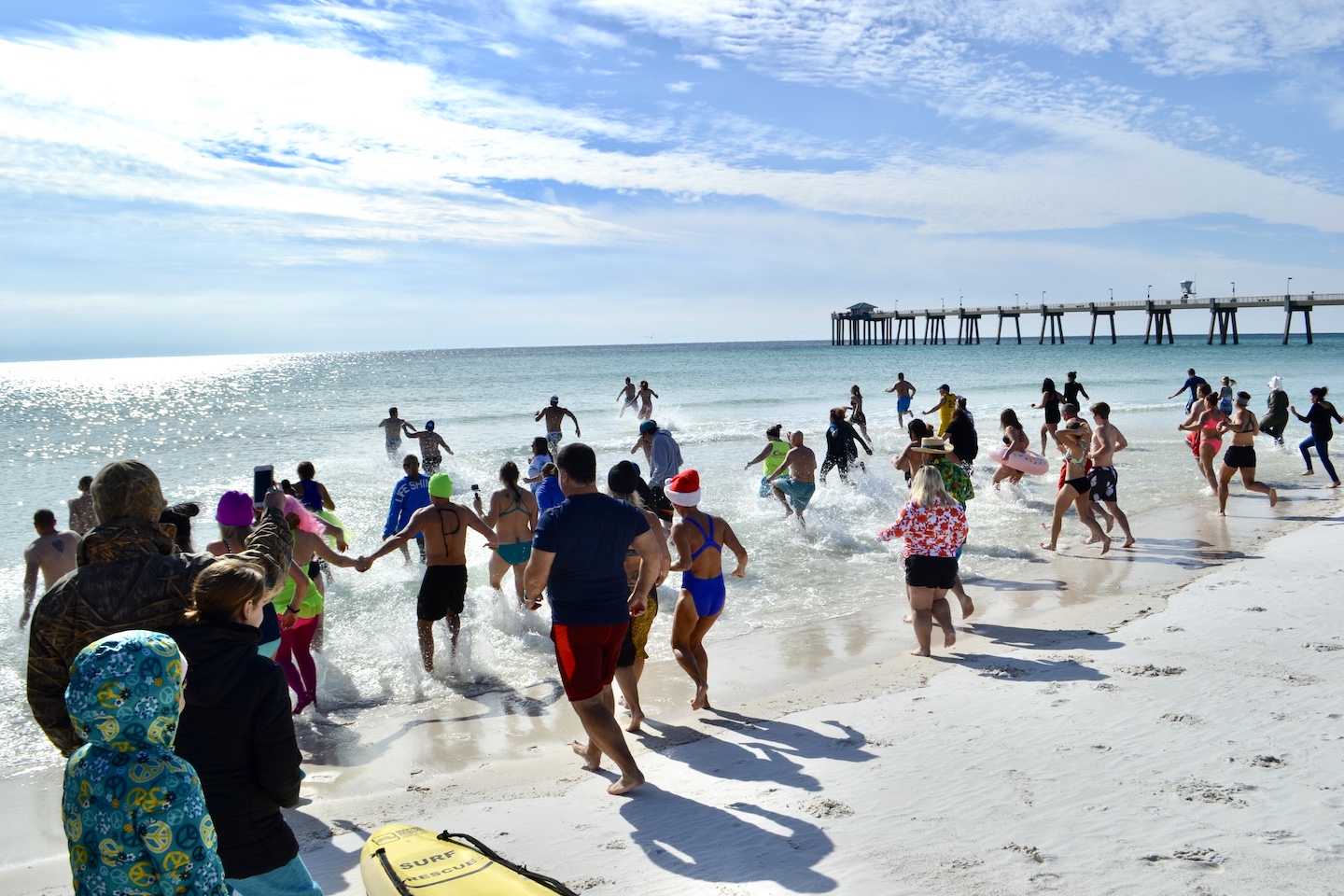 Say bye-bye to the past year (or two) and plunge into 2022 for the 6th Annual Pelican Plunge on Saturday, January 1st at The Boardwalk.
Whether you dip, dive, flop, or leap into the Gulf of Mexico, you'll be freezin' for a reason as 100% of the proceeds directly support children's charities of The Emerald Coast Foundation.
The Pelican Plunge begins at 10:30am with hundreds of participants dashing into the water at 11:30am. Secure your ticket to partake in the New Year's Day Post-Plunge Party at The Crab Trap restaurant on Okaloosa Island.
Tickets are $22 in advance, $30 day of.
All tickets include free cocoa & coffee, hot gumbo, costume contest, huge raffle, live music, and food & drink specials.
Weather is looking to be a balmy 74° on Saturday.
The Pelican Plunge directly benefits local children in need through The Emerald Coast Foundation. Last year, the event raised a total of $5,247.
Check out https://www.theboardwalkoi.com/pelicanplunge for more details & to register… remember, IT'S FOR THE KIDS!
NEIGHBORHOOD CLEANUP
Fort Walton Beach will pick up your unwanted household items in January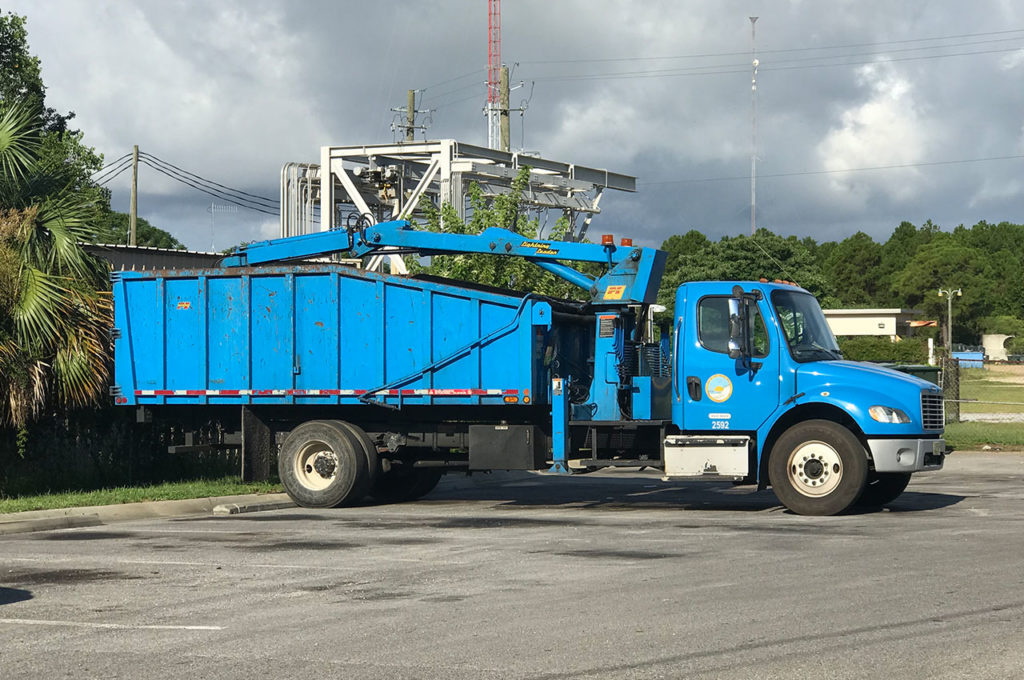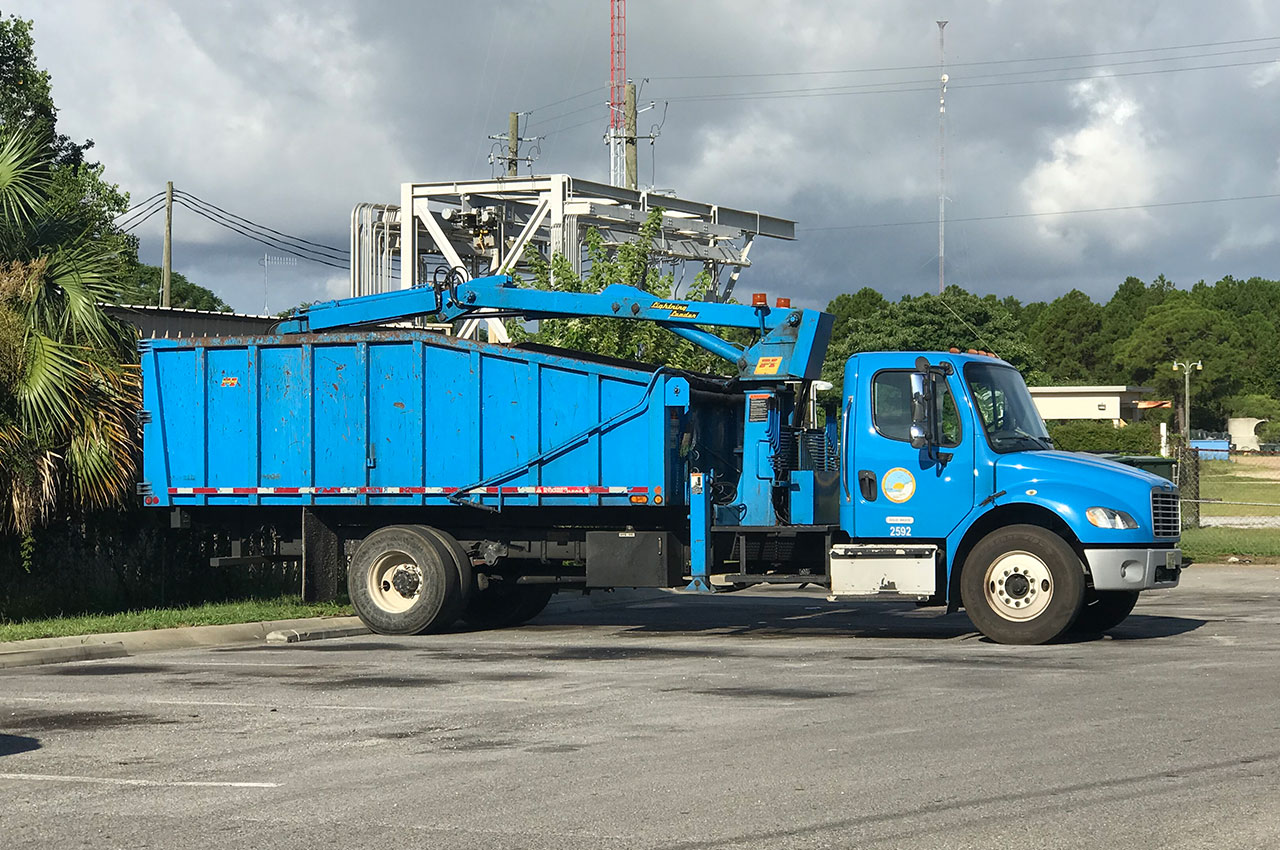 During the month of January, residents of the City of Fort Walton Beach can leave unwanted household items curbside for pickup on regularly scheduled yard waste days. There is no need to call for a Friday appointment. See the schedule here.
Items that can be picked up include:
Furniture
Mattresses
Old grills
Appliances
Items that cannot be picked up include:
Hazardous items
Construction debris
Tires
For Hazardous Waste Disposal needs, the Okaloosa County Haz-Mat Center is the answer! Call (850) 301-2013 for details. Hours of operation are 7am-3pm, Tuesday-Saturday.
Hazardous items include: paint, pesticides, used oil filters, pool chemicals, batteries, gas, solvents, paint products, tar, automotive chemicals, fluorescent bulbs, smoke alarms, fire extinguishers, computer monitors, etc.
Disposal is free for residential customers.
Tires can be disposed of for FREE at the South Okaloosa County Transfer Station. Call (850) 651-7394 for more information. This applies only to local households, not businesses. Tire sizes are limited to passenger and light truck tires. Five tires per household/per month.
RECYCLING
The reasons you don't see recycling bins on Okaloosa Island beaches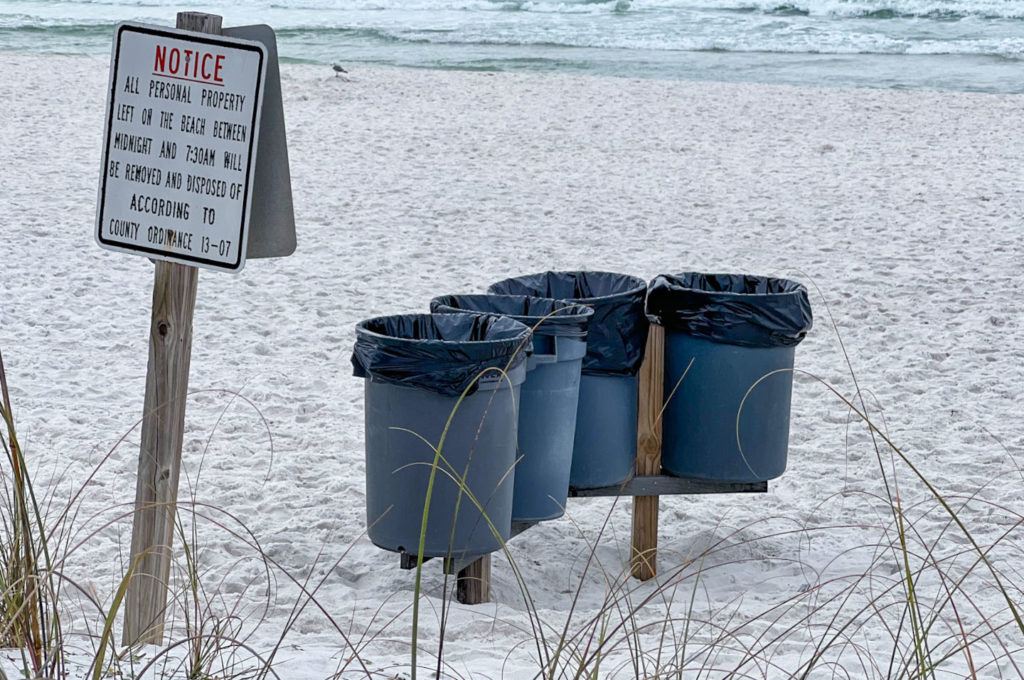 If you've ever gone out to one of the public beach access points on Okaloosa Island, you may have noticed that there are only trash cans available near the walkways.
We've seen numerous requests for recycling options along the beaches over the last two years. However, contamination rate is one of the major reasons why it hasn't happened.
Okaloosa County is currently sitting at about a 23% contamination rate as it pertains to recyclables. Per their agreement with ECUA in Escambia County, they need to stay below 25%.
"If we're already sitting at a 23% contamination rate and we're monitoring everything that goes into our recycling bin at our own homes, you can imagine what it would be like if we had unattended recycling bins out there on the beach after everybody's tired and ready to lighten their load as they hop in their cars," explained April Sarver, Public Information Officer for Okaloosa County. "The contamination rate would be high out on those beaches."
Another reason is that the county's franchise agreement with ECUA is for a "curbed recycling program." The franchise agreement does not include businesses such as condo associations or hoteliers, or pickup along the beach.
Yes, but: Those buildings do have the option to reach out to Waste Management and opt-in to a recycling program for their residents and guests, if they choose to do so.
As for the beaches, it doesn't look like unattended recycling bins will make an appearance anytime soon. The county's single-stream pickup program means that you don't have to separate glass from plastic from cardboard. 
Items not recyclable are almost always guaranteed to make it inside the cans.
"I definitely think that there could be a big impact on the environment if we were able to capture the recycling from tourism," said Sarver. "However, we would have to be sure that there was a way to keep that from being contaminated with regular trash and so far, it doesn't look like reducing the contaminants and having an unattended recycling bin is going to work to keep the contamination level as low as it needs to be."
Not all is lost, however. There are programs that the County does support along with some community activism such as Erase The Trace, who have installed "borrow bins" on Okaloosa Island.
"When someone leaves the beach and they want to get rid of their boogie boards or beach toys, beachgoers can put them in the bins and they can be reused," said Sarver. 
Although those efforts are more on the repurposing side, not necessarily recycling, even restaurants on Okaloosa Island have pitched-in by reducing single-use plastics.
"A lot of the restaurants are going to paper straws, or you have to ask for a straw," explained Sarver. "You don't automatically get one. That will reduce some of this single-use plastics and reduce some of the waste that we see out there."
Finally, the county teamed up with the City of Destin on the "Leave No Trace" initiative, which encourages beachgoers to "take only memories, and leave only footprints."
"We don't want to leave litter and trash on the beach," said Sarver. "If you brought it with you, pick it up. If you have trash, be sure to throw it out. We want to make sure we're leaving as little impact as possible on the environment so that we can continue to have such a healthy ecosystem on our beaches and in our waterways."
Final word: Individuals can drop-off recyclables at the South Okaloosa County Transfer Station on 630 Transit Way off of Martin Luther King Jr Blvd in Fort Walton Beach.
OK, that's all I have for you this morning! I hope you have a great Tuesday.
p.s. What did you think of this morning's newsletter? Hit the reply button and let me know!
Published with ♥ by Get The Coast.
Did someone forward you this email? Subscribe here.
124 Eglin Parkway SE Fort Walton Beach, FL 32548