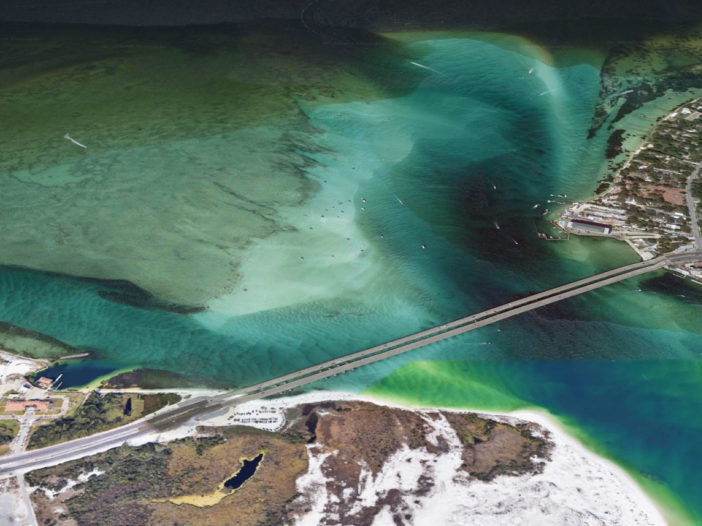 The National Park Service, Gulf Islands National Seashore, is proposing to implement a Commercial Services Strategy (CSS) to better manage commercial operations in the Crab Island Area of the national seashore.
For the 2019-2020 season, the Gulf Islands National Seashore started requiring commercial use agreements for all businesses who are vending on Crab Island to gather information as it relates to the commercial use activity on Crab Island.
For the one of two people not familiar with Crab Island, it is a large submerged sandbar located near the William T. Marler Bridge, on the eastern end of Santa Rosa Island within the Choctawhatchee Bay portion of Gulf Islands National Seashore.
The Crab Island Area has become a highly popular recreational site, drawing hundreds of boats and numerous floating commercial services such as restaurants, water taxis, and mobile small craft vendors which traverse and anchor within the sandy and seagrass portions of the sandbar.
The popularity of the sandbar has led to issues of concern shared by the National Park Service, state and local governments, agencies, and other stakeholders.
According to NPS officials, these issues include:
Life-threatening accidents and fatalities
Damaged seagrass beds
Diminished water quality
Between Memorial Day and Labor Day weekends, there are hundreds of visitor incidents according to the NPS. These include:
Marine DUI
Disturbances and altercations
Boating and personal water craft accidents
Boat fires
Swimmer assists and rescues
To address these concerns, the Gulf Island National Seashore has begun a formal planning process to determine the level of commercial activity consistent with the national seashore's General Management Plan, federal law, and local laws and ordinances.
So what is a Commercial Services Strategy?
The NPS defines a commercial service as any product, activity, or service offered to park visitors that uses park resources, and for which compensation is made to a third party. Commercial services play a vital role by offering park visitors services and activities that the government does not provide directly to the public.
A Commercial Services Strategy (CSS) allows a park to:
Describe park conditions for visitor use and commercial services;
Detail potential commercial service opportunities as informed by input from park staff, commercial partners, and other relevant stakeholders;
Create a framework of necessary and appropriate criteria, to be used for evaluating commercial services;
Map existing and potential services to the necessary and appropriate criteria framework, and provide reasoning behind services deemed inappropriate;
Identify high-priority commercial services opportunities, including ideal locations, and authorization instruments; and
Outline an action plan for implementation.
In addition, the NPS is reaching out to area stakeholders for input and will host two virtual civic engagement meetings scheduled for Tuesday, November 10th at 6:00 p.m. and Thursday, November 12th at 1:00 p.m.
The meetings will begin with a presentation, followed by a moderated question and answer session. The public will be able to access a link to attend the virtual meetings at https://parkplanning.nps.gov/CrabIsland.
This website will also include a link for the public to submit comments through November 23, 2020, a link to watch a recorded version of the virtual meeting, and additional information on the planning process.
According to a press release, NPS encourages public participation in this planning process and invites input.